These 39 Crochet Heart Patterns are perfect to make for Valentine's Day, or just to show your affection. Everybody loves hearts – how could you not?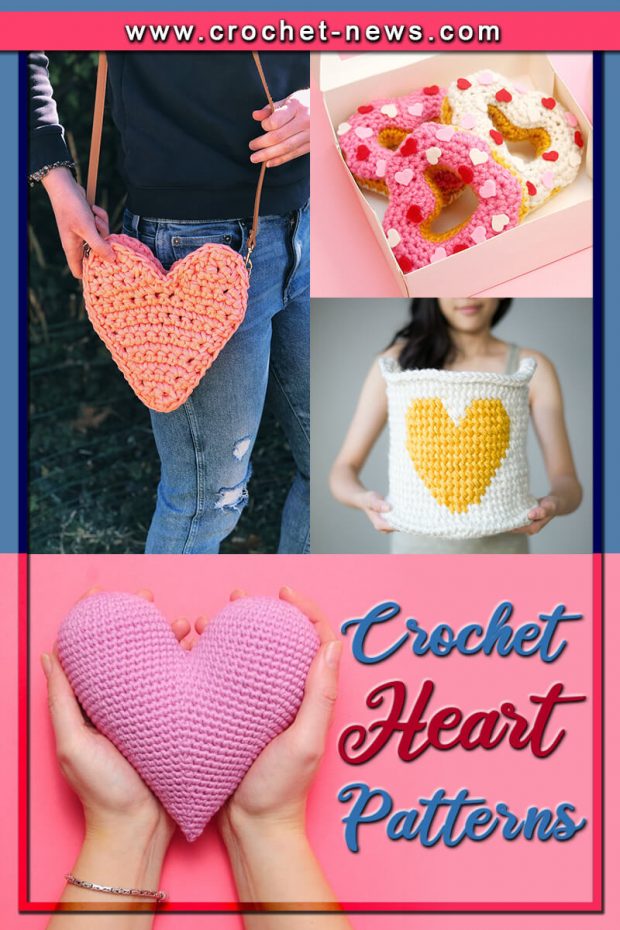 Make these sweet crochet heart patterns to give to your special someone
Hearts are great for Valentine's Day decor, accessories, and gifts but can also be used all throughout the year for garland, home essentials, appliques, and other items.

Explore this roundup list of easy crochet heart patterns for you to make any time you feel so inclined!
The only problem you'll have is deciding which one to try first, they are all so pretty!

1. Bavarian Heart Crochet Pattern by Island Style Crochet
This is an intermediate pattern that's great for using up all of that beautiful scrap yarn you just can't bear to part with! Perfect for Valentine's Day or any day, it's extremely versatile and can be made with almost any kind of yarn.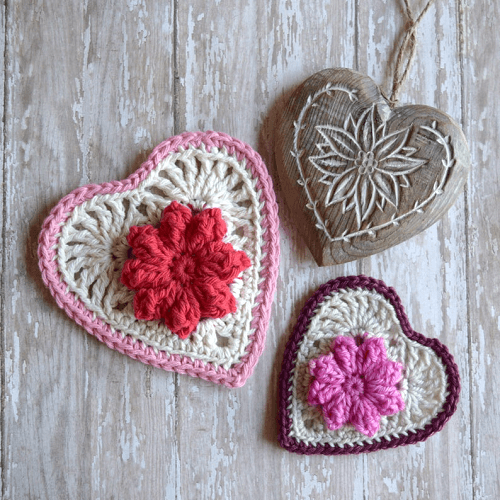 Get the Pattern by Island Style Crochet here

2. Crochet Puffy Hearts Pattern by Repeat Crafter Me
These cute little crochet hearts is a nice token to give loved ones. It's easy to make and you can attach little labels too with sweet messages. This versatile crochet pattern is so cute and so fast you'll be able to hook it up in just a few minutes.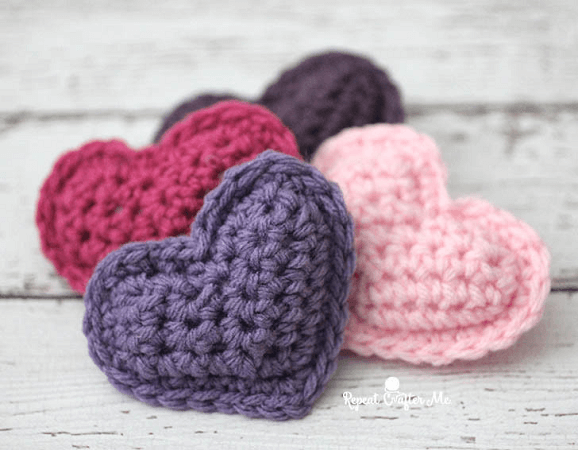 Get the Pattern here

3. Crochet Big Heart Blanket Pattern by Crochet Spot Patterns
Show your love by crocheting this baby sized blanket with a big, giant heart. This 30″ square blanket is the perfect size for babies and toddlers, but can be made larger or smaller by sewing multiple squares together or adjusting the gauge as you desire.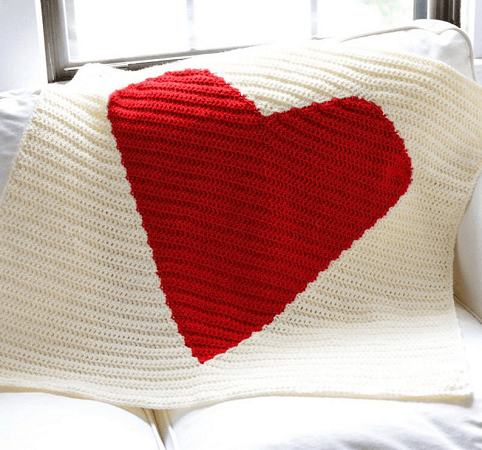 Get the Pattern by Crochet Spot Patterns here

4. Crochet Heart Donut Pattern by Twinkie Chan
These sure are some delicious looking heart-shaped crochet donuts! And with those little heart sprinkles they will delight any sweet-toothed sweetheart! Create that yummy donut-frosting in any color you want: what a great stash buster as well as cute Valentine's Day gift!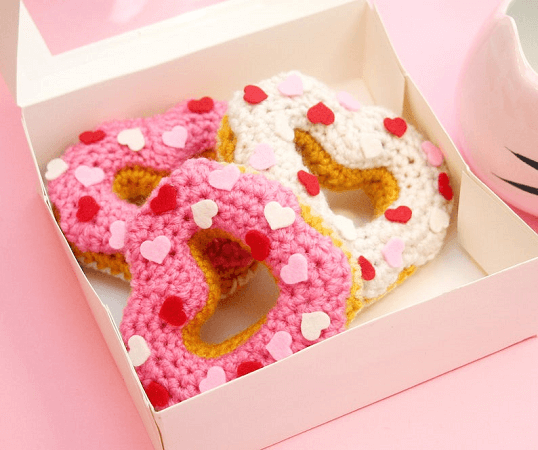 Get the Pattern by Twinkie Chan here

5. Heart Pillow Crochet Pattern by Spin A Yarn Crochet
What's more indulgent and flirty than a giant pink pillow in the shape of a heart with pompom edging?! The thick, chunky yarn used here makes it so lush and irresistible. It would add a beautiful handcrafted touch to any chair, bench, bed, or couch.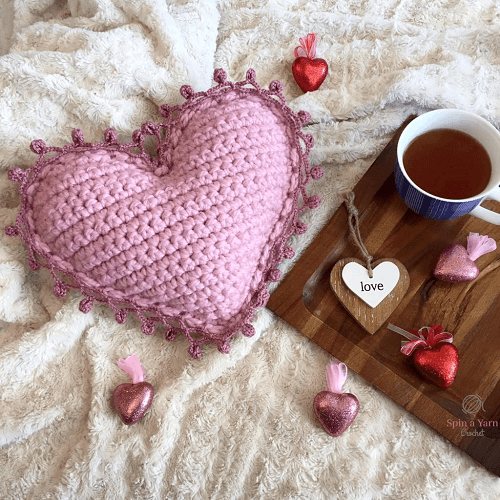 Get the Pattern here

6. Crochet Heart Basket Pattern by All About Ami
This Crochet Heart Basket is a cute storage solution to brighten up any room and home! The crochet pattern is easy to follow. Make as many heart baskets as you need.

This is a perfect Valentine's Day accent for your counter top, coffee table, or any other place that needs some love!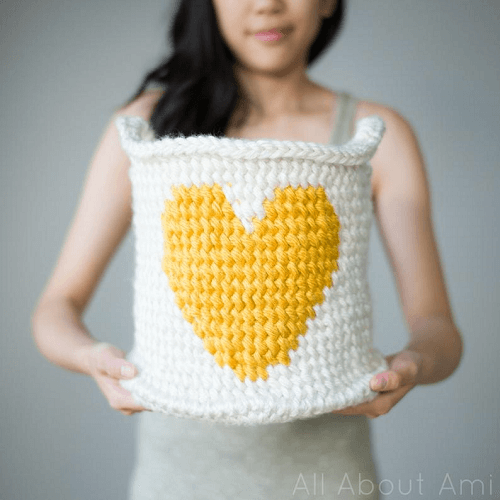 Get the Pattern by All About Ami here

7. Brioche Heart Crochet Pattern by Lilla Bjorn Crochet
How cool are these hearts? They are so colorful and fun! I really love the way the colored stripes follow the shape of the heart and are not "just" horizontal across.

This way, you can create a heart that is fun and funky! These hearts are not only perfect as Valentine decorations or gifts but can be used for all funky-heart-requiring occasions!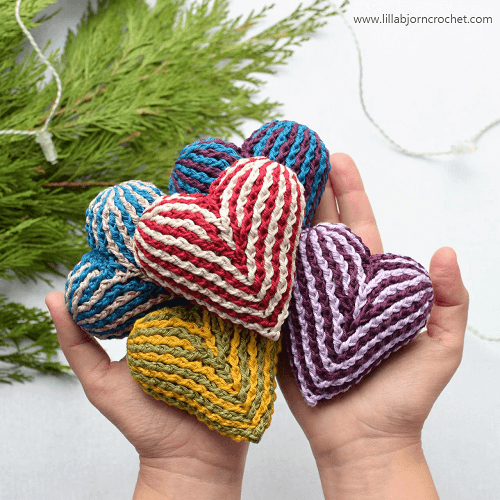 Get the Pattern here

8. Crochet Heart Potholder Pattern by Ali at The Turtle Trunk
This heart shaped pot holder uses 2 strands of cotton held together, making it thick and durable! It'll work perfect for hot dishes or just looking cute in the kitchen. Try using different colors or different materials for the hanging loop!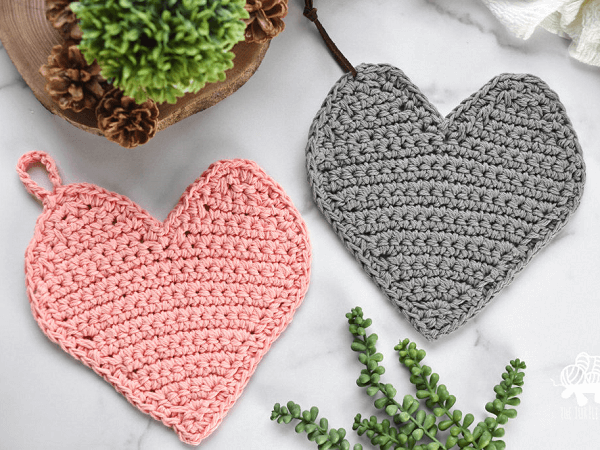 Get the Pattern here

9. Crochet Boho Heart Wall Hanging Pattern by Creative Crochet Shoppe
This wall hanging is perfect for year-round or seasonal décor. You can attach Valentines to it or use it as a bow holder in a little girl's room. There are so many possibilities!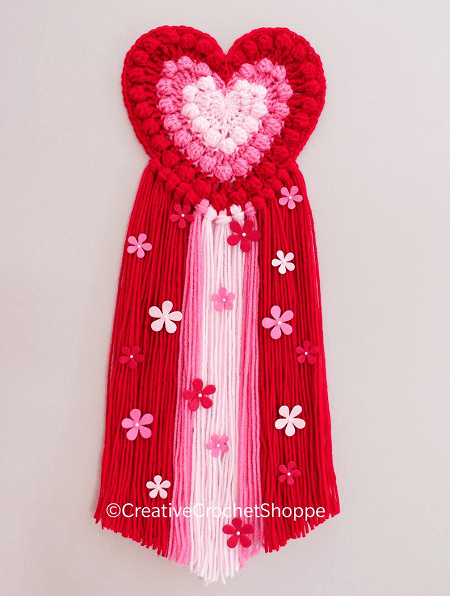 Get the Pattern by Creative Crochet Shoppe here

10. Crochet Heart Tote Bag Pattern by Crochet By Colleen US
Looking for an adorable bag that's a little different? Then you'll love this so easy way to crochet heart shaped bag. Crochet this beautifully textured bag using an amazing simple pattern with simple stitches! This delightful bag is sure to complete any super cool look for the day!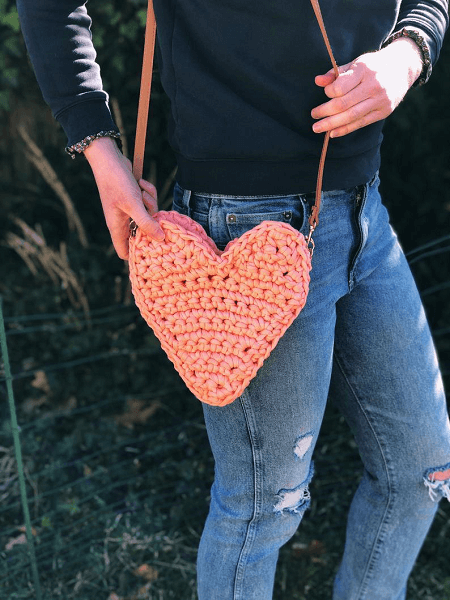 Get the Pattern by Crochet Colleen US here

11. Crochet Pocket Heart Scrubby Pattern by Christa Co Design
Crochet a cute and useful heart scrubby, perfect for washing your face. Made from two crochet hearts sewed together, forming a pocket for your hand.

Crochet a Heart Pocket Scrubby for personal use, or make several for gifts. Crocheted from 100% cotton yarn this scrubby can be washed and dried in the hottest of waters!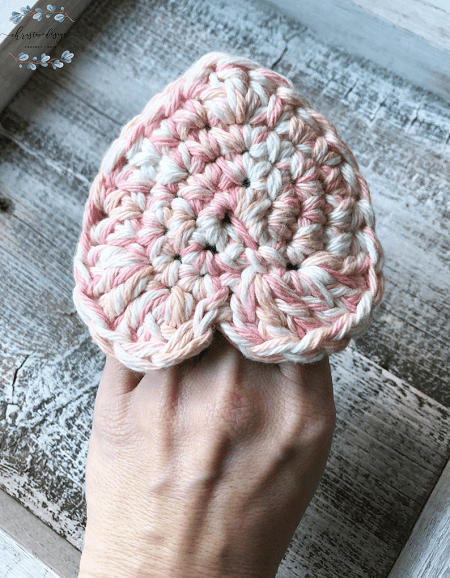 Get the Pattern by Christa Co Design here

12. Crochet Heart Coasters Pattern by Craft Passion
These Heart Coasters are quick to crochet and perfect all-year-round handmade gifts that you can make for your friends and family. Even when it is not being used as a coaster, it is still a nice deco to spice up the coffee table and the office desk too.

Check out more crochet coaster patterns here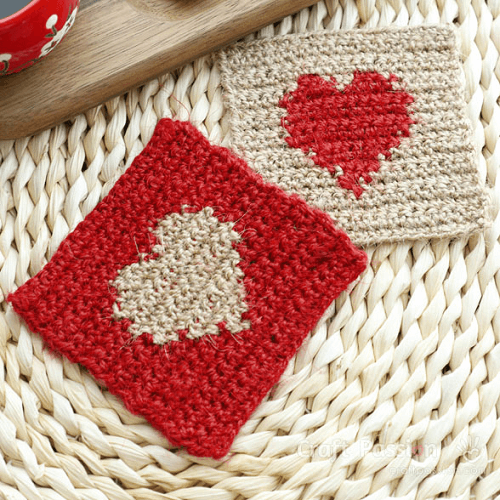 Get the Pattern here

13. Crochet Heart-Shaped Wreath Pattern by Highland Hickory Dsgns
This wreath is stunning and will look amazing anywhere! Hang it on a child's bedroom door or as a Valentine's Day decoration. Use it as a prop in an engagement or anniversary photo. You will get plenty of compliments!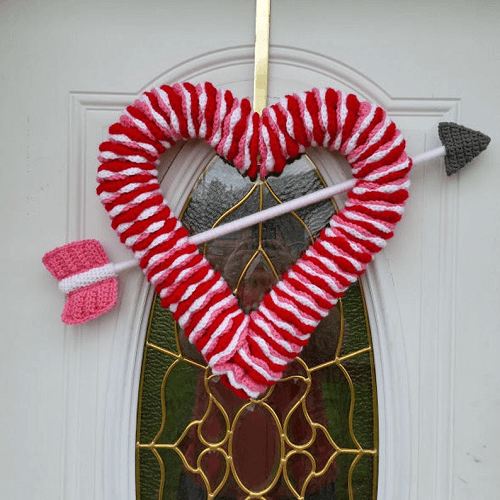 Get the Pattern by Highland Hickory Dsgns here

14. Crochet Heart Mat Pattern by Rich Textures Crochet
Soft and plush, show some love with this adorable mat. This mat is made by alternating rows of double crochets and chain loop stitches.

Making this a great piece for beginners just starting out in crochet, or someone looking to work on a simple, yet rewarding project! Use as an accent for your home or as a photo prop!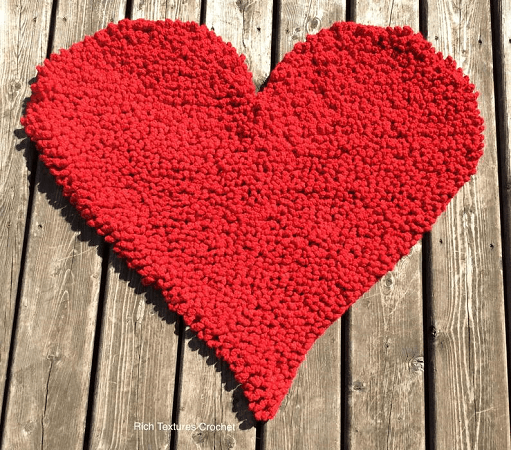 Get the Pattern by Rich Textures Crochet here

15. Crochet Heart Pattern Free by Yarnhild
If you are looking for a quick and cute crochet heart pattern, this is another wonderful project you should try. These are so quick and easy to make, that I am sure you can whip up a few for the ones you love!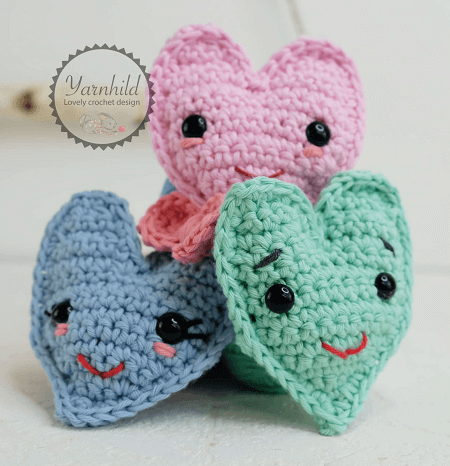 Get the Pattern here

16. Crochet Striped Heart Amigurumi Pattern by Erangi Udeshika
This crochet striped heart pattern is easy and quick to make also a lovely gift for Valentine's day. This heart amigurumi can be made in many creative ways. You can make this in any weight of yarns and colors. The color combinations are numerous!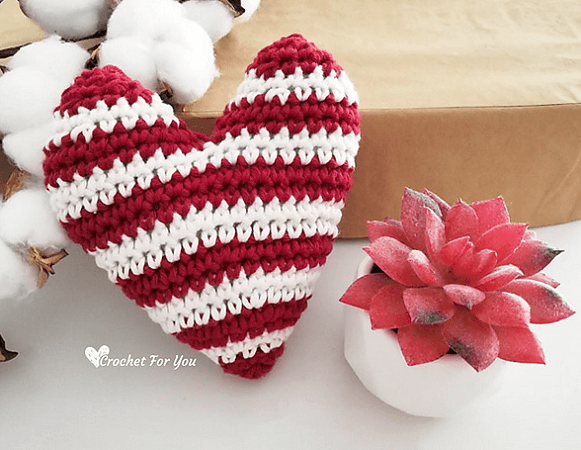 Get the Pattern here

17. Heart Baby Blanket Crochet Pattern by Owl B Hooked
A very easy pattern to read and this blanket works up fast! Subtle heart design with no need for several color changes or ends to weave in. Or add all the color your heart desires!

Simple, modern and gender-neutral, this makes for a special newborn baby or 1st birthday gift.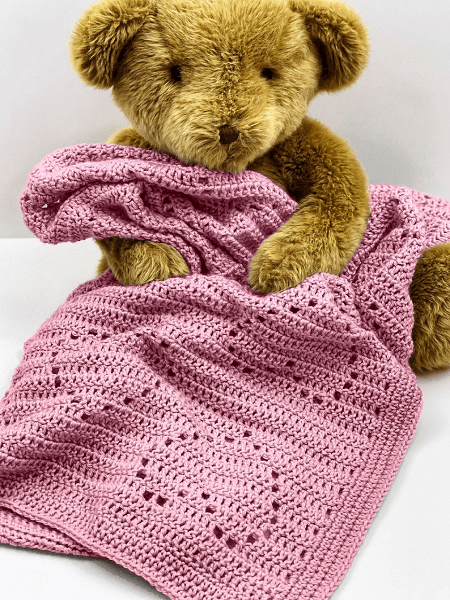 Get the Pattern by Owl B Hooked here

18. Crochet Stuffed Heart Pattern by Wool N Hook
This is a cute crochet heart decoration and a perfect shabby chic hanging decoration for the home, or for the Christmas tree! For this pattern you will need to know how to work in the round and basic crochet stitches.

The two heart pieces are joined using slip stitches through the back loop of stitches.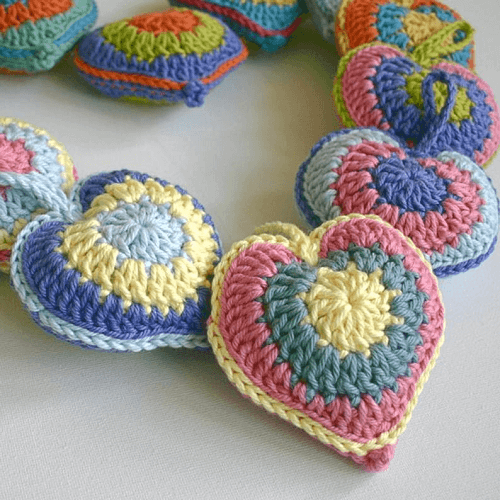 Get the Pattern by Wool N Hook here

19. Crochet Heart Angel Pattern by Crochet For You
This Crochet Heart Angel is a cute little crochet project for Valentine's day. It is fun to crochet and great as a pin with love notes. Or use them as a key chain, attached them on bags, purse and more. This is a super easy amigurumi type little project you may love to try.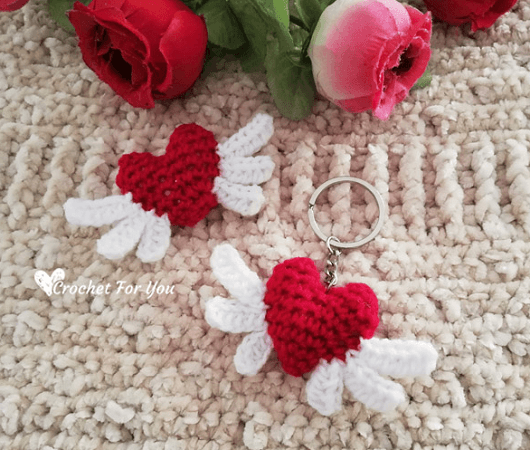 Get the Pattern here

20. Crochet Heart Towel Topper Pattern by Nana's Crafty Home
This Heart Towel Topper would be perfect for Valentine's Day. This works up quickly and looks so fantastic – you may want to display year-round! Also, you get a 2-for-1 pattern with this design – the front Heart panel would make a lovely potholder or dishcloth all on its own as well!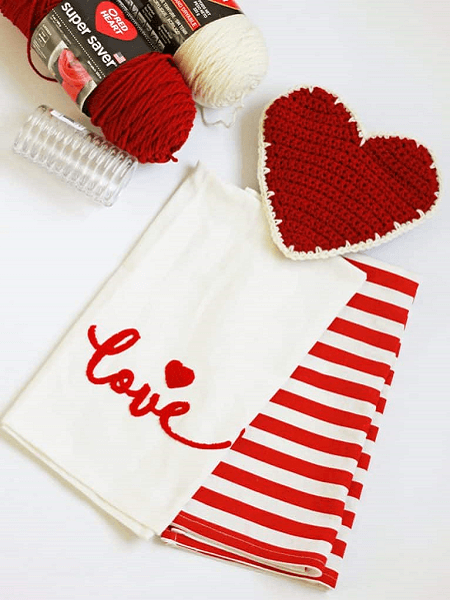 Get the Pattern here

21. Heart & Bow Keychain Crochet Pattern by Handmade By Hennek
This Heart & Bow Keychain pattern works up in less than 2 hours, for most. Consider yourselves warned: They are so addicting to make! Make a lot for all of your family and friends to use or make multiple and string together for cute garland.

Looking for more keychain patterns? See our list of crochet keychains you will surely enjoy making.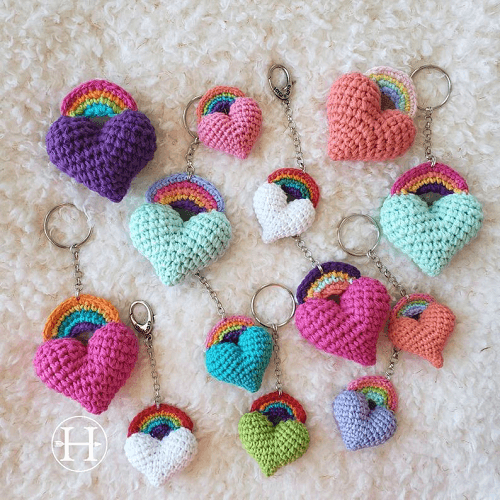 Get the Pattern by Handmade By Hennek here

22. Wonky Heart Applique Crochet Pattern by TL Dot Crochet
This Crochet Wonky Heart Applique works up super quick and has endless possibilities! Make a garland, add it to a beanie, ear warmer, sweater, purse, or stitch 2 together and stuff it.

You may use a wide variety of Hook Sizes and Yarn weights to achieve almost any size Wonky Heart you prefer!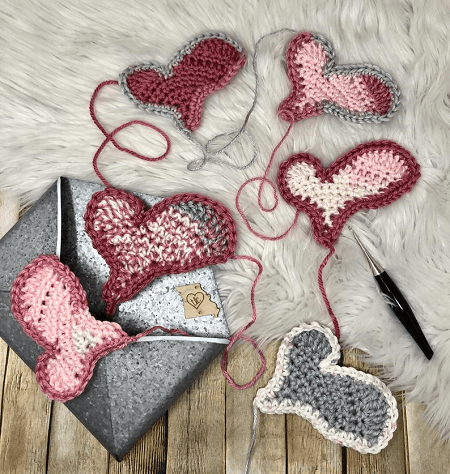 Get the Pattern by TL Dot Crochet here

23. Crochet Heart Sachet Pattern by Petals To Picots
This crochet heart sachet pattern is very simple and quick to work up. They are perfect to give as a Valentine's treat or as a heartfelt gift any time of year. Just fill them with your favorite potpourri or dab with some essential oils.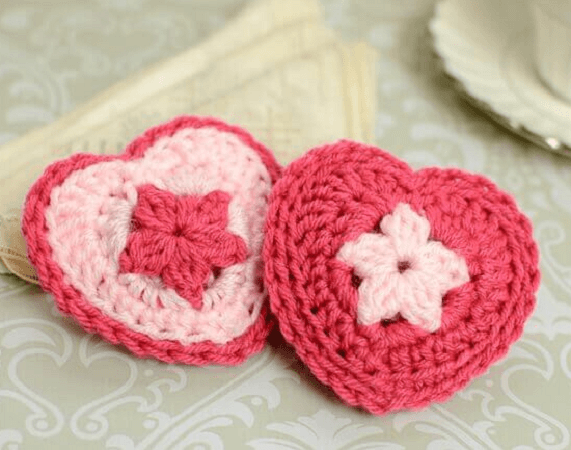 Get the Pattern here

24. Realistic Crochet Heart Pattern by The Blue Elephants
This one isn't the cutesy Valentine heart you might be used to seeing, but I think this realistic crochet heart pattern is a lot more interesting and fun to make. This heart is very easy to make.

It uses only a few basic crochet techniques to create the various shapes that make up the heart, and then some of the veins/arteries are embroidered on at the end.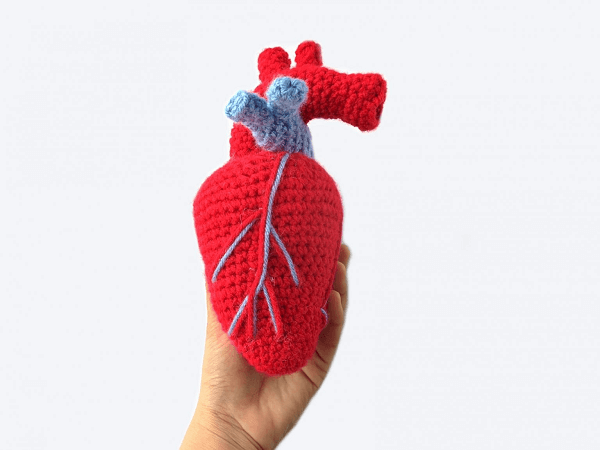 Get the Pattern here

25. Heart Mug Cozy Crochet Pattern by Woods And Wool Shop
This cozy takes little time and little yarn, making it a great project for yarn you've already got in your stash. The pattern is a simple, fast, and yet beautiful project. The finished piece is the perfect gift for all your loved ones.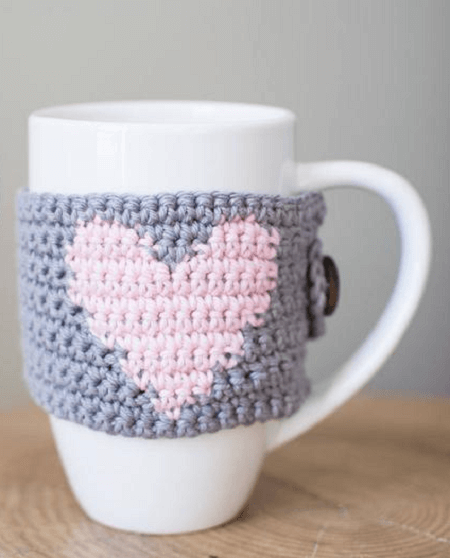 Get the Pattern by Woods And Wool Shop here

26. Perfect Heart Crochet Pattern by Nea Creates
This perfect heart pattern us for three sizex. With all the different sizes you can really experiment with yarn weights and make anything from little heart keychains to big heart pillows.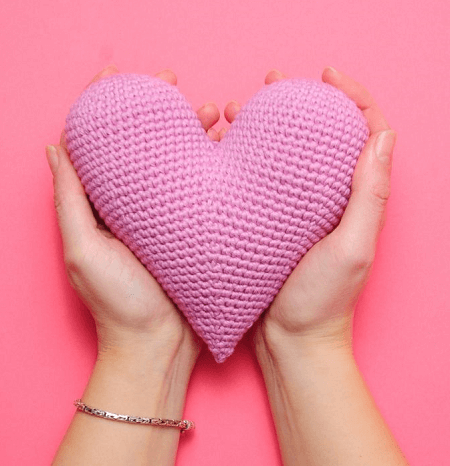 Get the Pattern here

27. Heart Bookmark Crochet Pattern by HCK Crafts
Want a great way to show a bunch of love to all of those wonderful readers in your life? How about presenting them with these lovely heart bookmarks?

These bookmarks will make an ideal gift for booklovers of all ages, a gift for a friend or your favourite teacher. They are small, so you can easily craft a lot of them in a short amount of time.

More Crochet Bookmark Patterns Here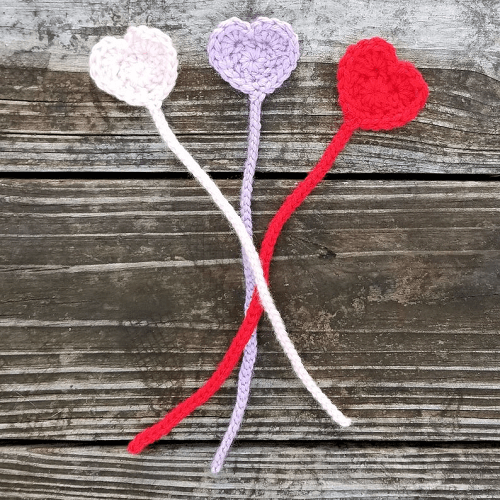 Get the Pattern by HCK Crafts here

28. Candy Heart Pillow Crochet Pattern by Once Upon A Cheerio
These pillows usually come with little messages stamped into them and are considered to be very romantic indeed!

Of course, these heart-shaped pillows are not just for Valentine's Day and therefore these cute pastel-colored beauties make perfect housewarming gifts or kids room decor! Make them in any color you like or even give them multicolored stripes.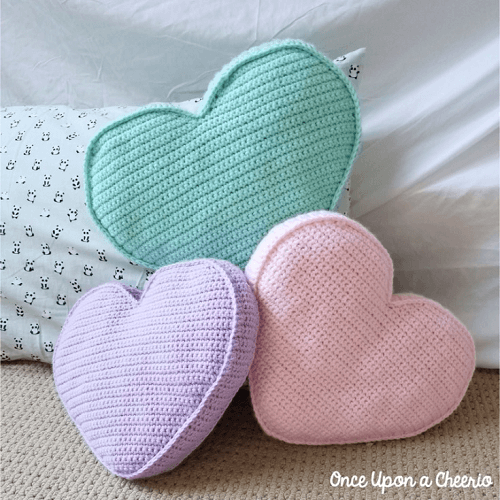 Get the Pattern here

29. Ice Cream Heart Crochet Pattern by Inspired Crochet Toys
Chocolate or creamy? Choose yours and crochet it! These heart souvenirs can become the symbol of your love. Also, you can make it as a pendant for your keys.

These cute amigurumi hearts are the perfect Valentine's Day key chain, but you can also create a very tasty garland or use them in a creamy Valentine's Day door wreath!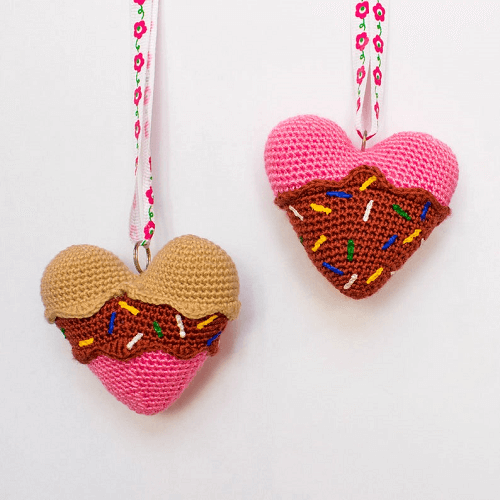 Get the Pattern by Inspired Crochet Toys here

30. Crochet Heart Pouch Pattern by Persia Lou
Learn how to make your own adorable little crochet heart pouch with this free crochet pattern. This pattern makes a small little heart bag that can be a sweet gift or fun fashion statement.

These pouches are small – probably only big enough to hold a few little candies or other small treats – but you could try using a heavier weight yarn and larger hook for a bigger heart.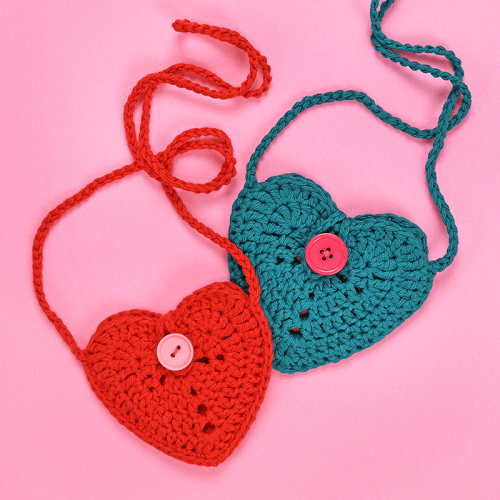 Get the Pattern here

31. Christmas Hearts Crochet Pattern by Golden Lucy Crafts
Make this crochet heart ornament for Christmas! It is easy to make and you can use it in many ways. You can use this ornament for your Christmas Tree, you can decorate a gift package, or, embellish your home. Make some as a small present for your child's teachers, your coworkers, and your friends.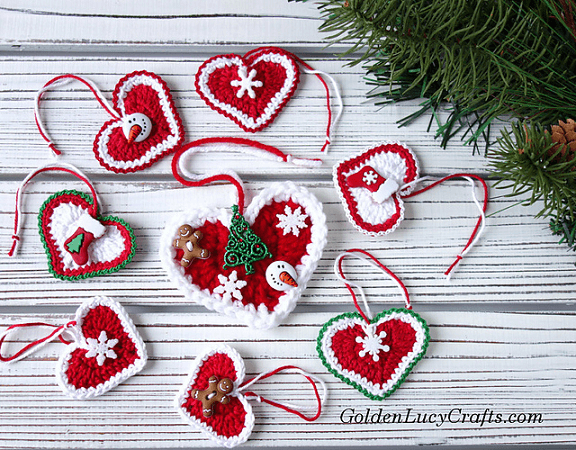 Get the Pattern here

32. Heart Crochet Doily Pattern by Cat Lady Crochet Shoppe
This charming crochet doily pattern is for thread crochet. It features 6 lace-trimmed hearts in varying colors. Each is made separately, then joined together as you go, forming a ring around a lacy, snowflake center. A second lace edging around each heart stands up for a stunning 3D effect!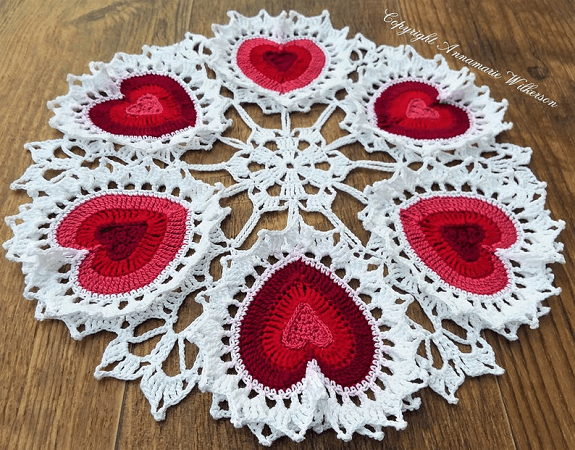 Get the Pattern by Cat Lady Crochet Shoppe here

33. Chunky Heart Banner Crochet Pattern by The DIY Mommy
This little banner is pretty quick to whip up and it's a great beginner's crochet project. You could use the hearts as-is for Valentines decor or coffee coasters, or string them together for a sweet banner.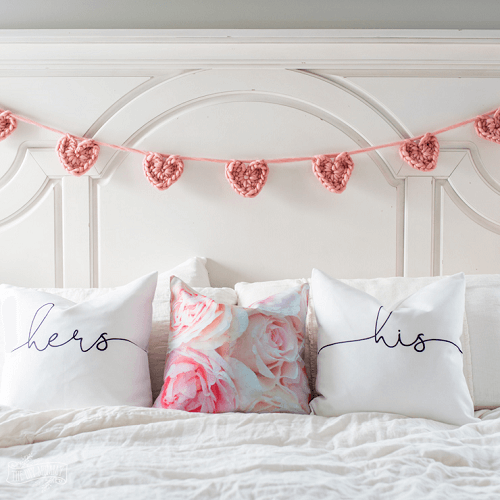 Get the Pattern here

34. Crochet Heart Ornament Pattern by Sewrella
This easy beginner friendly heart shaped ornament is so simple to make! It consists of simple stitches and is so much fun for the holiday season – great for adding to a tree or decorating a present!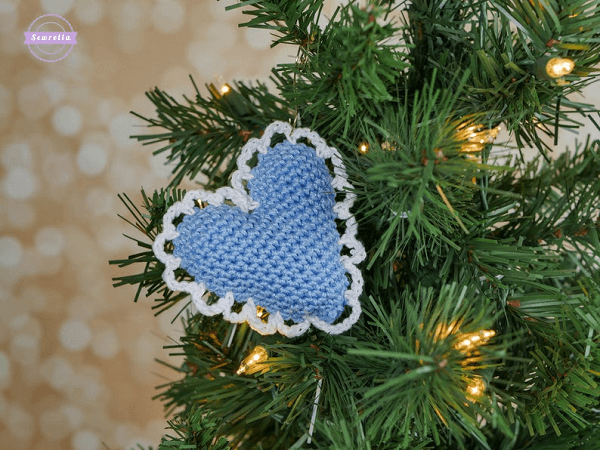 Get the Pattern by Sewrella here

35. Crochet Micro Heart Earrings Pattern by Yarn Punk
These micro heart earrings are a great starter project for those who want to get into crochet jewelry. It can be easily customized by adding beads or sewing them together to make a bracelet. Scale it up with DK yarn to make a larger but equally cute heart applique.
Get the Pattern here

36. Crochet Heart Applique Pattern by Loops And Love Crochet
Show your home or other crochet projects a little love! Here's a sweet and quick way to add some sweetness to your home decor or current projects! Personalize your bags, blankets, clothes, table runners and pillows …just about anything you can think of!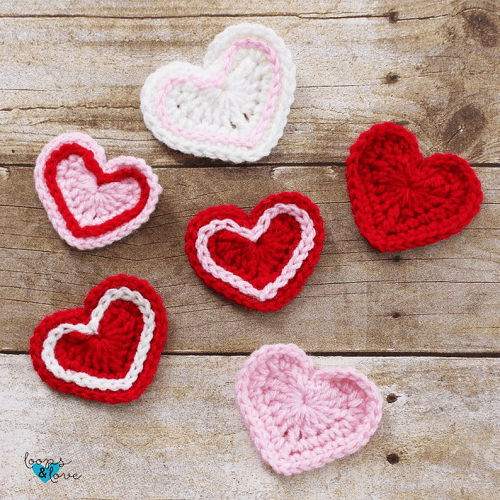 Get the Pattern by Loops And Love Crochet here

37. Crochet Heart Coin Purse Pattern by Crochet Treasures
This cute heart-shaped coin purse is just adorable! From the bright color combination to the funky crochet trim around the edge, this little heart is kitschy Valentine's Day perfection.

The pattern for all it's sweetness is completely free! There is some knowledge of sewing required in order to insert the zipper, but the crochet part really works up quite fast.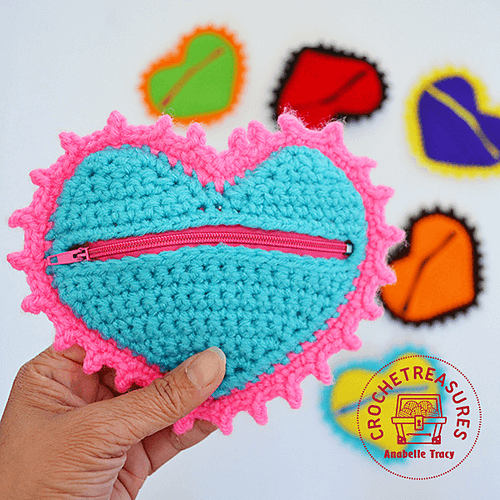 Get the Pattern here
38. Free Crochet Heart Pattern Keyring by Jose Crochet
The crochet valentine heart pattern is free on the Jose Crochet blog, with very detailed instructions and pictures and illustrations to show you exactly what you need to do to make the perfect heart.
The creator rates it as a beginner pattern, so you don't have to have expert crocheting skills in order to attempt this pattern. It is entirely fun to do, and the sense of accomplishment you will feel when you complete your stunning creations will leave you breathless.
Exactly the feeling your lover will get when you present him or her with these lovely tokens of your affection.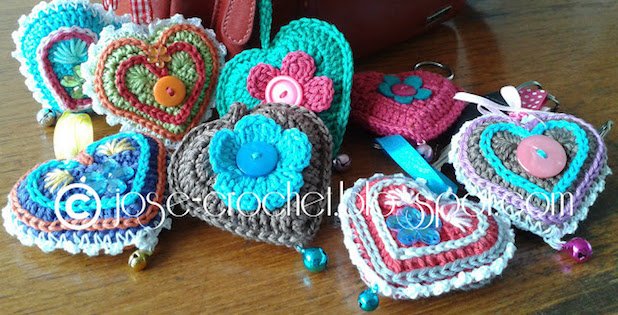 Get the free pattern here
39. Crochet Heart Pattern Clutch Bag Tapestry by Chabepatterns
The crochet heart pattern bag is one of those patterns that will leave you with a deep sense of satisfaction. Do not be surprised if it gets addictive I think that was the intention of the creator. The crochet heart pattern bag makes for a very stunning zipper clutch bag that will go so finely with any outfit you decide to rock.
The beautiful hearts and the contrasting colors of the pattern simply make it stand out even from afar. I tried making one and the results were absolutely amazing. My only regret is that I hadn't come across this pattern sooner in my life. You will definitely have loads of fun with this pattern.
So, considering the way the crochet heart pattern bag stands out you will definitely need to invest materials and patience if you want to make one. Fortunately for you, all the materials can be easily sourced from your local arts and crafts store.
Suggested Materials
• 3.5 mm crochet hook
• One 100 gr/ 3.52 oz (200 m/ 218 yd) skein of fine 100% cotton yarn in NAVY BLUE
• 100 gr/ 3.52 oz (200 m/ 218 yd) skein of fine 100% cotton yarn in WATERMELON
• One 100 gr/ 3.52 oz (200 m/ 218 yd) skein of fine 100% cotton yarn in CREAM
• Yarn bowls or box with holes
• One 13.8"/ 35 cm ring pull metallic zipper
• Stitch markers in two colors
Stitches And Techniques
• Slip stitch
• Single crochet (UK double crochet)
• Tapestry crochet (with more than 2 colors at a time)

Skill Level
Advanced: This design includes crochet basic stitches, a mid-level repetitive tapestry crochet pattern (alternating more than two colors at a time), easy shaping and finishing techniques.
The crochet heart pattern bag is definitely for the more technically gifted crocheter because it contains quite a few complicated stitches.
The crochet heart pattern bag is one of those patterns you don't want to fool around with. Finding just the right color pallets' to go with each other is a delicate matter. I would recommend just sticking to what is in the pattern instructions. But, if you feel your creative edge coming through then you can definitely try new colors.
Can't get enough of bag pattern? Also see our list of Crochet Market Bag Patterns, and Mesh Bag Crochet Patterns.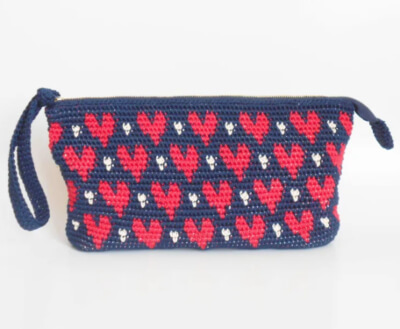 Get the Pattern by Chabepatterns here
Which of these Crochet Heart Patterns will you try first?
If you're done making your own charming hearts, we want to see it! You can share photos to our Facebook Page. Be sure to also check out all our other featured patterns here and bookmark everything you like to crochet next!
Enjoy making these gorgeous crochet heart patterns and use them on Valentine's Day or save as special keepsakes year-round!