We know anyone prefer to wear gloves in the winter so that our hands are able do to more meticulous tasks such as unlocking the front door, driving a car, and well, crocheting!
So, we've rounded up 10 gorgeous crochet gloves patterns for you to enjoy!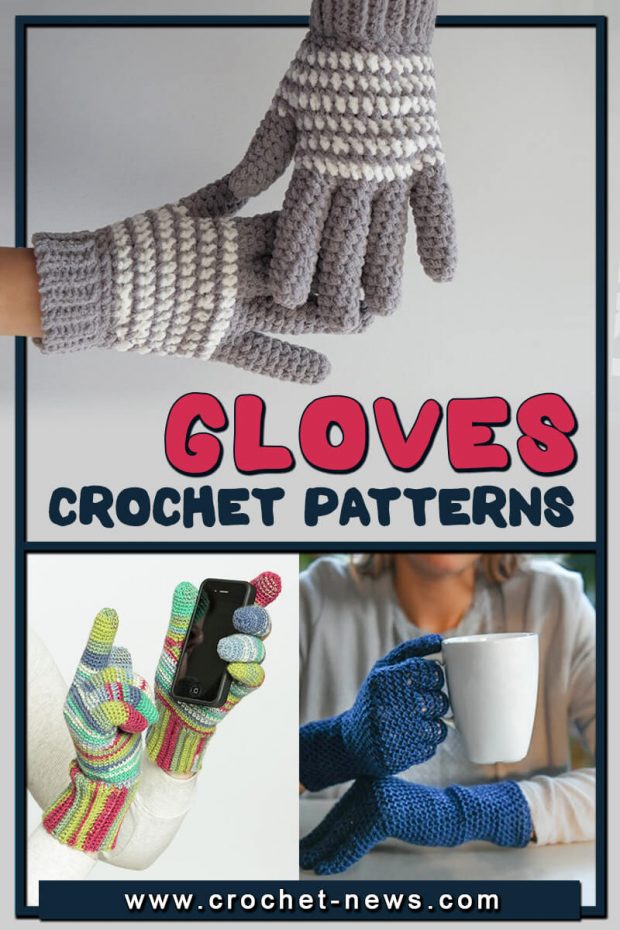 Make yourself the perfect winter accessory with these patterns below. You can take your crocheting skills to the next level by challenging yourself to make a fun, useful project this season.

1. Cozy Striped Free Crochet Gloves Pattern by B Hooked Crochet
If you're looking for a practical way to improve your crochet skills, this Cozy Striped Crochet Gloves are perfect for you! They're incredibly soft, warm and comfortable to wear.
These are a must have for winter to keep your fingers toasty warm and the pattern is a must try for anyone looking for a fun challenge.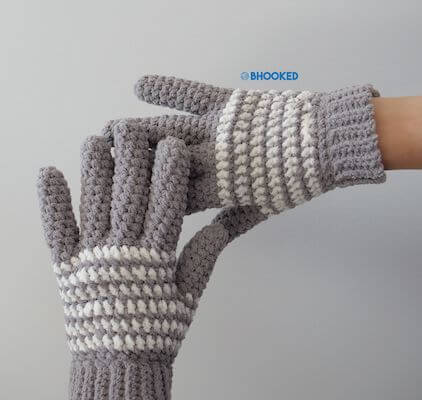 Get the Pattern here

2. Fit Lite Easy Crochet Gloves Pattern by Made With A Twist
Crochet a pair of full-fingered gloves using your favorite sport/sock-weight yarn – to keep hands warm and beautiful. Fine and warm, the gloves are adjustable to fit any lady's fingers (short, long, fat or thin), while looking elegant and beautifully fitted.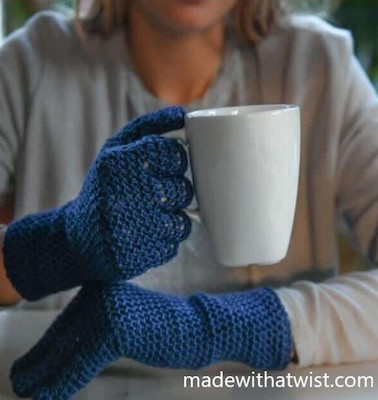 Get the Pattern here

3. Women's Textable Gloves Crochet Pattern by Knit And Crochet Ever After
These gloves will keep you toasty while you text. Using the recommended yarn that has actual silver in it, you can use all your touchscreen devices without having to remove the gloves.
Whether you want to text or not, these comfy ribbed gloves are easy and fast to work up. They come in three sizes to fit most women's hands.
Get the Pattern here

4. Women's Sock Yarn Gloves Crochet Pattern by Adorish Originals
These easy crochet gloves are made using a simple stitch that creates the look of little knitted cables. They're made of sock yarn which gives them just the right amount of stretch and makes them especially fun to make – sock yarn is available in so many solid and variegated colors to choose from!

Each glove is made of two pieces (back and palm side of hand) which are worked flat and then joined. These can be made either with pleated back with decorative button or clasp (shortie style) or with the cuff (instructions included). These make wonderful gifts!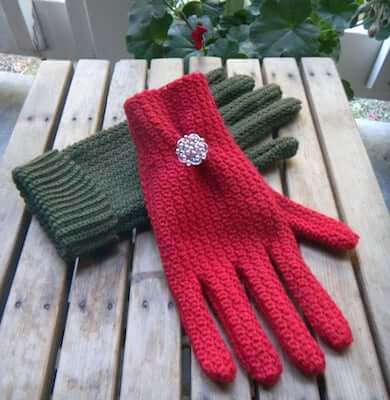 Get the Pattern by Adorish Originals here

5. Crochet Gloves Pattern by Re Ve Design Co
This gloves crochet pattern includes full fingers and a long wrist so that your gloves will keep your whole hand and wrist warm in the coldest of weather! legant and stylish or rustic – the yarn you choose will create different effects.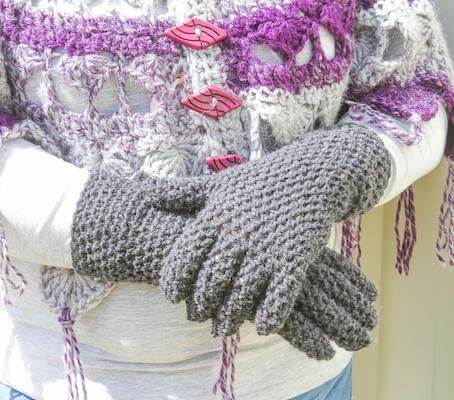 Get the Pattern by Re Ve Design Co here

6. Texting Gloves Crochet Pattern by Red Heart
Keep hands warm as you check your phone with these smartly designed crochet gloves made for texting! You can customize them in any shade that pleases, while index fingers and thumbs flip back and are buttoned open when using your phone.
Tuck this colorful accessory under the tree because it's a popular gift for the holiday season!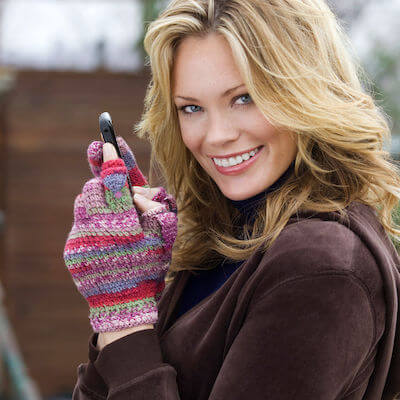 Get the Pattern here

7. Men's Thermal Fingerless Gloves Crochet Pattern by Kickin Crochet
These gloves are size mens medium. The thermal stitch makes these gloves extra thick and warm. You will love the thick and long lasting quality of this particular stitch. It definitely keeps your hands warm during winter!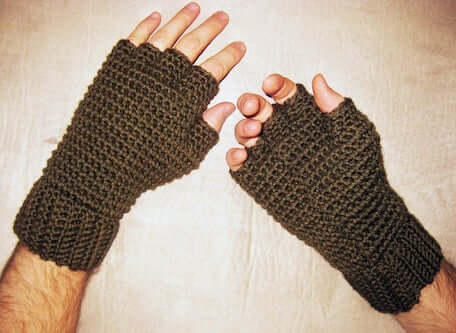 Get the Pattern by Kickin Crochet here

8. Candy Striped Texting Gloves Crochet Pattern by Simplicity
These colorful gloves are so bright and fun! This free crochet gloves pattern includes instructions for adding touchscreen-sensitive fibers so you can use these gloves to text or make calls without taking them off.
No matter what crochet pattern you decide to try today, you can always add that next step of sewing in the touchscreen-sensitive fibers.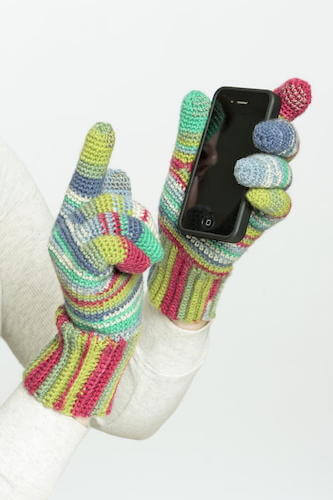 Get the Pattern here

9. Aspen Gloves Crochet Pattern by Underground Crafter
Color can take us back in time and remind us of a particular place. The autumn tones featured in this glove represent the fall season.
In a time and place where the foliage is painted with shades of yellow, orange, red and green and snow-capped mountains loom above.
These fingerless crochet gloves are sure to keep your hands warm while you take in all that beautiful fall scenery.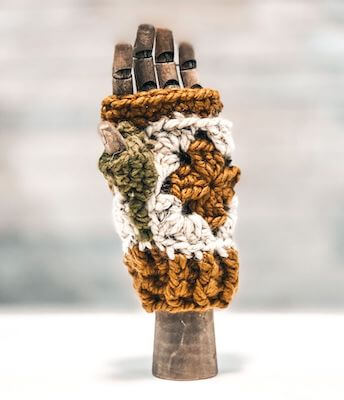 Get the Pattern here

10. Perpetual Posts Fingerless Gloves Crochet Pattern by Pyschedelic Doilies
These Perpetual Posts Fingerless Free Crochet Gloves Pattern marries those two things in crochet that are hard to combine – color and texture.
If you use the recommended yarn, these wrist warmers create a beautiful gradient effect, accentuated by the posts.

This free wrist warmer / texting glove pattern is easy enough for a beginner, featuring predominantly the single crochet stitch with some post stitches thrown in as well.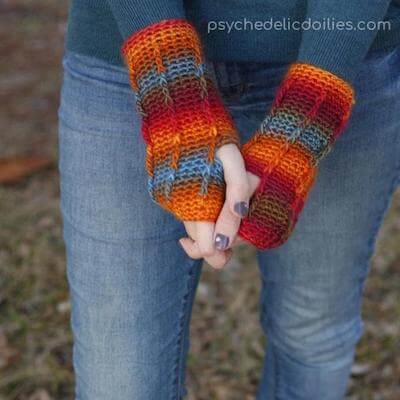 Get this Easy Crochet Gloves Pattern here
IF YOU ARE UP FOR A CHALLENGE, TRY CROCHETING A PAIR OF THESE CROCHET GLOVES PATTERN!
When you're done making some pair and still can't get enough, don't miss our Crochet Fingerless Gloves and Victorian Fingerless Gloves. Please do share them on our Facebook Page! Now, brew some coffee, pull on your new gloves, and head outside to catch the sunrise!

If you are thinking of winter, then also check out our collection of crochet patterns below to get you all covered this winter season.
With these crochet gloves patterns, you'll be stylish and comfortable as the seasons change!