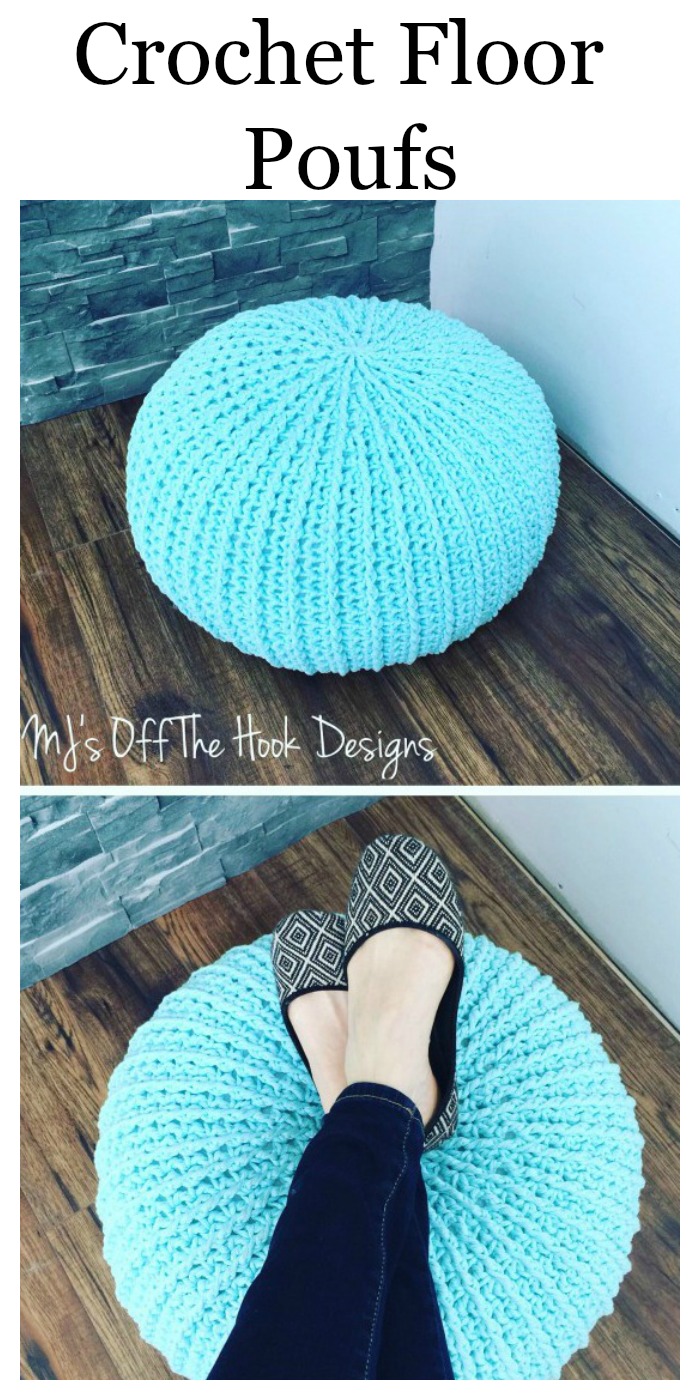 Crochet Floor Pouf Pattern
At the end of every long day, all I want to do is settle down with a good book in my favorite chair and kick my feet up. It's been a tradition for me but I've always had a problem with my footstool. You see after a while the hard surface always gets uncomfortable for my feet and that's where the crochet floor pouf comes in.
A stunning design meant to give you maximum comfort for as long as you want it. The crochet floor pouf is just what the name says, it's a puffy round ball of crocheting magic that you place on the floor and get to put your feet on it. And, it is absolutely beautiful. I regret not having run into this pattern sooner.
So what do you require to make your own amazing crochet floor pouf?
Crochet Floor Pouf Materials
3 skeins Bernat Handicrafter Chunky total 645 yards,
1 large bag of polyester stuffing 64 oz
8mm crochet hook (L)
Tapestry Needle
You can purchase them here
if you need to stock up, and have them delivered directly to your door.
Crochet Floor Pouf Is Easier Then It Looks
Due to its size, the crochet floor pouf pattern may seem complicated but it is actually a simple pattern. You also have a choice of how to get this pattern into your life. There is a PDF with written instructions if you prefer reading and if you are more visually acute then there is a tutorial made just for you.
The instructions are given in great detail so you do not miss a step but again this is a simple pattern. There are no technical stitches involved in this crochet pattern. Even if you are a beginner, you will definitely get the hang of it if you follow the directions given. The end result of your patience will be a beautifully made crochet floor pouf.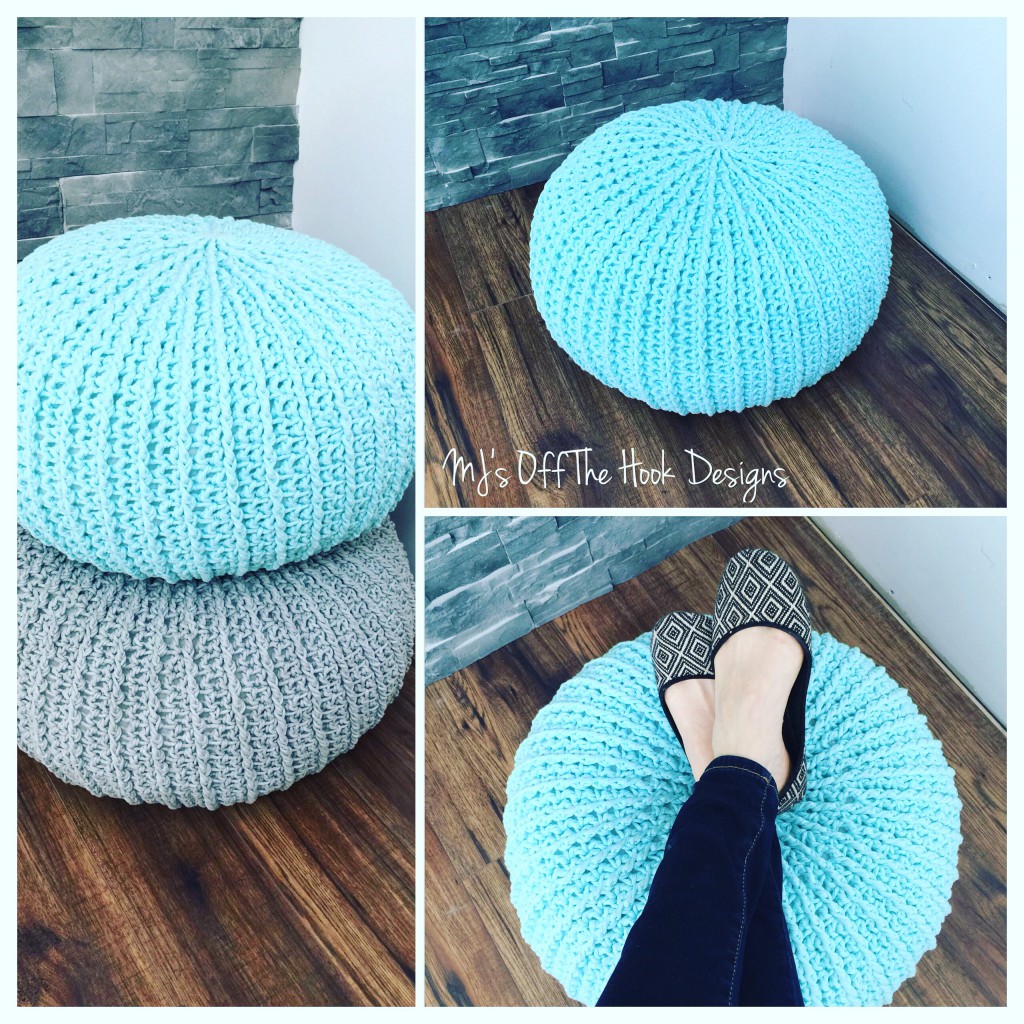 Any Color You Like
With the crochet floor pouf pattern, you can let your imagination roam wild. Do not limit your creativity because this pattern certainly gives a lot of room to add your own personal touch to it. Due to the fact that the pattern uses a solid block color means that you can get to play around with the colors.
Choose any color yarn and get crocheting away or you could mix up the colors to come up with an even more interesting design. Add your touch by putting a little embroidery on the poufs. You could even sign in your name just to personalize it further. Beadwork, rind stones and even ribbons, anything and nearly everything goes well with the crochet floor pouf pattern.
It Can Have Multiple Uses
Below is the one which I made for at my house and I sit on it to meditate. It also comes in handy for some yoga moves. I didn't use the stuffing, but I had an old pillow which I used instead. With the pillow being a little bigger then expected it has stretched the stitches a little.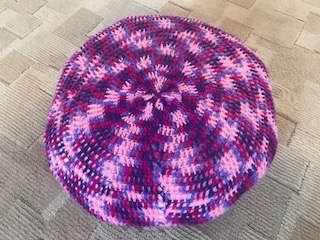 Now the primary use for the crochet floor pouf may be as a foot rest but it can also serve a myriad of other purposes too. It can be used as a decorative piece. You can place a few different colored poufs around the house and they will definitely change the ambiance.
You can use the floor pouf as a small stand to place light objects on. Try using them as seats for your kids' room, if you expand the dimensions a bit they make quite comfortable seats. There are plenty more uses of the crochet floor pouf but you can only discover them if you make one.
The crochet floor pouf pattern is definitely one that I would recommend a die-hard crocheter to have. With so many uses and its stunning design, the crochet floor pouf is one addition to your house that you will absolutely love.
Thanks to the guys at MJs for this wonderful pattern

2. Crochet Bobbles Pouf Pattern by Is Woolish
This bobbles pouf is fun to make, it works up very quickly and is perfect to be used as a seat, a table, and a footrest when needed.
You can use this pouf in any interior design – regardless of whether your premises are modern and elegant, or perhaps minimalist.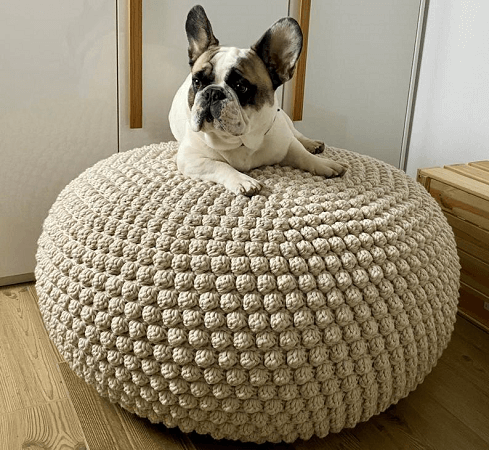 Get the Pattern by Is Woolish here

3. Round Minimalist Floor Pouf Crochet Pattern by Minimalism With Yarn
Make your own modern minimalist floor pouf for your home!
The simple, refined design fits any decor, from the living room, bedroom, guest room, or nursery. Use it as extra seating on the floor or as a footrest, for yourself or the kids.
Use any color or fiber you desire that fits the pattern to suit your unique style at home.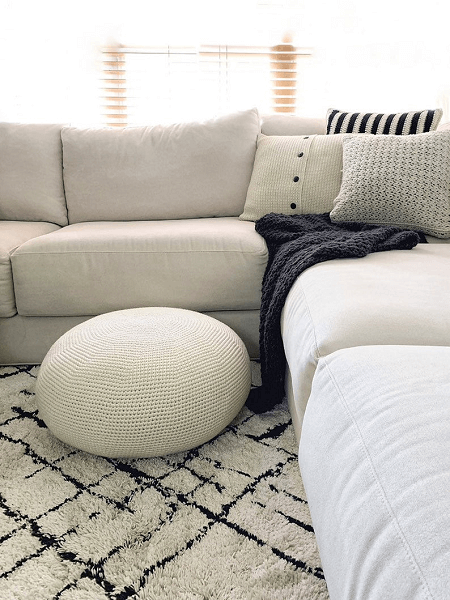 Get the Pattern by Minimalism With Yarn here

4. Pouf Free Crochet Pattern by Make And Do Crew
Get the Pattern here

5. Crochet Floor Pouf Pattern by Sweet Everly B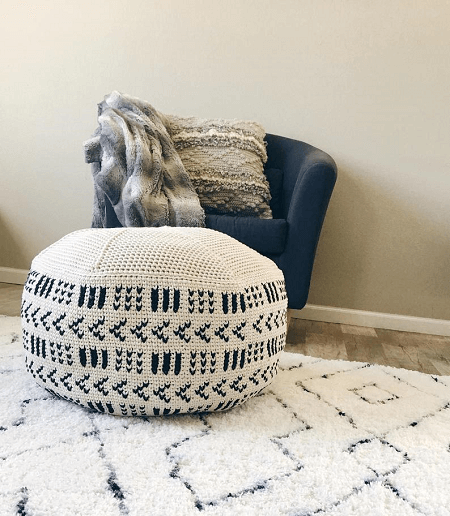 Get the Pattern by Sweet Everly B here

6. Mosaic Floor Pouf Crochet Pattern by Yarn And Chai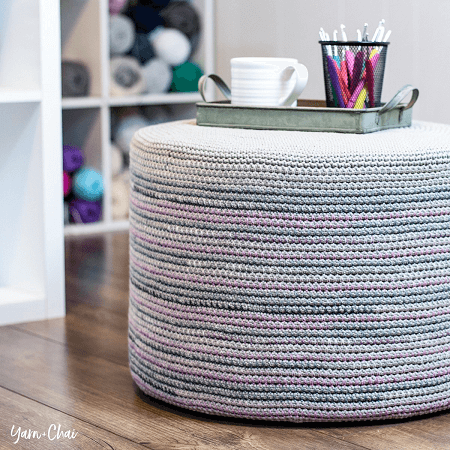 Get the Pattern here

7. Peppermint Kiss Pouf Crochet Pattern by Crafting Friends Designs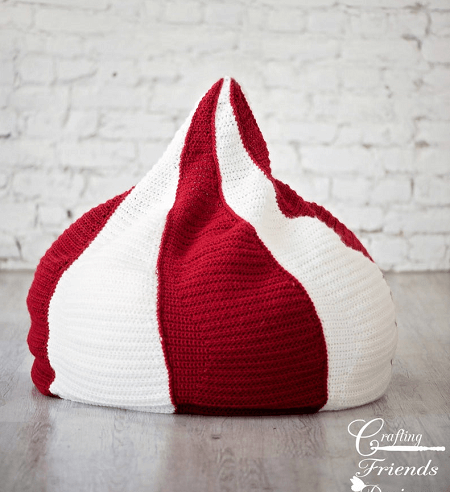 Get the Pattern by Crafting Friends Designs here

8. Boho Pouf Crochet Pattern by Dark N Twisty Housewife
The Boho look is coming back for home decor and this pouf pattern makes an awesome addition to any room!
This Boho Pouf Crochet Pattern s made using puffs and loop stitches. It measures about 19 in tall x 21 in wide when made with a bulky yarn.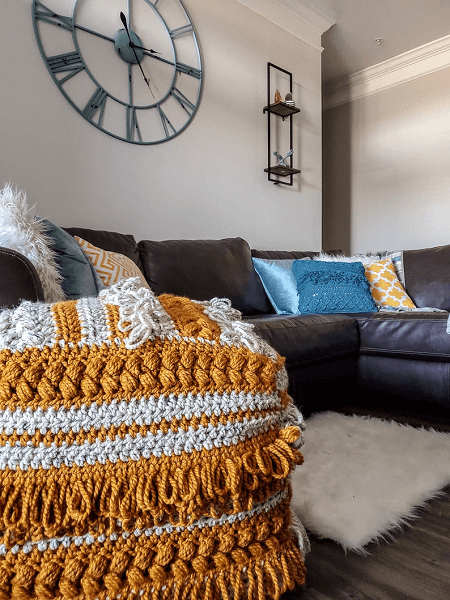 Get the Pattern by Dark N Twisty Housewife here

9. Crochet Plaid Floor Pouf Pattern by Whistle And Ivy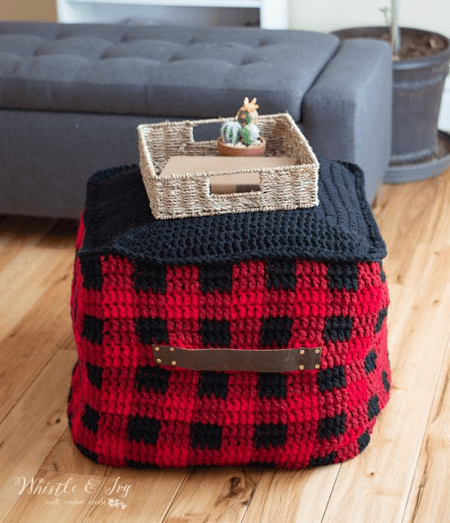 Get the Pattern here

10. Footstool Crochet Pattern by String Theory C
This is a pattern for a comfy and cute footstool – ideal for children's bedroom or stylish apartment.
This Footstool Crochet Pattern is for adventurous crocheters. The stitches are easy but it is made up of 6 strands of super bulky yarn, fabric strips or t-shirt yarn, and an extremely big hook.
Get the Pattern by String Theory C here