In these tough times, everybody needs a little sweetness in their lives. It's the perfect time to crochet something cute like these 12 crochet duck patterns!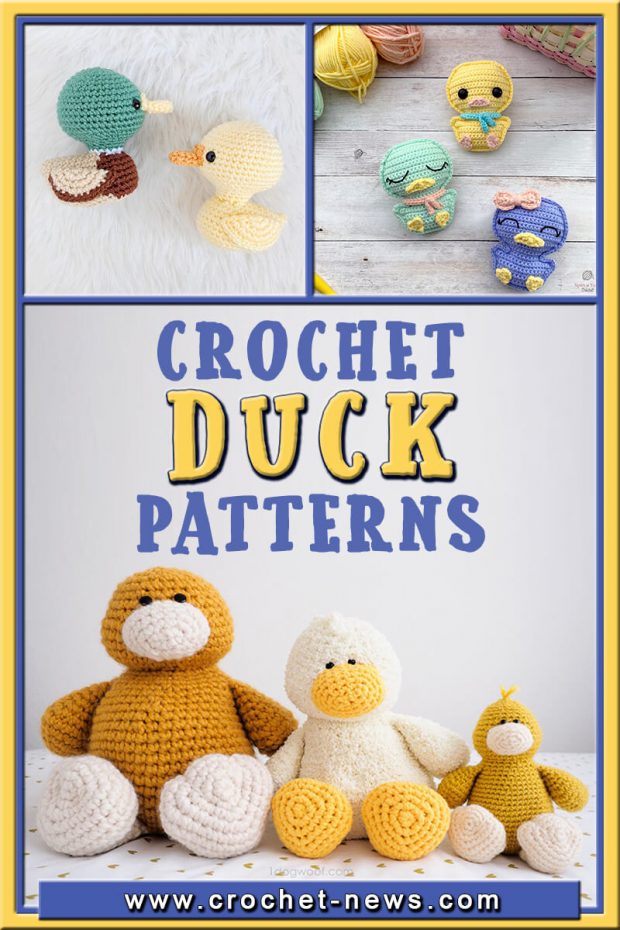 Playful ducks like to be in a group so crochet a whole flock of them! They make a great decoration for an Easter table. You'll see all sorts of creative duck softies, and fun accessories. Make them for you, your kids, your friends, and everyone you know who loves ducks!

1. Quacktastic Bookmark Free Crochet Duck Pattern by Heart Hook Home
This little Quacktastic Duck Bookmark is perfect for Easter baskets and excellent for young readers. If you are brand new to amigurumi (stuffed crochet) this is also a great little project to get your feet wet!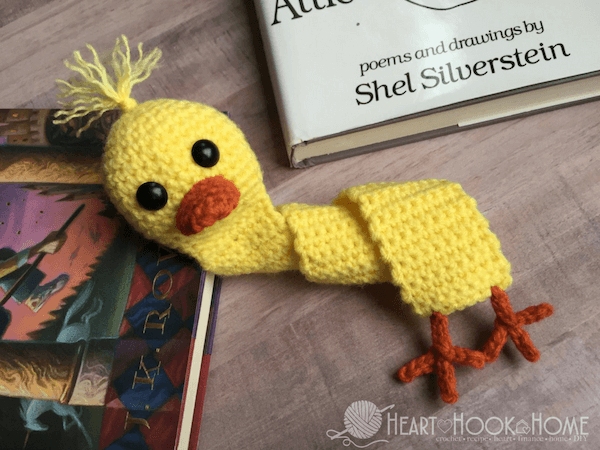 Get the Pattern here

2. Mini Duck Amigurumi Pattern by Ami Amore
Make your own adorable mini duck amigurumi in just a few hours! Use your imagination to customize its colors for endless possibilities! This sweet little duckie plush is perfect for adults and children alike.
The easy-to-follow pattern is even suited for beginner crocheters. A fun and quick crochet duck pattern to crochet, make yourself a sweet friend today!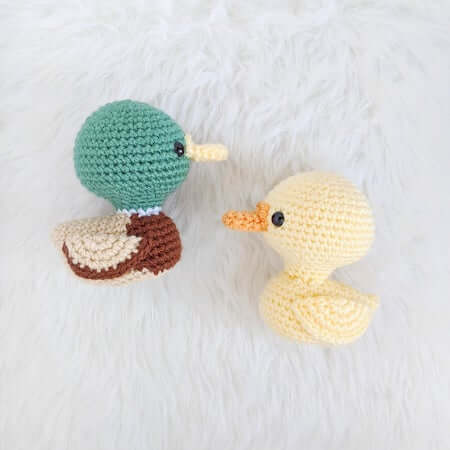 Get the Pattern by Ami Amore here

3. Pocket Duck Free Crochet Pattern by Spin A Yarn Crochet
Here are some Easter-ready baby ducklings that are just perfect for an Easter basket, a table-top decoration or as a basket stuffer for the Easter-egg hunt.

They are super simple to make, infinitely customizable and very, very cute. This free crochet duck pattern is made in separate pieces worked in flat rows and then joined together to give them that unique 2-D look. This duck amigurumi has just 5 separate pieces, not including any accessories you may want to add.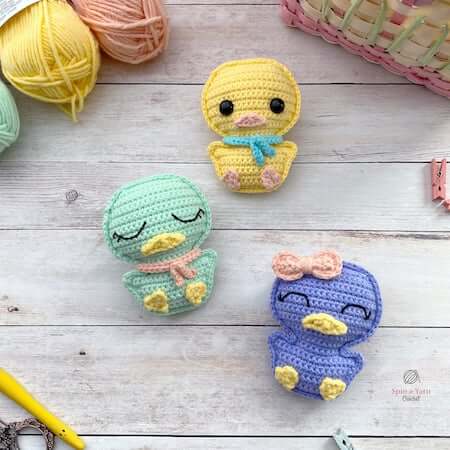 Get the Pattern here

4. 20 Minute Free Crochet Duck Pattern by Stringy Ding Ding
These cute little ducklings are just the ticket to give your Easter table or basket an even more springtime feel. After all, little hatchlings are little hatchlings the world is over: squeeking, tiny, cute fuzz balls.
This is a quick project that literally works up in 20 minutes and is great for using up yarn scraps.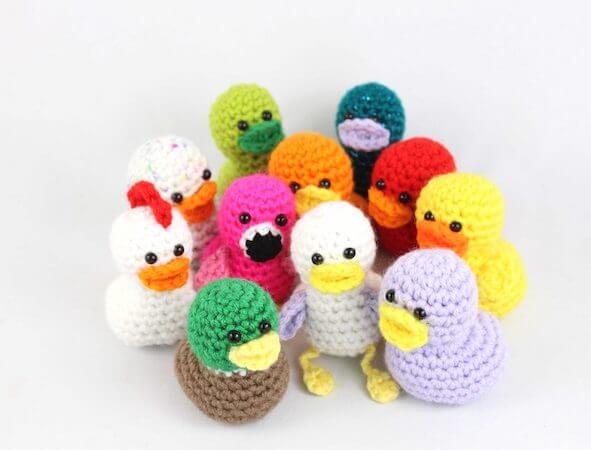 Get the Pattern here

5. Stanley Duck Amigurumi Crochet Pattern by 1 Dog Woof
An adorably huggable duck to squeeze and love. There's one crochet pattern, but depending on the yarn you use, you can produce 3 different duck amigurumi, even with their own personality. Which do you prefer?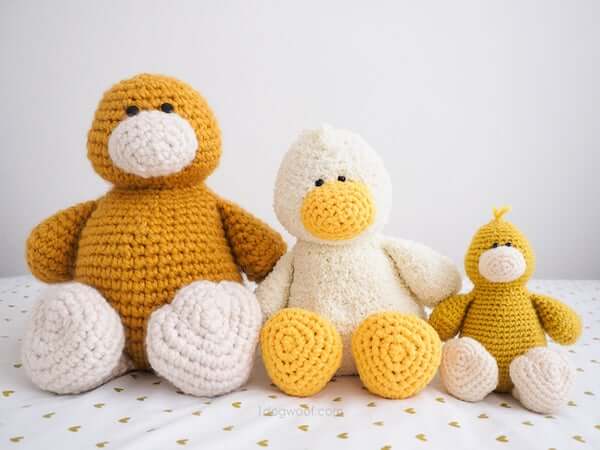 Get the Pattern by 1 Dog Woof here

6. Duck With Hatchling Duckling Crochet Pattern by Lau Loves Crochet
This Duck with Hatchling Duckling Crochet Pattern includes the instructions for the adult duck, as well as for the duckling and its egg. With this design, the duck's body contains the egg which then 'hatches' to reveal the baby duckling inside that!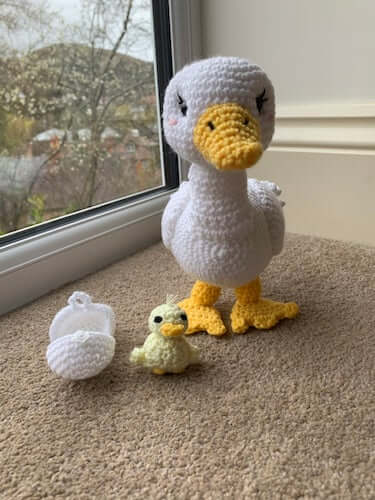 Get the Pattern by Lau Loves Crochet here

7. Baby Blanket Duck Crochet Pattern by Kerry Jayne Designs
This little Duck Baby Blanket is just so sweet – a baby blanket full of cute ducks and finished with a beautiful bobble border! Crocheted in 100% Dk/light worsted weight cotton – just perfect for a little newborn – and it is gender neutral.
Using a soft yellow on a pure white background the blanket looks beautifully clean, fresh and bright, perfect for the modern mom!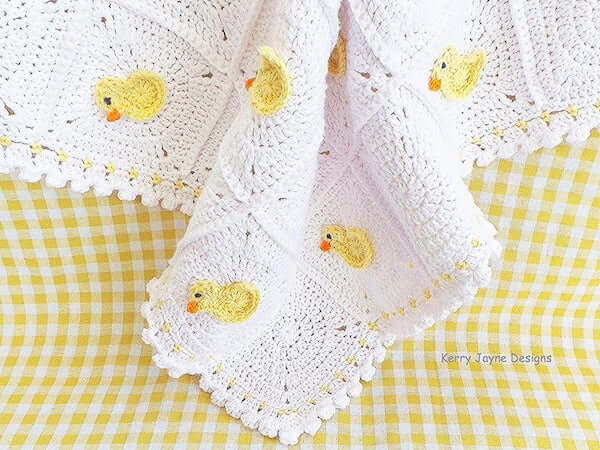 Get the Pattern by Kerry Jayne Designs here

8. Little Friendly Duck Crochet Pattern by Lilleliis
What could be more exciting than finding this little friendly duck amigurumi waiting next to your bed for you to wake up on Easter morning?! She is such a cute friend for toddlers as well as a beautiful handmade gift for grownups.
Use it as an Easter decoration, keyholder or a small toy.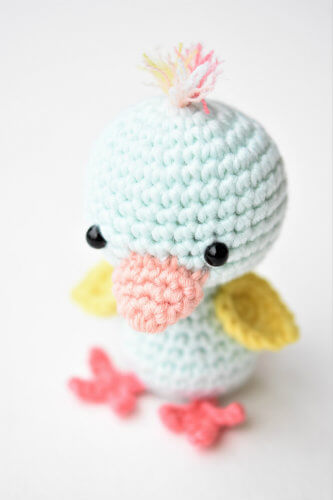 Get the Pattern here

9. Dilly And Mallard The Duck Friends Crochet Pattern by Theresa's Crochet Shop
Meet Dilly and Mallard! Create your own adorable duck friends in just a couple hours! This super simple duck crochet pattern includes detailed instructions on how to crochet and assemble all the parts to make this duck or mallard duck.
Only basic crocheting skills will be needed to make this duck crochet pattern: chain, single crochet, double crochet, and decreasing.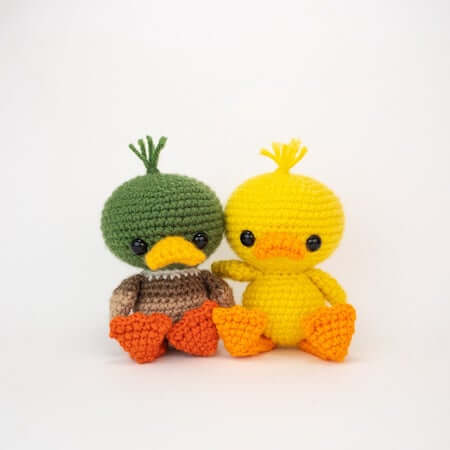 Get the Pattern by Theresa's Crochet Shop here

10. Duck Toy Crochet Pattern by Yarnspirations
This cute crochet duck toy is great for a little boy or girl. Or, stuff it with catnip and transform it into a plaything for kitty! It's easy to crochet in your favorite shades, or discover a simple version in yellow, as shown. What color will your first crochet ducky be?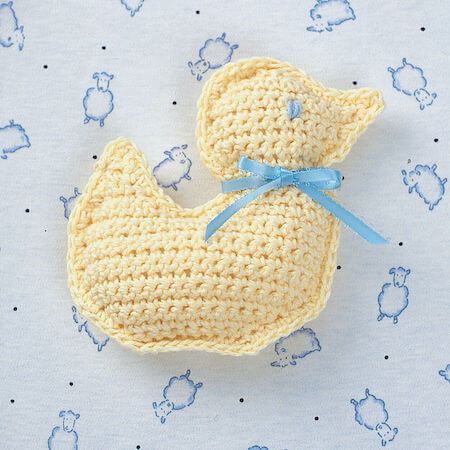 Get the Pattern here

11. Webby Duck Amigurumi Pattern by Amigurumi Today
Crochet a pretty Webby Duck Amigurumi, the character of popular cartoon "Duck Tales". It will make a cute gift for your little or big girl (or even for yourself!). The height of the finished toy is about 20 cm (7.9″).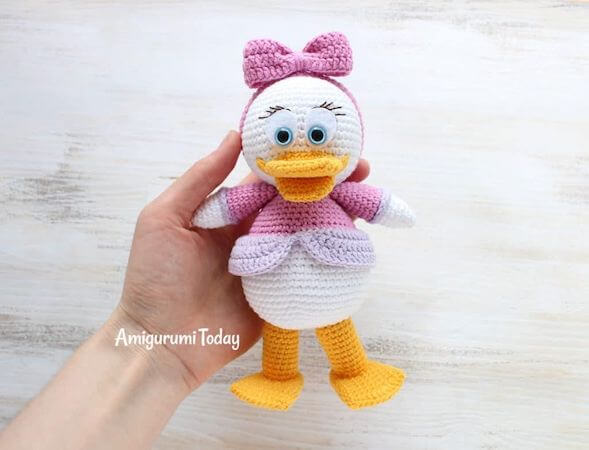 Get the Pattern here

12. Crochet Duck Basket Pattern by Ekay G
This little duck crochet pattern is a very quick, very fun, and very versatile design! This was originally designed to be a bath scrubby. You can put a bar of soap in it for your little one, or just use as a bath toy!
It can be made into a basket by going up in yarn and hook size! These make great nursery decor; a place for small trinket toys. If you need a quick pick-me-up pattern, just to get your crochet groove back, this will do the trick!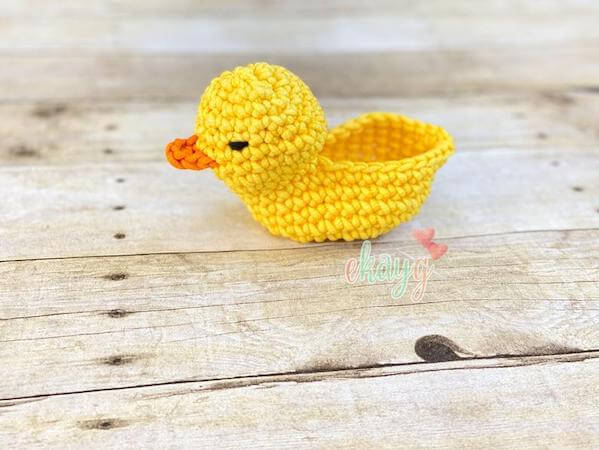 Get the Pattern by Ekay G here

13. Duckling Crochet Pattern by Little Conkers
Crochet pattern for adorable fluffy ducklings! Designed to be realistic in all their natural cuteness, these make a great addition to your seasons table, perfect spring and Easter decorations, lovely twig tree ornaments or even shocking toys for a cat!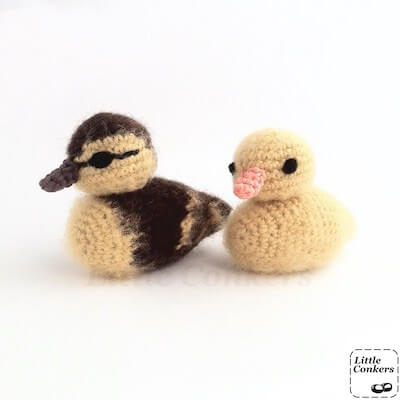 Get the Pattern by Little Conkers here

14. Herbert, The Duckling Crochet Pattern by Underground Crafter
Herbert, the duckling is a simple amigurumi pattern that uses fur yarn for the fuzzy texture and layered pieces in smooth yarn to add dimension to the bill and flippers. I think the 12 mm black safety eyes are a perfect compliment, but of course, you could change Herbert's expression by using larger or smaller eyes, or sewing on buttons, or embroidering eyes.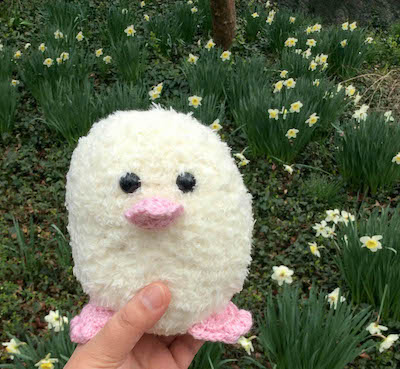 Get the Pattern here

15. Amigurumi Duckling Crochet Pattern by Amigurumi Today
This adorable amigurumi duckling is so cute you will want to get one for your own collection of crochet animals. It wears cute hat with pompom and soft comfortable scarf.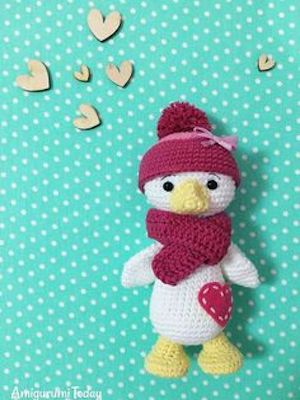 Get the Pattern here

16. Little Ducks Crochet Pattern by Knit Picks
Every once in a while, I need a quick crochet project to keep my hands busy. Well, these adorable little ducks are just the solution! They work up in less than an hour with less yarn than you probably have in your scrap bin. They're colorful, cute and oh-so-addictive!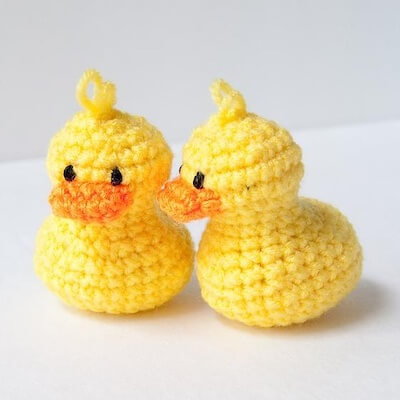 Get the Pattern here

17. Jonesy, The Duckling Crochet Pattern by Sons Popkes
With this easy pattern you can make the sturdiest little aviator duckling, or a normal duckling. The pattern includes instructions for the aviator hat and goggles.

An afternoon spent feeding the ducks is one well spent, but Jonesy is more than happy to sit on the side of your crafting table and watch you work your hooks and create magic.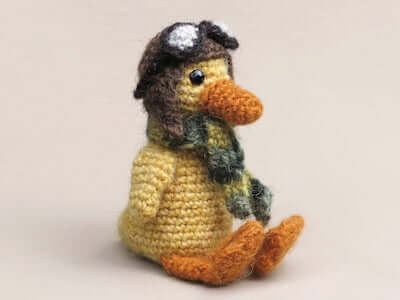 Get the Pattern by Sons Popkes here
WITH SPRING HERE AND EASTER JUST AROUND THE CORNER, SOME CROCHET DUCK PATTERNS WILL FIT THE *BILL* PERFECTLY!
We can't wait to see your very own feathery friends. Please share a pic of your finished crochet ducks on our Facebook Page. We'd love to see how they turned out!

For more easy farm friends for your home, check our collection of patterns for chickens, pigs, horses, donkeys, roosters and cows. There's so much to discover!

Make a bunch of these crochet duck patterns in different shades, keep a few for yourself and give the rest to your friends!