Dragonflies are often signs of change, peace, and harmony. Why not usher in the changing seasons with a little peace and harmony of your own with these 20 beautiful dragonfly crochet patterns?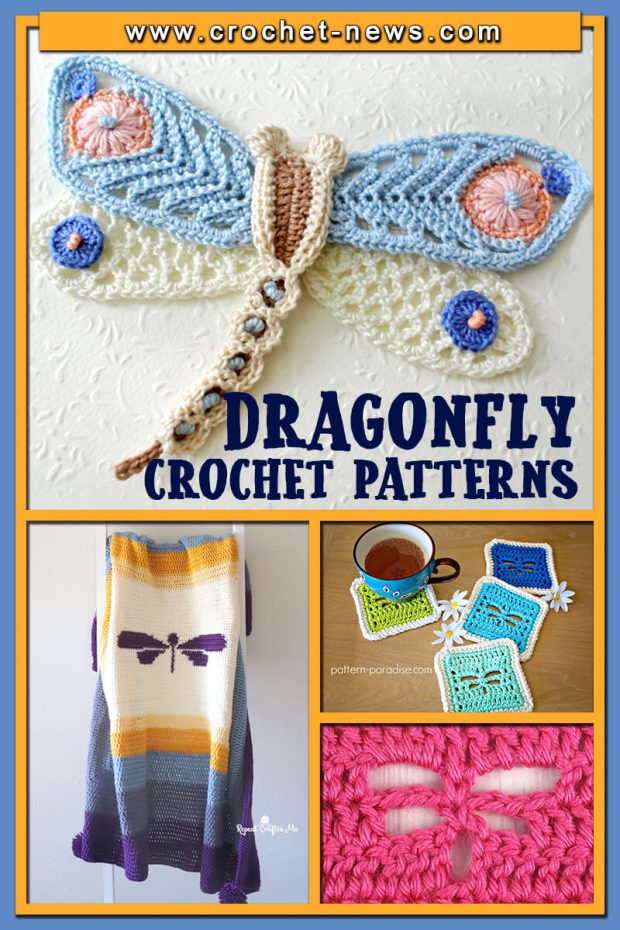 If you're looking for the perfect project to work on in spring, this beautiful collection is just the thing. From dragonfly-inspired blankets to something you can use and wear, or perhaps, something to leave in your garden, you will be left loving all things dragonfly!

1. Slouch Hat Dragonfly Crochet Pattern by Mamachee
Dragonflies are pretty awesome and so is this little hat! You'll love working on this hat, it's relaxing and fun. The pattern comes in three variations, 6 columns of dragonflies on the hat, 12 columns of dragonflies, or no dragonflies at all (for the boys).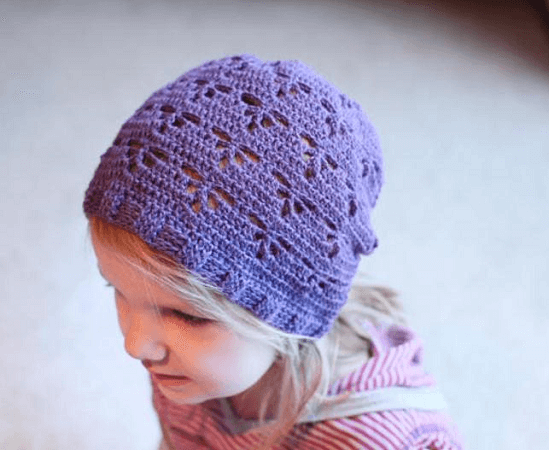 Get the Pattern by Mamachee here

2. Dragonfly Scarf Crochet Pattern by Stitch 11
This free Scarf Dragonfly Crochet Pattern is designed for you or for you to gift to someone you know. The open spaces in the scarf represent change and reflection. What are they?
They are what your eyes see. Whether it be a dragonfly, fairy, angel…it's all about personal perception. This adorable crochet scarf pattern is a fun and easy project that makes a perfect accessory to any outfit.
Get the Pattern here

3. Crochet Dragonfly Pattern by My Picot
The dragonfly applique pattern can be used as the cutest embellishment for accessories, baby blanket or pillow. You can also use this as a stand-alone decoration, such as wall hanging or an embellishment on furniture.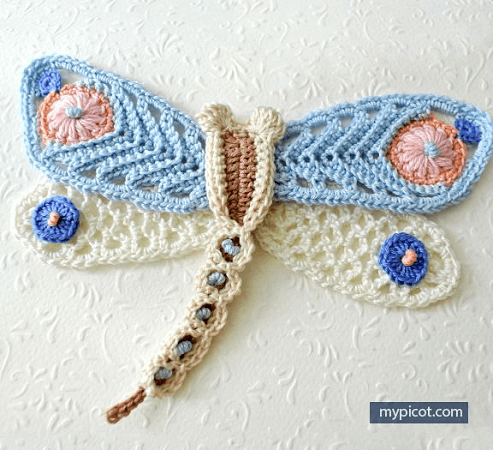 Get the Pattern here

4. Dragonfly Amigurumi Crochet Pattern by 3am Grace Designs
This Dragonfly Amigurumi Crochet Pattern is an easy/beginner-level crochet pattern. It can be made in many different colors and shades. The techniques you will need to know are single crochet, single crochet increase, single crochet decrease, puff stitch, chain stitch, and slip stitch.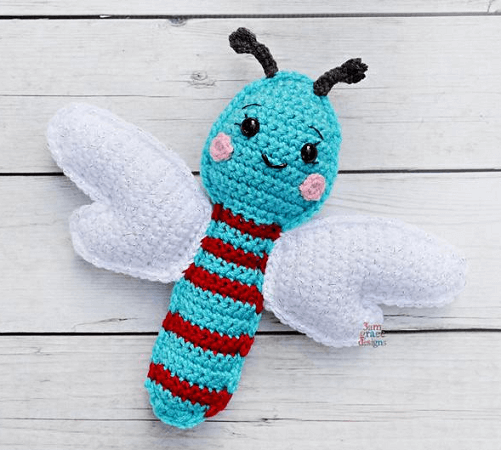 Get the Pattern by 3am Grace Designs here

5. Crochet Dragonfly Coasters Pattern by Pattern Paradise
These playful coasters are so sweet with a dragonfly in the center. These coasters are made in all different colors for fun but they would look great all in one color too.

And, because each one only requires approximately 12 yards for the body and about 7 yards for the border, they are great stash-busters too!
They are super quick to make and look great stacked on a table, ready for easy access to protect your surfaces.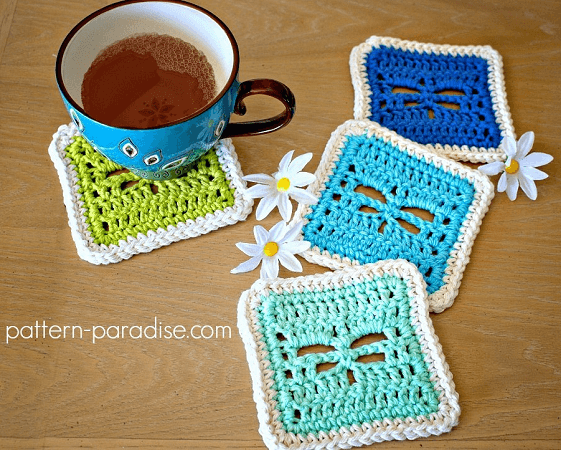 Get the Pattern here

6. Flight Of The Dragonfly Pillow Crochet Pattern by Joy Of Motion Crochet
You're going to love the Flight of the Dragonfly Pillow! It's the perfect addition to everyday décor or can even be modified to suit your seasonal décor. You can change up the colors as you see fit so that this beautiful pillow will work with your style.

You can also make several pillows to correlate with the different seasons by changing the colors of the leaves, flowers, and dragonfly wings!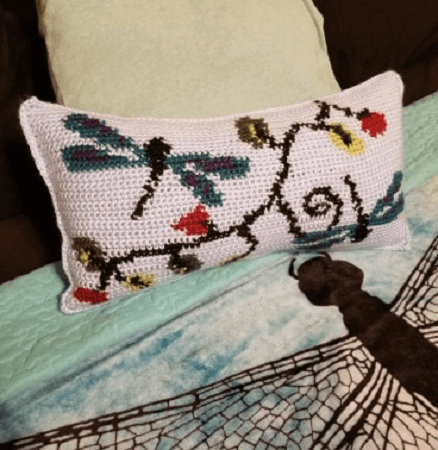 Get the Pattern here

7. Dragonfly Crochet Pattern by Nella's Cottage
Adorable little crochet dragonfly that works great from appliques, hair accessories, magnets, and more. You'll love making different color combos with your scrap yarn and will have a pile of dragonflies before you know it!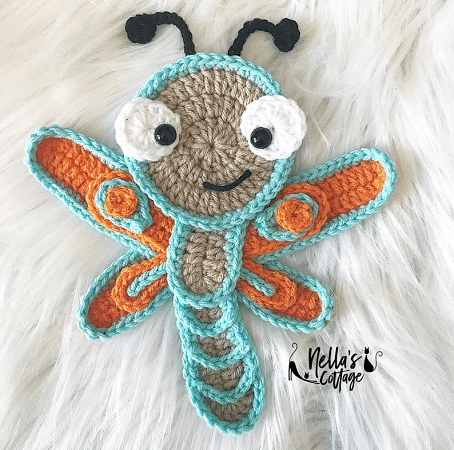 Get the Pattern by Nella's Cottage here

8. Dragonfly Hooded Bobble Bandana Cowl Crochet Pattern by Dragonfly Creations 83
This Dragonfly Hooded Bobble Bandana Cowl is full of texture and style and will go with any outfit. The incredible bobbles really make the dragonfly design stand out.
Plus, this is just one of those projects you can't get bored with! It works up really quick and makes a great gift or market make! The design really pops with solids, ombre, or color-blocking colorways.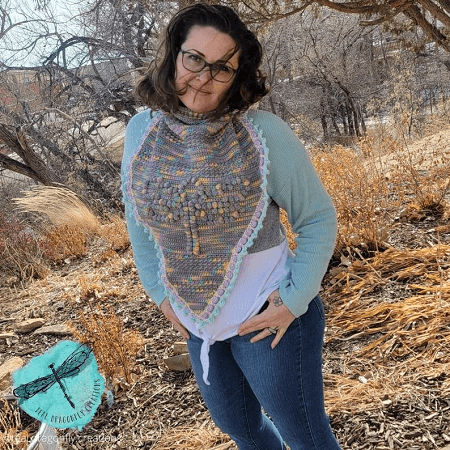 Get the Pattern by Dragonfly Creations 83 here

9. Dahlia, The Dragonfly Crochet Pattern by Theresa's Crochet Shop
Designed to be cute and cuddly, Dahlia the dragonfly is something that you can definitely catch and keep to yourself! The final measurement for the finished dragonfly will be 9 inches (23 cm) tall – just the right size for your child's cuddle buddy.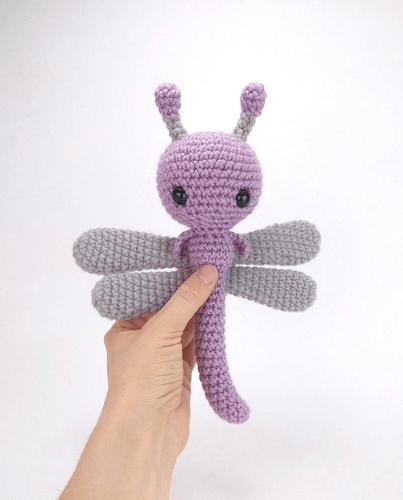 Get the Pattern by Theresa's Crochet Shop here

10. Amigurumi Dragonfly Crochet Pattern by Zan Merry
This Amigurumi Dragonfly Crochet Pattern works up super quickly and is a delightful way to use up your bits of yarn. With the same pattern make different sizes of butterflies, by changing your yarn and hook.

Feel free to mix and match different colors to create your own unique butterflies! Invest your imagination and you'll get even better results!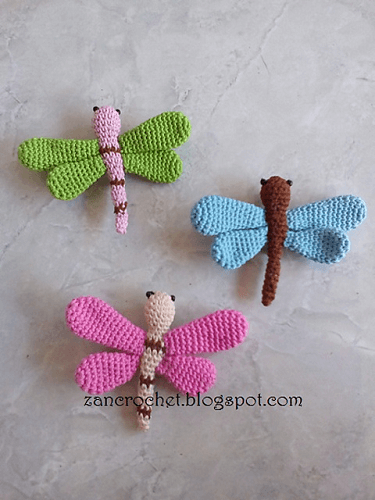 Get the Pattern here

11. Dazzling Dragonfly Granny Square Crochet Pattern by Yarnutopia
For any nature-lover, this Dazzling Dragonfly Granny Square makes the perfect gift – as part of a granny square crochet blanket or even maybe on its own! This crochet square is a standard granny square, but it features a raised and textured little dragonfly motif on the top of it.

Work this up in springy greens and blues as shown, but you can easily tailor this to the recipient's taste and favorite color. The body and tail of the dragonfly are made while crocheting the granny square, but the wings are added on later, once you're all done, so don't forget to make them!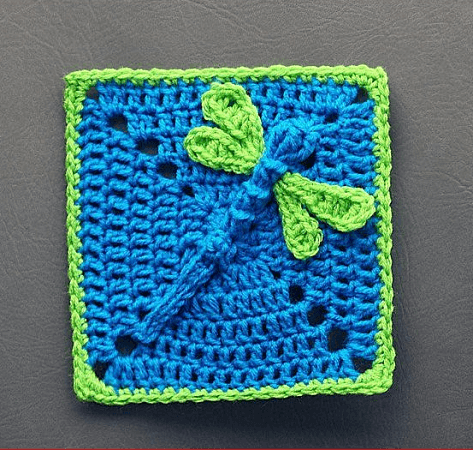 Get the Pattern here

12. Dragonfly Dreams Crochet Baby Blanket Pattern by Creeksendinc
This is a pattern for a beautiful baby blanket. The completed project measures 37″ x 37″ and has a difficulty of beginner crocheting skills. If you love dragonflies, ruffles and lace you will love this piece.

Each dragonfly body is crocheted into the pattern and is not an applique, but truly a part of the blanket. Wings are applique's and are adorned with stitching.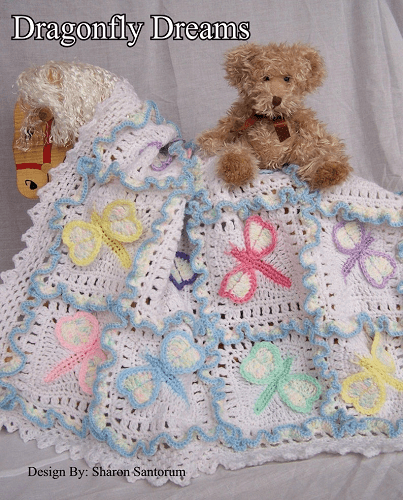 Get the Pattern by Creeksendinc here

13. Flight Of The Dragonfly Crochet Blanket Pattern by Auburn Craft
Dragonflies are always a reminder of summer day trips. This lovely crochet blanket features a dragonfly design, bobbles stitches, and a nice "fluffy" border.

This Flight of the Dragonfly Blanket will be a very pretty throw to make you cozy during summer nights. This blanket crochet pattern is very easy to follow and the blanket grows up quickly!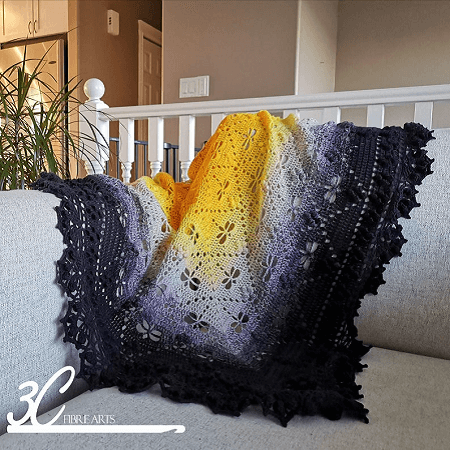 Get the Pattern by Auburn Craft here

14. Dragonfly Chevron Baby Blanket Crochet Pattern by Pattern Paradise
Here's a sweet version of a chevron baby blanket with the dragonflies scattered throughout. It is worked it in 4 colors but really it would look great with any number of colors or even in one solid color to show off the texture.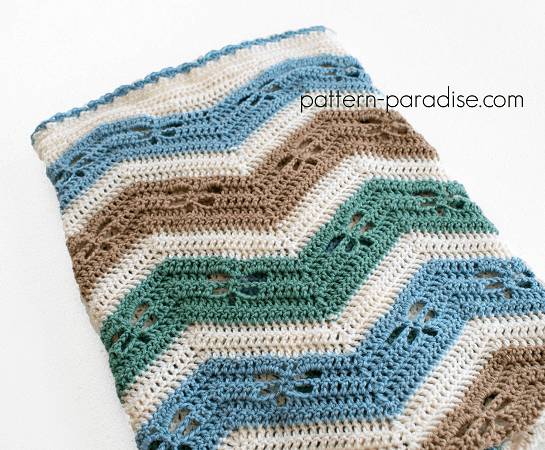 Get the Pattern here

15. Dragonfly Blanket Crochet Pattern by Janaya Chouinard
This dragonfly blanket makes a beautiful gift for a baby shower or a very pretty lapghan to keep you warm. It's one of the coolest easy afghan patterns because it features bright and bold colors and a simple construction with an easy pattern repeat.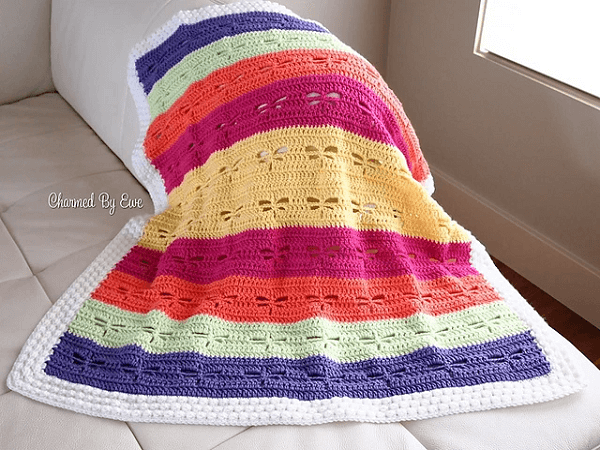 Get the Pattern here

16. Silhouette Afghan Dragonfly Crochet Pattern by Crochet Couch
The ancient world preserved dragonflies in amber, but you can preserve one in crochet. This gorgeous dragonfly stretches its wings across the entire surface of an afghan.

Create this stunning piece in corner-to-corner crochet using worsted-weight yarn to measure 64″W x 64″ L.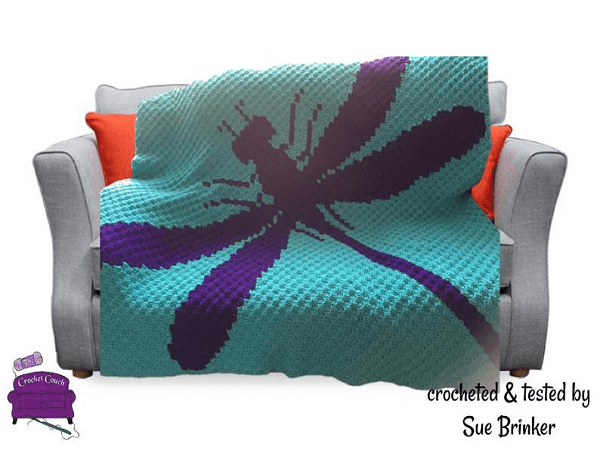 Get the Pattern by Crochet Couch here

17. Dragonfly Crochet Blanket Pattern by Repeat Crafter Me
This lovely crochet blanket features a dragonfly design in the center and a nice colorful border with pom poms on each side.  And you could even make this blanket with any sort of design in the center.
This crochet blanket pattern is ideal for cuddling up on the couch with a good book.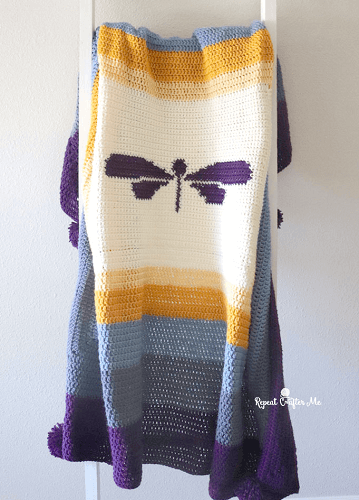 Get the Pattern here

18. C2C Crochet Dragonfly Throw Blanket Pattern by Pattern Paradise
Crochet dragonfly blanket will surely be a fantastic addition to your beddings. The blanket can be made using a corner to corner, commonly known as c2c stitch.

This piece of art is made using 3 different colors. The light and neutral colors make it a universal blanket.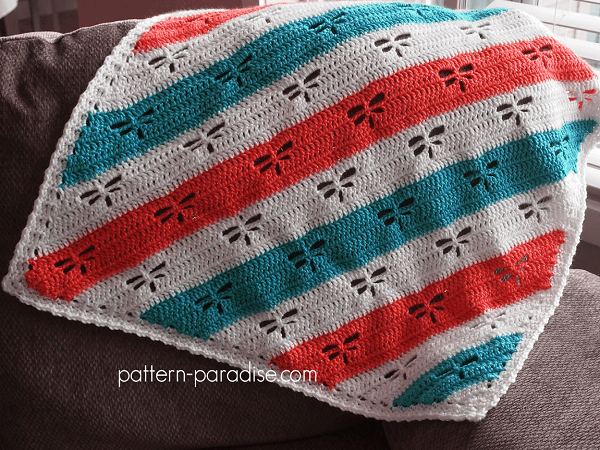 Get the Pattern here

19. Dragonfly Grace Blanket Crochet Pattern by Dragonfly Creations 83
This is a baby dragonfly crochet blanket pattern with a simple edging and size adjustments so you can increase to fit any size bed. It's the perfect gift for a baby shower, birthday, holiday, or just because!
It could be used as a crib throw, car seat throw, or for a newborn and is possibly big enough to stick around for the toddler years.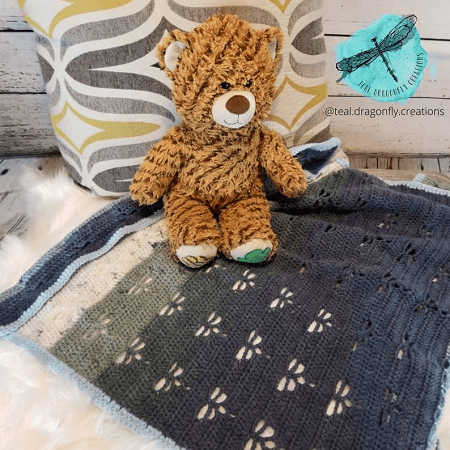 Get the Pattern by Dragonfly Creations 83 here

20. Radiating Dragonflies Throw Crochet Pattern by Pattern Paradise
If you feel all enticed to have that perfect weekend of unwinding, then, we got you covered. This FREE Blanket Dragonfly Crochet Pattern will definitely turn you, from stressed to a calm and relaxed state of mind and body.
Are you longing for a relaxing afternoon even just for this weekend? Imagine yourself reading a book while drinking a cup of tea, or binge-watching your favorite Western series, not minding the time passing.
Then you felt a little cold and you cozy yourself up with a blanket feeling all comfortable and warm. Just feeling the texture of the blanket makes you want to snuggle it up with your special someone or even with your pets.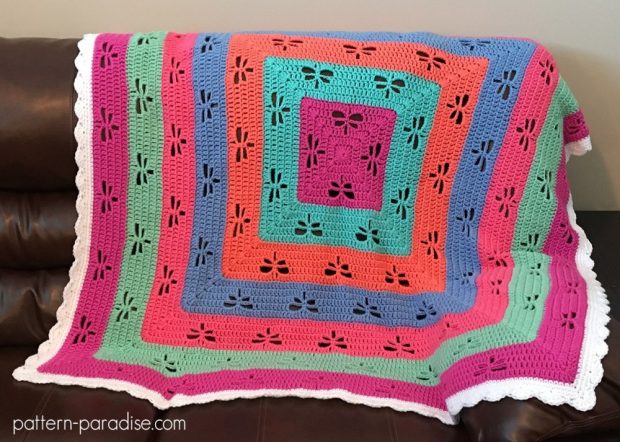 ABOUT THE CROCHET DRAGONFLY BLANKET PATTERN
Crochet by Maria of Pattern Paradise skillfully designed this gorgeous crocheted dragonfly blanket to bring comfort to everyone. The materials used to make this blanket have formed a soft and silky texture that will be enjoyed by anyone who feels and touches it.

The pattern brings out a very nature friendly vibe which is also perfect outdoors. You can use this during a picnic in the park or if you feel like chilling on the pool side with a good book.
This dragonfly crochet blanket is also excellent for cuddling up on the couch while watching your favorite TV shows or movies.
Creators can also give this blanket as a gift to their friends and relatives. It can also be given as a gift during baby showers because of its soft fabric, the little ones will definitely have a nice and comfortable afternoon naps.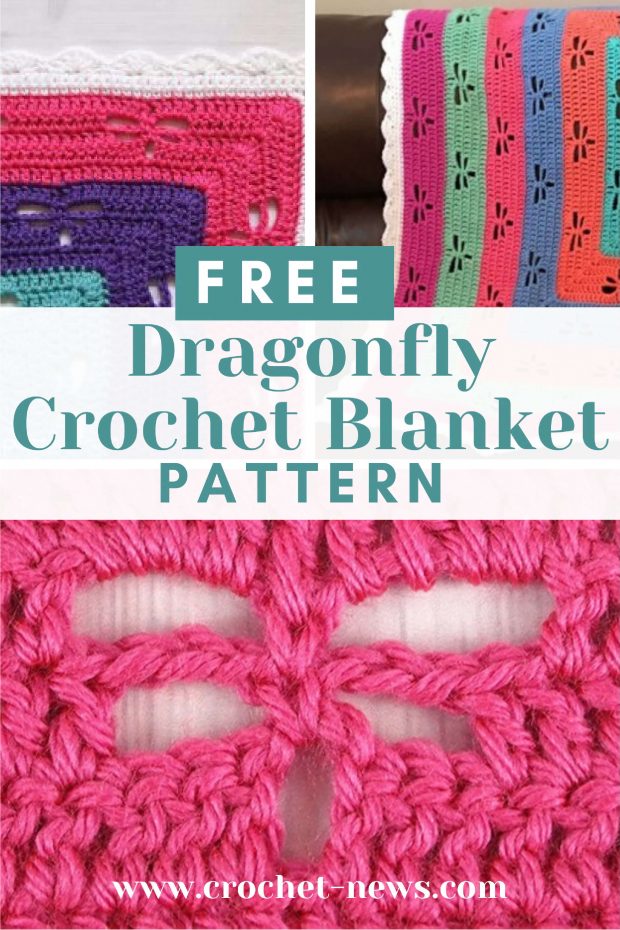 LEVEL OF KNOWLEDGE IN CROCHETING
Makers of this pattern do not to need have expertise to create their very own dragonfly crochet blanket for it is labeled as an easy pattern. You just have to make sure you have all the crocheting materials needed and know all the basic stitches of crocheting to create this masterpiece.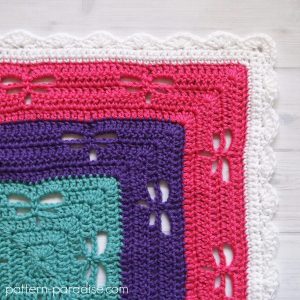 MATERIALS NEEDED IN MAKING YOUR OWN DRAGONFLY CROCHET BLANKET
YARN – Worsted weight yarn in 7 colors of your choice

Specific yarn and yard used is Hobby Lobby's I Love This Yarn:


Color A in Hot Rose – 6.5 ounces, 329 yards

Color B in Turquoise – 1.5 ounces, 76 yards
Color C in Mango – 2.25 ounces, 115 yards
Color D in Medium Blue – 3 ounces, 153 yards
Color E in Tropical Pink – 3.75 ounces, 190 yards
Color F in Ocean – 4.75 ounces, 241 yards
Color G in White – See Border Instructions
HOOK – any hook size that can help you obtain gauge or an H-8 5 millimeter in size

14 double crochet stitches and 8 rows = 4 inches or 10 centimeters for the gauge


Yarn needle for weaving in ends

APPROXIMATE SIZE OF THE DRAGONFLY CROCHET BLANKET
Length: 40 inches
Width: 40 inches

STITCHES IN CROCHETING THE DRAGONFLY BLANKET PATTERN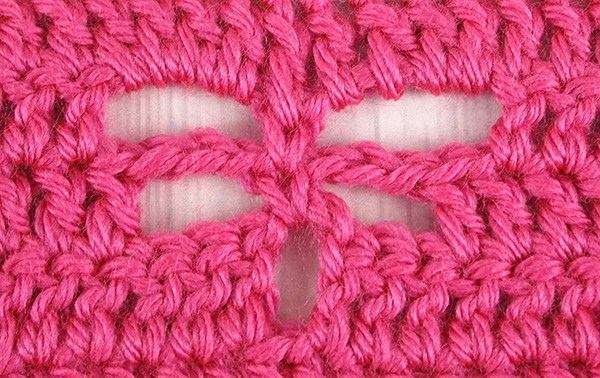 The dragonfly blanket crochet pattern features lively and eye-catching colors that is perfect for a day of relaxation. It's also quite simple with an easy pattern to follow. The pattern also uses 6 bold yet adorable patterns, but you could easily mix and match those colors, depending on your preferences.

So, what are you waiting for? Start now and give yourself and your loved ones the gift of a calm and relaxing weekend with this FREE Dragonfly Crochet Blanket Pattern!
Whether a blanket or a hat, we hope you'll try making some of these cute dragonfly crochet patterns!
Make them for you, your kids, your friends, and everyone you know who loves dragonflies! Just don't forget to share your finished works on our Facebook Page.
We'd love to see it too! Do you love insects? Here are butterflies, bees, and ladybugs that are also perfect for springtime projects!
With these dragonfly crochet patterns, we don't have to wait for spring to have sight of these cute little criters we always adore!