If you've ever dropped a ton of change at the most inconvenient time, you know the pains of carrying around lose money. Consider making one of these crochet coin purse patterns to help secure cash and other valuable items.

I think little ones will love one as their first purse too, as they are small enough for tiny hands and pocket money!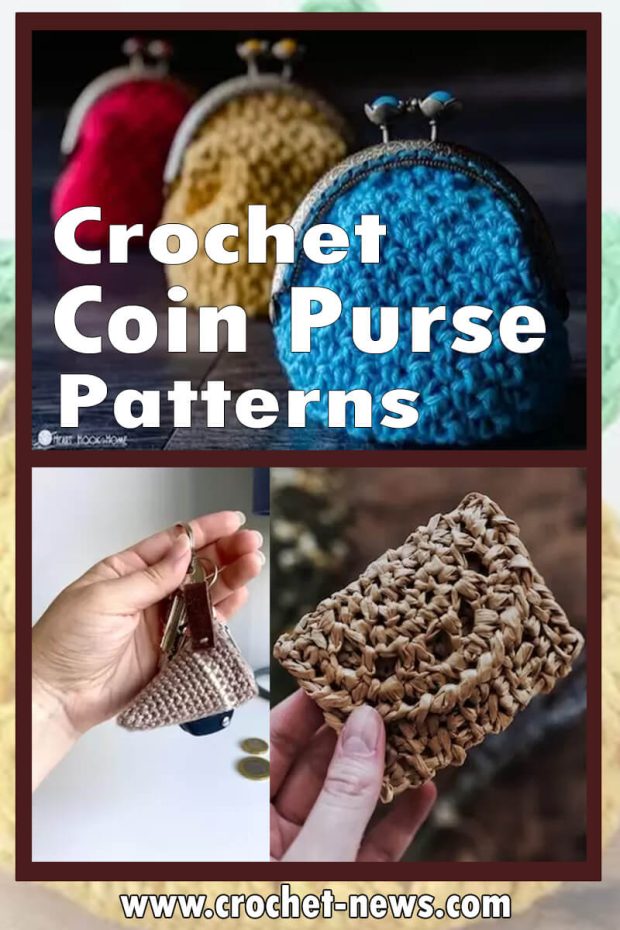 Coin purses are compact and easily concealed, making them an excellent way to safely store space change, bills, bank cards, and IDs without busting out a bulky wallet. And you're not limited to wallet items—toss in Chapstick or hairpins for safekeeping on the go.

When you just want to take the bare minimum with you and not be weighed down by a lot of extras, these crochet coin purses are the perfect little bags! They come in tons of styles and designs, making them easy to match with your personality. Make one, or two or three, as they also make great gifts.
15 Crochet Coin Purse Patterns

1. Crochet Coin Purse Free Pattern by Gwen McGannon
If you're after a simple and sweet crochet purse pattern that is perfect for storing your small change, then how about this pretty purse. With some fun popcorn stitches to keep you entertained, it works in a range of colors and is great for using up any bits of cotton yarn from your stash.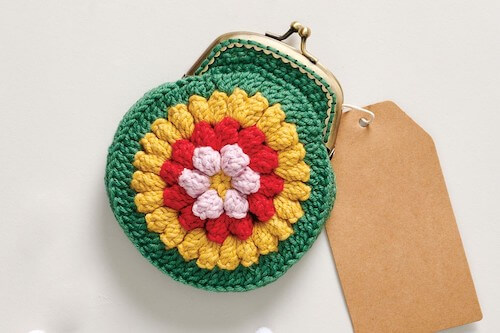 Get the Pattern here

2. Freddie, The Frog Crochet Coin Purse Pattern by Irene Strange
This Freddie the Frog, Crochet Purse Pattern is bound to put a smile on your face every time he hops out of your handbag, and the pattern also comes with handy step-by-step photo's to help you through the trickier bits.

Using the magic ring, single crochet, increase and (invisible) decrease stitches, this coin purse is perfect for the young at heart.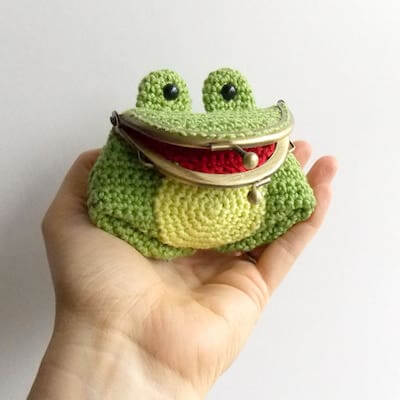 Get the Pattern by Irene Strange here

3. Classic Coin Pouch Crochet Pattern by Heart Hook Home
Classic, vintage-inspired, and utterly exquisite, this Classic Coin Purse Crochet Pattern is such a delightful little treat to crochet, and makes for an exceptional gift for someone special. An ode to vintage designs, this little pouch has an air of romance and sophistication to it.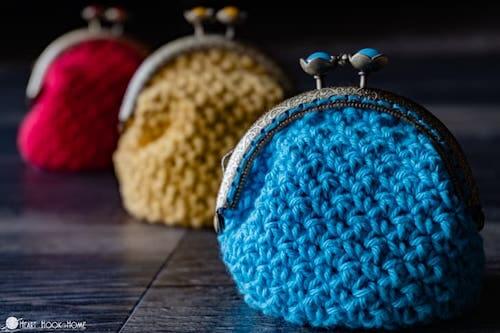 Get the Pattern here

4. Crochet Sheep Coin Purse Pattern by Laure Sutcliffe
Who is this fluffy pal? This sheep is so cute and cuddly it could be easily mistaken for a toy. The metal clasp blends in perfectly – now this is a unique purse! With its beautiful bobble fleece and adorable amigurumi features, it's a must make for us wool enthusiasts!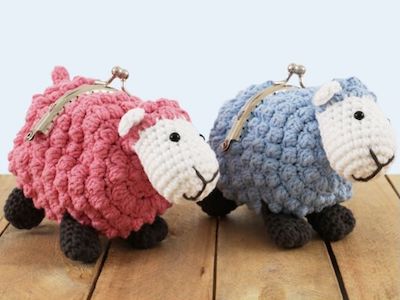 Get the Pattern here

5. Dinosaur Coin Purse Crochet Pattern by Lau Loves Crochet
We're not done with the animal themed crochet purses just yet – who could resist this super-cute dinosaur purse! This one-of-a-kind Dinosaur Coin Purse can comfortably fit spare change, a small chapstick, and a set of keys.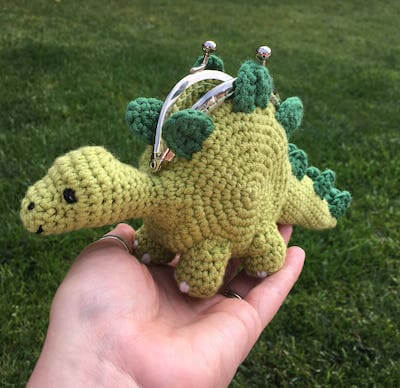 Get the Pattern by Lau Loves Crochet here

6. Crochet Money Purse Pattern by Just Crochet 1
It's always good to have a purse for your change money. No matter if you're traveling or use it on an everyday basic. This little handy purse will keep your money organized and in one place. The finished size is approximately 4 x 3.5 inches.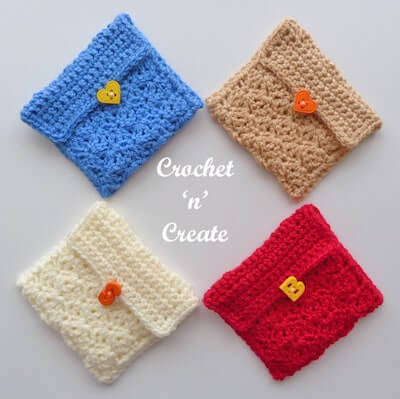 Get the Pattern by Just Crochet 1 here

7. Crochet Bread Coin Purse Pattern by Meemanan Patterns
This toast-shaped coin purse is ready for a change! It's so adorable, you'll never look at bread the same way again. Plus, it comes with a cute little fried egg keychain to complete the look. This fluffy friend can't wait to be your new favorite accessory.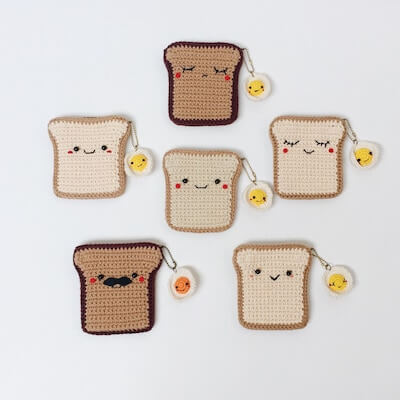 Get the Pattern by Meemanan Patterns here

8. Tapestry Crochet Coin Purse Pattern by My Poppet Makes
If you've always wanted to try tapestry crochet, these cute little change purses with a chevron pattern are an excellent place to start.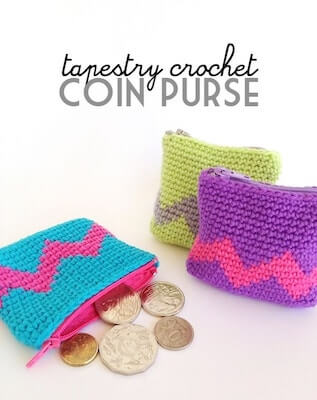 Get the Pattern here

9. Crochet Watermelon Coin Purse Pattern by Repeat Crafter Me
This little purse just screams summer! This pattern is great if you are looking for a quick project. The finishing touch of adding little black buttons as the watermelon seeds is perfect!
Also see: Crochet Watermelon Patterns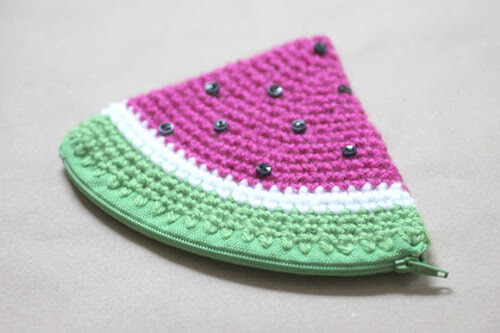 Get the Pattern here

10. Crochet Princess Coin Purse Pattern by Ala Sascha
Keep pennies safe in this lovely Crochet Princess Coin Purse with a clasp closure. This is a pretty fashion accessory for little ones, or why not make one for yourself to use?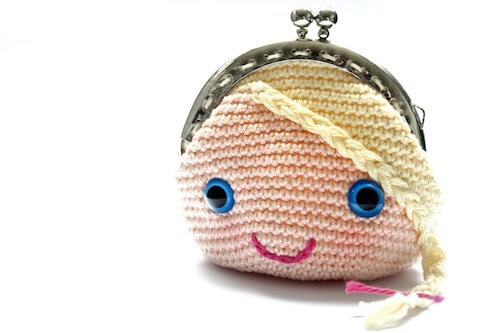 Get the Pattern by Ala Sascha here

11. Sunrise Coin Purse Crochet Pattern by Darling Jadore
This Sunrise Coin Purse is a trendy, lovely little coin purse that's fun and easy to make! It's made with beautiful, classic crochet stitches and subtle eyelet lace. Perfect for holding money or small items, or as a thoughtful gift for someone special. If you want to make a lovely little coin purse, go no further than this fun and simple crochet pattern.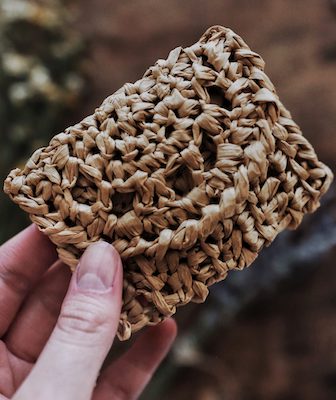 Get the Pattern here

12. Cute Crochet Coin Purse Pattern by Blue Star Crochet
You can whip up this Cute Crochet Coin Purse in an hour or so. It is big enough to hold and carry your change. But small enough to hang onto your keys as a keychain. I am in love with this wedge shape purse!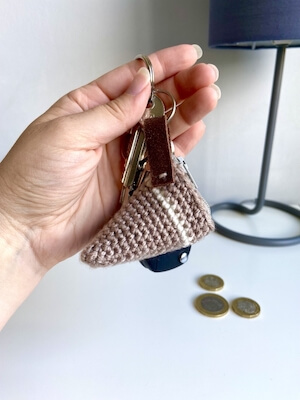 Get the Pattern here

13. Crochet Coin Purse Pattern by CAAB Crochet
This simple Crochet Coin Purse Pattern is such a quick and easy way to make yourself a convenient little pouch. Throw it in a purse to keep your cash safe or attach it to a keychain for convenient storage of small items.

Sometimes you just need a little bag for a few things and this is such a practical solution!
Get the Pattern by CAAB Crochet here

14. Sunflower Coin Purse Crochet Pattern by Lau Loves Crochet
Inspired by warmer climes and blue skies, this beautiful sunflower coin purse is a reminder to turn towards the sunshine and find positivity in the every day. It's a sweet place to keep those loose coin safe and sure to brighten your day!
Get the Pattern by Lau Loves Crochet here

15. Crochet Pineapple Coin Purse Pattern by Happy In Red
Summer is here, and with it comes bright sunshine and hot and humid days. Why not carry around accessories to match? Here's a sweet way to carry your loose change and lip balm, too!
More fun Pineapple Crochet Patterns here.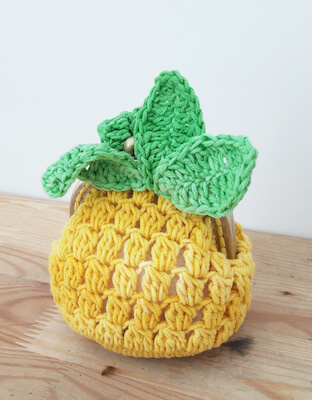 Get the Pattern here
NO MORE WORRIES ABOUT LOSING (UNSIGHTLY) CHANGE OR HIGH-DOLLAR BILLS ON THE GO WITH ANY OF THESE CROCHET COIN PURSE PATTERNS.
I am sure you will have better ideas to come up with on these crochet coin purse patterns. Share your finished projects on our Facebook Page. I can't wait to see what you will come up with.
For more cute purse patterns check out 50+ crochet purse patterns along with some crochet wallet patterns and crochet pouch patterns. Looking for more accessories to crochet? Why not whip up some scrunchies, bracelets, and brooches that you can easily make in a weekend.
Crochet coin purses complete! May your pennies never be lost again!