Have some chicken fun – for a farmhouse theme, or Easter perhaps – with these 17 crochet chicken patterns!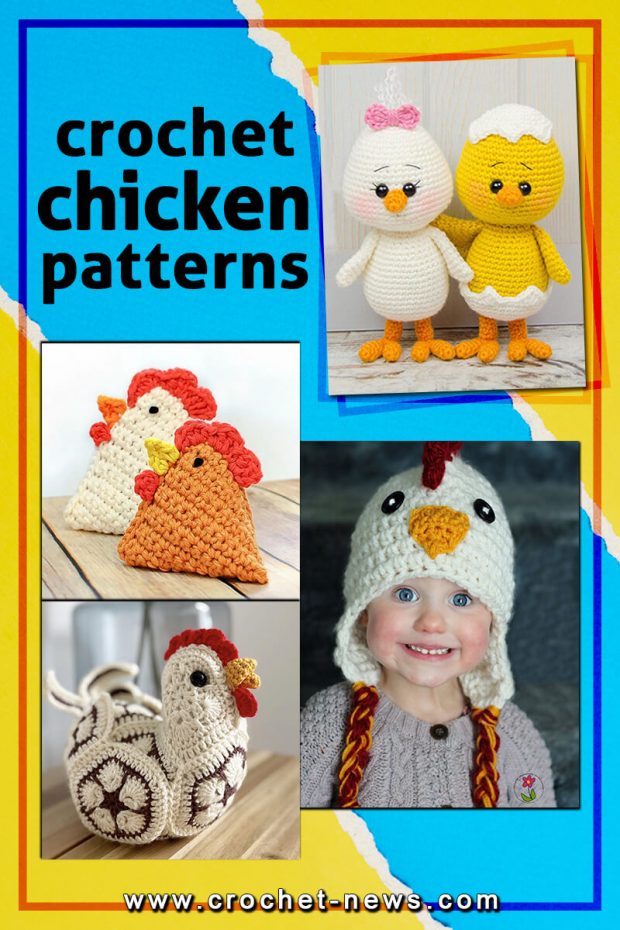 17 Crochet Chicken Patterns
You'll see all sorts of creative chicken toys, softies, and fun accessories. Make them for you, your kids, your friends, and everyone you know who are chicken aficionados!
1. Crochet Chicken Family Pattern by Theresa's Crochet Shop
Create your own chicken family in just a few hours! This Crochet Chicken Family Pattern includes instructions on how to crochet and assemble all the parts to make this crochet rooster, chicken, and chick.

Only basic crocheting skills will be needed: chain, single crochet, double crochet, increasing, and decreasing.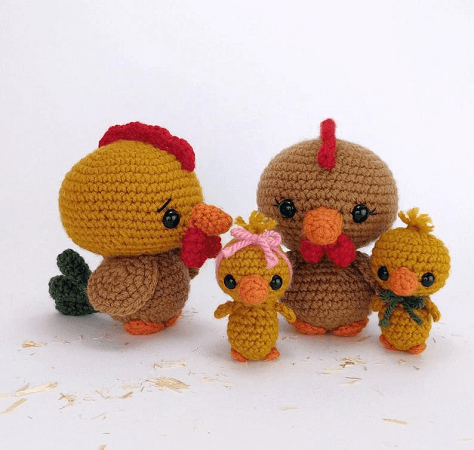 Get the Pattern by Theresa's Crochet Shop here

2. Crochet Chicken Amigurumi Pattern by One And Two Company
This Crochet Chicken Amigurumi is the perfect friend for your child, sweet and charming, you can customize it as you like. It's also a fantastic gift for a nursery or even does it for you. Sure you will have fun making it.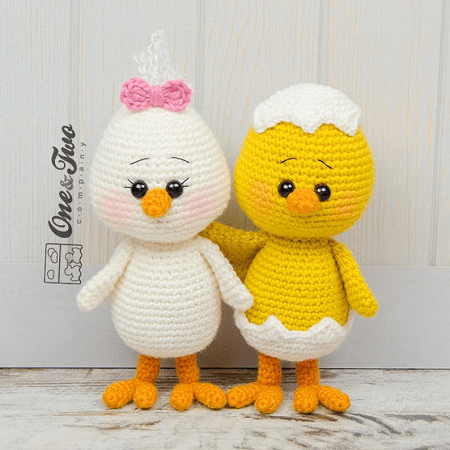 Get the Pattern by One And Two Company here
3. African Flower Crochet Chicken Pattern by Cute Crochet By Sarah B
This African Flower Crochet Chicken is a wonderful Christmas present for that crafty chicken keeper who loves to crochet. The finished chicken, when worked in 4ply yarn, will measure approximately 15cm high and 20cm beak to tail.

This will of course vary with weights of yarn and hook/tension. For a larger chicken work in double knit, aran, or chunky.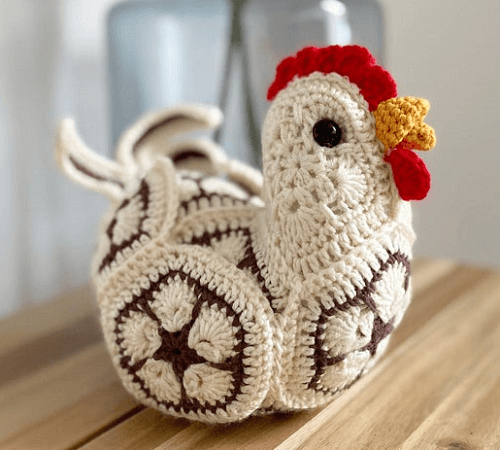 Get the Pattern by Cute Crochet By Sarah B here

4. Crochet Chicken Pattern by Yarnspirations
Hatch this fun project as a festive Easter décor piece, or an adorable toy. Either way, your free range chicken happily obliges when you complete it in your favorite colors.

It makes a sweet decorative piece for spring, but it may also become a fun new friend for any boy or girl.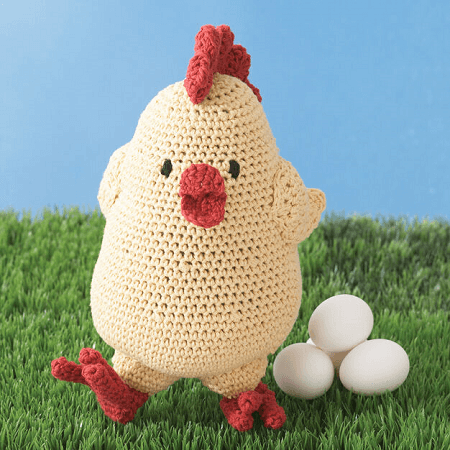 5. The Cock And The Hen Amigurumi Crochet Pattern by My Cro Wonders
Make this Cock and Hen Amigurumi for all the chicken lovers you know. The size while sitting is approx. 21 cm (8.2″) with Sport / 5 ply (12 wpi) yarn and 2.00 mm crochet hook size (US – B/1; UK – 13).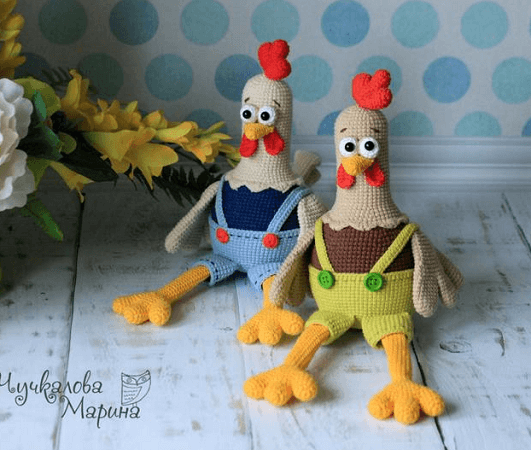 Get the Pattern by My Cro Wonders here

6. Crochet Chicken Hat Pattern by Thymeline
This Crochet Chicken Hat is a great hat for the chicken lovers in your family. So cute and colorful! It would be a perfect photo prop for a 1st birthday or newborn first photos.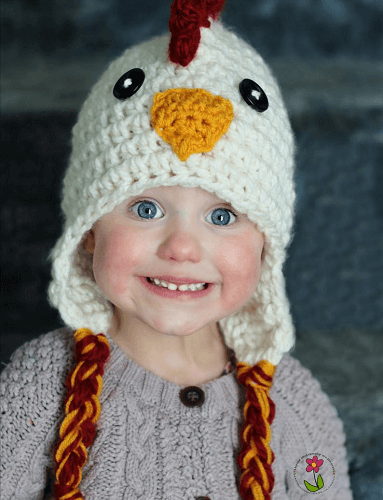 Get the Pattern by Thymeline here

7. Laying Hen With Chick Crochet Pattern by Lau Loves Crochet
This Laying Hen With Chick Crochet Pattern includes the instructions for the chicken, as well as the chick, egg, and nest. The chick fits inside the egg which then fits inside the chicken so she can lay the egg which then can hatch!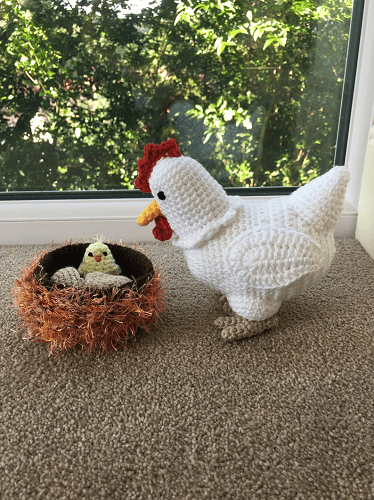 Get the Pattern by Lau Loves Crochet here

8. Chicken Crochet Pattern by Amber Craft Store
Work up this Chicken Crochet Pattern to add some easy farm friends to your decor. The chicken will be about 7.5"/19cm tall if you make it from (medium#4) yarn and hook 2.75mm.

This amigurumi pattern is easy to make as it only requires very basic crochet stitches and amigurumi techniques.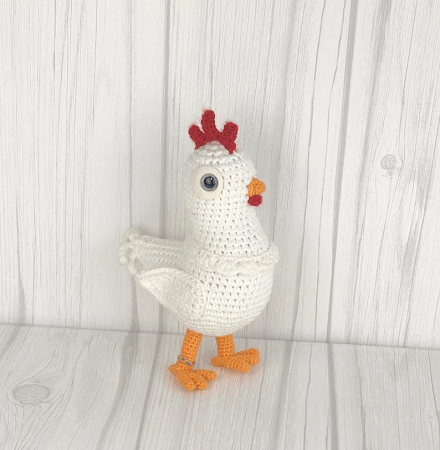 Get the Pattern by Amber Craft Store here

9. Free Crochet Chicken Pattern by Petals To Picots
These crochet chickens will make the cutest little kitchen pets. You will love how adorable these little crochet chicks look propped on your kitchen windowsill! And they are fun and easy to make too! Its pyramid-shaped can be seated well and cute enough to catch kids' eyes for playing.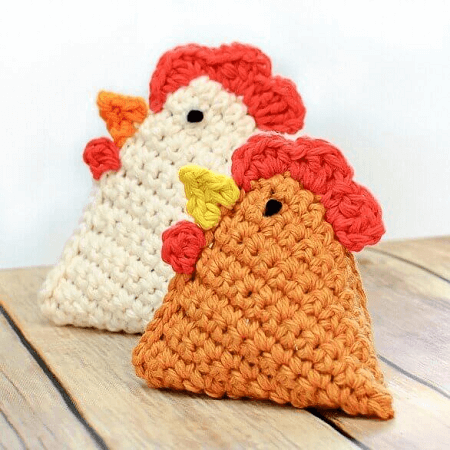 Get the Pattern here

10. Crochet Chicken Potholder Pattern by Bago Day Crochet
This Crochet Chicken Pot Holder is just so cute! What could be cuter in a country kitchen than a whole flock of these babies?

They work up really quickly, and can also double as a scrubby for washing pots and pans. They can be made in any combination of colors you would like.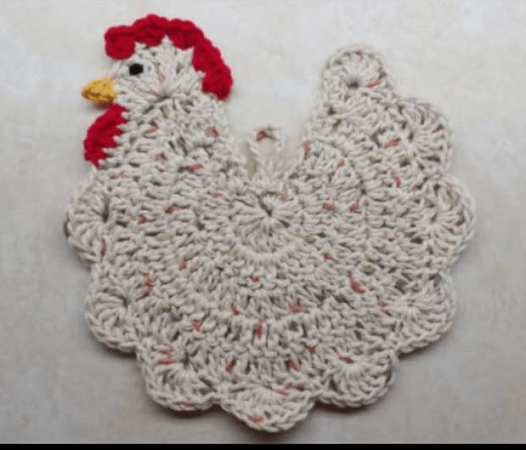 Get the Pattern by Bago Day Crochet here

11. Crochet Chicken Play Food Pattern by Mary Brown Craft
This Crochet Chicken Play Food is excellent for play kitchens, cooking, shopping, baking and many other pretend plays. Nothing says the kids can't pretend to eat their favorite chicken while they play!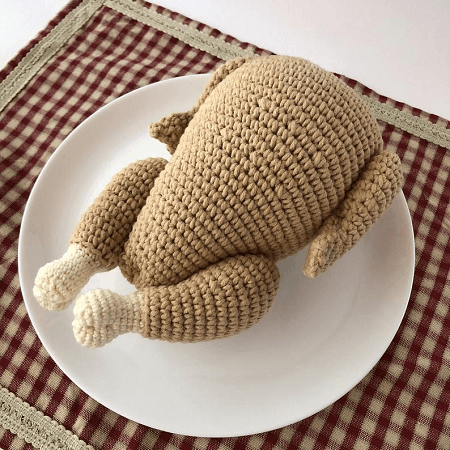 Get the Pattern by Mary Brown Craft here

12. Crochet Chicken Ornaments Pattern by Okie Girl Bling N Things
These are called ornaments but it is so much more than that. You can hang them just about anywhere in your home and they will look great.

You won't have to worry about these little guys crossing any roads, so work up some Crochet Chicken Ornaments for a unique and simple Christmas decoration.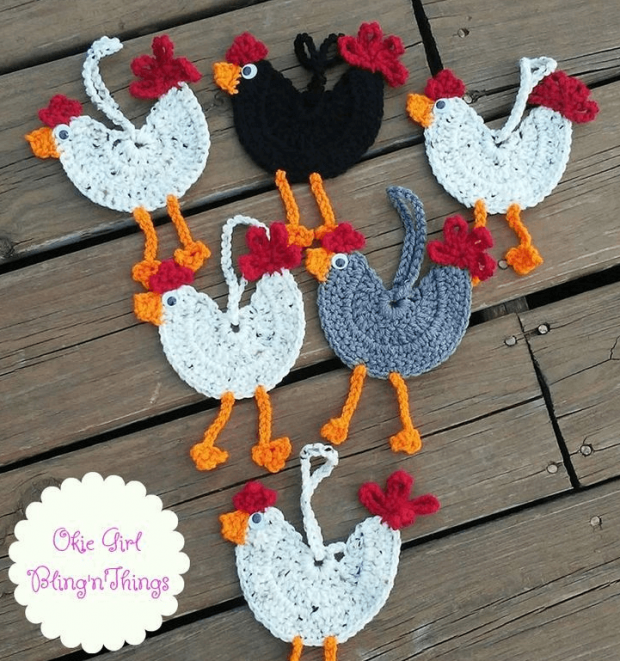 Get the Pattern here

13. Chicken Bookmark Crochet Pattern by Supergurumi Shop
This Chicken Bookmark is a cute and funny bookmark that is practical and decorative! This flattened chicken is a very spring-inspired bookmark, but we are sure it will be equally funny at any time of the year. The finished bookmark has a length of approximately 29 cm.
Get the Pattern by Supergurumi Shop here

14. Free Easter Chicken Crochet Pattern by Amigurumi Today
Crochet this amazing colorful Easter Chicken to decorate your desk at work, your kitchen at home, and still fill every child's Easter basket. This funny amigurumi chicken will definitely make your friends and family smile!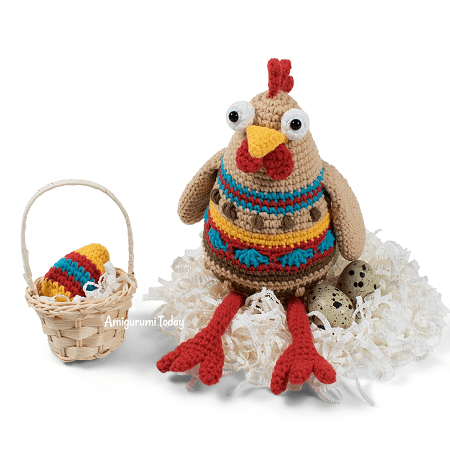 Get the Pattern here

15. Crochet Chicken Cushion Pattern by Little Doolally
Inspired by the English countryside and childhood memories, this Crochet Chicken Cushion is great to make with full instructions. The pattern includes a color change chart and photos to guide you through making this delightful cushion.

With a buttoned opening on the back to take the pad in or out for washing. Ideal to brighten up any seat or room and great to make for a gift!
Get the Pattern by Little Doolally here

16. Hildegard, The Life Sized Crochet Chicken Pattern by Once Upon A Yarn
Now you can crochet your very own life-sized chicken with this Hildegard, the life-sized crochet chicken pattern. Suggestions are included for creating different types of chickens, such as Barred Rocks, Buff Orpingtons, and more.
Get the Pattern here

17. Crochet Chickens Table Runner Pattern by Crochet Village
Everyone loves chickens and farmhouses! They just seem to go together and this pretty Crochet Chickens Table Runner Pattern will bring the chickens inside to decorate your kitchen or dining room.

5 chickens are made separately, then sewn to the table runner. It includes patterns for farmhouse chicken table runner, stuffed chickens, and eggs; they are all made from worsted weight yarn.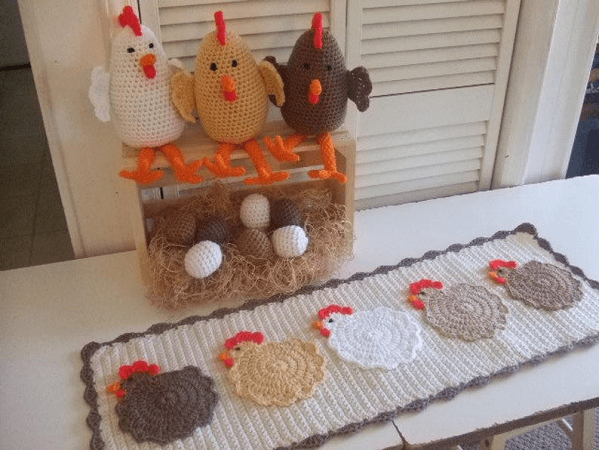 Get the Pattern by Crochet Village here
Work up these crochet chicken patterns to add some easy farm friends to your home!
We can't wait to see your very own feathery friends. Please share a pic of your finished crochet chickens on our Facebook Page. We'd love to see how they turned out!

Don't go far because more gorgeous animal roundups are just around the corner! We have gathered crochet patterns for swan, snail, pigs, dogs, cats, and more!

For now, let's get our hands busy with these super cute crochet chicken patterns!