How many times have you seen someone with the same backpack as you? If you'd rather stand out a bit and showcase your creativity, why not make your own crochet backpack instead?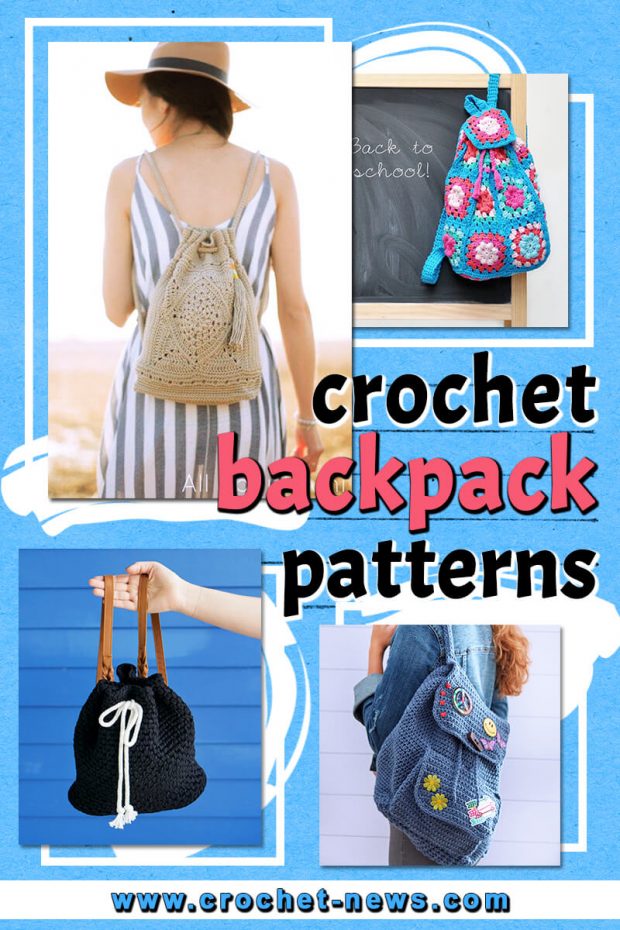 When you make your own, you can customize it however you want and you can make something completely unique. To get your creative juices flowing, here are 22 Crochet Backpack Patterns for you to check out.

A backpack lets you take your life with you. Might as well do it looking adorable!

1. Wildrose Backpack Crochet Pattern by All About Ami
Crochet this stunning Wildrose Backpack to hold your essentials on all your travels and adventures, from music festivals to the beach!

The modern granny square is centered as a focal point with a variety of crochet stitches and techniques providing plenty of visual interest.

The sturdy strap is part of the drawstring closure that allows for easy opening and closing of the backpack. An interior pocket holds your cell phone, and an optional tassel can be added for some pops of color!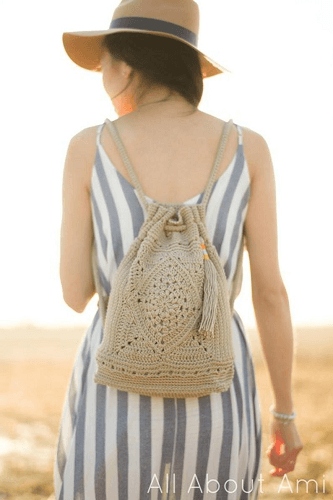 Get the Pattern here

2. Crochet Backpack Pattern by I Love Create Store
A high-fashion look, trendy backpack straps and a classic crochet design – this Crochet Backpack Pattern has it all!

This backpack is a perfect size because it's big enough to hold all your essentials and a few extra things, and it's super trendy with the chain backpack straps that can be worn in a variety of ways.

This backpack will be a perfect accessory for your summer vacations or for everyday use and will perfectly suit any outfit.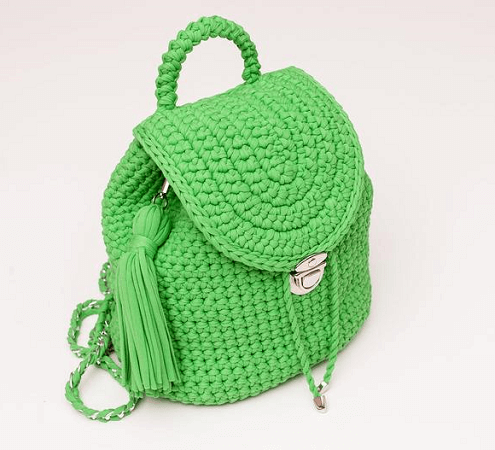 Get the Pattern by I Love Create Store here

3. Boulevard Backpack Crochet Pattern by Kozi Knitz
This Boulevard Backpack is perfect for an everyday bag or your next festival! It features textured stitches with the boho bobbles on the front.

The crochet strap acts as a drawstring for opening and closing the bag. Then topped off with a textured bobble flap to finish it off.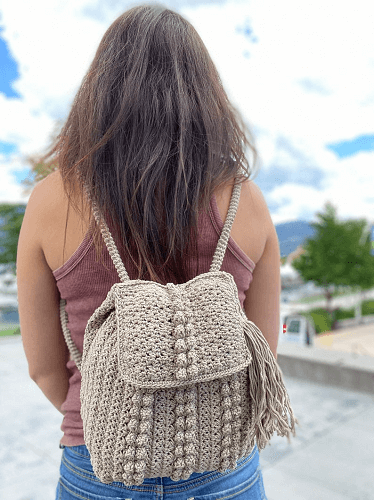 Get the Pattern by Kozi Knitz here

4. Crocheted Backpack Pattern by Yarn Plaza
Are your kids also excited to go back to school after a break or holiday? Of course, it is nice for them to show off their new stuff, and how cool is it to show up with a brand new, original backpack?

Mom, do not worry: this cheerful crocheted backpack is made out of simple granny squares.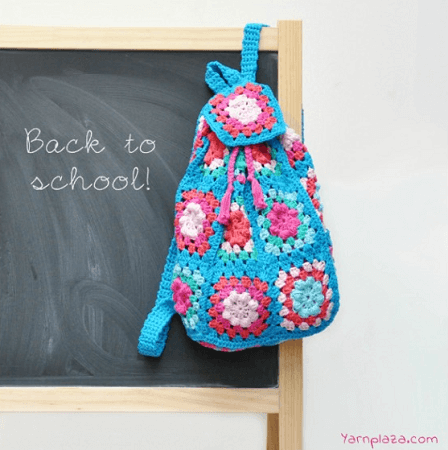 Get the Pattern here

5. Florence Backpack Crochet Pattern by Hopeful Honey Designs
Carefree and lightweight, this Florence Backpack taps right into all the excitement of an impending trip. With every stitch, how can you not imagine all the spur-of-the-moment places this carryall bag will travel!

Crocheted holding two strands of yarn together for extra shape and stability, this roomy bag is the ideal size to fit all your daily essentials.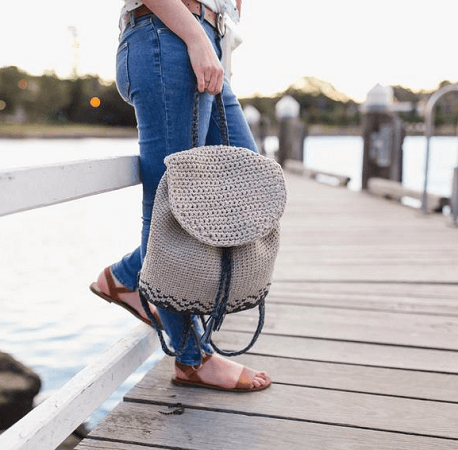 Get the Pattern by Hopeful Honey Designs here

6. Crochet T-shirt Yarn Backpack Pattern by Knitz N Purlz
Pack up and go with easy Mini Backpack Crochet Pattern. This backpack is perfect for workweek commuting, weekend travel, or school packing.

The backpack is so easy to make, it consists of just a big crochet oval that's folded in half, add crochet sides, straps and handle. It's made of T-shirt yarn and crochet hook 10mm so it works up very fast.
Get the Pattern here

7. Crochet Cable Stripes Backpack Pattern by Kathy's Crochet Closet
This Cable Stripes Backpack is perfect for all your spring and summer adventures! It is crocheted with sturdy mercerized cotton yarn in an easy, cable design.

The unlined bag features a crocheted front pocket with magnetic snap closure, crocheted drawstring and cord lock, and crocheted straps.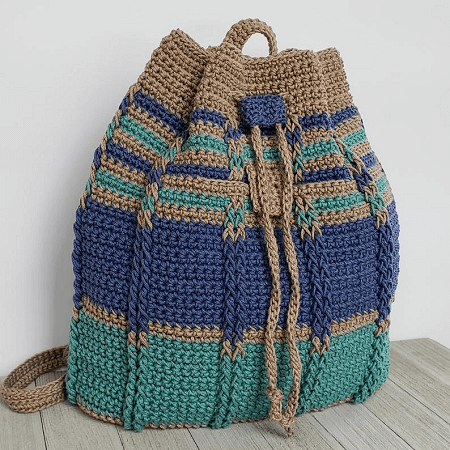 Get the Pattern by Kathy's Crochet Closet here

8. Crochet Backpack Free Pattern by Knitcro Addict
On those out and about sort of days, what could be more perfect to put all your bits and bobs than this pretty backpack. Not a beginner project but easier than it looks, give it a try!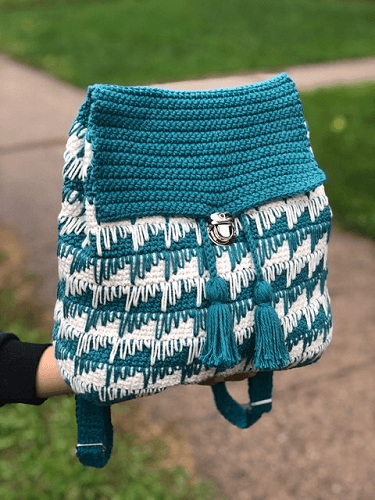 Get the Pattern here

9. Crochet Boho Backpack Pattern by Tzigns
This Crochet Boho Backpack is stylish and durable. It is made using the strong Bernat Maker Home Dec yarn and the sturdy waistcoat stitch so this piece will last through all of your adventures.

It is the perfect size for a day pack and big enough to hold all of your purse belongings, a coat, and even a frisbee!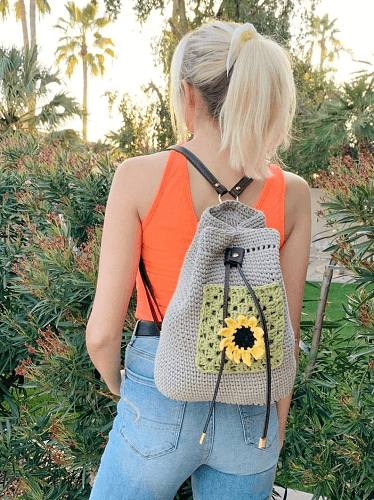 Get the Pattern by Tzigns here

10. Kiersten Crochet Mini Backpack Pattern by Cosmaudi
This Kiersten Mini Backpack is the perfect everyday bag no matter your style. Made up of mercerized cotton, it is sure to last through wear and tear and remain a staple in your wardrobe.

The pattern will guide you through the making of your very own Kiersten Mini Backpack, and soon you'll be making them in every color of the rainbow. They also make great gifts for friends and significant others!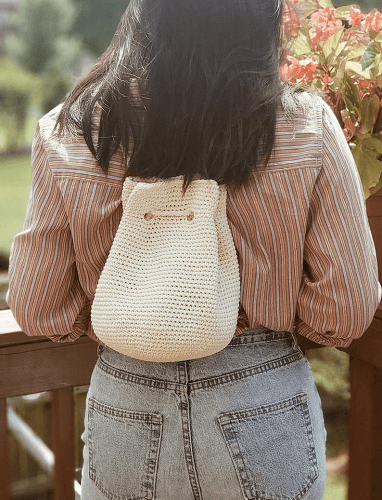 Get the Pattern by Cosmaudi here

11. Crochet Daytripper Backpack Pattern by Sewrella
This Crochet Daytripper Backpack can be worked up in a day and is so very easy!

It is great for beginners and the perfect size for moms on the go, just large enough to hold a wallet, diaper and wipes, keys, and other small essentials. This backpack works great for elementary age kids too!

This is an easy level crochet pattern, and the techniques you will need to know are single crochet, chain stitch, and slip stitch.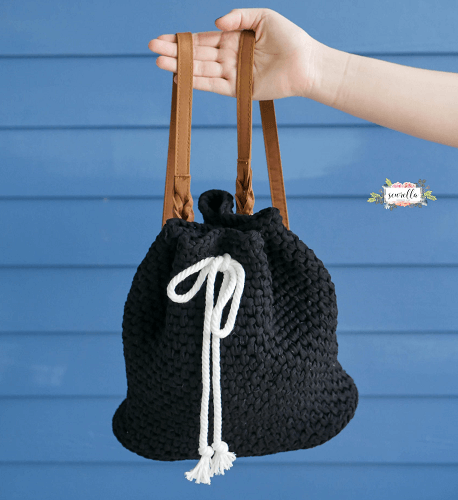 Get the Pattern here

12. Mermaid Drawstring Crochet Bag by Crazy 4 Crochet Momma
Are you looking for the perfect gift for your child? Then look no further! This Mermaid Backpack is perfect for your mermaid lover.

This backpack has a relatively large storage area for a child. Enough area to hold a light sweater, a wallet, and a stuffed animal or two.

This mermaid backpack has a drawstring to close it and is long enough to be tied to keep it closed.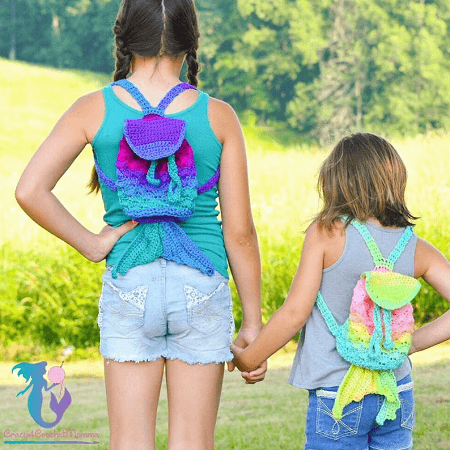 Get the Pattern by Crazy 4 Crochet Momma here

13. Crochet Patch Backpack Pattern by Yarnspirations
Kids look forward to school when they get to wear new clothes and accessories – like this cool Crochet Patch Backpack.

Stitch using their favorite color or complete the version shown. It's 11″ wide x 14″ tall x 9″ deep, so there's lots of room for books.

Encourage kids to customize their backpack with patches, buttons and trims that reflect their unique personalities!
Get the Pattern here

14. Crochet Elemental Backpack Pattern by Earth Tricks
Use this Crochet Elemental Backpack Pattern to make three styles of the bag! Wear this has a backpack, a tote bag, or a sling bag!

You can choose from three styles of straps and do a top flap, or leave your bag like a drawstring top. Both of these customization options are outlined following the creation of the bag itself.

Reuse the pattern multiple times to get all sorts of different, funky bag options!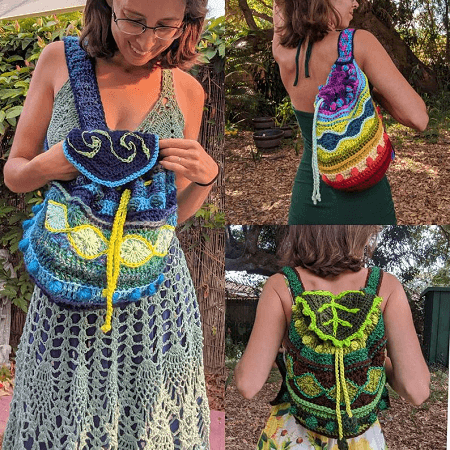 Get the Pattern by Earth Tricks here

15. Into The Woods Backpack Crochet Pattern by Prairie Fox Studio
This Into The Woods Backpack Crochet Pattern is a trendy boho-inspired design using tapestry crochet. The pattern is very easy to make your own.

Pick your colors, use tassels or pom-poms, or beads for your drawstrings. You can also make the bag with or without the flap, and there are three-strap design options included in the pattern, chevrons, stripes, or solid!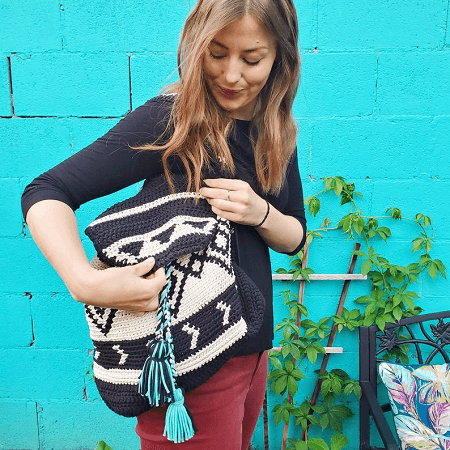 Get the Pattern by Prairie Fox Studio here

16. Crochet Mudcloth Backpack Pattern by Yarn And Chai
The inspiration for this Mudcloth Backpack came from traditional African mudcloth, a beautiful handmade cotton fabric that has been a part of Malian culture since the 12th century.

And while the hook-and-yarn version isn't exactly comparable to the fascinating way that genuine mudcloth is made (using fermented mud and plant dyes), you will still in love with this bag!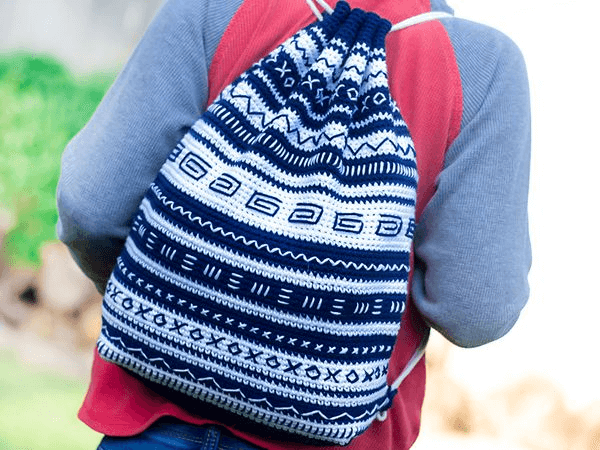 Get the Pattern here

17. Crochet Dinosaur Backpack Pattern by A Crafty Concept
This Crochet Dinosaur Backpack is so adorable and makes a perfect gift for any little boy or girl in your life!

For a day at the park, staying at a friend's house, or even going to the grandparents! They get to carry all their goodies in this super adorable dino bag.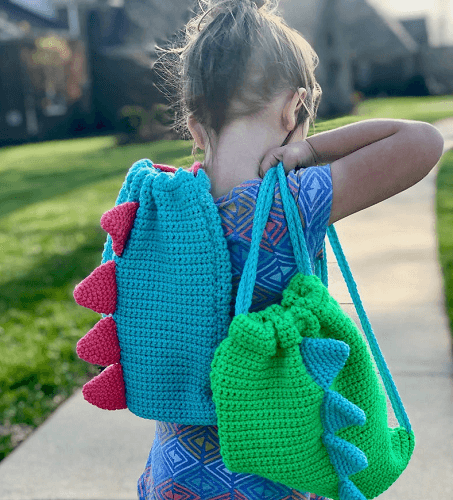 Get the Pattern by A Crafty Concept here

18. Cinch Sack Backpack Crochet Pattern by Crochet It Creations
This Cinch Sack Crochet Pattern is a fun pattern to test your skills. It is one size and is standard for a cinch sack/drawstring backpack.

The finished measurements are approximately 13" width x 14.5" height. It is the perfect size to use as an overnight bag, sports bag, hold toys, crafts, or yarn!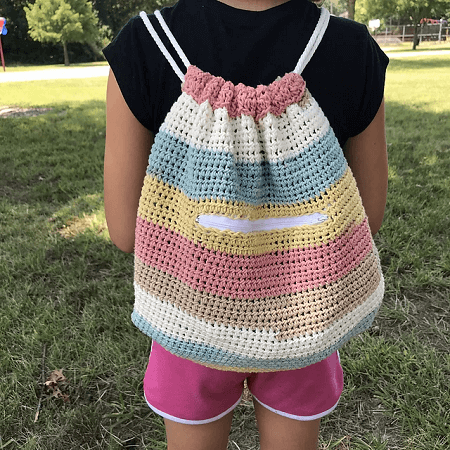 Get the Pattern here

19. Crochet Cupcake Backpack Pattern by LTK Cuties
What little (or big!) princess wouldn't love to have her own unique Crocheted Cupcake Backpack?! Feel free to customize this cute bag in your "favorite flavors".

This backpack is around 11 inches tall from bottom-up (straps not included). It also depends on your tension and what you use.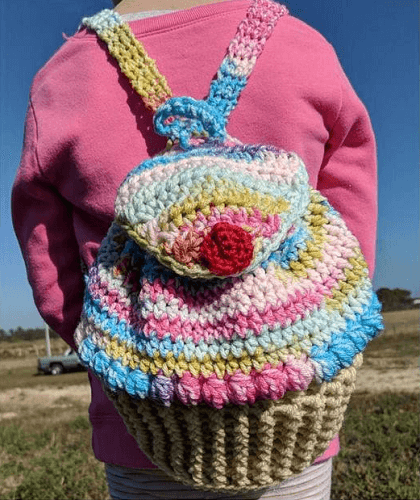 Get the Pattern by LTK Cuties here

20. Color Block Backpack Crochet Pattern by Dabbles And Babbles
This Color Block Backpack is just the thing for bringing all the gear you need to live your day to day life. And just the thing for doing it in the cutest style possible.

The moss stitch adds texture and detailing that makes your crochet backpack stand out from the crowd. Combine that with the color blocking details, and you're all set to turn heads no matter where you're going next.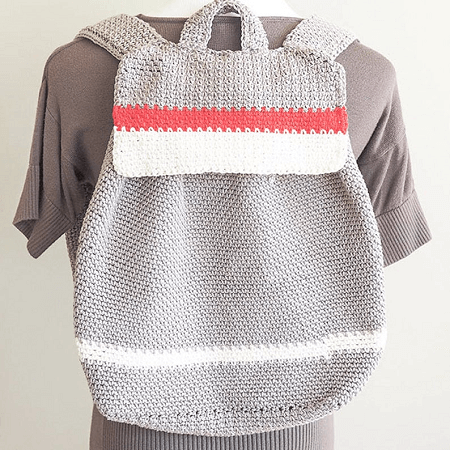 Get the Pattern by Dabbles And Babbles here

21. Wanderlust Chevron Backpack Free Crochet Pattern by A Crocheted Simplicity
This Wanderlust Chevron Backpack is the perfect crochet backpack to take on your everyday adventures. The combination of cotton yarn and simple crochet stitches give this crochet backpack its classic appeal.

It will easily hold a pair of sunglasses, bottle sunscreen, cell phone, bottle of water, earbuds, a book, snacks (or a lunch if you plan to be hiking for the day) and many more items.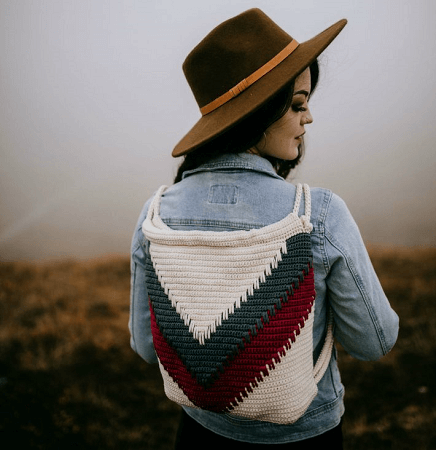 Get the Pattern here

22. Bell Bag Backpack Crochet Pattern by Clear Star Studios
Need an adorable backpack to carry your Switch while you fish, catch bugs, and create the perfect island on the go? Crochet this Bell Bag-inspired Backpack to hang onto everything you need.

This pattern is suitable for intermediate crocheters. Basic knowledge of crochet stitches is required, but the construction is fairly simple.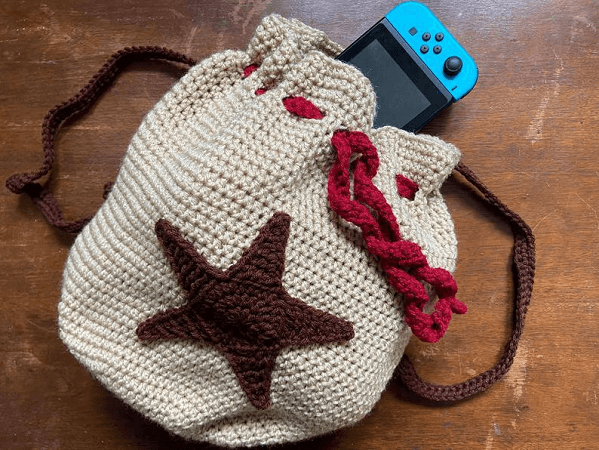 Get the Pattern by Clear Star Studios here
23. Zeffirka Crochet Boho Backpack Pattern by Olha Bilyk
Spruce up your outfit of the day with this trendy Zeffirka Crochet Boho Backpack Pattern that forms a close-knit fabric which makes it sturdy and perfect for everyday use.
This boho bag crochet pattern is made by Olha Bilyk of I love Create Store. It goes with any outfit because of its simple, clean and casual design.
May it be a quick trip to the mall, doing grocery shopping or a simple catching up with friends, this boho backpack Zeffirka's beauty will match with anything.

WHY YOU NEED TO OWN THIS BOHO CROCHET BACKPACK
This boho crochet mini backpack is definitely for fans of handmade purses and bags. But for those people who are not that fond of handmade crafts, I can guarantee that this crochet backpack will definitely change their minds.

OCCASIONS WHERE YOU CAN USE THE ZEFFIRKA CROCHET BACKPACK
For Formal Events:
This boho crochet backpack goes with any outfit and is perfect for casual occasions. There are still considerations for formal events.
This bag can be worn with a dress. Just pick a neutral color for your bag such as black, gray or white to make it look enticing and elegant.
For Casual Occasions:
Any color will do especially earth colors and pastel colors. It will definitely show off the sweet yet simple personality of the one holding the bag. May it be a pastel pink match with a white blouse and skinny jeans for brunch or a light brown earth toned color backpack while doing some grocery shopping. Definitely perfect!

MATERIALS NEEDED
3 skeins (100 m in each one) of T-shirt yarn (7-9 mm) or 3 skeins of Maccaroni Glitter Ribbon yarn

Note that crocheting with T-shirt yarn will make your backpack bigger than crocheting with Ribbon yarn.

150 cm thick chain with 2.6 cm * 1.5 cm width or 2 shoulder straps eco-leather or genuine leather (75 cm each)
strings of eco-leather or genuine leather for the backpack

The strings are not that necessary, because the strings can be made from the thread that will be used.

a tuck lock;
3 D-rings (25 mm) or 3 round snap hooks
a piece of cloth 60 cm * 60 cm for the lining
Two crochet hooks

8 mm one and 6 mm one for T-shirt yarn
7 mm one and 5 mm one for a cotton cord Ribbon Glitter)

Scissors
Thread of the same color as the yarn
Needle-nose pliers
Small screwdriver
Measuring tape
Ruler
Needle
Markers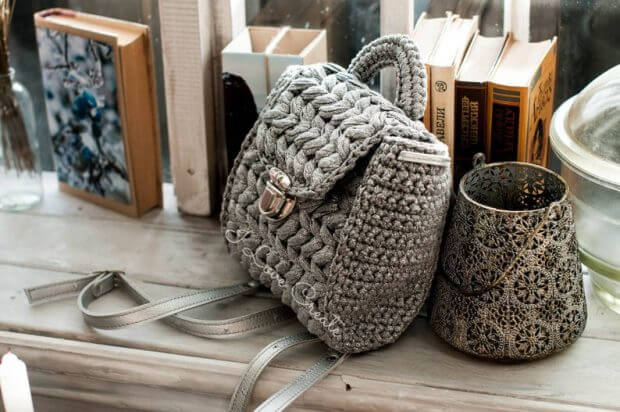 Get the pattern here.
24. Tapestry Crochet Bag Pattern
It is just adorable and although it measures up as a small backpack, it is perfect for carrying around your important items with you, or make it for the little ones.
For this drawstring crochet bag pattern you'll have a 35 page PDF which includes the pattern in both English and Dutch and images to go along with the pattern.
If you want to crochet a less colorful backpack you could chose just one color, such as a beige or grey, and use four different shades of that color.
You will need to use sport weight cotton yarn with a 2-3mm crochet hook. We recommend using Schachenmayr Catania.
Size:
Height 28cm / 11″
Diameter 20cm / 7.9″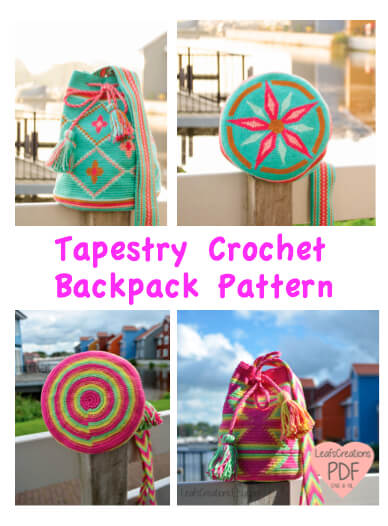 Get the pattern here.
Let us know which crochet backpack pattern is your favorite in the comments below!
Once you've made your crochet backpack, snap a picture, and share it over to us on our Facebook Page. Seeing what you make is part of the reason why we got into the crocheting game.
If you like crochet bag patterns, check out these Crochet Purse Patterns for more gorgeous ideas!

These crochet backpack patterns let your creativity shine and you'll appreciate something you made yourself so much more than something you just bought. Enjoy crocheting!