Whether you're whipping up dinner, pulling up weeds in the garden or making pottery at the wheel, there's always potential for things to get messy. Keep your outfit pristine and let you work without worry by making the best crochet aprons on the internet! Scroll on to see my favorites for men, women – plus a few fun options for the kids.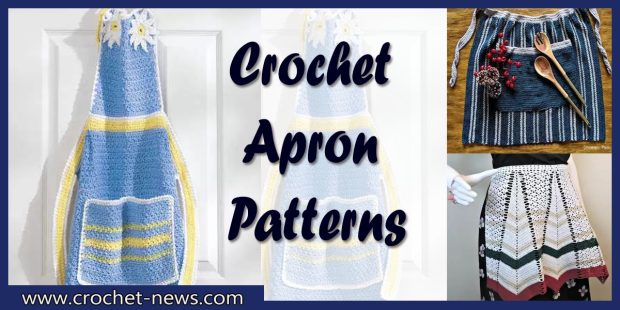 These aprons do more than just protect your clothing; many include useful features like pockets and adjustable straps to make them functional, convenient, and comfortable.
Plus, there are different styles available to suit your needs, such as half aprons that wrap around your waist, aprons with pockets (and plenty of them), and cross-back aprons that keep securely in place. No matter what activities you have planned, here are the best crochet apron patterns to make for the family!
20 Crochet Apron Patterns

1. Vintage Crochet Apron Pattern by Winding Road Crochet
This Vintage Crochet Apron is perfect for beginners and very cute for the little girls. The vintage look of the crochet apron will turn your little girl into a fairytale maiden ready to bake a pie with you! The pattern include sizes for 18 months, 24 months, Size 2, 4, and 6.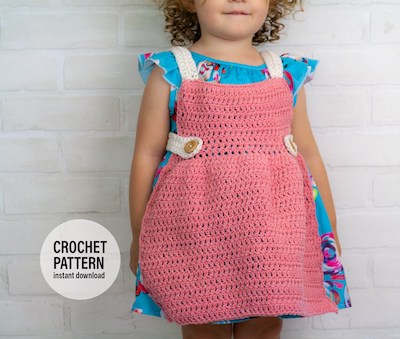 Get the Pattern by Winding Road Crochet here

2. Crochet Cottage Lace Apron Pattern by Earth Tricks
This Cottage Lace Apron is a lovely, whimsical layering piece that looks great over flowing clothes and can lend a feminine touch to an outfit. It can be made with just the skirt piece or with a skirt and bib, and it features optional ruffle sleeves.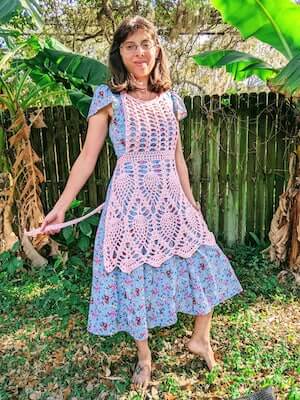 Get the Pattern by Earth Tricks here

3. Crochet Garden Apron Pattern by Yarnspirations
How does your garden grow? Whip up this easy crochet gardening apron to grow your own, homemade style this summer. It's perfect for when you're planting your favorite fruits and vegetables.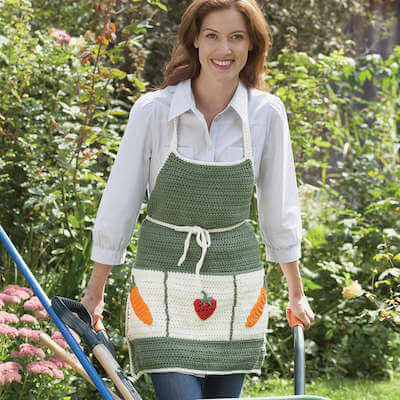 Get the Pattern here

4. Free Vintage Crochet Apron Pattern by Jessie At Home
Anything vintage is designed to bring a nostalgic feeling and very possible childhood memories. This crochet apron is designed with a beautiful chevron pattern that naturally flares out a bit at the bottom.

It'll make a nice gift for yourself or your hostess. Change the colors of the stripes to any colors you would like.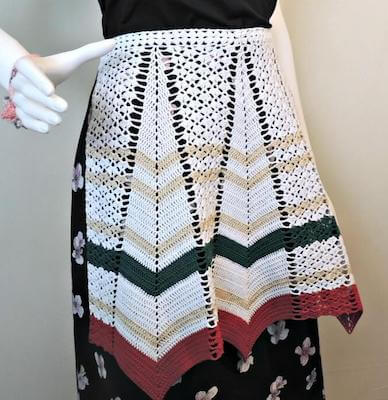 Get the Pattern here

5. Martha's Retro C2C Apron Crochet Pattern by Hannah Cross
This interesting geometric crochet apron pattern uses the C2C crochet method and a basic 2-panel construction to make something perfect for vintage fans. Craft it in the colors featured, or change-it-up to suit your tastes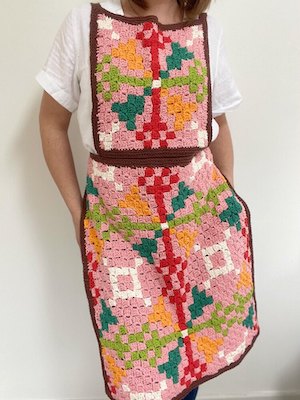 Get the Pattern by Hannah Cross here

6. Crochet Egg-cellent Apron Pattern by Heart Hook Home
Anyone who spends a lot of time at their chicken coop will appreciate this crafty idea that aims to make gathering eggs a little easier. It comes with 19 perfectly egg-shaped pockets that are helpful for holding not just eggs, but any miscellaneous tools or items. There's even a larger pocket for your cell phone, to-do list, etc.

If you've got kiddos who love helping out around the farm, you can even get them a matching apron. On that note, it's also the perfect accessory for Easter egg hunting.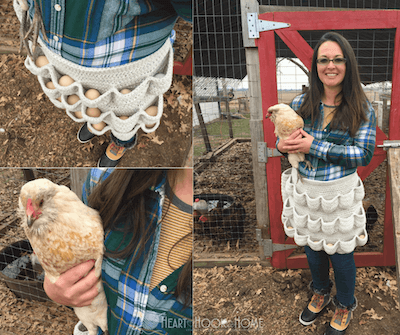 Get the Pattern here

7. Crochet Rosemary Pinafore Apron Pattern by Camexia Designs
If you're looking for a full apron pattern, you won't want to miss this one that's both traditional and modern. The crossover straps in the back make it easy to take on and off and the optional side pockets are perfect to keep small things you need to keep close to you.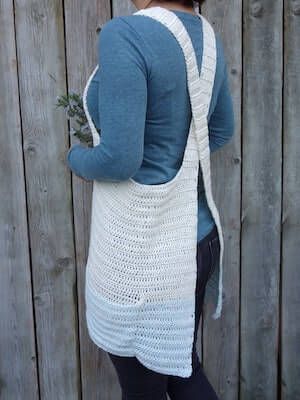 Get the Pattern by Camexia Designs here

8. BBQ Toolbelt Apron Crochet Pattern by Blackstone Designs
Here's an apron for guys to use when they're in the kitchen or out in the yard cooking up a yummy BBQ for the family. It's perfect for anyone who loves to cook and grill, and it can make a great birthday or Father's Day gift.
Get the Pattern by Blackstone Designs here

9. Farmhouse Apron Crochet Pattern by Sincerely Pam
This Farmhouse Apron Crochet Pattern makes a beautiful hostess or housewarming gift. The clean lines and functional pocket work in every kitchen.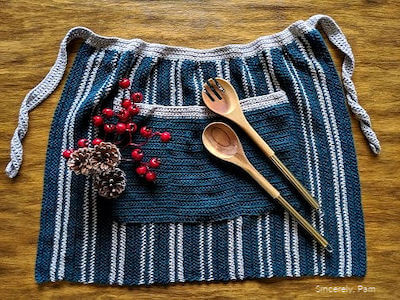 Get the Pattern here

10. Crochet Apron Pattern by Yarnspirations
Crochet a bright kitchen accessory for the cook of the house. Explore the possibilities as you play with your color choices or make your own as shown. Crocheted with absorbent cotton yarn, this apron will make any chef look fashionable as they make their next cuisine.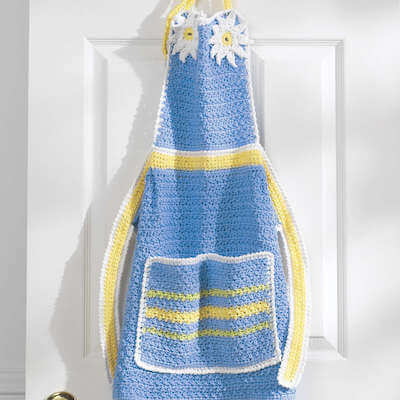 Get the Pattern here

11. Crochet Working Man's Apron Pattern by Jo Baird
Need a gift for the man in your life? Aprons are great for aspiring chefs (or just the at-home gourmet), BBQ aficionados, or as a utility apron for someone who works with their hands.

This Crochet Working Man's Apron is customizable to your personal style, size, and color preferences. This apron can be made specifically for him or personalized to fit you, your family, or friends.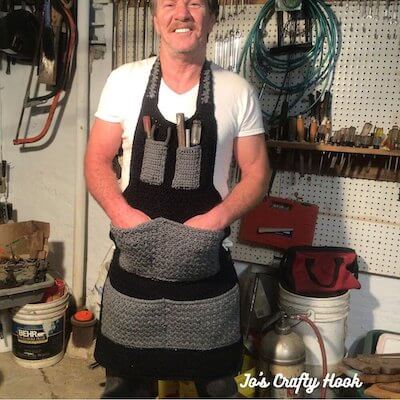 Get the Pattern by Jo Baird here

12. Agave Japanese Apron Crochet Pattern by Camexia Designs
This Japanese Pinafore Apron is a perfect minimalist outfit to cook, garden, grill, or do some fun experiments around the house! It's modern, comfy, and easy to put on thanks to the cross back construction that will accompany you on any adventure.

The usage of color block yarn and side pockets is optional in the design. Make it for yourself or as a wonderful present for relatives and friends!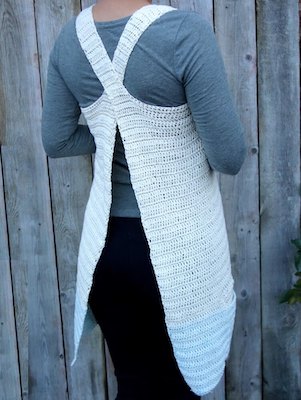 Get the Pattern by Camexia Designs here

13. Crochet Kids Gardening Apron Pattern by Just Be Happy Crochet
Kids love to garden, but they love it more when they have something cool to wear! And it this isn't the cutest apron ever—then I don't know what is!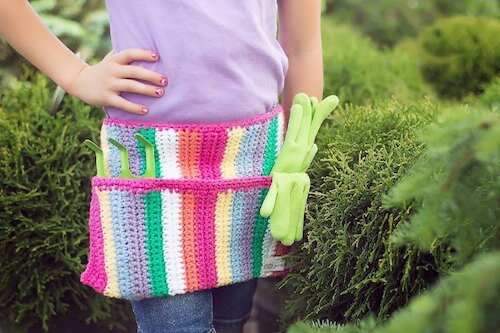 Get the Pattern by Just Be Happy Crochet here

14. Crochet Matching Aprons Pattern by Yarnspirations
Everything is more fun when you do it together! Whether you are baking cookies with your kids or gardening with your grandchildren, you'll enjoy wearing these cotton aprons with big roomy pockets.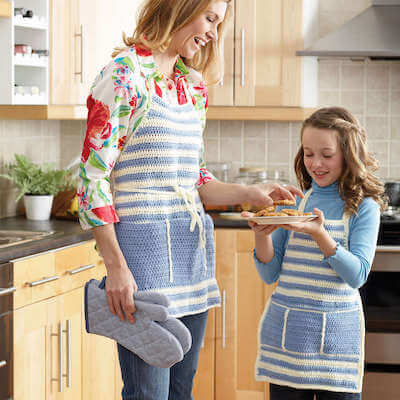 Get the Pattern here

15. Lemon Drop Apron Crochet Pattern by Casale Crafts
This Lemon Drop Apron Crochet Pattern is super fast to work up and will be perfect for keeping all of your clothes spotless when you are making all your summer and fall treats!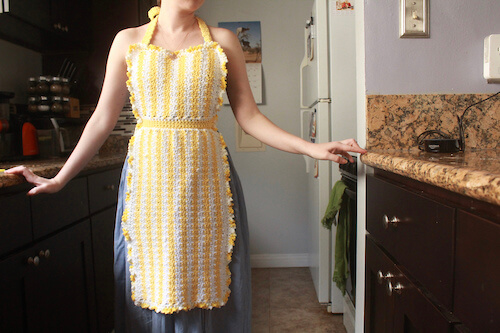 Get the Pattern here

16. Crochet Granny Square Apron Pattern by Fun Crochet Magazine
Add a touch of vintage charm to your kitchen with this Crochet Granny Square Apron Crochet Pattern. Its cheerful design brings joy and style to your kitchen or workspace, making it a delightful addition to our daily routines.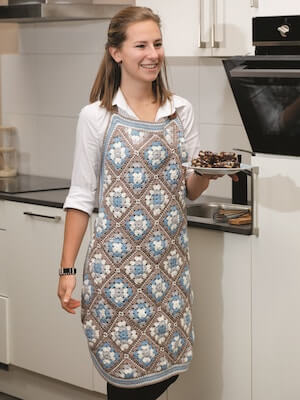 Get the Pattern by Fun Crochet Magazine here

17. 1940s Crochet Apron Pattern by Yveylise Crochet
Aprons always remind us of yesteryear, probably because we have fond memories of seeing our moms and grandmas wear them in the kitchen. So, it only makes sense to include a lovely vintage crochet apron pattern inspired by 1940's on this list. Make this timeless project in whatever colors you like.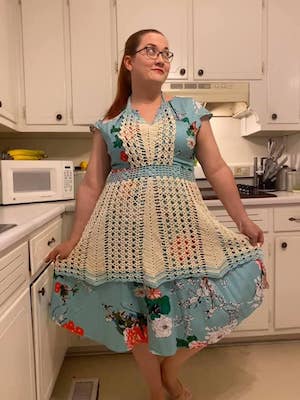 Get the Pattern by Yveylise Crochet here

18. Tunisian Ruffled Crochet Apron Pattern by Abigail Haze
Here's a project that will teach you how to Tunisian crochet, which is used for the main body of the apron. Then you can switch back to your regular crochet skills to work up the ruffled order that accents this piece.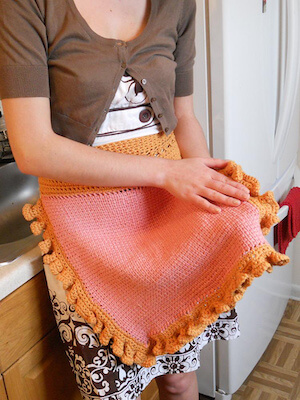 Get the Pattern here

19. Nesting Hens Egg Gathering Apron Crochet Pattern by Thomson Farms
Chicken fans and egg enthusiasts can tote yolks in style with this Nesting Hens Egg Gathering Apron. Not only will you have a hands-free way to carry eggs but you'll also look like the chicest chicken farmer in town!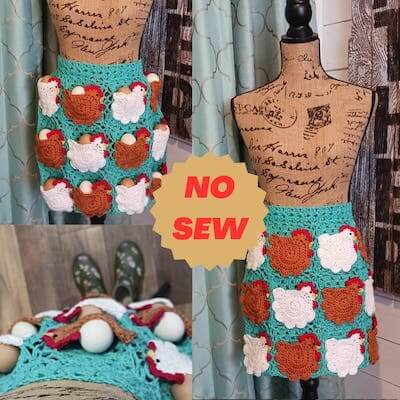 Get the Pattern by Thomson Farms here

20. Crochet Ruffle Apron Pattern by Cashmere Dandelions
Wearing a ruffled apron will definitely perk you up when you need it most in the kitchen. Because, really, who can resist ruffles?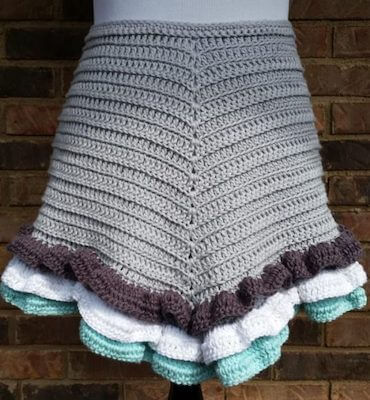 Get the Pattern here
WITH THESE CROCHET APRON PATTERNS, YOU CAN CREATE MULTIPLE APRONS TO FIT ANY OCCASION. PLUS, THESE MAKE GREAT GIFTS!
When done crocheting, take a pic and share it with us on our Facebook Page—we'd love to admire your creations! Then, bake some cookies and enjoy the treat, or break out a delicious cookbook and make a meal—you earned it!

Crochet is more than just pretty scarves and blankets. You can also crochet useful items like baskets, placemats, pillows, towels, dishcloths, rugs, and more. Never get tired crocheting useful things for your home!
So, get your hooks ready and make yourself some useful, adorable crochet aprons today!