This 30 Crochet Dinosaur Patterns collection includes patterns for the Brachiosaurus, Stegosaurus, Triceratops, T-Rex and more!
We have gathered the most terrifying and the cutest dinosaur crochet patterns that will make you and your kids go roar in wild. These buddies are perfect for the little ones and also for grown-ups who never really grew up.

Scroll down, pick up your hook and yarn and bring these prehistoric creatures back to life!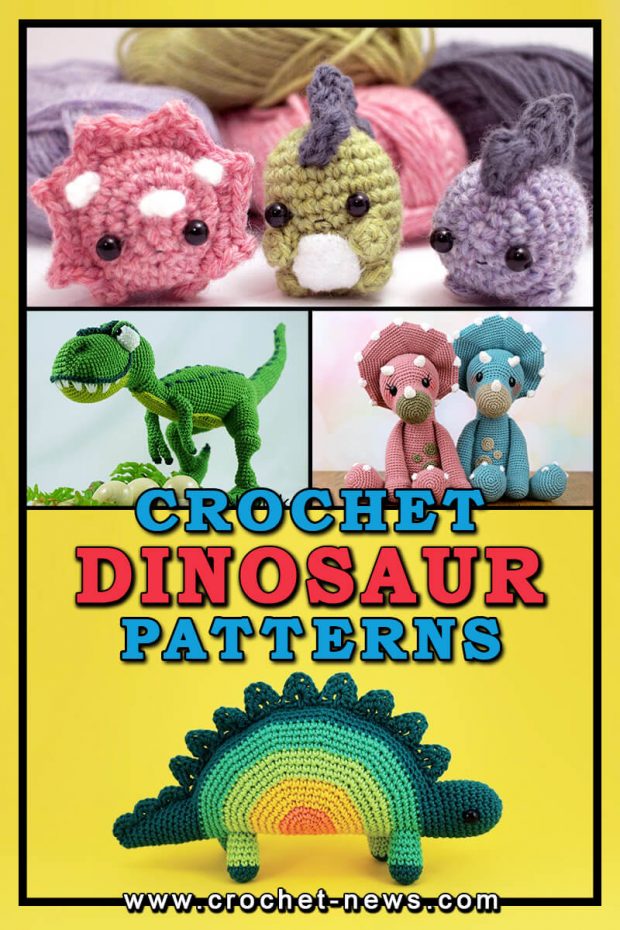 1. Brachiosaurus Long Neck Dinosaur Crochet Pattern by Crafty Intentions
This pattern contains clearly explained instructions for each round and some step-by-step photos to help you finish this perfect, lumbering long neck dinosaur crochet. The perfect cuddly dino pal for your little ones! Check out Crafty Intentions as our featured designer.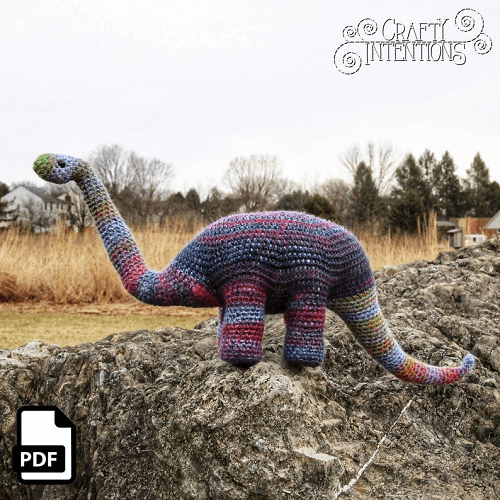 Get this Pattern by Crafty Intentions here

2. Triceratops Dinosaur Crochet Pattern by Sweet Oddity Art
This is Tabitha, the Triceratops, measuring roughly 16″ tall when using a D hook. This pattern includes detailed instructions that are easy to follow if you know the basic stitches and techniques used to make amigurumi. Mix and match colors to change his look.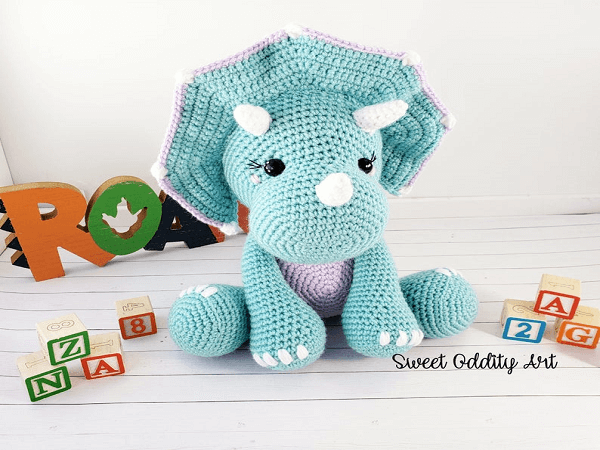 Get this Sweet Oddity Art's Pattern here

3. Spiky, The Stegosaurus Crochet Rug Pattern For Beginners by Irarott Patterns
This is an easy to follow pattern that is written row-by-row using US crochet terms, diagrams, and many step-by-step photos.
Add a splash of color and spikes to your room with this adorable crochet stegosaurus rug that is just so incredibly cute! 10 more crochet dinosaur blanket and rug patterns here.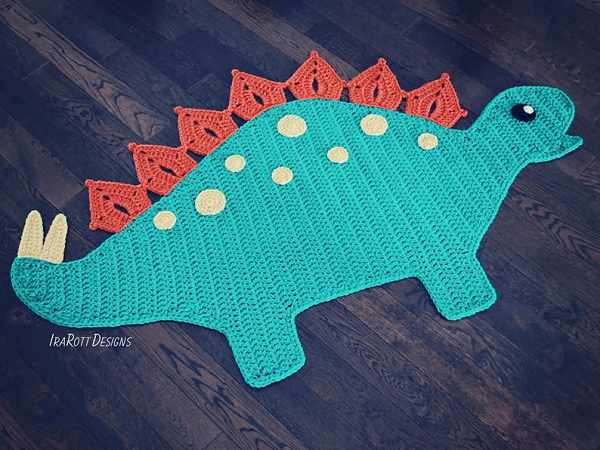 Get this Pattern by Irarott Patterns here

4. T-mothy The T-Rex Amigurumi Pattern by Il Dikko
This pattern is at an experienced skill level. This is a very detailed pattern and contains a lot of pictures but previous amigurumi experience is recommended.
This terrifying dino will be a favorite toy for a toddler, but I know a few grown-ups who would enjoy such a gift as well.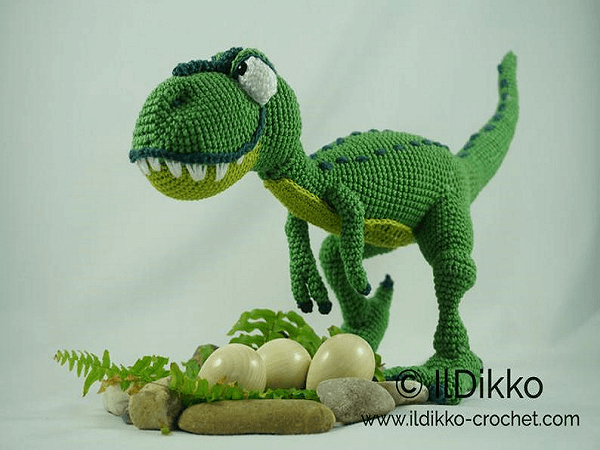 Get this Pattern by Il Dikko here

5. Diplodocus Crochet Pattern by Little Green Bear Gifts
This pattern is available in US and UK terminology. This diplodocus is a good size for cuddles and play. Customize with stripes or circles. Change the colors for a more realistic look or choose a favorite color and make this friendly dinosaur your own!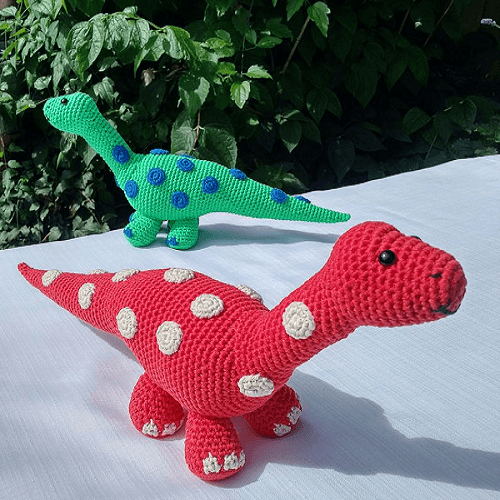 Get this Pattern by Little Green Bear Gifts here

6. Stegosaurus Crochet Pattern by Amigurumi Today
This cute dinosaur will catch your eyes straight away. The size of your dino toy depends on yarn weight and hook size so if you choose to use a thicker yarn, your crochet Stegosaurus will be bigger. This bright stegosaurus can be a perfect playmate for your little one.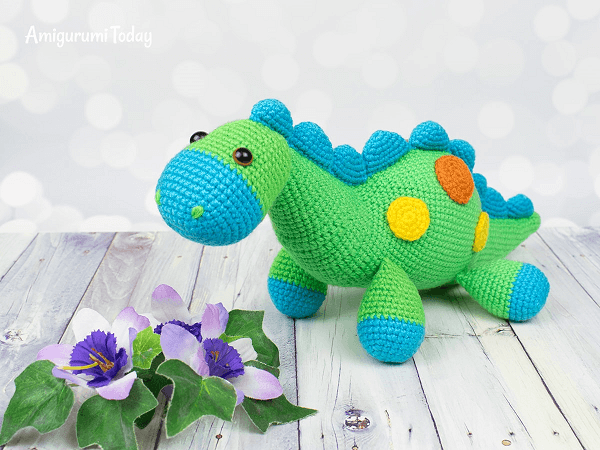 Get this Pattern here

7. Arlo, The Apatosaurus Dinosaur Crochet Pattern by Rach Chua
This pattern is inspired by Arlo, The Good Dinosaur. This cute and small dinosaur will easily fit on the palm of your hand. Embellish him with felted eyes and spots and it will definitely make a faithful companion.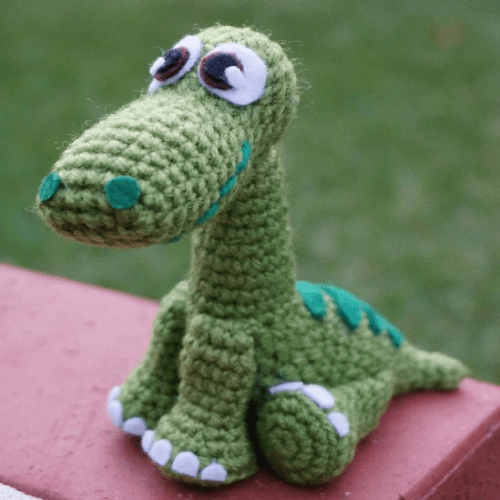 Get this Pattern here

8. Tricia and Topsie, The Triceratops Dinosaur Crochet Pattern by My Krissie Dolls
This pattern is available in English and Dutch. There are no complicated stitches with this pattern but some of the techniques used may be a little tricky for someone who has not made Amigurumi before. Another cuddly and soft dino toy worth your time.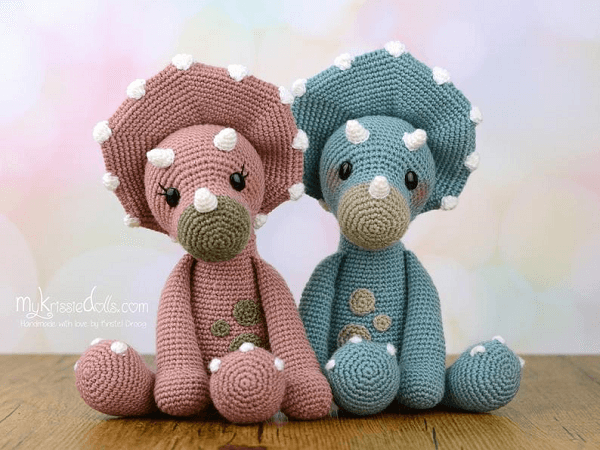 Get this Pattern by My Krissie Dolls here

9. Baby Raptor Dinosaur Pattern by Krawka
This pattern is for the advanced crocheters. This dino was made to look more an action figure where a pipe cleaner skeleton was added so he can move his legs.
But if you are making this for a smaller child, skip adding wire and make a plushy, cuddly dino toy instead.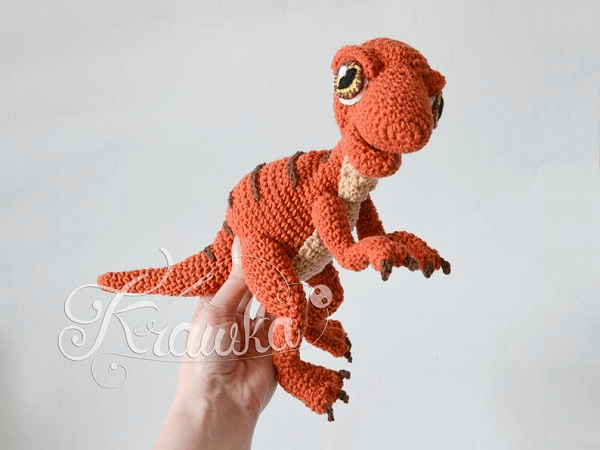 Get this Krawka's Pattern here

10. Triceratops Dinosaur Crochet Pattern For Beginners by Spin A Yarn Crochet
This pattern is really simple and quick to crochet that for sure you won't stop on a single one as they also make a great last-minute gift. The finished size is just perfect for your little kids to hold with their little hands. This dinosaur is crocheted in a classic ragdoll style to achieve a unique look.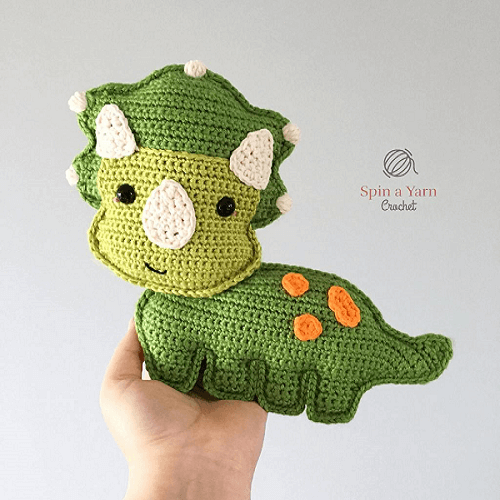 Get this Pattern here

11. Horace, The Stegosaurus Dinosaur Crochet Pattern by Irene Strange
There is step by step photos in this pattern detailing how to make the pieces and sew together the toy, as well as full charts for the body and spikes. If you are not sure which colors to use in making this dinosaur, why not make it as colorful as a rainbow?
Get this Pattern by Irene Strange here

12. T-Rex Dinosaur Crochet Pattern by Amigurumi Live
This is an intermediate pattern that most of the pieces are worked in continuous rounds and have a fairly simple construction.
He may look terrifying but he is just the right creation to bring a smile to a sweet kid's face. A fierce, cuddly buddy worth crocheting!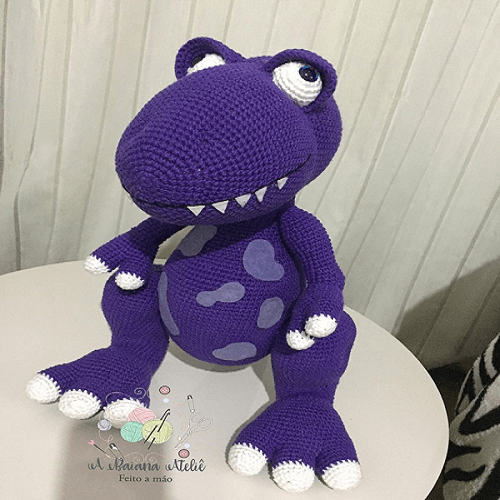 Get this Pattern here

13. Iguanodon Dinosaur Crochet Pattern by Mevv San
You need to have skills in crocheting in a round/spiral, single crochet, increase and decrease stitches, color changing and ability to sew multiple parts together to finish this project.
This pattern shows step by step instructions, paired with photos and tutorial links for certain stitch techniques to help you with your work. Try to make this little buddy in colors that you like.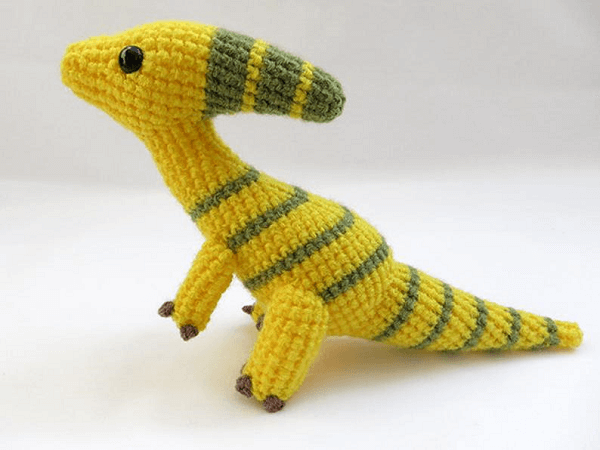 Get this Mavv San's Pattern here

14. Parasaurolophus Crochet Pattern by Joyful Round
This pattern is easy to follow and includes pictures to reference at the end of the pattern.
Little parasaurolophus is ready to roar his way right into your heart. This dinosaur is easy and quick to create. Perfect for the dinosaur lover in your life.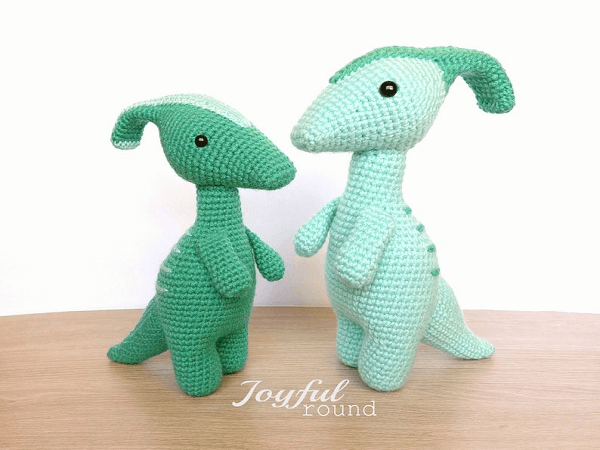 Get this Pattern by Joyful Round here

15. Baby T-Rex Dinosaur Amigurumi Crochet Pattern by Ami Amour
A quick to free crochet dinosaur that you will surely love. These adorable dinosaur babies may look hungry with their mouths open but they will not definitely harm anybody.
You can also crochet these dinosaurs with or without a belly patch. They look cute either way!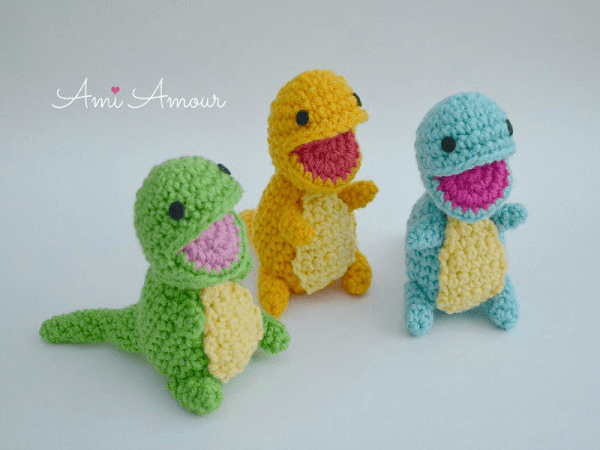 Get this Pattern here

16. Trevor, The Triceratops Crochet Pattern For Beginner by Il Dikko
A beginner-friendly pattern that worked up so fast and you will have a lot of fun watching it being created. Using the recommended yarn and hook, this Triceratops will be 15 cm x 23 cm; just perfect for a plush toy!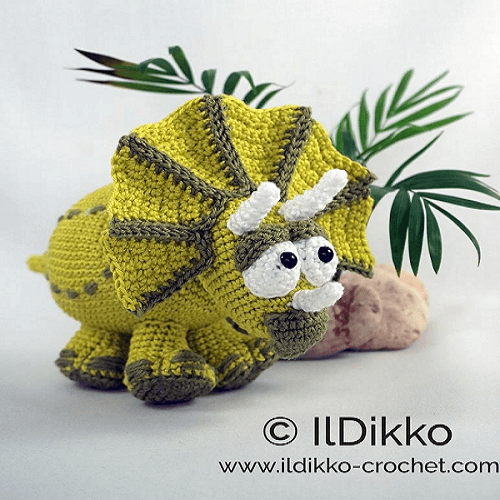 Get this Pattern by Il Dikko here

17. Stegosaurus Dinosaur Pencil Case Crochet Pattern by Claire Golden
A plush toy and a pencil case in a form of this cute, spiky dinosaur. This pattern contains detailed instructions on how to crochet this dinosaur and also incorporating the zipper into it.
This Crochet Dinosaur Pencil Case would be a perfect gift for a kid who just started school or for grown-ups who just love dinosaurs!

Here are 12 more fun crochet pencil case patterns.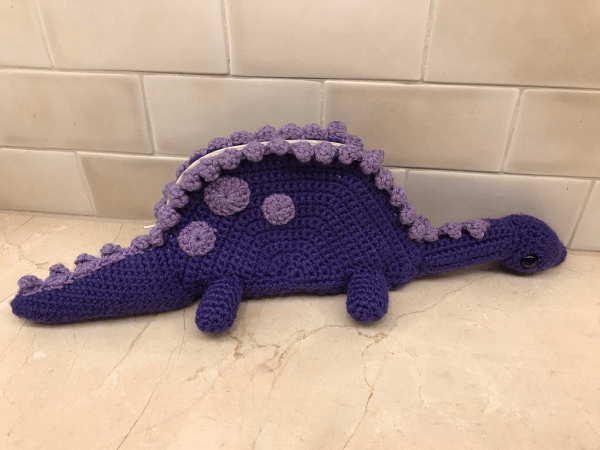 Get this Pattern here

18. Brachiosaurus Crochet Pattern by Spin A Yarn Crochet
This is an easy pattern that works up so quickly because there are 5 pieces that are needed to make this cute little guy; the two panels and the three spots for that extra touch. Of course, you can decorate it just the way you want it to look.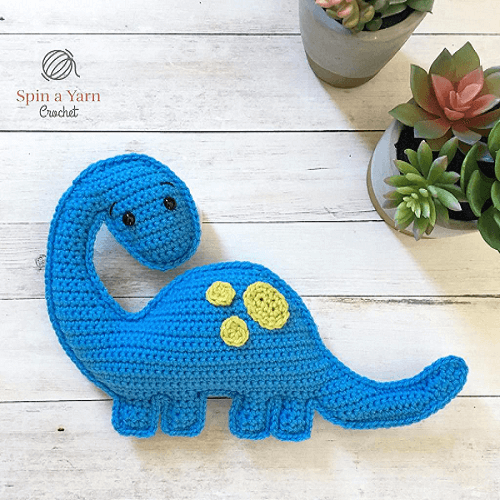 Get this Pattern here

19. Bruce, The Friendly Dinosaur Crochet Pattern by Bunnies And Yarn
Bruce, the friendly dinosaur is about 14.5 in. (37 cm.) tall if you use acrylic worsted weight yarn and a 4.00 mm. crochet hook.

He is a good size for cuddles and plays. Change the colors for a more realistic look or choose a favorite color!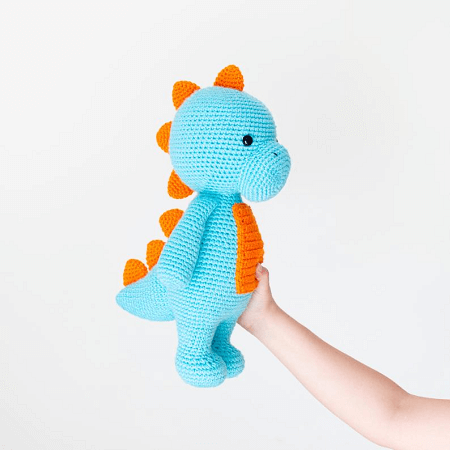 Get the Pattern by Bunnies And Yarn here

20. Plod, The African Flower Triceratops Crochet Pattern by Heidi Bears
Plod, the African Flower Triceratops is an excellent stash buster project, as you only need to use very small amounts of leftover stock yarn to make a motif.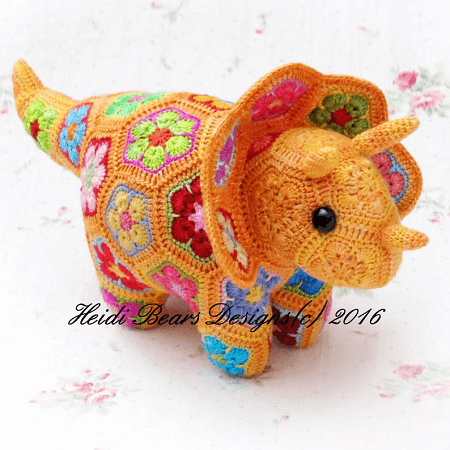 Get the Pattern by Heidi Bears here

21. Hatching Dinosaur Eggs Crochet Pattern by Crocheting In Canada
This Hatching Dinosaur Eggs Crochet Pattern includes written instructions to make 5 dinosaurs and 2 egg sizes: T-Rex, Apatosaurus, Stegosaurus, Pterodactyl, Triceratops, a small egg, and large egg.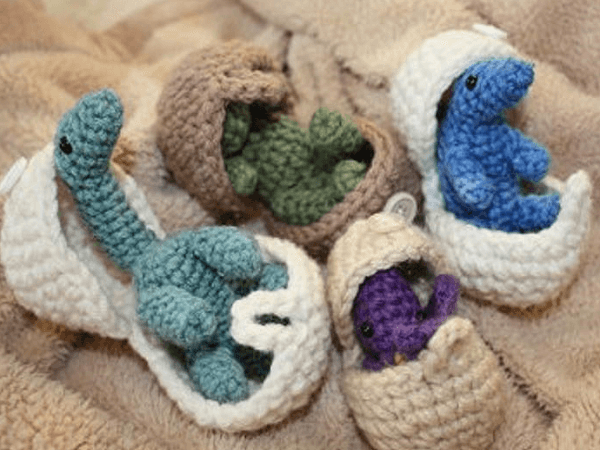 Get the Pattern by Crocheting In Canada here

22. Dinosaurs Crochet Pattern by Mohu Store
Use one basic crochet pattern to make three different amigurumi dinosaurs – a stegosaurus, tyrannosaurus, and triceratops. There's a crochet chart to help illustrate the dinosaur spikes and a printable template for the t-rex's felt tummy.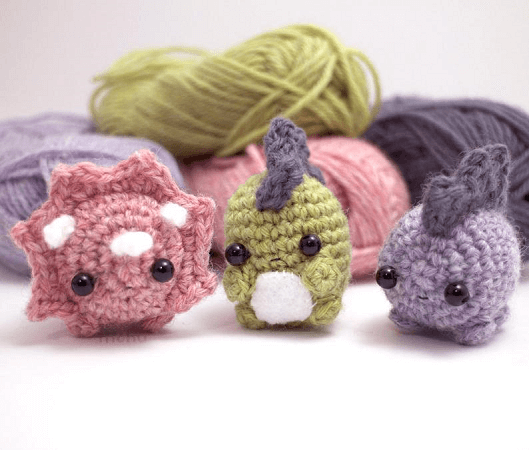 Get the Pattern by Mohu Store here

23. Crochet Dinosaur Brooch Pattern by Crochet Pattern By Lily
Not only kids but adults as well will become fond of this brooch. Crochet this dino brooch and be sure to get a positive charge out of it every day. (Due to the presence of small parts, this toy is not suitable for the children under 10).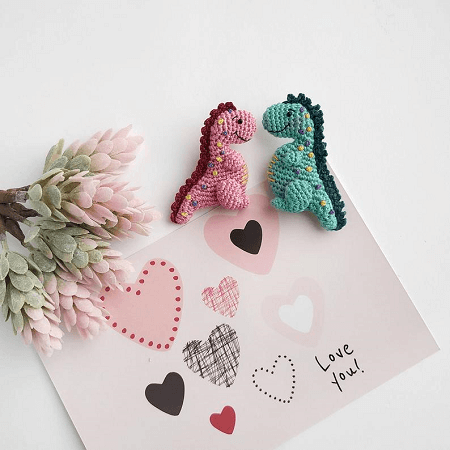 Get the Pattern by Crochet Pattern By Lily here

24. Stellan And Stanley Free Crochet Dinosaur Pattern by Yarnspirations
Add Stellan and Stanley to your collection of soft miniature figurines. These 2 friends have known each other since the Jurassic era, so crochet your dinosaurs to cuddly perfection using Red Heart Amigurumi yarn.

Each cake includes all the shades needed to complete this dinosaur duo that's a sweet pair to display or give as a gift to any collector.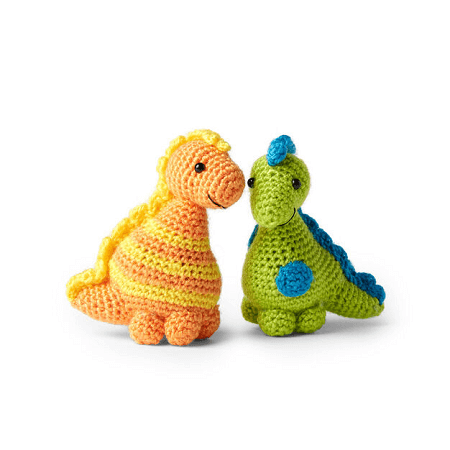 Get the Pattern here

25. Crochet Velociraptor Dinosaur Pattern by Sayens Crochet Store
This Crochet Velociraptor Dinosaur when finished is around 25 cm from top of head to the end of the tail. This pattern is at an easy/intermediate level. Previous amigurumi experience is recommended.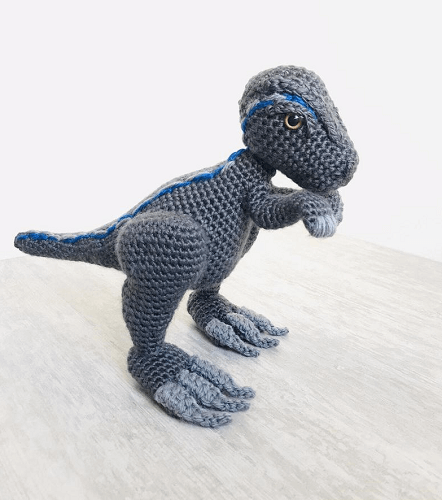 Get the Pattern by Sayens Crochet Store here

26. Plush Dinosaur Amigurumi Pattern by Amigurum
What to do with your leftover yarn? This free Plush Dinosaur Amigurumi is a great amigurumi pattern for leftovers of plush yarn. Make your own dinosaur crochet toy in your favorite colors.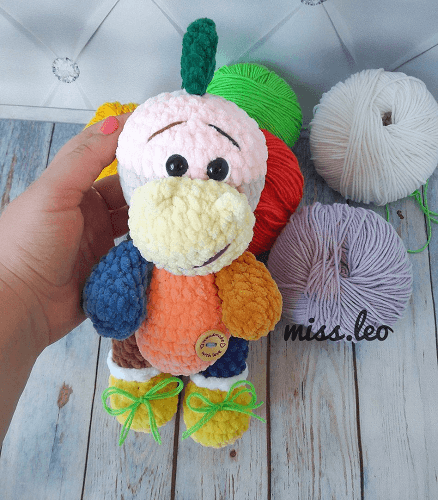 Get the Pattern here

27. Pterodactyl Dinosaur Amigurumi Pattern by Sweet Oddity Art
Once made, little ones can make this Pterodactyl Dinosaur soar around the room. Such fun! They measure 15″(38 cm) tall from bottom of foot to top of head when using a D hook.

The instructions are detailed and easy to follow if you know the basic stitches and techniques used to make amigurumi. This pterodactyl pattern requires more patience and knowledge for the wings.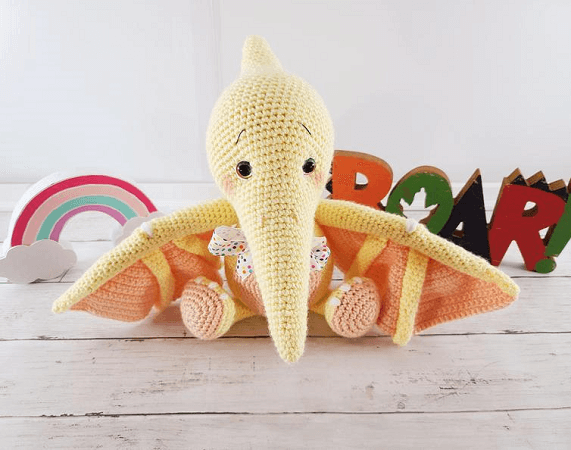 Get the Pattern by Sweet Oddity Art here

28. Crochet Dinosaur Cushion Pattern by Flo And Dot Shop
This is a crochet pattern to make a fun friendly Dinosaur Cushion with soft spikes and spots. A novelty cushion for your home!

This small cushion is great for snuggling up and perfect for any dino-themed bedrooms and nurseries. Made using Aran cotton yarn, this adorable creature is approximately 45 x 40 cm.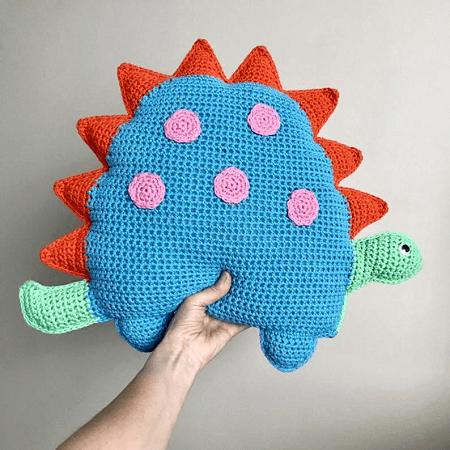 Get the Pattern by Flo And Dot Shop here

29. Free Dinosaur Crochet Pattern by Red Heart
Stitch up a squishable dinosaur toy for your kids with this free and easy pattern. The Squish-A-Saurus Dino pattern features easy stitches, such as double crochet and half double crochet.

Make the various body parts separately and seam them together to complete.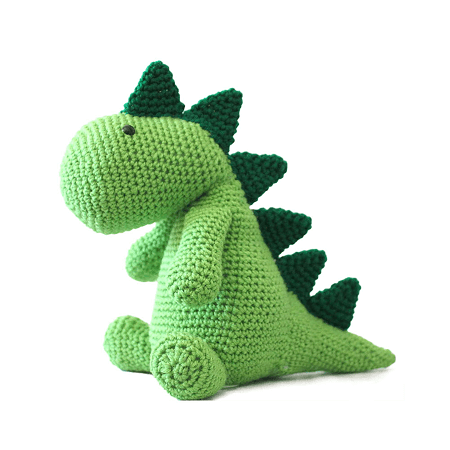 Get the Pattern here

30. Crochet T-rex Dinosaur Pattern by Amigurumi Joys
Do you want to surprise someone with an unusual gift made all by yourself? Then this green T-Rex is the right choice! It can be a great gift for a dino lover.

The size of the finished toy is about 10.6 inches(27cm) in height and 9.5 inches(24cm) from nose tip to tail, with cotton yarn and a 1.75 mm crochet hook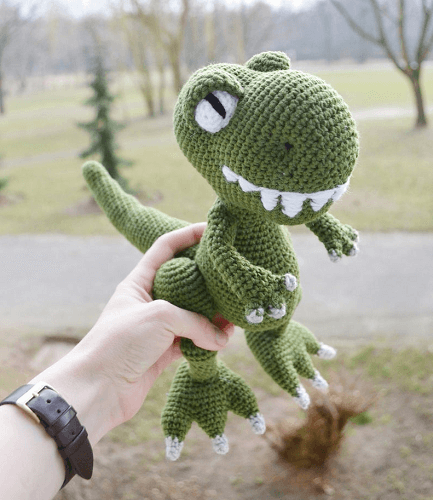 Get the Pattern by Amigurumi Joys here
We hope you have enjoyed these cuddly creatures!
If you liked these dinosaur patterns, you will also like this free Triceratops Crochet Comforter Pattern.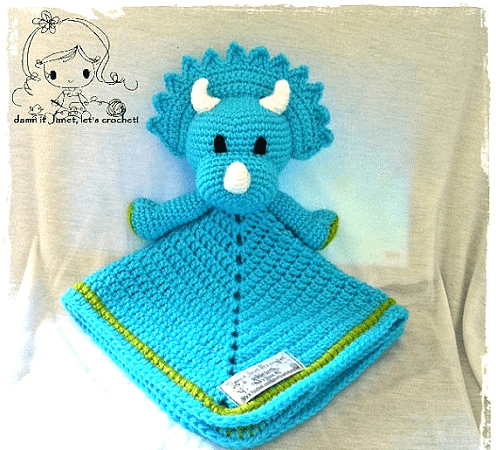 Get the Pattern here
Crochet Dinosaur Frequently Asked Questions
How do you crochet a dinosaur?
Even someone with basic crochet knowledge can quickly learn to make a simplified dinosaur. Start by crocheting a round body that can be stuffed easily. Next, add some spikes across the back and a chunky tail.
Two eyes, a quick smile, and some arms and legs, and you have a dino! It may not fool a paleontologist, but this simple shape is recognizably a dinosaur, and a great starting point for more complicated crochet patterns.
Is a dinosaur an easy thing to crochet?
Crocheting dinosaur amigurumi may appear daunting at first, but there are numerous dinosaur crochet patterns available that are ideal for beginners. It's perfectly fine if you've never made a crochet stuffed animal before. Crochet dinosaur patterns are a lot of fun to make.
What is the best yarn for making crochet dinosaurs?
You can use any yarn fiber, from cotton to chenille velvet, to create different textures. Cotton, acrylic, and wool generally have better stitch definition, so you would see your stitches more clearly.
However, if you use blanket yarn or velvet yarn, the stitches will appear less visible and the end amigurumi result will look more like a plush toy!
What's the difference between amigurumi dinosaur and crochet dinosaur?
An amigurumi dinosaur is similar to a crocheted dinosaur, but it specifically refers to the process of creating 3D toys. Crochet uses a variety of techniques, whereas amigurumi is almost always done in the round, creating spheres that are then stuffed to form the limbs of these adorable little dinosaurs.
What others supplies do you need for amigurumi dinosaurs?
As with all crochet projects, amigurumi dinosaurs require yarn and a crochet hook. You'll also want to have a yarn needle and scissors. Other tools that are often needed for amigurumi projects include:
stitch markers
embroidery thread (for details)
polyester filling (stuffing)
safety eyes
Wrapping up this roaring crochet dinosaur pattern roundup
Make one today and post a picture of your very own dinosaur on our Facebook Page. We'd love to see how it turns out!
Drive your kids wild with excitement and bring prehistoric times into your home with one of these impressive crochet dinosaur patterns!

What was your favorite crochet dinosaur pattern?