Are you an amigurumi fan? Most of the amigurumi plushies we see are based on cute characters or little everyday objects transformed to make them cute. However, do you enjoy looking at these cute little amigurumi but always wish someone would make patterns that are a little more unique?
While looking around for new patterns to feature, we came across a designer with a unique taste! Her patterns are not only intricately detailed, but she also features bold and striking creatures.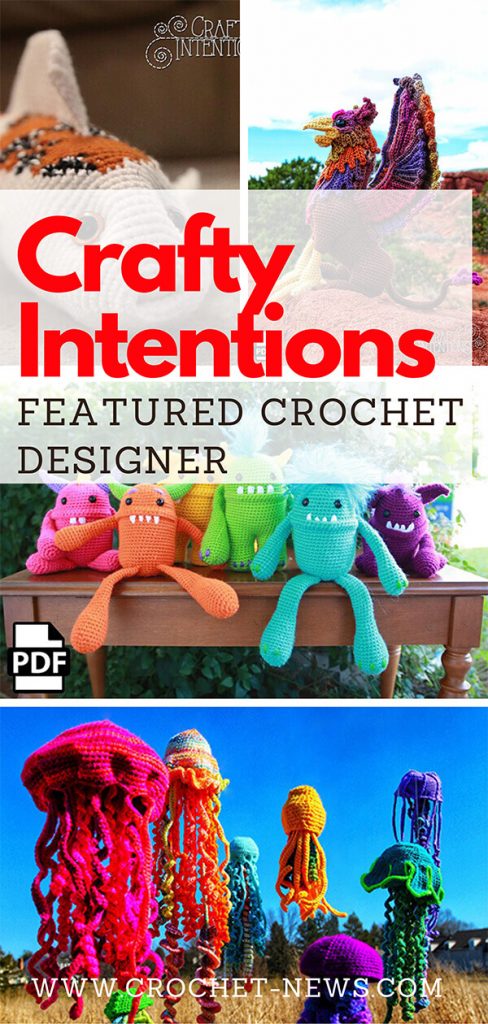 Crafty Intentions Crochet Designer
Crafty Intentions creates patterns that cater to those with a more unique taste! In fact, they take legendary and mythical creatures from stories and legends and creates a colorful and striking amigurumi using their physical characteristics.
Through this, they are able to turn something that a limited audience would be excited to make into a colorful creature a lot of crocheters can relate to.
Although you might not be so familiar with some of the subjects of their amigurumis, you'll surely want to take a second look to examine the intricate details of her works. We can't help but admire the effort and patience they put in making these patterns to create something so detailed!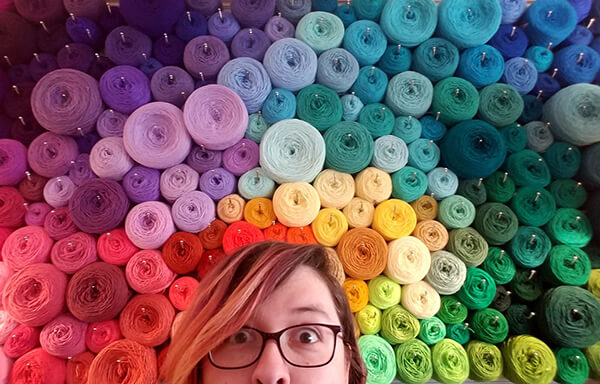 Know More About Megan of Crafty Intentions
So who is the mastermind behind Crafty Intentions? The awesome and incredibly patient pattern designer behind Crafty Intentions is Megan Lapp. She creates art using different types of artistic media and she got her BA with a double major in Art and Music from Lafayette College in Easton, Pennsylvania.
As crafters ourselves, we get excited when we see others' studios where the crafting magic happens. We're lucky to be able to take a peek at Megan's very own studio! Since her studio has been featured on different websites, we're able to see how she organizes her crafting materials.
Her cabinets filled with materials she used for different crafting activities line her studio walls. Her open cabinets also house her neatly lined decorated storage containers. She even has mounted storage that holds rows and rows of her ribbons! Everything is well organized, but one particular thing that caught our eyes are her glass jars filled with various trinkets she uses in her projects. It gives off a candy shop vibe, and it's definitely something you'd love to have in your future studio!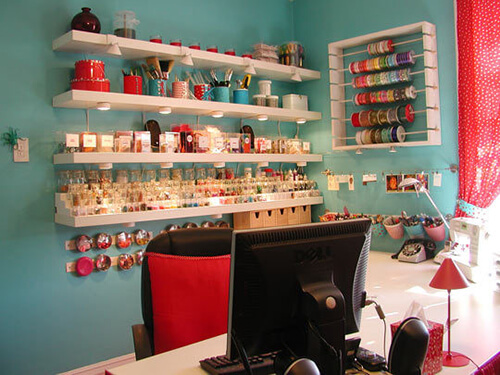 Although armed with a lot of art-related skills, we'll have to focus on Megan's crocheting skills for now. If you remember our Crochet Dinosaur article, we already featured one of her patterns on that list.
Check Out More of Megan's Works
If you want to see more of Megan's crochet works, you can visit her website and you'll be welcomed by her different creations. For easier viewing, all of her works are neatly organized in tiles. We love how she used such colorful and eye-catching images to showcase her works. You can even click on the tiles and take a closer look at her creations.
Itching to make a few ones for yourself? Go ahead and click on the image you want to make! Aside from giving a closer look at her creations, she also included links on where you can buy her patterns.
Every pattern Megan makes is so enchanting! It was really hard for us to choose just a few ones to include in this article. Nevertheless, you can check out all the patterns she sells on her Etsy shop.
Realistic Looking Koi Fish
Do you know what koi fishes look like? You might have seen one already, you just did not know what it's called. Koi fishes are usually seen in ponds where they swim around and flock to the area where food is placed.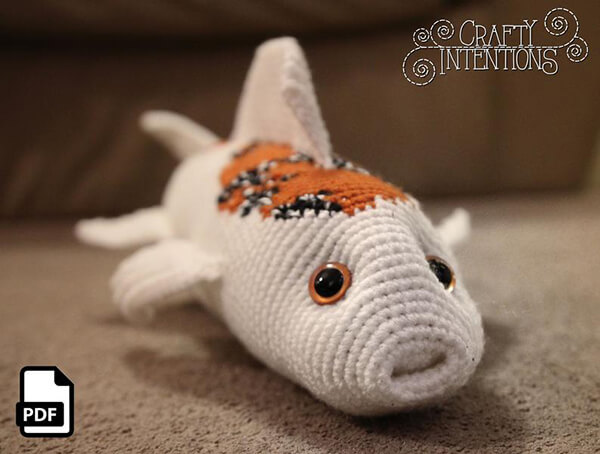 Take a closer look at this amigurumi koi fish Megan made. It perfectly captures the look and the colors of the real ones. Does this look familiar? Even the shape of the body and the mouth of this amigurumi looks realistic!
We are really impressed with how she was able to copy the usual patterns on the back of the koi fishes! In fact, by using this pattern you can create four different designs on your koi fishes. To get the perfect orange, black, and white yarn colors, it is best to follow the yarn colors she recommended.
Mermaid and Unicorn In One
We love giving handmade gifts to our little ones. They are very appreciative especially when we give them their favorite toys! Although sometimes problems arise when they have two favorites and can't choose one.
If you're like the other parents out there who cannot start on their crochet projects because their little ones cannot decide between a mermaid or a unicorn, consider your problem SOLVED. Why choose one if you can make them both in just a single amigurumi?
As if Megan predicted that some parents would be facing this dilemma, she made a pattern that features both a unicorn and a mermaid! It has the head and the front hooves of a horse, and the long elegant horn of a unicorn. She even added the colorful mane of a unicorn!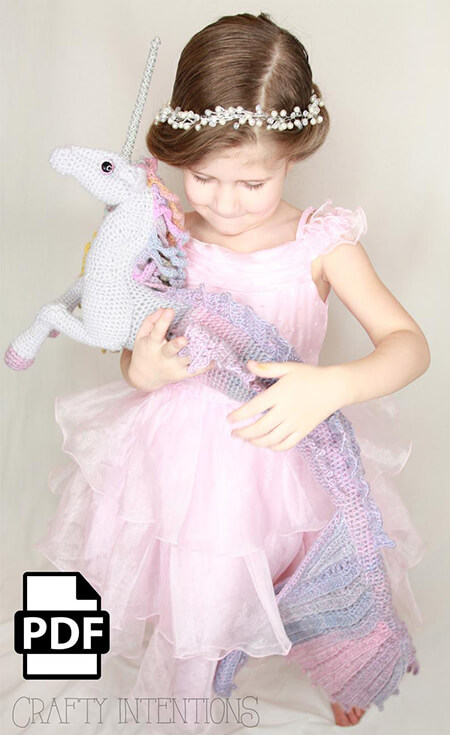 For the lower part of the amigurumi, Megan added a long body that resembles that of a seahorse. She finished the toy by adding a tail that looks like a mermaid.
Because of its shape and length, it's quite easy to carry around. We're not surprised if your little one ends up carrying this toy around the house. Moreover, it's also the perfect plushie to sleep and cuddle with!
With this pattern, you get to create a unique gift for your little one. On top of that, you'll also be able to give her both of her favorites: a mermaid and a unicorn!
Fiery Phoenix Pattern
Are you a fan of ancient Greek folklore? Do you have greek folklore themed collectibles hanging around in your room? If you answered yes, then you'll definitely love this pattern! This bright and bold amigurumi is inspired by the legendary bird, the Phoenix.
Megan's craftsmanship truly shines in this intricate amigurumi. Even in photos, you can clearly see the details on the bird's wings and tail! Just imagine how detailed it will be when you see one in person.
Aside from its details, another thing that made this Phoenix shine is it's bold and bright red color. The color definitely gave it it's fiery look and it stayed true to how it is usually described.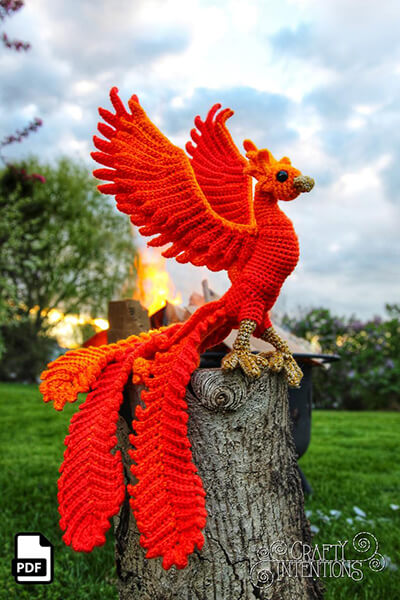 If you prefer to use other colors, Megan made a few other samples to show us how they will look when other colors are used. Although it still looks great even when you go through the more colorful route, it definitely gave the bird a more subtle and elegant look.
Don't you just love it when patterns give you options? We, crafters, love it when we are in charge of our project's final look. With this Phoenix pattern, you get to choose if you want the head to look more simple or to go all out with the details by including seven feathers on top of its head. Aside from the head, you can also choose what kind of feathers to use for the tail of the bird.
If you want to create an amigurumi that you can add to your collection, you should definitely give this Phoenix pattern a try! Not only can you customize the color, you also get to be in charge of its final look by choosing the head and tail options that speak to you.
Squad of Adorable Little Monsters
As parents, we're always looking for interactive toys to make playtime and story time more fun for our little ones! Instead of buying new toys, why not create your own? There are numerous patterns you can use, one of them is this Monster Crochet Amigurumi Pattern!
We love how you can create a very unique monster by mixing and matching the different parts of the monsters. Use the long hands and partner it with the short legs. You can also use the other leg shapes to add some variation to your monsters! The possibilities are indeed endless when you use this pattern. You can mix and match even the smallest details!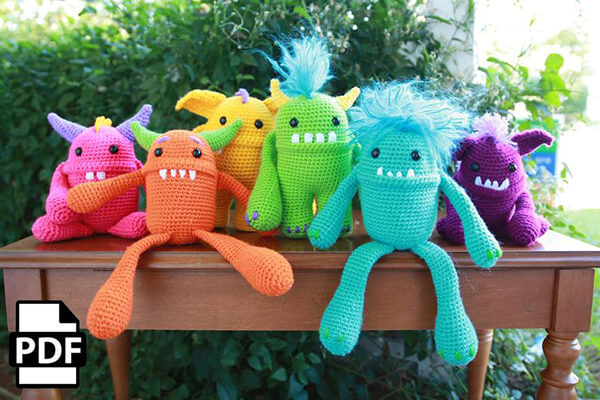 When it comes to colors, choose the ones your little ones respond to the most. You can also ask them their favorites and use those instead! The best way to create these monster amigurumis is by involving them in the process. Let them choose the colors, and the different parts to use for their little monsters.
The finished little monsters will surely add more excitement to your little ones playtime and bedtime stories. Moreover, it will make these bonding moments an activity they will look forward to.
Bring back the fun to your bonding activities with your little ones by creating their own squad of adorable little monsters!
Jellyfish in Various Styles
You might have seen a few jellyfish amigurumi patterns, but we can assure you, you haven't seen any pattern like Megan's! The details on her jellyfish amigurumis are amazing, just like her other works.
Just like other jellyfish patterns we have seen, Megan also used a few curly and spiral tentacles for her jellyfish amigurumi. But she took it one step further by adding a few different variations on hers. She even combined different types of tentacles in one jellyfish! Through this, she was able to make her amigurumis more realistic than the others.
Like real jellyfishes, Megan added some long, tube-looking tentacles that look like they're gonna sting you. She also used the usual curly spiral tentacles to add volume to the bottom part of the jellyfish. To perfectly mirror a real jellyfish, she made sure the tentacles vary in width and length.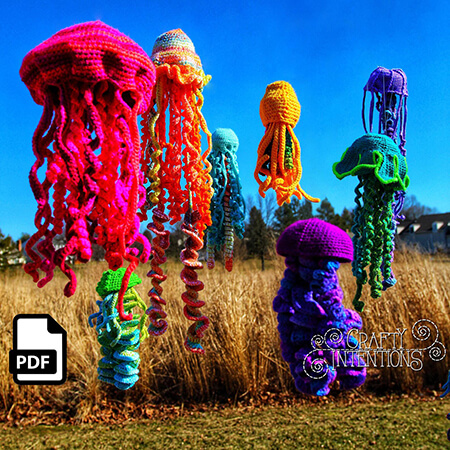 There are also options to choose from when making the head and the bottom of the jellyfish. Being in charge of the final output of the amigurumi adds a lot of fun to the process. You get to choose from the different styles available: simple and smooth head, more curvy and detailed bottoms, and more intricate heads and bottoms.
Prepare your yarns and hook and make your own bloom of jellyfish in different shapes and sizes! You can also hang them above your bed and dream about the undersea life.
Griffin and Hippogriff Add on
Have you ever wanted to revisit an older pattern and tweak it to make something new? Guess what, Megan made this possible by creating an add on for one of her existing patterns!
If you're a fan of legendary creatures, you might be able to recognize the creature in this pattern. Do you have any guesses?
Yes! It's a legendary creature that's part eagle and part lion, a griffin. Known for guarding treasures, a griffin has an eagle's head, wings, and talons and the body, tail, and back legs of a lion.
Enough about all of that, let's admire the astonishingly detailed pattern Megan made! To create depth and to depict the feathers on the griffin's head, she used layering. She also used different yarn colors to further differentiate each layer.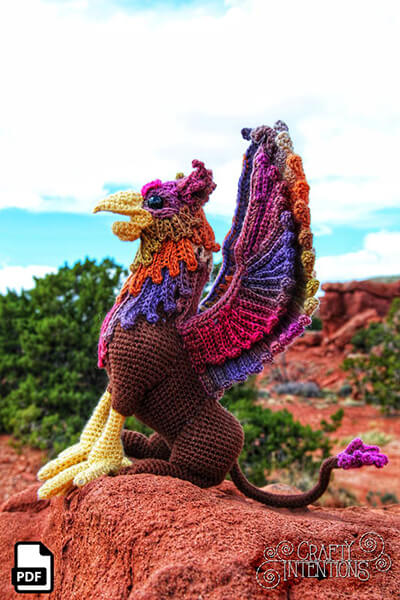 Aside from the head, another intricately detailed part of the griffin is its wings. Using multiple colors on the wings helped emphasize the design made to create the feathers of the eagle.
To create the perfect balance, Megan completed the look by making the bottom part a little more simple. She also added a dainty tail with a few feathers at the end.
As if all those details are not enough, she even added a whole complete add on to turn the griffin into a hippogriff! How awesome is that!
In this add on, the horse's legs replaced the original lion's hind legs. In addition to that, Megan created a whole new pattern to upgrade the stunningly detailed wings. The pattern also includes a horse's tail to complete the whole look.
If you enjoyed making the griffin, we're sure you'll also love working on the hippogriff! Make your own hippogriff amigurumi and have adventures around the world, and maybe even fly to the moon!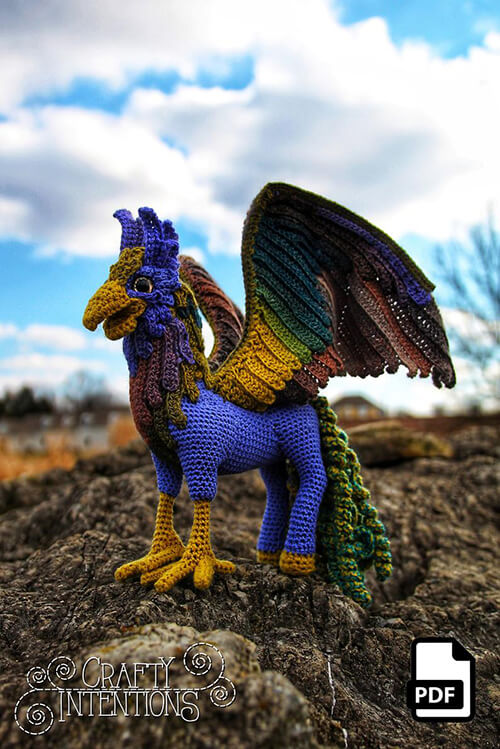 Which Pattern Will You Try First?
Have you decided on what pattern to make? Get ready with your fun and color-filled journey to making your own amigurumi creatures! Don't forget to prepare the yarns, hooks, and patterns you'll be needing.
Having second thoughts if your skills are enough to complete these intricate patterns? Well, if you've been having second thoughts because you don't have much experience in amigurumi, there's nothing to worry about! Each pattern has a complete step by step instructions accompanied by illustrations to help you understand how to finish the amigurumi creature!
Megan also made a Facebook group to help everyone working on Crafty Intentions patterns! It's a supportive community where you can post your progress, be proud of your finished works, and even ask everyone for tips on how to complete the project. Everyone's ready to cheer you on, even the designer herself!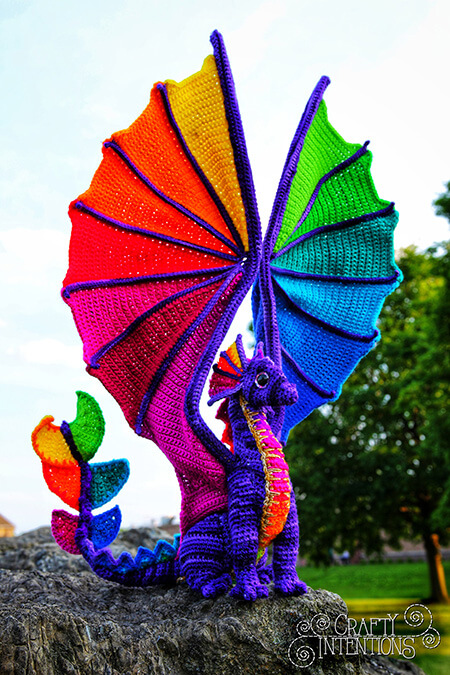 However, some of us are more of a visual learner. Luckily, she posted a few videos on her Youtube channel to help crocheters who are stuck and having a hard time making some of the stitches. Her videos have detailed explanations and demonstrations about some of the stitches she uses in her patterns.
To always be updated with her new works, shop updates, and more about her creations check out Megan's blog. She also has a few posts about yarn and supplies reviews. She also features a few of her other hobbies in her blog.
Be enchanted by her creations by following her Instagram account and adore, not only her creations but also how she styled them! We definitely cannot get over how amazing her feed looks, especially how she uses nature as a background for her photos. It's as if her creatures are in their natural habitat!
You can also follow us on our social media accounts to be updated when we feature the next crochet designer! Follow us on our Facebook, Instagram, and Pinterest accounts. We hope you enjoyed reading our feature about Crafty Intentions!