This Mandala crochet pattern is absolutely free and exquisite. The written pattern will guide you, step by step, to make a visual masterpiece.
The best part?
There are pictures to view along the way, so you can complete the mandala crochet jacket pattern with confidence.
That's not all…
It all starts with a simple magic ring.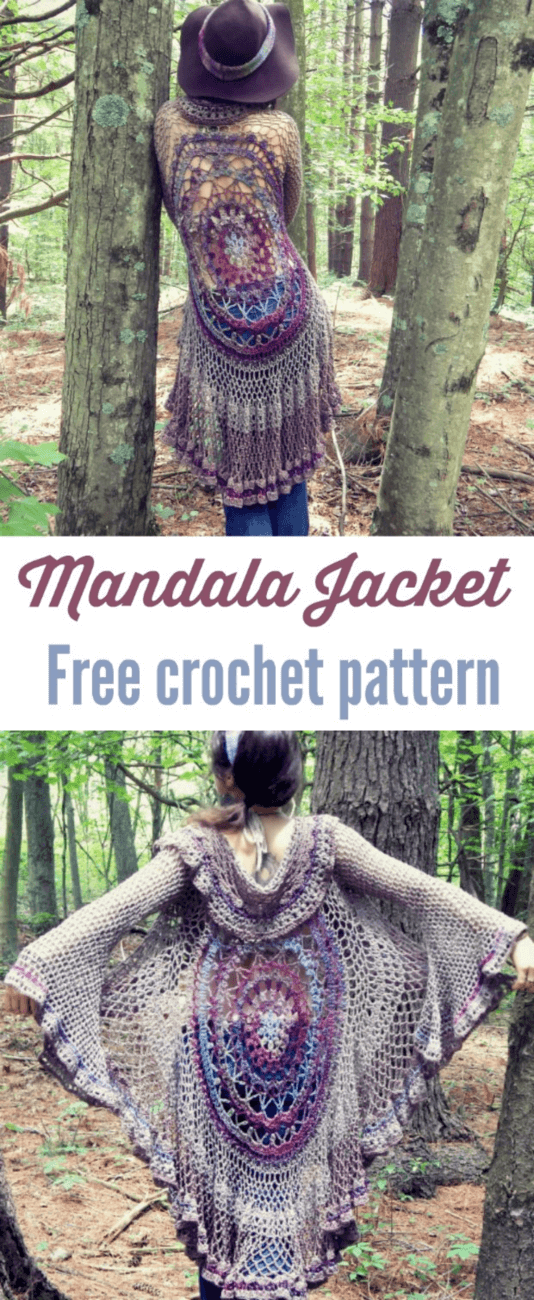 Mandala Crochet Pattern Jacket Duster
To term the mandala crochet jacket pattern as being amazing, elegant and beautiful would be an understatement, however correct. Also known as a mandala duster, the jacket is simply beyond words and praise. You have to try it yourself to see what I mean.
The mandala crochet pattern is one of those projects I naturally gravitate towards and I'm pretty sure it'll have a pull on you too.
So, you might be wondering, why are mandala crochet jackets called 'dusters'? Well, I most certainly wouldn't recommend you do any dusting or mopping with this jacket.
Where I come from, dusters look nothing like the mandala crochet jacket so I am as puzzled as you are. I'll keep you posted if I make any headway on the same. As big a mystery as the "duster" tag on the mandala crochet jacket is, it's delicate texture and oh-so-lovely design is no surprise.
You're going to love the long, flowing sleeves, the gorgeous frills all around the edges, and the open back of this mandala crochet cardigan.
Mandala Crochet Pattern Materials
5.5 mm hook (or as needed for gauge)
#1, #2, or #3 weight yarn – the recycled yarn used in this example was around 17 WPI, which could be fingering or sport depending on which chart you look at. Be sure to test your gauge, listed below. Estimated at over 1,000 yards needed.
Gauge: 3.25″ measured across the diameter after Rnd 3.
Final Dimensions:
22.5″ radius (measured from center of motif to bottom edge)
50″ diameter (measured from collar to bottom edge)
Crochet Skill Level Required
The pattern is meant for the intermediate or advanced crocheter.
You can view the free mandala crochet jacket online. The pattern is accompanied by detailed instructions and pictures of the finished item which are an invaluable resource to crocheters who are new to the pattern.
Mandala Crochet Pattern Is Perfect For Summer
The mandala crochet jacket is the perfect item for summer and spring. Winter outfits are pretty straightforward, I mean it's just layers upon layers of warmth right? I am not so big on showing too much skin during summer I mean hey, a girl has to leave something to imagination right?
Well, if you share my sentiments, this crochet project will please your eyes. The patterns on this piece have such beautiful detailing it's almost too pretty to wear, you just want to stare at it for hours on end. Quick question, what is/are your favorite colors?
Some exciting shades of hot pink, turquoise, blue perhaps or some jet grey? What about amaranth purple, acid green or some nice orange? Whatever you fancy, you can throw into this fantastic mandala crochet pattern.
There are no restrictions on what you can do with your "duster" jacket, well, other than mop floors with it. That would be a crime against humanity and an absolute no-no.
Where Will You Wear Your Mandala Crochet Pattern
Strut this piece while picking up supplies at your local grocer's or take a walk in this one of a kind jacket. Myself, I prefer to throw it over a saucy bikini outfit while at the beach. I know, eye candy.
I'm thinking, know what would look absolutely amazing on the statue of liberty? You read my mind you rascal, a giant mandala crochet jacket, that's what. Now, I know that sounds a bit dippy but hear me out.
That would be one crochet project for the books wouldn't it? Back to something you can wear to the mall, the mandala crochet cardigan is a project you definitely have to try before the end of the year. In fact, gather some yarn and get to it immediately, you'll thank me when you're holding your finished jacket.
The pattern does, however, call for some level of skill and will require some time and concentration to put together. I'm not saying beginners aren't welcome to try but I can't promise you it'll be as pretty as I describe it.
Mandala Crochet Pattern Summary
In summary, you have no excuse as to why you should make the mandala crochet pattern your next big project. Go on, try it and see for yourself.
We love the long and flowing sleeves, the open back, and the gorgeous frill around the edge of this jacket. And it all starts with a simple magic ring.
Drop on over to see all the great pictures of this jacket and find the free mandala crochet pattern.
Get The Free Crochet Mandala Pattern Here