Are you a fan of superheroes? Or do you know someone that loves all things Spiderman? If so, you can create an awesome Spiderman crochet blanket. Whether you are looking for a blanket for a child's bedroom or a Spiderman enthusiast, I have included a Spiderman crochet blanket pattern for you.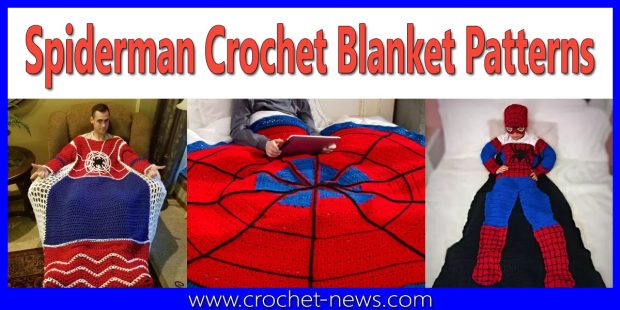 Who is Spiderman?
Spiderman is a fictional superhero created by writer Stan Lee and artist Steve Ditko. He made his first appearance in Marvel Comics "Amazing Fantasy" #15, in 1962. Spiderman is a teenager named Peter Parker.
He got his powers after being bitten by a radioactive spider during a class field trip. Spiderman is one of Marvel's most iconic and popular superheroes.
10 Spiderman Crochet Blanket Patterns
Below are 10 Spiderman crochet blanket patterns that are perfect for every Marvel Comics fan. These patterns offer a variety of designs, sizes, and crochet techniques.
1. Spiderman Blanket Crochet Pattern by PixelHooker2
This incredible graph pattern features a classic Spiderman design. It is perfect for long time fans of the web-slinging superhero.
The blanket graph measures 80 squares wide by 100 squares high. This versatile crochet pattern can be used with various crochet techniques such as C2C, SC, HDC, DC, TSS, and bobble stitch. The finished size of the blanket will vary depending on the technique you use.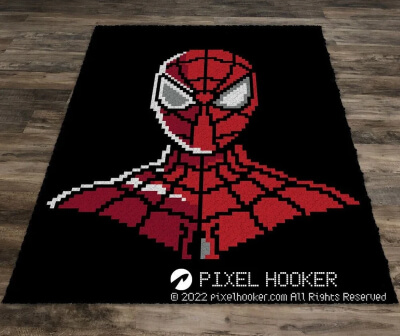 Get the Pattern by PixelHooker2 Here
2. Spiderman Inspired Crochet Blanket Pattern by A Stitch 'n Frog
Here is a free Spiderman crochet blanket pattern based on a spider web. The web shape adds a unique touch, making it a fun piece for any superhero decor.
The Black webbing is worked in a slip stitch along the valleys, creating a star shape. To make this pattern even better, there are helpful video links.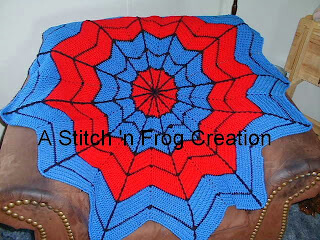 Get the Pattern by A Stitch 'n Frog Here
3. Spiderweb Afghan Crochet Pattern by CrochetCouch
This spiderweb afghan is made using the C2C technique. The blanket is perfect for cuddling and reading comics on cold winter days.
The Spiderman crochet pattern includes a graph and written row counts. The graph is 79 squares wide x 79 squares high. Completed, using #4 yarn and a 5 mm crochet hook, the blanket will measure 63 inches (160.02 cm) x 63 inches (160.02 cm).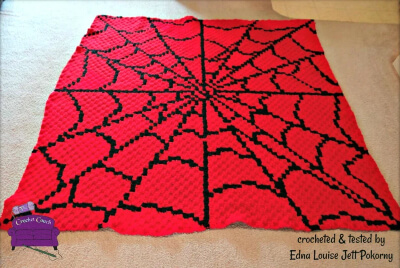 Get the Pattern by CrochetCouch Here
4. Crochet Spiderman Blanket Pattern from SarahBethsCrochet
Here is a unique Spiderman crochet blanket that fans of all ages will love. This blanket features sleeves, allowing the wearer to have free use of their arms.
The Spiderman crochet blanket pattern is classified as intermediate level. It comes in four different sizes: small child (30 inches / 76.2 cm), child (42 inches / 106.68 cm), adult (54 inches / 137.16 cm), and adult large (58 inches / 147.32 cm).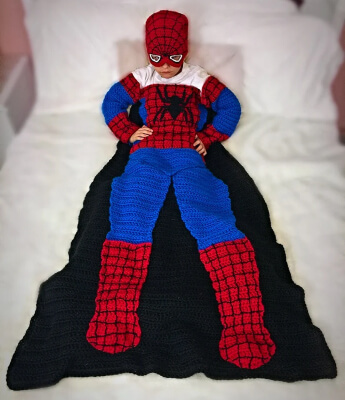 Get the Pattern from SarahBethsCrochet Here
5. Spiderman Blanket Crochet Pattern from Reelcrochetnerd
This C2C crochet pattern allows you to create a stunning Spider-Man blanket. The blanket features the classic Spiderman portrait.
The finished blanket will measure approximately 47 inches (119.38 cm) x 57 inches (144.78 cm) when you use the recommended supplies.
Get the Pattern from reelcrochetnerd Here
6. Mini Spiderman Blanket Crochet Pattern from ActylicStew
Kids will love the Kawaii design of this Spiderman crochet blanket. The blanket features an adorable, chubby Spiderman with large eyes.
To make the charming blanket, you will need a total of 6 yarn colours. The graph is 84 squares wide by 100 squares high. The versatile pattern can be used for various techniques such as C2C, TSS, knitting, and cross-stitching.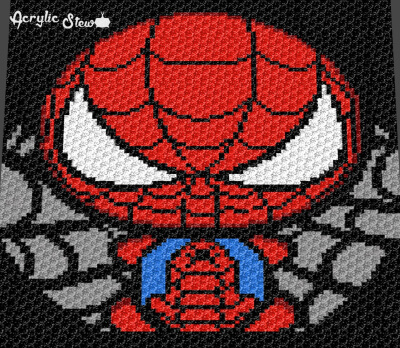 Get the Pattern from ActylicStew Here
7. Free Spider Web Afghan Pattern by Craftdrawer Crafts
Kids will love this Spiderman crochet blanket. It is bursting with vivid shades of red, black, and blue. The blanket would make a great gift for comic book loving kids and avid superhero enthusiasts.
The pattern calls for Red Heart Super Saver Yarn. It is an easy pattern that can be completed by an advanced beginner. Completed, it measures about 53 inches (134.62 cm) in diameter.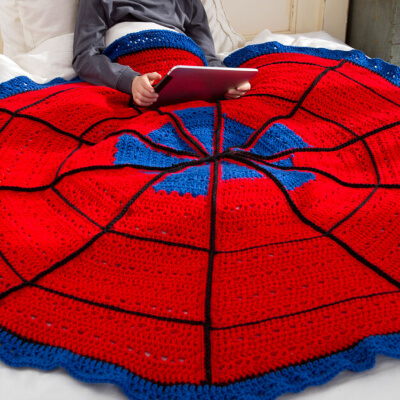 Get the Pattern by Craftdrawer Crafts Here
8. Wearable Spiderman Blanket Crochet Pattern by CarolHladikDesigns
Superhero fans will enjoy wearing this blanket while reading or watching television. The unique blanket is designed with sleeves, allowing the wearer's hands and arms to remain free.
Included are three sizes: toddler, child, and adult. The entire blanket is crocheted using 2 strands of yarn and an 11.5 mm hook. The web design and spider are crocheted with a 6.0 mm hook.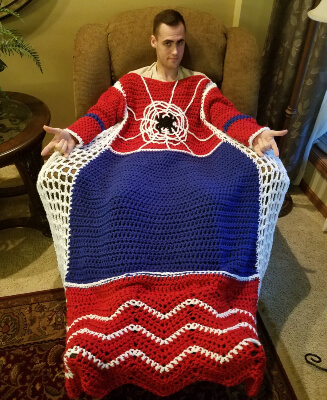 Get the Pattern by CarolHladikDesigns Here
9. Crochet Spiderman Blanket Pattern by PinkyPandaShop
This adorable Spiderman design can be used for crochet, knitting, cross stitching, and other crafts. So, you can make a Spiderman crochet blanket and a matching wall hanging too!
The size of the graph is 80 squares wide x 100 squares tall. Included are written instructions for the C2C technique.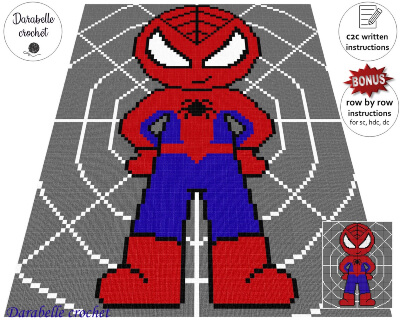 Get the Pattern by PinkyPandaShop Here
10. Spiderman Blanket Crochet Pattern from Cornonthemonkey
Create an eye-catching Spiderman Round Ripple Blanket with this easy-to-follow pattern. The pattern guides you step-by-step throughout the whole process. There are also multiple pictures for visual reference.
To complete the Spiderman crochet blanket you will need to know chain, single crochet, half double crochet, double crochet, and slip stitch. The finished size will vary depending on the yarn and hook you use.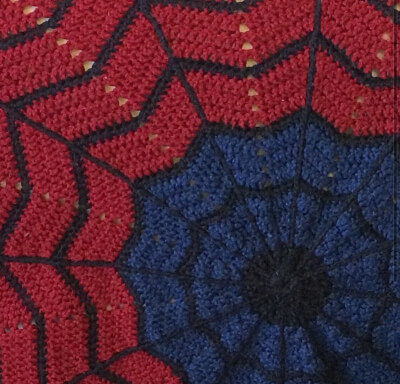 Find the Pattern from cornonthemonkey Here
Frequently Asked Questions about Spider-Man
How did Spider-Man get his powers?
Spider-Man got his powers through a radioactive spider bite. In the original comic book, Peter Parker was a high school student attending a science exhibition. A radioactive spider bit him, giving him his spider like abilities.
What is Spider-Man's real name?
Spider-Man's real name is Peter Benjamin Parker.
Where does Spider-Man live?
Spider-Man comics primarily take place in New York City. He lives at 20 Ingram Street, Queens.
Who has played Spider-Man in the movies?
Several actors have portrayed Spider-Man in movies over the years. Some of the most recent actors are Tobey Maguire, Andre Garfield, and Tom Holland.
How many movies have been made about Spider-Man?
There are 9 live action Spider-Man movies in total. However, Spider-Man also had a TV series, animated series, and appeared in other Marvel Comics movies.
Make a spiderman crochet blanket for the superhero in your life
Here are more superhero crochet patterns:
Let us know which Crochet patterns you plan to make and if you are done making one, please do share some pictures on our Facebook Page. We'd so love to see it!
A Spiderman blanket is not just a cosy accessory, but is also a fun way to show your love for the Marvel superhero. Whether you are making a gift for a fan or creating it for yourself, the Spiderman crochet blanket will make a wonderful keepsake.