One of my goals this year is to clear out some of those beautiful single and partial skeins I've been saving by creating some beautiful home decor and accessories. Go stash-busting along with me as we pair some gorgeous single skein of yarn with my favorite one skein crochet patterns. You'd be surprised what you can make with one skein of yarn!
Whether you're on a "yarn diet," trying to bust your stash, or just looking for projects you can finish quickly, these projects can be just the answer! I promise, the hardest part will be to pick which treasured skein to use first!
10 One Skein Crochet Patterns

1. One Skein Lace Crochet Shawl Pattern by Annie Design
You only need one skein of yarn to reveal the beauty of this simple crochet shawl that's sure to become the season's grab 'n' go favorite! Stitched in your favorite fingering weight gradient yarn, effortless color transitions bring out a lovely shell stitch design.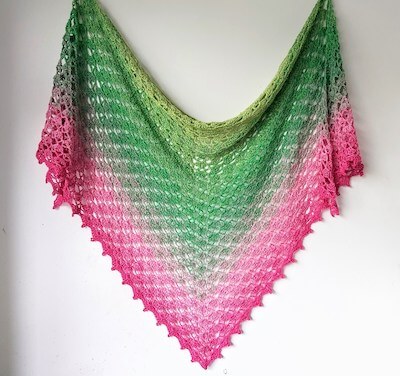 Get the Pattern by Annie Design here

2. One Skein Wonder Crochet Pattern by Kneedles And Life
Did you know you could make a mini crochet blanket with just one skein of yarn? This one skein wonder is perfect for newborns, babies in strollers, and to use as lapghans for elderly in wheelchairs. It is so squishy and soft, you will be so cozy even while you make it!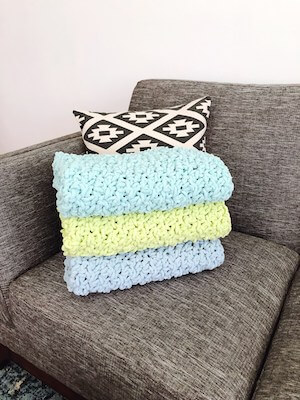 Get the Pattern by Kneedles And Life here

3. One Skein Crochet Koala Lovey Pattern by Make & Do Crew
This amigurumi koala lovey pattern works up quickly using only one skein and some scrap yarn. Keep a few on hand for when you need a crochet stuffed animal to bring to a baby shower.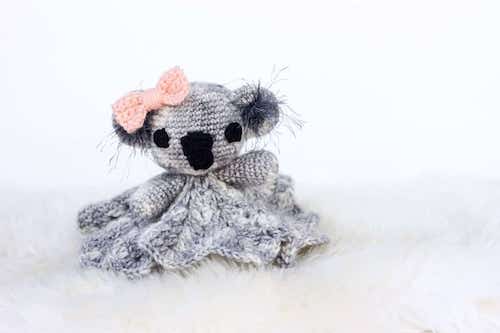 Get the Pattern here

4. One Skein Crochet Beanie Pattern by Burgundy Blush Crochet
There's nothing like a beanie with lots of texture! This is a one skein crochet beanie pattern worked bottom up and in the round in sizes Newborn to Adult L.

Using simple stitches in different ways to give lots of cozy texture, and works up in up to an hour. The kid sizes look so cute, who doesn't love a baby in a chunky pom pom hat!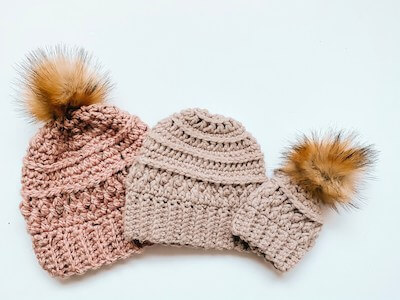 Get the Pattern by Burgundy Blush Crochet here

5. One Skein Crochet Nesting Baskets Pattern by Lulo Stitch Co
This gorgeous rustic basket set will make a wonderful addition to your home and is made with only one skin of chunky yarn! This is an easy project to complete and takes very little time, around 1 hour.

This project is perfect for a beginner crocheter as it uses slip stitches, single crochets, and half double crochets only.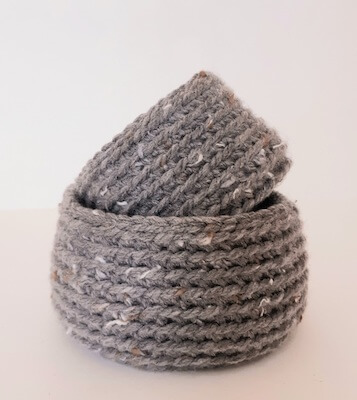 Get the Pattern here

6. Crochet Circle Puff Pillow Pattern by Six Clever Sisters
Pillows are such a fun crochet project to create! They are kind of like painting the walls—a few short hours and voila—a totally different look!

This easy Crochet Circle Puff Pillow is worked with just one skein of yarn and is so soft and scrumptious, you might not want to put it down.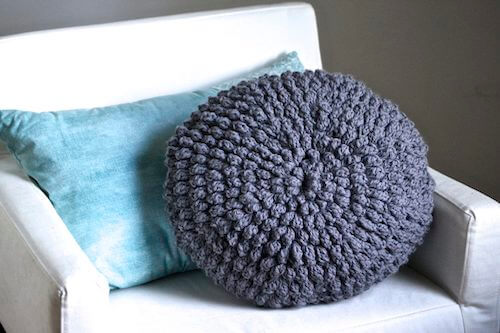 Get the Pattern here

7. Lightweight Slippers With Flip Flop Soles Crochet Pattern by Make & Do Crew
Keep your feet cool and comfy all spring and summer long with these crochet slippers with flip flop soles. They require just one ball of cotton yarn, making them an inexpensive and quick one skein project.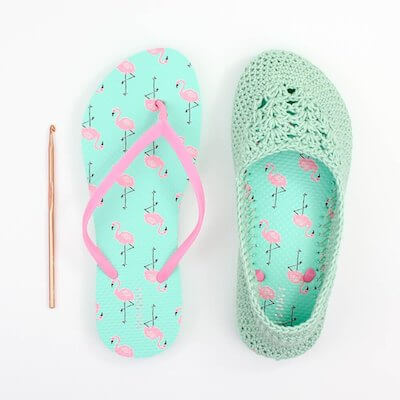 Get the Pattern here

8. Celestial Crossbody Bag Crochet Pattern by Jen Dwyer
This Celestial Crossbody Bag is a quick and easy weekend project, not to mention a great accessory update! This little purse could easily be dressed up or down. Plus, it's a fast enough project that you could make it in several colors to go with anything in your closet.

The best part? You only need one skein of the yarn recommended in the pattern! So it's easy to make two (or three!). This little purse would make a great gift! Who wouldn't love a little round purse like this?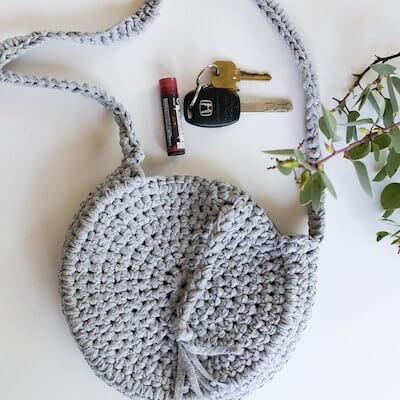 Get the Pattern by Jen Dwyer here

9. One Skein Slouchy Crochet Leg Warmers Pattern by Sigoni Macaroni
Want to crochet some leg warmers with just one skein of yarn? This is the pattern for you! The pattern includes tips for adjusting the size for the perfect fit, and the resulting leg wear is cute and slouchy.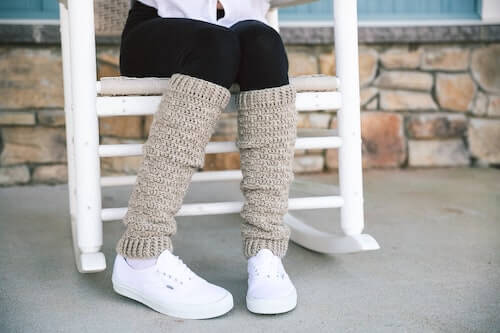 Get the Pattern by Sigoni Macaroni here

10. Infant Romper Crochet Pattern by Heart Hook Home
I love how inexpensive this romper is to make. Depending on size, you may only need one skein of cotton yarn! Use cotton to keep the romper nice and airy – and durable.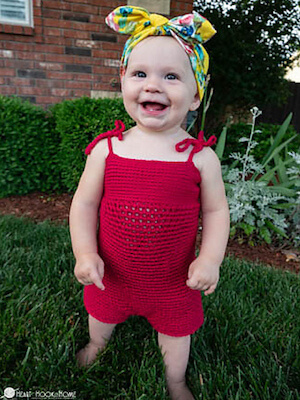 Get the Pattern here
WHICH OF THESE ONE SKEIN CROCHET PATTERNS ARE GOING TO BE HOPPING ON YOUR HOOKS THE SOONEST?
I'm definitely feeling inspired to crochet with these skeins and move them from my stash and into some lovely crochet pieces. Best of all, I'm planning all of these as gifts, which means that while I have a lot of crocheting to do, I'll also be able to check a lot of people off my list!
Show me your favorite one-skein wonders by posting your finished projects on our Facebook Page. I can't wait to see them!
For more quick projects you can make from one skein or two, check out these:
I know you have a few in your yarn stash, just waiting for the perfect pattern. Why not let them shine in all their glory and whip up one of these quick one skein crochet patterns? Let's get crocheting, today!