Baby Lovie Crochet With Arms
Baby lovies' are always so adorable, especially when you are watching a baby sleep while tightly holding on to one. There is something just so magical about it almost like a scene out of a fairy tale and the baby lovie is the fairy.
Well, the crochet baby lovie with arms pattern is meant to make the fairy tale a reality. And you are in luck because this is a two in one lovie pattern. With it, you will be able to make a bunny and a mouse lovie just cuddly and absolutely adorable.
To make the cute lovies' you don't need a lot of materials and everything that you will require you can source at your local arts and crafts store. So, what exactly do you need to make these cuddly blankets?
Baby Lovie Materials:
(Rabbit = 2 x balls of Mid Grey and 1 x Off White)
(Mouse = 2 x balls Candy Pink and 1 x Off White)
Toy stuffing
2 x 6mm safety eyes
Black embroidery thread
2 Free Super Cute Baby Lovie Crochet Patterns
The crochet baby lovie with arms pattern for making these lovies is free and is well explained. The instructions are easy to understand and are well detailed so you can follow them easily.
The pattern is not complicated. Even if you lost one of your lovies it's easy to crochet up another in no time at all.
So if you are a beginner looking for a pattern to practice and sharpen your skills with, then this is the pattern for you. If you follow the laid out crochet baby lovie with arms pattern to the detail you will end up with such stunning pieces that you will absolutely love.
With the crochet baby lovie with arms pattern, it is so easy to lose yourself in its simplicity. It is for this fact that this pattern is also perfect to let loose your creative side.
There are so many things that you can do with this pattern to showcase your imaginative side. For instance, you can always change up the colors.
Different Colors For Different Children, They Will Never Fight Over The Same One Again
The crochet baby lovies already look stunning in the pattern but, a little change in color definitely brings a new flavor to the mix. Try and make a multi-colored one. Or make the head of the baby lovie a different color than the body of it.
Another idea is to try some embroidery on the lovies' they will look just fabulous but it all depends on you. Whatever you fancy, you can do with the crochet baby lovie with arms pattern.
The crochet baby lovie makes an adorable gift to give at a baby shower. Make your sister or your friend who just had a baby one and they will adore you for it.
The crochet baby lovie is a small expression of love that you have for them and trust me they will feel it. You can also use the crochet baby lovie to decorate your baby's room. Place a few around and surround your baby with your love.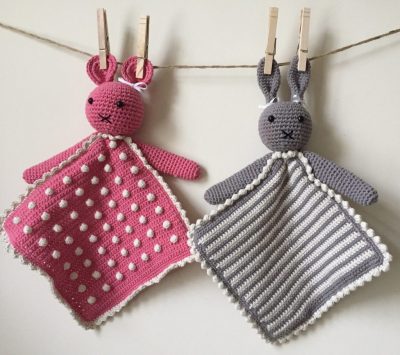 So whether you are far or near the crochet baby lovie will always ensure that your tiny loved ones feel your warmth.
Get the free pattern and tutorial here