Crochet Giraffe Super Cute Amigurumi Pattern
Have you ever wanted to own a giraffe as a child? These friendly longneck animals have the most amazing eyelashes you ever saw. Trust me when I say owning one of these lovely animals would be a dream come true for me.
As they say, the fruit doesn't fall far from the tree; my two baby girls have lately been showing such interest in giraffes it's unbelievable. Well, to be honest, I'm not surprised. I'm not entirely sure of the arrangements one would need make in order to own a living, breathing giraffe.
The logistics would be mind-boggling no doubt and to think of how much room it would need. Also the amount of food that one would eat, that sounds like too much work for me. The crochet giraffe amigurumi, on the other hand, is just the perfect solution to my little giraffe problem. A delicately crocheted and utterly delightful stuffed toy, the crochet giraffe is a masterpiece.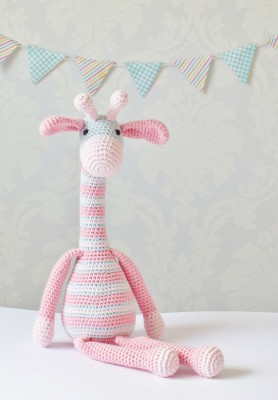 Crochet Giraffe Materials
Approximately 100g of DK yarn or light worsted yarn.
A pair of 10mm safety eyes
Fiberfill
A U.S size 4 or 3.5mm hook.
A tapestry needle.
You can find all of the yarn, hook and supplies at Love Crochet.

Finished Amigurumi Giraffe Size
The finished crochet giraffe is 15inches tall which includes the legs when DK yarn and a size 3.5 hook is used.
If you opt for chunky yarn and a 3.5mm hook, the finished crochet giraffe will be approximately 24inches.
For Beginner To Intermediate Crocheters
The pattern is in itself pretty straightforward and is recommended for beginners or intermediate crocheters.
The crochet giraffe pattern can be purchased and downloaded in PDF format. The PDF file is loaded with plenty of pictures to aid you in crocheting this unique stuffed toy. The instructions are written using standard U.S crochet terms and abbreviations.
The instructions are well-detailed and easy to follow provided you know the basic stitches and techniques used to create amigurumi toys. If your young ones are into stuffed animals, then it's their lucky day. I can tell you this for a fact; nothing has brought me more fulfillment than bringing this crochet giraffe to life with my own two hands.
I ran into this cute crochet giraffe amigurumi pattern while looking at some amigurumi toy suggestions. Immediately I knew I had to try it out as soon as possible. The results were breath-taking, to say the least. My reward you ask? The girls went absolutely nuts when the crochet giraffes were done.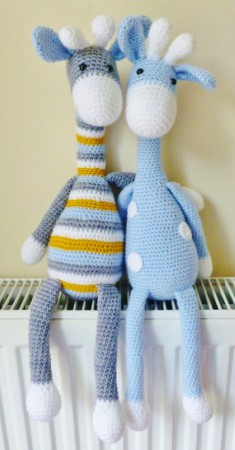 Crochet Skills Needed For The Crochet Giraffe Pattern
I'm telling you, you have to try these amigurumi toys. Basic skills in crocheting, crafts and a positive attitude will have you creating amigurumi toys like a pro. You will need to have a vast knowledge of crocheting terms and abbreviations to take on this project.
Some abbreviations and terms you might come across in the crochet giraffe PDF pattern include;
Chain abbreviated as CH.
Singe Crochet is abbreviated as SC.
Increase; abbreviated as Inc.
Decrease abbreviated as DC.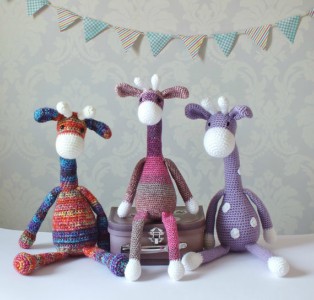 Putting Your Amigurumi Giraffe Together
The amigurumi giraffe toy is crocheted in parts which are then sewn together to form the finished item. Before you can assemble your finished giraffe, you'll need to crochet and stuff the horns, legs, body, ears, and head. You're going to have so much fun putting together this marvel of stuffed amigurumi toys.
There are many different color combinations you can use to create this stuffed giraffe. Creativity is essential here; there are absolutely no limits to the colors of yarn you can use to crochet this project. I settled for something that closely resembles what giraffes look like in the wild; a blend of orange, chestnut, and brown shades.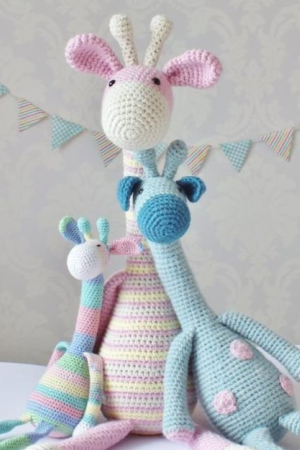 In conclusion, the crochet giraffe amigurumi toy is one of many projects you can try in your free time. Although, it didn't take me too long to create a pair of these lovely longneck beasts; in fact, you can start and finish a single stuffed giraffe in one sitting. So go ahead and pick up some yarn and a hook and start your first stuffed giraffe.
You can crochet up these stuffed toys for your own kids, or you can also gift them to your neighbours, nephews, and nieces. I always make sure to donate a few of these to my local children's hospital, and I recommend you do the same.
Get the giraffe crochet pattern here