Crocheting a circle may be intimidating at first. You may have tried, and the fabric became distorted. This is a common issue that is easily rectified.
Our tutorial will walk you through crocheting a circle that lays flat. We have also included 10 patterns you can work on once you understand the basics of making a flat circle.
What Is Crocheting a Circle?
Crocheting a circle is a technique used to make round crochet pieces. The technique uses subtle increases to make a circle that will lay flat. If you use too many increases, the fabric will begin to wave. Not enough increases will create a bowl.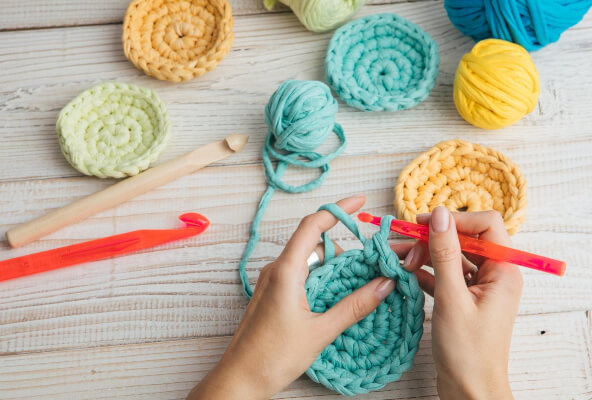 What Can You Make with Crochet Circles?
Crochet circles are right up there with granny squares. There are a multitude of ways you can use them. Crocheting a circle can be used to create:
Learning the Basics of Crocheting a Circle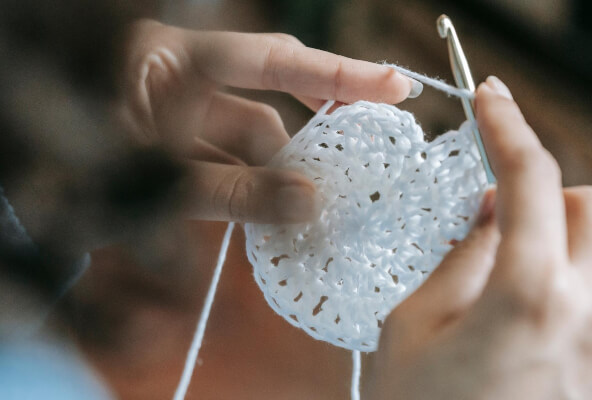 As with almost every crocheting technique, there are many variations of crocheting a circle. Below, we will teach you the basics using single crochets. This technique is often easiest for beginners. Once you understand the basics, you can start your projects using a magic circle.
Crocheting a Circle Tutorial:
1. Create a slip knot.
2. Chain 3.
3. Make 2 single crochets into each chain starting with chain 1. You will now have 6 single crochet stitches.
4. For round 2 make 2 single crochets into each stitch. You will now have 12 single crochet stitches.
5. For round 3 make 2 single crochets into the first stitch then alternate between 1 and 2 stitches. You will end up with 18 stitches.
6. For round 4 make a single crochet into the first 2 stitches then 2 single crochets in the next stitch. Repeat the pattern of single, single, 2 single until you reach the end.
7. To continue increasing the size of the circle, add one more single crochet before creating the two single crochet stitches. For example, round 5 would start with a single crochet into the first 3 stitches, then 2 single crochets into the next stitch. Repeat the pattern of single, single, single, 2 single until you reach the end.
Crocheting a circle is one of the easiest crocheting techniques you can learn. And once you get the hang of it, there are countless projects you can work on.
10 Patterns that Use Crocheting a Circle
Now that you know the basics of crocheting a circle, are you ready to start working on a new project? Below are 10 patterns that incorporate crocheting a circle.
1. Aspetuck Coaster Crochet Circle Pattern by HearthandWool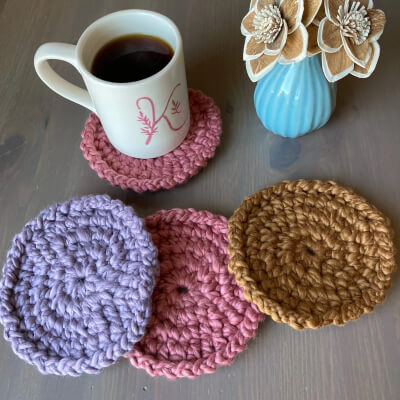 If you are new to crocheting a circle, this would be a good first project. The modern design of these coasters will work well in a home decorated in minimalist decor.
The pattern uses a combination of regular stitches to make the braided edge. Completed, a coaster will measure about 4.5 inches (11.43 cm) in diameter.
Find the Pattern by HearthandWool HERE
2. Crochet Granny Square Blanket Pattern by JustBeCraftyShop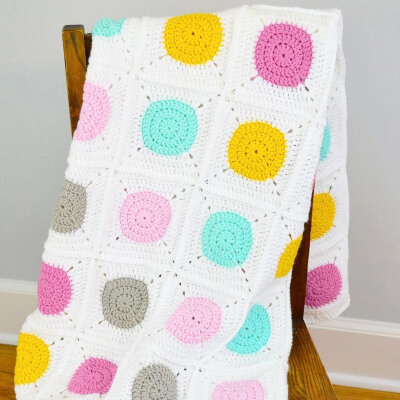 Here is a modern take on the classic granny square blanket. You will have a lot of fun choosing what colours to use for this crochet project. And since you get to pick your colours, every blanket can be unique.
This distinctive crocheting a circle pattern features a photo tutorial and a video link. The assembly instructions are included in written format. The finished blanket will measure about 36 inches (91.44 cm) x 66 inches (167.64 cm).
Find the Pattern by JustBeCraftyShop HERE
3. Classic French Beret Pattern by Olivia Kent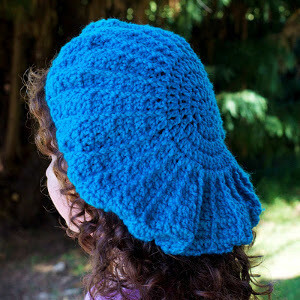 If you have practised crocheting a circle, and have intermediate crochet knowledge, you can make this adorable French beret. The free crochet pattern is intended for ladies who want to be stylish and elegant.
This hat should fit people ages 13 and up. You will need a US 10 (6 mm) crochet hook and Light/DK yarn.
Find the Pattern by Olivia Kent HERE
4. The Classic Crochet Circle Rug Pattern by BrennaAnnHandmade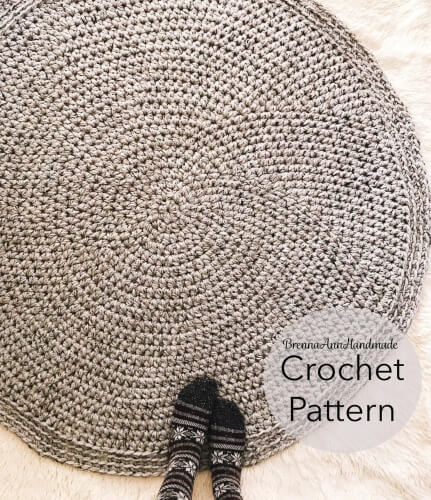 Use this rug to add interest to any room in your home. Place it in an entryway, at the foot of your bed, or in a nursery. This rug will look great no matter where you put it.
Only basic crochet skills are needed to make this throw rug. The pattern is written in US crochet terms. There are no photos.
Find the Pattern by BrennaAnnHandmade HERE
5. Crocheting A Circle Purse Tutorial by KnitcroAddict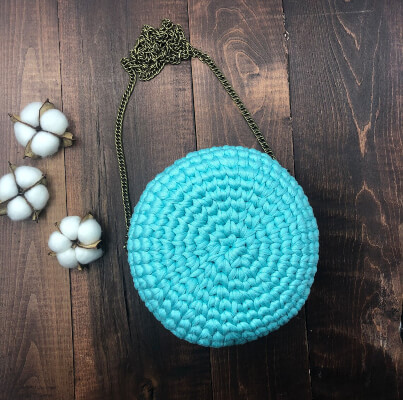 Here is a unique pattern that uses crocheting a circle. It is a cute bag that can be completed by a beginner who also knows how to work with zippers.
The purse is made with t shirt yarn. Use a bright colour to show off your fun side. Or use a neutral colored t shirt yarn so it will work with any outfit.
Find the Pattern by KnitcroAddict HERE
6. Bernat Full Circle Crochet Pillow Pattern by Yarnspirations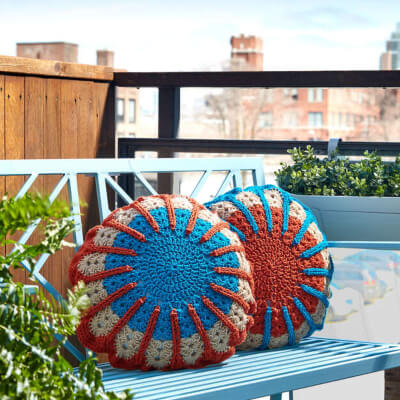 Work up a few of these pillows to add a fun vibe to your patio. The circular pillows are ideal for adding colour and texture. The pillow crochet circle pattern will create a pillow cover that will fit an 18 inch (45.5 cm) diameter pillow form.
Get the Pattern by Yarnspirations HERE
7. Crochet Pattern Circles in Granny Square by ATERGcrochet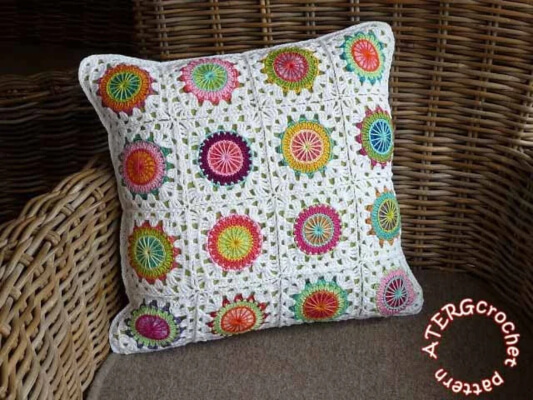 Do you enjoy making granny squares? Put your new knowledge of crocheting a circle to use and make a bunch of these squares. You can use the finished square to make a pillow cover, placemat, or afghan (patterns are included).
The granny square pattern includes a step-by-step tutorial in English (US crochet terms). Also included are crochet terms in 6 additional languages.
Find the Pattern by ATERGcrochet HERE
8. Beautiful Crochet Circle Area Rug Pattern by Jayda In Stitches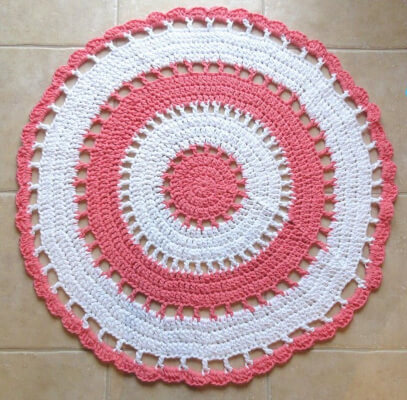 Add a pop of colour to any room with this beautiful crochet rug. The rug would also make a lovely housewarming gift.
If you use the recommended hook and yarn sizes, the area rug will measure approximately 33.5 inches (85 cm) in diameter.
Find the Pattern by JaydaInStitches HERE
9. Minimalist Cat Coaster Pattern by MyAlpacaStudio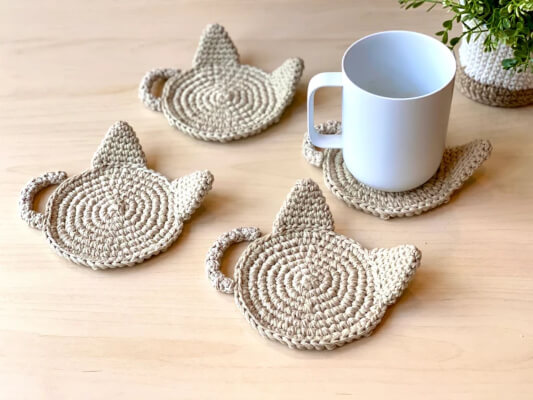 Are you a cat lover? Or are you searching for a unique gift idea for your cat adoring friend? These cat coasters will certainly be a hit.
The cat coaster is a beginner-friendly pattern. Each coaster should only take about 1 hour to make. The pattern includes 10 pages of step-by-step instructions and 35 pictures. A completed cat coaster will measure approximately 5 inches (12.7 cm) x 4 inches (10.16 cm).
Find the Pattern by MyAlpacaStudio HERE
10. Crochet Circle Bag Pattern by SofttouchGreece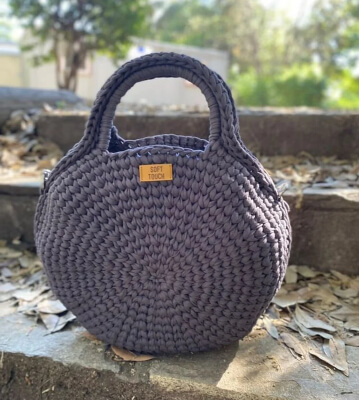 Make this gorgeous bag for special occasions or use it as your everyday purse. The handbag has a fun round design. You will definitely get a lot of compliments when you carry it.
The PDF download includes photos and step-by-step instructions. It is an easy crochet pattern that can be completed by a beginner. Finished, the bag will measure about 12.6 inches (32 cm) without the handles.
Find the Pattern by SofttouchGreece HERE
Are you ready to start a new crochet project? Work up one of these patterns that features crocheting a circle.
Are you ready to add a new crochet technique to your repertoire? Crocheting a circle is a fun and easy method that can be incorporated into many different patterns. And let us know your experience making these crochet circle patterns on our Facebook Page.