Those that wish to be a little bolder with their show of octopus affection might enjoy some of these crocheted octopus hats!
If you think that winter cold does little good to one's style, I hope that these impressively creative crochet octopus hats will change your mind. Maybe you're crocheting for someone who is a bit out of the ordinary (even if that person is you!), so a plain crocheted beanie won't make the cut. Problem solved! These octopus hats are as unique and unusual as the person you're making them for.
10 Octopus Crochet Hat Patterns

1. Crocheted Octopus Hat Pattern by The Twisted Hatter
Wearing this Octopus Hat with curly tentacles and big eyes is a fun way to get your "Kraken" on. This hat would make the perfect accent to your Halloween costume and your everyday winter wardrobe.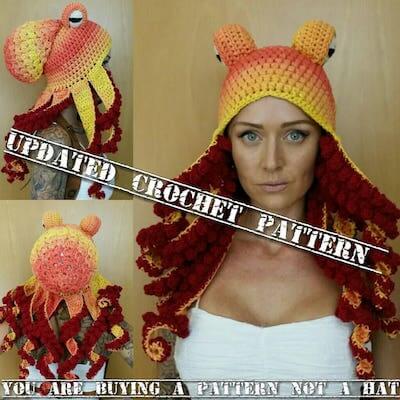 Get the Pattern by The Twisted Hatter here

2. Crochet Octopus Hat Pattern by Abnormal Crocheter
This octopus hat has got to be the acme of the crocheted sea creature hat. Since they are duly, the octopus' tentacles hang down like tresses or dreadlocks. Thus, they bounce and weave beautifully as the wearer moves.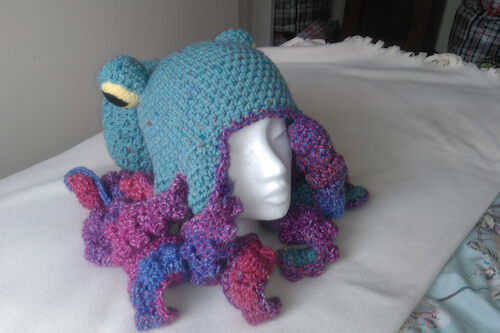 Get the Pattern here

3. Octopus Hat Crochet Pattern by Lion Brand
Your little one will enjoy wearing this sweet octopus hat. It will look cute crocheted in any color. The pattern includes instructions to make this hat in multiple sizes, so the whole family can share the fun!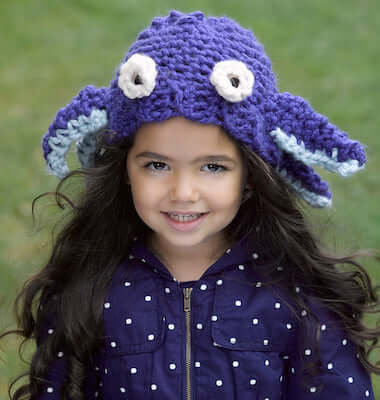 Get the Pattern here

4. Crochet Reversible Octopus Hat Pattern by Die Hard Designz
You're never truly alone with this Octopus Bucket Hat! This adorable little bucket hat features ruffled rims to resemble octopus' tentacles and make him appear to be sitting on top of your head!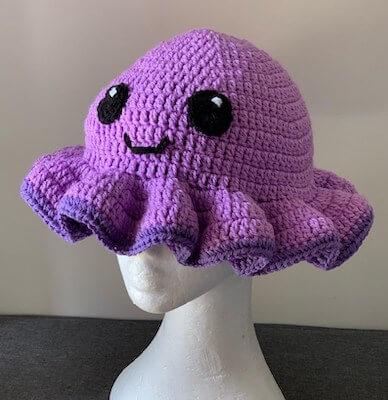 Get the Pattern by Die Hard Designz here

5. Crochet Octopus Hat by Jecca Rose Creations
Have you ever thought about wearing an octopus on your head? Now you can show off your quirky side with this octopus hat. It will definitely turn heads!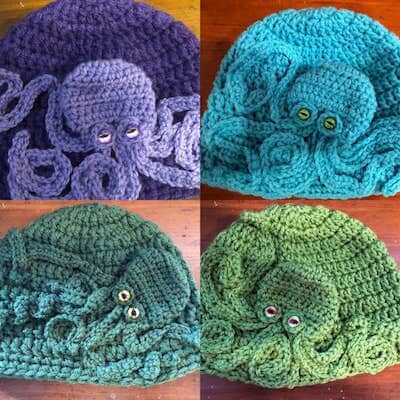 Get the Pattern by Jecca Rose Creations here

6. Adorabilis Octopus Sun Hat Free Crochet Pattern by Oui Crochet
Have you seen the Adoribilis Octopus that has taken the internet by storm? It's so cute! Now, you can have one of your own with this Adorabilis Octopus Sun Hat. This adorable octopus is designed to fit toddlers. The eyes and ears add a nice touch of fun, but you could easily omit them for a stylish hat that can be worn everyday and to almost any occasion.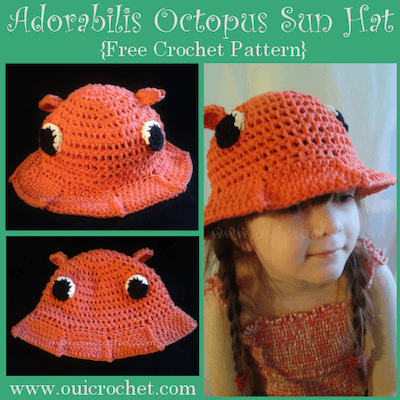 Get the Pattern here

7. Crocheted Octopus Hat Pattern by Nature's Hook
Make a cephalopod to wear on your head with this Crochet Octopus Hat Pattern! Guaranteed to be your best buddy and bound to turn heads and receive compliments. This cute and fun octopus beanie can be worn as a creative and unique expression to show your love of the ocean or as a costume or cosplay.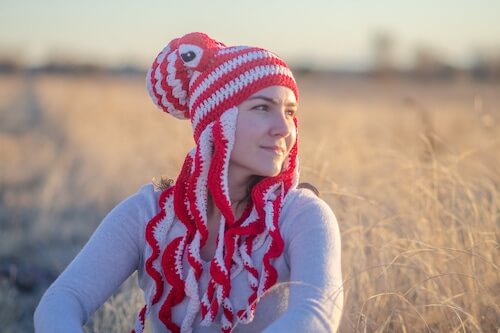 Get the Pattern by Nature's Hook here

8. Crochet Octopus Beanie Pattern by Kundalini Crochet
If you want a truly unique hat and a challenging project, you need this Octopus Beanie Pattern! It would make an amazing Halloween costume, or wear it to turn heads any time!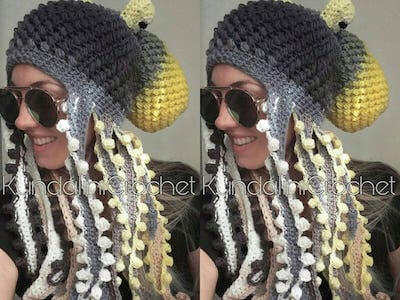 Get the Pattern by Kundalini Crochet here

9. Octopus Hat Crochet Pattern by Annie's Catalog
One of the coolest hats I've seen in my life. Without a doubt, this is a must-have accessory for autumn or winter, which will not only keep your ears and head warm, but it'll have people stop you on the streets because of your awesomeness.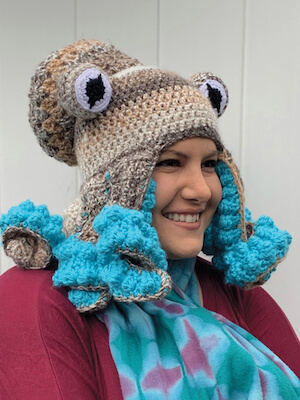 Get the Pattern here

10. Inky, The Octopus Hat Crochet Pattern by Ira Rott Patterns
Have you ever wanted to parade around with an octopus on your head? Now you can! This hat warms your head and works up quickly, all while looking adorable. Isn't it cute that the pattern includes a little octopus toy to go with the hat?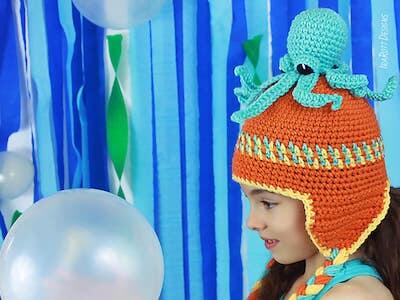 Get the Pattern by Ira Rott Patterns here
WHETHER AS PART OF A HALLOWEEN COSTUME OR JUST TO SHOW YOUR QUIRKY SIDE, THESE CROCHETED OCTOPUS HATS WILL ADD INSTANT COOL TO ANY OUTFIT.
Want to see more of this cool, weird, and underrated creatures? These crochet octopus patterns will turn you inevitably and irreversibly into an octopus lover.
Continue with caution! And if these have triggered your love for ocean crafts, do check out our crochet patterns based on other ocean creatures like narwhals, seal, jellyfish, turtles, walrus and more!
Don't forget to share your crocheted versions with us on our Facebook Page. I'd love to see what you came up with!
What could be cooler than wearing a crocheted octopus hat as your winter hat?