Add a special handmade touch when gifting bottles of wine with these crochet wine bottle cover patterns. These reusable bags stitch up in minutes, and can be made with scraps that are likely in your yarn stash right now.
A bottle of wine is perfectly acceptable (and always appreciated) hostess gift. But face it, you probably won't be the only one showing up with a bottle of bubbly in hand. Make your bottle stand out from the rest by presenting it in a unique do-it-yourself wine bottle cover!

1. Felted Santa Wine Bottle Tote Crochet Pattern by Petals To Picots
Get in the festive spirit with this Felted Santa Wine Bottle Tote Crochet Pattern – perfect for toting a bottle to your next holiday gathering or to give as a gift. The felting process makes this wine tote super durable … no sagging and stretched out stitches here!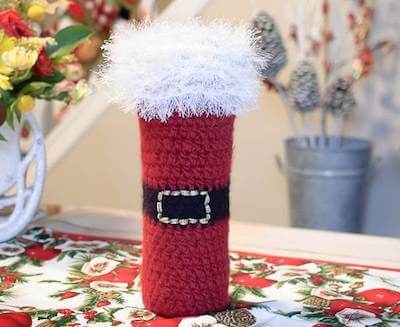 Get the Pattern here

2. Crochet Wine Bottle Cover by Sweet Everly B
A bottle of wine is a go-to classic for a hostess gift. This crochet wine bottle cover pattern will add a little creativity and thoughtfulness to an old standby. Not only will this wine bottle gift bag stand out, it will give the host a gift they can reuse for a picnic or another outing. It's sure to show your gratitude.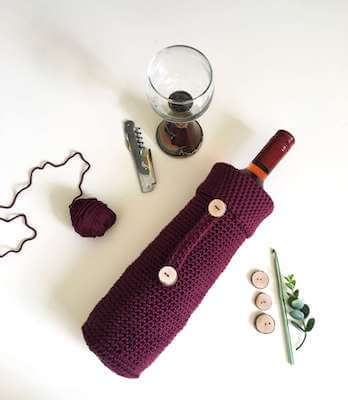 Get the Pattern here

3. Wine Bottle Bag Free Crochet Pattern by Goddess Crochet
This Wine Bottle Bag will fit a standard 750ml bottle just perfectly. The bobbles in the middle ensure the glass bottle is protected under a layer of cushiness, while the handle makes for easy transport. Cotton yarn was used on this particular bottle holder, but you could use acrylic as well if you wish.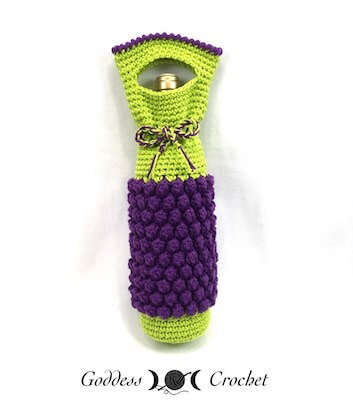 Get the Pattern here

4. Gnorman Gnome Wine Bottle Cover Crochet Pattern by Daisy Elle Hookery
Sometimes at the height of the festive season, a last-minute present is unexpectedly dropped on us – we've all had those moments, haven't we? A bottle is an appropriate gift, but it can lack the personal touch.

This Gnorman Gnome Wine Bottle Cover can turn the most ordinary bottle into a cute and quirky gift, special enough even for the most discerning recipient!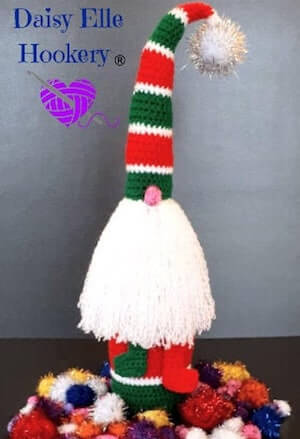 Get the Pattern by Daisy Elle Hookery here

5. Snowman Wine Bottle Cover Crochet Pattern by One Paisley Pig
Decorate your wine bottles at home with this festive guy, or jazz up a bottle of wine for a great hostess gift during the holiday season. This Snowman Wine Bottle Cover fits a standard bottle of wine and can be worked up in an evening.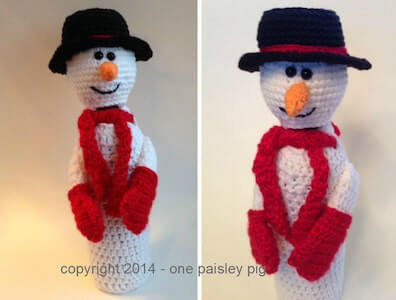 Get the Pattern by One Paisley Pig here

6. Girls Night Out Champagne And Wine Carrier by Moogly
This Girls Night Out Champagne and Wine Carrier is the perfect project for any occasion you want to bring a bottle of champagne or wine to – picnics, a night out, dinner at a friend's house, you name it! It works up in a flash, has a great modern color blocking look, and keeps the bottle safer in transit too!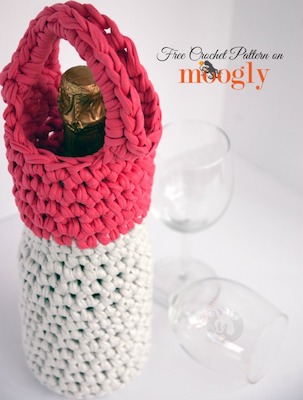 Get the Pattern here

7. Free Crochet Wine Bottle Cover Pattern by Crochet N Create
Dress your bottles up with this stylish cover, it is crocheted in cotton yarn, but you could use acrylic if you want. Designed to fit a standard size 75cl wine bottle, it would be great for birthday gifts and look lovely in Christmas colors for presents too.
Get the Pattern here

8. Crochet Boho Wine Tote Pattern by TL Dot Crochet
This Boho Wine Tote makes the perfect cozy gift bag for that bottle of wine gift! The pattern is a quick-make to stock your shop. Whether someone needs a gift for clients, a shower, a housewarming, or just to carry at the winery – this one is sure to get the compliments!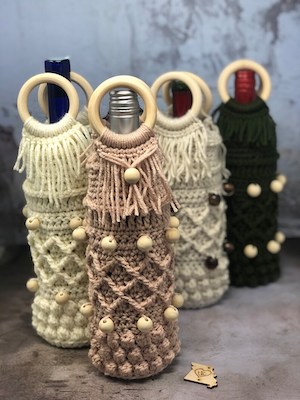 Get the Pattern by TL Dot Crochet here

9. Crochet Christmas Reindeer Wine Bottle Cover Pattern by Knittoy World
If you're a fan of Santa's reindeer, give your libation gift in this crochet wine bottle cover that is inspired by a jolly reindeer! With some careful assembly, you'll create a festive way to dress up a gift for your favorite hostess. Get ready for the holiday season by adding this entertaining pattern to your to-do list!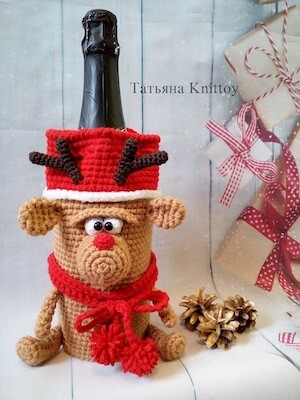 Get the Pattern by Knittoy World here

10. Crochet Wine Bottle Cover by Yarnutopia
Christmas is rolling around the corner at high speed. And if you haven't started organizing gifts, now is the time to get started. We love this crochet wine bottle cover pattern to add a touch of warmth and elegance to a great gift!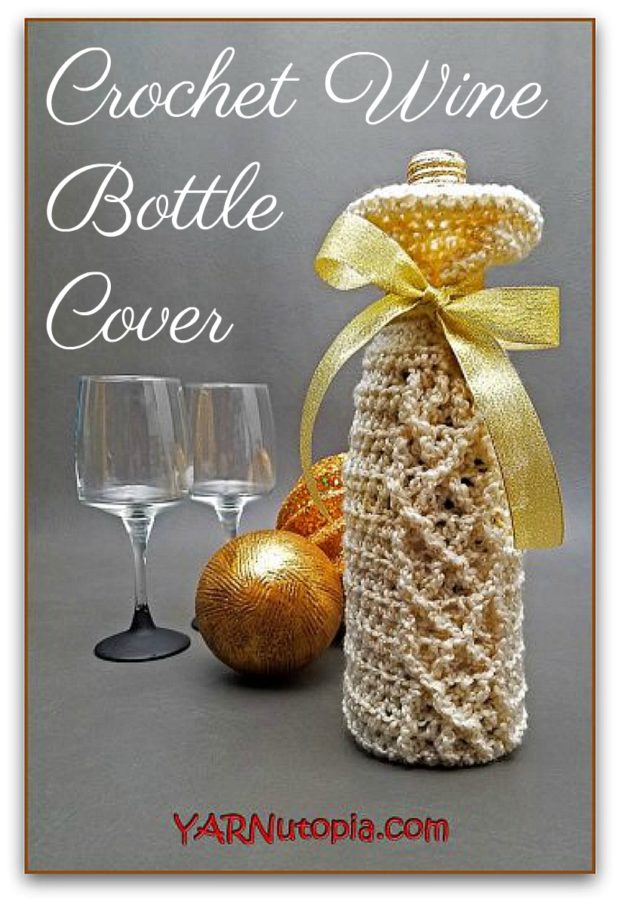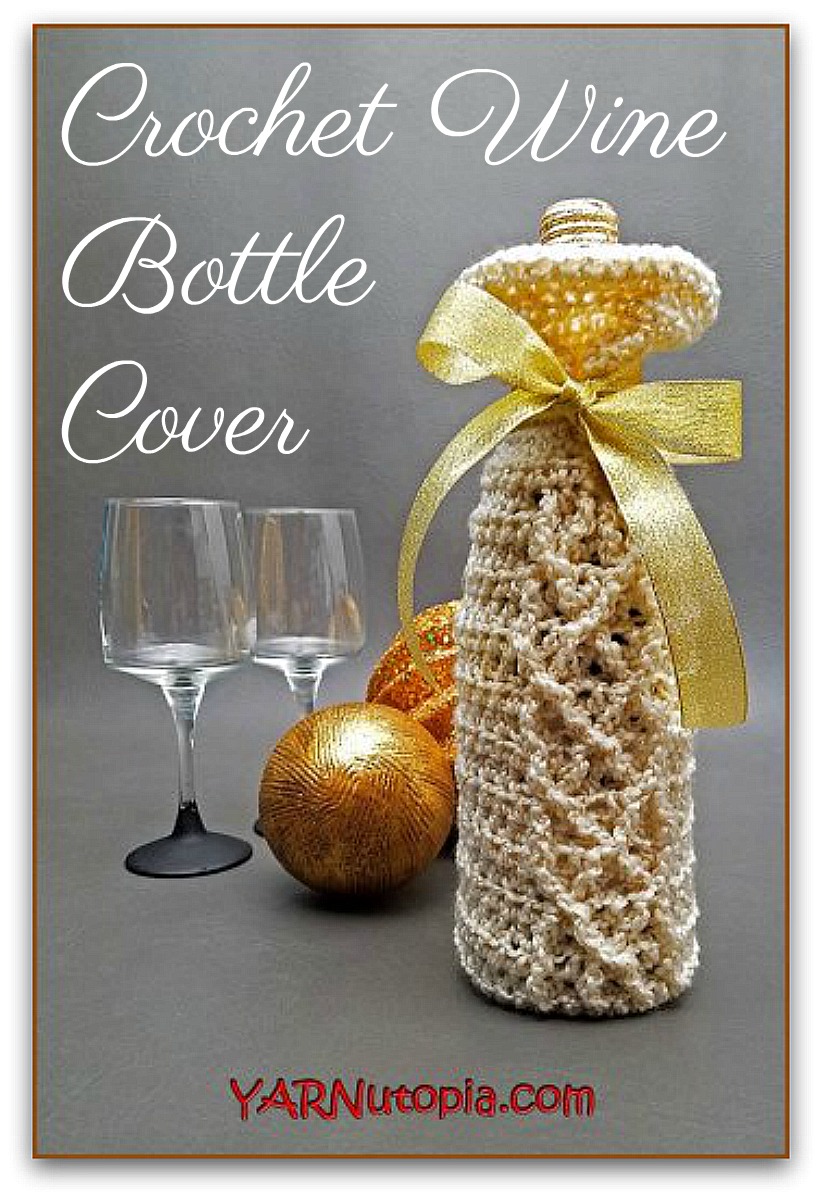 You can create the perfect gift by wrapping a bottle of their favorite wine in one of these sparkling wine bottle crochet covers, wrap a pretty ribbon around it, and pair it with some Christmas cakes or homemade chocolate bark.
Materials
1 skein of worsted weight yarn. The yarn pictured is Red Heart Holiday Yarn
Size G/4.25mm crochet hook
Scissors
Tapestry needle
Size
28cm / 11″ length. The size of the cover can be adjusted based on the bottle being gifted. You will just need to add extra stitches to either the length or width when crocheting.
Creating The Crochet Wine Bottle Cover
Once you have the required materials, watch the video tutorial below and you will have your very own crochet wine bottle cover in no time.
STITCH UP A FEW OF THESE CROCHET WINE BOTTLE COVERS AND YOU WILL BE READY TO BE A GRACIOUS GUEST AT THE NEXT FESTIVE GATHERING!
When you're done, please post your works on our Facebook Page for everyone to see!
Sidestep bringing another bottle of wine with our other suggestions for hostess gifts for every occasion. Check out these 15 Crochet Plants Patterns, 7 Toilet Roll Cover Doll Crochet Patterns, 32 Crochet Rug Patterns, 32 Crochet Pillow Patterns, 25 Crochet Hot Pad Patterns, 25 Crochet Tea Towel Patterns, 32 Crochet Placemat Patterns, 41 Crochet Coaster Patterns, and a lot more!
Find More Christmas Patterns Here
For now, add a personal touch to the most popular hostess gift ever by making a crochet wine bottle cover just in time for the holiday season!