Wanting for Spring can leave even the most patient, cold-weather loving gardener desperate for any burst of color during the last dreary weeks of winter. And though we can't control Mother Nature outdoors, we can create beautiful color with a couple of crochet tulip patterns.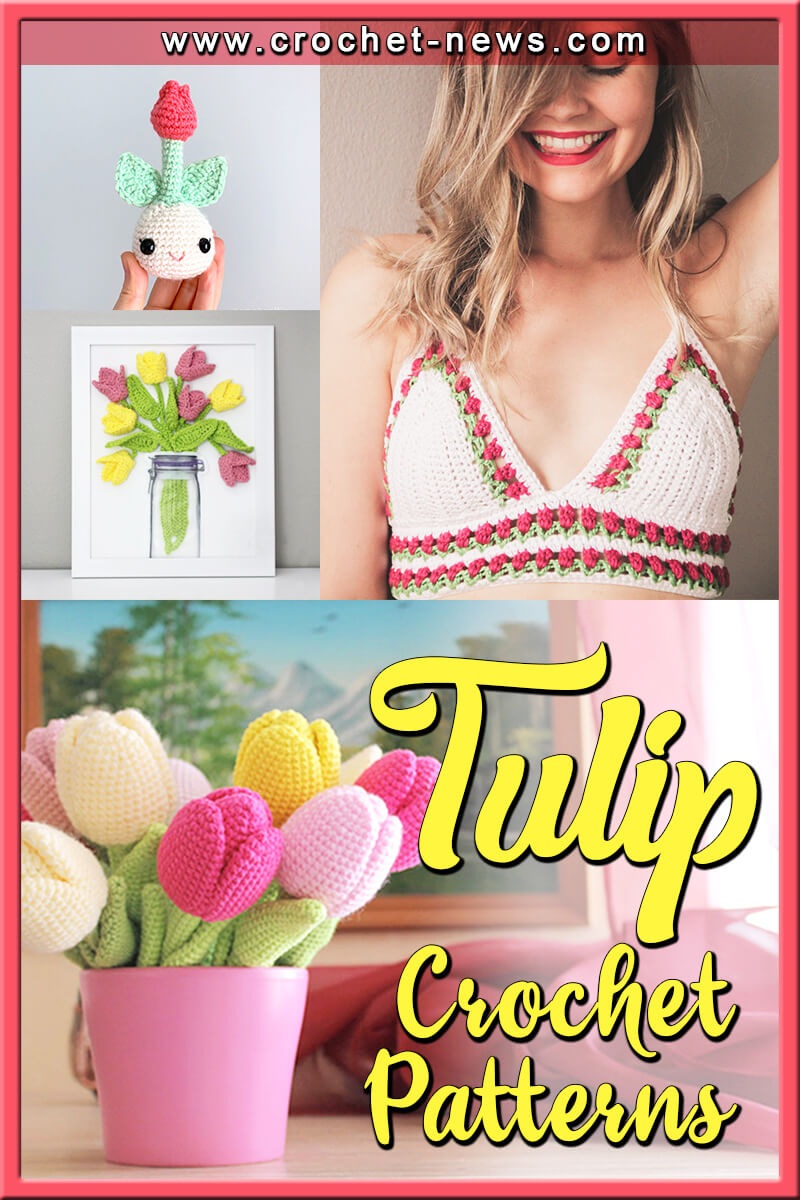 Tulips are gorgeous spring flowers, but they have a limited season so why not crochet some to display all year round? This signature spring flower is a wonderful way to bring some much needed light into your home decor!

1. Crochet Tulip Pattern by My Crochet Wonders
This Crochet Tulip Flower Pattern is the perfect love flower to make a bouquet with. It can be worked up in just about any color with your own hands in just a brief amount of your time.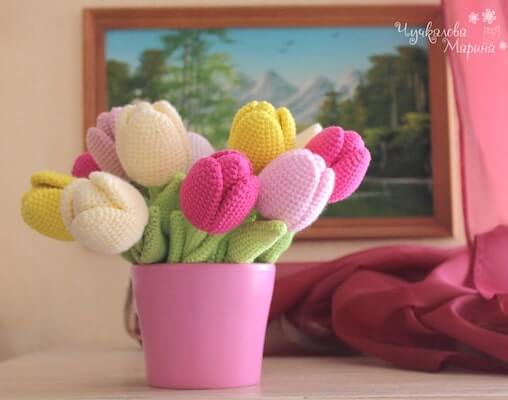 Get the Pattern by My Crochet Wonders here

2. Pot Holder Tulip Crochet Pattern by Yarnspirations
Let the creativity blossom with an adorable necessity. Create pretty crochet tulip potholders in any colors that inspires you. It's so cheerful, you'll definitely need a few stacked near the stove.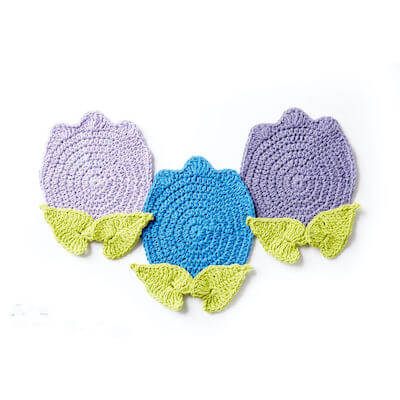 Get the Pattern here

3. Crochet Tulip Bouquet Pattern by Happy Patty Crochet
These medium size crochet tulips are very elegant, and when made in multiple colors make extra-attractive bouquets! These tulips work wonderfully as secondary piece in arrangements, and would make a beautiful gift even as a single cut flower.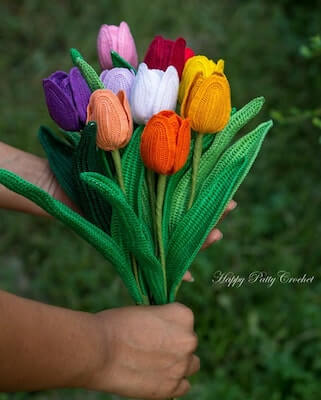 Get the Pattern by Happy Patty Crochet here

4. Crochet Tulip Afghan And Pillow Set Pattern by Maggie's Crochet
Need a little touch of spring flowers in your house? Then this is the perfect thing to crochet! The colorful tulips on this afghan and pillow make this a great companion to use during the spring.
Cuddle up with this blanket when reading on a rainy spring day or give it as a gift to your loved ones.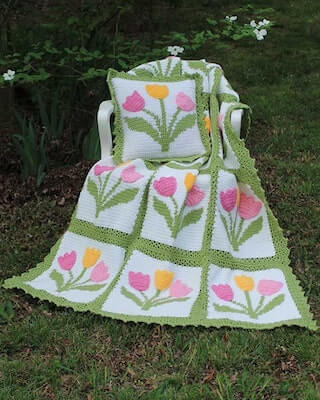 Get the Pattern by Maggie's Crochet here

5. Dress Free Crochet Tulip Pattern by Winding Road Crochet
This Tulip Crochet Dress is perfect for summer! With sizes from 12 months to size 8 this dress can be made for most young girls. Plus there are instructions to use this pattern to make a crop top and summer top!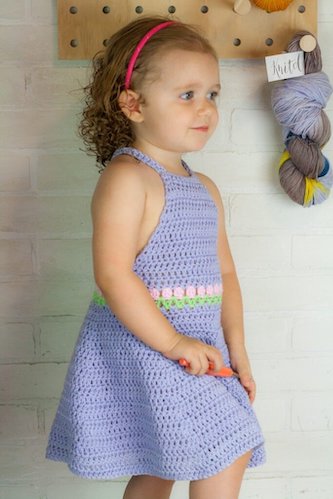 Get the Pattern here

6. Spring Tulip Basket Crochet Pattern by Joy Of Motion Crochet
Spring is in the air, and that means it's time to break out all of the the spring crochet projects! This Spring Tulip basket is the perfect splash of spring to brighten up your home as the season changes. You can make this free crochet tulip pattern in any color, or even do it in 3 colors!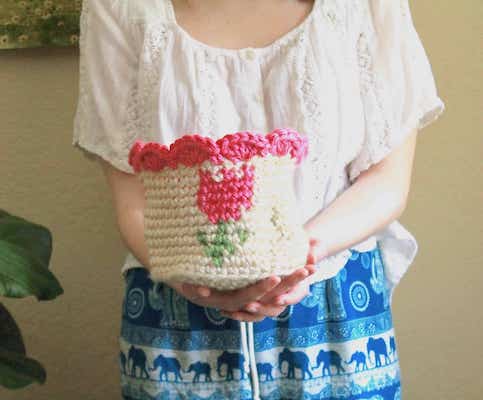 Get the Pattern here

7. Crochet Tulip Blanket Pattern by Addie's Knitted Gifts
The finished blanket features pretty rows of tulip flowers with a white border and picot edging. So pretty! The finished dimensions of the blanket are approx. 21″ x 20″. However, the pattern is easily adapted to create whatever size blanket you wish to make.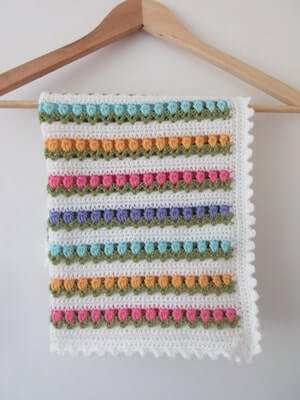 Get the Pattern by Addie's Knitted Gifts here

8. Crochet Tulips by Planet June
A beautiful realistic tulip flower with a clever one-piece construction – you'll love how it comes together! Add some color to your life with a bouquet of these everlasting tulips.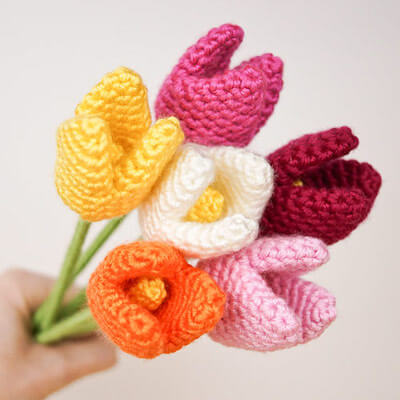 Get the Pattern here

9. Crochet Tulip Crop Top Pattern by Brittany Alice Crochet
This crochet crop top is perfect for the advanced beginner looking to hone their skills and make something they'll love wearing!
This is a great way for advanced beginners to practice their half double crochet, double crochet, and possibly learn a new stitch – the Tulip stitch!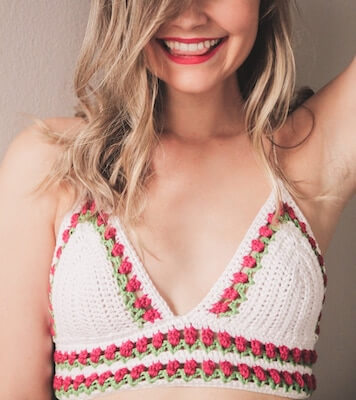 Get the Pattern by Brittany Alice Crochet here

10. Crochet Tulip Amigurumi Pattern by Knit Zoo
For those of you with no green thumb, this amigurumi flower will always be there to brighten up your day. Once you have made one flower, you will soon be creating dozens in your favourite colors.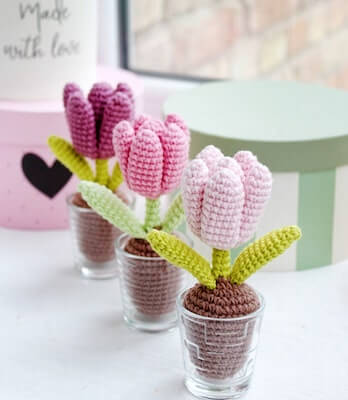 Get the Pattern by Knit Zoo here

11. Crochet Tulips On Canvas Pattern by Repeat Crafter Me
Crochet is also good to make 'paintings' for your stylish room. Crochet these wonderful tulips, sew them on a canvas, put it in a frame, and your painting is ready.
Choose the colors, choose the tones, to complete the look of your room. If not for you, you can make it a great present for your friends and family.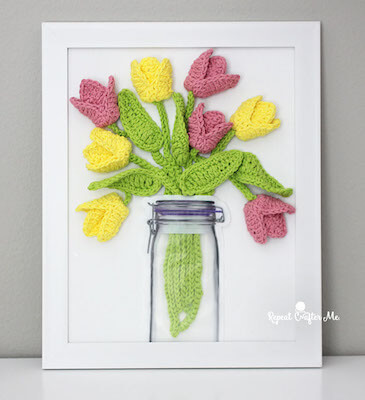 Get the Pattern here

12. Sweet Spring Tulip Bulb Amigurumi Pattern by Sweet Softies
This Sweet Spring Tulip Bulb is a cute, peppy amigurumi that is sure to brighten up your home! This pattern is relatively quick and easy to work up.
It is mostly completed in one piece, with the bulb, stem, and tulip crocheted altogether. The only sewing required is for the two leaves at the very end.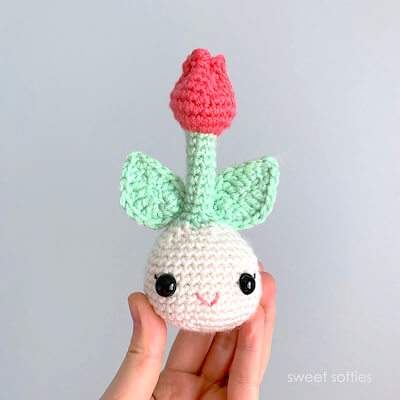 Get the Pattern here

13. Crochet Tulip Cushion Cover Pattern by Felted Button
This Crochet Tulip Cushion Cover is a sweet and feminine, reminiscent of rows of tulips in a Dutch countryside. This pillow pattern helps you make a perfect gift for the new little baby girl in your life. and the complete pillow instructions help you make a 16 inch square pillow for any spot in your home–be it shabby cottage chic or elegant Victorian.
Get the Pattern by Felted Button here

14. Crochet Tulip Applique Pattern by Repeat Crafter Me
Just in time for Mother's Day and all of your Spring and Summer Crochet projects. These Tulips are super simple with only two rounds for the flower part and an easy single crochet stem. The leaves are one row as well! Stitch onto hats, blankets, and more!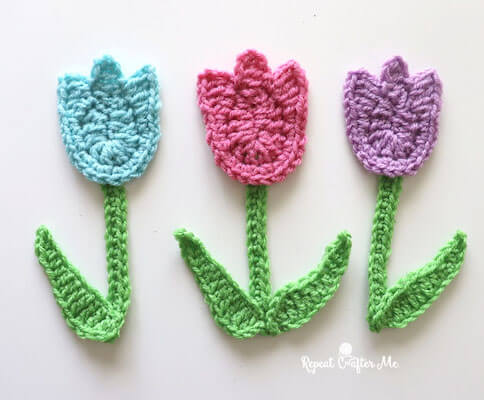 Get the Pattern here

15. Crochet Tulip Flower Pattern by Pippa Patterns Crochet
Relax your mind, heart, and soul as you create this bloom that will conveniently brighten your day and your home. Perhaps, you might want to lighten up someone else's day!
Either way, you'll certainly enjoy the magical process of creating this bold and exciting beauty. The outcome is thrilling!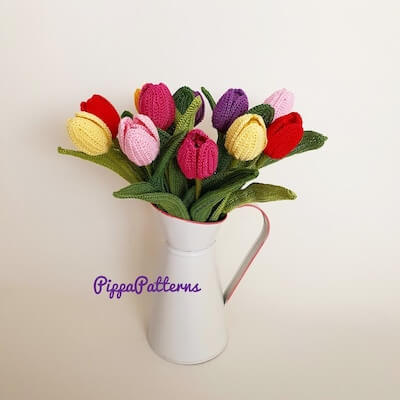 Get the Pattern by Pippa Patterns Crochet here
WITH ALL THESE CROCHET TULIP PATTERNS, ALL THE WARMTH OF SPRING IS AT YOUR FINGERTIPS!
Flaunt your beautiful creations of crochet tulips on our Facebook Page. We'd love to know what everyone's making!
And also, be sure to check all our other crochet flower patterns that are waiting to be made: Crochet Flower Bouquets, Crochet Flower Blanket Patterns, Crochet Rose Patterns, Crochet Daisy Patterns, Crochet Sunflower Patterns, Crochet Flower Patterns, Crochet Tiny Flowers Patterns.
It'll feel like spring all year with these crochet tulips around the house. Happy crocheting!