If you love all things Studio Ghibli, you will enjoy these crochet Totoro patterns. From toys to accessories to things that you can wear, there are inspired Totoro projects here that are sure to make you smile!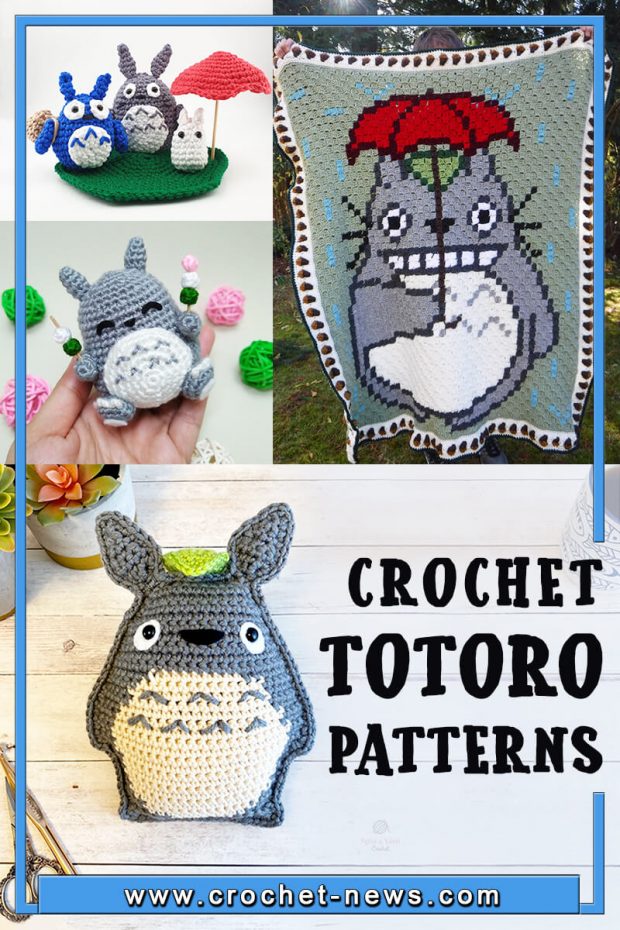 It's unheard of to watch 'My Neighbor Totoro' and not to fall in love with it. This Hayao Miyazaki/Studio Ghibli' animation is one of the most uplifting and heartwarming tales ever brought to the screen.

And to add to that, the fact that the characters in the movie are so incredibly cute and endearing, there was no doubt it was going to be a real recipe for success. If you or someone you know loves Totoro and friends, then take a look at these crochet Totoro patterns we have below!

1. Totoro Crochet Free Pattern by Spin A Yarn Crochet
This Ragdoll-style amigurumi would be a fun challenge to design in addition to being a fun option for anyone wanting to make a Totoro amigurumi.

Luckily, with only 2 panels worked in bulky yarn, this ami is deceptively simple and quick to work up (which is just how I like my amigurumi; easy to make but with a big visual impact!)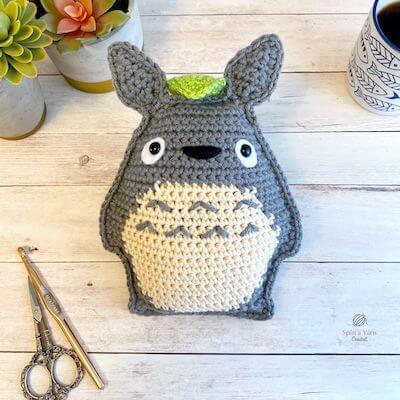 Get the Pattern here

2. Crochet Totoro Pattern by A Spoonful Of Sugar
In the film, Totoro has a leaf on his head for protection from the rain. This totoro crochet free pattern includes directions for the crochet leaf which is a fun addition.

Totoro is such a cute pattern and is perfect to make for an anime lover! If you enjoy making amigurumi patterns, you will love this crochet Totoro.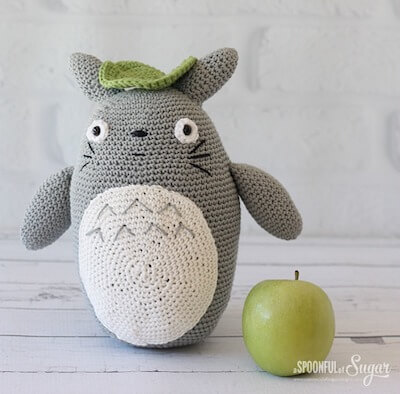 Get the Pattern here

3. Totoro And Friends Amigurumi Pattern by Ninja Cat Crafts
What's better than 1 Totoro? How about three! Here's your pattern to create your own Totoro, Chu Totoro and Chibi Totoro inspired by the Studio Ghibli classic.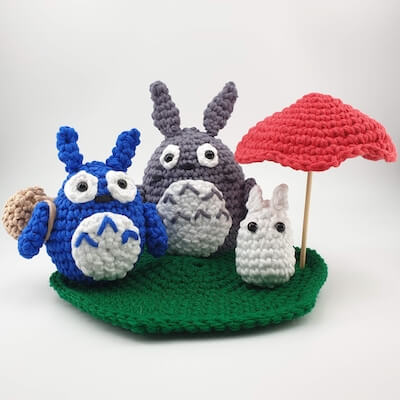 Get the Pattern here

4. Free Sleeping Totoro Amigurumi Pattern by Amigurumei
This totoro crochet free pattern will show you how you too can make your own kawaii Sleeping Totoro! The pattern is easy enough for beginners, and the end result would make any anime fan a happy camper!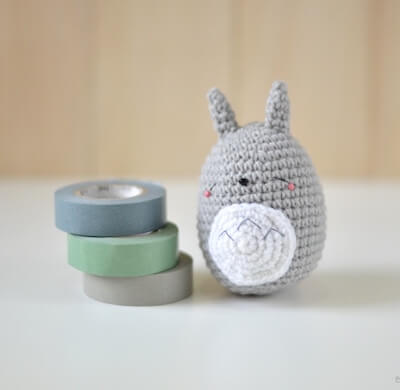 Get the Pattern here

5. My Dearest Neighbor Totoro Amigurumi Pattern by Peme Ami Shop
This 27 cm tall fuzzy standing Totoro features his signature wide-eyed expression with accurate details from the film. Bring Totoro with you to the office, home, or anywhere else you want a little more magic! A perfect gift idea for anime fans of all ages!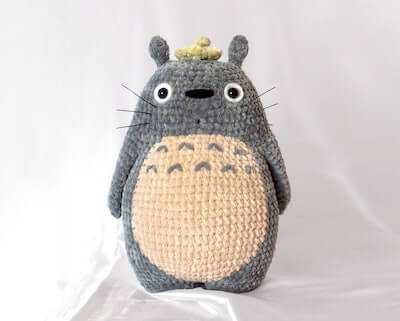 Get the Pattern by Peme Ami Shop here

6. Totoro Pencil Case Crochet Pattern by Marii Arts
Add a touch of whimsy to your daily carry with this adorable pen case which features Totoro. This pencil case shows the forest spirit at his best and you can't fail to lose your heart to that wide-eyed expression.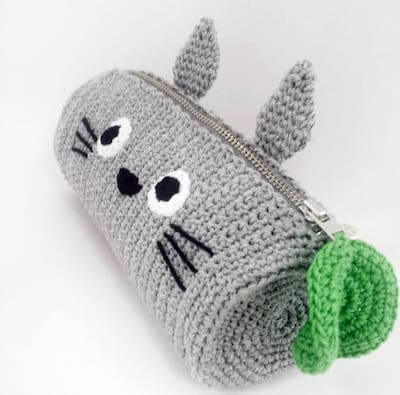 Get the Pattern by Marii Arts here

7. Totoro Hat Free Crochet Pattern by Elisa's Crochet
Keep your head warm on even the coldest winter days with this super cute Totoro hat! Its aviator earflap design means your ears will be cozy as well. It is a very easy and quick crochet project – perfect for a last minute gift!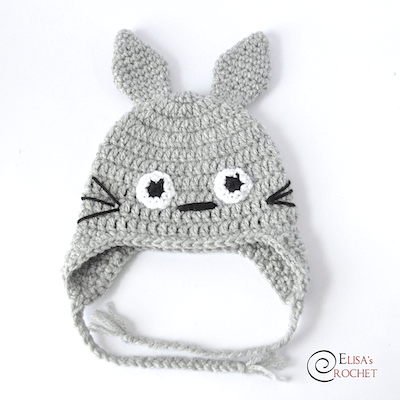 8. Eat With Totoro Amigurumi Pattern by Hanvee Craft Handmade
Ghibli fans must be knowing him! Totoro is enjoying his Hanami Dango, a traditional japanese sweet eaten when watching the cherry festival. Are you ready to join him?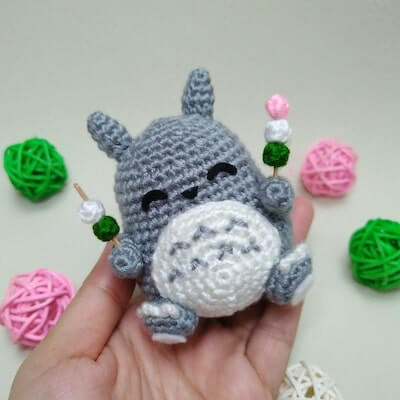 Get the Pattern by Hanvee Craft Handmade here

9. Totoro Coin Purse Crochet Pattern by Marii Arts
This cute Totoro Coin Purse Crochet Pattern will be perfect to make for ever studio Ghibli fans. Bring Totoro everywhere and put your precious thing in it! Totoro's secure clasp closure make this coin purse a great way to keep your coins together.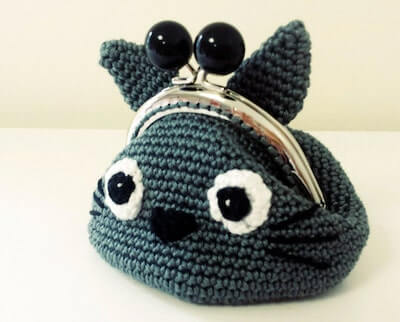 Get the Pattern by Marii Arts here

10. Totoro's Friends Amigurumi Pattern by Imelda Ginori
This pattern includes Totoro's friends and instructions to make three amigurumi dolls: Blue Totoro, White Totoro and the little soot sprite. Make a new friend or 3 with this crochet pattern!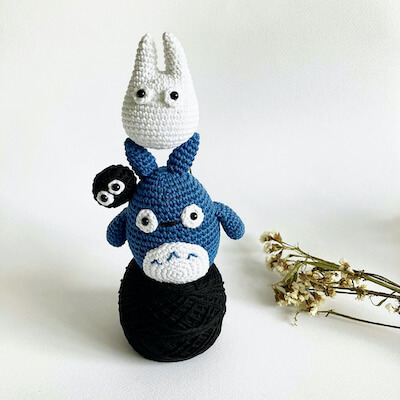 Get the Pattern here

11. Totoro Amigurumi Crochet Pattern by Ami Amour
Here's a fun and free Totoro Amigurumi Pattern set with all the gray, blue, and white Totoros for you to crochet! The pattern also includes knapsack and leaf accessory.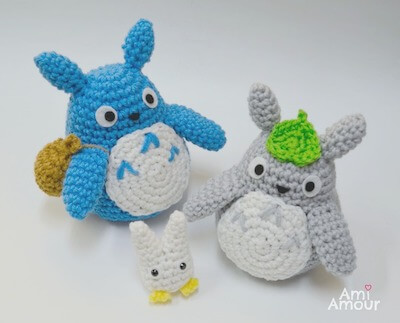 Get the Pattern here

12. Totoro Amigurumi Pattern by 53 Stitches
Make your very own adorable crochet Totoro with this free amigurumi pattern. Totoro is such an adorable and recognizable character, and he's the perfect project for amigurumi! This Totoro crochet pattern is built up of simple shapes so he's a great beginner project.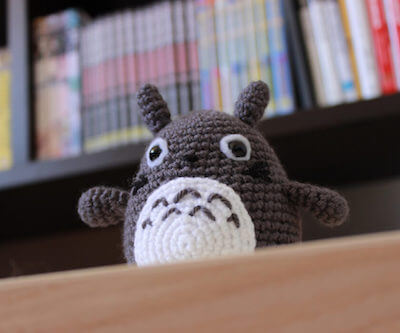 Get the Pattern here

13. Totoro And Friends Crochet Pattern by Amiguworld Shop
Though you could be forgiven for forgetting, there are three Totoro in My Neighbor Totoro: a big Totoro, a medium sized one (the blue one, all known as Chu Totoro), and a tiny Totoro (the white one, also known as Chibi Totoro). This pattern has them all!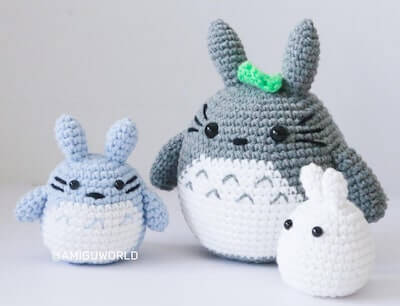 Get the Pattern by Amiguworld Shop here

14. Catbus Amigurumi Pattern by Miru Miru Ichiban
Who doesn't want their very own Cat Bus? Now you can make your own everybody's favorite mode of transport, made famous by its appearance on a dark and rainy night in My Neighbor Totoro. It's a perfect addition to the collection of Ghibli fans everywhere!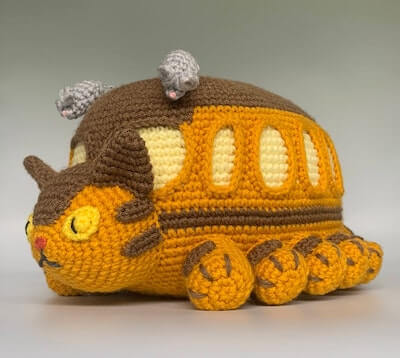 Get the Pattern by Miru Miru Ichiban here

15. Totoro In The Rain Afghan Crochet Pattern by T's Garden
Make taking naps even more exciting by cuddling up under the covers with your friendly neighbor Totoro! One of the most iconic images of the spirit Totoro is him standing under an umbrella in the rain. This pattern includes graph to follow to make your own corner-to-corner blanket.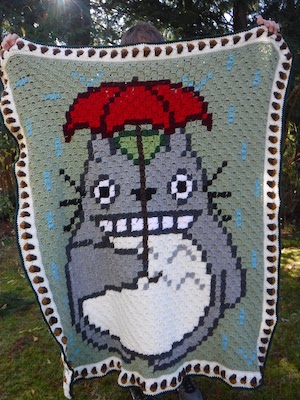 Get the Pattern here

16. Totoro Mini Crochet Pattern by Suzy Dias
Everyone needs their own friendly nature spirit from "My Neighbor Totoro". This little cutie is the perfect gift for Studio Ghibli fans of all ages. This pattern is easy to follow. Save money and have fun making your very own Totoro!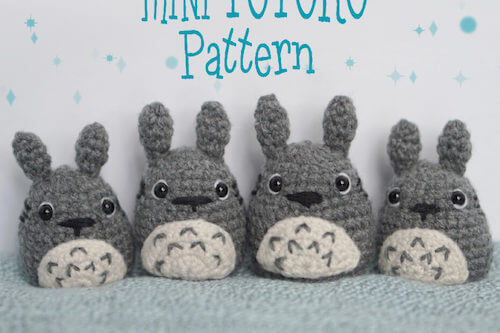 Get the Pattern here
SINCE YOU UNDOUBTEDLY FIND TOTORO AS CUTE AS WE DO, GET READY TO FALL IN LOVE WITH THESE CROCHET TOTORO PATTERNS!
Figures are expensive, and worst of all, you can't cuddle them! Lucky for me and you, there's an easy solution. Crochet them! Check out our huge of collection of amigurumi patterns which includes your favorite movie characters and superheroes! Minions, Baby Yoda, Paw Patrol, Elmo, Captain America, Superman, Mario Bros and more!

As always, we'd love to see your finished works from all the patterns we share, so do remember to post every creations you make on our Facebook Page.

Make yourself or your loved one as happy as Totoro with an umbrella by making these crochet Totoro patterns and Totoro amigurumi patterns today!