What is this strange animal with huge spiked plates running down its back? Stegosaurus was one of the first dinosaurs to be discovered. Their strange and fearsome look has fascinated us.
Luckily, crochet can do just about anything — including bringing prehistoric creatures back to life! Not quite, but these crochet Stegosaurus sure are cute! And a lot nicer to live with than their inspiration!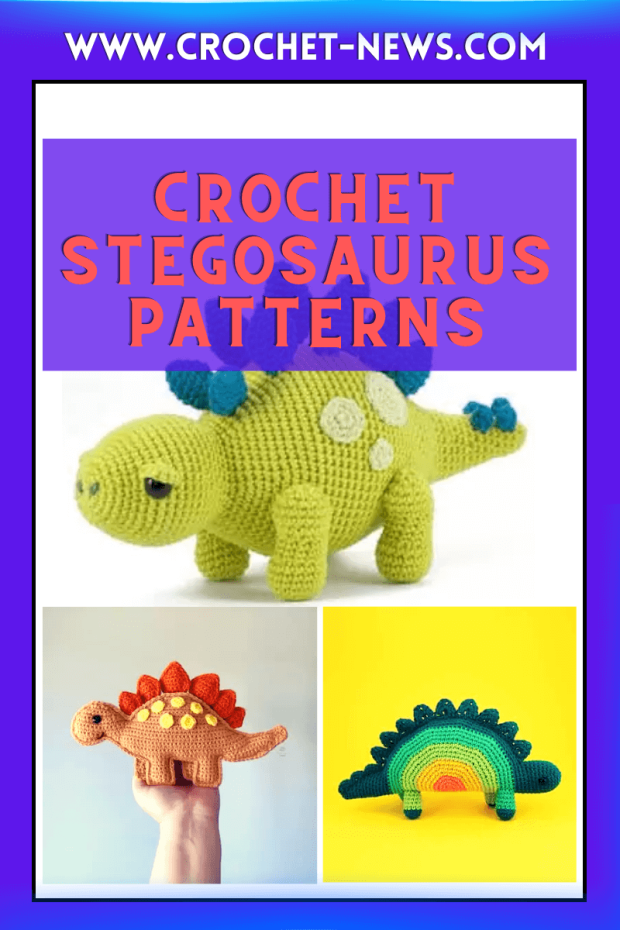 You've probably seen a lot of crochet patterns for T-Rex and Triceratops, so let's make something a little more friendly and peaceful — the Stegosaurus. Crocheters can make an entire herd of cuddly Stegosauruses using only a few basic crochet stitches and the imaginative designs shown below.
What exactly are you waiting for? With these impressive dinosaur crochet patterns, you can bring prehistoric times into your home.
10 Crochet Stegosaurus Patterns

1. Crochet Stegosaurus Pattern by Crafty Intentions
This pattern comes with instructions to make your very own Stegosaurus! This pattern includes an optional way to crochet all of the plates together into two lines to make sewing much easier!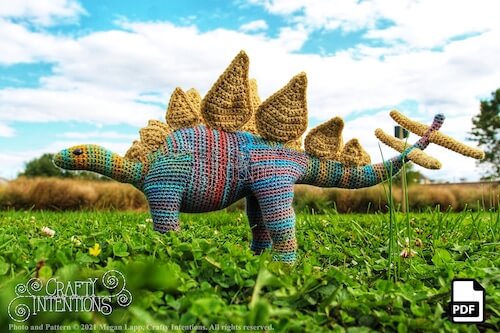 Get the Pattern by Crafty Intentions here

2. Spiky, The Stegosaurus Dinosaur Hat Crochet Pattern by Ira Rott Patterns
Make your life as fun and colorful as this Spiky the stegosaurus dinosaur hat. Stand out of the crowd by mixing your favourite colors.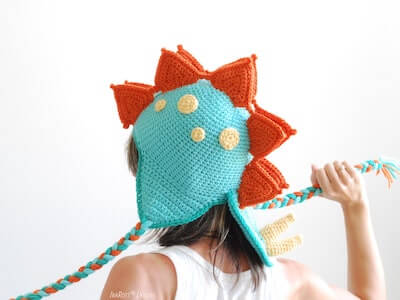 Get the Pattern by Ira Rott Patterns here

3. Stegosaurus Bobble Stitch Blanket Crochet Pattern by Melanie Poulter
Here's an epic blanket that you can personalize for your little dinosaur! Modern and quirky, this blanket will give colour and texture to your room, and is large enough to use as a sofa throw or bed cover and is great for snuggling up with.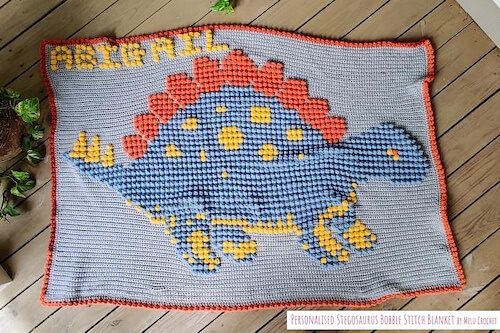 Get the Pattern here

4. Crochet Stegosaurus Dinosaur Taco Pattern by Croutons Crochet
This adorable little Stegosaurus has a crunchy, taco shell body filled with all your favorite taco fixings, and even lettuce spikes! He is perfect for any lover of Mexican food, taco Tuesdays, dinosaurs, or all of the above.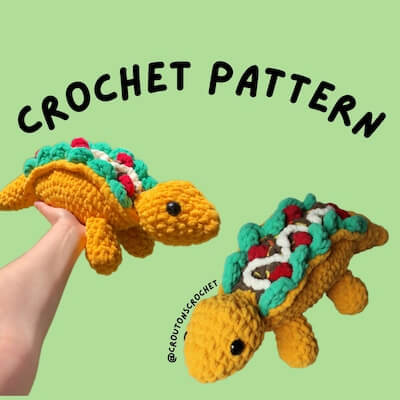 Get the Pattern by Croutons Crochet here

5. Horace, The Stegosaurus Crochet Pattern by Irene Strange
Here comes Horace, a happy Stegasaurus. We don't know for sure if dinosaurs of old were brown, green, stripy or dotty — so this dinosaur is as colorful as a rainbow!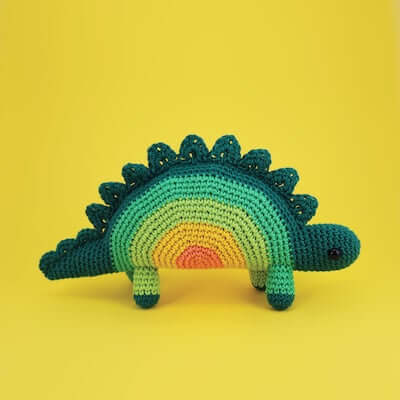 Get the Pattern by Irene Strange here

6. Kevin, The Stegosaurus Crochet Pattern by Elisa's Crochet
Kevin is such an easy project, that would work perfectly to create a colorful and fun crib mobile attachments, or a pillow, if made with bulky yarn!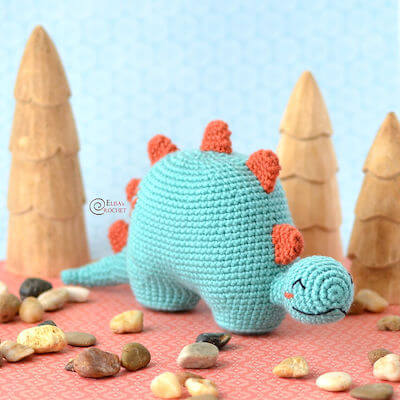 Get the Pattern here

7. Puff the Magic Stegosaurus African Flower Crochet Pattern by Heidi Bears
Puff the Magic Stegosaurus makes use of the African Flower hexagon crochet motif and variations thereof, joined in a specific order to make a recognizable 3D item. I love this African Flower pattern and the creative possibilities of using it to make 3D items.

Puff is an excellent stash buster project, as you only need to use very small amounts of leftover sock yarn to make a motif!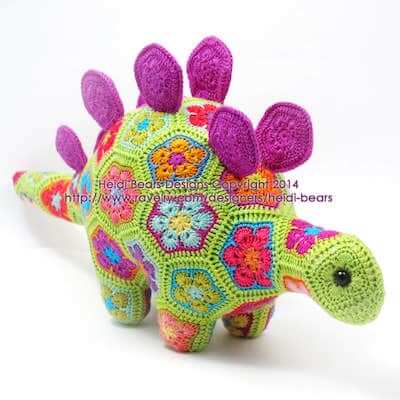 Get the Pattern by Heidi Bears here

8. Free Stegosaurus Crochet Pattern by Spin A Yarn Crochet
Hold all the excitement of the Jurassic in your hands with Stan, the Steggy. The rendition of this armored beast is a unique amigurumi made in the ragdoll-style; separate pieces worked in flat rows and joined together to give it that charming and distinctive 2-D appearance. 
With a polka dot body and some gentle spikes, this plushie has plenty of space for customizing.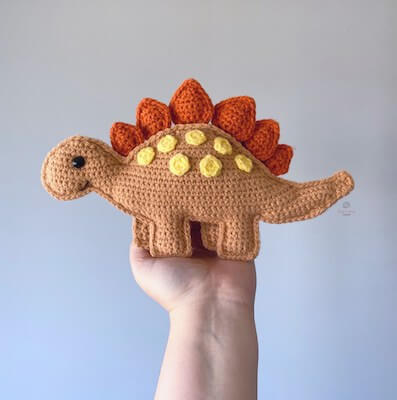 Get the Pattern here

9. Crochet Stegosaurus Amigurumi Pattern by Louies Loops
This handheld crochet stegosaurus uses a simple pattern that even those who've never picked up a crochet hook before will be able to follow. With a chubby shape that's ideal for holding in small hands, the pocket sized stegosaurus is a joy to crochet.
A fabulous starting point for your dinosaur crochet journey, and a lovely gift.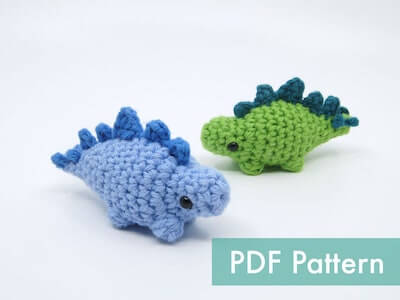 Get the Pattern by Louise Loops here

10. Toby, The Stegosaurus Crochet Pattern by DIY Fluffies
Don't be fooled by Toby's burly disposition. He's a gentle stegosaurus with a steady pace who can keep up with the best of them! Toby is an introvert that loves cuddling and sleeping. He'll make a great gift for anybody looking for that perfect late-Jurassic pal.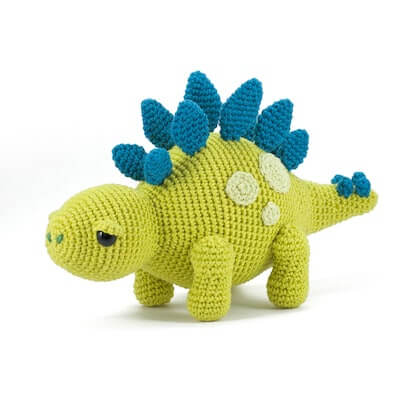 Get the Pattern by DIY Fluffies here
Crochet Stegosaurus Frequently Asked Questions
How do you crochet a Stegosaurus dinosaur?
It can be intimidating if you're new to the world of crocheting stuffed animals. The good news is that most crochet dinosaur patterns only require single crochet stitches, which is usually the first stitch that new crocheters learn!
You can improve your skills by learning how to crochet in rounds, how to change colors, and how to sew your stuffed animal together.
How long does it take to learn amigurumi?
It takes a few months to be able to crochet most amigurumi patterns, but it's possible to learn the basics in one afternoon in one go, or spread out over a week. After learning how to create a magic ring, work the single crochet, and increase and decrease, you know enough to create your first project.
What is the best yarn for amigurumi Stegosaurus?
Cotton and acrylic yarns are a great match thanks to their smooth stitch definition, as well as durable and soft texture — a perfect match for cuddly toys! If you're making a kids toy, you might want to pick a yarn hat's machine washable.
What others supplies do you need for amigurumi dinosaurs?
stitch markers
embroidery thread (for details)
polyester filling (stuffing)
safety eyes
STEGOSAURUS MAY BE EXTINCT, BUT YOU CAN BRING THEM ROARING BACK TO LIFE WITH THESE ADORABLE CROCHET STEGOSAURUS PATTERNS!
You'll be amazed at how quickly and easily you can create your own herd of crochet dinosaurs. Once you're done, remember to share your progress on our Facebook Page. 

No sooner will you finish one that you'll want to start on another little friend to keep it company. If you fancy hooking up some more terrifying creatures, you might also like these posts:
Keep the legacy of these majestic animals alive with these crochet Stegosaurus patterns. Soon enough, you'll be able to have your own version of Jurassic park in no time!