Bring your favorite Star Wars characters to life with these Crochet Star Wars Patterns. This collection includes everything you need to bring a galaxy far, far away right into your own home!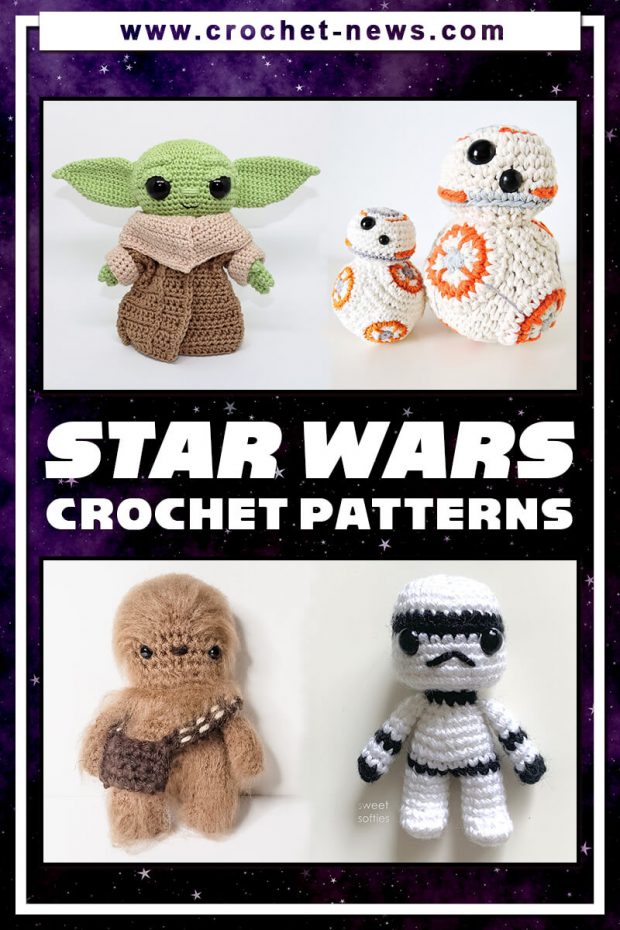 As a lover of all things Star Wars, we usually have no problem shelling out the cash for "must have" items. Sometimes, however, it is nice to let your creativity juices flow and save those Benjamins for another day. We loved pulling together this list of Star Wars ideas to inspire the creativity in you!

1. Alien Child Amigurumi Pattern by Mucau Amigurumi
If you love the Star Wars saga, you'll love working on this amigurumi project. Or even if you're not, you probably know someone who is and want to make a special present for them.
This crochet star wars pattern is loaded with instructions and pictures that'll help you make your own alien child, from robe to pointy ears.
See more Baby Yoda Crochet Patterns here.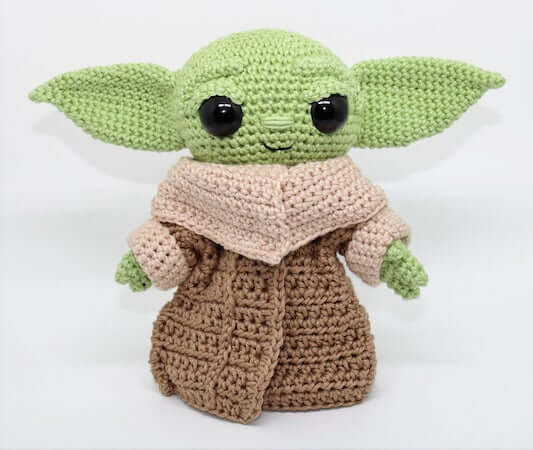 Get the Pattern by Mucau Amigurumi here

2. Crochet AT Walker Pattern by Krawka
Crochet walker, when finished, is 26 cm tall (10.2 inches) and 28 cm long (11 inches). He is quite large and therefore you will have a lot of parts to make, please be patient and don't give up because the end result is totally worth it.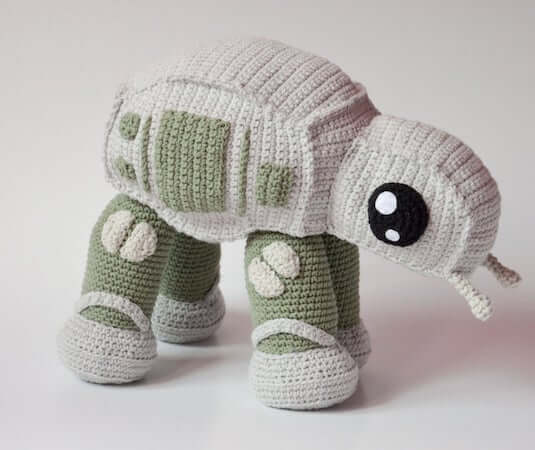 Get the Pattern by Krawka here

3. Crochet Star Wars Lightsaber Pattern by Ahookamigurumi
Do you have a little Sith in training? Or perhaps a young Padawan? Whether your little one has decided to join the dark side or to fight the Rebels, they are going to love this Amigurumi Lightsaber.

With just a little time, a few easy stitches and this great Star Wars crochet pattern, you'll have a realistic looking lightsaber in no time. And you won't have to worry about anyone getting a hand chopped off, because these soft lightsabers are the perfect toy for young ones trying to master the ways of the lightsaber.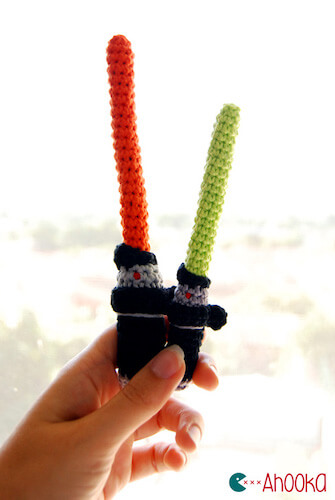 Get the Pattern here

4. Princess Leia Crochet Pattern by Tanya Smile
Princess Leia is not only the Princess of Alderaan but also the rebel leader in the fight against the Empire. Even if Leia is not as well trained in the Force as her brother Luke, she is still the strongest and one of the most important people in the galaxy far far away.

If you also want to have this role model of female leadership as your guest, then simply crochet this little Princess Leia yourself for your home. The Princess Leia that you can create with this pattern will be about he is 15 cm (5.9″) tall.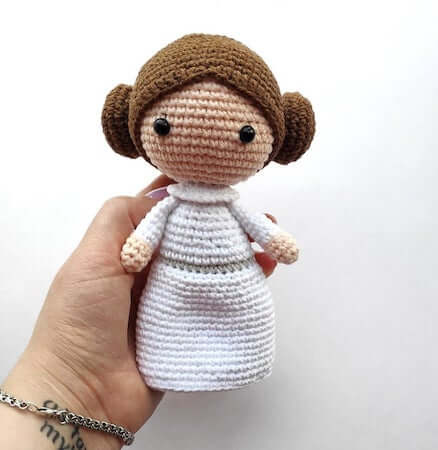 Get the Pattern by Tanya Smile here

5. Chewbacca Amigurumi Free Crochet Pattern by Heather Corinne
Chewbacca s the cutest Star Wars marathon companion and a quick crochet project! This crochet star wars pattern is comprised of the body, arms, and head which are stuffed and stitched together using a tapestry needle.

His hair is created by brushing the yarn out and his bag is crocheted separately. The finished amigurumi measures approximately 8″ tall. You could easily increase the yarn weight and hook size to make a larger Chewie.
Get the Pattern here

6. Star Wars Jawa Amigurumi Doll Crochet Pattern by Jana Geek
This fuzzy little scavenger will haggle his way into the hearts of big and small Star Wars fans. You can make this 4-inch (10 cm) yarn doll yourself, or sweet-talk your favorite auntie into making it for you.

This is a cute, super-simple Jawa with a Japanese-inspired kawaii look: big head, small body (think Hello Kitty and Power Puff Girls). The crocheted bandoleer drapes across his body, with lots of little "pockets" for holding his ammo or ill-gotten gains.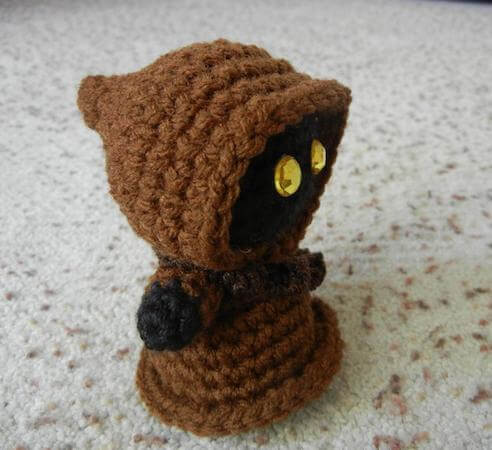 Get the Pattern by Jana Geek here

7. Jar Jar Binks Star Wars Mini Amigurumi Pattern by Lucyravenscar
Jar Jar Binks is a friendly, if clumsy, native of Naboo who helps the Jedi who are stranded there, and who ends up fighting in the battle to save his planet. He wears simple clothes suitable to life spent underwater much of the time, including a little waistcoat and a wrap around his waist.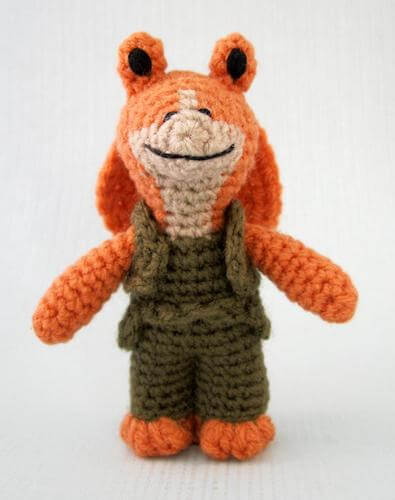 Get the Pattern by Lucyravenscar here

8. Stormtrooper Doll Free Amigurumi Crochet Pattern by Sweet Softies
This Stormtrooper Doll is a cute, pocket-sized yarn version of the iconic Star Wars character. He is more adorable than menacing as a tiny, little amigurumi though! The pattern is quick and easy to crochet and makes a great toy gift for kids and children alike.

This versatile pattern can also serve as a male or female human body base to crochet into other custom characters.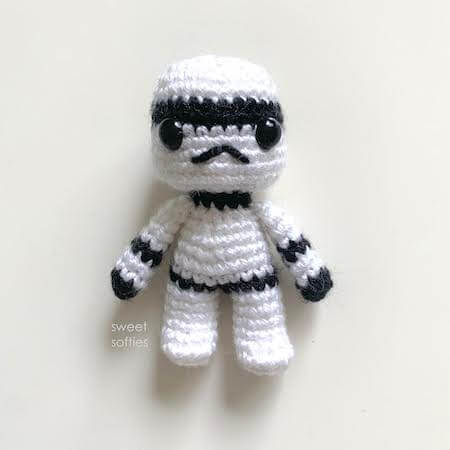 Get the Pattern here

9. Darth Vader Crochet Throw Pattern by Vera Rose Embroidery
This Darth Vader Crochet Throw is a lovely make and ideal for that Star Wars enthusiast to snuggle up under whilst watching their favorite movie! This works up quite quickly and is effective using the graph – you may need some experience in working corner to corner crochet. This creates a 1/2 to 3/4 inch block, and has a slightly loose, square finish to the blanket.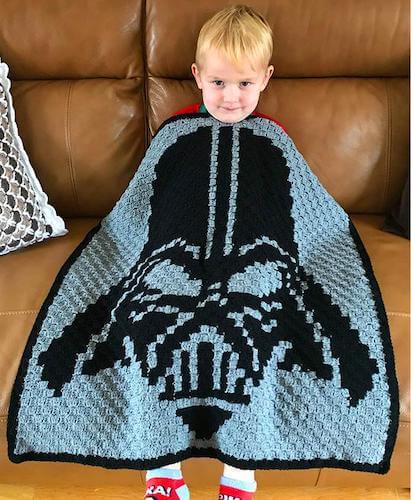 Get the Pattern by Vera Rose Embroidery here

10. BB-8 Star Wars Robot Crochet Pattern by Ahooka
The Force Awakens is there and BB-8 robot with it ! Isn't he cute with his rounded shapes?
This would be the perfect gift for any Star Wars fan ! Plus, having an astromech at home could be really useful don't you think? This crochet star wars pattern come with the instructions to make a fixed head and a movable head too!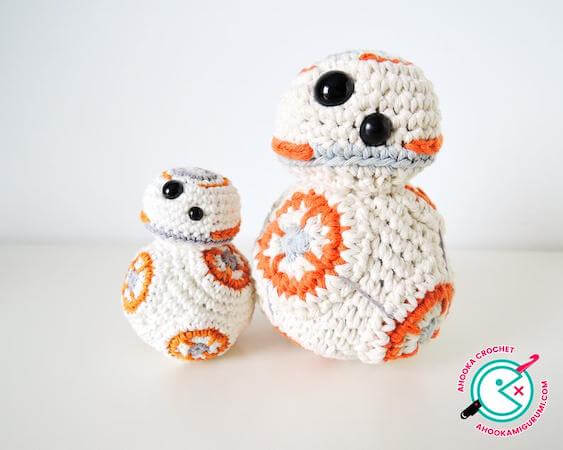 Get the Pattern by Ahooka here

11. Crochet Death Star Pillow Pattern by Nerdpreneur Creations
It's not a trap! This Death Star inspired pillow pattern is easy to follow and can be made as big or as small as you would like! By changing up your yarn and hook size you can change the size of the finished product. This Death Star pillow is a comfy addition to your nerdy decor and a fan favorite.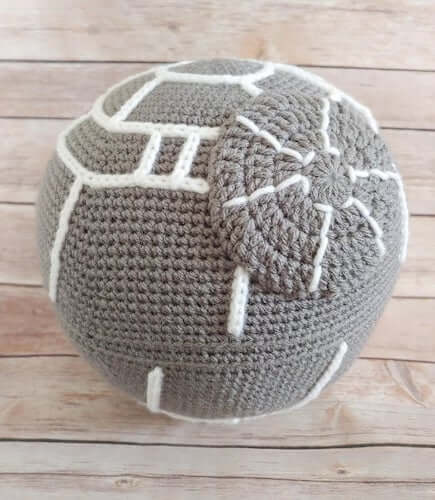 Get the Pattern by Nerdpreneur Creations here

12. Galactic Penguin Crochet Pattern by Krawka
We all want to see more galactic penguins or puffins – Porgs and when seeing is not enough, when you have to cuddle it too here comes the solution! This Crochet Port or galactic penguin is around 22 cm (8.6 inches).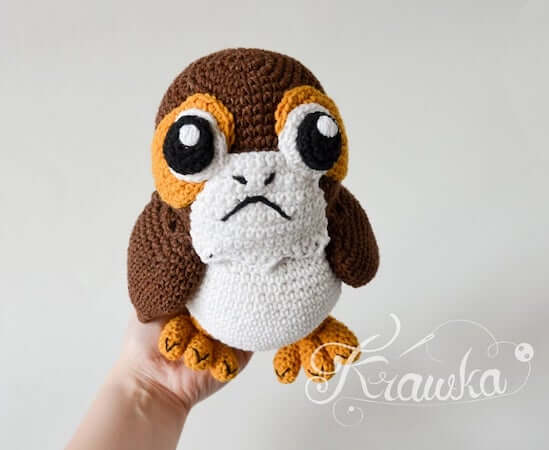 Get the Pattern by Krawka here

13. Darth Vader Amigurumi Doll Crochet Pattern by Felt Magnet
Come to the dark side and make this fantastic Darth Vader for the Star Wars super-fan in your life. He's ready for some lightsaber action! Really, the dark side has never looked so cute! The doll dimensions will end up being about 25 centimeters (10 inches) high and 17 centimeters (6.75 inches) wide.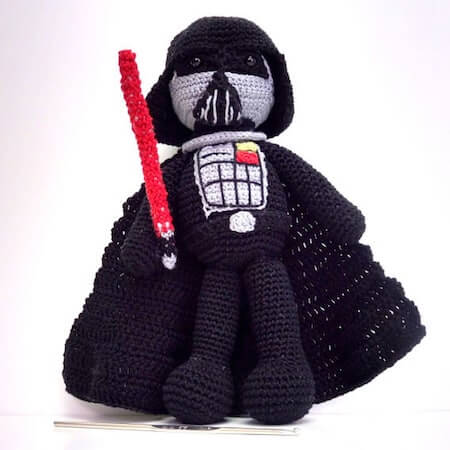 Get the Pattern here

14. Spacefighter Blanket Crochet Pattern by MJ's Off The Hook Designs
Keep the Force Warm at any Stage of your Jedi training! This Spacefighter Blanket is made with only one set of wings and engines to save on time and cost. Every little and big boys dream come true! Snuggle up in this fun blanket while watching Star Wars or dream of soaring through your own space adventures!

The Spacefighter is designed to cocoon only around the calves and feet, the rest of the blanket opens up to lay over the body.The body of the blanket uses 2 strands of bulky weight yarn with a Q hook. You will also require a 9mm hook for engines and guns. This pattern comes in child and adult size!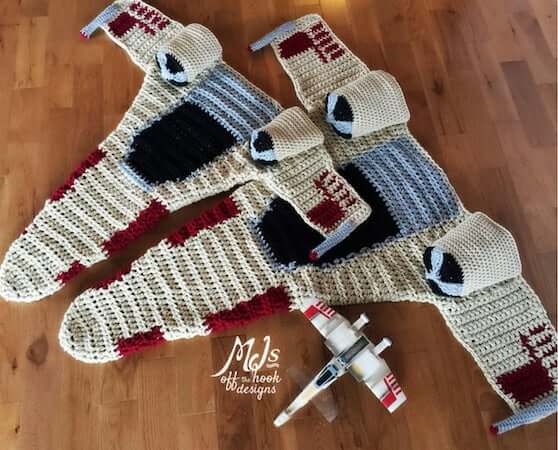 Get the Pattern by MJ's Off The Hook Designs here

15. BB-8 Free Crochet Pattern by Spin A Yarn Crochet
You can easily add this adorable BB-8 to your decor in terms of a throw pillow, a cuddler, something to hang on a wall as a wall hanging, you get the idea! So, while a flat BB-8 may seem a little counter-intuitive, there are lots of ways to make use of this pattern!

Maybe the super brave among you could even use the pattern to incorporate into a crocheted sweater for some custom Star Wars swag! Although the finished item is 2-D, the color-work gives the illusion that he is indeed round and 3-D. It's pretty neat!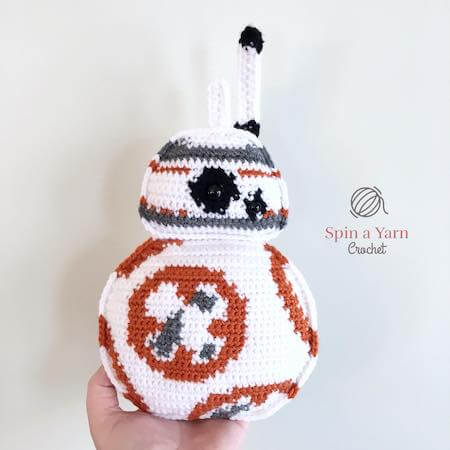 Get the Pattern here
THESE CROCHET STAR WARS PATTERNS ARE THE PERFECT PROJECTS FOR CROCHETING FANS ACROSS THE GALAXY!
Once finished, please have a moment to share your works on our Facebook Page. Can't get enough? Check out our Batman Amigurumi Patterns, Spider-Man Amigurumi Doll Patterns, Crochet Rocket Patterns and Star Wars Cross Stitch Patterns.

Do you have other friends who love both crocheting and Star Wars just as much as we do? Then share this collection of crochet Star Wars patterns with them for a little bit of super fun, slightly geeky inspiration!