Squirrels are extraordinary climbers, undefeatable bandits, astounding mimickers, and amazing nut breakers. Here are crochet squirrel patterns to value this cute kind.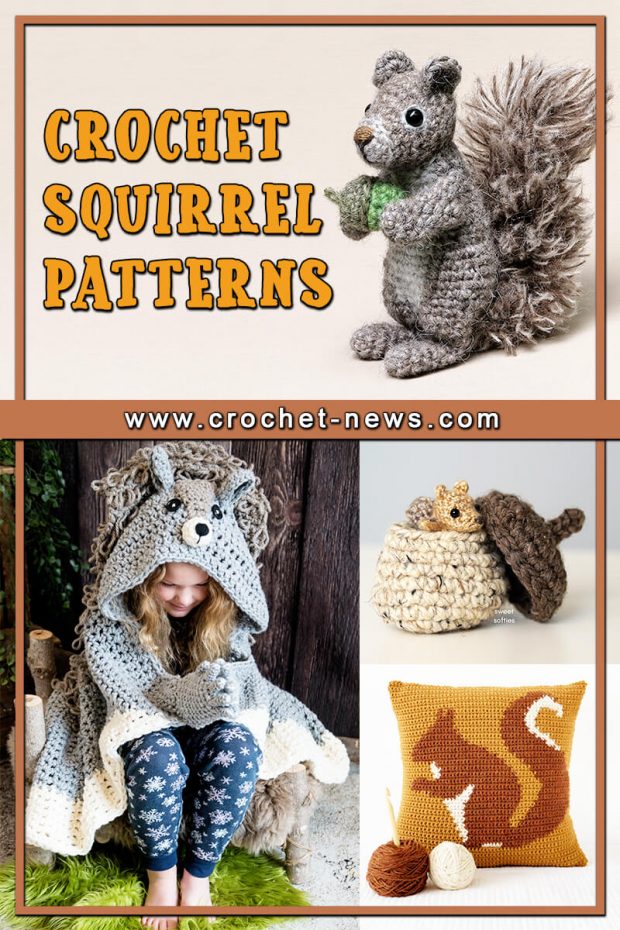 Many people think of squirrels as pesky rodents – but we think they deserve some love. We encourage you to show these fluffy little creatures a little appreciation by making some of these crochet squirrels patterns below!

1. Crochet Squirrel Ornament Pattern by Red Heart
Go for a natural woodland look this year and add this adorable squirrel to your mantel or tree. He's crocheted with a nice long tail and has a cute face that is topped with a winter hat.
Get the Pattern here

2. Amigurumi Squirrel Crochet Pattern by Amigurumi Today
If you're looking for a cute crochet squirrel free pattern, pay attention to this little buddy. Whether you're going to make it for yourself or for an animal lover in your life, this amigurumi squirrel is certain to be a longtime companion and an endless source of fun.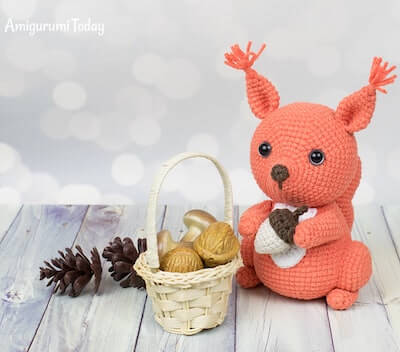 Get the Pattern here

3. Baby Squirrel In Acorn Crochet Pattern by Sweet Softies
This Baby Squirrel in Acorn Pattern includes instructions for a miniature, newborn squirrel and his acorn home. The Acorn is large enough for the little critter to hide within, making this a fun pretend play toy set for young children.

This is a very small but quick amigurumi project. It makes a wonderful gender neutral (unisex) gift for boy sand girls alike, and is great as decor for woodland themed nursery rooms.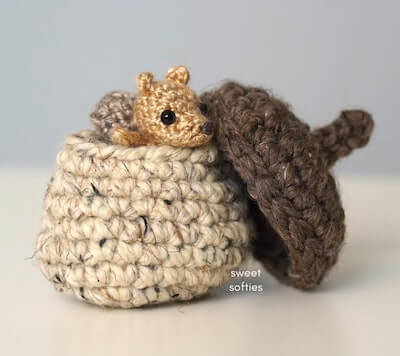 Get the Pattern here

4. Crochet Amigurumi Squirrel Pattern by Hello Yellow Yarn
Crochet the adorable Chester, a little squirrel on a mission to find the biggest acorn! Chester measures approximately 19cm (7.5 inches) tall when made with 8 ply (US Light Worsted / UK DK) yarn and 3mm and 3.5mm crochet hooks.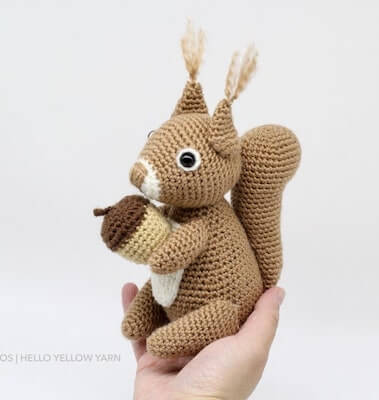 Get the Pattern by Hello Yellow Yarn here

5. Realistic Crochet Squirrel Pattern by Sons Popkes
With this easy and very detailed pattern, you can make Floof, a super fluffy and realistic looking squirrel with an acorn. Floof is a grey squirrel, but you can of course make a gorgeous red squirrel too.
Get the Pattern by Sons Popkes here

6. Coco, The Squirrel Crochet Pattern by Irene Strange
Soft, cuddly tummy and lovely bushy tail – Coco, the squirrel has a warm coat on ready for winter ahead!

A bunch of these little squirrels made in warm natural colors will look lovely decorating the mantlepiece or hidden in the branches of the Christmas tree.
Each amigurumi squirrel takes less than 2.5 hours to make – a quick project for one evening by the fire.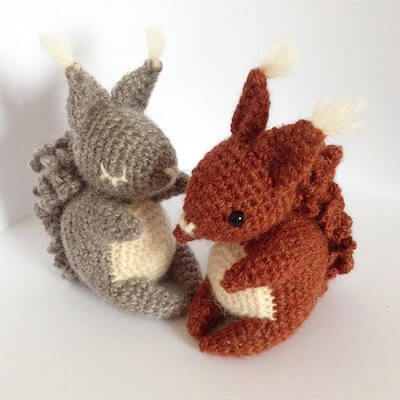 Get the Pattern by Irene Strange here

7. Hanna, The Squirrel Amigurumi Pattern by Hookabee
Crochet a cute and fun squirrel amigurumi! Hanna is super active and always in motion, collecting nuts and jumping from tree to tree. This little cutie is only 7.5 inches long when crocheted with worsted weight yarn.

Her body is shaped in an interesting new way so you don't need to attach any arms and legs – they are part of the body!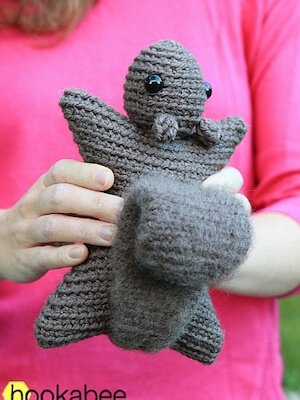 Get the Pattern here

8. Crochet Squirrel Pillow Pattern by Little Doolally
Inspired by woodland animals and the English countryside, this cushion is great to make with full instructions. Includes color change chart and photos to guide you through making this delightful cushion.

With a buttoned opening on the back to take the pad in or out for washing. Ideal to brighten up any seat or room and great to make for a gift!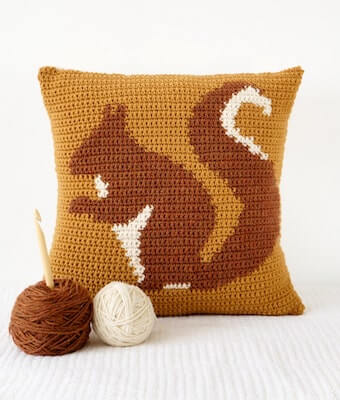 Get the Pattern by Little Doolally here

9. Hooded Woodland Squirrel Blanket Crochet Pattern by MJ's Off The Hook Designs
Wrap yourself in this cozy Hooded Squirrel Blanket. Perfect for cuddling, play and display. This squirrel blanket features a fluffy loop stitch tail, paw mittens with fingers and detailed hood. When not in use the blanket folds into a cute little pillow.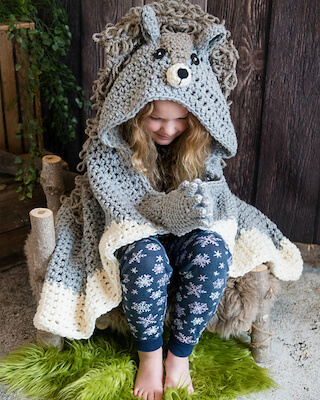 Get the Pattern here

10. Crochet Squirrel Applique Pattern by Little Bamboo Handmade
This pattern provides instructions to make a cute crochet appliqué that can be used in innumerable ways – decorate and personalize your favorite objects like hats, t-shirts, bags, school knapsacks and lots of other stuff you can think of!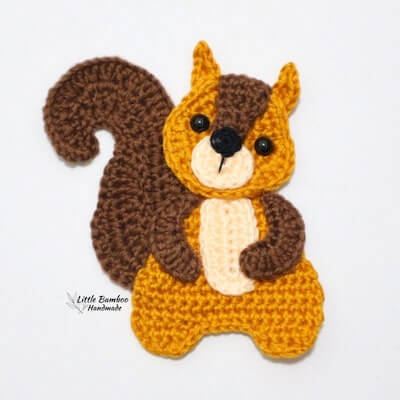 Get the Pattern by Little Bamboo Handmade here

11. Acorn, The Crochet Squirrel Pattern by I Like Crochet
Meet Acorn the adorable crochet amigurumi squirrel! Add a touch of whimsy to your playtime with this too-cute critter.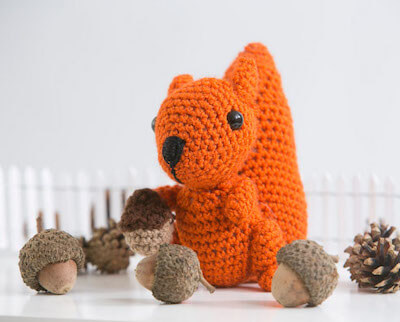 Get the Pattern here

12. Cyril, The Squirrel Crochet Pattern by Moji Moji Design
Cyril the Squirrel is the Head Gardener at Nutsford Manor. He's naturally well equipped for the job with his huge bushy tail, which he puts to use to sweep the garden clean.
The pattern also includes instructions for Cyril's wheelbarrow, carrots and leaves.
Get the Pattern by Moji Moji Design here

13. Amelia, The Flying Crochet Squirrel Free Pattern by Interweave
No detail was spared in this charming character! Complete with aviator goggles and a jaunty travel scarf, Amelia is clearly ready for a trip around the world.
The body pieces are crocheted separately and joined together at the end in this adventurous project.
Get the Pattern here

14. Amigurumi Crochet Squirrel Pattern by Pepika
His name is Simon and he is not afraid of humans. If you ever wanted a squirrel friend, now is your chance!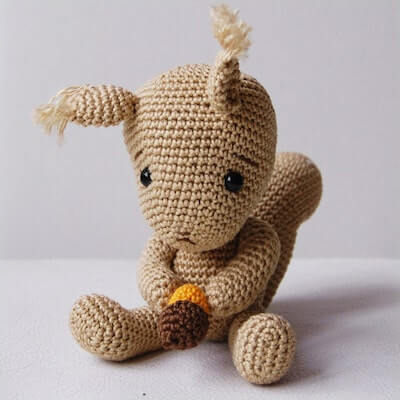 Get the Pattern by Pepika here

15. Squirrel Mittens Crochet Pattern by Fibre And Folk
Very warm mittens, with a knit stitch, stockinette imitation, and a tapestry squirrel pattern, this Squirrel Mittens make a big statement! Crocheted in one go, from bottom up, they are accessible and pleasant to make.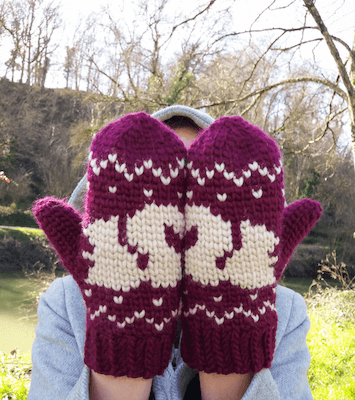 Get the Pattern here
THESE CROCHET SQUIRREL PATTERNS ARE UNQUESTIONABLY FUN TO WORK ON AND A JOY TO PLAY WITH FOR THE KIDS!
We'd love to see your finished work from the patterns we share. Post photos of your creations on our Facebook Page!

For more adorable critters to crochet, check our collection of patterns for: Crochet Raccoon Patterns, Crochet Mouse Patterns, Hedgehog Crochet Patterns, Crochet Beaver Patterns, Crochet Opossum Patterns and Crochet Guinea Pig Patterns.

If you weren't the biggest fan of squirrels before, these adorable crochet squirrel patterns will certainly change your mind!