Here are fun crochet paw print patterns to turn your dog's paw prints into treasured pieces of art for the whole family. The majority of the households will have at least one pet.
Sometimes, we are so much in love with them, and we try getting ways to express the love and appreciate our pets. It is at this point where these ideas come in handy!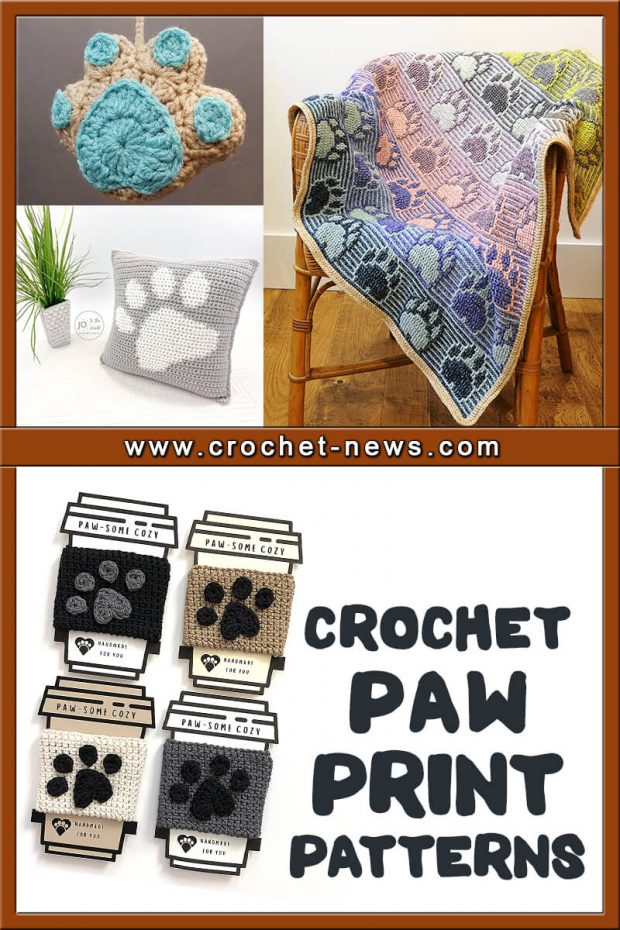 Our pet's presence is a joy to our lives, and it's only fair that we show them some extra love by engaging into these fun projects that honor their playful spirit and their cute little paws!
17 Paw Print Crochet Patterns
You'll see what we're talking about when you check out these crochet paw print patterns below!

1. Paw Print Granny Square Crochet Pattern by Crafty Kitty Crochet
This adorable and easy to make granny square is the perfect way to show your love for the pet(s) in your life! You could make it into a scarf, blanket, pillow, tote bag – the possibilities are endless! It works up quickly and can be customized with all kinds of colors. What a great gift idea for any holiday or occasion!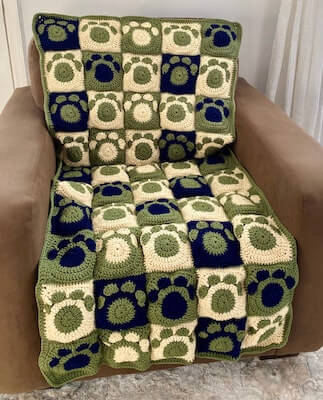 Get the Pattern by Crafty Kitty Crochet here

2. Crochet Paw Print Earrings Pattern by Simply Hooked By Janet
This pattern would be great to use as a fundraiser for an animal charity/shelter in your area. Who wouldn't love a cute pair of earrings along with helping out animals! Or you can always make a pair for yourself and any dog or cat loving friends you may have.
Get the Pattern here

3. Crochet Paw Print Pillow Cover Pattern by Jo To The World Creation
This crochet pattern for a Paw Print Pillow Cover is a quick, easy, fun crochet project for your home decor and makes a paw-fect crochet gift for men, women, friends – any pet/dog/animal lover. It's a simple crochet pillowcase pattern and photo tutorial, a great intro to colorwork (Fair-Isle and Intarsia), and creates a beautiful removable, cushion cover.

It creates a professional-looking, super soft, removable 18″ x 18″ cushion cover. The only question is whether you keep it to enhance your own home decor or give it as a gift! It's a terrific crochet gift for men or women, anyone who is a pet lover!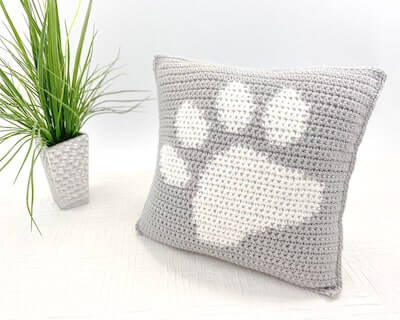 Get the Pattern by Jo To The World Creation here

4. Meandering Scarf Free Paw Print Crochet Pattern by Amy's A Stitch At A Time
Have you been looking for a scarf pattern that shows off your love for animals without making you feel like you are wearing a childs design? This Meandering Paw Prints Scarf fits that bill and will work for a dog or cat lover equally.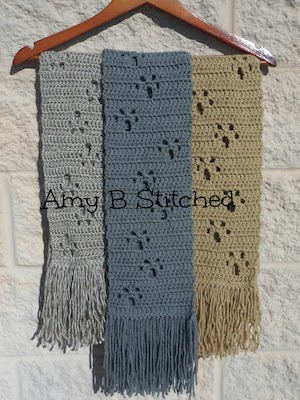 Get the Pattern here

5. Crochet Paw Blanket Pattern by Yarnspirations
Crochet your loveable companion their own Crochet Paw Blanket. Essentially, you have 6 circles. 1 big circle, 1 medium circle and 4 minicircles. Together, when sewn, make up the paw blanket.

If you prefer a square blanket, you could always do a square solid granny square blanket and crochet just the paw prints to sew on.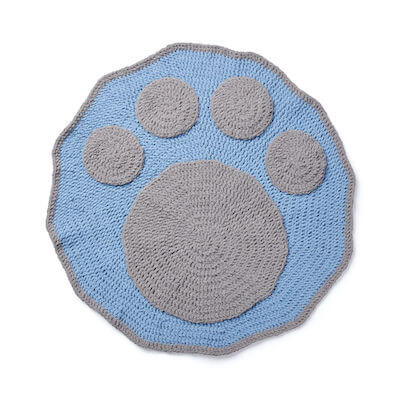 Get the Pattern here

6. Crochet Paw Print Hat Pattern by The Crochet Village
This cute paw print hat for all the animal lovers is a perfect fit for warm comfortable fashion wear. This beautiful crochet hat pattern is the perfect project even for a beginner. This unisex crochet hat is worked from the bottom up using single crochets only and a variation of tapestry crochet for color changes.

This puppy paw beanie has a great texture and can be made with any of your favorite worsted weight yarns. Color combinations are endless!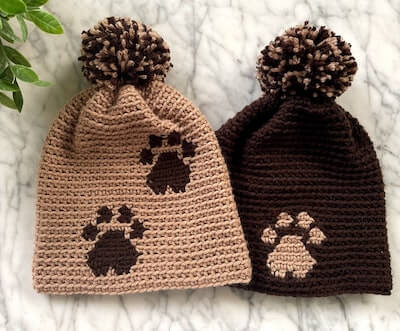 Get the Pattern by The Crochet Village here

7. Crochet Paw Print Cup Cozy Pattern by Hooked By Angel
The paw pad on this cozy is an inverted heart, as dogs sure do steal ours! Pair it with the cup cozy insert, and you are ready to gift or sell your finished item at craft fairs, or markets. It is such a fun crochet pattern to make, and will surely delight anyone who dotes on dogs.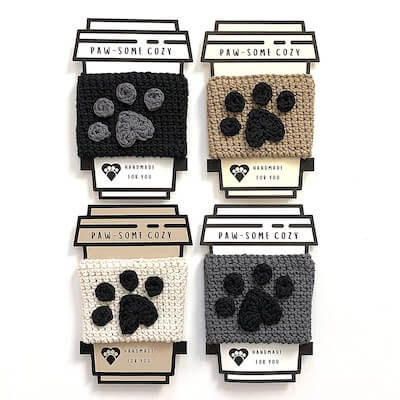 Get the Pattern by Hooked by Angel here

8. Crochet Cat Paws Fingerless Gloves Pattern by Jayda In Stitches
There is no reason why staying warm can't also mean being adorable! Make up a pair of these Cat Paws Fingerless Gloves for yourself, your family members, your friends and anyone you know who loves cats! Experiment with colours or try fluffy yarn!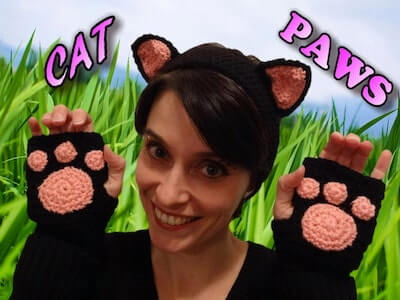 Get the Pattern by Jayda In Stitches here

9. Crochet Christmas Stocking Dog Paw Print Pattern by Red Heart
Reward good pups with their own crochet stocking filled with goodies and treats on Christmas morning! This heartwarming project has dogs anxiously pawing at their stockings, crafted just for them in classic shades of Christmas.
It's creatively designed, easy to crochet and a great way to make friends with pets when you're a guest in their home!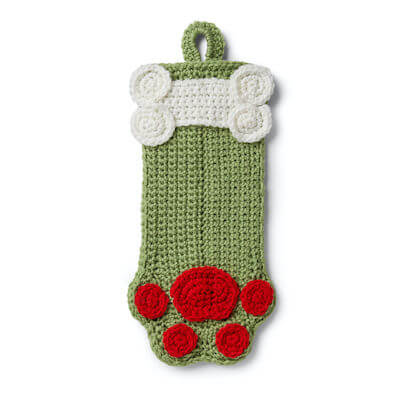 Get the Pattern here

10. Crochet Heart Paw Print Applique Pattern by Golden Lucy Crafts
This Crochet Paw Print Applique is made from one large heart for the pad and four small hearts for the toes. Just crochet these hearts and embellish with them any of your dog items – blanket, clothes, bed, etc., or any of your own items – scarf, hat, or bag!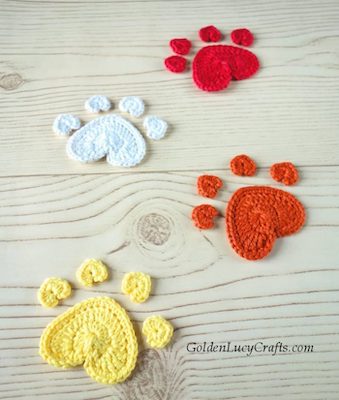 Get the Pattern here

11. Crochet Paw Print Scrubbies Pattern by Crafty Kitty Crochet
Get your paws on these adorable scrubbies – they're perfect as gifts, for selling at craft fairs, etc.! Compliment any spa basket or new house gift with these scrubber pads – especially if the recipient is a pet lover!
Whether it's a dog lover or cat lover you're gifting these to, they are sure to love these cute and luxurious scrubbies! And when it comes to fun, quick projects to make for selling at all your upcoming markets, these fun little scrubbies are sure to be a big hit! They use very little cotton yarn, so they're also a great stash-buster design.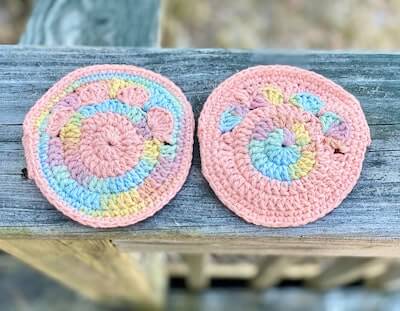 Get the Pattern by Crafty Kitty Crochet here

12. Crochet Paw Print Coasters Pattern by Conserve Family Values
These adorable paw coasters are perfect gifts for any occasions! They can be given as gifts to your fellow animal loving friends or perfect to add a little touch in your own home.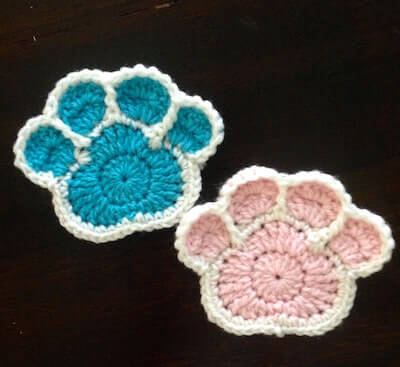 Get the Pattern by Conserve Family Values here

13. Crochet Paw Print Bookmark Pattern by Timmel Crochet
Pets love to compete for your attention while you are trying to read. Some even dare to put their paws on your page in attempt to woo you. What's one more paw print for your page, especially one that serves a purpose?
This Crochet Paw Print Bookmark is a cute yet functional gift for any bibliophile who also loves animals!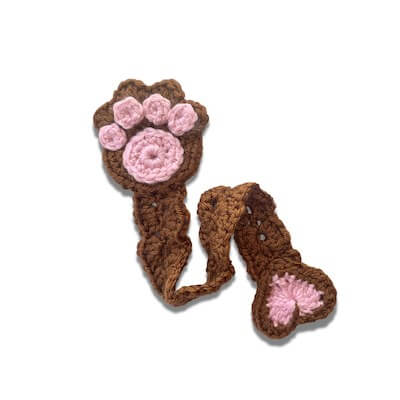 Get the Pattern by Timmel Crochet here

14. Towel Holder Ring Free Paw Print Crochet Pattern by Wendy Connor
Make a cute Paw Print Towel Holder for your kitchen or bath towels! Directions are given to make a fold-over strap that buttons around an oven or cabinet handle (as shown in photos), or a knob-hole strap that can go over a cabinet knob or hook.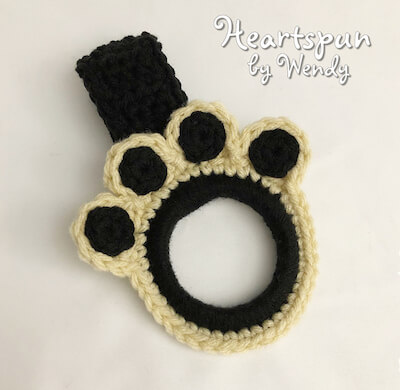 Get the Pattern here

15. Filet Crochet Paw Print Blanket Pattern by Owl B Hooked
Here's a beautiful tribute blanket to memorialize the loss of a cherished member of your fur family! Or as a gift to an animal lover. Work it up in any color imaginable or every color imaginable if you would like to work through your yarn stash!

This filet crochet baby blanket features a subtle, peek-a-boo paw print design with no need for several color changes or ends to weave in. Or add all the color your heart desires!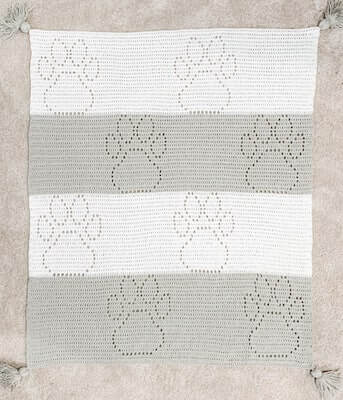 Get the Pattern by Owl B Hooked here

16. Crochet Paw Print Ornament Pattern by Yarnutopia
Christmas is going to be here before you know it and it's only right that your dog gets a place on the Christmas tree as well! This Paw Print Ornament will be a totally unique Christmas ornament that is going to be everyone's favorite piece this year without a doubt.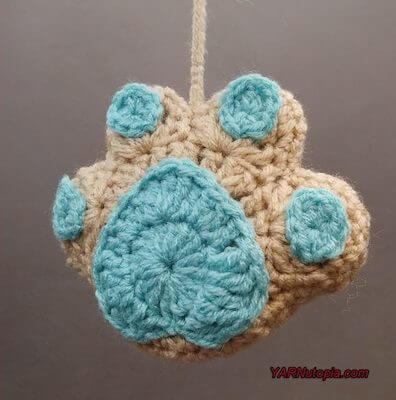 Get the Pattern here

17. Crochet Big Paws Blanket Pattern by Sooz Jewels
This is a pattern to crochet your own Big Paws blanket which is covered in large paw prints. Overlay mosaic technique is used throughout the body of the blanket. Two colors are alternated, one colour per row.
Of course you can make this pattern in monochrome as well, or in other color combinations that will fit your current decor.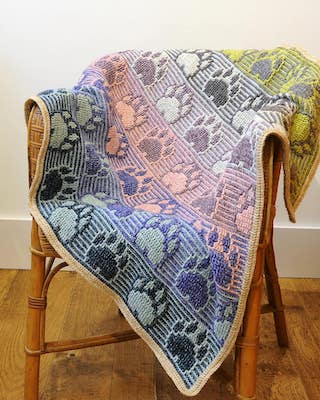 Get the Pattern by Sooz Jewels here
HAVE FUN MAKING THESE CROCHET PAW PRINT PATTERNS AND SHOWING OFF THE LOVE YOU HAVE FOR YOUR FURRY FRIEND.
Inspire others by sharing your works on our Facebook Page. We'd love to know what everyone's making!

The fun doesn't stop here either! Along with these gifts for pet parents, we also have some excellent pet gifts for our pets themselves: Crochet Dog Toys Patterns, Crochet Dog Sweaters, Crochet Dog Hat Patterns, Crochet Patterns For Cats, Crochet Cat Toy Patterns, Crochet Cat Hats, and Crochet Cat Bed Patterns.
Celebrate the love for our four-legged family today with these crochet paw print patterns!