Finding patterns for crochet otters can be a real challenge. This article might not be for everybody, but this has to be one of our favorites!

Otters are adorable, but for some reason, they are one of those lovable creatures that we don't see as much in stuffed animals and products. So, if you have an otter lover in your life, we hope you'll find something here for them.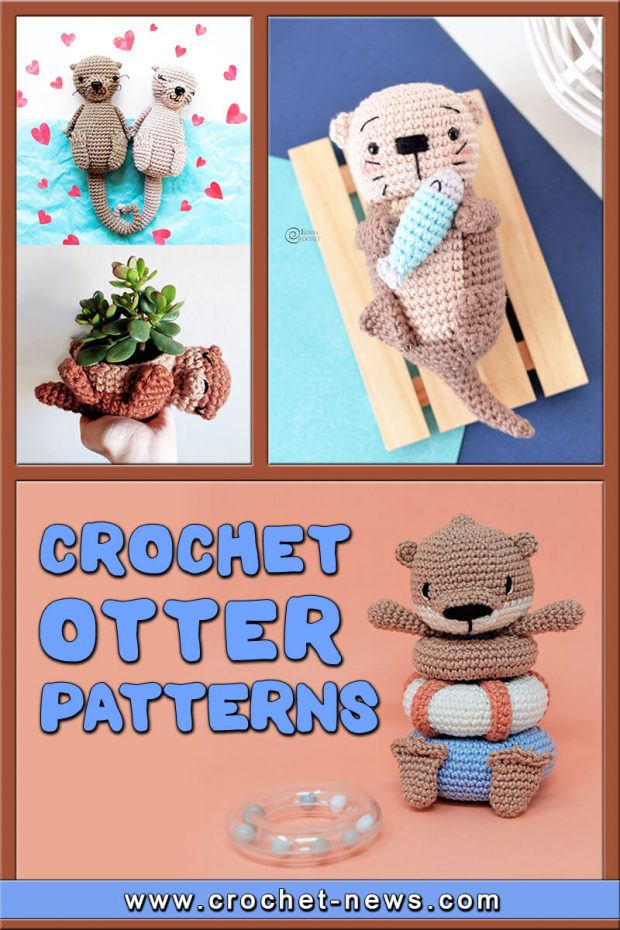 20 Otter Crochet Patterns
If you have someone in your family or friends who loves otters, or just cute fluffy animals in general, then these patterns below would be a perfect gift to make for them!

1. Crochet Otter Friends Pattern by Theresa's Crochet Shop
Create your own adorable little otter in just a couple hours! This simple pattern includes detailed instructions and pictures on how to crochet and assemble all the parts to make this little otter.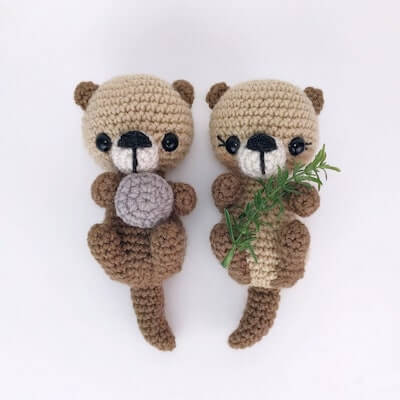 Get the Pattern by Theresa's Crochet Shop here

2. Amigurumi Otter Family Free Crochet Pattern by Spin A Yarn Crochet
Have you ever seen pictures of a mother sea otter embracing her fuzzy little otter pup as they float along? It's one of the sweetest displays of parent-baby affection in the animal kingdom.

This free otter crochet pattern is made in a Ragdoll style; separate pieces worked in flat rows and then joined together to give them that unique 2-D look. Momma/Poppa Otter has 15 separate pieces and Baby Otter has just 5 separate pieces.

The finished measurements of Momma/Poppa Otter are approximately 30cm/12″ from top to bottom and Baby Otter is approximately 15cm/6″ from top to bottom.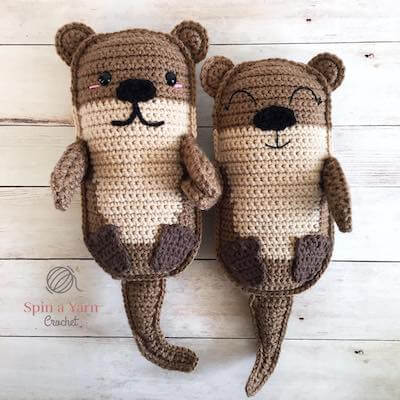 Get the Pattern here

3. Crochet Otter Planter Pattern by HELLO Happy
Make an adorable otter mini planter with this crochet pattern! This planter is for baby succulents and air plants, fitting a pot of 2-2.5 inches in diameter & height.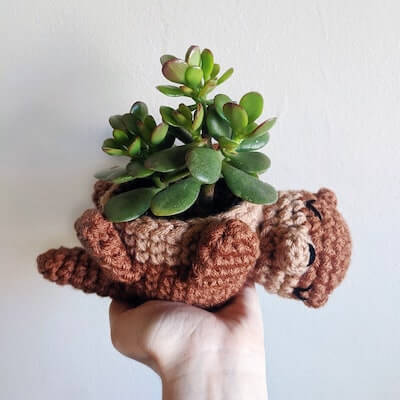 Get the Pattern by HELLO Happy here

4. Free Otter Crochet Pattern by Curious Papaya
Have you seen anything more adorable than a pair of cuties utterly in love? Of course not! This sea otters crochet pattern is a perfect project for crocheters of all levels.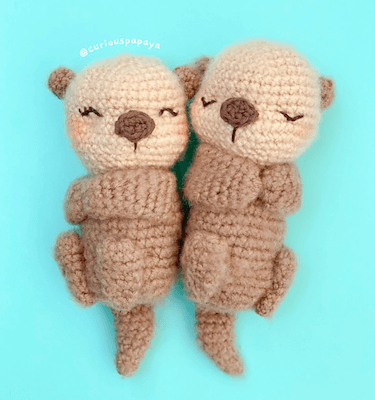 Get the Pattern here

5. Gilbert, The Otter Crochet Pattern by Elisa's Crochet
Gilbert, the amigurumi otter is just about to munch down on a delicious fish. Consequently, he'll be a perfect dinner-time companion for your little one who refuses to eat.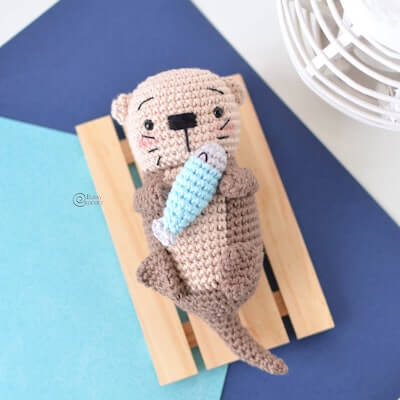 Get the Pattern by Elisa's Crochet here

6. Amigurumi Otters In Love Crochet Pattern by Airali Design
This cute amigurumi couple make a great gift for a sweetheart. Otters hold paws while they sleep so they don't float away from each other and the tails of these two curl together to make a heart!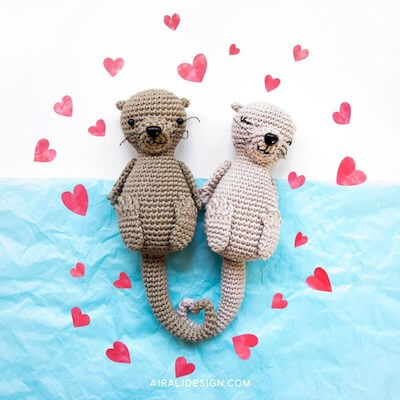 Get the Pattern by Airali Design here

7. Ollie, The Otter Crochet Pattern by Lemon Yarn Creations
Meet Ollie, a lovable sea otter from North America who adores holidays especially Valentine's day! For this occasion she decided to put on her favourite cozy sweater and give little hearts to all her best friends. Will Ollie be your otter half this Valentine's Day?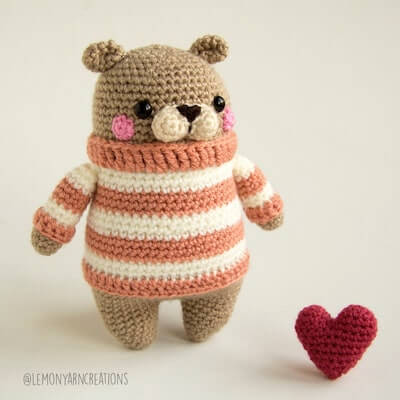 Get the Pattern by Lemon Yarn Creations here

8. Christmas Otter Family Crochet Pattern by Crafty Is Cool Crochet
Now you can crochet your own little otter family just in time for Christmas. Mommy otter measures 11-11.5″ tall and the boy is 10″ tall, the perfect soft squishy size for hugging and carrying or just setting out for a super unique Christmas decoration.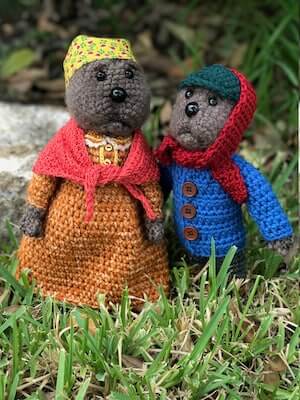 Get the Pattern by Crafty Is Cool Crochet here

9. Otter Crochet Pattern by Miss Eni
With the little otter as a plug-in tower, you can make small children/babies and moms happy. If you replace one of the rings with a rattle ring, your interactive toy will even make noises. Isn't that wonderful?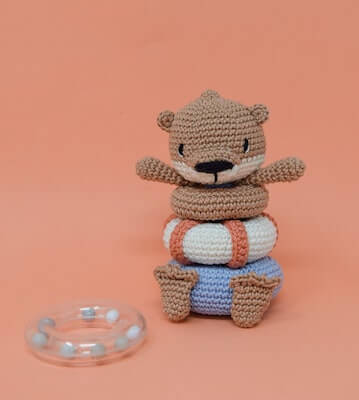 Get the Pattern by Miss Eni here

10. Amigurumi Sea Otter Crochet Pattern by Crafty Kitty Crochet
You'll find no other otter crochet pattern as fun, easy, and fluffy as this amigurumi Sea Otter! It works up so quickly and uses only a few basic stitches, and it truly resembles one of the sea's cutest creatures when finished.
Plus, it's just the right size to use as a stuffed toy or decoration!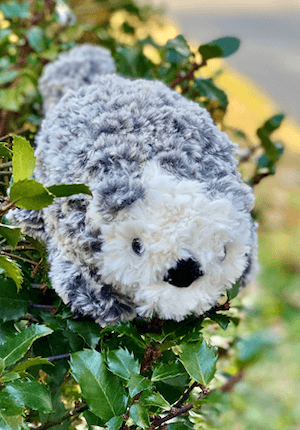 Get the Pattern here

11. Otis, The Otter Crochet Pattern by Critterriffic Crochet
Otis, the otter makes great table toppers for markets, or gifts for the animal loving coffee aficionado in your life. These also make great mason jar covers, or add a zipper and seam the bottom up for a pocket sized pouch!
Get the Pattern by Critterific Crochet here

12. Crochet River Otter Pattern by Make It Easy Craftroom
This realistic adorable crochet River otter amigurumi toy can be a great gift for a young wildlife explorer.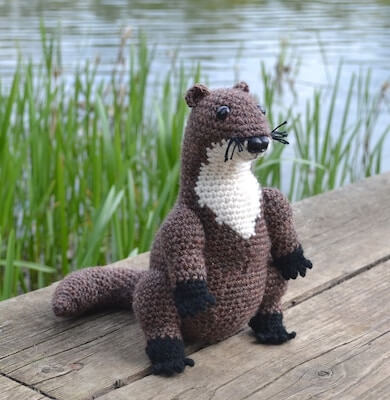 Get the Pattern by Make It Easy Craftroom here

13. Jumbo Sea Otter Crochet Pattern by The Crochet Chameleon
This crochet pattern will help you to make your very own jumbo sea otter. It also contains instructions to make a crochet starfish and a crochet seashell.
When complete, your finished jumbo sea otter will be approximately 13 inches long head to tail and 5 inches wide at the arms.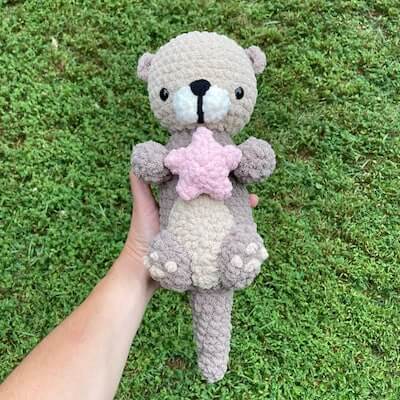 Get the Pattern by The Crochet Chameleon here

14. Otter Family Amigurumi Pattern by Ami Amore
Here is a family of adorable, playful otters. Of course you can give these guys a home, and they will bring you and your kids so much joy! A fun and quick pattern to crochet, make yourself a cute otter family today!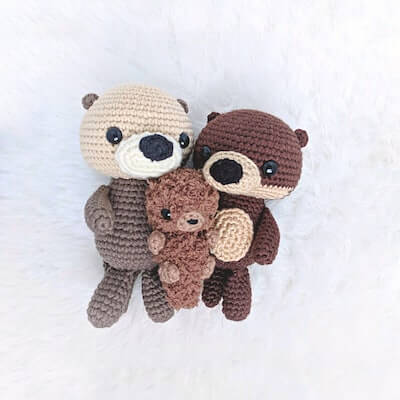 Get the Pattern by Ami Amore here

15. Mummy And Baby Otter Crochet Pattern by Sarah Louise Read
How dreamy is the combination of pink and orange yarns in a stripe sequence? The colour combo make up the head and tail, which are worked all-in-one along with the body – meaning you'll get a really neat finish with less sewing up.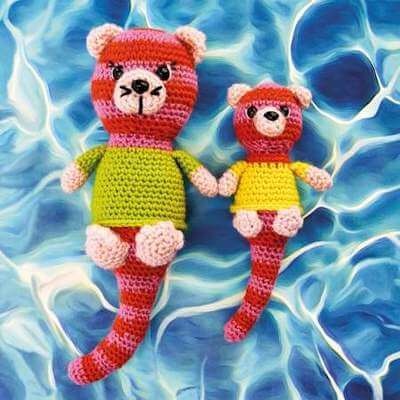 Get the Pattern here

16. Free Otter Crochet Pattern by The Friendly Red Fox
You will instantly fall in love with this adorable crocheted baby otter. He is so cute and charming he will make a perfect addition to your amigurumi collection.

This crochet otter is about 8 inches tall and 4 inches wide. His arms are not stuffed and are attached to the body to create that lovable, cuddly look.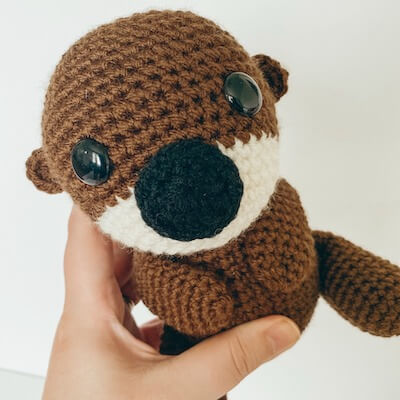 Get the Pattern here

17. Crochet Otter Applique Pattern by Nella's Cottage
This crocheted otter is just too cute and would be darling added to any blanket, pillow, wall hanging or any decor. The pattern is easy to follow and the end result is just wonderful!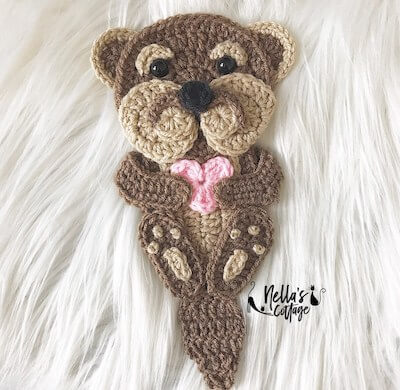 Get the Pattern by Nella's Cottage here

18. Crochet Otter Rattle Pattern by KNUFL
Looking to create a little gift for a new bundle of joy? This Otter Rattle would be perfect! It also would make a great gift for a baby shower or a hospital visit!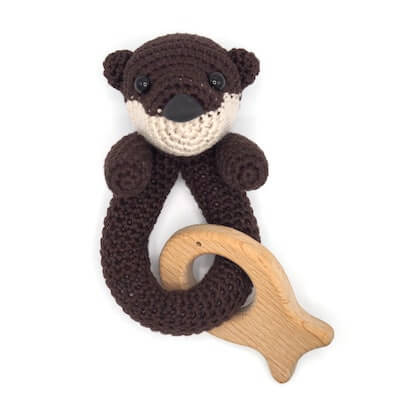 19. Crochet Amigurumi Otter Pattern by Hobby Craft
Meet Oakley, the Otter! The amigurumi character is a fun-loving little chap who adores his fish pal, Fin. Follow this pattern to crochet your very own Oakley the Otter. He's sure to be an adorable addition to any amigurumi collection.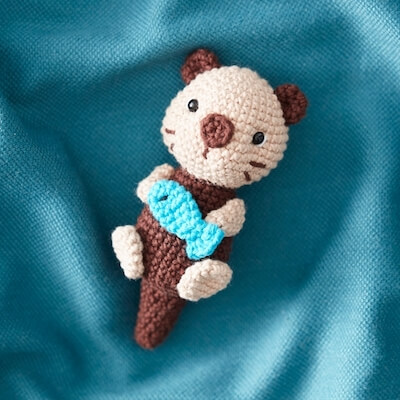 Get the Pattern here

20. Crochet Otter Pattern by Toristory Creations
This free amigurumi crochet otter pattern is perfect for the animal lover! You can follow this pattern with different sized yarn and crochet hooks to change how small or large your crocheted otter will turn out.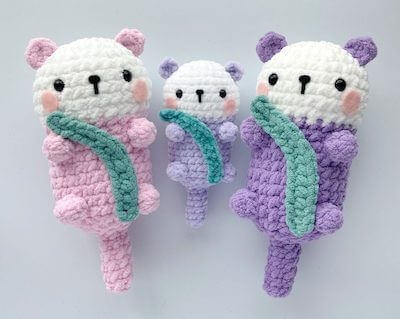 Get the Pattern here
WITHOUT A DOUBT, THESE CROCHET OTTER PATTERNS ARE UTTERLY ADORABLE TO PASS ON!
If you want to create a whole zoo of animals in addition to your crochet otters, we have lots of other ideas on the site for you too. You can make a panda, a fox, a peacock, a giraffe, an elephant, guinea pig and a lot more!

When you're done making your own crocheted otters or any of the animal crochet patterns we have shared, be sure to share your finished creations with us on our Facebook Page.

So whether you are looking for another adorable animal to crochet this year or simply love otters – you'll surely have fun making a crochet otter today!