Today we bring you these 17 crochet mouse patterns everyone should make this year! While you may be cautious in real life, these cuties will do you no harm!
Not only are these crocheted mice take no time at all to create, but we think the "mouse" topic is also perfect for this year – Year of the Metal Rat!
Of course, they are in fact mice patterns, but we won't dwell on that little detail.
So whether you are looking for another adorable animal to crochet this year or simply love mice – take a look at these crochet mouse patterns we have for you today!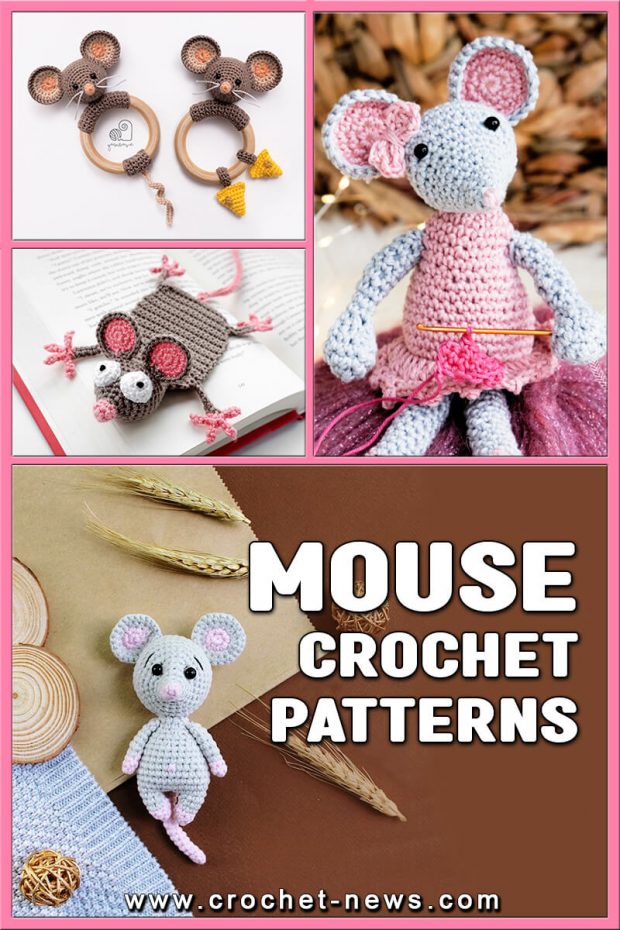 1. Lucy, The Princess Amigurumi Mouse Pattern by The Little Hook Crochet
Meet Little Lucy. She loves all things sparkly and pretty. She adores playing the role of a fairy princess and you will often find her spinning and twirling around!
If Lucy is made with 4-ply fingering yarn and a 2.5 mm hook, she will measure 6.75 inches / 17 cm tall from the top of her tiara to her feet.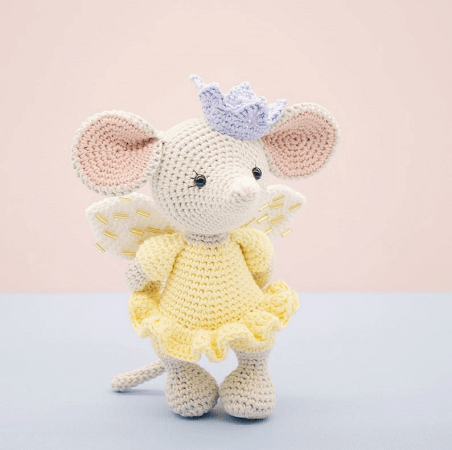 Get this Amigurumi Mouse Pattern by The Little Hook Crochet here

2. Lisa, The Mouse Crochet Pattern by Yarn Hild
Lisa is a fun and simple amigurumi mouse pattern for a crochet mouse. You can find many pictures in this pattern that shows you how to crochet the different parts.
The finished crochet mouse is about 16 cm/6 inches long. You can customize the dress and add stripes if you want to.
There is also a link to a daddy mouse and a baby mouse in the blog post.
This amigurumi mouse could be a fun set to play with for children!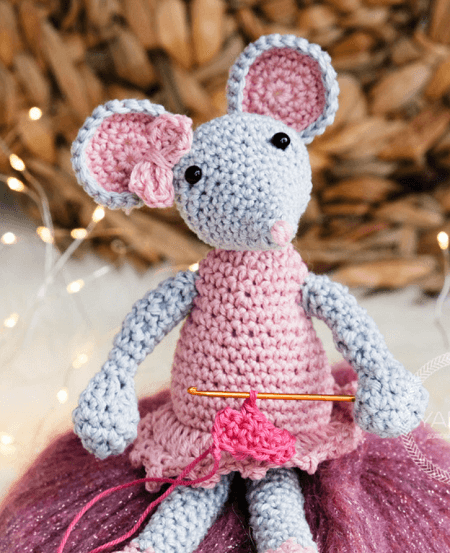 Get the Pattern here

3. Headband Free Crochet Mouse Pattern by By Holleyshae
This Headband Free Crochet Mouse Pattern is a fun way to celebrate the Year of the Rat! It's a quick and easy project perfect for last-minute gifts, costumes or just to add to the dress-up box!
This free crochet mouse pattern also uses minimal amounts of each yarn so it's a good stash buster project.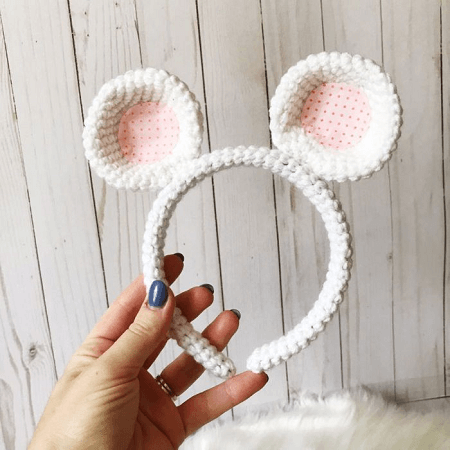 Get the free crochet mouse pattern here

4. Amigurumi Free Crochet Mouse Pattern by Spin A Yarn Crochet
This Amigurumi Mouse is a unique amigurumi made in the ragdoll-style; separate pieces worked in flat rows and joined together to give it that charming and distinctive 2-D appearance.
The finished dimensions are approximately 19 cm/7.5″ from top to bottom. A crocheted balloon pattern is also included!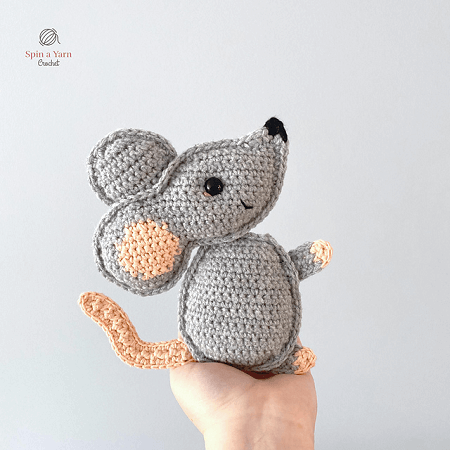 Get the Pattern here

5. Ballerina Mouse Crochet Pattern by Lilleliis
This Ballerina Mouse brings a lot of joy to little girls. Her big ears are meant for whispering the most secret thoughts. Ruffled skirt, puffed sleeves, and ballerina shoes give her the right look.
The mouse crochet pattern uses a 3.5 mm crochet hook and DK (8 ply) weight yarn. She will measure about 35 cm (14 inches) – perfect size for the little ones to hold.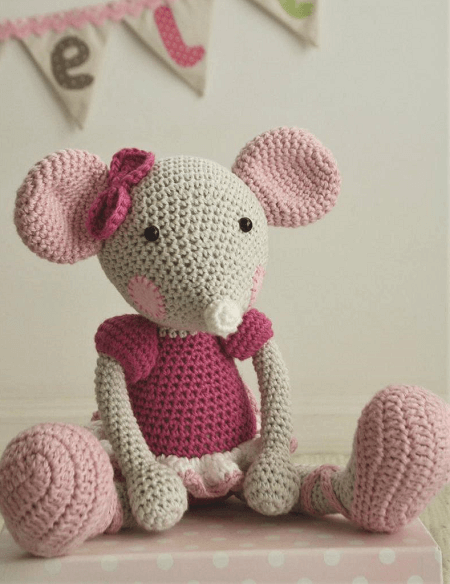 Get the Pattern by Lilleliis here

6. Mouse Bookmark Crochet Pattern by Supergurumi Shop
Slip flattened crocheted mouse between the pages and extend "tail" to the bottom – an instant bookmark!
This Crochet Mouse Bookmark will make you burst out laughing or at least smile. Once finished, this bookmark will measure 31 cm in length.
This squished mouse bookmark will teach you and your loved one to love and protect books, in a fun, playful way!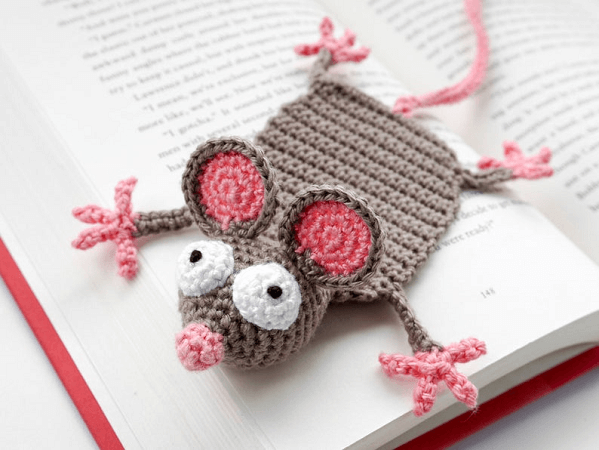 Get the Pattern by Supergurumi Shop here

7. Field Mouse Baby Booties Crochet Pattern by Hopeful Honey
Inspired by Mrs. Tittlemouse from the Miss Potter books and movie, these Field Mouse Baby Booties are cute as they can be.
In a blue-gray and pink color scheme, these crochet baby booties will match nearly everything you dress your child in and will make an adorable statment every time.
This free crochet mouse pattern comes with an excellent shape for sole and shoe and a cute mouse design will keep any baby entertained.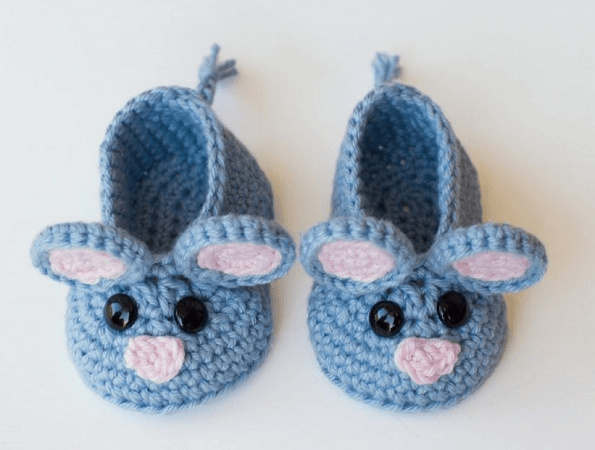 Get the Pattern here

8. Max, The Mouse Rattle Crochet Pattern by Yarn Wave Shop
Make this funny Crochet Mouse Rattle for the baby of the house, to discover new features and sensations. It will be an inseparable friend.
The size of the finished toy is about 18 cm (7.1 inches) if using indicated yarn and wooden ring. An easy toy for those tiny fingers to grab!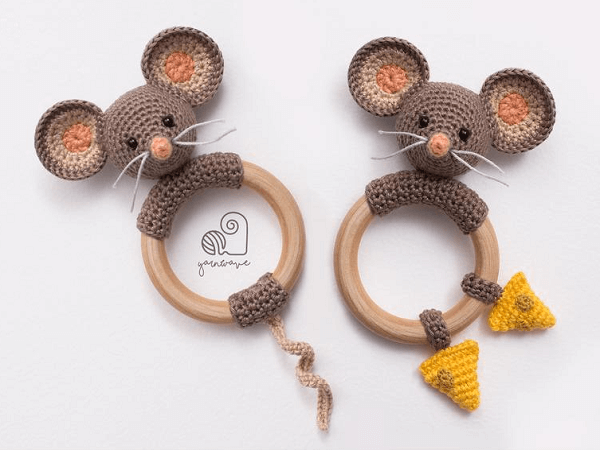 Get the Pattern by Yarn Wave Shop here

9. Lovey Blanket Crochet Mouse Pattern by Bowtykes
This adorable Crochet Mouse Lovey Blanket is a plush toy and security blanket all in one!
It's perfect for baby's little hands and will surely become a friend for your baby.
An I hook with worsted weight yarn should give you an 18" blanket. DK weight also works well with the pattern.
You can also check out this Crochet Elephant Lovey Pattern.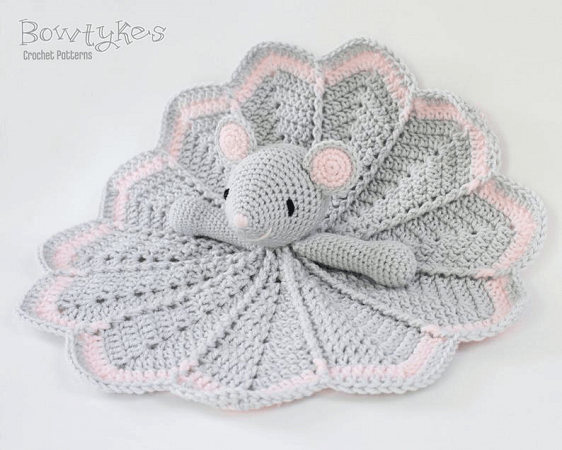 Get the Pattern by Bowtykes here

10. Venya, The Amigurumi Mouse Pattern by Amigurumi Space
To create this sweet amigurumi mouse, you only need basic skills and a little time. She will be a warm and true friend for life!
Venya, the mouse will measure 12 cm (4.7") in height when made with acrylic yarn and a 1.0 mm crochet hook. You can also use cotton yarn or jeans yarn and a 2.0 mm crochet hook.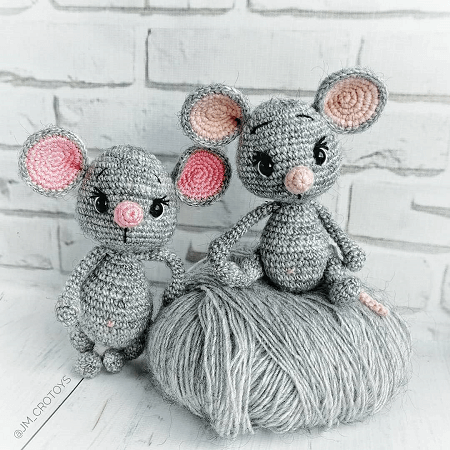 Get the Pattern here

11. Micro Mouse Crochet Pattern by Nansy Oops
This micro mouse will happily settle in a dollhouse. Its tiny size allows to hide an eco-friendly amigurumi mouse in a pocket or purse and travel together. The best friend that is always around!
The final size will depend on the yarn you use. To get the smallest size (2 сm/0.8 in), use embroidery thread.
May be substituted with thin sewing thread. The thinner the thread, the smaller the toy will turn out.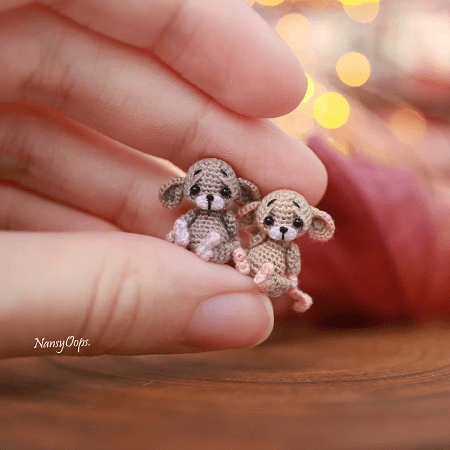 Get the Pattern by Nansy Oops here

12. Applique Crochet Mouse Pattern by Nella's Cottage
Make an adorable mouse applique to embellish your kid's clothes, blankets, hats, scarfs, or bags.
You can also use this applique for kid's room decor and will look great on a handmade greeting card, as well.
This work up to be about 7″ tall with 3.75mm hook. You can experiment with different yarn weights to make your mouse applique in different sizes.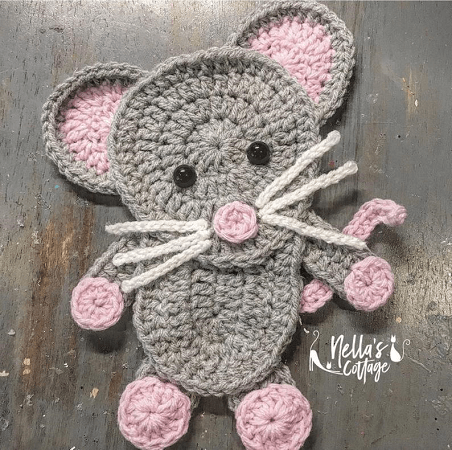 Get the Pattern by Nella's Cottage here

13. Manfred, The Amigurumi Mouse Pattern by Il Dikko
Manfred, the mouse comes with his own cheese home. This would make a great gift for any little mouse lover or a great little toy.
Manfred is approximately 11 cm by 8 cm and the cheese is 15 cm by 8 cm when made with cotton yarn and a 3.0 mm hook.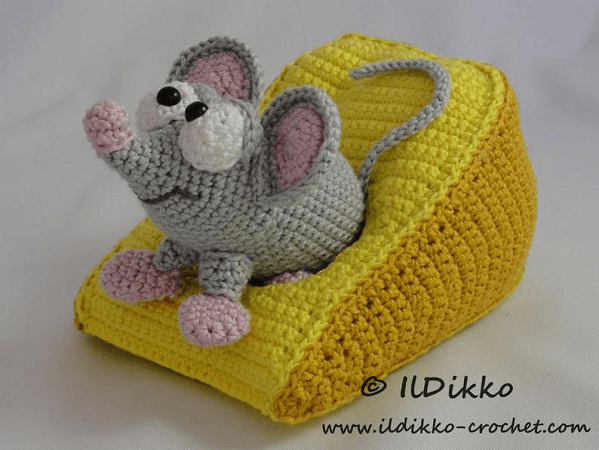 Get the Pattern by Il Dikko here

14. Piu, The Mouse Crochet Pattern by Laydiy
Piu, the mouse loves seeing the world and traveling. Maybe it is you who will create this mouse, give this brooch as a gift or wear it by yourself and show her around the world.
Due to the presence of small parts, this toy is not suitable for young children. When made with the same materials as the designer, Piu will measure 6 cm (2.36 inches).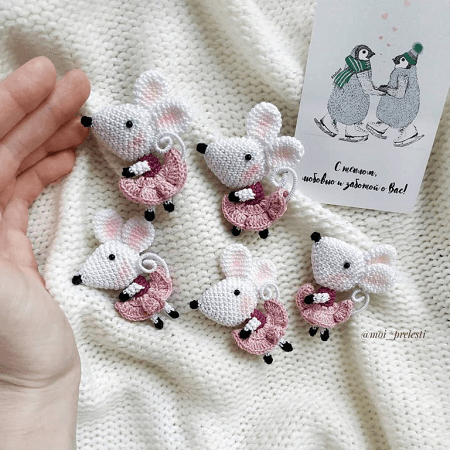 Get the Pattern here

15. Mochi, The Mouse Amigurumi Pattern by Amiguruku
Make your own adorable Mochi, the mouse in just a few hours! Use your imagination to customize its colors for endless possibilities!
This sweet little mouse plush is perfect for adults and children alike. The easy-to-follow pattern is even suited for beginner crocheters.
A fun and quick pattern to crochet, make yourself a sweet-not-scary amigurumi mouse friend!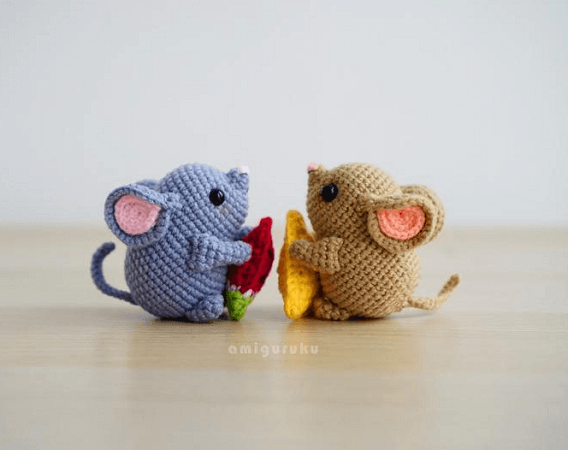 Get the Pattern by Amiguruku here

16. Little Mouse Crochet Pattern by Bears Toys Amigurumi
How could one not love these beautiful little babes? This Little Mouse Crochet Pattern is so darling and you can make them larger size by using a different type of yarn.
These tiny mice will be adorable keepsakes for family and friends!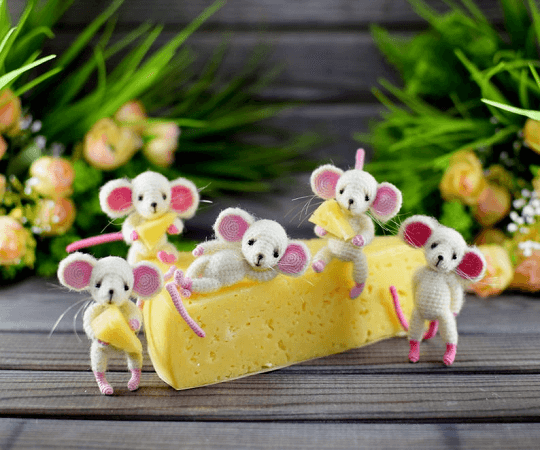 Get the Pattern by Bears Toys Amigurumi here

17. Free Crochet Mouse Pattern by Amigurum
Make this sweet little crochet mouse to give to your little one. To create this toy you will need YarnArt Jeans yarn and 2.5 mm crochet hook.
If you need a pocket version of this lovely little animal, this adorable little creature below will absolutelt fit into your palm!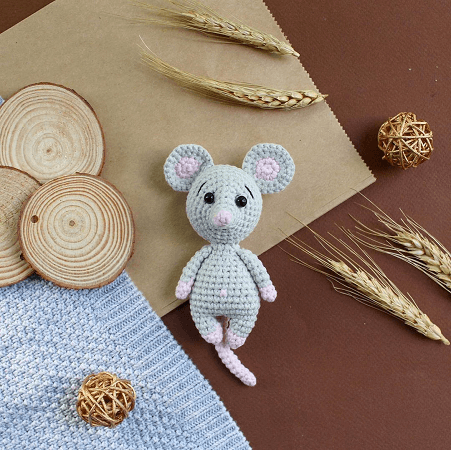 Get the Pattern here
You will love creating these little crochet mouse patterns for all the mouse and rat lovers in your life!
Make a bunch of them, every one of you deserves a creepy-cute companion!
Once finished, please have a moment to share your works on our Facebook Page. We love seeing you bring these patterns to life with your own special touches!
And also, take time to browse all other patterns we have here. You will surely find something interesting to crochet next. Like these crochet Rooster patterns, crochet zebra patterns, crochet Racoon patterns, crochet rat patterns and more.
If you weren't the biggest fan of mice before, these adorable crochet mouse patterns will certainly change your mind!