There's no denying it: crochet flower bouquet will always be popular. And for good reason. Not only are they pretty little marvels, but they're everlasting – and that's more than we can say for the real varieties!

They can help you mix up your gifting, they make perfect wedding accompaniments, they can dress up a garment or accessory, they can be used for gorgeous homeware ideas, they make great party favours – the list truly goes on.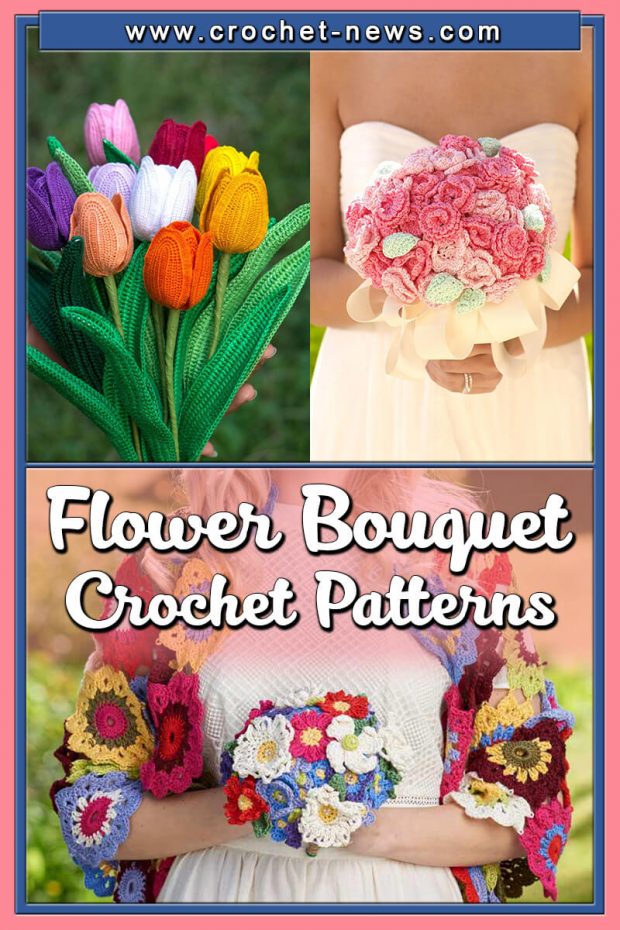 You give flowers and bouquets to show the depth of your love, but then they wither within a week's time. With these fun and colorful crochet flower bouquet patterns, the blossoms–and your sweet gesture–could last a lifetime.

1. Mom's Day Bouquet Crochet Pattern by Red Heart
Spring has sprung with a fresh bouquet of crochet flowers including a carnation, corona, daffodil, iris and daisy! Stitching in your favorite shades, crochet a lively arrangement featuring mom's favorites.
Or, do as the designers suggest and plant these in mom's front yard as a fun way to "yarn bomb" her. No matter how you show affection, it's a thoughtful gift that she won't soon forget.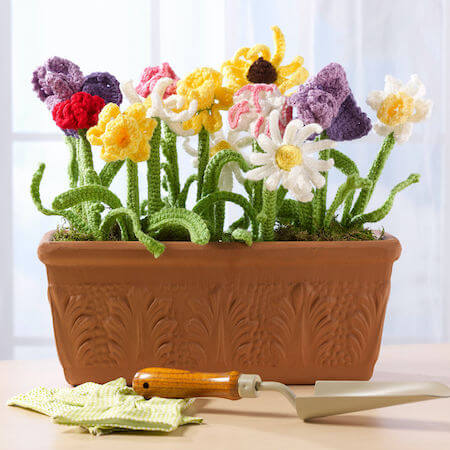 Get the Pattern here

2. Crochet Wedding Bouquet Pattern by Gathered
For flower girls, for centrepieces or for you, a crochet wedding bouquet is a lovely project and it's completely wilt-resistant!
A crochet wedding bouquet is a great project for beginners and more experienced crocheters alike – quick little crochet wedding flowers that you can churn out in no time!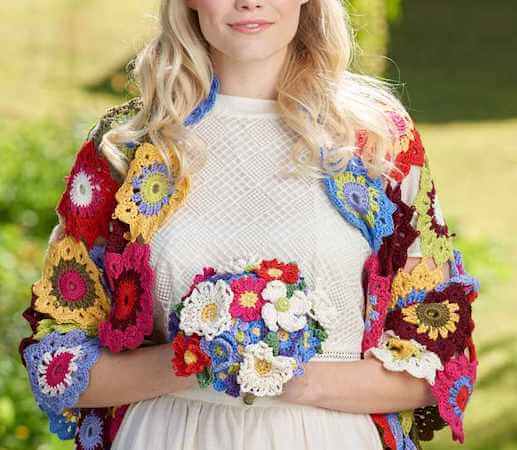 Get the Pattern here

3. Crochet Tulip Bouquet Pattern by Happy Patty Crochet
These medium size crochet tulips are very elegant, and when made in multiple colors make extra-attractive bouquets! These tulips work wonderfully as secondary piece in arrangements, and would make a beautiful gift even as a single cut flower.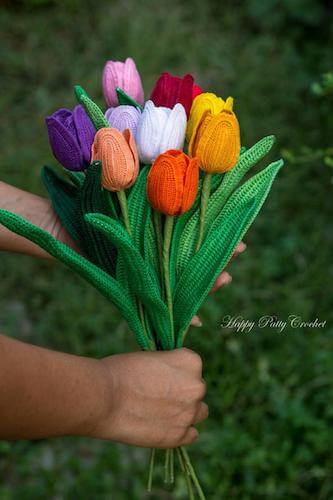 Get the Pattern by Happy Patty Crochet here

4. Lavender Crochet Flower Arrangement by Pippa Patterns Crochet
Lavender has got to be one of our favorite plants, we love the scent as you walk past them. Although they're maybe not a common crochet flower pattern, these ones are almost as good as the real thing!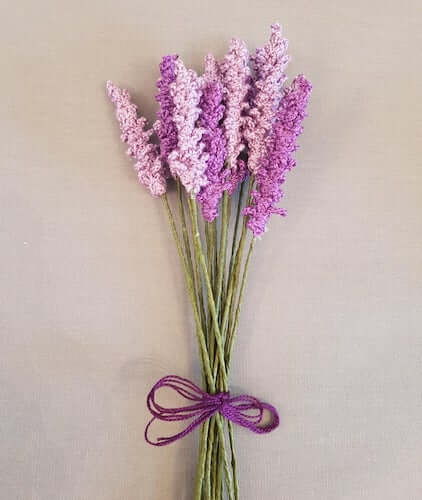 Get the Pattern by Pippa Patterns Crochet here

5. Sunflower Bouquet Crochet Pattern by Craftsy Amore
If you are looking for a gift of flowers that keeps on giving, this Sunflower Bouquet Free Crochet Pattern makes crochet sunflowers the perfect gift.
This sunflower is pose-able and will look delightful in a vase, perhaps even mixed in with other crochet flowers or faux flowers.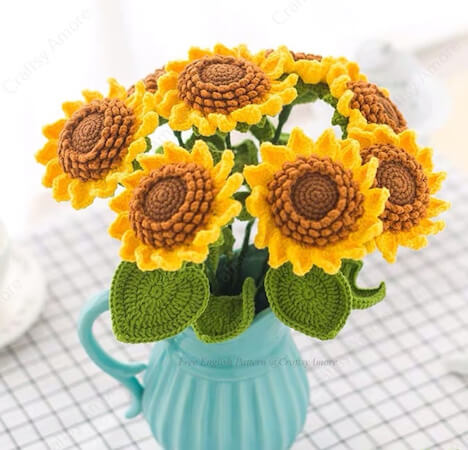 Get the Pattern here

6. Crochet 3D Flower Bouquet Pattern by Crochet Pattern Bonanza
You will love these gorgeous, golden trumpet flower blooms! You never have to worry about them wilting when you make this flower and can even be arranged with other types for an elaborate bouquet of beautiful, fresh crochet flowers that are always in bloom!
Work these up quick and accent any area of your home or give them as a gift!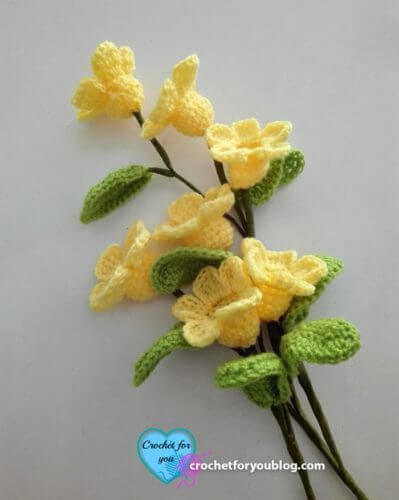 Get the Pattern here

7. Crochet Flower Bouquet Pattern by Vi Tasja
Spring has sprung with a fresh bouquet of crochet flowers including a rose, carnation, tulip, and daisy! Why settle for making one crochet flower when you can craft a whole bouquet?
This project makes the perfect gift for birthdays, anniversaries, Mother's Day, and more. Of course, you can also craft one for yourself!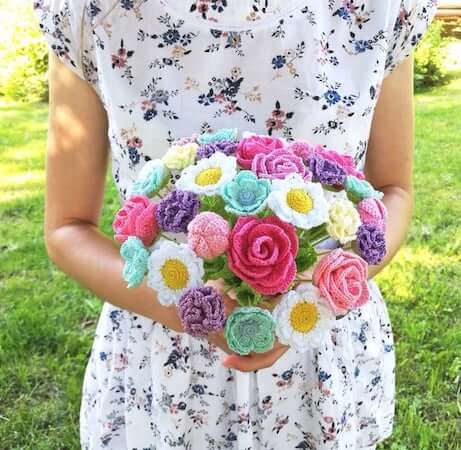 Get the Pattern by Vi Tasja here

8. Daffodil Crochet Bouquet Pattern by Yarnspirations
Imagine happy daffodils bringing unexpected smiles every time you pass them by. Make pretty blossoms by crocheting in featured shades, or in colors that have more meaning to you.
Brighten up someone's day, or craft a bouquet for mom on her birthday.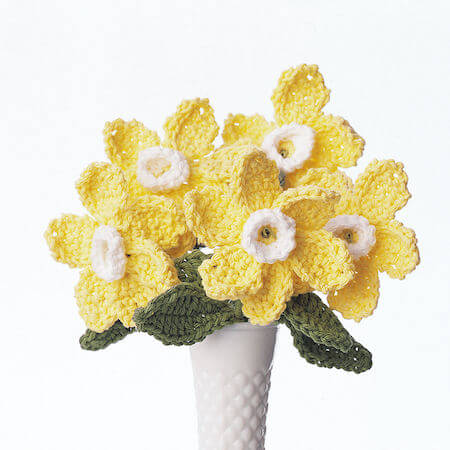 Get the Pattern here

9. Crochet Bridal Nosegay Bouquet Pattern by Crochet Kingdom
Beautiful shades of pink crocheted roses and carnations are an elegant addition to the bride's ensemble. Use these flowers as a nosegay, as shown, or to decorate at the bridal reception.
For more bridal crochet inspirations here.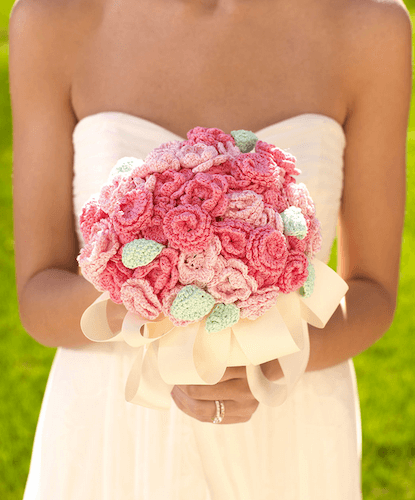 Get the Pattern here

10. Crochet Hydrangea Bouquet Appliqué Pattern by Crochet By Colleen US
This pattern is perfect for beginners and is a quick and easy project that will be perfect to make gifts for everyone you know. Perfect to put on a bag, use as wall decor or place on card stock as a greeting card!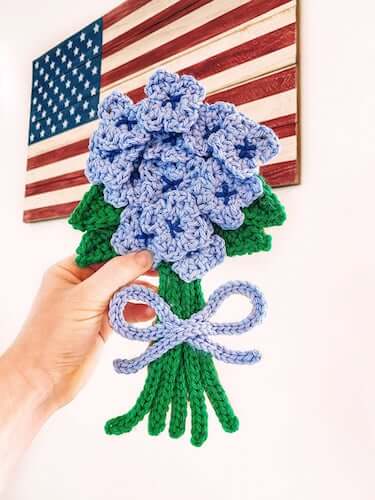 Get the Pattern by Crochet By Colleen US here

11. Free Crochet Flower Bouquet Pattern by Tracey Todhunter
If you are a beginner, start with these rose or spike flowers, before moving onto the gerberas and daffodils. The stems are cunningly made from plastic drinking straws and green yarn.
Crafted flower bouquets are a big wedding trend right now so why not adapt this pattern to suit your special day?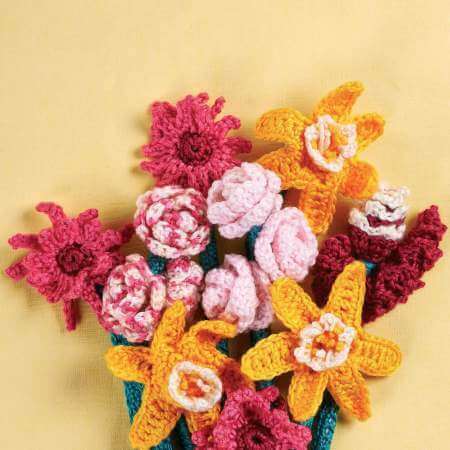 Get the Pattern here

12. Crochet Daisy Bouquet Pattern by Yarnspirations
Imagine white and yellow daisies bringing happiness and joy to any room. Begin crocheting these delicate blossoms in the colors shown, or use shades that have more meaning to you.
Give a bunch to brighten someone's day, or craft a bouquet for Mother's Day.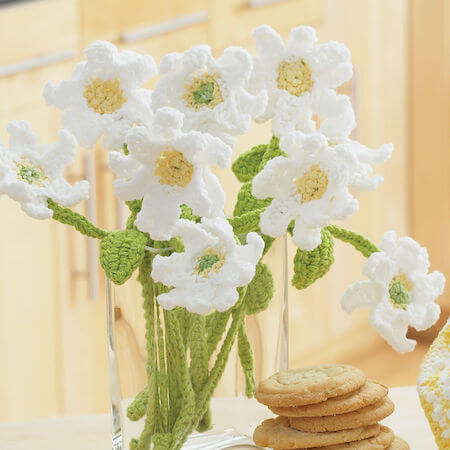 Get the Pattern here

13. Chunky Spring Flower Bouquet Crochet Pattern by Crochet Spot Patterns
Crochet a lovely, chunky spring bouquet to brighten up your home in just a few minutes! All you need is a small amount of chunky yarn, a crochet hook, some wooden dowels and hot glue.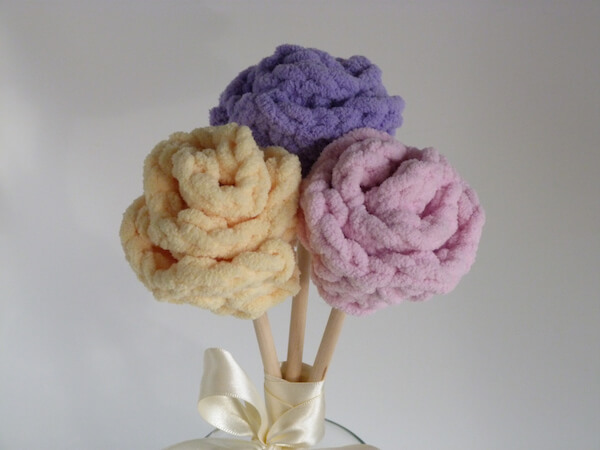 Get the Pattern here

14. Crochet Dahlia Flower Bouquet Pattern by Pippa Patterns Crochet
Use this pattern to crochet a beautiful bouquet of dahlias for a loved one or to simply decorate around your home. Who wouldn't love flowers that last forever and need no watering?
Feel free to crochet as many dahlias as you like, make a single one or even dozens. Mix and match colors to create a bouquet that is uniquely yours.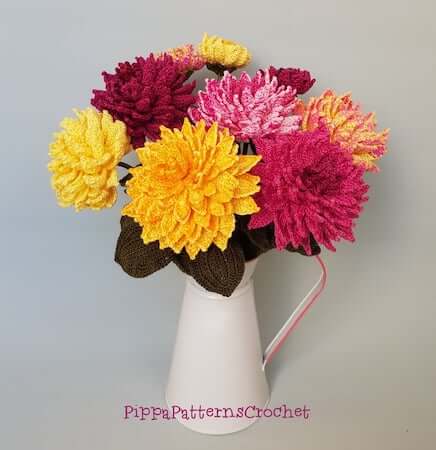 Get the Pattern by Pippa Patterns Crochet here

15. Crochet Flower Bouquet by Repeat Crafter Me
If you were going to crochet a big bouquet, you would need a quick flower pattern. None of these time consuming patterns that have multiple rounds or separate pieces to sew together. This bouquet of flowers works in one long strip, and you only have to chain 20. It may not be the most elaborate flower out there but its simple and looks great in a group.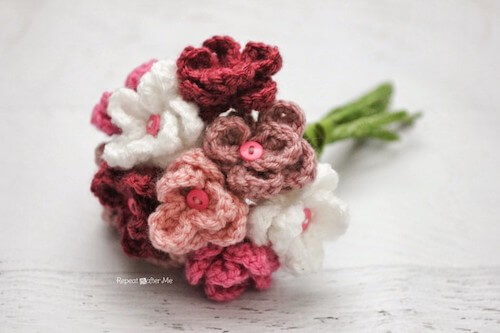 Get the Pattern here

16. Reversible Flower Bouquet and Bride Amigurumi Pattern by Chibi's Craft
A flower bouquet and a bride in one plushie? Yes, it is a reversible amigurumi. Meet the Reversible Flower Bouquet and Bride Amigurumi, which will be a unique, original toy for you or a special gift for your loved one. It's perfect as a decoration or gift for wedding or wedding anniversary, Mother's day, or Valentine's day.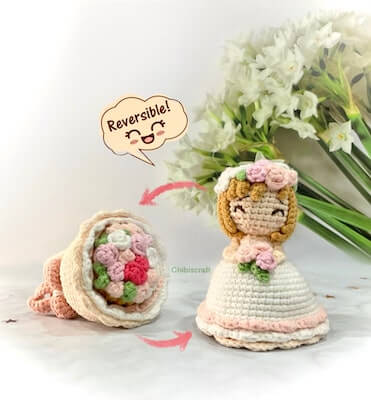 Get the Pattern by Chibi's Craft here

17. Crochet Wedding Flower Bouquet Pattern by La Leh Crochet
Though they may lack the rustic charm of a set of roses, this bouquet of flowers gets much of the same feeling of warmth and admiration across. These crocheted flowers never wilt or die, and the obvious time you'll have put into making them for someone special will not go unnoticed!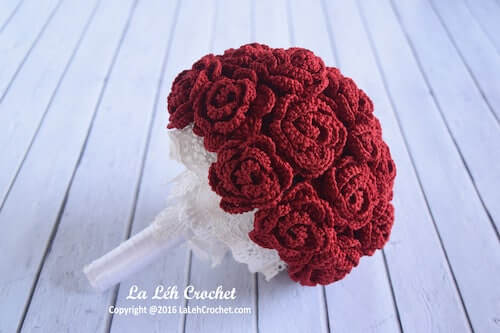 Get the Pattern by La Leh Crochet here

18. Crochet Asters Pattern by Jean Kris Toys
Asters typically bloom in late summer and early fall, so why not make a bunch to enjoy now? These crochet aster flowers are such, little blooms that comes in a variety of colors and sizes, so feel free to get creative with this one!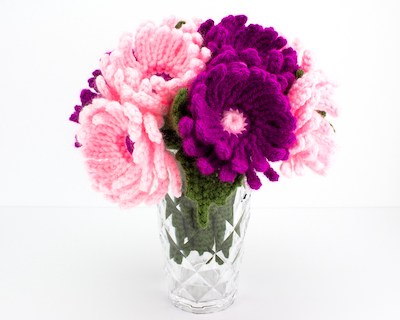 Get the Pattern by Jean Kris Toys here

19. Free Tiny Flowers Bouquet Crochet Pattern by Ollie + Holly
Create a tiny flower bouquet with these four patterns: Billy Balls Flower, Blue Thistle Flower, Eucalyptus Leaves, and Baby's Breath Flowers. Floral wire is required for you to create these adorable flowers.
Get the Pattern here

20. Crochet Hyacinth Pattern by Happy Patty Crochet
Here's a crochet pattern for a Hyacinth inflorescence. This elegant branch is a favorite spring garden flower and would make a stunning decor either by itself in a vase, or as a secondary element in a bouquet arrangement.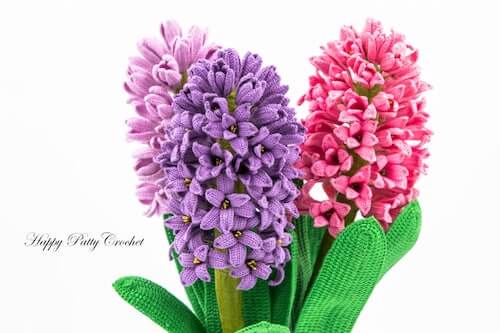 Get the Pattern by Happy Patty Crochet here

21. Crochet Pansy Bouquet Pattern by Yarnspirations
Nothing lasts forever, except this beautiful pot of pansies that stays fresh and never wilts. Crochet them in the spring shades shown, or imagine your own perfect bouquet. Invest some time on this cheerful project that's thoughtful for Mother's Day or anytime.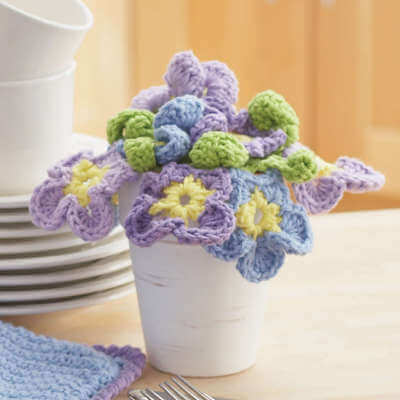 Get the Pattern here

22. Mother's Day Crochet Bouquet Pattern by Gathered
Whether you're after a sweet Mother's day crochet gift, or just want to make a little something special for the lady in your life, this fantastic crochet bouquet will go down a treat! The best thing about these crochet flowers — no need for watering, and they'll last a lifetime — much like a mother's love!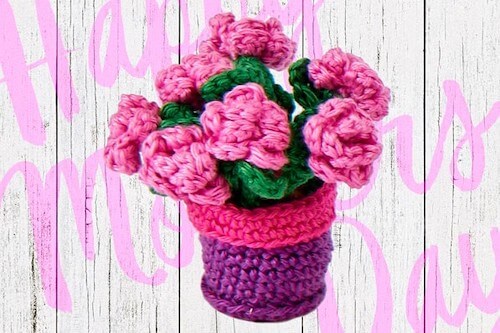 Get the Pattern here

23. Crochet Bridal Flowers Bouquet Pattern by Cre8tion Crochet
These bridal flowers will last a lifetime and are made with 100% cotton. You can also use organic cotton. They will never wither or die, and they can also be made in any color combination you can imagine. The possibilities are endless!
Get the Pattern here

24. Crochet Daisy Mini Bouquet Pattern by Mini Bouquet
This Daisy Mini Bouquet makes an adorable handmade gift, and can easily be attached to a card or note.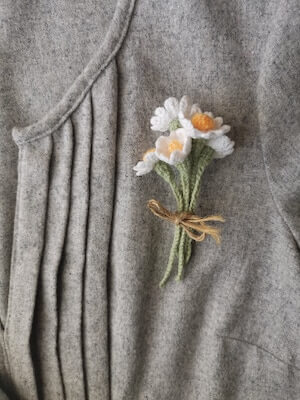 Get the Pattern by Mini Bouquet here

25. Crochet Lily Bouquet Pattern by Berroco
A bouquet of crocheted lilies and wildflowers is a beautiful gift for Mother's Day. There are also instructions to crochet the stem and to crochet the leaves.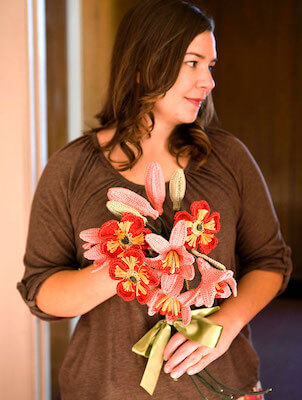 Get the Pattern here

26. Bridal Bouquet Crochet Pattern by The Crochet Architect
This crochet bridal bouquet & boutonniere are sure to be a hit with the bride and groom! They are fun-to-make and help to stretch the wedding budget! These pieces can be customized for any wedding — use colors to coordinate with the bride's dress.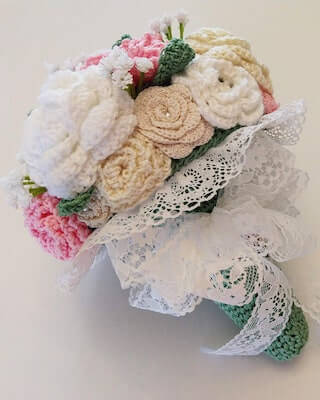 Get the Pattern by The Crochet Architect here

27. Crochet Chamomile Bouquet Pattern by Crochet Objet
These Chamomile Flowers are just a perfect little DIY project to be busy with — they are heart-melting! These flowers will be crocheted in 3 parts: the pollen pad, the petals, and the stem will come after. There are three different petals potions, so you can create a reach bouquet.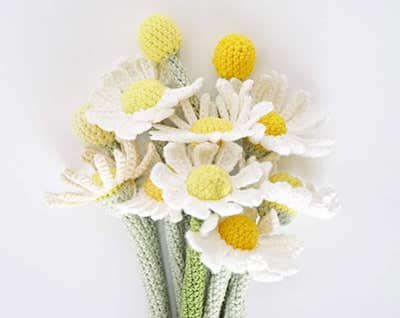 Get the Pattern by Crochet Objet here

28. Bouquet Of Carnation Flowers Crochet Pattern by Hooked On Patterns
Carnations are known for being long-lasting as a cut flower, but now you can crochet a pretty bouquet to last forever. These simple yet beautiful flowers can also brighten up a room for any occasion, and could even make a gorgeous wedding bouquet! You can adapt this pattern to make hair clips or pin badges, as well.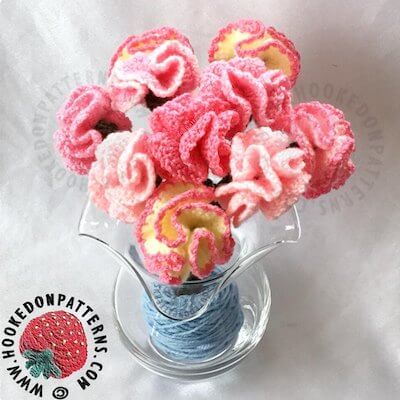 Get the Pattern here

29. Crochet Zinnia Flower Pattern by Happy Patty Crochet
Here you'll find a crochet pattern for the ever-popular and elegant Zinnia flower — these beauties are popular as a primary flower for arrangements and decor and make perfect secondary pieces in bouquets. These blossoms are ideal for any occasion.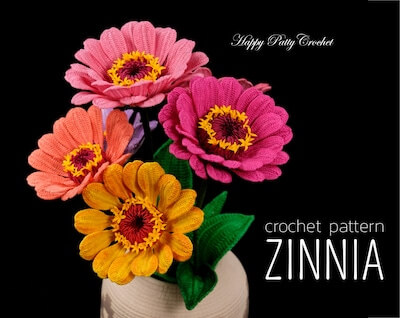 Get the Pattern by Happy Patty Crochet here

30. Crochet Flower Bouquet Pattern by Happy Patty Crochet
What would you like for valentines? Maybe a heartfelt gift and some flowers. What if I told you there is something that could fulfill these two desires at once. This crochet flower bouquet tutorial is that something.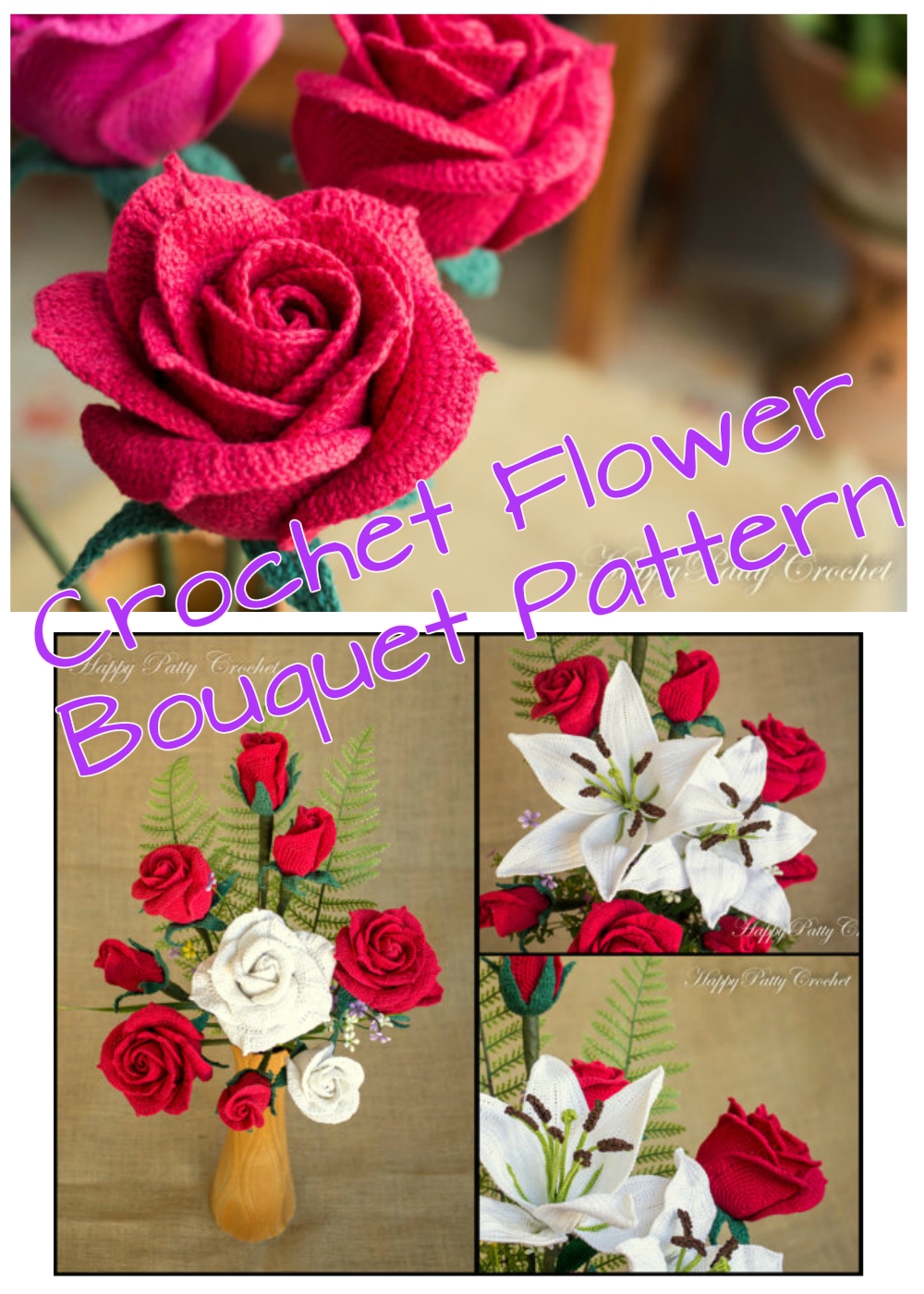 A great gift for a loved one this valentines that will definitely know you care for them.
With it you can bring to life beautiful floral patterns out of yarn. As warm as your creations will be they are bound to melt your lover's heart. The best part about is that these flowers will never wither, never need water and will be a constant reminder of your love for them.
So what exactly do you need for crochet flower bouquet pattern?
Crochet Flower Bouquet Materials:
A size 2.75mm crochet hook
Light worsted weight yarn approximately 1744 yards of white mix color.
Baby light worsted weight yarn, of approximately 437 yards in fuchsia color.
Dark green light worsted weight yarn, approximately 437 yards
Cream light worsted yarn, approximately 437 yards
Sunflower yellow light worsted yarn, approximately 437 yards
Dark red light worsted yarn, approximately 437 yards.
This crochet flower bouquet pattern is somewhat technical meant for beginners to intermediate level but if your fingers are nimble enough it's easy to pick up.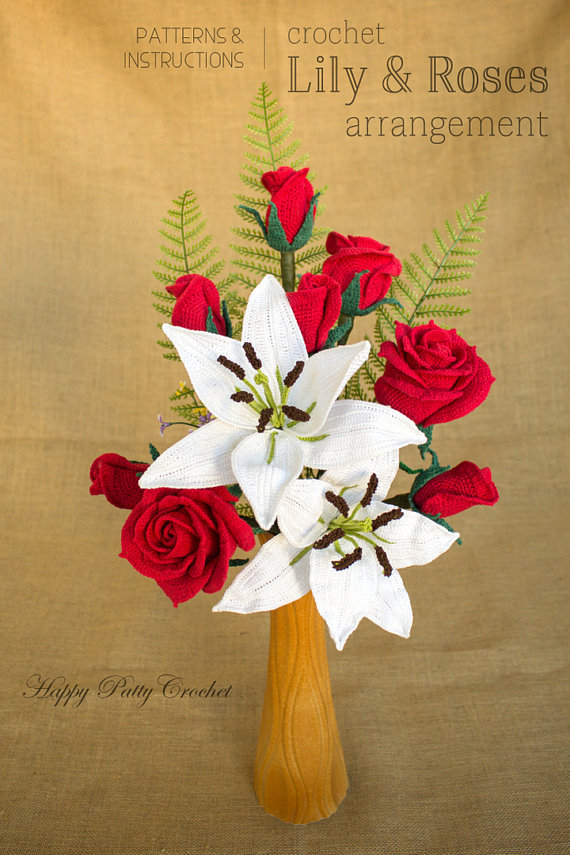 Crochet Four Different Flower patterns
The tutorials will enable you to create four different types of flowers; a lily, closed rose, half-open rose and an open rose. You can combine these four flowers into different patterns and designs. You can also insert them into other crotchet patterns to create even more amazing pieces.
Each flower can also work by itself as hair flowers, brooches and Boutonnieres. There is literally hundreds of applications of this crochet flower bouquet tutorial. It is only limited by what you can imagine doing with it.
Since the flowers are created as singular creations it is easy to incorporate them into other crotchet patterns to create even more stunning pieces.
Take your lovers plain shirt and spruce it up with a nice crotchet flower bouquet pattern and every time he wears it he will think of you. Sow them into a blanket just for the two of you because nothing says romance like a rose covered bed.
The Perfect Gift
Create a bouquet and present it with a box of chocolates and you will take them to the moon and back. You don't have to spend this valentine's just put a little time into a bit of crocheting and you are bound to get lucky if you know what I mean.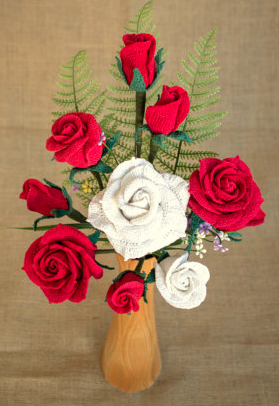 Wouldn't it be nice to give something of the work of your hands this valentine's rather than to just buy something from the store? Nothing says "I love you" more than a bunch of roses, especially crocheted roses that will last forever or just as long as the yarn would.
Valentines is not just a day to share with only your lover. But every single person that holds a place in your heart. Use the happy patty crotchet to create something for them.
With the four different types of flowers at your disposal you can create a different design for each of your loved one. You can also try out different colored yarns to make your designs even more unique.
Just as different colored roses pass on a different message so can your creations.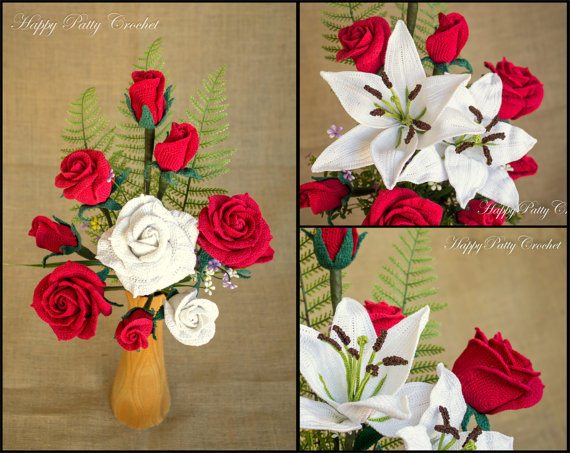 The Crochet Flower Bouquet Is The Perfect Gift
The crochet flower bouquet pattern can be a valentine's gift for your friend, or for your sister or for that neighbor who makes living near them worth your while. Adding your own personal touch to the gift can make all the difference.
It's like crocheting a feeling into existence. So that you can let that special someone know how much you mean to them. To sum up the crochet flower bouquet pattern is more than just being able to spin yarn into beautiful bouquets.
It is about feeling and imagination. It is about putting your time and effort into the creation of something beautiful, something that says three simple words; "I love you".
So try it this valentines and watch yarn roses and lilies light up the eyes of you're the love of your life. Let them know how much they mean to you. Let them know that the currency of love is time and you are willing to pay it.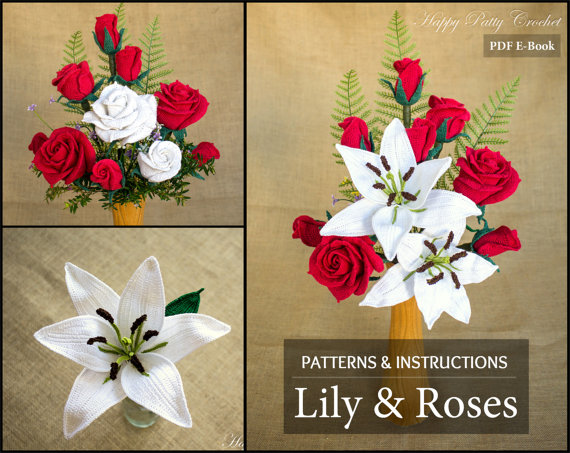 Get Crochet Flower Bouquet Pattern Here
Crochet Flower Bouquet Patterns Frequently Asked Questions
How do you crochet a flower bouquet?
You can create your bouquet using individual crochet flower stems or crochet one of these bouquets with flowers that have already been preselected to go together.
You can change up the colors of the flower in your bouquet, too, to make your collection of crochet flower stems perfect for your wedding, special occasion, or a themed event.
Is it easy to crochet a flower?
Yes! Crochet flowers are simple to make, and you can usually finish one in an hour or less. If you're a beginner, there are plenty of patterns and tutorials to help you along the way.
These projects frequently use simple stitches like single crochets, double crochets, and half double crochets, so if you know the fundamentals, you should be fine.
What are the best crochet stitches for flowers?
Most of the flowers included here use only basic crochet stitches — single crochet stitch, half double, and double crochet stitch. These flower patterns are super easy and quick to crochet, making them great for gifts.
What's the best yarn for crochet flower bouquets?
You can use scraps of DK weight yarn and 4 ply/fingering weight yarn for your crochet flower bouquets, but you can use any yarn weight you want — just make sure to use a matching hook. Cotton yarn is my preferred yarn for making flower bouquets because it washes well, holds its shape, and is available in a variety of bright colors. You will only need a small amount of yarn to make your flowers.
Each of these crochet flower bouquet patterns will include details on the yarn used as well as the crochet hook size required.
MASTER THESE LOVELY CROCHET FLOWER BOUQUET PATTERNS TO DECORATE YOUR HOME OR GIVE AS A GIFT TO YOUR LOVE ONES.
Inspire others by sharing your works on our Facebook Page. We'd love to know what everyone's making! And also, be sure to check all our Poinsettia crochet, Sunflower, Tulip and other crochet flower patterns that are waiting to be made!
With these crochet flower bouquets, you can enjoy a wonderful variety of flowers all year long!