A sure way to add personality to your wedding day? Fill it with handmade details. These 21 bridal crochet patterns may it easy to create custom details for every aspect of your big day.
From wedding dresses, favors, and decorations, get creative with these ideas. They look great and will save you loads of money!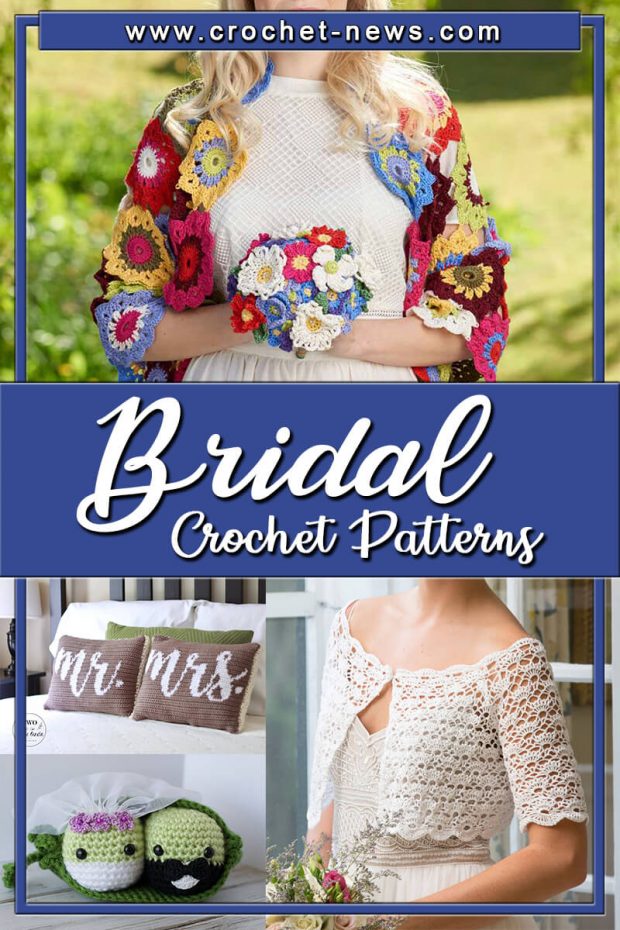 Whether you're the bride, a wedding party member, family, or a friend, you can add crochet to the plans – and maybe simplify and save money in the process!

1. Crochet Bridal Topper Pattern by Yarnspirations
A beautiful neckline, delicate shell and v-stitches, plus scallop edgings combine to complete the perfect crochet bridal topper. Use a crochet thread in pristine white, for a fresh approach that accentuates a selection of delicate looks.
Wear it on your wedding day, then keep it in the closet as a cover-up over party dresses, sundresses or simple summer tops.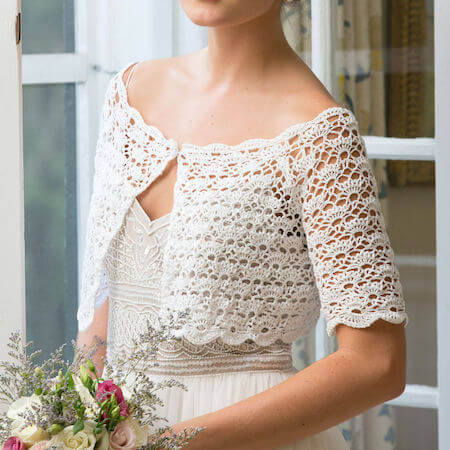 Get the Pattern here

2. Crochet Wedding Gift Pillow Pattern by TLB Patterns
This crochet pillow cover set is the perfect bridal shower gift, engagement gift, wedding gift, or anniversary gift. The bride and groom can display these pillows in their new home or master bedroom as a beautiful memory of their wedding.
This pillow set is a thoughtful, unique gift and the perfect touch of modern handmade for your favorite couple.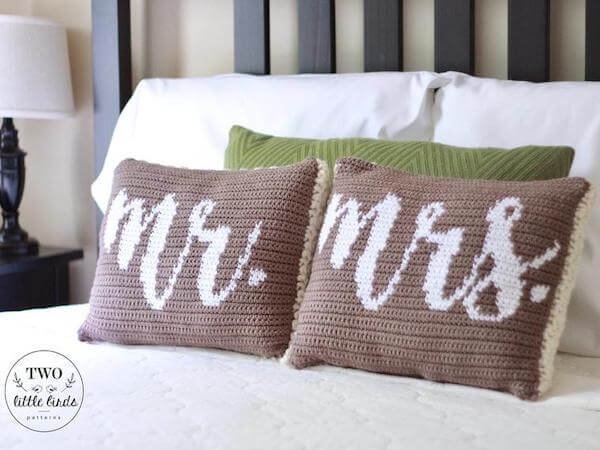 Get the Pattern by TLB Patterns here

3. Wrapped In Lace Bridal Garter Crochet Pattern by Kirsten Holloway Designs
This Wrapped in Lace Bridal Garter is a beautiful, free wedding crochet pattern for the bride on her special day! Delicate lace details, and a simple flower with pearl center give this set a vintage or Victorian era feel that's perfect for country, or romantic style weddings.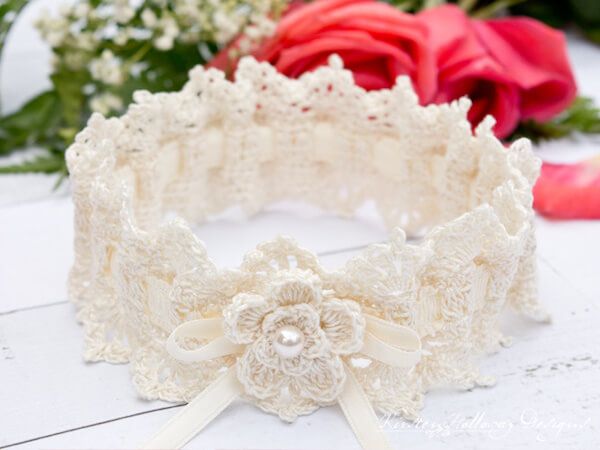 Get the Pattern here

4. Shawl Crochet Wedding Pattern by Barbs Daughter Designs
This shawl wedding crochet pattern with double face satin ribbon closure can be worn as a shrug, stole, shawl or shoulder wrap. This easy crochet pattern is the perfect accessory for any wedding.
Make a gift the bride will never forget with our one-of-a-kind wedding crochet patterns.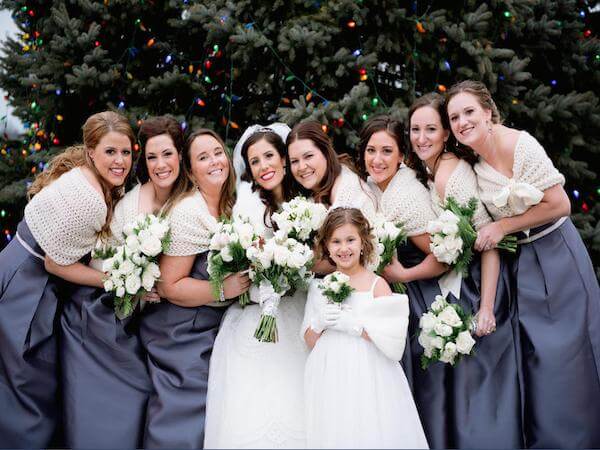 Get the Pattern by Barbs Daughter Designs here

5. Crochet Wedding Favour Bags Pattern by Han Jan Crochet
If you have plenty of time to plan, then make a set of these really simple but sophisticated crochet wedding favour bags would be perfect for your (or someone else's) big day!
The delicate little bags are simply constructed by first crocheting a mandala in thread.

You then need to make a small hessian pouch to sew half of the mandala on to. Fold the mandala over the top of the pouch, add a button and secure. It's a really easy process that gives a stunning result.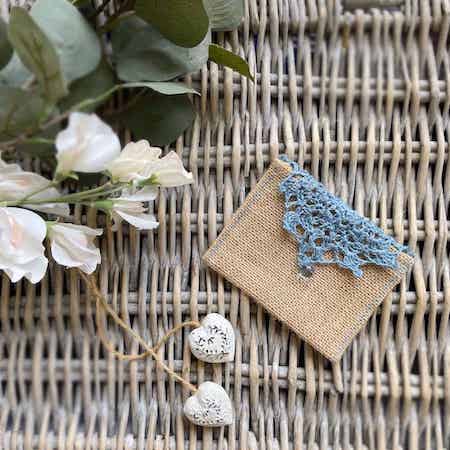 Get the Pattern here

6. Bridal Crochet Wedding Dress Pattern by Concept Creative Store
This Bridal Crochet Wedding Dress Pattern is perfect for those who look for something easy, seamless, and something that can be adjusted to your own figure for the best fit.

The skirt falls from the waist, wrapping around the hips and widening to create a beautiful flow and drape. The neckline is modest, scooped with a feminine crochet design around the edge.
One button at the back allows for a secure fit around your shoulders. A sexy and elegant crochet dress you can wear at a wedding!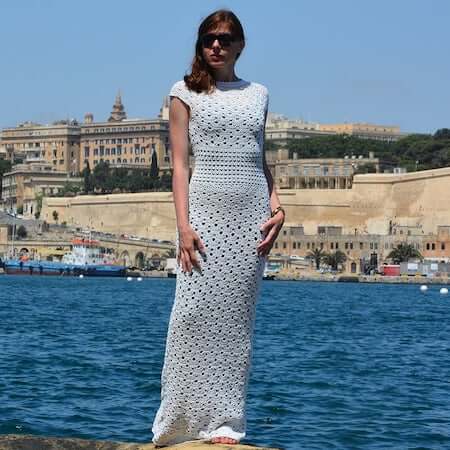 Get the Pattern by Concept Creative Store here

7. Loving Bride And Groom Wedding Dolls Crochet Pattern by Sweet Softies
This Loving Bride & Groom Pattern provides instructions for crocheting this beautiful, newly wedded couple. The elegant bride is fitted in a feminine A-line wedding dress, while her husband is dressed in a classic tuxedo.

This dashing pair makes wonderful engagement and wedding gifts for brides-to-be, grooms-to-be, newlyweds, or married folks celebrating their wedding anniversary. They can even be used as a wedding cake topper if secured on a base.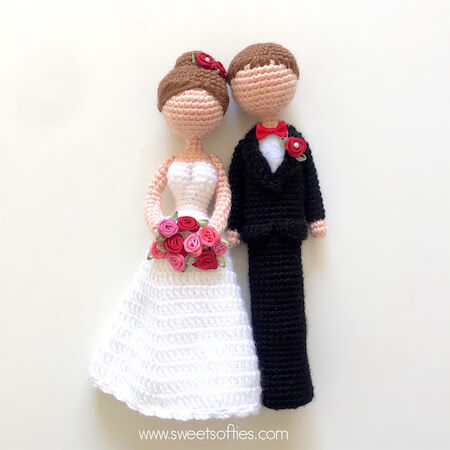 Get the Pattern here

8. Crochet Wedding Gnomes Pattern by Winding Road Crochet
If you are looking for a unique wedding gift or bridal shower gift, then these wedding gnomes are for you. They are cute and whimsical and work up very quickly. The colors can be customized to match the wedding colors.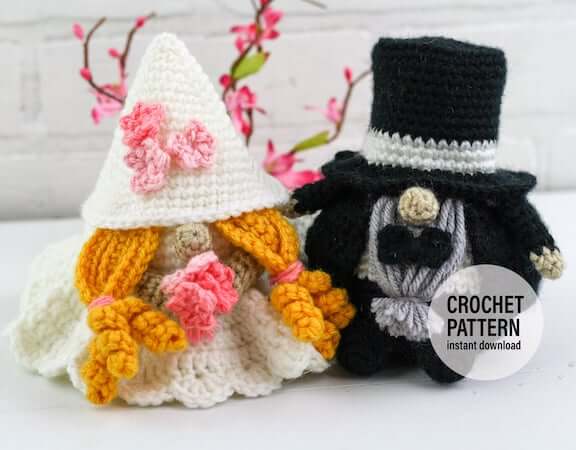 Get the Pattern here

9. Bridal Slippers Crochet Pattern by Lisa Corinne Crochet
Stylish bridal slippers for you to make using this wedding slippers crochet pattern. Wear these lovely women slippers while you prepare for your wedding. Make a pair for each of your bridesmaids too.

The pattern uses 2 strands of worsted weight #4 yarn of cotton and acrylic blend giving the shoes nice body, cushioning and comfort.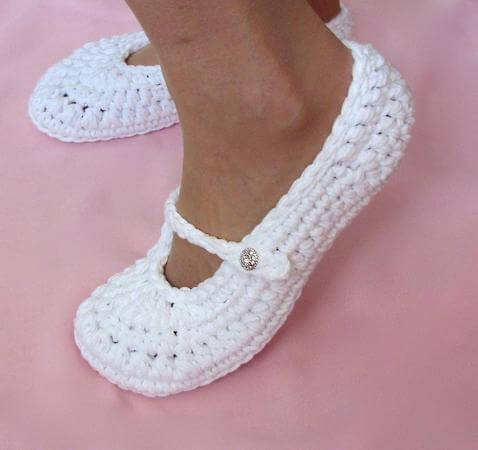 Get the Pattern by Lisa Corinne Crochet here

10. Bridal Crochet Shoe Pattern by Wolligurumi
Finding an original gift is really not easy. And mostly the little things that come from the heart are the best gifts.
How about a shoe? Depending on the thickness of the yarn, it can be original size or crocheted as a small key fob or bag maker.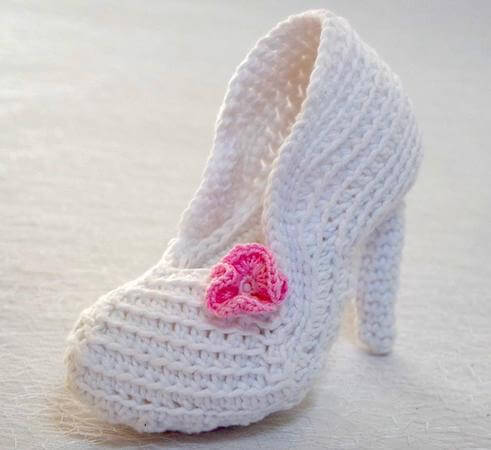 Get the Pattern by Wolligurumi here

11. Crochet Wedding Bouquet Pattern by Gathered
For flower girls, for centerpieces or for you, a crochet wedding bouquet is a lovely project and it's completely wilt-resistant! This beautiful crochet wedding bouquet is made up of a selection of simple flower motifs, ranging from delightful dogwoods to fabulous forget-me-nots!
Also see our crochet flower bouquet patterns for more options.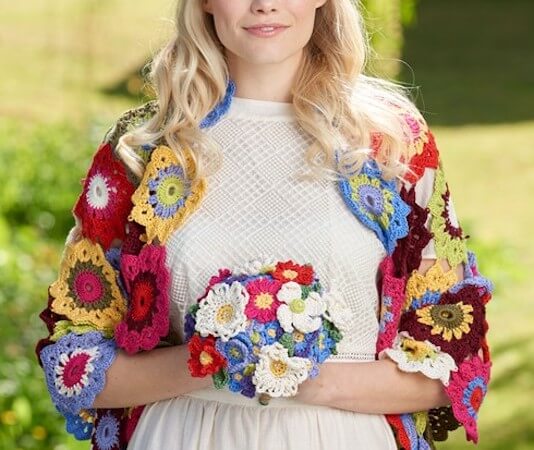 Get the Pattern here

12. Tiny Cake Wedding Crochet Pattern by Crafty Kitty Crochet
What better way to celebrate the big day than with a tiny crocheted wedding cake? These little cakes are easy and fun to make, and this free pattern has lots of photos to guide you!

These would make a great gift for the bride and groom to be in your life. They would also make great wedding favors – what a fun and personalized gift for your wedding guests! The possibilities are endless!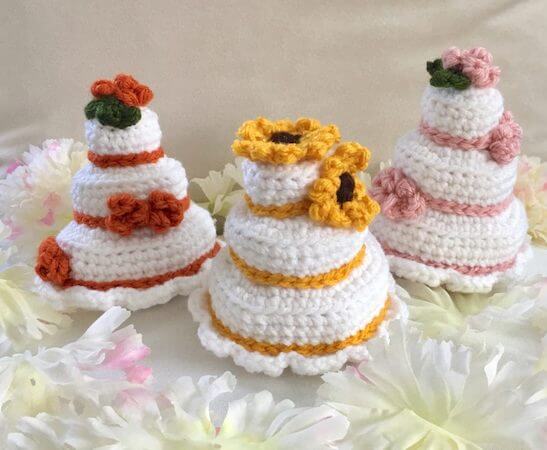 Get the Pattern here

13. Bridal Crochet Lace Wedding Dress Pattern by ChiK Designs
You can make several different garments from this pattern by making some simple modifications: Stop short of the dress and you have a tunic.
Keep going on the skirt and you have a full-length gown fit for a wedding dress. Leave the belt unjoined, omit the skirt entirely and you have a shrug.
Also see: Crochet Wedding Dress Patterns
Get the Pattern by ChiK Designs here

14. Crochet Wedding Blanket Pattern by Color And Shape Design
This crocheted blanket makes a wonderful wedding or anniversary gift. An original design, the blanket when finished says, "Forever and for Always."
This crochet wedding blanket is made in separate pieces and then crocheted together. However, if you prefer to make this blanket as one piece, included is a chart for that as well.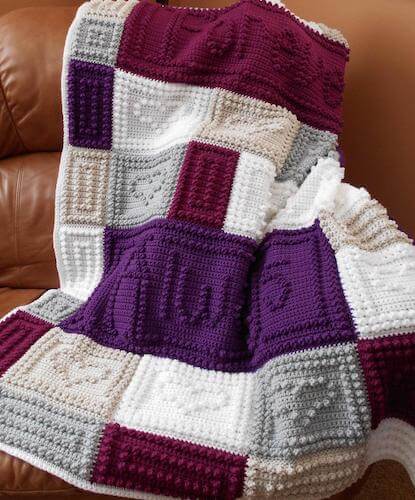 Get the Pattern by Color And Shape Design here

15. Cozy Bridal Crochet Wedding Bouquet Pattern by Yarnspirations
Perfect for bride and her bride's maids, this lacy crocheted cozy is lovely for carrying a bouquet down the aisle. Start at the lower edge with a circle of dainty crocheted flowers and work your way up to a wider ruffle that encircles the blossoms.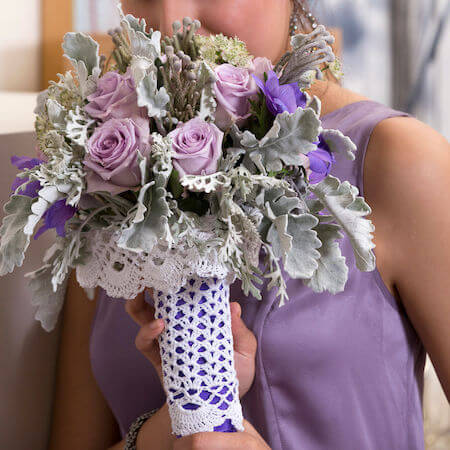 Get the Pattern here

16. Free Wedding Shawl Crochet Pattern by Wilmade
When using white yarn, this shawl actually becomes a perfect crochet wedding shawl for brides. It's a simple shawl made with double crochet stitches, chains and puff stitches.
What makes it stand out, is the beautifully detailed border. It might look hard, but it's really simple.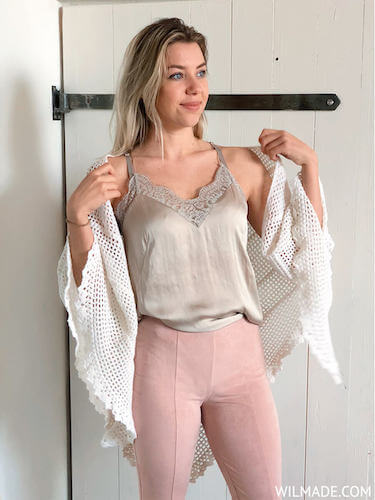 Get the Pattern here

17. Crochet Mini Wedding Bears Pattern by Amigurumi To Go
These itty bitty bears only measure 4.5 inches tall. They're the perfect size to sit on top of a wedding cake or wedding gift. You'll love all the little details in this crochet wedding pattern – like the top hat, bow tie, veil, and bouquet.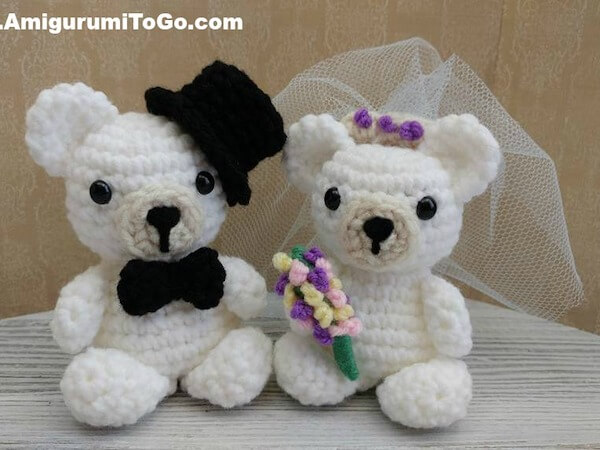 Get the Pattern here

18. Bridal Bouquet Crochet Pattern by The Crochet Architect
This crochet wedding bouquet & boutonniere are sure to be a hit with the bride and groom! They are fun-to-make and help to stretch the wedding budget! These pieces can be customized for any wedding. You can use any colors you desire for yours.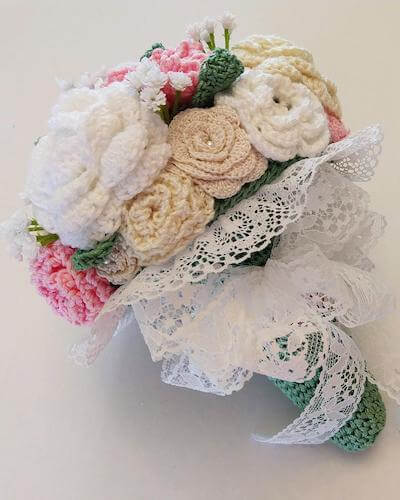 Get the Pattern by The Crochet Architect here

19. Peas In A Pod Get Married Crochet Pattern by Crochet 365 Knit Too
Prepare for cuteness overload! Meet a couple of darling Crochet Peas in this Peas in a Pod Get Married pattern. if your fingers are itching for the perfect wedding or bridal shower gift, these crochet peas might just be the perfect fun project!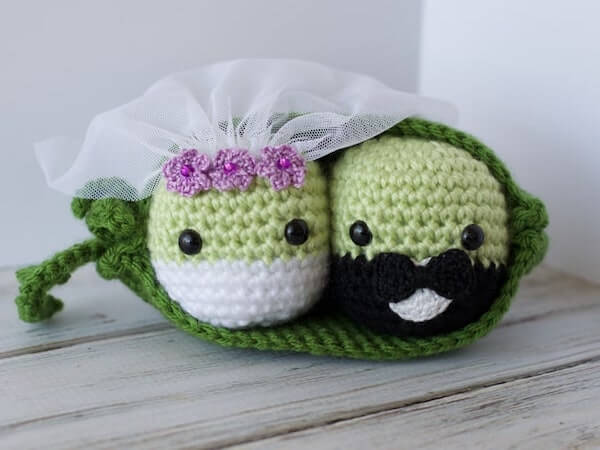 Get the Pattern by Crochet 365 Knit Too here

20. Crochet Vintage Wedding Bag Pattern by Kirsten Holloway Designs
This stunning vintage-style lace wedding bag is a beautiful crochet purse that the bride will treasure for many years! It is accented with lace, ribbon, and pearls, as well as small roses with delicate leaves. This wedding bag can be made larger or smaller depending on the bride's preferences.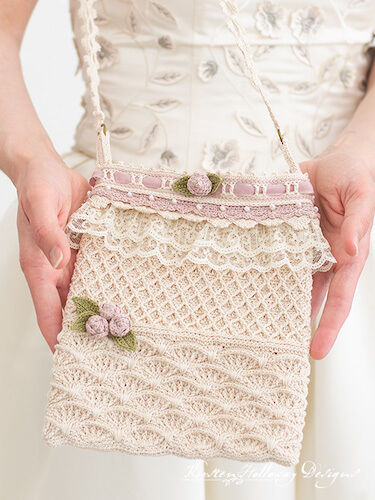 Get the Pattern here

21. Wedding Ring Quilt Crochet Pattern by Red Heart
For the accomplished crocheter, try this elaborate project originally designed as a wedding gift. This crochet quilt would be just as treasured by any bride and groom who receive it.
For a personalized version with distinction, simply swap out shades to please the happy couple.
Check out more Wedding Ring Quilt Patterns here.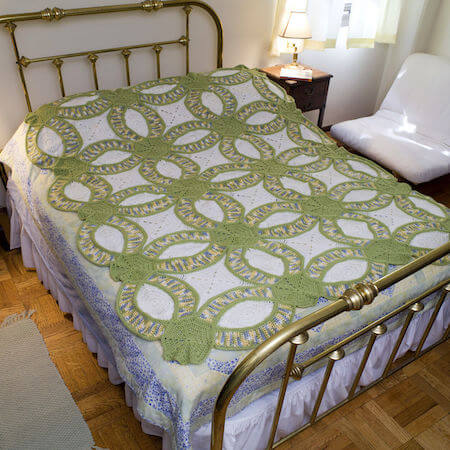 Get the Pattern here
HAVE A GO WITH THESE BRIDAL CROCHET INSPIRATION AND MAKE SOMETHING FOR YOUR WEDDING OR SOMEONE ELSE'S!
Say "I do" to the creative crafts and share your makes on our Facebook Page. We'd love to see them! For more crochet accessories, don't miss our crochet earrings, crochet bracelet patterns, crochet corset patterns and crochet bow patterns.
Also, be sure to see our roundup of crochet dress patterns for more varieties to choose from.

Are you a gift procrastinator? Check out our Crochet Gift Archives if someone new popped onto your holiday list last minute and you need to whip something up quick. Whether you're hooking up birthday presents or looking for some crochet gift ideas for friends, you're sure to find something to inspire you!

Including these bridal crochet patterns in your wedding is a beautiful way to showcase your love of crochet and give your wedding (or someone else's) a warm homemade feel.