Bows elevate the look of any accessory they are added on, hence introducing some plush and trendy crochet bow patterns to try! Their designs are so unique that you can make them into a variety of patterns.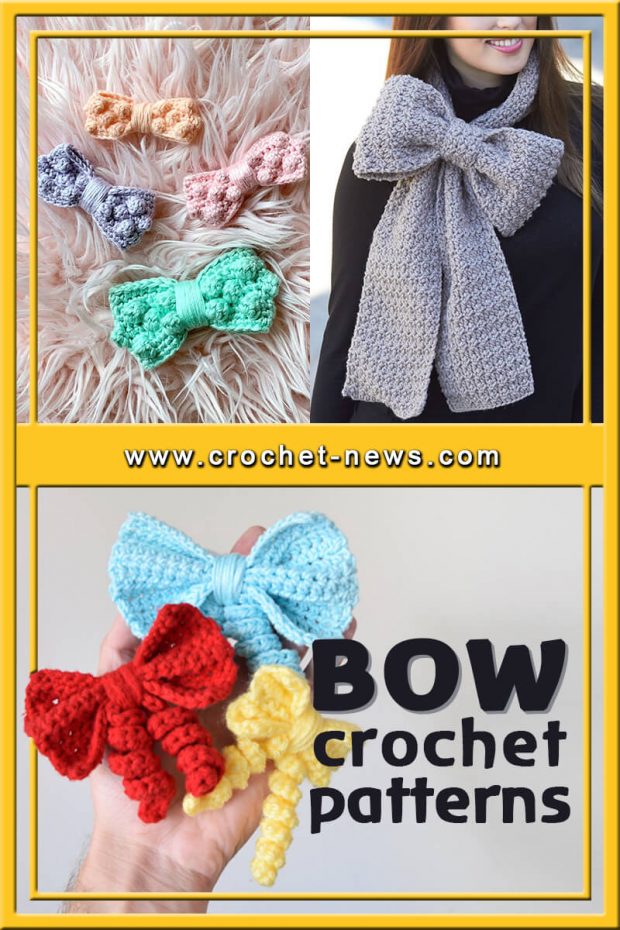 Cute sweater? Put a bow on it! Simple tote bag? Put a bow on it! Gift for a friend? You guessed it: put a bow on it. These simple crochet bow patterns will give whatever you're making that little something extra!

1. Crochet Bow Ties For The Guys Pattern by Red Heart
Crochet a bow tie for men or boys who enjoy making a fashion statement. Worn with a suit or just a button-down collar shirt, this bow tie has a sophisticated look. This pattern is given in two sizes: for men and for boys.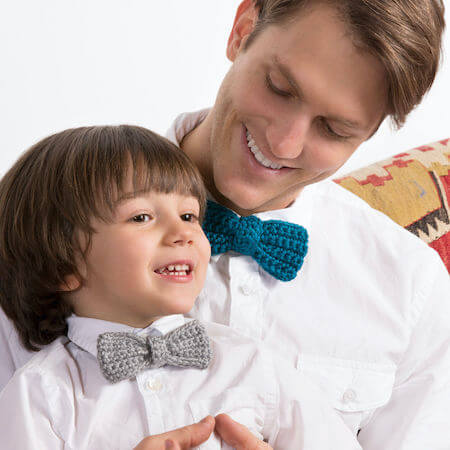 Get the Pattern here

2. Crochet Bobble Dot Bow Pattern by Stuck On You Crochet
This Bobble Dot Bow is the perfect accessory for your favorite little girl! These bows work up quickly and are perfect market makes. Sizing and style can easily be adjusted if desired, simply by changing the type of yarn and hook!
Bows can be added to an alligator clip for a clip-on or put on a nylon band for a headband.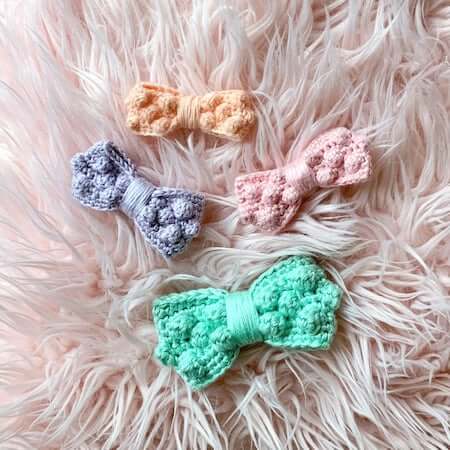 Get the Pattern by Stuck On You Crochet here

3. Crochet Bow Scarf Pattern by Yarnspirations
Check out this fantastic hit of style that turns any outfit into a fabulous ensemble. Crochet a stunning piece using any color that makes the statement you want.
Or, complete it with a rich and alluring vibe like the version shown. Consider this unexpected gift for any fashionable lady you know.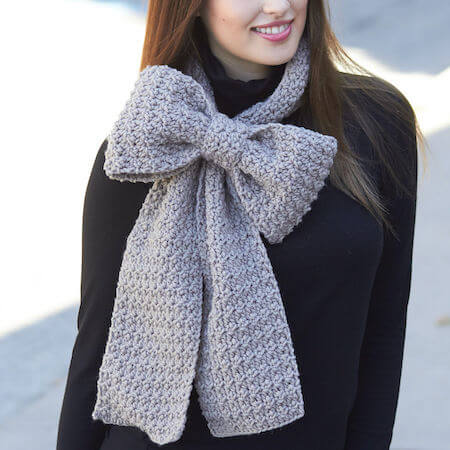 Get the Pattern here

4. Bow Hat Crochet Pattern by Uyuy Crochet
This hat is sassy, classy, and just plain fun. The split brim and giant bow really help this showstopping sunhat stand out! It is subtly sophisticated, and the bow detail makes it look extra elegant.
Make a few in your favorite colors and you're summer-ready!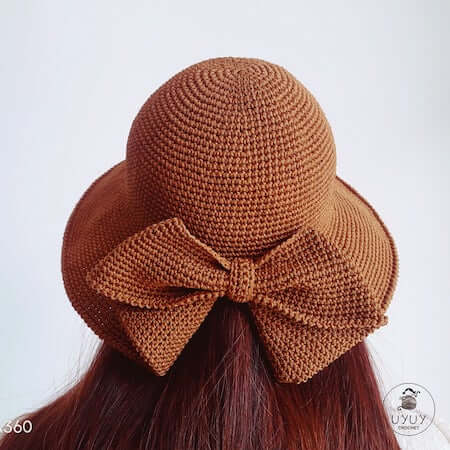 Get the Pattern by Uyuy Crochet here

5. Crochet Colorful Bows Garland Pattern by One And Two Company
If you'd like to add a splash of color in honor of a holiday, this Crochet Bow Garland will be just what you need. This crochet pattern is easy to make and is so versatile, too.
You can create the design using yarn in red, white, and blue for the Fourth of July, or opt for yarn in red and green for the holidays.

The crochet garland can be proudly displayed on a wall, your front door, over the fireplace — you name it! Use it to brighten up any place in your home. Combine the colors as you like and make unique and personal spaces.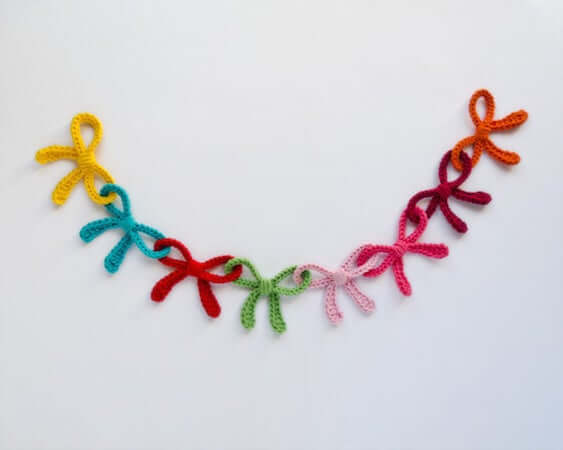 Get the Pattern by One And Two Company here

6. Variety Bow Set Crochet Pattern by Crochet Spot Patterns
This set includes 5 different bow patterns to give you a variety of bows to use. The patterns include the Classic Bow, Ridged Bow, Subtle Textured Bow, Bobble Bow, and Mesh Bow.
Each bow can be customized to be any size that you desire by using the instructions included in the pattern.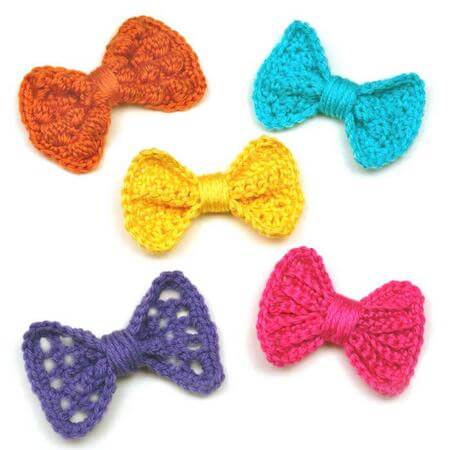 Get the Pattern by Crochet Spot Patterns here

7. Bunny Bow Crochet Pattern by But First Crochet
Crochet an adorable Bunny Hair Bow for Easter or spring. The pattern is beginner friendly and works up really quick! It's time to embrace your inner kawaii! Create this bow in an assortment of colors that's right up your girl's alley!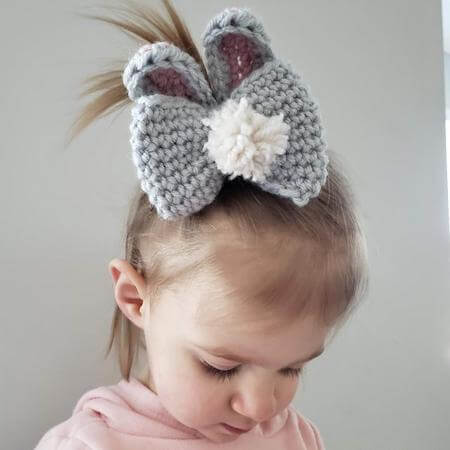 Get the Pattern by But First Crochet here

8. Bow Halter Top Crochet Pattern by Entirely Emma
With a corset back and tie neck, this top is easily adjusted to get the perfect fit. The striking bow detailing is created using a simple repeat of chains and slip stitches. Stand out this summer with this fun, festival halter top!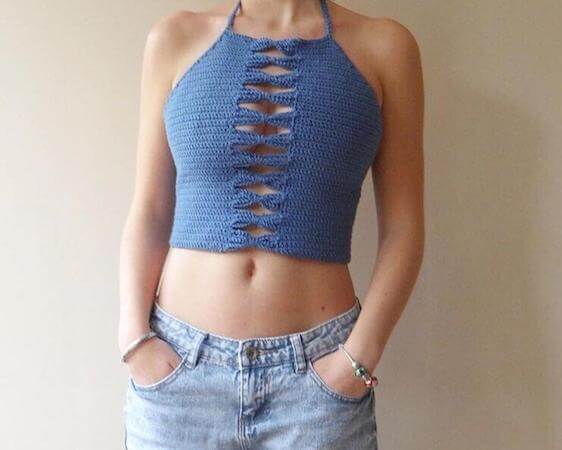 Get the Pattern by Entirely Emma here

9. Plaid Crochet Bow Tie Pattern by Whistle And Ivy
Make this adorable Crochet Plaid Bow Tie, perfect for fall and for the holiday! Have little man wear it in family photos, or make a plaid bow headband for baby!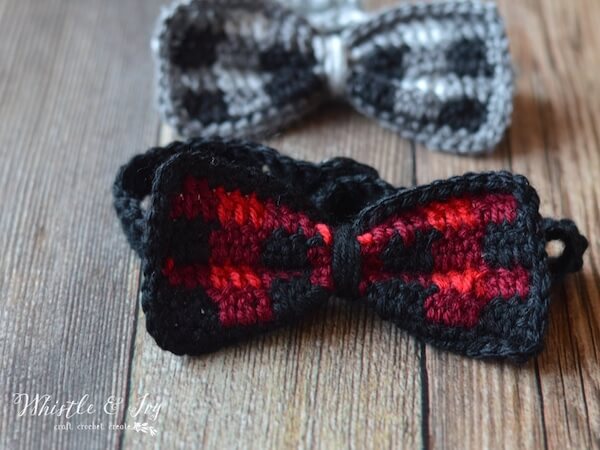 Get the Pattern here

10. Crochet Bobble Bow Pillow Pattern by Peach And Paige Designs
This highly detailed and illustrated crochet pattern will take through every step to make a gorgeous crochet bobble bow pillow. A perfect addition to little ones nursery.
The final bow measures 28cm high, at the highest part and 48cm wide.
Get the Pattern by Peach And Paige Designs here

11. Free Crochet Bow Pattern by Knot Bad Ami
These crochet bows are super easy to do and obviously the color choice is up to you. Here are three different sizes of large, medium, and small. They are all three made the same way, just different stitch counts, so If you have a different size you would like to tackle, just add or decrease the stitches in each section!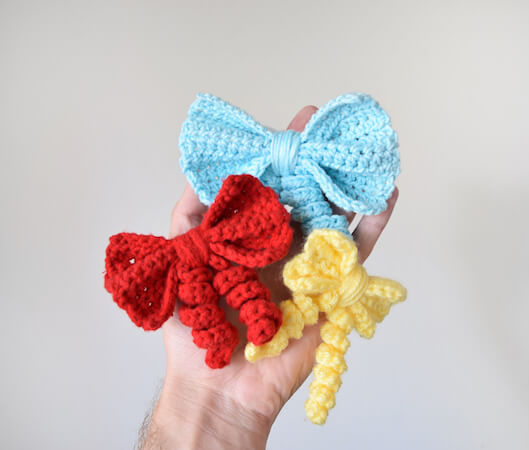 Get the Pattern here

12. Bow Tie Slippers Crochet Pattern by Yarnspirations
Fun bows add a touch of feminine flair to these cute slippers that keep tootsies warm. This pattern brings them to life using any shades that speak to you, or stick with the version shown for a bright, classic look.
Make as many as you want of these pretty slippers in ladies' sizes 5-10.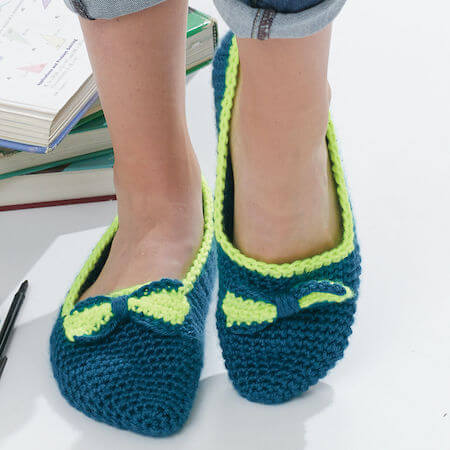 Get the Pattern here
Get fancy and make some fun variations on these crochet bow patterns!
And you're done! Or not, because chances are you're going to crank out more than one of these bow ideas! And for every bows that you've made, we would be so glad if you share your finished bows with us on our Facebook Page.

Opting to create your own accessories is a fun alternative that will surely provide you with something crafty and out-of-the-ordinary. We have more crochet accessories here to complete that outfit, or that room. Check them out, as well!

These crochet bow patterns are so quick and fun to make, and a perfect idea for a crochet stash buster. What are you waiting for?