Dive deep into your yarn stash for colorful scraps and crochet your own ocean pets with these 25 Crochet Fish Patterns!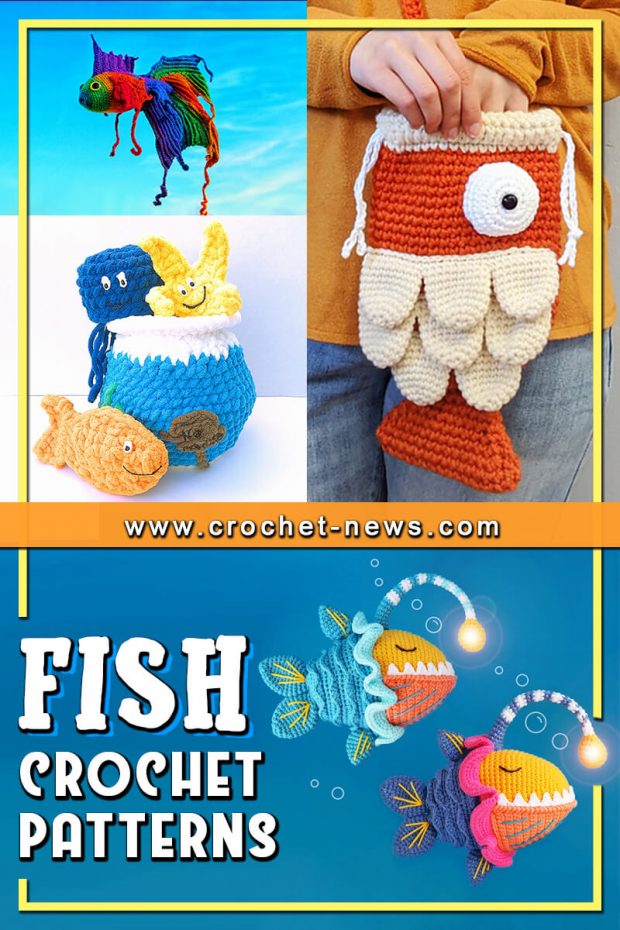 Make a bunch of these fishes to create an aquarium playset, mobiles, keyrings, accessories, or maybe even a cat toy. Big or small, everyone will enjoy the adorable fishes that can be played out of the water!

1. Crochet Clown Fish Pattern by Krawka
Crochet Clown Fish, when finished is 27 cm (10.6 inches) wide, 20 cm (7.8 inches) tall. He is extremely cute and round and cuddly.

You should know basic crochet stitches including chain, slip stitch, single crochet, decrease, increase, and how to start with a magic ring.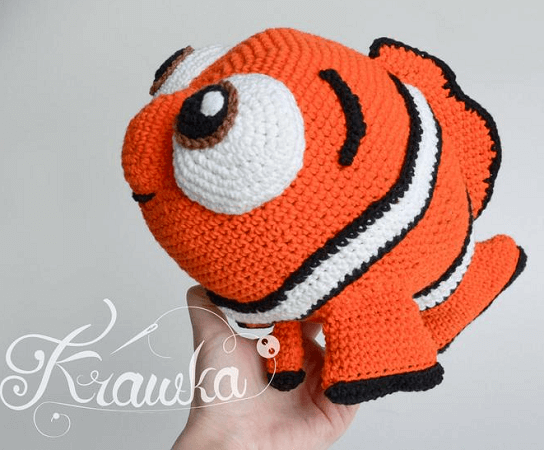 Get the Pattern by Krawka here

2. Crochet Fish Blanket Pattern by Owl B Hooked
Simple, modern, and gender-neutral design, this Crochet Fish Blanket makes for an adorable and unique 1st birthday or baby shower gift! T

he written size allows it to be used as a security or snuggle blanket well into toddlerhood! Make it extra special by letting kids select their favorite color!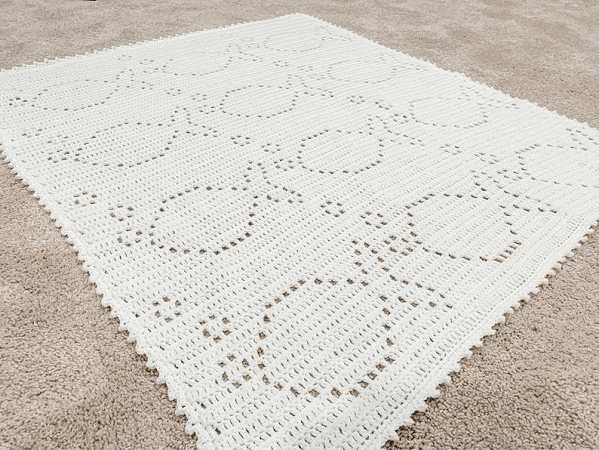 Get the Pattern by Owl B Hooked here

3. Keychain Amigurumi Fish Pattern by Amigu World
This Fish Keychain Amigurumi will become a unique and unusual decoration for your keys, bag, or backpack. Or it will be a great gift for a fish lover or fisherman. The best thing about this project is you choose your favorite yarn colors!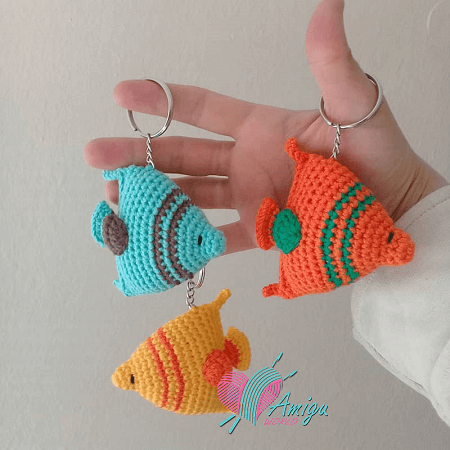 Get the Pattern here

4. Yellow Tang Fish Amigurumi Pattern by Theresa's Crochet Shop
Create your own little Yellow Tang Fish Amigurumi in just an hour or two! The final measurement for the finished fish will be 4.5 inches (11.5 cm) long and 3.25 inches (8.25 cm) tall.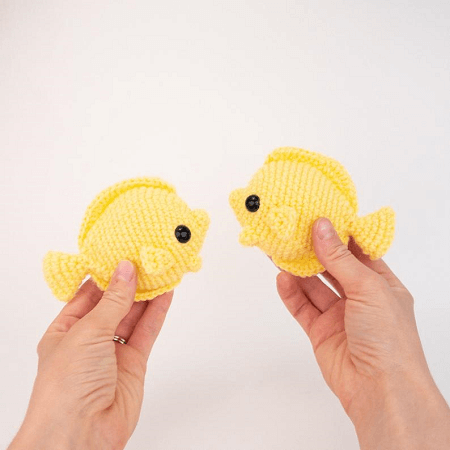 Get the Pattern by Theresa's Crochet Shop here

5. Rainbow Fishing Game Free Crochet Pattern by Niccupp Crochet
This Rainbow Fishing Game is a perfect pattern to make for any kid in your life. It's fun and easy to work up using various colors of worsted weight yarn. Kids will have hours of fun playing this cool game!

The fish look so fun and colorful and with a pond that you can carry, who could ask for more? It can be used in a preschool setting or just as a fun game for the family!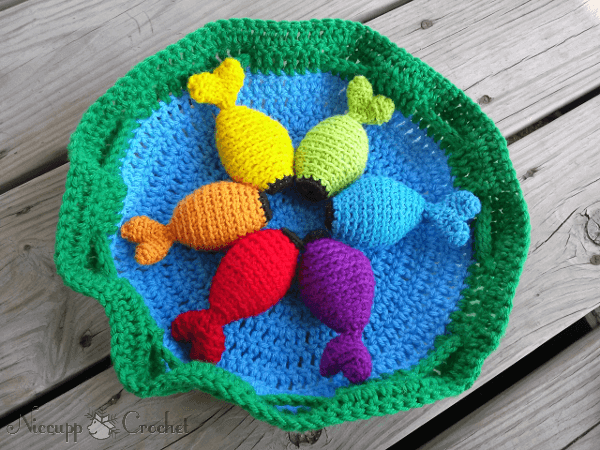 Get the Pattern here

6. Crochet Fish Pendant Pattern by Craft Passion
You do not need fancy accessories to look trendy. Put on this simple Crochet Fish Pendant necklace to spice up your daily casual wear.

Brighten up your day with something simple and easy to crochet. This crochet fish pendant is crochet by raffia yarn or you can use your preferred yarn to make it.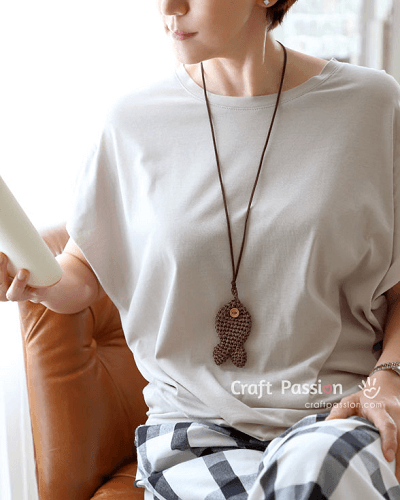 Get the Pattern here

7. Sunny, The Angler Fish Crochet Pattern by Natura Crochet Shop
If you're a fan of colorful toys, this Sunny, the Angler Fish Crochet Pattern is undoubtedly the most fabulous crochet fish you will ever see! The deep-sea angler is scary in reality, but Sunny is not like that. What colors will you go for?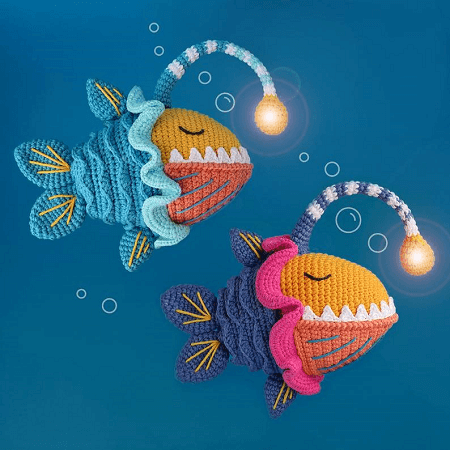 Get the Pattern by Natura Crochet Shop here

8. Scrubbie Crochet Fish Pattern Free by 1 Dog Woof
Add to a nautical themed bathroom or kitchen with these adorable Crochet Fish Scrubbies. They're great fun for kids in the bath and look great just hanging up as well. They're great for a summer housewarming gift and they work up pretty quickly!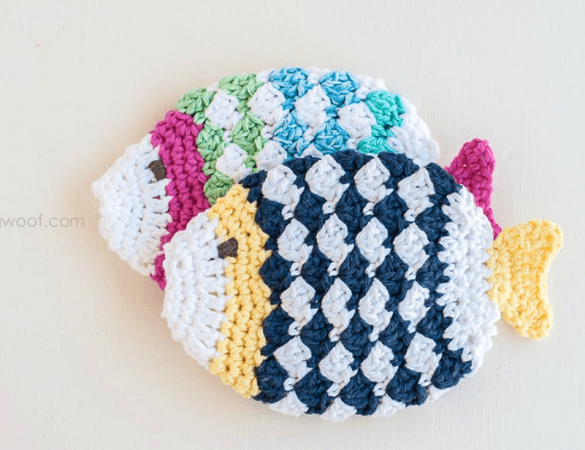 Get the Pattern here

9. Fish Crochet Pattern by Sweet Oddity Art
These kissing fishes are just the cutest! They measure 13″(33 cm) long when using a D hook and weight 4 yarn. These toys are a great way to 'kiss up' to someone on valentines, anniversaries, or just because.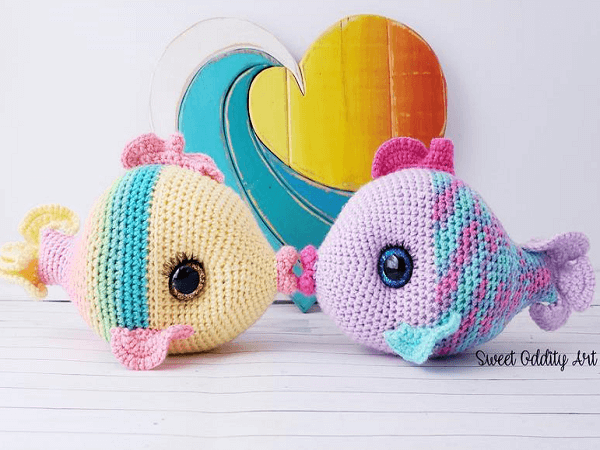 Get the Pattern by Sweet Oddity Art here

10. Crochet Fish Bag Pattern by Hello Happy
Make this funny Fish Bag with this crochet pattern! This would make a great gift for kids, teens, and the young at heart. This fancy bag is easy to make and can be crocheted in a dizzying variety of colors. The more you stuff it, the better it'll look!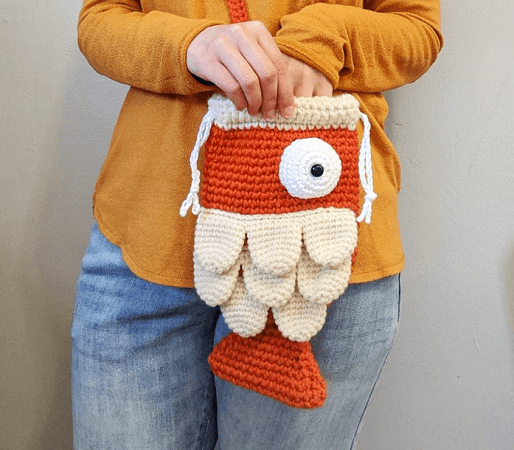 Get the Pattern by Hello Happy here

11. Bubbles, The Fish Crochet Pattern by Yarnspirations
Craft a whole school of vibrant fish toys to make little ones smile. Make them adorable in any colors you dream-up from to complete a cottony soft set that delights young imaginations.
Then, enjoy building new memories as you share playtime together.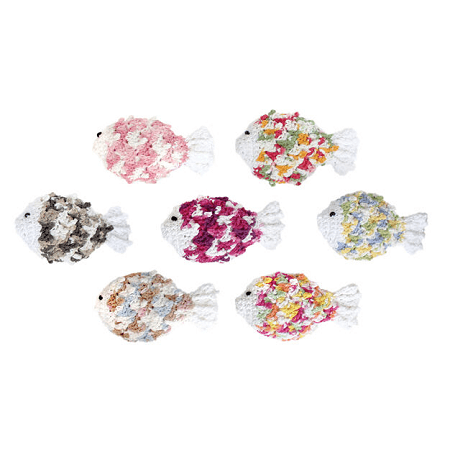 Get the Pattern here

12. Fancy Fish Crochet Pattern by Crafty Intentions
This Fancy Fish Crochet Pattern is an easy and quick project which allows you to use scraps of yarn! It will be a great addition to your fish collection. There are three different styles of Fancy Fish all in one pattern.
The fish body is the same, but there are three different patterns for each of the fins including a Dorsal fin, side fins, tail fins, and more!

They're smaller than the Koi Fish pattern but still large and in charge, with a mouth, you just want to stick your finger in. 
Get the Pattern by Crafty Intentions here

13. Tropical Fish Crochet Pattern by Vliegende Hollander
You'll find that this Tropical Fish Crochet Pattern works up super fast and has so much potential for fun color combinations! It contains 5 tropical fish patterns: clownfish, angelfish, striped boarfish, copperplated butterflyfish, and yellow tang fish.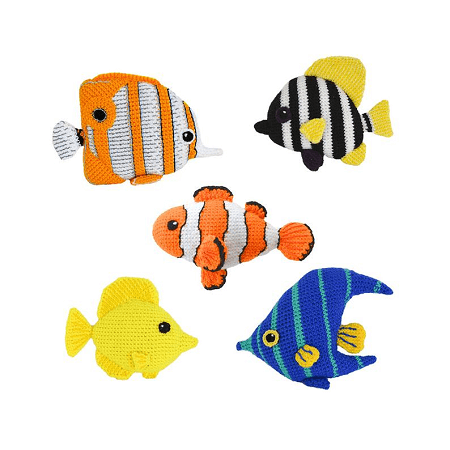 Get the Pattern by Vliegende Hollander here

14. Fish Rattle Crochet Pattern by Anne Bank Nielsen
Curly cue tails make these Fish Rattles really cute and fun! Touching different textures will be a true pleasure for little hands.
This rattle is crocheted in such a way that all the fish parts (except the eyes) are crocheted directly onto the fish body. This means almost no sewing.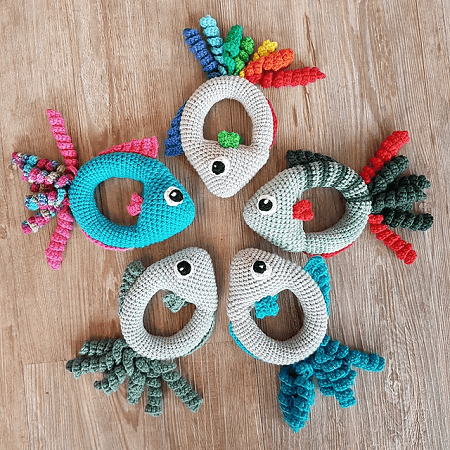 Get the Pattern here

15. Striped Fish Free Crochet Pattern by Elisa's Crochet
We all dreamed of diving into Caribbean Seas and imagined ourselves swimming around colorful fishes. For now, why not surround yourself with beautiful and equally colorful crocheted fishes?

If you're in the mood of making these Crochet Striped Fishes, they could be the perfect attachment for a lovely crib mobile!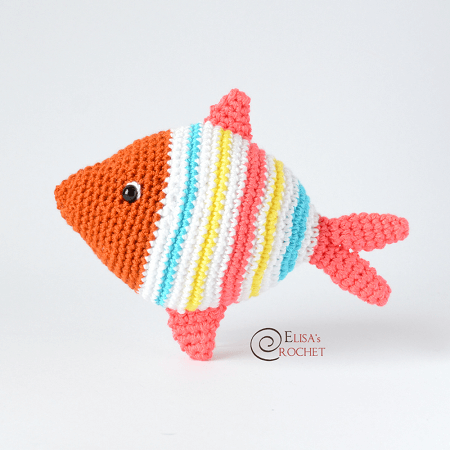 Get the Pattern here

16. Crochet Fish Hat Pattern by Salowicious
This Crochet Fish Hat is made with a fun shell pattern design that gives them distinct crochet look! You will love the use of color and how creative you can get with them too!

Although the pattern is written for a 16 1/2 circumference x 16 1/2 long fish hat, instructions are given on how the hat can be crocheted to the size you need for the whole family.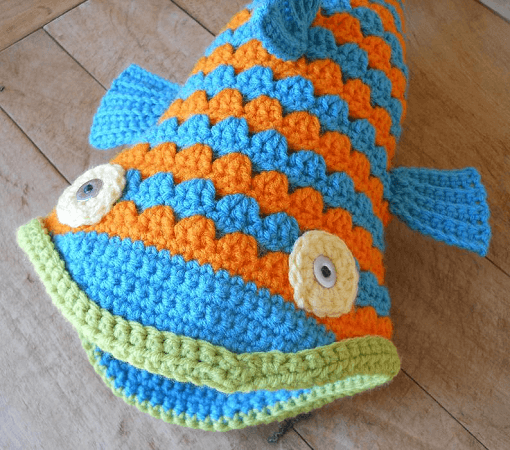 Get the Pattern by Salowicious here

17. Fish Bowl Free Crochet Pattern by Left In Knots
This project is an adorable, plushy toy that is perfect for babies and toddlers! Featuring a large fishbowl, fish, starfish, and jellyfish, babies will have fun pulling these surprises out of the bowl and stuffing them back in again!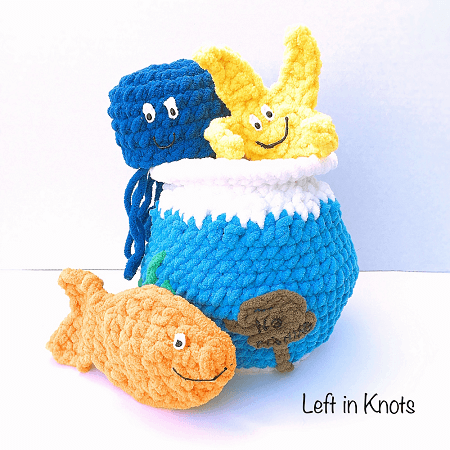 Get the Pattern here

18. Sammy, The Fish Crochet Pattern by Crochet Objet
Sammy, the fish is made with a sport weight Cotton yarn/4ply fingering wool. With a little embroidery detail added, the result is a soft hairy fish made to decorate with or to add to your soft animal friends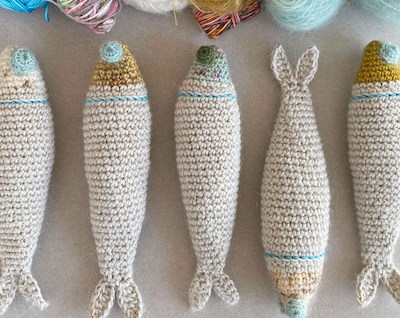 Get the Pattern by Crochet Objet here

19. School Of Fish Blanket Crochet Pattern by Red Heart
Rippled waves are the perfect background for colorful fish on this playful crochet blanket for kids. The pattern makes it fun to pick shades for your school of fish, so let that creativity flow!

Use this blanket as an entertaining way for toddlers to learn colors and how to count. Make it extra-special by letting kids select their favorite colors too!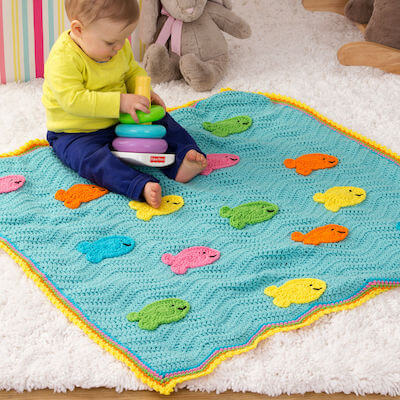 Get the Pattern here

20. Crochet Fish Applique Pattern by Ariana Hall
These super cute crochet fishes are so easy and after the first one, you will be hooked! They require the most basic of crochet stitches and so it is quite a good pattern for a beginner.
Turn this Crochet Fish Applique Pattern into face scrubbies, blanket art and more!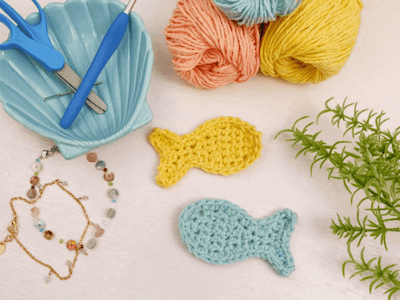 Get the Pattern here

21. Crochet Puffer Fish Pattern by Cut Out And Keep
This Crocheted Puffer Fish is soft and cuddly, unlike its real-life deadly counterpart. Picots form the spines covering the body and a simple scalloped pattern creates the delicate-looking edge of the fins.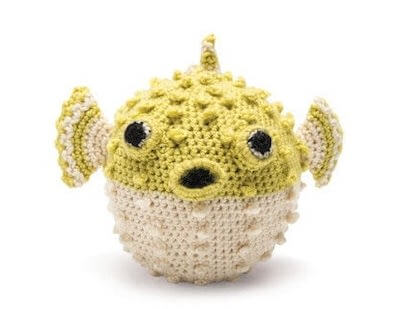 Get the Pattern here

22. Crochet Fish Dishcloth Pattern by Fiber Flux
Here is a cute little fish that will bring some summery fun to your kitchen. It can be used as a dishcloth, but also works as a large coaster or a trivet too! Whip a few up to take to your next barbecue to give to your hostess.

A great way to experiment with color and use up all of that extra cotton yarn leftover from other projects. The fabulous fish dishcloth starts with a basic circle and then tail, lips, and fins are added later.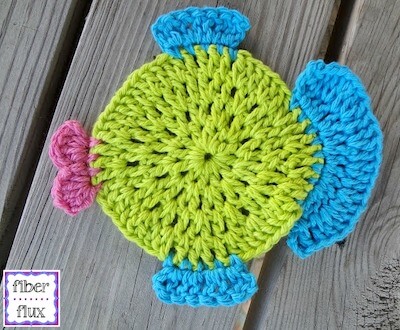 Get the Pattern here

23. Crochet Goldfish Ornament Pattern by CC's Whimsical Crochet
This pattern includes instructions to make the small goldfish, water plant and explains in detail how to assembly the "tank" aka ornament. Fun to make and will be so easy to take care of – no food or water needed!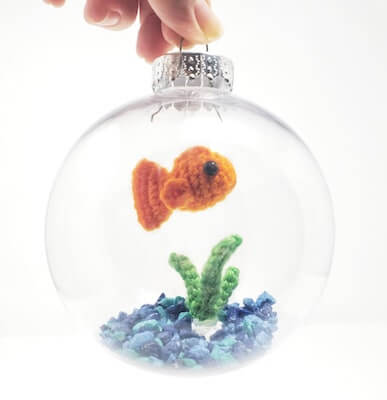 Get the Pattern by CC's Whimsical Crochet here

24. Crochet Fish Cat Toy Pattern by Just Be Crafty Shop
Whip up a few Crochet Fish Cat Toy in a couple different colors – your cats will love them! To take them from plain crochet fish to cat toy, just add a few pinches of catnip when stuffing with fiberfill.
Another idea to make them even more fun for your kitties would be to get some string and tie one end to the fish mouth and the other end to a small wooden rod to look like a fishing poll.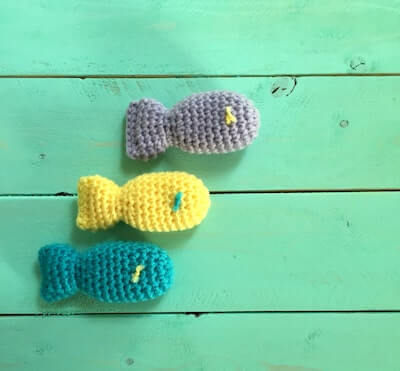 Get the Pattern by Just Be Crafty Shop here

25. Crochet Big Rainbow Fish Pattern by Yarnspirations
This vibrant rainbow fish is quite happy bringing smiles to kids of all ages. Achieve seamless color transitions easily by crocheting using the featured yarn, or maybe your toy has an alternate finish in your imagination. It's a cute toy for kids who love aquatic creatures!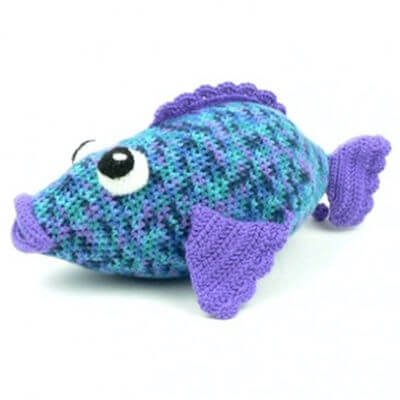 Get the Pattern here
With these crochet fish patterns, why not make a whole shoal?
These sweet, little fishes bring so much joy to any home where there's a little one or where is a kid at heart. And this is true even more for any kid who loves ocean animals and sea creatures.
If you make one, please do share your makes with us on our Facebook Page!

If you are loving everything ocean-themed right now, you may also want to check out our round-ups for Crochet Jellyfish Patterns, Crochet Seal Patterns, Crochet Turtle Patterns, Crochet Octopus, Crochet Crab Patterns, Crochet Narwhals Patterns and Crochet Shark Patterns!

It's time to whip up some crochet fish patterns for a swimmy companion you and your kids need in the house! Enjoy!