Are you interested in working on a pattern that has crochet curls? Have you passed on the pattern because you thought creating curls was hard? Do not pass them up any longer. Crochet curls are some of the easiest things to make.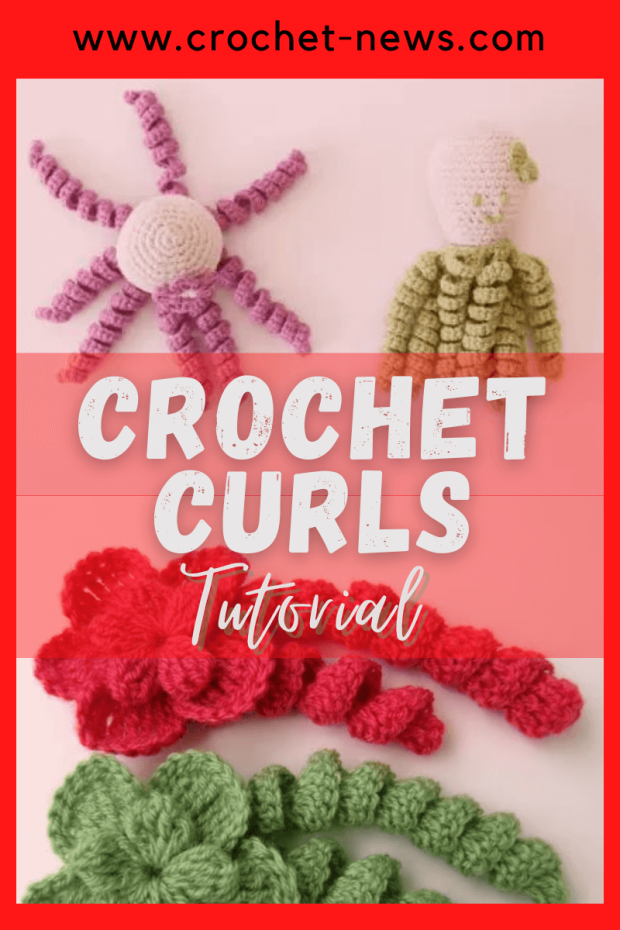 I love using them on children's toys and hats. Once you make your first curl, you will want to make more. Below you will find a super easy-to-follow crochet tutorial. I have also gathered 10 patterns that use the technique. Once you practice making a curl, give one of these patterns a try.
What are Crochet Curls?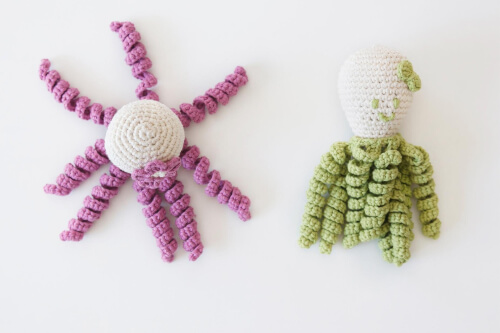 Crochet curls are also referred to as crochet curly cues. They are long spirals that are used for decorative purposes. The spiral forms by adding 2 or more stitches into every chain along a row. The technique is very easy and can be mastered by a beginner in one sitting.
Projects with Crochet Curly Cues
You can often find crochet curly cues used in whimsical projects. The curls add bounce and texture. They are great for creating hair and tentacles.
Some projects you will find crochet curly cues are:
Hats
Dolls
Plushies
Flowers
Hair Accessories
…and More
How to Make Crochet Curls
Crochet curls are extremely easy to make. Below you will learn a basic way of creating the curls. Patterns will vary on the number of chains to start with and the number of crochet stitches. The number of chains you use will determine the length of the curl. The number and type of crochet stitch will determine the thickness.
Crochet Curls Tutorial:
1. Make a slip knot.
2. Chain 50.
3. In the 2nd chain from the hook, make 3 (US) single crochets.
4. Continue making 3 single crochets into each chain.
That is all there is to it.
10 Crochet Curls Patterns
Crochet curls are so much fun to make, and they add a lot of visual interest to your projects. Below you will find 10 patterns that incorporate crochet curls. Below are 10 fun projects that have crochet curly cues.
1. Crochet Pigtail Hat Pattern by TheTwistedHatter
This crochet curly cue pattern is great for cosplay, Halloween, and dress up. Adults and children alike will love this fun, twisted hair crochet hat.
The download includes 2 full patterns. You get both the adult version and the child version. It is an easy to intermediate level pattern written in standard American terms.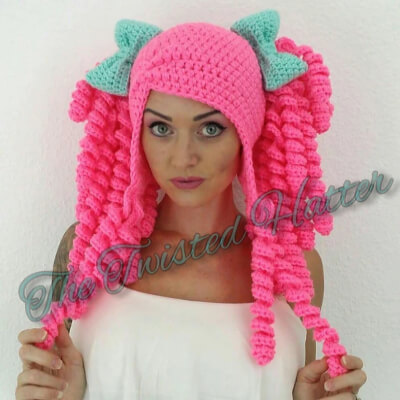 Find the Pattern by TheTwistedHatter HERE
2. Doll Emma Crochet Amigurumi Pattern by YarnWaveShop
Here is a cute little doll pattern that would make a wonderful gift for a child. All aspects of the doll can be customized for your giftee. You can change the hair, eye, skin, and clothes colors. It would be a fun pattern to work on.
Completed, the doll will measure close to 9 inches (23 cm) tall. The dress is removable and you can find more crochet doll clothes pattern here.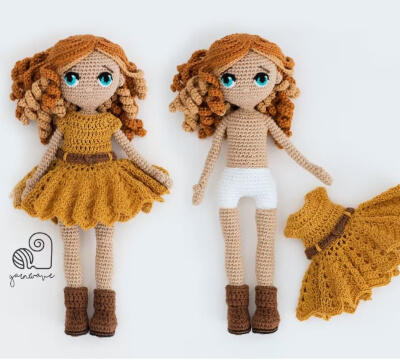 Find the Pattern by YarnWaveShop HERE
3. Multicolor Scarf Lariat Crochet Curly Cue Pattern by MilimagfaShop
Add some colour and whimsy to your outfit with this scarf made with layers of crochet curly cues. The scarf has a unique design that is fun to wear.
The PDF file is 8 pages long with detailed step-by-step written instructions. It is an easy pattern that shows the stitches row-by-row, making it a great pattern for a beginner.
You can find more unique scarf patterns here.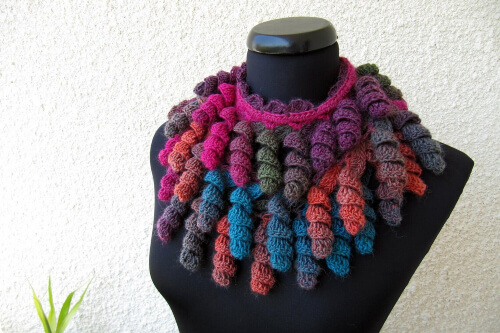 Find the Pattern by MilimagfaShop HERE
4. Pearl Ponytail Holder Crochet Curly Cue Pattern by Joann
Use this free crochet curly cue pattern to make a ponytail holder. You can make the curls in a single colour to match an outfit. Or use multiple colours for a fun ponytail holder girls will love wearing.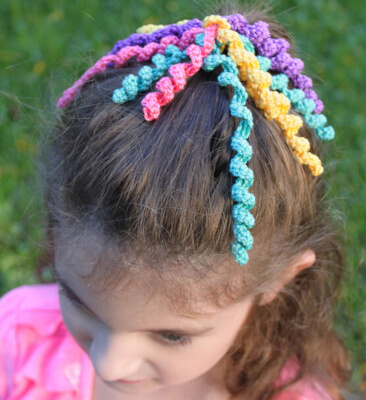 Find the Pattern by Joann Here
5. Twisted Jellyfish Crochet Hat Patterns by TheTwistedHatter
Take advantage of the cold weather and wear this amazingly delightful jellyfish hat. It is fun to wear, and it will help keep you warm.
The pattern includes an adult version and the child version. There are 3 options for making the tentacles. It is an intermediate level crochet curl pattern written in standard American terms.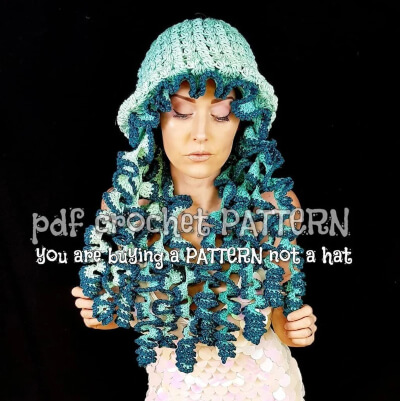 Find the Pattern by TheTwistedHatter Here
6. Crochet Jellyfish Pattern by One Dog Woof
Crochet curly cues are the perfect option for making jellyfish. You can make these cute jellyfish to give as gifts, or hang them up as a whimsical, nautical decoration.
This is a free pattern. To make the jellyfish, you will need a 4 mm crochet hook, Yarnspirations Bernat Handicraft cotton yarn, 9 mm safety eyes, an embroidery needle, scissors, and polyester fiberfill.
Also see: Crochet Jellyfish Patterns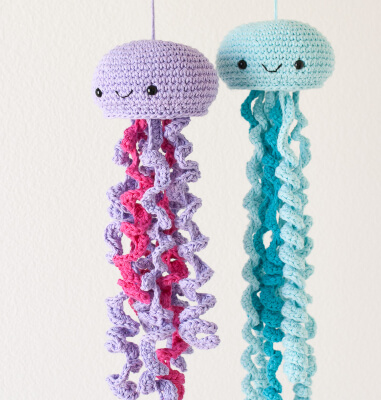 Get the Pattern by One Dog Woof Here
7. Twilight Pony Crochet Hat Pattern by EvermichaCrochet
You will definitely put a smile on a child's face when you make them this adorable pony/unicorn hat. The hat features big eyes, a horn, and colourful crochet curly cues. You can make the hat with or without the ear flaps and braids. Sizes range from newborn up to large adult.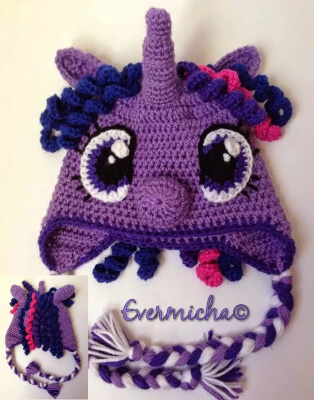 Find the Pattern by EvermichaCrochet Here
8. Unique Flower with Crochet Curly Cue Pattern by MilimagfaShop
Make some of these flowers with crochet curly cue to embellish other projects. They can be added to hats, headbands, hair pins, brooches, scarves, sweaters, and more. This is an easy crochet project. The finished flowers will measure approximately 3.54 inches (9 cm) x 7.08 inches (18 cm).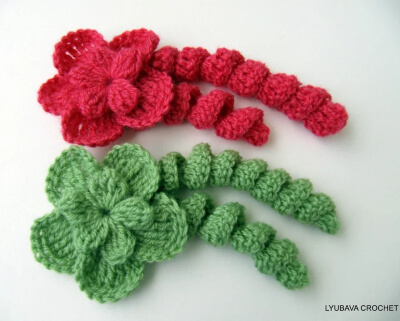 Find the Pattern by MilimagfaShop Here
9. Scottish Princess Spiral Wig Pattern by EvermichaCrochet
Make this wig to enhance your cosplay or Halloween costume. The crochet curly cues add a lot of whimsy to the design. You can make the wig using a single colour. Or get creative and add highlights or make it in a rainbow of colours. Instructions are for sizes newborn up to large adult.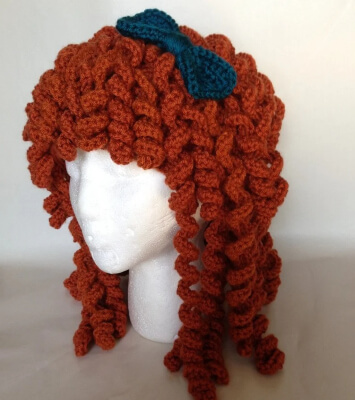 Find the Pattern by EvermichaCrochet Here
10. Unicorn Purse Crochet Pattern by JasmineArtWorks
Little girls love carrying a purse. This cute purse is the ideal size for holding your little one's special toys. Completed, the purse will measure close to 7.5 inches (19.05 cm) wide by 8 inches (20.32 cm) tall (without the strap). It is a great pattern for using up your stash yarn.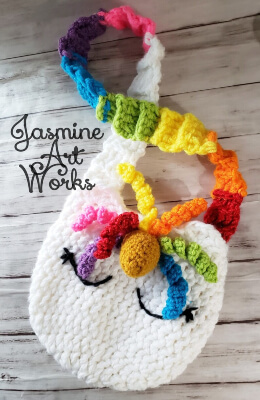 Find the Pattern by JasmineArtWorks Here
Are you ready to give crochet curls a try? Once you do, you will wonder why you waited so long.
And let us know your experience making these crochet curly cues on our Facebook Page. You can also learn how to crochet a circle, How To Bead Crochet and a lot more.
Crochet curls are so much fun to make. And kids love them on stuffed animals. If you are looking for an enjoyable project that is easy, work on one of the crochet curls patterns I have listed above.