Do you like to crochet chevron patterns? I love how quickly they work up and how difficult they look to crochet – when they absolutely are not! Once you get into the rhythm of the stitch, crocheting them are a breeze!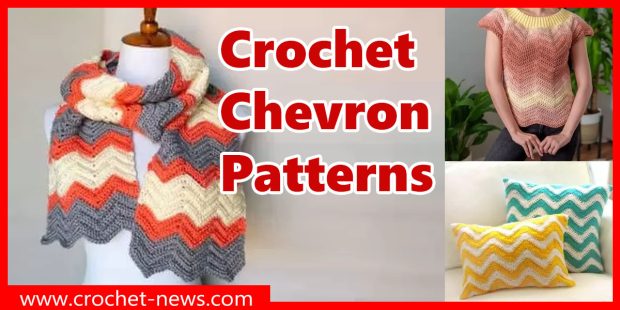 Fact: chevron never goes out of style, especially in crochet! They are very bold, geometric patterns, although you can opt to make it subtler with your color choices.

Striped or solid, the crocheted chevron is a classic pattern that works up quickly and is easy to memorize – the perfect recipe for a satisfying make. Chevrons may be seen in a variety of crochet projects, including crochet blankets, clothing, and accessories. Here are a few of my faves!
10 Crochet Chevron Patterns

1. Easy Crochet Chevron Blanket Pattern by Repeat Crafter Me
A bold ripple pattern on this crochet blanket adds graphic interest to your décor. Crochet it for a mod living room or bedroom in any shade that inspires you.

There are so many color combinations to choose from, and you can coordinate the design with so many holidays and seasons.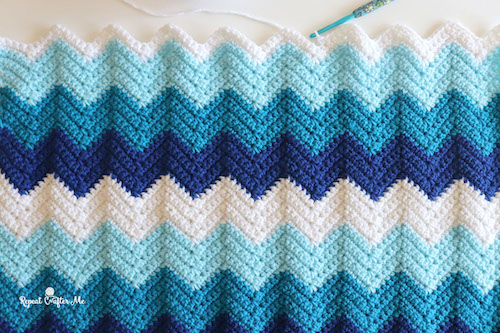 Get the Pattern here

2. Simple Crochet Chevron Scarf Pattern by Heart Hook Home
There's nothing like a good scarf to wrap around your neck on a chilly winter day. Chevrons can be intricate and require more mental focus, or they can be extremely simple as in this Simple Crochet Chevron Scarf Pattern.

With simple half double crochet stitches, you'll create a new scarf that is quick, simple, and stunning.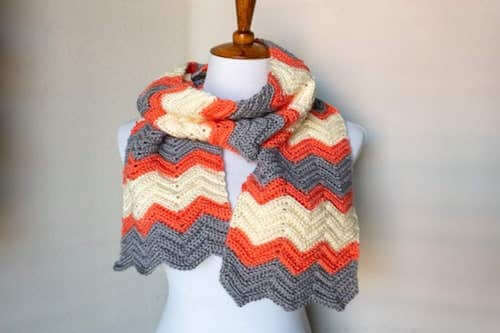 Get the Pattern by Heart Hook Home here

3. Crochet Chasing Chevrons Handbag Pattern by A Crocheted Simplicity
Chevron crochet is a very unique stitch by itself, and implementing it in a crochet handbag is really amazing!

This Chasing Chevrons Handbag can be made in any color combination and is the perfect size for an everyday bag. It is comfortable and light, but big enough to carry all of your essentials.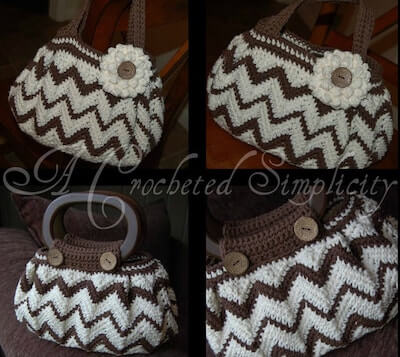 Get the Pattern by A Crocheted Simplicity here

4. Crochet Chevron Hat Pattern by Whistle & Ivy
This cute Crochet Chevron Hat is made up of single crochet stitches and alternates between two colors to make up the graph creating a stunning chevron effect.

The graph is quite simple, making it one of the simplest color work graphs you can find. But the finished effect is stunning!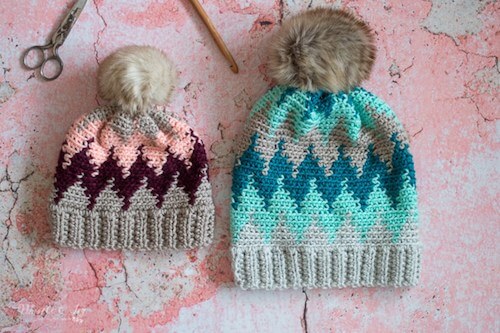 Get the Pattern by Whistle & Ivy here

5. Crochet Chevron Pillow Covers Pattern by Crochet Spot Patterns
There's no better way to give your room an instant lift of color and style than by adding these vivid crochet pillow covers. Designed with a popular chevron design, this pair adds an interesting decorative element to any space, whether you complete them as designed, or shape them in colors of your choice.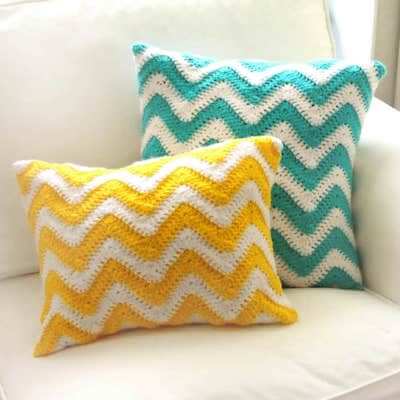 Get the Pattern by Crochet Spot Patterns here

6. Tulip Chevrons Baby Dress Crochet Pattern by Crochet Kim
Everyone loves chevrons, and this beautiful baby dress is made completely of lacy chevrons, perfect for the warmer months. The dress is completely seamless, so there is no extra finishing. Although the pattern is approximately size 3-6 months, it still can be used as a top for babies 9-12 months.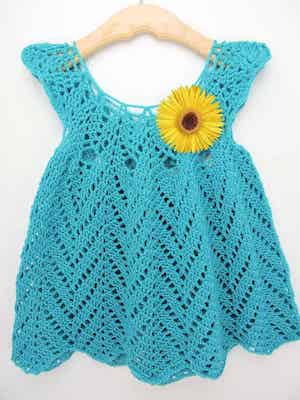 Get the Pattern here

7. Wavy Crochet Sweater Pattern by Bai Retro
I love the gentle chevron ripples and slightly wide sleeves of this cropped sweater. It has the perfect vintage feels and fits so effortlessly with the long flared sleeve. It's light and airy, perfect for a summer night out.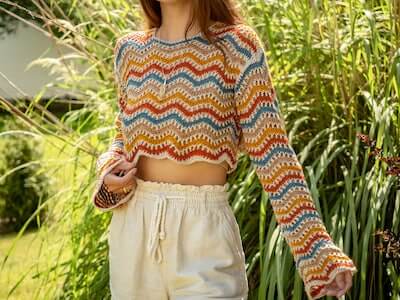 Get the Pattern by Bai Retro here

8. Eldoris Chevron Blanket Crochet Pattern by Knitting With Chopsticks
Plain rows of double crochet stitches are alternated with colorful rows of bobbles to highlight the chevron crochet pattern and add a pop of colorful texture to this modern crochet blanket.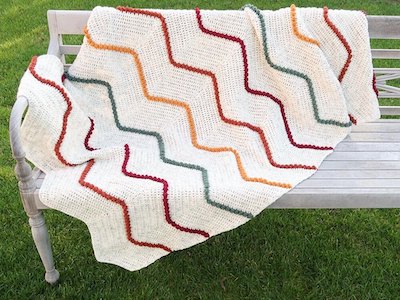 Get the Pattern by Knitting With Chopsticks here

9. Crochet Chevron Dishcloth Pattern by Pine Tree Crochet
Have you ever wanted to make a chevron project but never knew how to get started? This easy project will take you through the process and get you comfortable with the chevron design in this colorful crochet dishcloth.

Once you've mastered this small project, you will have confidence to try your hand at a larger chevron piece!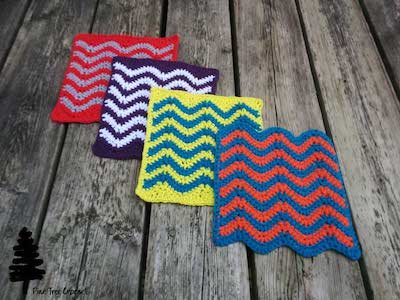 Get the Pattern here

10. Crochet Chevron Top Pattern by TCDDIY
Chevron and colorwork go together like bread and butter. The color changes accentuate the zigs and zags in the chevron pattern, which you can see clearly in this crochet top. Colorful and eye-catching, this top is a great wardrobe builder for the warmer months.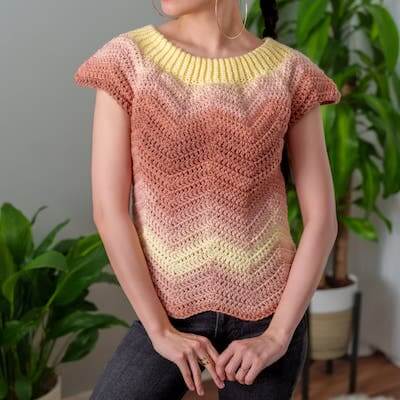 Get the Pattern by TCDDIY here
WHETHER YOU'RE LOOKING TO ADD SOME VISUAL INTEREST TO YOUR PROJECTS OR SIMPLY EXPAND YOUR CROCHET SKILLS, THIS LIST OF CROCHET CHEVRON PATTERNS IS A GREAT PLACE TO START.
Don't forget to share your chevron makes with us on our Facebook Page. We're excited to see what colors you come up with!
Once you get to be more comfortable with your crochet skills, it's time to venture out into the many different pattern formations the wonderful world of crochet has to offer. Check out these posts:
Crochet chevron patterns have been all the rage in the crochet world—and for a good reason! Happy crocheting chevrons, friends!