It's getting colder outside, so stay warm with these adorable crochet cat scarf patterns! These delightful accessories will provide a whimsical touch to your winter wardrobe. I'm sure this is the best thing you'll see today, if not all week!
If you're ready to start working on something entirely unique and memorable, you'll want to start by scrolling down below to take a look at each of these adorable crochet cat scarf patterns. These quirky cat-themed accessories are paw-sitively delightful for holidays, birthdays, or just because.
10 Crochet Cat Scarf Patterns

1. Crochet Cat Scarf Pattern by Happy Coridon
There's just something about this Crochet Cat Scarf that just makes me smile, from his adorable amigurumi style face to his little paws. A brilliant design that will go down well with both kids and adults—and best of all, no cats have been harmed!
Get the Pattern by Happy Coridon here

2. Crochet Calico Cat Scarf Pattern by Bees Knees Knitting
Everyone loves Calico cats – there is just something special about all those colors. Whether inspired or reminiscent of a beloved calico cat, this Crochet Calico Cat Scarf will happily perch on your shoulders, serving as both a cozy accessory and a charming sidekick.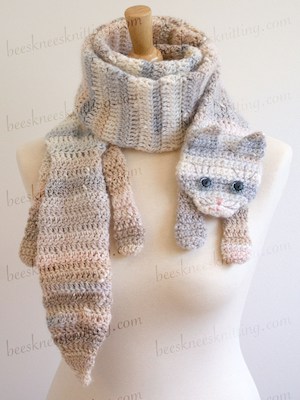 Get the Pattern by Bees Knees Knitting here

3. Free Crochet Cat Scarf Pattern by Hobbii
Get your little one ready for the cooler weather with an adorable cat scarf. This cozy hooded scarf is a fun playful accessory that kids will love to wear.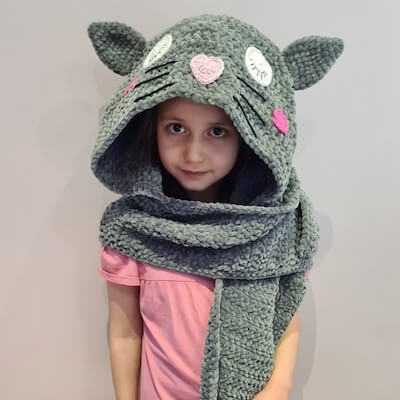 Get the Pattern here

4. Rainbow Barf Cat Plush Scarf Crochet Pattern by Amanda Julien
You can now wear a rainbow-barfing cat around your neck! This Rainbow Barf Cat Plush Scarf consists of an amigurumi cat, mixed with a rainbow. But that's not even the best part: when you aren't wearing the scarf, you can simply tuck the rainbow tongue (or barf) back inside the cat's head.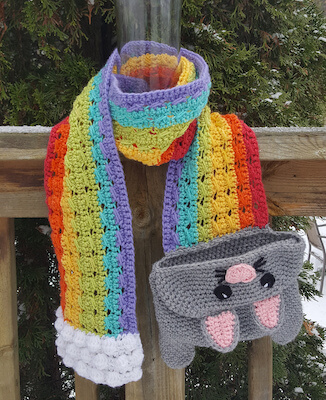 Get the Pattern here

5. Crochet Kitty Pocket Scarf Pattern by Lori Thompson
Create this cute Kitty Pocket Scarf for your favorite cat lover! This scarf features pockets underneath to tuck hands in for warmth. It's easy and fun to make!
Get the Pattern here

6. Crochet Cat Scarf by Crochet By Ula
This Crochet Cat Scarf is a perfect stash busting project. It is crocheted using chunky yarn, so it finishes up quickly. The length and final look of this scarf is entirely up to you and your choice of yarn and scraps. That is what makes this scarf so much fun!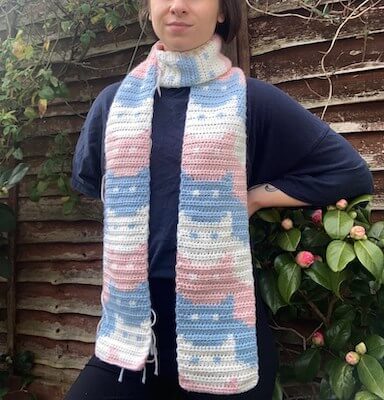 Get the Pattern by Crochet By Ula here

7. Cuddly Cat Crochet Scoodie With Pockets Pattern by Moogly
It's a hat, a scarf, a pair of pockets – and a whole lot of fun! The patterns for the paw prints and ears are included, but feel free to mix it up and make it your own!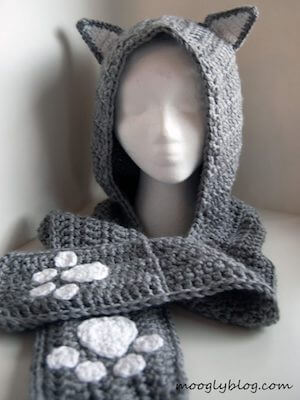 Get the Pattern here

8. Crochet Nyan Cat Scarf Pattern by Mevv San
So Pop Tart cats are imaginary. But delicious! And rainbows! Give your ensemble a splash of color and whimsy by wearing this Crochet Nyan Cat Scarf that conceals a long and soft rainbow tail from its behind.

The pattern creates a scarf approximately 60″ long and 5″ wide.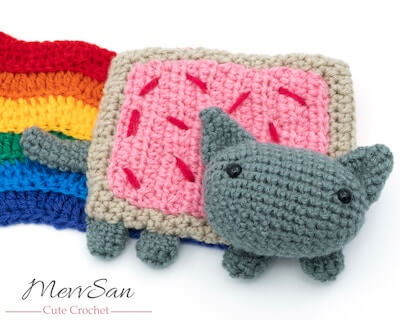 Get the Pattern by Mevv San here

9. Crochet Siamese Cat Scarf Pattern by Hook N Saw
The purr-fect scarf for any cat lover! The cat motif is worked using the Intarsia crochet technique and colors not in use are dropped to the rowing side of the piece and picked up on the next row where it will be used.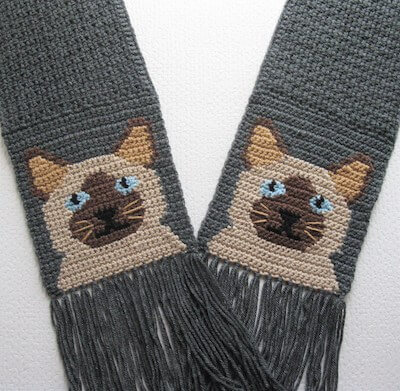 Get the Pattern by Hook N Saw here

10. Crochet Pretty Kitties Scarf Pattern by Craft Designs 4 You
These kitty keyhole scarves are a sweet way to keep you warm! They have very cute little kitty cat faces and stretchy keyholes making them easy to put on. Crochet them with either worsted weight or bulky yarns and choose some "fluffy" yarn for an extra plush feel!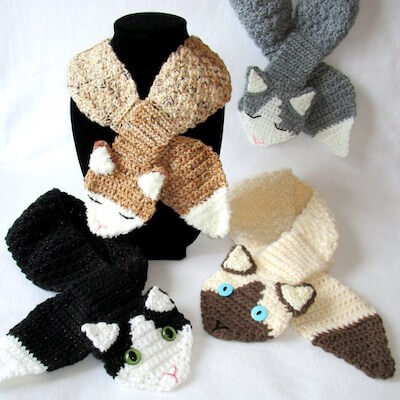 Get the Pattern by Craft Designs 4 You here
EVEN IF YOU DON'T HAVE A CAT, COZYING UP UNDER A CROCHET CAT SCARF IS BASICALLY THE NEXT BEST THING!
If you crochet any of these crochet scarf patterns, we'd love to see them! You can always post pictures of your finished projects on our Facebook Page.
Now that you've crocheted yourself a snazzy cat scarf, perhaps you're ready for some other cat-related crochet patterns? Here are some of my favorites:
Grab your hooks and start making one of these adorable crochet cat scarf patterns today!