Whether you want to buy a cat costume this year or make your own, these crochet cat ears patterns are great for any occasion, Halloween or not! If you love cats, keep reading to learn how to make your own cat ears accessories!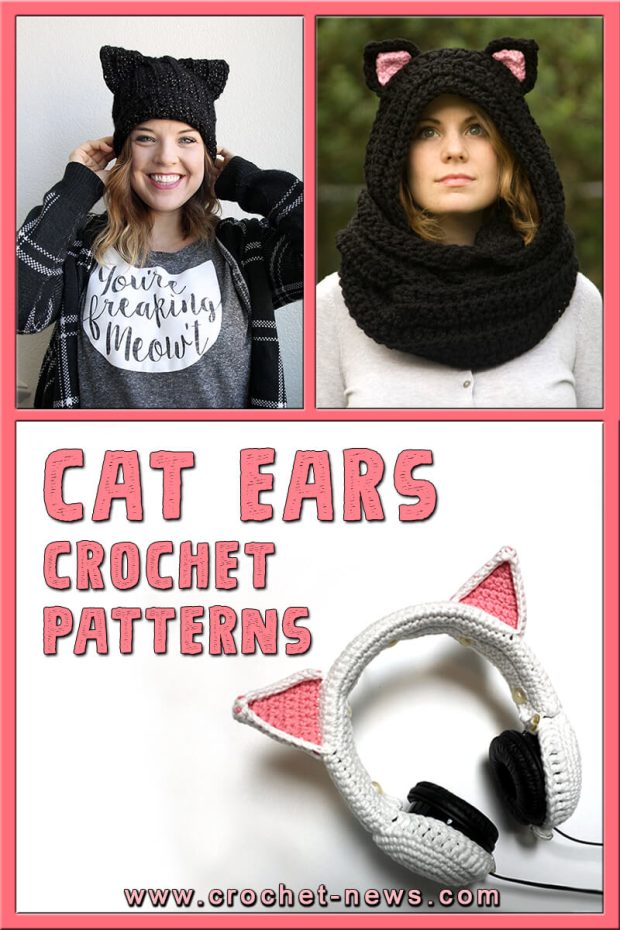 Do your children enjoy dressing up? Although I doubt I'd ever be able to crochet an entire costume (someday! ), these cute crochet cat ears attached to headbands or hats are a fun little accessory that can add some magic to your child's playtime. And, to be honest, I'd like to wear one just for fun when we're out and about. Who doesn't want to be a cute cat all the time?
10 Cat Ears Crochet Patterns
These projects below are fun and quick patterns that are great for Halloween costumes, dress-up, costume parties, or when you just want to look cute. Cat ears are perfect for the young and the young at heart!

1. Crochet Cat Ears Headband Pattern by Crafty Kitty Crochet
Halloween is around the corner, which means it's time to crochet some fun, fast, and cute accessories! These DIY cat ears are so adorable and easy to make, and they use very little yarn, making them a great stashbuster project! What better way to top off your cat costume? These headbands are great for both kids' and adults' costumes!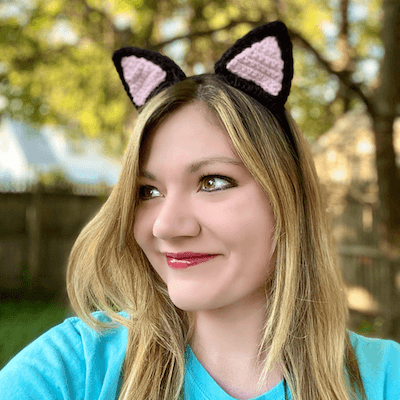 Get the Pattern here

2. Crochet Cat Ears Pattern by Crochet Verse
I'm calling these "Really Good Cat Ears" because that is exactly what they are! The possibilities are truly endless with options! They are wired inside for max posability, and instructions are given for multiple styles: furry, frilly, plain, embellished, hooped, and shaded!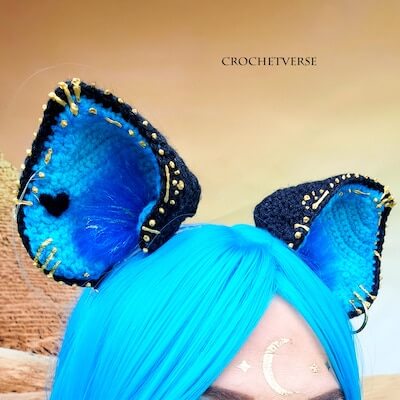 Get the Pattern by Crochet Verse here

3. Crochet Cat Ears Free Pattern by Felt Magnet
Wish you could wear cat ears? Cat ears headbands and hats are great for costumes, keeping warm, or just being cute! Here is a very simple pattern to make the perfect cat ears for your crochet hat or headband. This includes two different patterns: one for two colors and one for a single color. Use whichever pattern you prefer.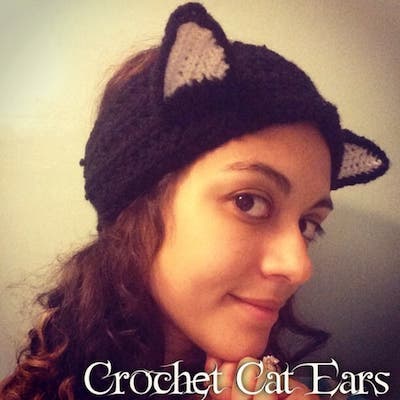 Get the Pattern here

4. Crochet Cat Ear Hat Pattern by Mud Paper Scissors
This super simple crochet cat hat gives you adorable cat ears on a cozy hat. You can make these cat ear hats in kid and adult sizes. These make great mommy-and-me hats. Or just make them for everyone you know who wants to wear cat ears around town.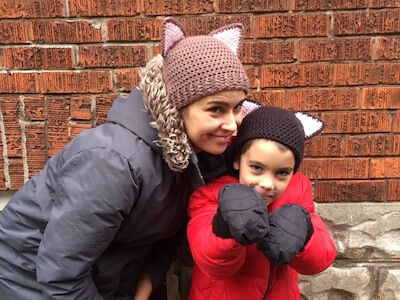 Get the Pattern here

5. Crochet Cat Ears Headphones Covers by Zonal
If you wish to relax at home after a long day but also want to feel like a cat, these cat ears will help meet both needs. Spice up your boring earpieces with these cute cat ears headphones cover!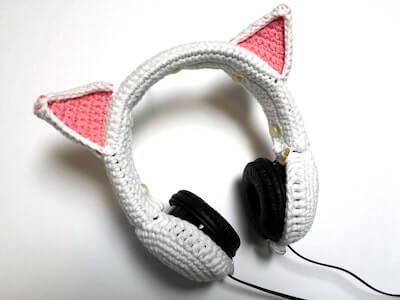 6. Crochet Cat Ears by With Alex
This project kind of makes me think of that line from Mean Girls, about Halloween costumes: "The hardcore girls just wear lingerie and some form of animal ears." You probably won't find me in lingerie but I would definitely rock these ears if I needed a last minute Halloween costume!

They're super fast and easy to make. So if you need a last minute Halloween costume for a work party or just for some grownup festivities, these are right up your alley!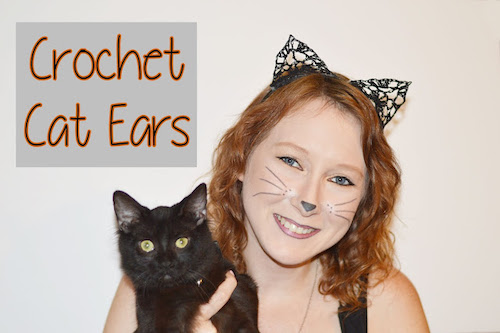 Get the Pattern here

7. Crochet Black Cat Ears Slouch Hat Pattern by Persia Lou
Not just for Halloween but this would be the perfect hat to wear when you don't 'really' want to dress up but you think you should make an effort – just add some whiskers and you're done for trick or treating with the kids.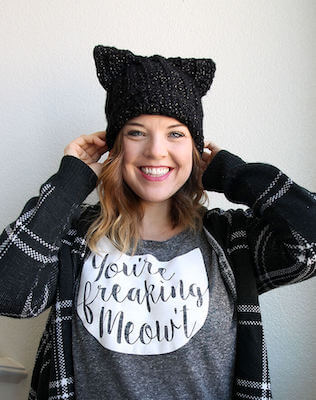 Get the Pattern here

8. Crochet Amigurumi Cat Ears Pattern by Live Chill Life
Do you need cat ears for your amigurumi cat crochet project? This simple crochet ear pattern works for some different types of animals but I am using them for cat ears. Try them for zebras, giraffes, hippos, cats, lions, and more.

The base is approximately 2″ wide. You will have the option to make a more narrow pointed ear with a slimmer base as an option.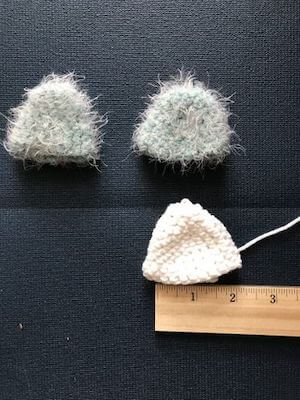 Get the Pattern here

9. Crochet Cat Scarf With Ears Pattern by Well Ravelled
With this DIY tutorial, you can make your own cute cat scarf! The pattern has instructions for permanent and removable ears, and also contains instructions on how to add stripes and change colors.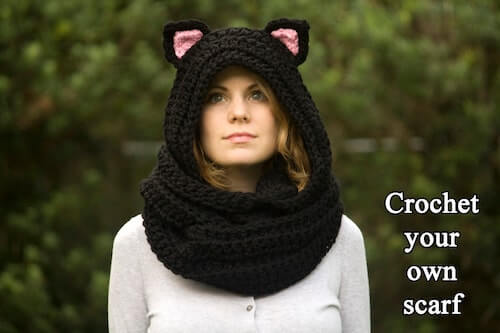 Get the Pattern by Well Ravelled here

10. Black Cat Ears Headband Crochet Pattern by Shop Zoe Creates
Are you dressing up for Halloween? If you need a quick and easy costume, we've got you covered! This cat ears headband can be dressed up or down—wear it with a simple black shirt to dress up for your workday or pair it with a slinky black dress for going out on the town.

I will make a mini version for the kiddos in my life and go as ​a whole cat family. You can make these in a jiffy, and they're so simple, they're just about foolproof.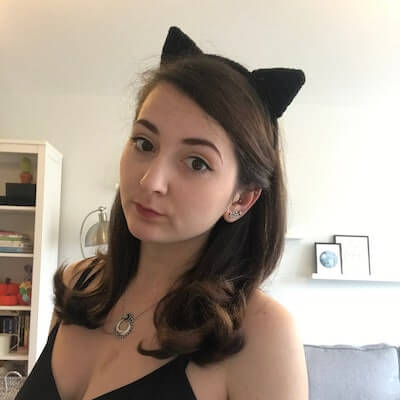 Get the Pattern by Shop Zoe Creates here
YOU COULD CHOOSE ANY SHADE OF YARN FOR YOU CROCHET CAT EARS PATTERN SO THERE'S NOTHING TO STOP YOU WHIPPING UP A CLUSTER OF ADORABLE ACCESSORY TO MATCH EVERY OUTFIT.
If you make your own crochet cat ears, I would love to see! Share your photos to our Facebook Page.
Did you love these ideas? You might as well check out our 28 Crochet Ears Patterns and 10 Crochet Bunny Ears Patterns for more fun crochet projects!
Adults and kids alike will love these adorable crochet cat ear patterns. Choose your favorites and get started today!