Easter is right around the corner, and that means more bunny-related crafts! If you're looking to do something a little extra this Easter but don't have much time – these crochet bunny ears patterns are so easy to make.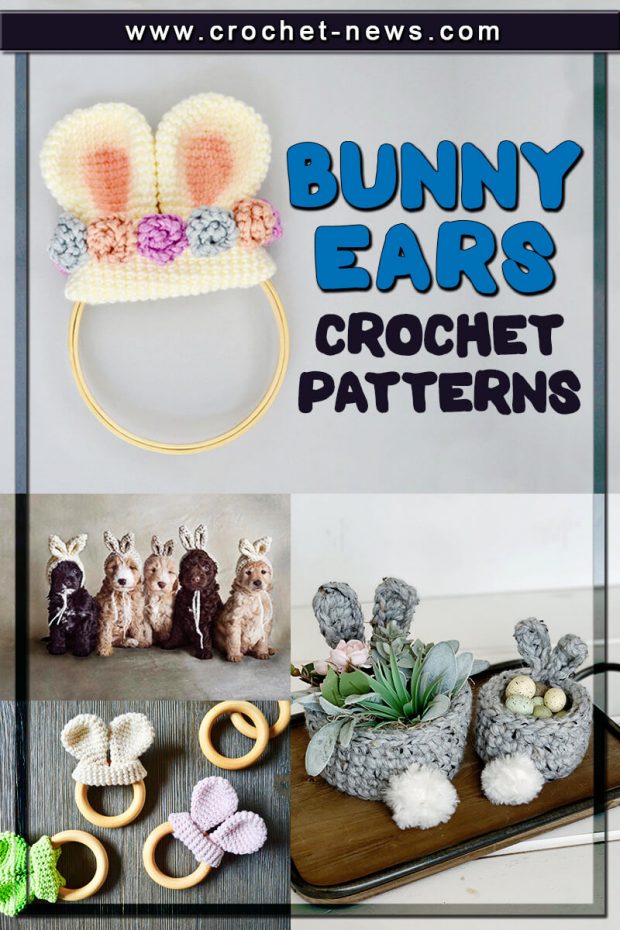 It's always fun to style up the house and make cute accessories to enhance the festive mood. Gotta tell you, nothing makes the kids (or adults) happier than being in the zone and celebrating fun festivals with holiday decorations.
20 Bunny Ears Crochet Patterns

For this holiday, crochet an adorable bunny ear headbands to pump up your outfit or bunny ears related home decor for a bunny-themed party.
So hippy hop through this collection and see which of these bunny ears will fit what you're looking for.

1. Mini Bunny Ear Wreath Crochet Pattern by Yarn Society
This Mini Bunny Ear Wreath may be small in size but can add a big impact on your Easter decorations. The Bunny Ears are approximately 3 inches tall on the hoop when crocheted in Color Made Easy yarn (5 Bulky).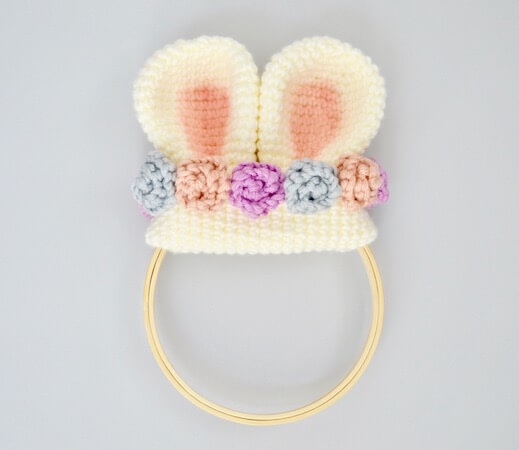 Get the Pattern here
2. Crochet Sock Bunny Hat Pattern by Pretty Darn Adorable
Bring some cozy warmth – and lots of attention – to your little one's (and your!) wardrobe with this fun Crochet Sock Bunny Hat Pattern. This sweet little bunny hat is perfect for Easter, Valentines for a great Halloween costume, a whimsical photo prop, or just a cheerful everyday hat for anyone (sizes newborn to adult included).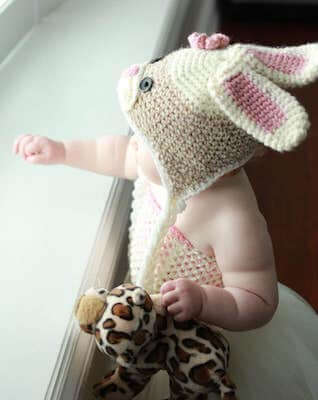 Get the Pattern by Pretty Darn Adorable here
3. Dogs Hat Bunny Ears Crochet Pattern by Dogs And Hats
Easter is just around the corner and if you have a dog, you will love to grab them this super cute crochet bunny ears hat. This hat pattern is easy to make and includes sizes for extra small to medium dogs.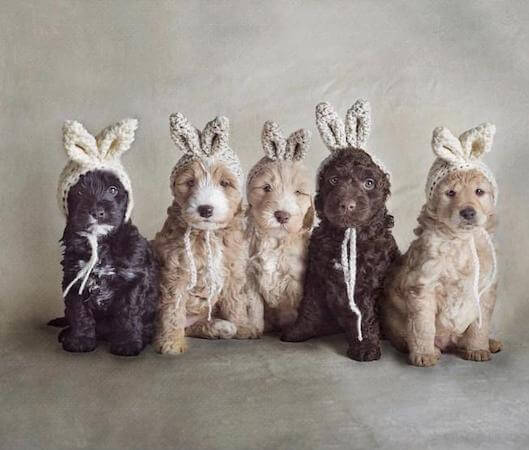 Get the Pattern by Dogs And Hats here
4. Bunny Ears Placemat Crochet Pattern by Karla's Making It
This Bunny Ears Placemat will delight kids of all ages. Even adults will love it! It's quick and easy to crochet for hoppy decorations, fun at mealtime, parties, or Easter. Make it in any color you desire!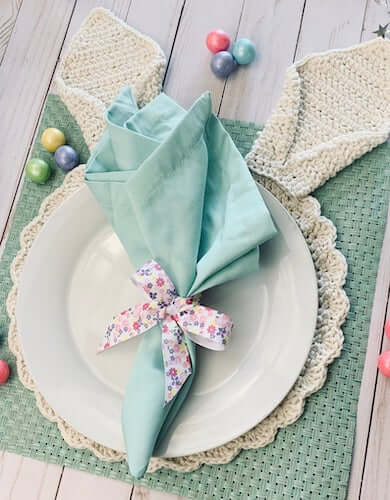 Get the Pattern by Karla's Making It here
5. Crochet Bunny Knot Hat Pattern by Fiber Flux
This Newborn Bunny Knot Hat is a super sweet hat full of fun! Crocheted in squishy huggable yarn, it is easy to make and keeps the littlest heads warm. Easy to make ears are knotted and a pretty little heart finishes it off. A great one evening project for spring time!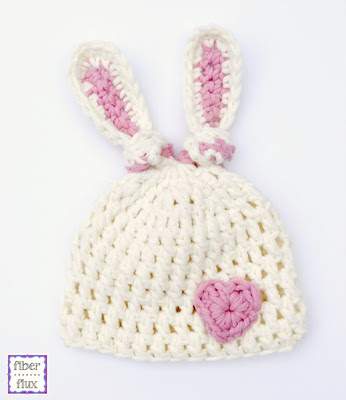 Get the Pattern here

6. Crochet Bunny Ears Teether Pattern by Yarn Society
This Bunny Ears Teether is a classic and functional crochet project. This simple teether takes less than an hour to make and is the perfect present for your next baby shower. It's approximately 2 inches tall in cotton DK yarn.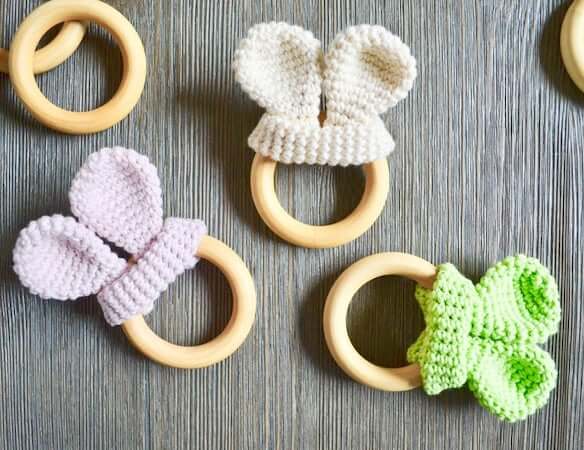 Get the Pattern by Yarn Society here

7. Headband Bunny Ears Crochet Pattern by Winding Road Crochet
When your snuggle bunny needs a set of ears for her photos it is time to turn to your crochet hooks and whip up this Crochet Bunny Ears Headband with Flowers for a springtime flair.
This free crochet pattern is quick and easy and great for beginners who have already learned the basics.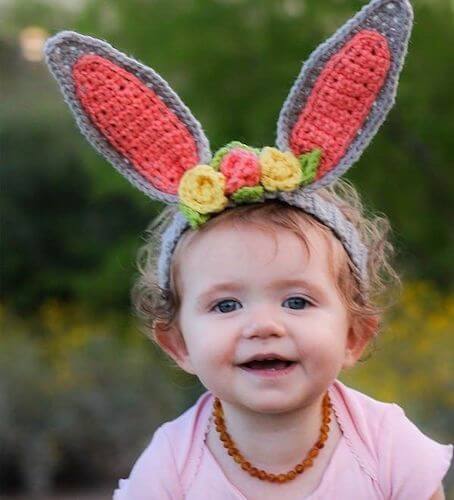 Get the Pattern here

8. Crochet Bunny Ears Basket Pattern by Simply Made By Erin
Darling bunny baskets to fill with Easter treats! The crochet basket pattern features cute little bunny ears and tail. Flexible, yet sturdy, perfect for Easter candy or faux greenery.
The basket is crocheted with super bulky size 6 yarn and a small amount of fur yarn for the tail.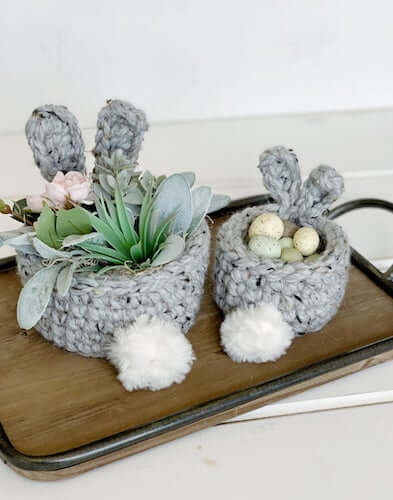 Get the Pattern by Simply Made By Erin here

9. Crochet Bunny Ears Bow Pattern by But First Crochet
Crochet an adorable Bunny Ears Hair Bow for Easter or spring. This easy crochet bunny ears pattern is beginner friendly and works up really quick! It's time to embrace your inner kawaii!
Create this bow in an assortment of colors that's right up your girl's alley!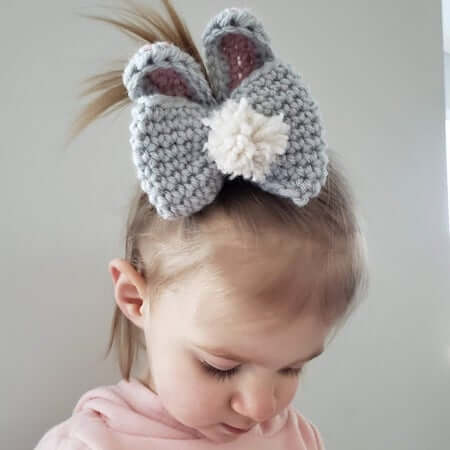 Get the Pattern by But First Crochet here

10. Floppy Bunny Ears Beanie Crochet Pattern by Krazy Kabbage
Have fun hopping along in this Floppy Bunny Ears Beanie this Easter. This adult sized hat is fun and easy to make. The hat is a simple, soft and cozy, top-down beanie. The double thickness ears are worked in the round then sewn to the hat.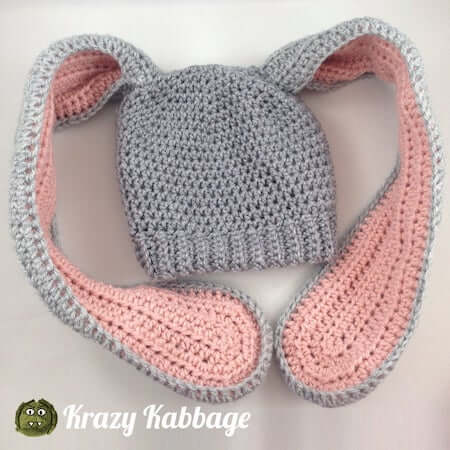 Get the Pattern by Krazy Kabbage here

11. Crochet Bunny Ears Hair Ties Pattern by Briana K Designs
Aren't these the cutest Crochet Bunny Ears Hair Ties? The bunny ears are a fun little accessory to add a little hop in your day. And they fit perfectly around an egg so they can be used for Easter decor as well!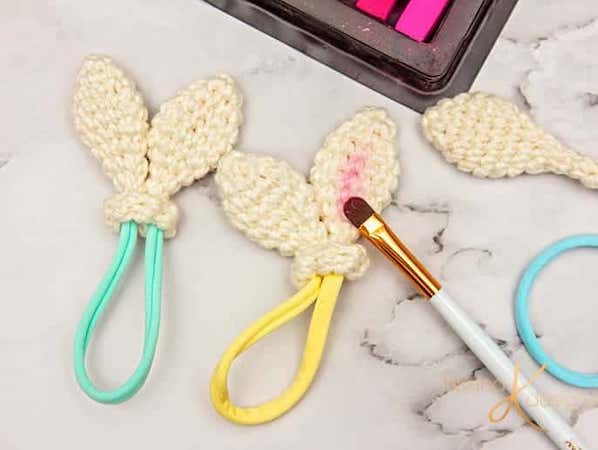 Get the Pattern here
12. Easy Crochet Bunny Ears Pattern by Repeat Crafter Me
This easy crochet bunny ears pattern is too cute to handle! You can attach these to a ponytail or to a headband. You are free on how to crochet ears. Follow this pattern but with your accent color (such as blue as pictured).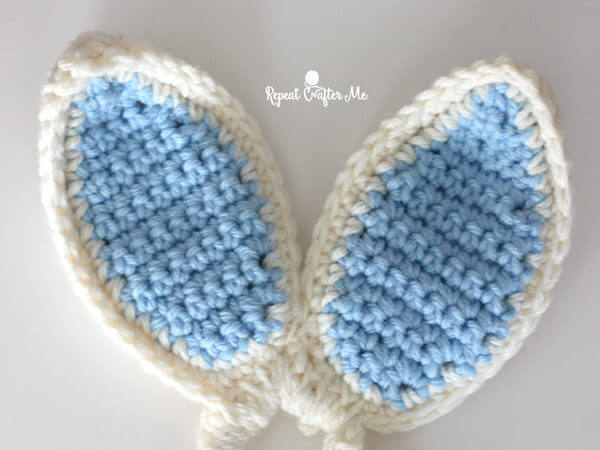 Get the Pattern here

13. Crochet Bunny Ear Up Hat Pattern by Yarnspirations
Turn baby into a bunny with the help of this endearing crochet hat! This pattern is stitched from side to side in single crochet, and no buttons or ties are needed to keep this toasty hat in place. Keep it in pink, or make your bunny sweet in any color you like. One size fits 3-6 month babies, for the perfect gift!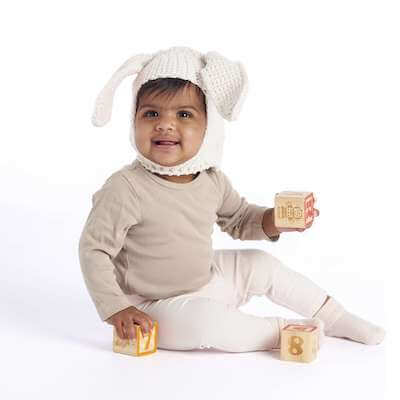 Get the Pattern here

14. Crochet Bunny Baby Hat Pattern by Make And Do Crew
Whip up a quick bunny hat with adorably long ears. This hat is perfect as an easy crochet Easter or baby shower gift or as part of a Halloween costume. Add an optional button-eyed face or keep your bunny minimalist and modern with just the floppy ears.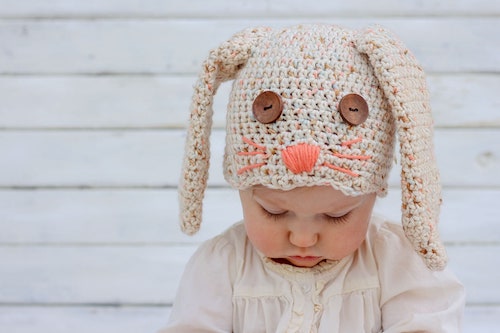 Get the Pattern by Make And Do Crew here

15. Crochet Bunny Bonnet Pattern by Magali Who Crochets
This Bunny Bonnet is a fun and easy accessory to make and wear during any season! It can be made in any color combination and looks good on everybody. It is perfect for the winter to cover your ears and keep your head warm and great for the summer as a cute, fashionable accessory.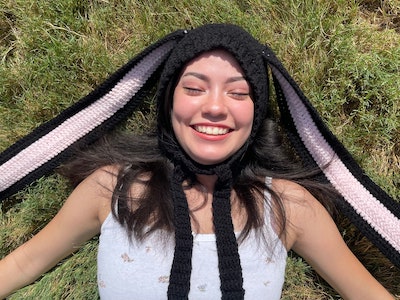 Get the Pattern by Magali Who Crochets here

16. Crochet Baby Bunny Hat Pattern by Hanjan Crochet
This little textured Crochet Baby Bunny Hat Pattern is so easy to make and the cute ears are added afterwards so if you can just leave them off if you'd prefer a regular hat instead. It comes in sizes Newborn,
Baby and Toddler and is really easy to adapt if you'd like it bigger or smaller. It's the perfect little Spring time gift for a new baby that just calls out for a photo shoot!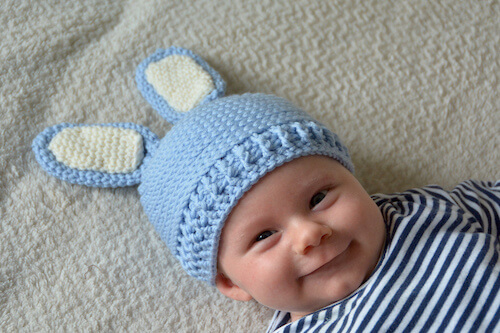 Get the Pattern here

17. Crochet Bunny Ear Hat For Cats Pattern by Pawsome Crochet
Who says our pets are left behind? This fun project works up quickly and makes a great Easter accessory for your smaller four legged friends. Whether you're looking for an entertaining stash buster or a quick last minute Easter accessory for the feline in your life, this pattern is sure to bring smiles to 'everybunny'.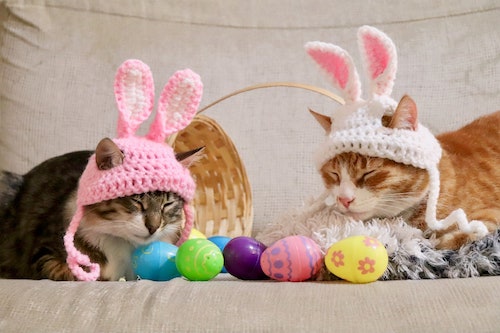 Get the Pattern by Pawsome Crochet

18. Crochet Ribbed Bunny Bonnet Pattern by Left In Knots
This Ribbed Bunny Bonnet is so cute and versatile! It makes a spectacular photo prop and an adorable, functional hat. It works up quickly, and your little one will be hopping-cute in no time! This pattern will provide you with instructions to create your very own bunny bonnets in size X-Small (newborn).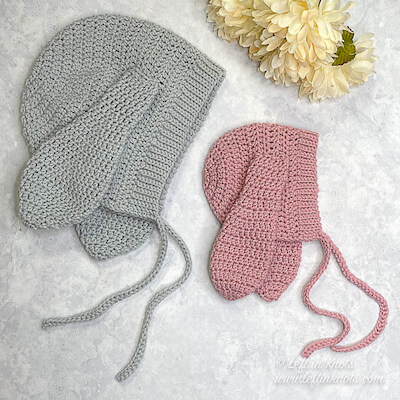 Get the Pattern here

19. Fuzzy Bunny Beret Crochet Pattern by HELLO Happy
Make an adorable Fuzzy Bunny Beret with this crochet pattern! The pattern comes with two different bunny ear options. Plus, feel free to omit them, the hat is super cute even without them!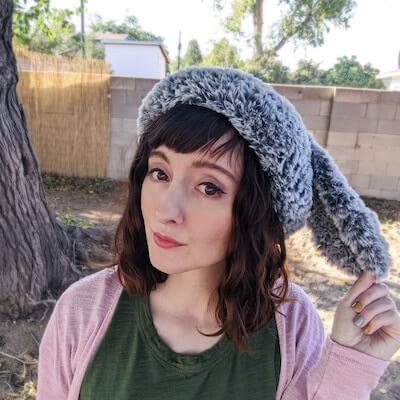 Get the Pattern by HELLO Happy here

20. Crochet Floppy Bunny Ears Hat Pattern by Karapooz Crochet
This adorable Easter Bunny Crochet Hat is made using a super bulky novelty yarn that creates the fuzzy coziness of faux rabbit fur. The pattern is available for five sizes, ranging from newborn to teen—perfect for family Easter photos!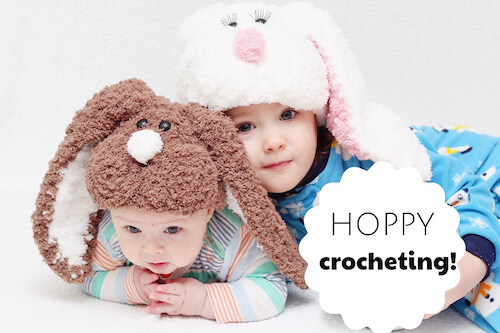 Get the Pattern here
WHETHER YOU'RE LOOKING FOR EASTER CROCHET PATTERNS OR JUST WANT TO WORK UP A NICE BUNNY EAR, THESE CROCHET BUNNY EARS PATTERNS ARE PERFECT TO SHARE WITH FAMILY AND FRIENDS!
You won't need much yarn to crochet them, so whip up some in your favorite colors using yarn from your stash – they're perfect for spring-themed playtime! If you enjoy making crochet ears so much, be sure to check our Ear Warmer Crochet Patterns and Crochet Ear Patterns.
When you're done, we'd love to see your finished projects. Post your works on our Facebook Page to show off your stitches!

Whether it's Easter or not, bunnies are a much-loved creature that we can celebrate all-year-round. From their fluffy tails to those adorably long ears, what's not to love about this animal?
Here are 45 Crochet Bunny Patterns and 6 Crochet Chocolate Bunny Patterns to help you grow your bunny collection.

Adults and kids alike will love these adorable crochet bunny ear patterns. Hop to it and cast on today!