Ready, set, organize – with these 37 Crochet Basket Patterns! The messes we can make with small items around the house, jewelry, office supplies, cleaning supplies, laundry, craft supplies – all these things seem to constantly cause our homes to look disastrous.

But if you can manage to gather all those little things in one place, there's an easy way to tidy up around the house: a crochet baskets! These crocheted baskets have sizes from mini to extra-large, and styles of crochet baskets with handles, square, round, and more.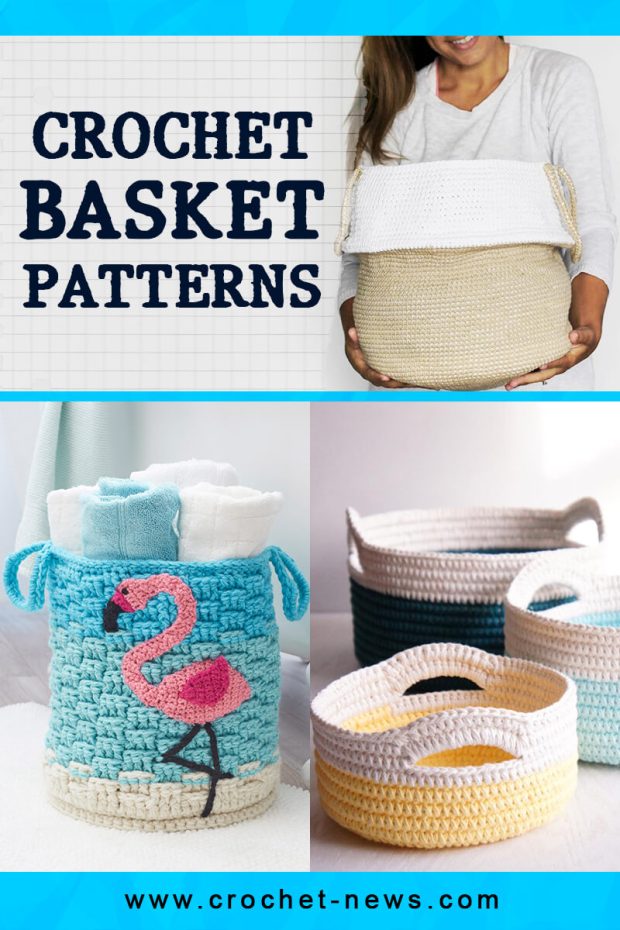 Browse through this wonderful collection of Crochet Basket Patterns that perfectly suit to your needs!
37 Crochet Basket Patterns

1. Essentials Basket Crochet Pattern by Knit And Crochet Evr Aft
This Essentials Crochet Basket is a wonderfully large container that will hold all your large projects, or whatever you may need it for.
It's crochet-in handles make it easy to transport. Make a few of this crocheted baskets in different colors!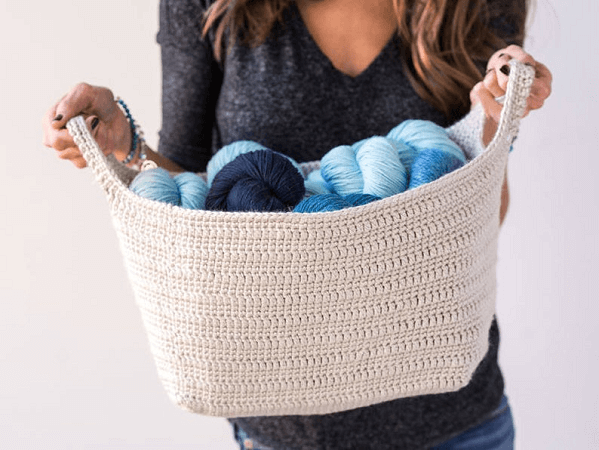 Get the Pattern by Knit And Crochet Evr Aft here

2. Bubble Crochet Basket Pattern by Crochet By Ellen
Looking for a stylish way to store all your miscellaneous items?

This hanging bubble crocheted baskets with both a one or two-handled option works perfectly hung by the front door, sitting on a shelf, or next to your sink to store hand towels.

The finished crochet basket is approximately 7 inches tall. You will only need to know how to chain, single crochet, double crochet, and slip stitch to make one!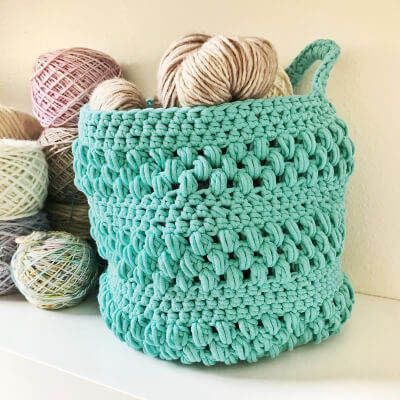 Get the Pattern by Crochet By Ellen here

3. Desktop Stacker Free Crochet Basket Pattern by Left In Knots
These Desktop Stacker Crochet Baskets are made with a bulky, jersey-knit tube yarn.
The bulky yarn makes these crocheted baskets work up quickly so they would make an awesome last-minute housewarming or even baby nursery gift!

Just pack them with a candle or some small baby essentials and they double as a gift basket as well!

You will love making these free crochet basket pattern with a combination of two colors (and a bit of hemp) but they would also be just as fabulous in one solid color if you are really hustling to get a gift made quickly!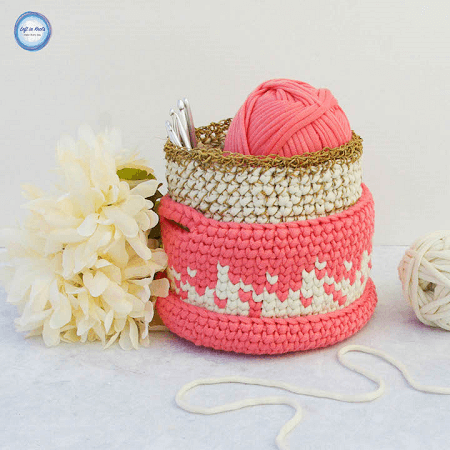 Get the Pattern here

4. Crochet Cabled Basket Pattern by Red Heart
Keep the living room or studio organized with a cute crocheted baskets that's attractive in any space.

Red Heart Collage makes the colorwork easy as this pattern unfolds to reveal textured braid stitch and puff stitch details.

Gentle shadings give it a natural look that's attractive for storing everything from magazines and remotes, to yarn projects and more!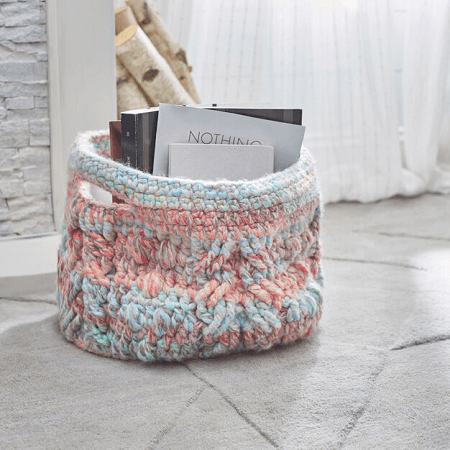 5. Fox Crochet Basket Pattern by My Cozy Studio
This adorable, fox/wolf crocheted basket is the perfect storage solution. Make this playful little basket in your favorite t-shirt yarn and let this tidy fox help you keep your stuff organized.
Looking for T-shirt yarn projects? Check out these T-Shirt Yarn project Ideas.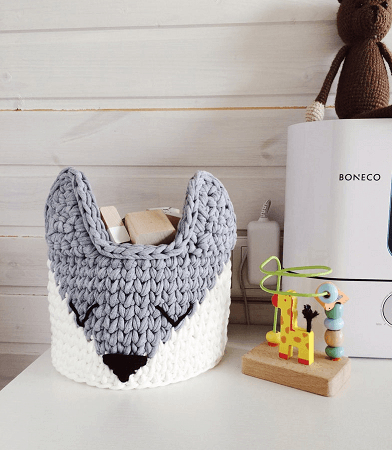 Get the Pattern by My Cozy Studio here

6. Color Block Free Crochet Basket Pattern by 1 Dog Woof
Here is a free crochet basket pattern for a beautiful Color Block Basket that's a great way to mix colors and use up scrap yarn!

It is a large crocheted baskets that will help you keep everything organized throughout your home. It even makes for a lovely photo prop for the little ones.

The crocheted baskets is nice and sturdy too, as it's crocheted with two strands of yarn held together as one.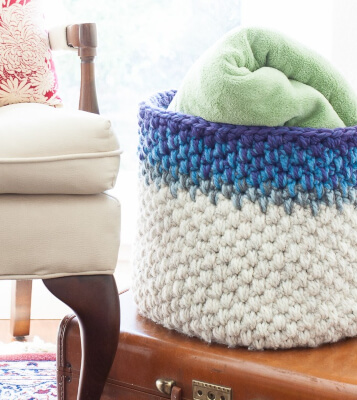 Get this free crochet basket pattern here

7. Rustic Tweed Small Crochet Basket Pattern by All About Ami
Crochet this gorgeous basket using Re-Tweed yarn that has a rustic look to it with its tweed flecks and muted colors.

The shape of this basket is unique with its rectangular base and rounded corners. The sturdy straps allow you to carry the basket around and store all your items inside.

This crocheted basket is a great way to add a touch of sophisticated elegance to your homes!
Optional wiring in the edging and an optional cardboard base help to further emphasize the shape and sturdiness.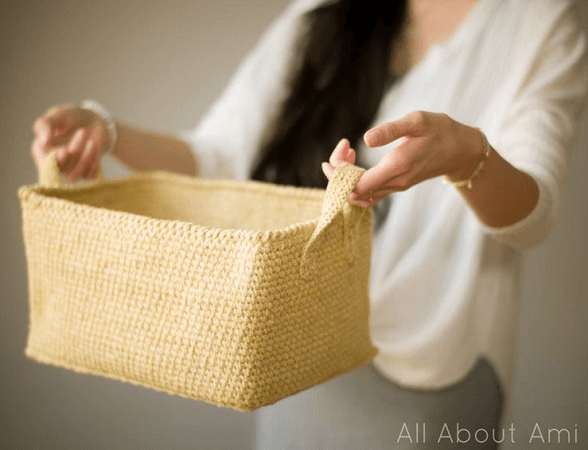 Get the Pattern by All About Ami here

8. Modern Easy Crocheted Baskets Pattern by Sigoni Macaroni
Who doesn't love an easy, stylish modern crocheted basket to fancy up their home?
This Modern Easy Small Crochet Basket Pattern uses only single crochet stitches but with a modern twist!

In this crochet basket pattern, you will also learn how to make the single crochet spike stitch. It's worked the same way as a regular single crochet stitch, only placed in a unique spot.
This creates the extra fancy, textured rim of the basket.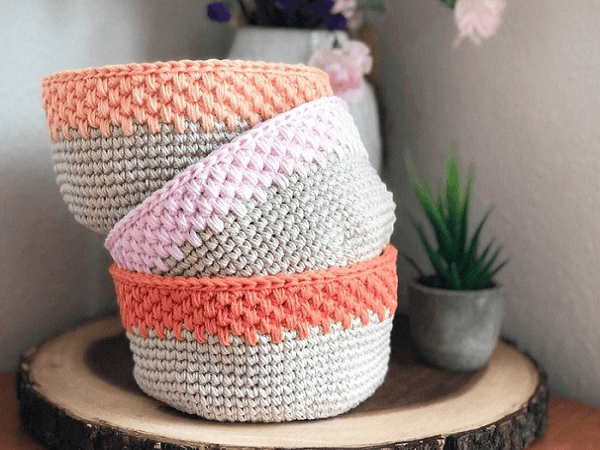 Get the Pattern by Sigoni Macaroni here

9. Free Crochet Basket Pattern by Yarnspirations
The modern chevron texture on this unique crocheted basket says style, while the strong hand of Bernat Maker Home Dec makes it sturdy and durable.

This substantial project has you mastering a combination of split-half double crochet, working in the round, tapestry colorwork, and more, to complete the perfect basket.

Use it to beautifully stash away anything from books and magazines to knick-knacks and yarn.
Measuring 13¼" long x 12" wide x 9" tall, you'll love this attractive accent with a functional personality.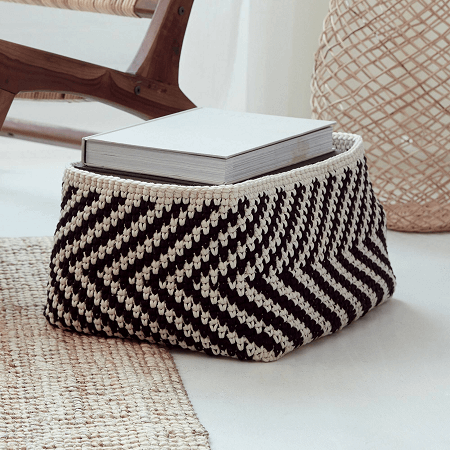 Get the Pattern here

10. Crochet Hanging Basket Pattern by Pixie's Magic Hook
Not sure where you're going to put another basket in your house? It helps if you can hang it up out of the way!

This Crochet Hanging Basket allows you to add storage throughout your home while taking up very little space.
It's a fun way to add color to your home, too!
Get the Pattern by Pixie's Magic Hook here

11. Spring Easter Crochet Basket Pattern by Petals To Picots
What about a pretty flower basket to add a little color to your days to decorate for Easter baskets for your little loves.
Fill it with colorful crochet eggs or yummy Easter treats.

Crochet this Spring Easter Crochet Basket Pattern, fill it with additional crochet flowers, and make it a great display item for your home!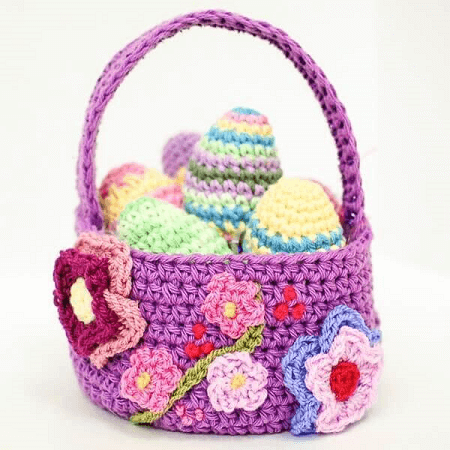 Get the Pattern here

12. Free Crochet Basket Pattern by Make And Do Crew
This Free Crochet Basket Pattern is quick to work up and perfect for holding toys, towels, toiletries, or best of all, yarn!

It's worked in a simple combination of single and double crochets for a modern, stylish and functional home accessory.

The bottom is crocheted back and forth in rows and then the sides are added by working in the round.
This free crochet basket pattern is perfect project for confident beginners who want to practice jog-less color changes and working in the round!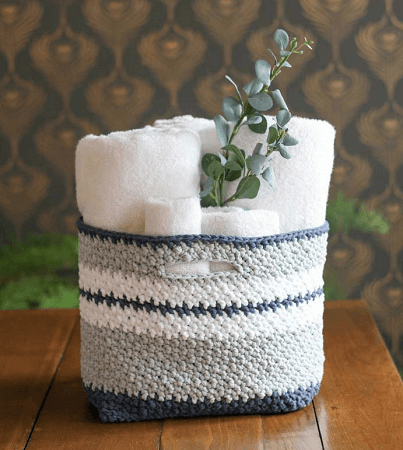 Get this free crochet basket pattern here

13. Pom Pom Storage Crochet Basket Pattern by Dabbles And Babbles
This adorable Pom Pom Storage Crochet Basket is the perfect combination of cute and functional.

If you're looking for an easy way to create more storage for a room, this basket is perfect. It's cute, colorful, and is a statement piece in of itself.

It's easy enough to make one for every room, so you can use it to store toys, toiletries, supplies, or even yarn.
Check here on how to make a Crochet Pompom.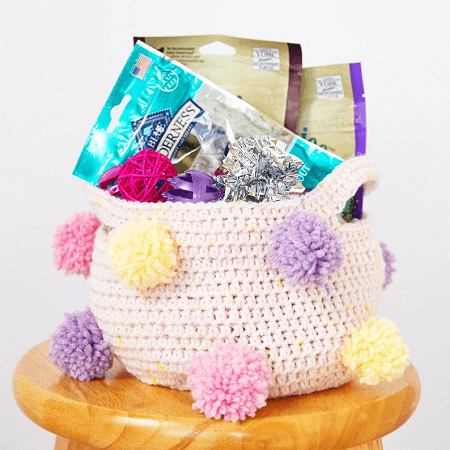 Get the Pattern by Dabbles And Babbles here

14. Clutter Catcher Free Crochet Basket Pattern by Yarnspirations
Collect those odds 'n' ends with smart clutter catcher crocheted baskets, crocheted in Bernat Blanket Brights yarn.

Every kid's space could use some organizing. The solution is these cute and functional baskets.

No matter the motif in your child's room, you'll find an energetic shade that sparks your creativity for a soft, warm finish.
They make great gifts for anyone with kids.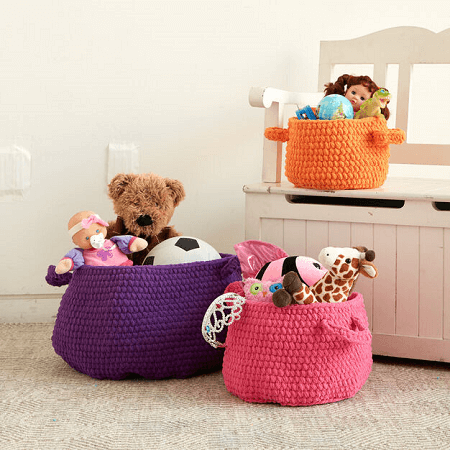 Get this Clutter Catcher Free Crochet Basket Pattern here

15. Crochet Bunny Basket Pattern by Simply Made By Erin
Darling bunny baskets to fill with Easter treats! The crochet basket pattern features cute little bunny ears and tail.
Flexible, yet sturdy, perfect for Easter candy or faux greenery. The basket is crocheted with super bulky size 6 yarn and a small amount of fur yarn for the tail.
Check out these Crochet Bunny Patterns for more bunny designs.
Get the Pattern by Simply Made By Erin here

16. Spike Stitch Baskets Crochet Pattern by Loops And Love Crochet
These Spike Stitch Baskets work up quickly with the bulky weight yarn and the spike stitches add such a fun texture!

The larger basket is 6″ tall and has a diameter of 7″, while the smaller basket is 4.5″.
With the beautiful design and terrific colors, these crocheted baskets add a pop of pretty decor to your living rooms or bedrooms!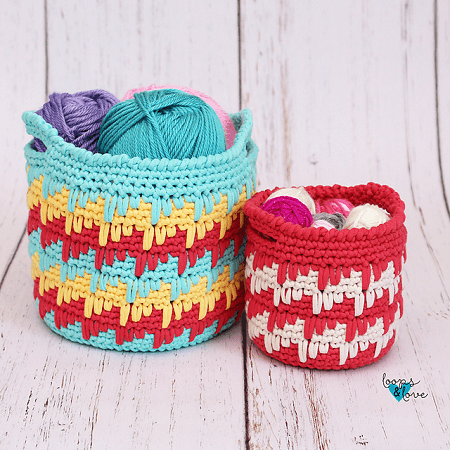 Get the Pattern here

17. Herringbone Crochet Basket Pattern by Briana K
This Herringbone Crochet Basket Pattern is very flexible to fit your needs.
It makes a cute storage basket for any room in the house and is a textured and soft home decor piece.

These crocheted baskets can also be a plant cozy by merely omitting the plant base. So it's time to jazz up your plant's containers and make it in any color to match your decor!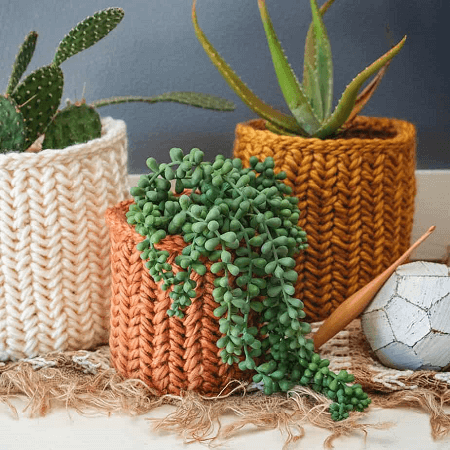 Get the Pattern by Briana K here

18. Crochet Baby Basket Pattern by Made With Care By Ainur
This Crochet Baby Basket is delightful and perfect for creating a comfy sleeping bed for your newborn.
Now you can create a beautiful and handy baby basket in a very easy way with this crochet pattern!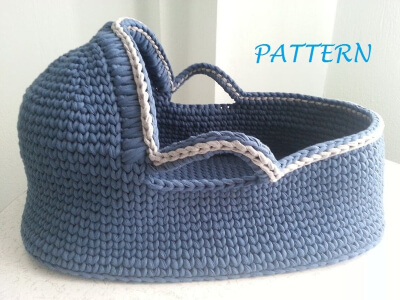 Get the Pattern by Made With Care By Ainur here

19. Crochet Round Basket Pattern by Lulaor
Got some t-shirt yarn you want to use? T-shirt yarn is one of the best choices for making crochet baskets of any size.

The thickness of the yarn combined with the right stitches makes for baskets that are sturdy and can easily stand up straight without caving in on the sides.
Get the Pattern by Lulaor here

20. Rectangular Small Crochet Basket Pattern by Petals To Picots
This Rectangular Crochet Basket Pattern is great for organization and storage! When worked up in T-shirt yarn they are super sturdy and durable.

The small crochet basket pattern includes two sizes so you can make the size that works for you or make both and have them nest neatly together when not in use.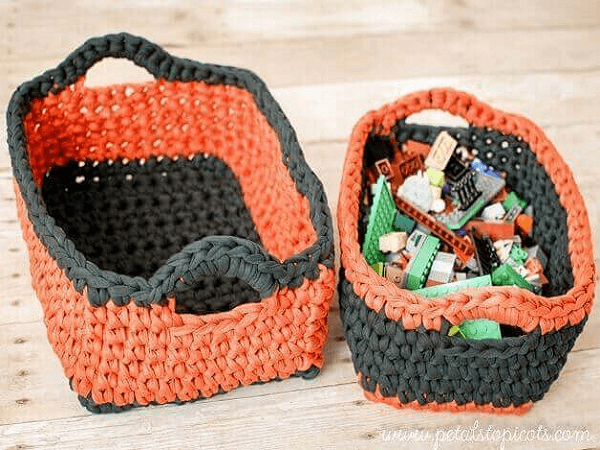 Get the Pattern here

21. Monroe Belly Crochet Basket Pattern by Lakeside Loops
Inspired by sea-grass 'Belly Baskets', this Monroe Belly Crochet Basket Pattern allows you to make your own Scandinavian/Bohemian style basket using your trusty crochet hook & simple yarn!

This relaxed and modern basket is perfect for any room in your home. Use to hold towels, toys, your always expanding yarn stash, or even a potted plant!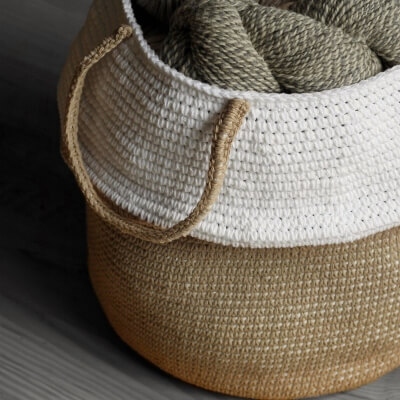 Get the Pattern by Lakeside Loops here

22. Fall Apple Basket Crochet Pattern by Lilla Bjorn Crochet
This Fall Apple Basket is a quick and fun project to make. With small textured decorative elements, it gives a great opportunity to master front post stitches.

And it's suitable for Intermediate (or Adventurous Beginner) crocheters.
Made in different color palettes this basket will become a bright interior accessory in your kitchen or bathroom.

With bulky yarn and large hook, it will take almost no time to finish it!
Get the Pattern here

23. Waistcoat Free Crochet Basket Pattern by All About Ami
Crochet this sturdy crocheted baskets using the beautiful waistcoat stitch also known as center single crochet! Add leather or crochet handles!

This luxurious basket is such a wonderful way for you to add some crochet to your home, whether that be in your living room or perhaps a nursery!

Since you can choose any yarn color, you can match the basket to the decor and theme of the room!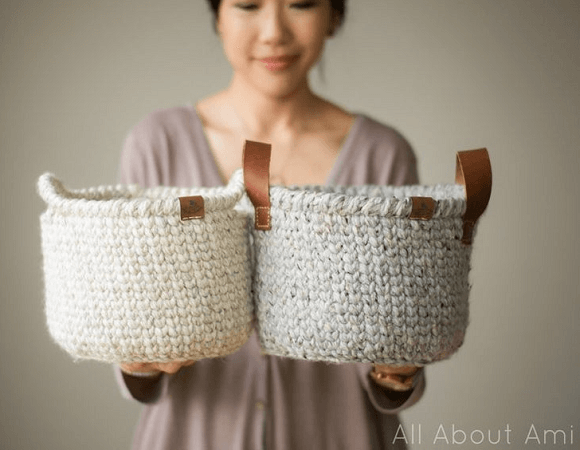 Get the Pattern here

24. Sturdy Crochet Basket Pattern by Jaki Gu
If you love practical crochet projects, you will love these Sturdy Crochet Baskets with handles.
They are the perfect size to store toys, to organize baby clothes, or to keep diaper change essentials handy yet concealed.

Made with widely available Sugar 'n Cream Cotton and Cotton & Polyester clothesline, these stackable crochet baskets make a wonderful handmade gift that is as economical as it is useful.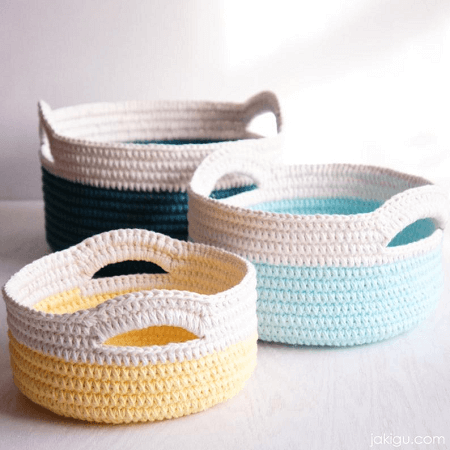 Get the Pattern by Jaki Gu here

25. Crochet Jute Basket Pattern by Crea Carolientje
With these Crochet Jute Baskets, you can decorate your house nicely. Nice to store things, decorate your bathroom or bedroom, or use it in the nursery. Also very nice as plant pots! Plenty of options!

The dimensions of this basket are 12 cm high and 15 cm in diameter. The size may vary by using a different jute thickness or crochet hook size.
Get the Pattern by Crea Carolientje here

26. Rainbow Storage Basket Crochet Pattern by My Poppet
This Rainbow Storage Basket is a perfect size, big enough to fit a ton of stuff like toys, shoes, but flexible enough to pack flat when not in use.

Just grab the handles and it can double as a bag to take your craft projects with you on the go.

Make it in pretty rainbow colors but feel free to use whatever colors you prefer!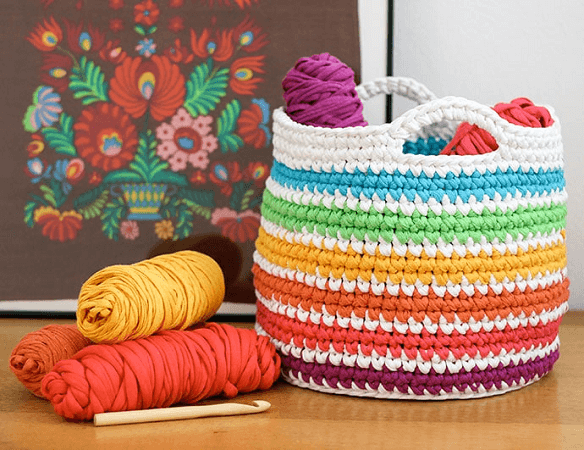 Get the Pattern here

27. Scallop Edged Small Crochet Basket Pattern by Yarnspirations
These colorful, crocheted baskets are functional accents, brought to life in the colors of Lily Sugar'n Cream.

Infuse color and personality into any room with these free crochet basket pattern. Imagine these scallop-edged baskets in your favorite colors, then realize them in place.

How about in the bathroom holding face towels? Maybe they're hugging your favorite plants? Whatever your vision, they're easy favorites for so many uses.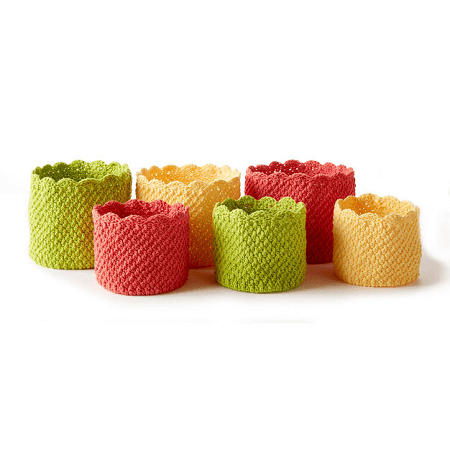 28. Crochet Rainbow Basket Pattern by Yarn And Colors Shop
This Crochet Rainbow Basket Pattern is made using two threads held together to make it sturdy. When finished, the basket will be approximately 28cm in diameter and 10cm high.
Convenient for storing small items such as crafting tools, toys, or to hide those amazing looking diapers.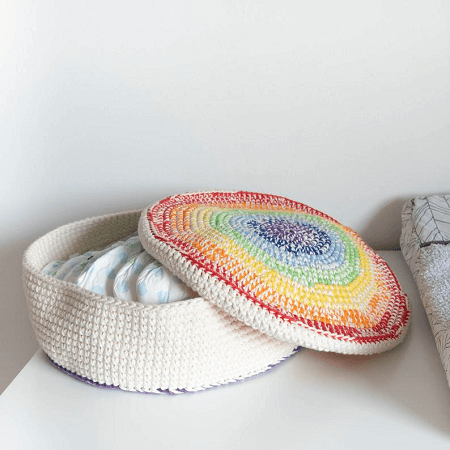 Get the Pattern by Yarn And Colors Shop here

29. Geometric Crochet Basket Pattern by Dabbles And Babbles
You can store lots of stuff in this creative and durable basket.
You will also love that you can use this to as a crochet tote to carry around all your gear as well, perfect for coming and going to yoga class.

It's got a stylish chevron crochet pattern that will fit into any home's decor, and it's got handles for easy transport.

Make a laundry bin for your granddaughter headed to college. Or make a stylish basket for neat storage in a small space. This crocheted basket will hold up to whatever you need it to be!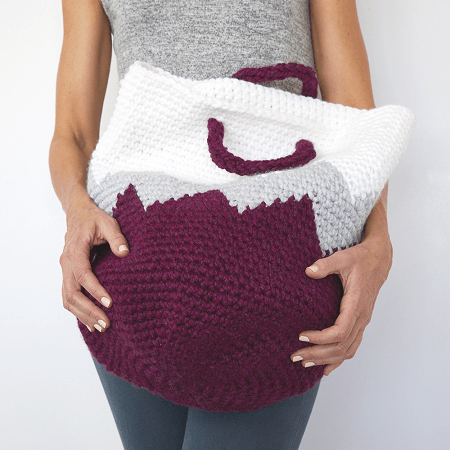 Get the Pattern here

30. Fanciful Flamingo Basket Crochet Pattern by Red Heart
Need a fresh burst of style that's also a functional must-have?

This Fanciful Flamingo Basket is a superb organizer – from the bedroom to bathroom, to the family room, and more – whether you appliqué the flamingo onto it or not.

With so many shades of Red Heart Super Saver, you can imagine a version with the personality and charm that suits your world! Basket measures 10″ x 12″ so it's also a creative way to present a gift.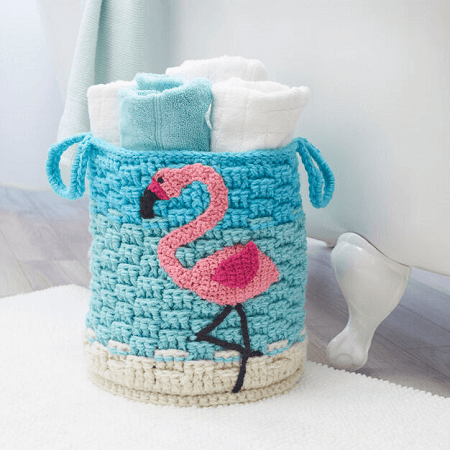 31. Entwined Basket Crochet Pattern by Knit And Crochet Evr Aft
Whether you choose the single color or multi-color option, these Entwined Baskets are sure to be your favorite storage option for every room.
You can create endless combinations to suit any decor.

The braided detail and handles are crocheted as the basket is made, so there is no extra sewing besides weaving in ends.

Using super bulky yarn, these baskets work up extra quick to start your organizing right away!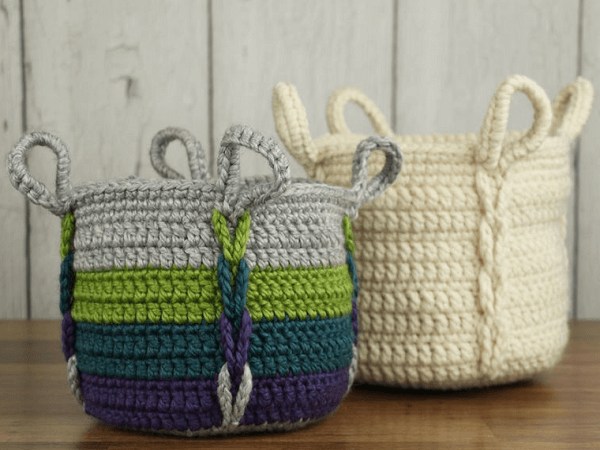 Get the Pattern by Knit And Crochet Evr Aft here

32. Chunky Crochet Basket Pattern by Darling Be Brave
Are you ready to get all the knowledge you need to make any size basket?

Then take a peek at the instructions on how to take this basic crochet basket pattern to the next level by giving you all the instructions you need to adapt and adjust this basket pattern to any size you need.

Want a small basket? Or a really large basket? A shallow basket? One with chunky handles? A flat base? This Chunky Basket Crochet Pattern has you covered.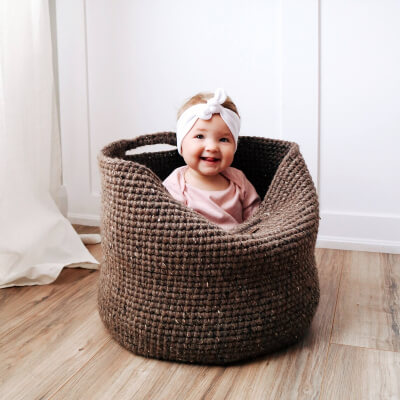 Get the Pattern by Darling Be Brave here

33. Easy Free Crochet Basket Pattern by Malloo
Whip up this easy crochet basket with basic stitches and simple construction.
Chunky yarn ensures you'll have this versatile basket done before you can decide what to fill it with!

Designed to look like it belongs to the pages of a Scandinavian style magazine, it will enhance the coziness of every room.

Very simple in construction, as all crocheted baskets are, but with a different and interesting pattern near the top, that I bet you have not seen anywhere else.

It is created by slip stitches and alternating colors and you will just love that it almost looks like herringbone.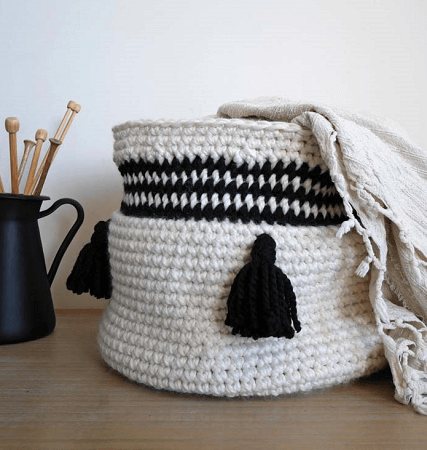 Get the Pattern here

34. Crochet Jewelry Basket Pattern by Goolgool
These jewelry baskets are crocheted on the rope, which makes them firm yet delicate looking.

These small crochet baskets would be great to keep next to the kitchen sink to throw rings or jewelry in when you're doing dishes or cooking.

They would also be great in the bathroom to place your jewelry into rather than just tossing it about on the counter!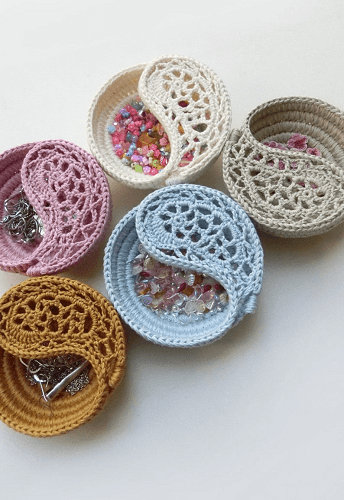 Get the Pattern by Goolgool here
35. Mini Crochet Basket Rainbow Pattern by My Poppet
This free crochet basket pattern is same as the original rainbow basket pattern above but only smaller. It's been so popular that we wanted to share some lighter weight mini baskets with you. We don't always have massive storage needs, sometimes just a small crochet basket is what's called for.
I've been making these for my friends who sew or use a serger. They are perfect for little thread baskets, or to hold little scraps of fabric trimmed off the main project. Anyone who sews or quilts would love one of these.
But don't stop there! Anyone who crafts, would find a use for these handy mini baskets, or use them as covers for jars, or even as a can or bottle cosy.
These use an interesting technique of crocheting over a thicker material such as cord or in this example t-shirt yarn. There's a great supplier for T-Shirt yarn on Etsy, or you could buy cording from your local sewing or home decor store.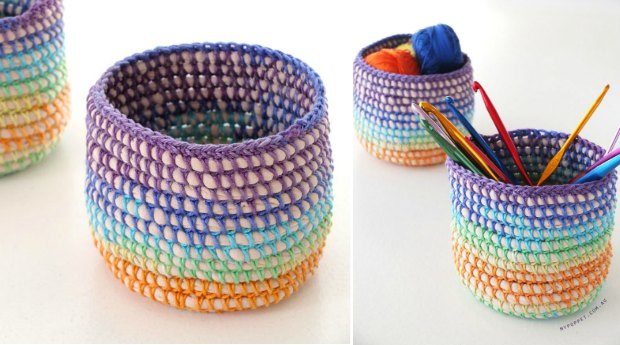 Get the pattern here

36. Cute Small Crochet Basket Pattern by La Leh Crochet
Looking for something quick and useful to make? These handy and cute small crochet baskets are just the project for you!

These little crocheted baskets are ideal for storing small things. Use them to store your office supplies, hair accessories, craft supplies – just about anything!

Get creative and make them in different colors for your different things!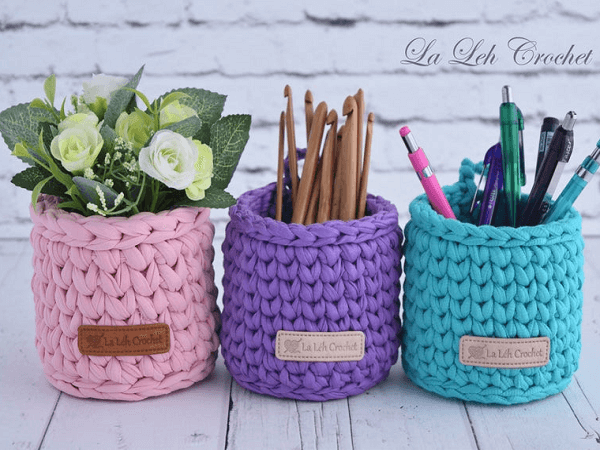 Get the Pattern by La Leh Crochet here
37. Honeycomb Basket Crochet Pattern by Make My Day Creative
This honeycomb pop basket is a particularly nice one, with lots of interest and texture, good strong handles and options for several colors too.
Made in a super chunky yarn, or try using two strands of DK worsted weight held together. This free crochet basket pattern makes a basket 11 inches across the base. There Simple instructions to change the size. The crocheted baskets are worked seamlessly in the round from the centre base out.


Get the pattern here
Make one of these stylish and practical crocheted basket patterns to keep your stuff organized.
And have fun coming up with your own color combos or adding your own unique touches!
We will all be looking forward to seeing your finished baskets. Be sure to share them with us on our Facebook Page!

If you want to add some more crochet flare to your home, you won't want to miss our collection of modern crochet home decor patterns. You're sure to find something that adds the perfect touch to your space!
For now, let's start with cleaning up your yarn stash and home simultaneously with these functional and beautiful crochet baskets!