Bags and purses are so popular to crochet, but finding the right purse handles doesn't always fit in with your project. Whether or not the pattern calls for them, crochet handles are always a fun option for any crocheted tote, bag, or purse! And they are easy to make, too. Here are some crochet bag handles to try!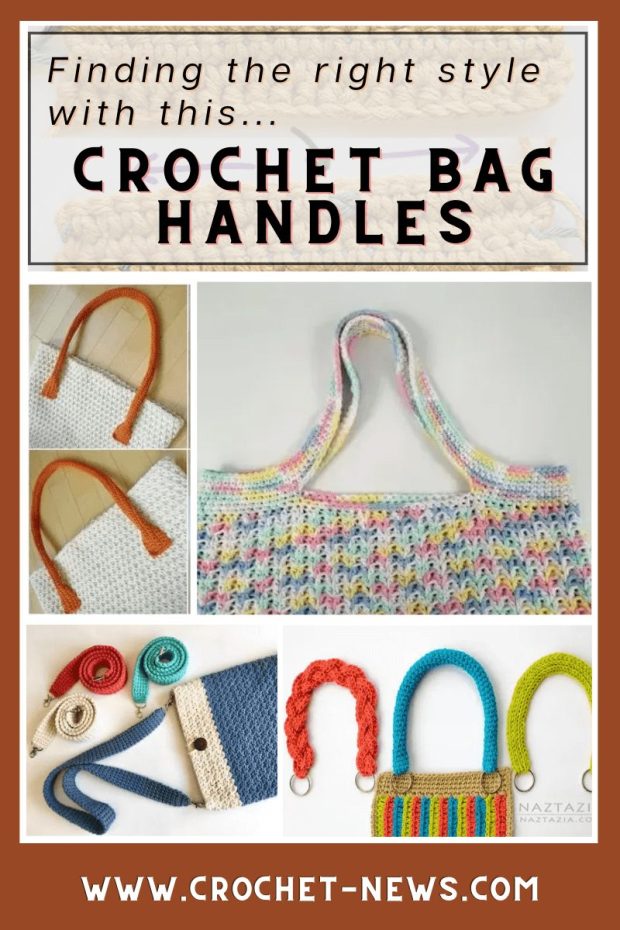 10 Crochet Bag Handles
Personally, I love leather, but sometimes bags need a different finish. Crocheting your own bag handles has more advantages than just saving money; you have virtually limitless options for customizing your bag handles and making them just the right length or making them adjustable. Continue reading for great ideas for crocheting your own purse or bag handles.

1. Crochet Handbag Handles by Naztazia
Handbag handles can be finicky. You want to make them sturdy to avoid stretching or losing shape. Plus, you want them comfortable to sit on your shoulder or in your hand. This pattern will teach you how to crochet a handle in three different ways: braided handle, tube handle, and Tunisian handle. They're perfect as crochet handbag handles for your bag, tote, purse, and more.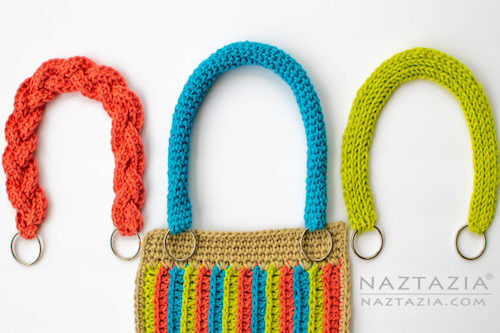 Get the Pattern here

2. Crochet Purse Handles by All About Ami
Crochet handles have the potential to stretch and lose its shape over time depending on the type of stitch used and if they are worked row by row lengthwise. This tutorial will show you how to crochet stylish handles for your crochet purses and how to minimize the amount of stretching!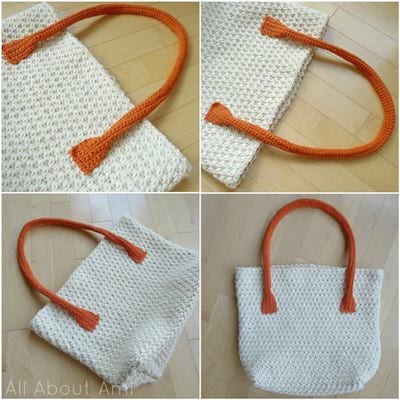 Get the Pattern here

3. Crochet Bag Handles by Crochet N Crafts
Here's how to make crochet bag handles the easy way! There are no extra loose ends to weave in, and you can use this technique on any bag, regardless of the size and regardless of the stitch pattern.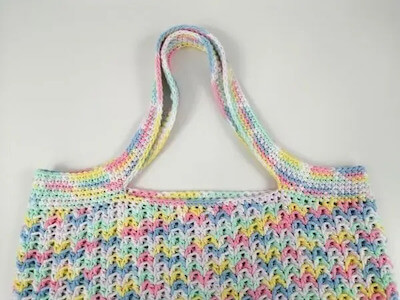 Get the Pattern here

4. How To Crochet A Romanian Cord by Make And Do Crew
The Romanian cord is a flat cord with a striking texture that is the same on both sides. It's a perfect option for things like drawstrings, ties, straps, and bag handles! The easy technique starts with 2 set-up stitches, and then is just one simple stitch repeated for the desired length of your cord.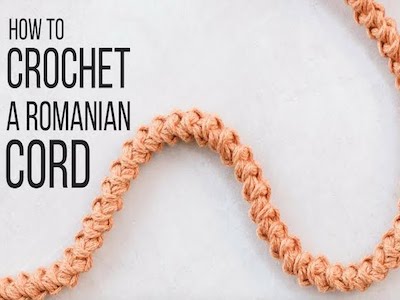 Get the Pattern here

5. How To Crochet Bag Handles by Hectanooga
These purse handles are made very quickly, and are sturdy and durable. They can be made in any colors to match your project, or in jute which will coordinate with any colors. Black is also another good option and it too will work with any color of purse being made!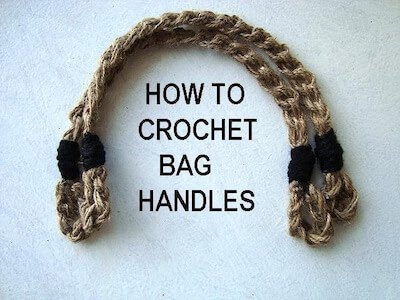 Get the Pattern here

6. Crochet Spiral Rope by Nicki's Homemade Crafts
This is a simple, free tutorial on how to make a crochet rope. The crochet spiral rope has many uses in different craft projects. Use it as a bag or basket handles or as rope in specific craft projects.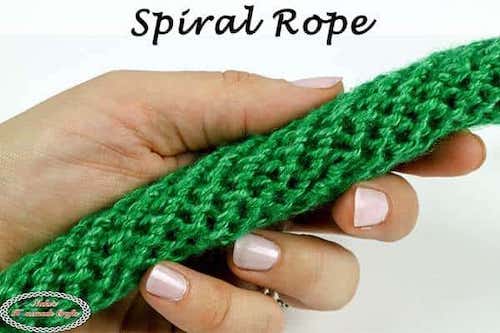 Get the Pattern here

7. Crochet Granny Bag Straps by Future Girl
Design your bag with some great granny straps. This free crochet bag strap pattern could even be used as a chunky necklace or bracelet. The possibilities are endless!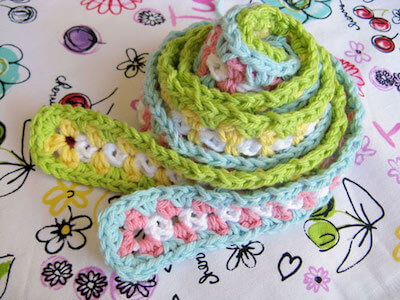 Get the Pattern here

8. Thermal Stitch Crochet Crossbody Bag Strap by Anna Burton Designs
The thermal stitch creates a nice and sturdy strap for crochet bags! This pattern walks you through the process of adding a strap to your favorite crochet bags and even explains how to crochet onto a D ring or split key ring for added durability.

The thermal stitch, like any crochet stitch, will stretch a little bit, but it is a tried and true method for making robust bag straps.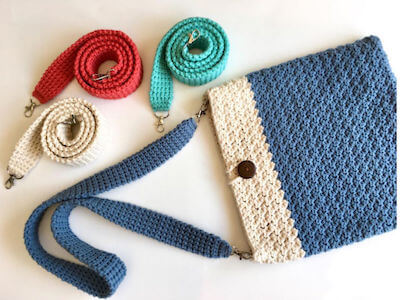 Get the Pattern here

9. How To Crochet Handles by Wool And The Gang
A built-in handle makes for a really professional look — but it's actually really easy to make. This pattern will show you how to work handles into your crochet. This easy technique is great for beginner homeware projects such as baskets and bags.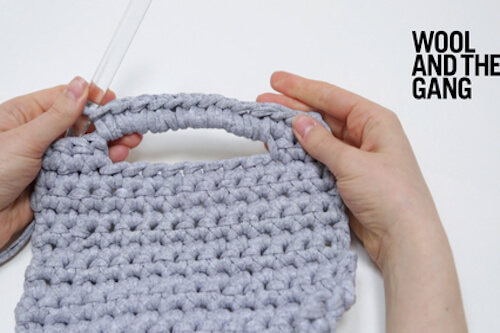 Get the Pattern here

10. Crochet Bag Handle Pattern by The Loophole Fox
Here's another pattern to make a non-stretchy crochet strap: using fishing line! I think the best thing about using fishing line to make sure your crochet strap is non-stretchy is that it doesn't add a whole lot of fiddling about with your project.

You won't have to make extra pieces or do anything fancy. Just make sure the fishing line follows along with each stitch and you're all set to go.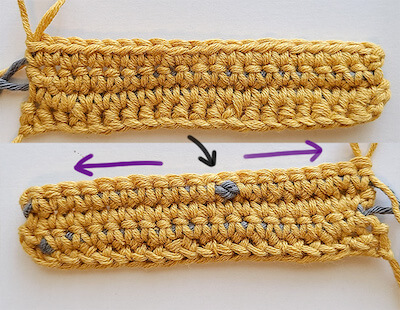 Get the Pattern here
Crochet Bag Handles Frequently Asked Questions
How do you strengthen crochet bag handles?
To minimize the amount of stretching, you can place a piece of cord, macramé rope, or ribbon onto the handle and stitch around the cording itself.
Since the rope/cording/ribbon does not stretch, it will help the handle keep its shape.
How do you make a sturdy crochet bag strap?
Use a yarn with no (or very little) stretch, such as cotton.
Reduce the hook size recommended for the yarn you're using by one or two sizes. This reduces the amount of space available for stretching with each row and stitch.
Use supportive stitches that work together to support the stitches above and next to them.
What type of yarn is best for crochet bag handles?
The best materials for these types of projects are linen or cotton yarns, which will not stretch too much and will be sturdy enough in use; however, it is critical that they are crocheted tightly rather than with lots of open spaces, as this will make the handle more fragile over time if handled roughly by shoppers!
How to attach crochet bag handles correctly?
When attaching these handles — especially of they are not crocheted directly to the bag — you must secure them tightly to the fabric. This means you need to reinforce your work.
One simple way to do this is when you attach the hand, sew a square with an X through the center of the square, instead of a straight line. You can also add hardware, like rivets, to make the straps even sturdier.
IF YOU ARE LOOKING FOR A UNIQUE AND STYLISH WAY TO JAZZ UP YOUR NEXT BAG OR PURSE PROJECT, CONSIDER ADDING CROCHET BAG HANDLES!
I would love to see a picture when you're done, so please feel free to come by our Facebook Page and show off your project!

Looking for some crochet bag patterns to try these on? We have lots of them!
Now we have so many options! Happy bag making with these crochet bag handles!