Are you looking for the perfect camisole to add to your summer wardrobe? Camisoles are the must-have accessory in every woman's closet. They can be worn by women of all ages.
If you enjoy making your own clothes, we have included several crochet camisole patterns for you to try or make a halter top. Make one for yourself or give one as a gift to your best girlfriend.
What is the Difference Between and Camisole and a Tank Top?
Many people use the word tank top to describe a camisole. However, there is a difference between these two articles of clothing.
Tank tops are frequently worn on their own and have wide straps. They are often used as exercise clothing or as a pyjama top. Tank tops are typically solid colours that can have a graphic on the front.
Camisoles are often layered with other shirts or jackets. They have thin spaghetti straps. You can find them with lace trimmings and other embellishments.
Tank Tops
Sleeveless and collarless
Tight fitting
Wide straps
Often worn alone
Worn by women and men
Solid colour or graphic designs
Made from cotton or polyester
Camisoles
Sleeveless
Often tight fitting but can be loose
Thin spaghetti straps
Usually layered with other clothing
Worn by women
Are often solid colours
Often have lace or other embellishments
Made from cotton, silk, satin, nylon or spandex
10 Camisole Crochet Patterns
Crochet camisoles are lightweight and stylish. They come in a large variety of colours and designs. Today, we are sharing with you 10 of our favourite camisole crochet patterns.
Check them out and choose one for yourself.
1. Top Camisole Crochet Pattern from Berroco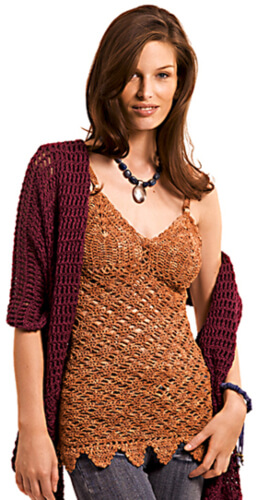 This crochet camisole would make a wonderful addition to your spring and summer wardrobe. It can be worn by itself or layered with other clothing.
The pattern includes directions for creating the matching shawl. This makes it a perfect piece for warm days and cool evenings.
The crochet top camisole pattern is for an intermediate level crocheter. Cups are made separately then joined to the top. The front and back of the camisole are worked from the top down.
Get the Pattern from Berroco HERE
2. Coquelicot Top Camisole Crochet Pattern by SylvieDameyCrochet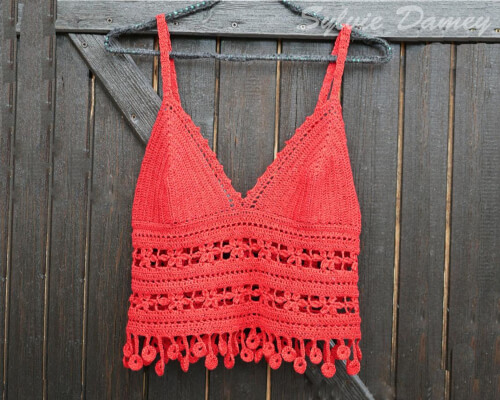 This airy lacy crochet top camisole pattern is created using seamless construction. You only need one body measurement to make this camisole. And there is no math needed.
The pattern is for an intermediate to advanced level crocheter. There are step-by-step photos and charts. The pattern is started by creating the cups then making the lower body.
Get the Pattern by SylvieDameyCrochet HERE
3. Cabana Camisole Crochet Pattern by dmkCrochet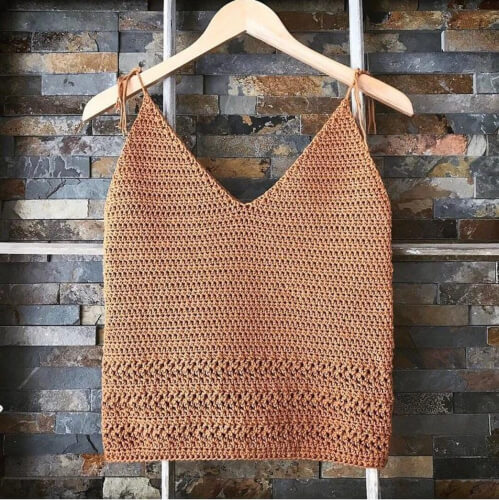 This cute crochet camisole is perfect for the summer months. When the weather is hot you need a top that is lightweight and comfortable. This crochet top camisole pattern will be a great choice.
The pattern is easy to understand, and the top can be made quickly. The pattern includes instructions for sizes XS-3XL. There are also helpful notes and photographs which make completing this pattern a breeze.
Find the Pattern by dmkCrochet HERE
4. Vee Cami Crochet Camisole Pattern by JosCraftyHook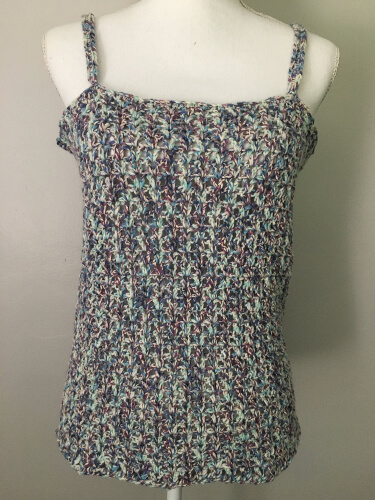 Here is a cute crochet top. The colour can be easily customised to fit your personal style. It would go perfectly with a long flowy skirt or a pair of shorts.
The top camisole crochet pattern includes 9 sizes. From XSmall all the way to 5X Large.
Get the Pattern by JosCraftyHook HERE
5. Lace Cami Crochet Camisole Pattern by HookedHomemadeHappy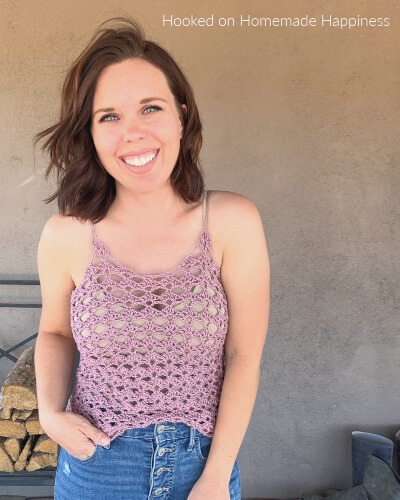 Pair the lace crochet camisole with a bikini top and a pair of jeans and you will have the perfect summer look. The top is flirty and fun.
We would recommend this top camisole crochet pattern for an intermediate level crocheter. It includes instructions for sizes small to 3X.
Get the Pattern by HookedHomemadeHappy HERE
6. Summer Crochet Top Camisole Pattern from SylvieDameyCrochet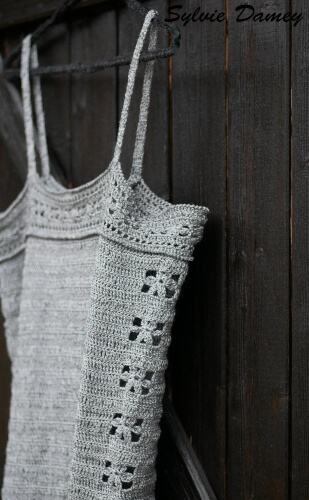 This camisole is made with seamless crochet construction. The adorable cami features a flower motif down both sides.
The crochet top camisole pattern includes step-by-step photographs and charts. There are 2 options; straight and gathered. It is not a beginner pattern since it includes special stitches.
Get the Pattern from SylvieDameyCrochet HERE
7. Summer Basic Top Crochet Camisole Pattern by Shestartsagain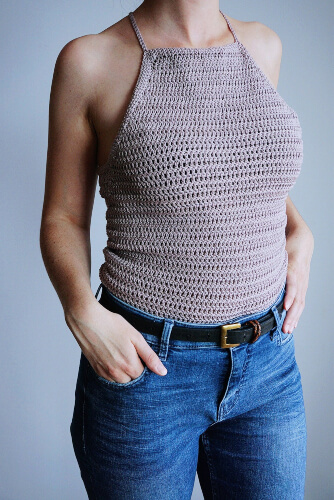 If you are looking for a crochet top camisole pattern for beginners, this one would be a good choice. This stylish and versatile top has a fixed cross back.
It is perfect for hot days or layer it with a leather jacket on cooler days. Detailed pattern is easy to follow and includes tick boxes to help you keep track of your progress.
The downloadable pattern includes detailed instructions and a condensed one-page takeaway. The one-page takeaway is perfect for those who enjoy crocheting on-the-go.
Get the Pattern by shestartsagain HERE
8. Dusk Crochet Camisole Pattern by Jane Howorth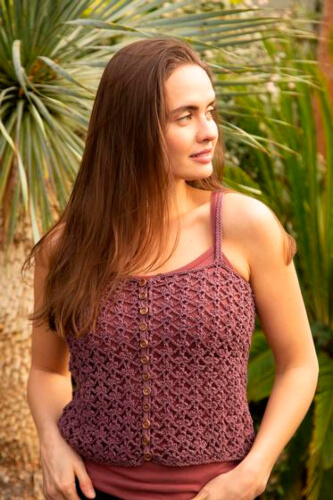 The top camisole crochet pattern creates a beautiful design that resembles leaves intertwined around a trellis. This camisole would be the perfect addition to your summer wardrobe.
The top is worked in one piece. There is no need for seaming. The pattern can easily be completed by an intermediate crocheter. The pattern includes several sizes from a 36" bust to a 64" bust.
Get the Pattern by Jane Howorth Here
9. Crochet Cami Top Pattern by Shylercrochetsug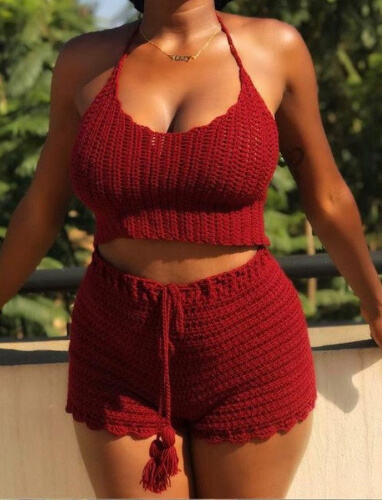 This top camisole crochet pattern is perfect for adding a bit of fun to your wardrobe. When it is hot out you need a top that will help keep you cool.
The crochet camisole top will fit several sizes. To make it smaller use a smaller hook.
Get the Pattern by shylercrochetsug HERE
10. The Juliette Basic Top Crochet Camisole Pattern by wubywebbs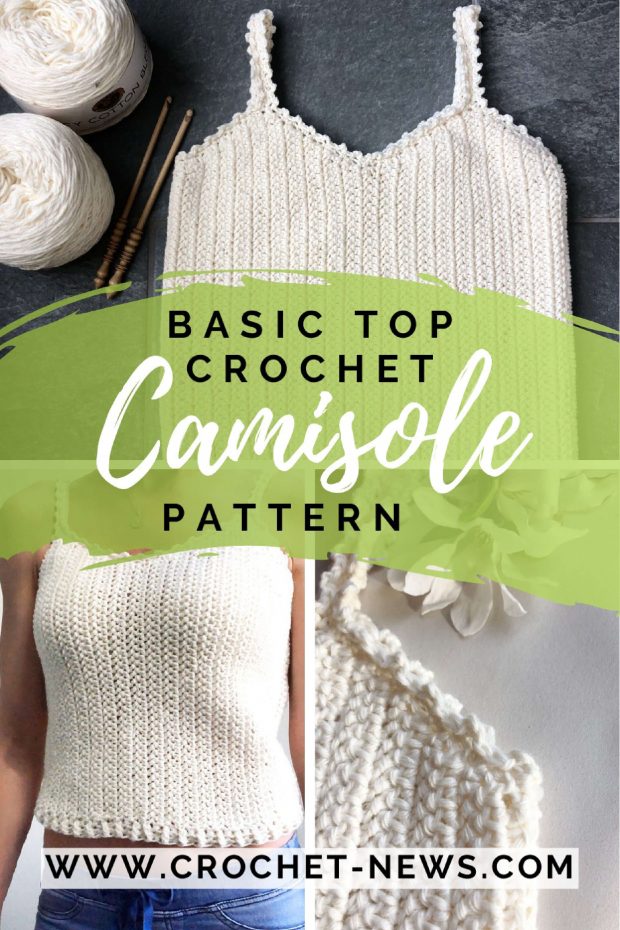 This beginner friendly crochet camisole pattern is very easy. The finished cami can be paired with almost any outfit. The design is clean and minimalist. You can bet that this top will become your favourite go to piece.
The basic top crochet camisole pattern is absolutely perfect for women of all ages who has the heart for hand-crafted items. Even for those who are not that fond of making their own hand-made items, this camisole will still get them for its simple yet skillfully designed pattern.
This top camisole crochet pattern is composed of a closed-knit fabric which makes it easy to move around without the worry of it being ripped out. It is great for your summer adventures for its breathable design as well.
The pattern includes instructions for sizes XSmall to XLarge. There are a lot of photos that makes this pattern easy to follow.
Get the Pattern by wubywebbs HERE
Did you see the perfect Crochet Camisole to add to your wardrobe? We are sure you did.
We know there is a crochet camisole pattern you cannot live without. So, what are you waiting for? Get started on your newest go to top.
Not only are camisoles a stylish look for summer, but they are also perfect for layering on cool spring and autumn days.
Also, check our crochet pants and crochet shorts, cover up crochet, crochet cowls, crochet off shoulder tops, and summer crochet tops to add to your wardrobe. You can also add a pop of style with these crochet collars.
Add some style to your wardrobe today. You will be glad you did. And what better way to do it than with your own hand-crafted crochet camisoles.