Accessories are your new sartorial best friends and a crochet collar is one such item that you should be making yourself strongly acquainted with.

These collars are a great way to breath new life into old garments – simply pop a detachable collar or sew it on top of a jumper, blouse or T-shirt and ta da! You have an entirely new look to play around with.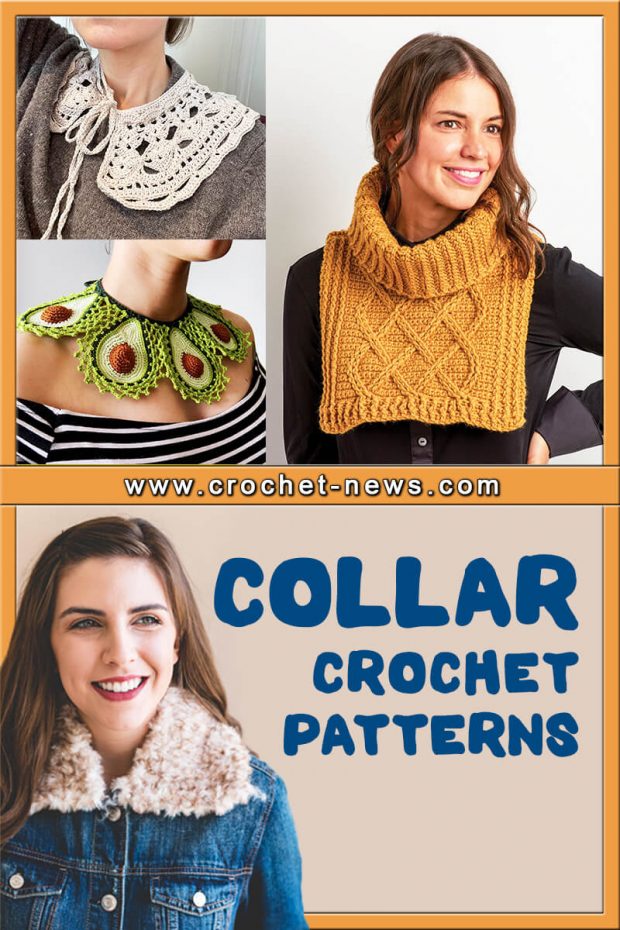 25 Crochet Collar Patterns
Below, here are a few crochet collar patterns to make today before the trend totally takes off, and everyone goes for bold up top.
It's a genius way to get more mileage out of your wardrobe without going on an unnecessary shopping spree!

1. Crochet Lace Collar Pattern by Yarnspirations
Create a new fashion collar with just a ball of crochet thread and a hook. If you haven't used a thin steel hook yet, just go slowly and practice a bit before you start. It's really not hard!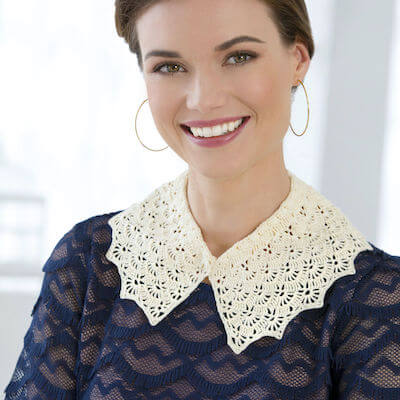 2. Crochet Edite Collar Pattern by Tanja's Crochet
This Edite Crochet Collar is a very versatile crochet collar that can be used to almost everything: on top a sweatshirt, a shirt, a t-shirt and even on top of a jacket.
Can be worn with the bow tie in the back as well as in the front, all options are equally beautiful!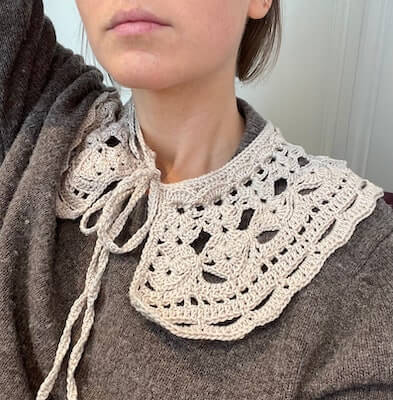 Get the Pattern by Tanja's Crochet here

3. Vintage Crochet Collar Free Pattern by Cre8tion Crochet
This Vintage Crochet Collar is quick, simple and easy to make. It will give any outfit an awesome retro look and feel. It also looks great using an inexpensive acrylic yarn, preferably one that has a bit of sheen.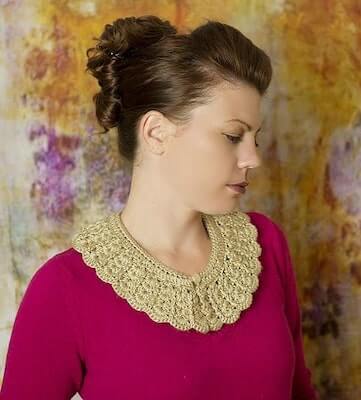 Get the Pattern here

4. Crochet Lace Collar Pattern by Emelie Beads
Use thread crochet to create a very detailed crochet lace collar and matching fingerless mitts. These vintage-inspired patterns are perfect as bridal crochet.
Work them in a different color for a more contemporary design.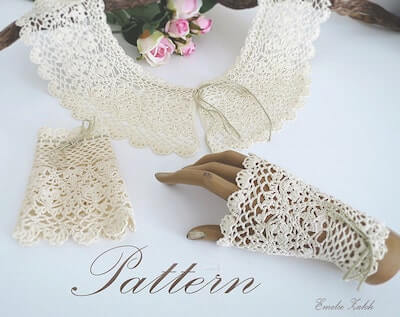 Get the Pattern by Emelie Beads here

5. Easy Crochet Lace Collar Pattern by Jayda In Stitches
Fancy collars are always in style! They bring a touch of class to nearly any outfit, even a cute t-shirt and jeans! Make yourself a few with this Easy Lace Collar Pattern, suitable for beginner-level crocheters.

Wear them over cardigans, sweater sets, simple t-shirts or even as a necklace all on it's own. The perfect wardrobe accessory for lovers of Lolita, Gothic, Steampunk, Victorian and Edwardian fashion!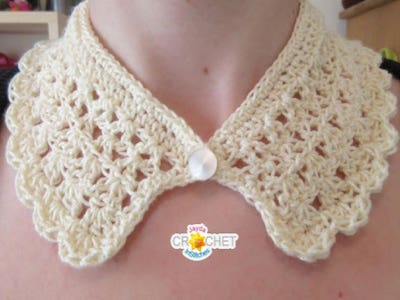 Get the Pattern by Jayda In Stitches here

6. Spider Web Collar Crochet Pattern by Little Crafty Dog
Crochet a truly unique collar for yourself or as a gift for another with this pattern. Ideal for Halloween but this quirky lace collar can also be worn all year round!

This versatile pattern is suitable for a range of yarn thicknesses, the collar can be made to any length to fit the top it is being made for by creating extra webs.
A delicate collar can be made in crochet thread or a bulky yarn can be used for a child's fancy dress outfit.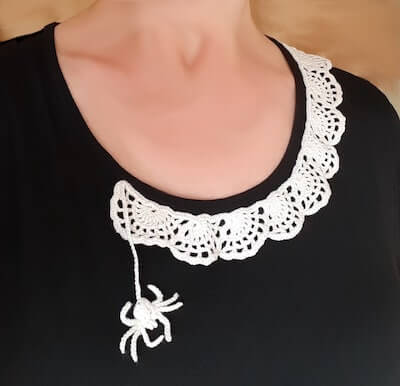 Get the Pattern by Little Crafty Dog here

7. Lacy Peter Pan Collar Crochet Pattern by Kristin Hrund Whitehead
This Lacy Peter Pan Crochet Collar Free Pattern is a simple, quick, diverse and very decorative collar – just choose your favorite yarn and make it in any size you want.
With the right button and the edging of your choice, you can add your own, special personal touch to it!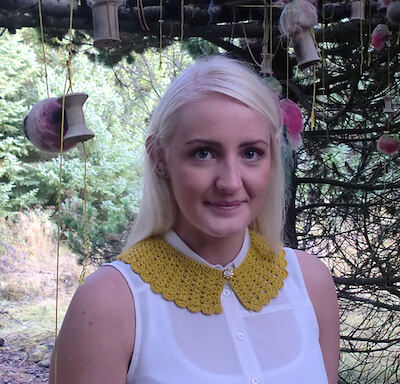 Get the Pattern here

8. Crochet Cable Collar Pattern by Yarnspirations
Tucked under your coat or jacket, you'll love this warm collar that's less bulky than a scarf and looks like you're wearing a cable sweater, without the bulk.

This crochet dickie features interesting cable latticework achieved with a combination of post stitches and crochet cablework mixed with plain rows of single crochet.
Collar is easily worked in half double crochet mock ribbing. It's a clever gift, but don't forget to make one for yourself!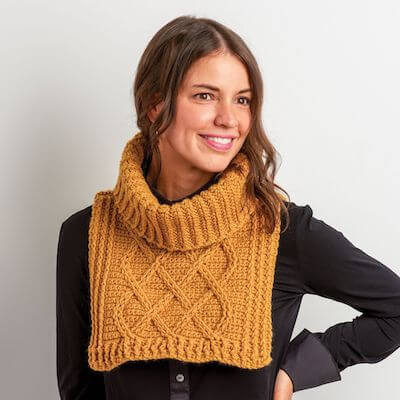 Get the Pattern here

9. Jeweled Granny Crochet Collar Pattern by Jess Makes A Mess
This lightweight collar is great for transitional weather. The selected yarn is lightweight and allows the maker to wear the finished project as a statement accessory.
Where this is not a winter scarf/cowl, it does provide some warmth.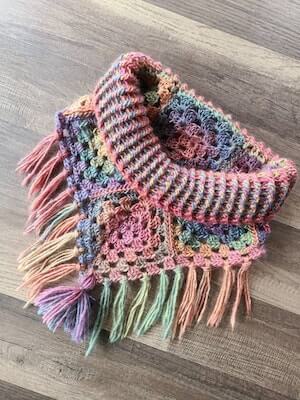 Get the Pattern by Jess Makes A Mess here

10. Crochet Collar Pattern by Woodland Stitch Craft
Add just a dash of crochet to any outfit with this whimsical collar pattern! This pattern comes with instructions for 4 sizes: 12-24 month, toddler, child, and teen/adult.
It also comes with two styles, classic and picot with two options for closing, button and tie.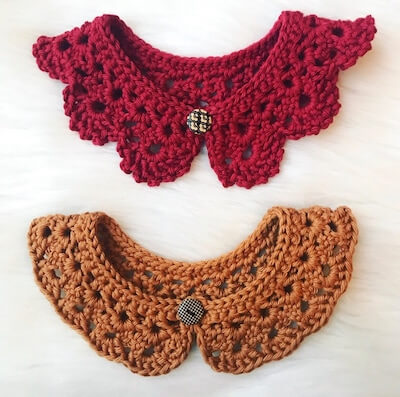 Get the Pattern by Woodland Stitch Craft here

11. Crochet Collar Topper Pattern by Sewrella
An easy 1 skein beginner level project that you can make in about 20 minutes, start to finish! Make a removable, stylish faux fur collar with this crochet collar free pattern – you won't believe how easy and fun these are to make & to wear!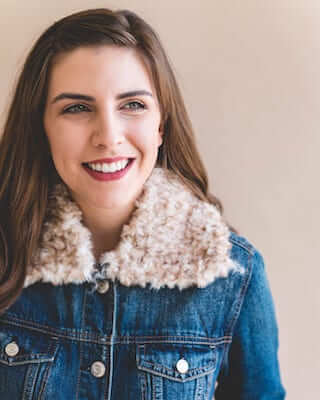 Get the Pattern here

12. Crochet Floral Collar Pattern by Yarnspirations
Instead of the usual necklace, change up your style with this lovely crocheted piece. It buttons in the back, making it easy to add to any dress or top.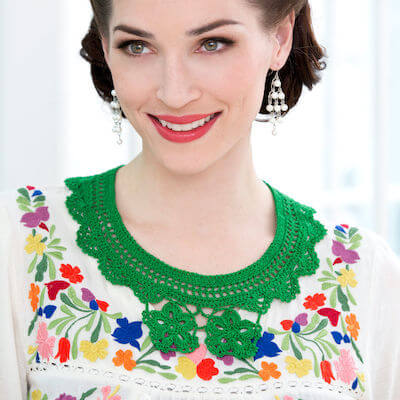 13. Lace Collar Crochet Pattern by Lakshmi Ravi Narayan
This Lace Crochet Peter-Pan-Style Collar Pattern describes two styles: (A) one with a couple of rows of filet relief, as worn by the model, and another (B) without these filet rows for a more solid appearance as is shown held in the hands.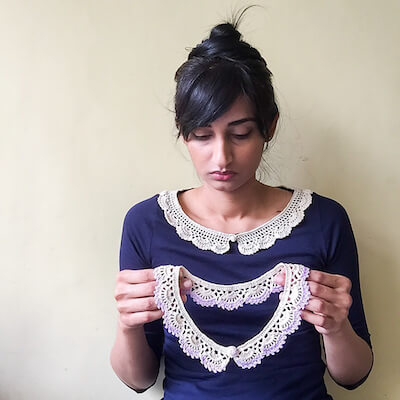 Get the Pattern here

14. Romantic Ruffles Crochet Collar Pattern by Mamta Motiyani
This unique crochet collar pattern designed in peter pan style. This crochet necklace is made to fit loosely around your neck. It has ties and crocheted hearts at the end to make it look even more sensual.

It is a intermix between fashion and romance. Celebrate your special ocassion like wedding, engagement, prom, etc by making and wearing this romantic collar necklace.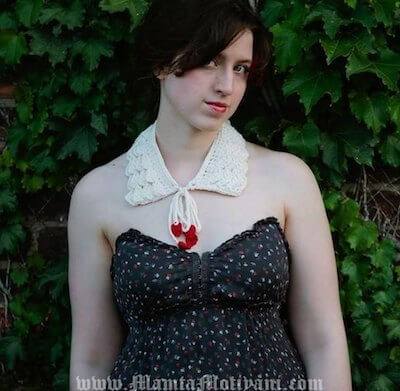 Get the Pattern by Mamta Motiyani here

15. Loveheart Crochet Cowl Collar Pattern by Bored Knitless
This collar is a modern chunky knit with a little twist, adding a necklace charm for Valentine's Day! The little heart pendant is for a special someone as a gift to your nearest and dearest. It also keeps you warm in winter as well as playing to the macramé trend.

With its dual purpose it can be worn as a fashion collar piece, as an accessory to a garment. Or it can be used as a chunky cowl to keep your neck warm and again still look stylish.

You can even cover up your heart by zipping up your jacket, hence you won't be wearing your heart out in the cold! Or if you are not feeling in the mood for Valentine's Day and have a no thrills attitude you can simply crochet the collar and leave out the heart and tassels!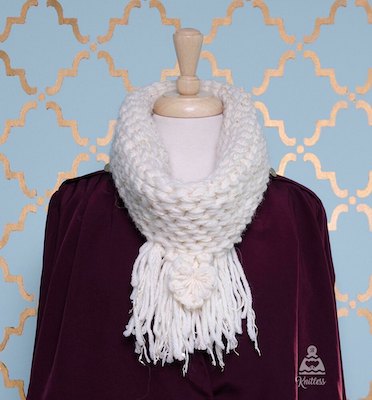 Get the Pattern by Bored Knitless here

16. Crochet Avocado Collar Pattern by Sylvia Margaret Designs
Make something bit different with this stunning, unique crochet avocado collar. This eye catching design looks great as a necklace or jazz up a plain t shirt with it as a lively collar detail.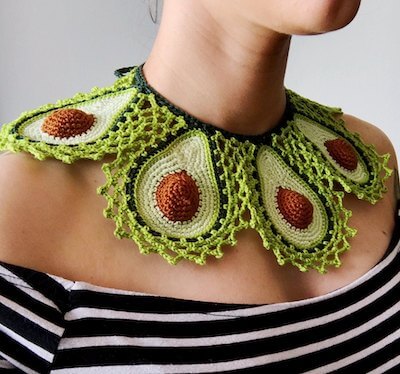 Get the Pattern by Sylvia Margaret Designs here

17. Pop Patch Collar Crochet Pattern by Katie Jones
This Pop Patch Collar is the statement oversized collar you have been waiting for to decorate all your faverouite spring and summer outfits!
Inspired by patchwork quilts and prairie dresses this collar instantly gives any outfit the ultimate cuteness factor.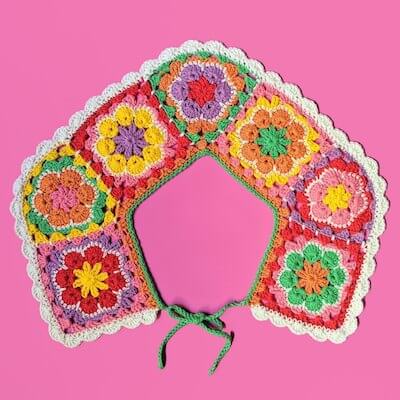 Get the Pattern by Katie Jones here

18. Beaded Crochet Collar Pattern by Jane Crowfoot
This is a nice project for a novice crocheter. You can go too far wrong, but need to know how to chain and work treble and double treble crochet stitches.
Adding beads is easy, you simply add them in on the last step of the stitch.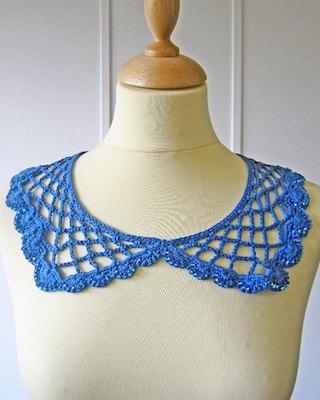 Get the Pattern by Jane Crowfoot here

19. Dragon Scale Collar Crochet Pattern by Zarrin Handmade
A collar made from dragonscales to keep your neck and décolleté warm without adding bulk under your coat! The toggle fastening means that you can fasten the collar exactly where you need it to be.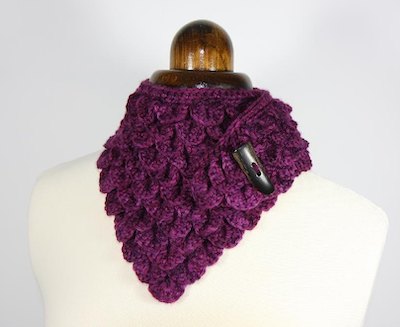 Get the Pattern by Zarrin Handmade here

20. Georgette Collar Crochet Pattern by Shara Lambeth Designs
This Georgette Collar is really retro and fun. It'll definitely take the wearer back in time to those carefree cashmere sweater days. Yet the look is also fresh, wearable, and up-to-date.

The designer has shown different ways to work the same design by changing colors and adding different details (such as flowers instead of circles on the ends of the ties). It closes easily thanks to that tie.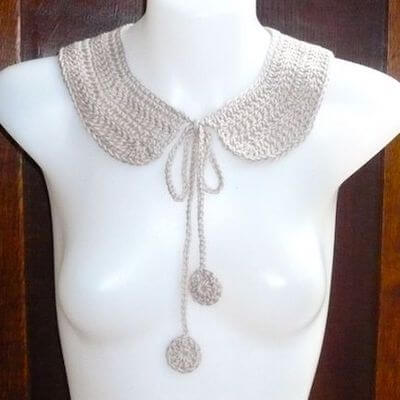 Get the Pattern here

21. Peter Pan Collar Crochet Pattern by Melanie Thomassian
This Peter Pan collar will add so much versatility to your wardrobe, as an accessory that can be worn over and over again.

It will transform a plain t-shirt into something special, or indeed, it can be worn over a dress or sleeveless top. It also looks great with the button at the front, or towards the back.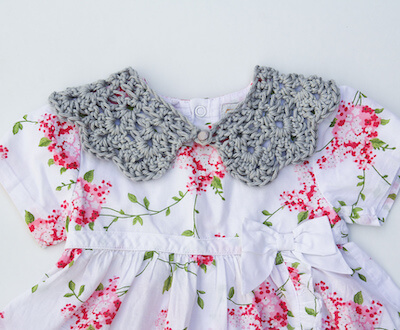 Get the Pattern here

22. Dora Collar Crochet Pattern by Janet Onome
Crochet collars doesn't have to be made with only neutrals. You can explore all the colors and have fun mixing your stylizations. This turquoise color looks very pretty, don't you think?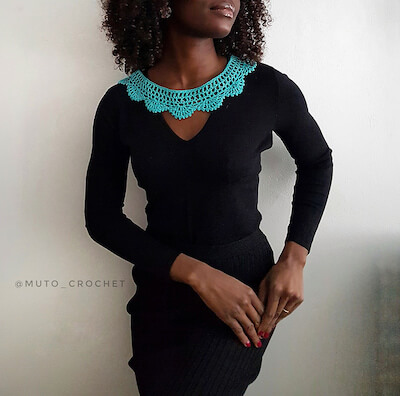 Get the Pattern here

23. Shell Lace Collar Crochet Pattern by Kathleen Rinks
This quick and easy crochet collar is a versatile accent to any neckline. Choose an elegant lace weight yarn or luxury silk to create a one-of-a-kind accent. Add a striking bead or button to make a fashion statement.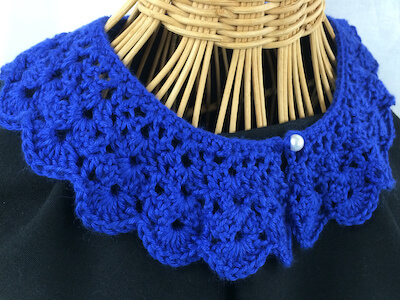 Get the Pattern here

24. Crochet Eyelet Style Lace Collar Pattern by Joys In Stitches
The collar is created by working the neck edge in short rows, then turning to work the main collar on one side.
Treble fans give way to V stitches and shells, which incorporate staggered eyelets worked in rows but designed to look like they aren't, then a pretty scalloped fan edging.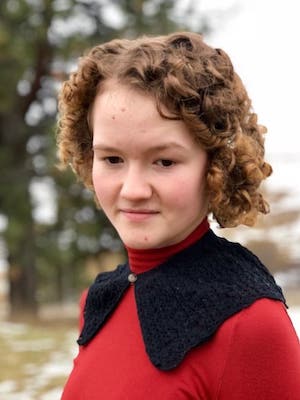 Get the Pattern by Joys In Stitches here

25. Crochet RBG Collar Pattern by Small Spool
This easy crochet pattern creates a dainty, beautiful decorate collar to give ode and honor to the late Ruth Bader Ginsburg.
Bring spice and statement to any of your outfits, while flaunting strong female energy! This pattern is fairly easy, quick and makes a great gift to any of your strong lady friends.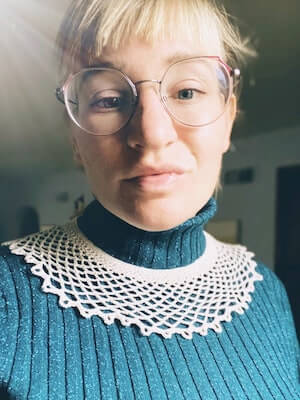 Get the Pattern by Small Spool here
THESE CROCHET COLLAR PATTERNS SHOWCASE THE DIFFERENT DESIGN OPTIONS FOR THIS UNIQUE ACCESSORY.
Let us know which patterns you plan on making and don't forget to share your finished pieces on our Facebook Page.

Looking for more crochet accessories to personalize an outfit with your own unique flair? Check out our collection of crochet accessories patterns to make such things as bracelets, beaded necklaces, headbands and more!

Your to-crochet list is about to get really long! Isn't it amazing? Do not think twice — prepare and use your yarn and hooks and start making these crochet collar patterns today!