With the winter season upon us, it's time to put together a collection of the most gorgeous and unique Free Crochet Poncho Patterns.
These ponchos come in different styles and fashionable appeal and you'll find the right one to keep you warm and cozy through the cold months!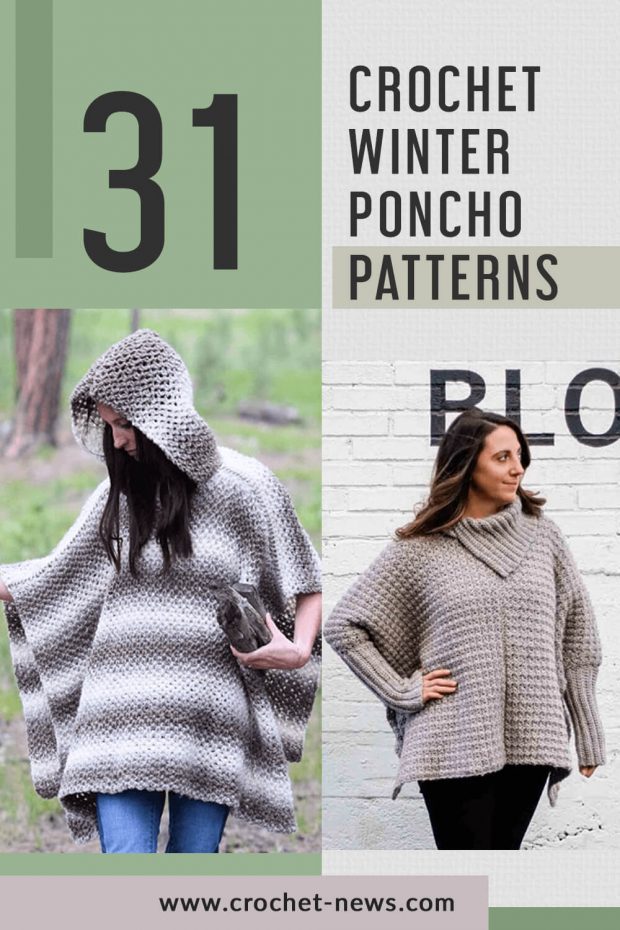 Take your time looking through this 31 Crochet Winter Poncho Patterns and find one (or more) that really speaks to your style.

You deserve nice winter outfits and what better way to get them than to make them yourself!

1. Crochet Poncho With Sleeves Pattern by Make And Do Crew
This stylish crochet poncho with sleeves is very easy because it's made from five simple rectangles. With no increasing or decreasing, you can create a cozy, sweater-style poncho that flatters all types of bodies.
This gives you the contemporary style of a poncho with the functionality of a full sweater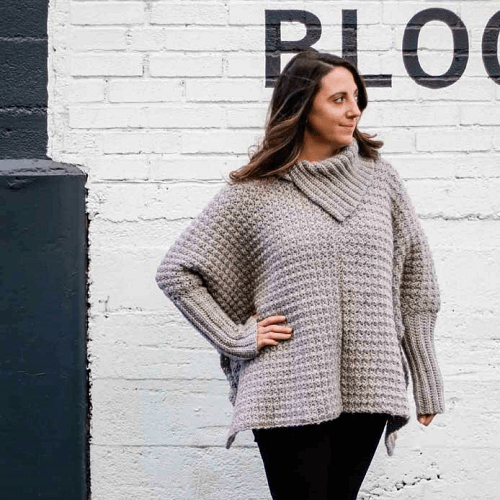 Get this Pattern here

2. Crochet Poncho With Hood Pattern by Mama In A Stitch
Cozy comfort meets eye-catching style with this oversized hooded poncho. Not only will your poncho be noticed, but you're also sure to be warm and comfortable with the relaxed fit and easy wear.
The simple stitch pattern creates a "knit-like" look and the construction is straight forward making it a fun project.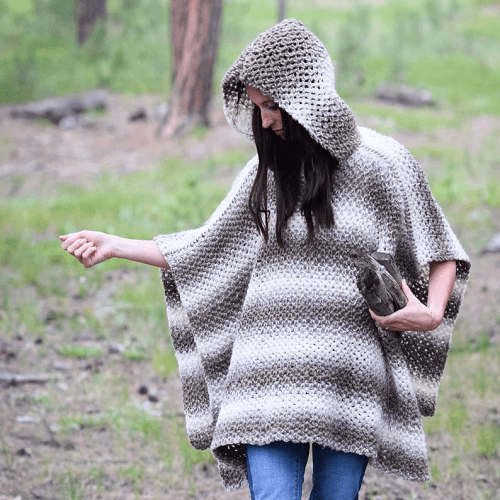 Get this Pattern by Mama In A Stitch here

3. Crochet Winter Chunky Poncho Pattern by Avarus Crochet Designs
A boho poncho with a cowl neck to wrap you up completely in soft warmness! The perfect way to stay cozy and pretty during the cold days. A perfect, fashionable and quick poncho project to work on.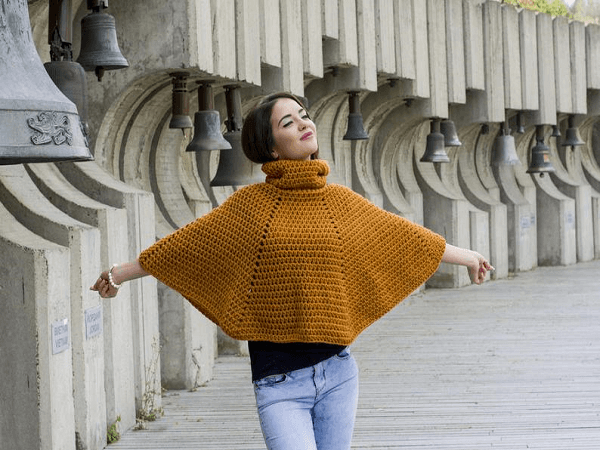 Get this Pattern by Avarus Crochet Designs here

4. Lucky Penny Poncho Crochet Pattern by By Sincerely Pam
The perfect cold-weather friend to keep your kids cozy and toasty. The squishy yarn, dense fabric, and cushiony cowl make this a go-to design for Winter.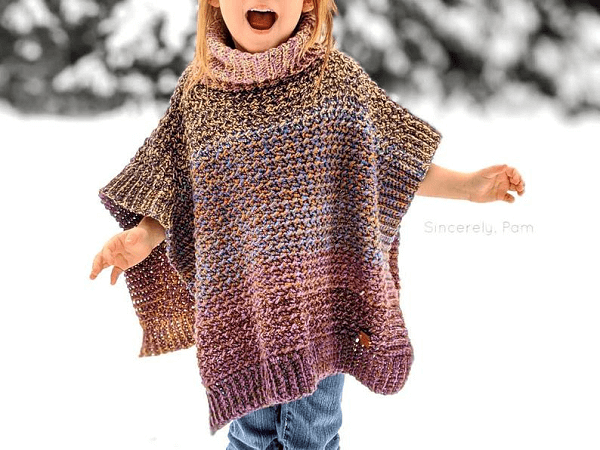 Get this Pattern by By Sincerely Pam here

5. Knit Look Crochet Poncho Pattern by Yarn Hook Needles
This crochet pattern is going to jump out at you. For one thing, this comes in sizes ranging from toddler to women's 5XL, so you can truly use this pattern to make a poncho for almost everyone.
You will work in the third loop of half double crochet which gives you the cozy knit-like texture of this poncho. Finish it off with some fringe, and you have a poncho that can go everywhere.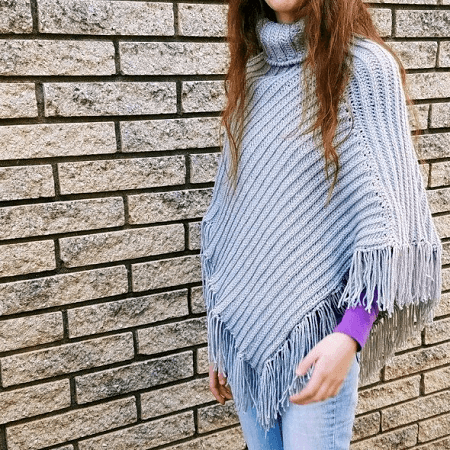 Get this Pattern here

6. Gwendolyn Turtleneck Poncho Crochet Pattern by Skeinsnsticks Designs
Wrap up in cozy-chic by way of this warm and trendy turtleneck poncho. The poncho is worked top-down in the round – features arm-slits and adorned with puff stitches.
A perfect winter and fall weather outerwear accessory for men or women. Check out SkeinsnsticksDesigns for more awesome patterns!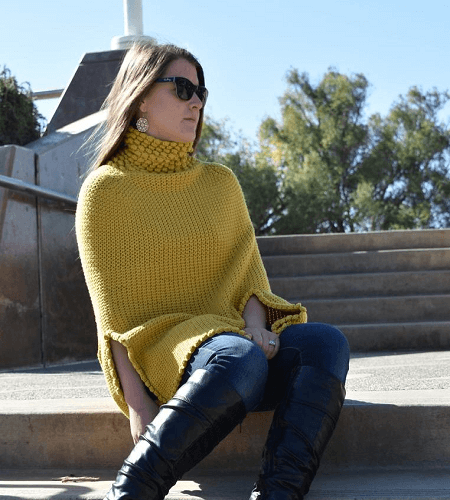 Get this Pattern by Skeinsnsticks Designs here

7. Crochet Braided Bulky Poncho Pattern by Ana D Design
This is a very easy pattern that includes written instructions and pictures to show you the process step by step. This poncho is a perfect accessory for cold winter days.
Step out in style with one of these in all your favorite colors. Learning how to crochet just got a lot more fun with this pattern.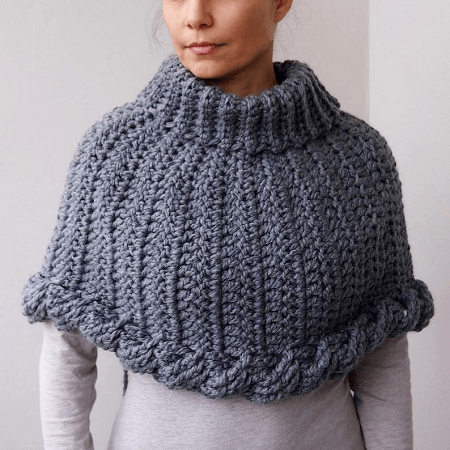 Get this Pattern by Ana D Design here

8. Crochet Tweed Poncho Pattern by Holland Designs
This poncho is also super simple to create! This is made by joining 2 rectangles together with 2 simple seams.
The ribbed neckline, done using front post and back post stitches, completes this poncho. A beautifully warm poncho, but also lightweight due to the lovely ribbed texture and slightly openwork fabric.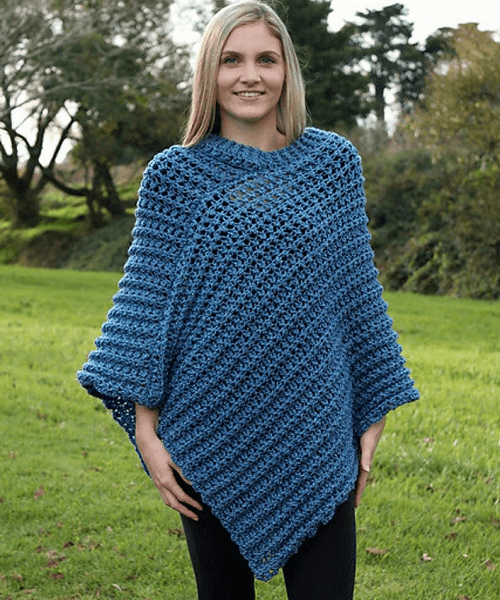 Get this Pattern by Holland Designs here

9. Crochet Star Dust Woman Poncho Pattern by By Accessorise
When the scent of pine and spice fills the air, stay cozy and warm in this Crochet Star Dust Poncho. This is an intermediate pattern in women sizes Small to XXL. Give your outfits a sophisticated look with this beautiful piece!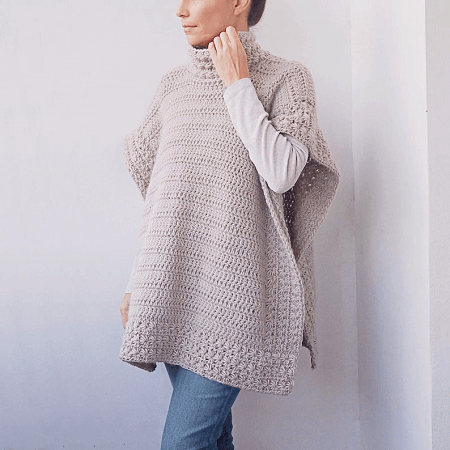 Get this Pattern by By Accessorise here

10. Crochet Modern Granny Winter Poncho Pattern by Jeanne Steinhilber
This project is called Modern Granny Meets Glacier Cowl. A ribbed turtleneck is added to this poncho but if you are someone who doesn't like anything on your neck, you can simply leave off the collar and still have a beautiful winter poncho.
You can always choose any worsted weight yarn in either a solid color or stripe it as you desire. You can also adjust the size by simply adding more rounds to reach your desired length.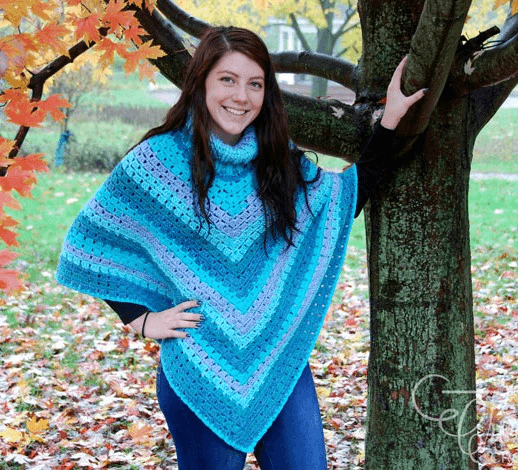 Get this Pattern here

11. Kitty Cat Poncho Crochet Pattern by Yarnutopia
This beautiful and funny poncho will be your favorite outfit this winter. You can also make one for your child and choose their favorite colors to create other animal ponchos as well. Easy to put it on will give nice warm against the morning chill. This poncho size is S/M, but you can easily adjust it for a smaller or bigger size.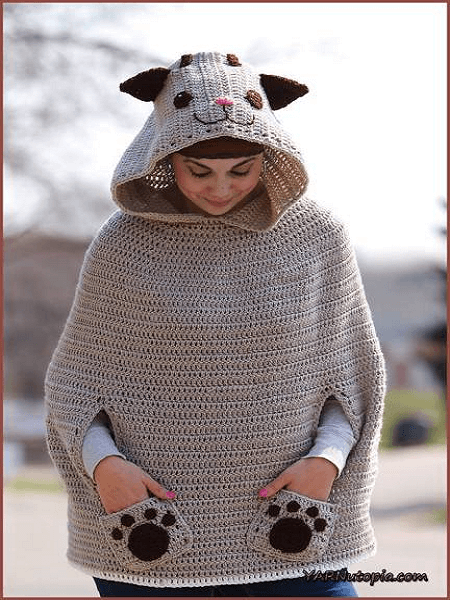 Get this Pattern here

12. Crochet Greyscale Winter Poncho Pattern with Pockets by Jess Coppom
This simple free crochet poncho pattern is a little more fitted than most, offering a versatile wardrobe staple that's perfect for layering. This free crochet poncho pattern is decidedly not overwhelming to wear.
Its minimalist design keeps the cozy factor of a poncho while feeling more like a sweater or vest while it's on your body.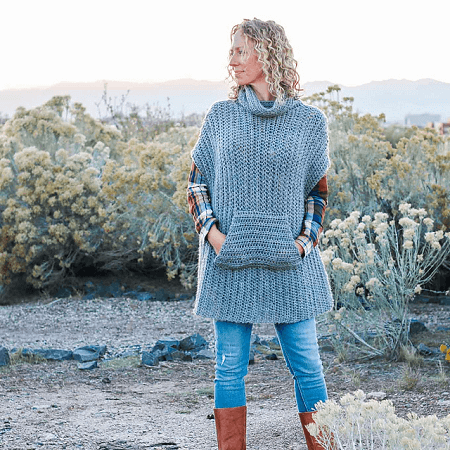 Get this Pattern here

13. Crochet Poncho Pattern by The Easy Design
This is a great pattern for beginners because the stitches used are basic, and it's relaxing crochet for advanced crocheters.
This poncho is made from bulky yarn to keep you feeling warm and would look amazing to any outfit. This pattern can be made in a weekend!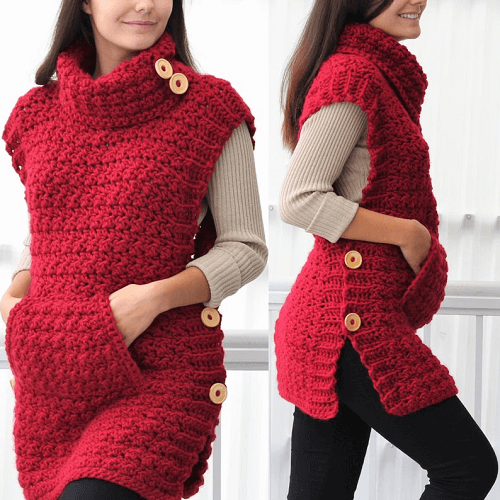 Get this Pattern by The Easy Design here

14. Crochet Cozy Poncho Pattern by Knitcro Addict
This simple poncho is easy to make and surprisingly warm. This is a perfect mid-layer for really cold climates since it doesn't have sleeves to bind up inside your outer layer.
This includes a 7 page written pattern and photo tutorial as well as a link to the video tutorial to make it as smooth as possible. This pattern includes US women's sizes from XS to 4XL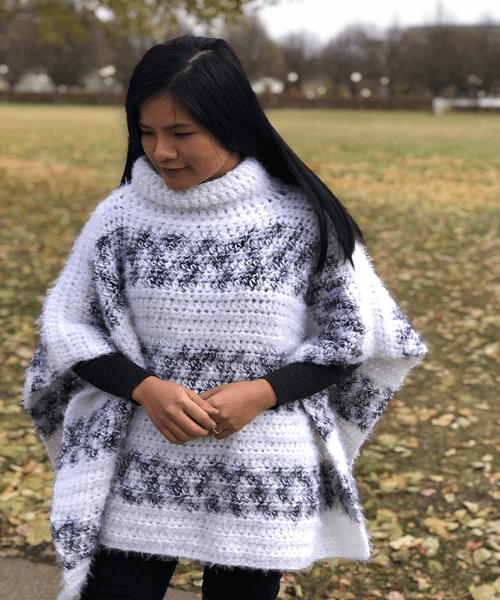 Get this Pattern by Knitcro Addict here

15. Montana Crochet Turtleneck Poncho Pattern by Stitch & Hustle
This Montana Poncho features a slit side to make it functional and keep your arms accessible. Perfect for a cup of coffee on the porch on a brisk morning or carrying your bag to the market.
The turtleneck has textured crochet ribbing to give you all the cozy feels. You can even wear this poncho around your house as a sort of blanket shirt!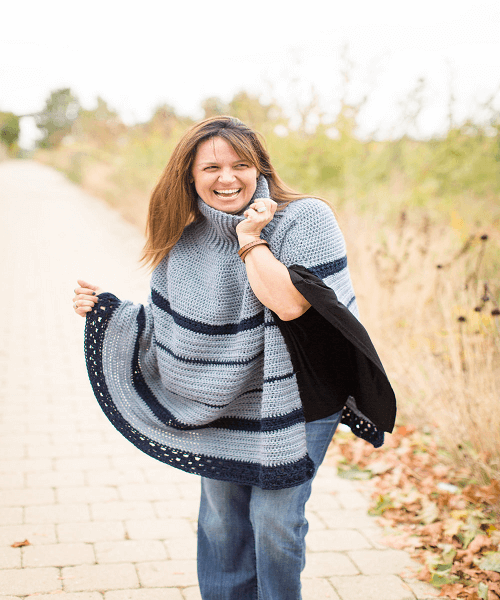 Get this Pattern here

16. Wasilla Full Body Poncho Crochet Pattern by Jennifer Pionk
This is a fantastic poncho for women and little girls. This is made in brilliant colors and a seasonal seasoning that is perfect for cold days.
A cozy full-body poncho that will keep you warm during walks in the forest or relaxing on the porch. This pattern has a brilliant stitch and a herringbone motif that looks perfect!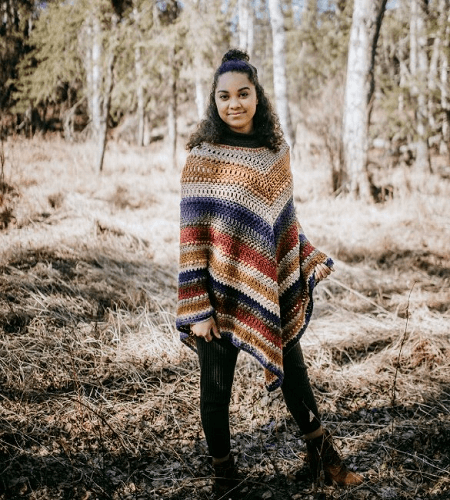 Get this Pattern here

17. Timberlyn Poncho Crochet Pattern by The Velvet Acorn
This poncho is handcrafted and designed with comfort and warmth in mind. The cowl is optional and can be added or removed, perfect for layering through all the seasons.
This poncho makes a wonderful gift and of course also something great for you or your little one to wrap up in. This pattern includes sizes for toddlers, children, teens, and adults.
Get this Pattern by The Velvet Acorn here

18. Hooded Chevron Poncho Crochet Pattern by Crochet Spot Patterns
This hooded chevron poncho is designed with 4 sizes ranging from 6 months to 6 years. Feel free to be creative with your yarn color choices or use 4 of your child's favorite colors.
The loose, comfy fit allows for each poncho size to fit a range of sizes, which is great for a growing child who is always outgrowing their clothes!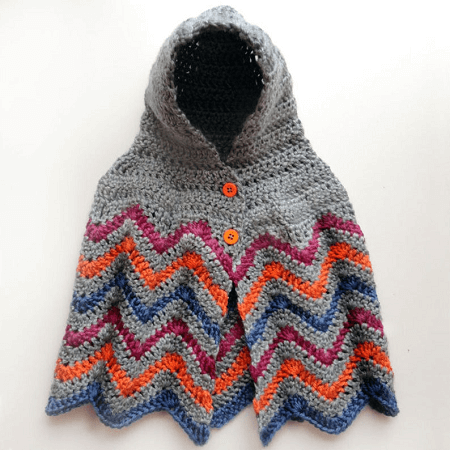 Get this Pattern by Crochet Spot Patterns here

19. Kimora Poncho Crochet Pattern by Avarus Crochet Designs
This pattern is for one size poncho but you can easily adjust the size even if you use different weight yarns. Something lovely for the cold days. Stylish and warm, this poncho will make you feel great.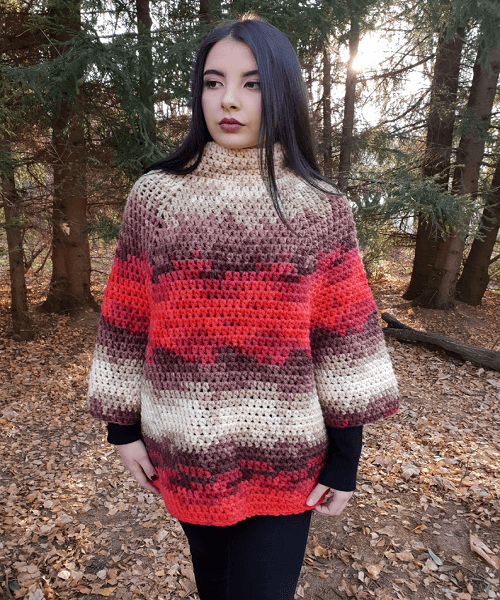 Get this Pattern by Avarus Crochet Designs here

20. Crochet Roll Neck Poncho Pattern by TC Designs UK
This stylish poncho can be worked in sizes from baby to adult as long as you have a few measurements. A Size Chart is provided in this pattern for averages sizes in each of the size ranges.
The cable twist forms a detailed rib and the full circle body has a snuggly warm look and feel.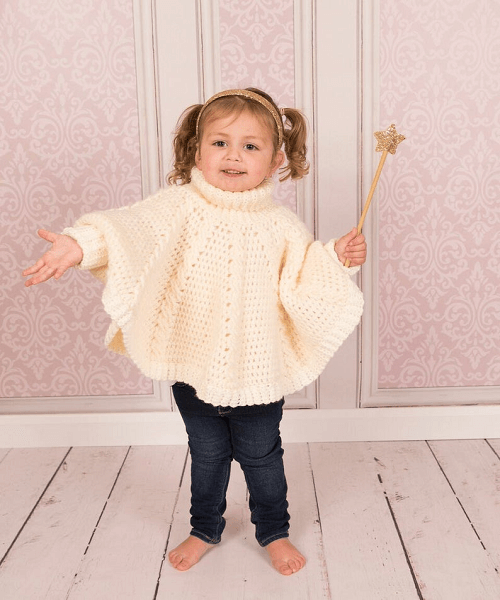 Get this Pattern by TC Designs UK here

21. Granite Turtleneck Poncho Crochet Pattern by All About Ami
Crochet this stylish Granite Poncho that requires no increasing or decreasing using the relaxing granite stitch!
With the turtleneck, chic fabric pockets and alpaca blend yarn, this poncho is the perfect cozy layering piece for the transitional weather!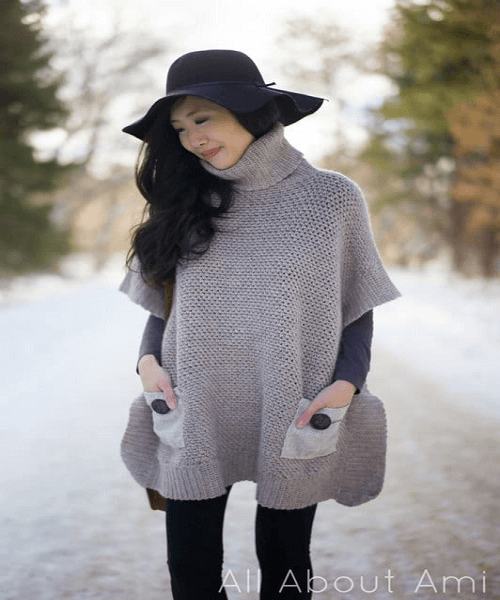 Get this Pattern here

22. Autumn Rain Crochet Poncho Pattern by Loopy Mabel
This stylish but very versatile Autumn Rain Crochet Poncho Pattern is another great winter accessory and can be worn in two ways.
Simply pop over your head and place around your shoulders. For sure, you will receive lots of compliments when you are out and about wearing this!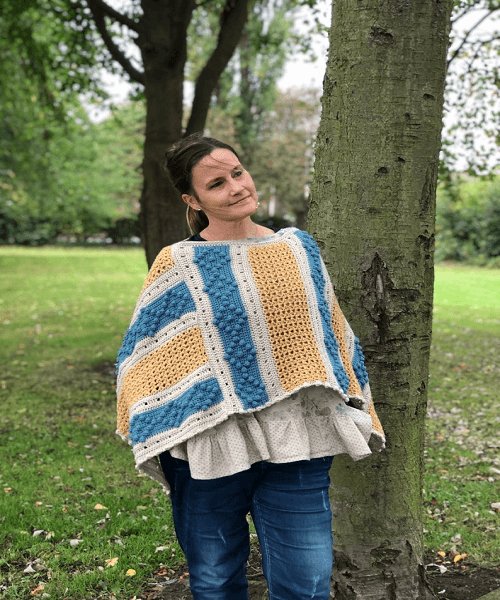 Get this Pattern by Loopy Mabel here

23. Misty Morning Poncho Top Pattern by Simple Things By Tia
This Poncho Top is made with granny stitch making it really a beginner-friendly pattern. The side seams are sewn together to give you a little more warmth for cooler weather when you wear it but you can leave the sides open if you like.
Either way, this poncho is a beautiful piece that's so soft and incredibly comfortable. Check out her website for more amazing patterns!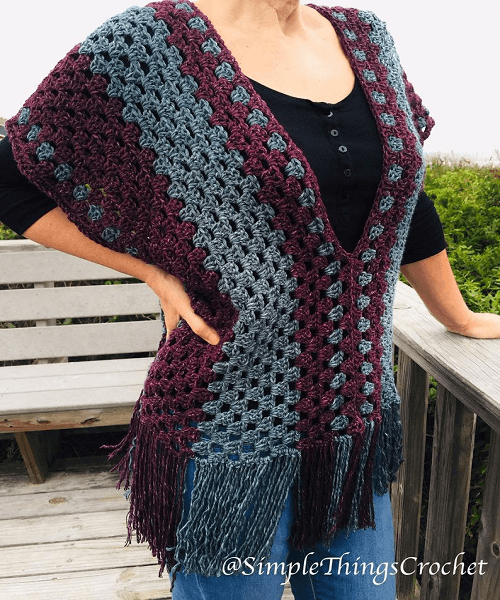 Get this Pattern by Simple Things By Tia here

24. Perfect Poncho Crochet Pattern by I Need It Crochet Designs
This really is a perfect poncho! Simple, yet full of little details that make it really beautiful.
If you want something made with bulky yarn, something warm with no lacy parts to it, something with a large cowl neck that could turn up when the temperature drops, this pattern is perfect for you!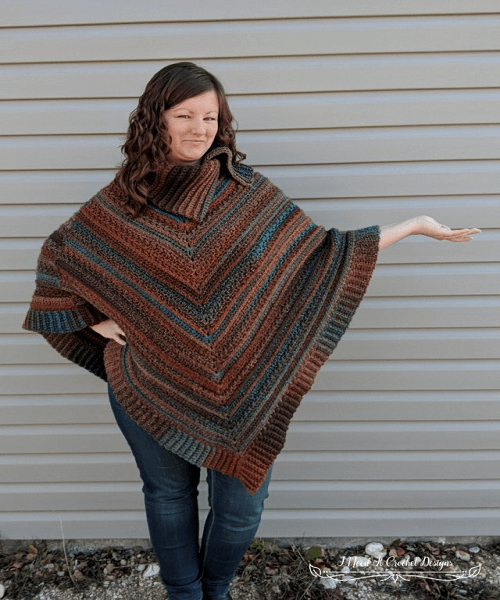 Get this Pattern here

25. Spiced Cranberry Poncho Crochet Pattern by Colorado Shire
The cozy cowl and warm fur trims make this the perfect extra layer for Christmas outings like picking out a tree, sipping hot cocoa, shopping for gifts, or visiting friends and family.
With crocheted fur trim and delicate eyelets, this is a simple project that could be easily finished in a week, which makes it perfect as a gift for a friend or yourself.
Get this Pattern by Colorado Shire

26. Crochet Poncho with Hood Pattern by Annah Haakt
Ramp up your poncho game by adding a hood and fringe to it. This pattern is suitable for both beginners and advanced crocheters.
You are expected to know the basic terms of crochet. This pattern use chain, single crochet, double crochet, and slip stitch.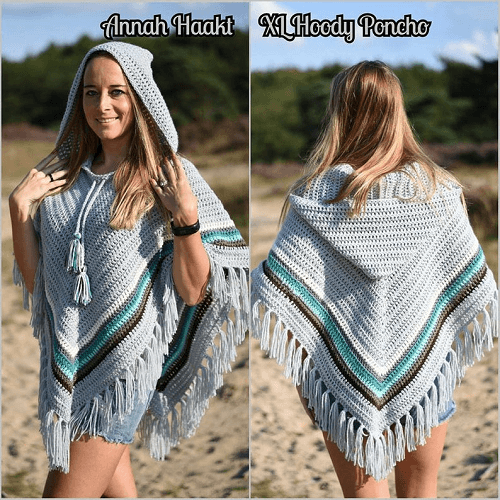 Get this Pattern by Annah Haakt here

27. Winter Shells Poncho Crochet Pattern by Hobbii Design
Nice, warm and elegant poncho. This is crocheted in Hobbii Nature and Mayflowers Super Kid Silk.
The combination of these two quality yarns gives the poncho an incredibly exclusive look, and the poncho is woolen, soft and really nice and comfortable to wear.
This poncho is designed in a beautiful shell stitch pattern. Perfect for any occasion!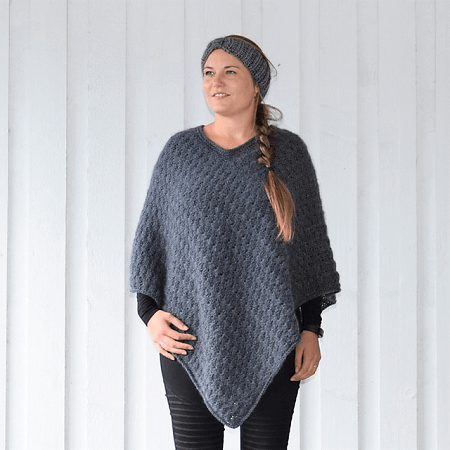 Get this Pattern here

28. Vertical Eyelet Poncho Crochet Pattern by Crochet Spot Patterns
This poncho has a classic look that will look great on all different body shapes and sizes this winter! This poncho is crocheted from the top-down, seamlessly in the round, in one piece, creating rows of eyelets as you go.
This pattern includes 9 sizes and instructions for adjusting the size if you are in-between sizes or simply want a custom-fitted poncho.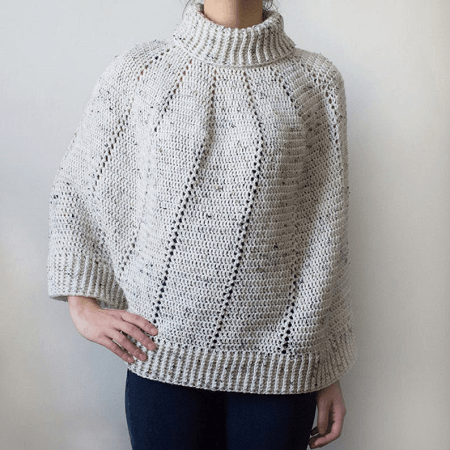 Get this Pattern by Crochet Spot Patterns here

29. Partridge Creek Poncho Crochet Pattern by Little Red Knits 12
This pattern is perfect for any skill level. This is a very quick project and is perfect for stocking for markets, making as gifts, or for someone who is just starting to learn how to crochet.
If you love looking cute with very little effort – this pattern is definitely for you! Also be prepared to stock up on a lot of yarn, because you're going to want to make these for everyone you know!
For more of her patterns, check out LittleRedKnits12 now!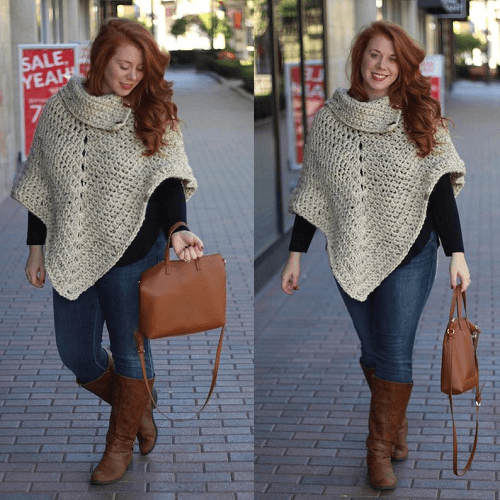 Get this Pattern by Little Red Knits 12 here

30. Unisex Crochet Poncho Pattern by Dora Does
Corner to Corner is such a fun versatile crochet stitch pattern to work. Those little square blocks have so much potential! This pattern can be worked with any yarn and hook but try it with a graduated or ombre yarn for that extra something!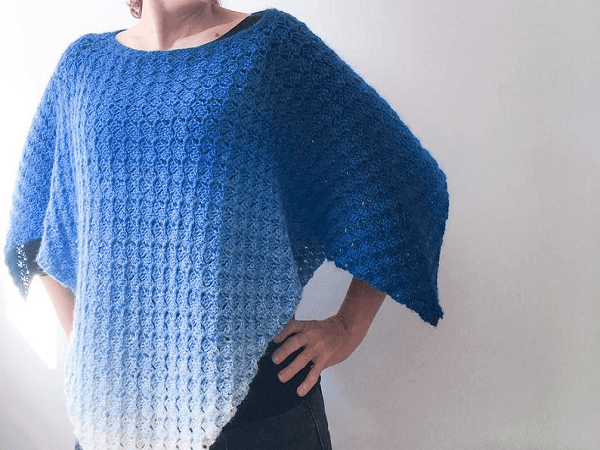 Get this Pattern by Dora Does here

31. Crochet Rancher Poncho Pattern by Sewrella
This rancher poncho is sophisticated thanks to its neutral palette that's enhanced by a few simple black stripes. Made primarily in half double crochet, this poncho is designed to be oversized, so it's a style that's frequently on-trend. You will turn many heads in this piece!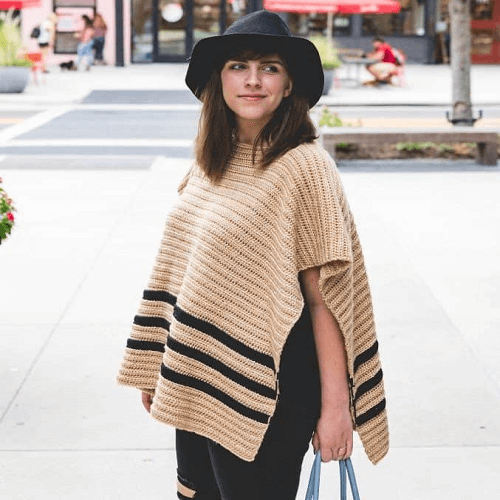 Get this Pattern here
Wrapping Up Our Fave Crochet Poncho Patterns
These 31 Crochet Winter Poncho Patterns all stand out from the pack. They are diverse in color, stitch, shaping, and style. However, they all embrace that chic level of comfort that modern fashionistas have come to expect from the poncho.
If you are thinking of winter, then also check out our Crochet Sweater Patterns, Crochet Baby Poncho Patterns, Men's Cowl Crochet Pattern and Crochet Dog Sweaters to get everyone covered this winter season.
There is truly something here for everyone, so whether you want to load up your own winter closet with some crochet ponchos or use these crochet poncho patterns to make gifts for your friends, this is a collection to bookmark!