If you are confused about yarn weights, you are not alone. I remember standing in the craft store aisle staring at all the yarn. There is so much to choose from. Do not let all the yarn choices overwhelm you.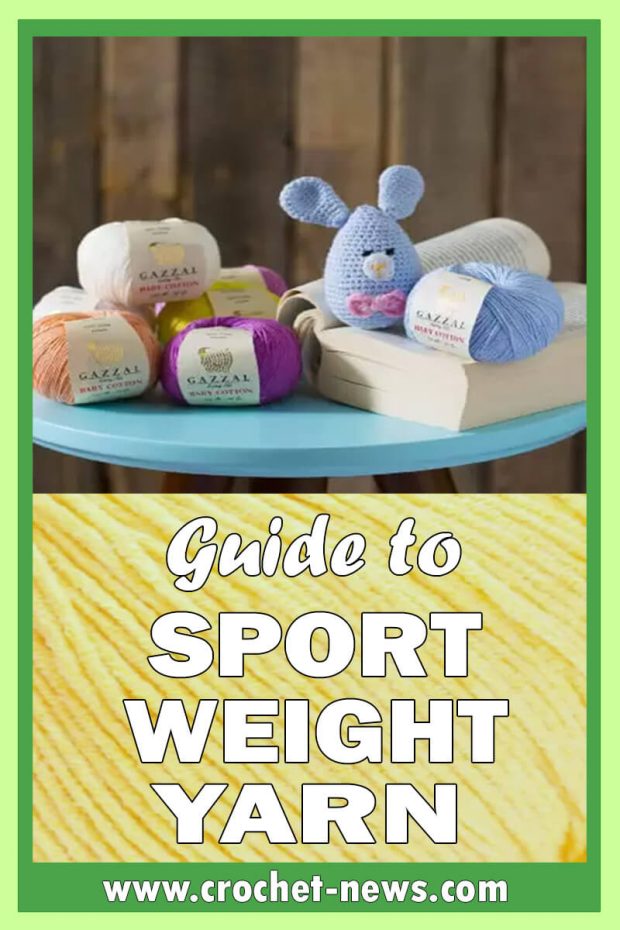 Once you learn the basics, yarn weights are actually easy to understand. Continue reading below to learn everything you need to know about sport weight yarn.
What is Sport Weight Yarn?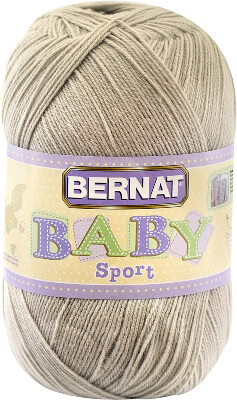 Sport weight yarn is also referred to as yarn weight #2 and fine baby yarn. This type of yarn is suitable for warm-weather projects due to its lightweight texture. Sport weight yarn falls between fingering yarn, which is thinner and DK yarn, which is thicker.
Sport yarn is a fine, lightweight yarn perfect for projects with a smooth texture and less noticeable stitches. Its thickness makes it an ideal choice for projects that are not too thin or too thick.
Sport weight yarn is commonly used for making baby blankets and socks, among other projects.
What Can You Make with Sport Weight Yarn?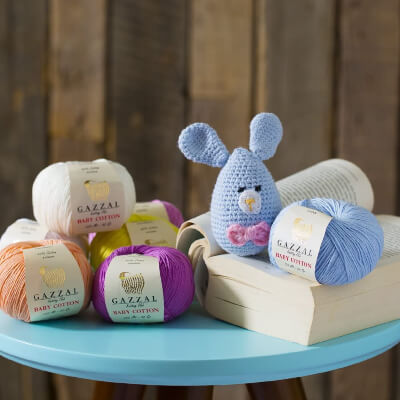 Sport weight yarn is a thinner yarn weight. It is an excellent choice for creating projects suitable for spring, summer, and fall. Below are some examples of projects that are often made with fine baby yarn:
Baby clothes
Cowls
Scarves
Shawls
Socks
Sweaters
Cardigans
Lightweight blankets
Amigurumi toys
…and More
Benefits of Using Fine Baby Yarn
There are many benefits you will notice when using fine baby yarn. These include:
Sport yarn is easy to work with. It is thick enough you can see your stitches. This makes it a good option for beginners.
Sport yarn is not as strong as worsted weight yarn, but it is stronger than fingering weight. The yarn will not break as easily as lightweight yarn, and your projects should be more durable.
Fine baby yarn is lightweight, with enough bulk to create items such as baby blankets and scarves.
Since sport yarn is not too heavy or too light, it offers a lovely drape to finished projects.
Since sport yarn is on the thin side, it can be used to create details. You will find patterns with colourwork that call for sport yarn.
What Crochet Hook is Recommended for Sport Weight Yarn?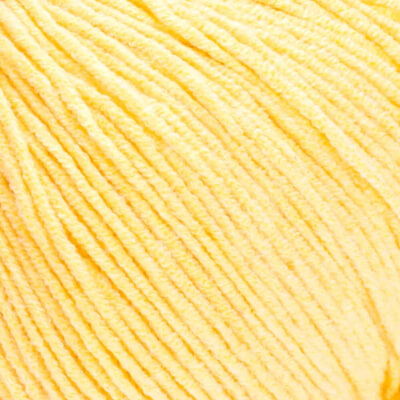 The packaging on fine baby yarn will often recommend a 3.5 mm to 4.5 mm crochet hook. Using the recommended hook will create a solid fabric. The hook size is just a recommendation.
You will find that patterns that have looser stitches will call for a larger hook. And patterns that have tighter stitches will call for a smaller hook.
Sport Weight Yarn Ply
When looking at yarn, you will see they are available in different plys from 1 to 8. But what does ply mean? The term ply refers to the number of threads twisted together to form the yarn. Yarn that has a higher ply count is usually stronger than yarn with low ply counts.
The ply number indicates the number of threads twisted together to create a strand of yarn. For instance, single ply yarn is made from one thread, 2 ply from two, 3 ply from three, and so on.
When picking out your yarn, always look at the ply. If your project experiences a lot of wear, you will want a yarn with a higher ply number. If it will not experience a lot of wear, you can use a yarn with a lower number of plies. For example, if you are making gloves, you will want a high ply. On the other hand, if you are making a lightweight shawl, you can use a lower ply.
Sport Weight Gauge
Have you heard of the term gauge? Gauge describes the number of rows and stitches per inch. Some crochet patterns specify a certain gauge while others do not. In some patterns, gauge is very important.
The gauge determines the final size of the project. When working with fine baby yarn, you will generally have a gauge between 16-20 stitches/rows to 4 inches.
It is important, when working on a pattern that specifies a gauge, to make sure your gauge matches. To do this, make a gauge swatch. This way you can be certain the size of your project turns out correct. If the gauge of your swatch has too many rows and stitches per inch, use a bigger hook. If you do not have enough rows and stitches, use a smaller hook.
Sport Weight Yarn Frequently Asked Questions
What types of projects are suitable for fine baby yarn?
Sport yarn is a versatile yarn. It can be used for a wide range of projects. Due to its lightweight and drapery texture, sport yarn is suitable for clothes and accessories that have a soft and delicate feel.
However, fine baby yarn is strong and durable making it a great choice for baby items and other projects that will get a lot of use. Some popular projects for sport weight yarn are sweaters, cardigans, scarves, shawls, socks, lightweight blankets, baby clothes, amigurumi toys, and more.
What is the recommended crochet hook for fine baby yarn?
The recommended crochet hook size for sport yarn is usually between US E/4 (3.5 mm) to US 7 (4.5 mm). However, the exact size crochet hook will depend on the desired gauge and the types of yarn being used.
Always check the pattern or yarn label for recommended hook size. The hook size you need may also vary depending on your personal crochet style and tension. It is always a good idea to make a gauge swatch to test the hook size before beginning your project.
How much yardage is typically in a skein of sport yarn?
The amount of yardage in a skein of fine baby yarn can vary depending on manufacturer. Generally, a skein of sport weight yarn usually contains 250 to 350 yards (229-320 meters). It is always important to check the label on the yarn to determine the exact yardage per skein.
What number is sport weight yarn?
Yarn weights are classified by a numbering system. Sport yarn is considered a number 2 weight yarn. This means it is a lightweight yarn that is finer than DK weight yarn (number 3) and heavier than fingering weight yarn (number 1). Sport weight yarn is also referred to as baby yarn.
How many stitches per inch when using fine baby yarn?
The number of stitches per inch can vary depending on the specific yarn and hook used. However, when using a US E/4 (3.55 mm) to US G/6 (4.0 mm) hook size, to make single crochet stitches, you will typically get 5-6 stitches per inch.
Now that you know more about Sport weight yarn, I hope you give it a try.
If you are struggling to differentiate between the different yarn types, do not give up. Familiarizing yourself with the yarn weight numbering system will make it a lot easier.
To help you more, check out these articles: Yarn weight Comparison, Crochet Stitches, Crochet abbreviations, Guide to Crochet Thread Sizes, Guide to Crochet Hooks and Crochet Patterns for Beginners. Or you can head on to our Facebook Page for more patterns.
I hope my article has given you a better understanding of fine baby yarn. It is a thinner yarn that has a little bulk to it. If you enjoy working on lightweight projects, you will probably find yourself using a lot of sport weight yarn.