Our Guide to Crochet Thread Sizes will give an overall view on how crocheting using thread works – from busting myths to how you can get started.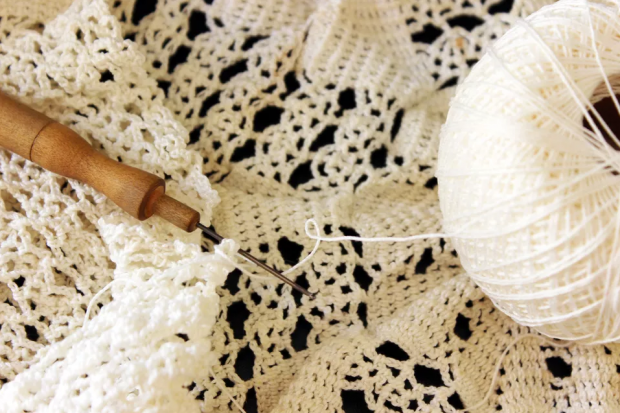 If you want to try something new this year in your crochet journey, why not have a go at thread crocheting?

There are a lot of misconceptions about thread crochet that is why some people are apprehensive to try it.
But those are just myths and they are not reliable.

Thread crocheting is a kind of craft that is very enjoyable and easy to do if you put your heart and mind into it.
It is fun to execute and the finished product is truly a work of art.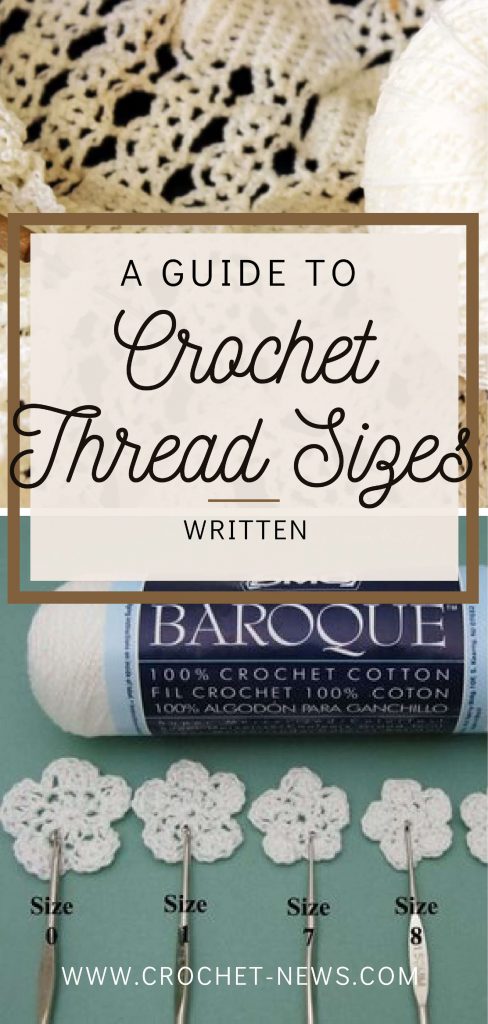 DEBUNKING CROCHET THREAD MYTHS
Crochet thread is hard – The technique in crochet uses the same process no matter if you use yarn or thread. The only difference is the hook size is smaller and the crochet thread sizes are thinner. Just a little bit more practice and you'll get used to it!
Crocheting using thread is only for doilies – In crocheting, each stitch is an element in itself and that is what makes it versatile. You can produce a lot of different things from it starting from a small ornamental mat up to an extravagant wedding gown.
Crochet thread is complicated – This connotation is normal if you are not familiar with the craft. Crocheting with the use of a thread is as simple as working with yarn. When you finish a stitch and start with another, you will be able to swivel in any direction and build up your very own fabric.
You can experience hand strain while making your thread crochet – It is a common feeling of hand tiredness because you hold a smaller hook and crochet thread sizes. When you grip crochet hooks firmly, it forces your hand to contort and that causes the pain.

You can avoid this problem through your technique adjustments, having breaks in between, and doing things in moderation. Exercise and stretching your hands will also help you ease the pain.
Blocking is very important in crochet thread – Blocking is significant because it allows the finished fabric to be shaped and sized accordingly in order to open up and to set a stitch pattern. It is a bit of a handful that is why many don't like blocking. But then, just select a crochet thread project that does not require you to block just like jewelry made of crochet.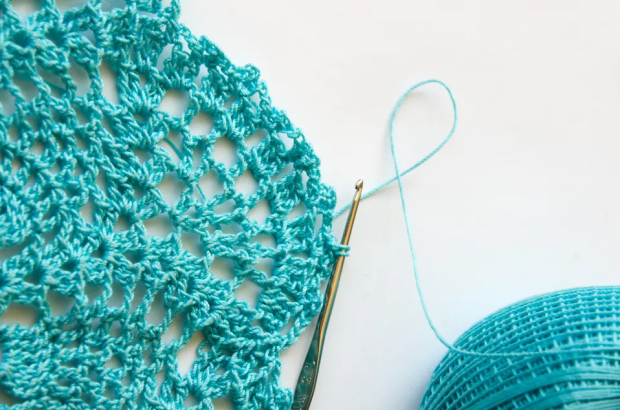 A GUIDE TO CROCHET THREAD SIZES
GUIDELINES FOR BEGINNERS IN STARTING WITH CROCHET THREAD
Crochet thread has limitless possibilities. You can make a lot of different masterpieces with it.
Now that you already know the myths of crochet thread, it is time to focus on the guidelines that can make you more efficient in using your thread and hook.
Crochet Thread Sizes
The diameter of a crochet thread size is oppositely symmetrical to number. For example, the thread with the size of 100 down to 200 is as fine as a thread used for sewing and the crochet thread size 3 up to 10 is almost as thick as yarn.
Crochet Hook Size
Crochet hooks differ in sizes. Normally, you match your hook size with the weight of your thread.
It may be measured in letters, numbers or millimeters depending on the material, brand or country it was made.
It is inversely proportional to the number as well. The higher the number, the smaller the hook size.
Steel Crochet Hook
This often used in fine crochet thread patterns. This kind of hook is specially made to crochet threads and lace – weight yarns.
It has a wide range of sizes to choose from depending on which material you will work with.
Crochet Hook Handle
A proper hook handle can play a major role in finishing a project. That is why you have to make sure you have a comfortable handle, to begin with.
You can find steel hooks in the market that come with a padded handle that is easy to grip. It will be a big help for your fast adjustment.
Proper Thread Usage
Using the appropriate crochet thread is very important. It is a distinct material that you need when crocheting.
Using the suitable crochet thread will greatly affect the outcome of your design.
Correct Way in Working with Yarn Overs
You have to make sure that the yarn overs that you make are just near the crochet hook head.
If the yarn overs are not correctly executed, then the loops that will be produced will be too sloppy and might create a shapeless work.

Holding crochet thread
Use your dominant hand to hold the thread in order to regulate the tightness of the loops that you had created.
Then, flatten your palm and put the thread in between your ring finger and pinky finger.
When you spread your fingers it can lessen the tension from the thread.
Crochet thread needs minimal tightness in doing the stitches
It is normal in thread crochet that you must do your stitches a little bit tighter than a with a yarn.

The excessive use of tension in the thread can result in struggling with compacted stitches.
It can also lead to pain in the hand and wrist. In order to prevent this, you must crochet in a slightly tight manner so that you can achieve the proper stitches without feeling any hand pain.
Check the type of crochet work you had done previously
The past crochet work that you have done can define if you can manage a crochet thread project.
It would be a sharp change in the part of the crocheter because from using big hooks and bulky yarns, you must alter to a smaller hook with a slim thread.

If you think that you can get along with the sudden transformation, then you are ready to start with this task.
But if you are a bit hesitant, then better work your way slowly down until you reach the point that you can work with threads.
Find a place to make your thread crochet
A place that has good lighting conditions is perfect while you are on the verge of this project. It could help your eyes feel more comfortable while crocheting the tiny stitches.
You can also choose a thread with light colors so that it would be easier for you to craft your dream thread crochet project.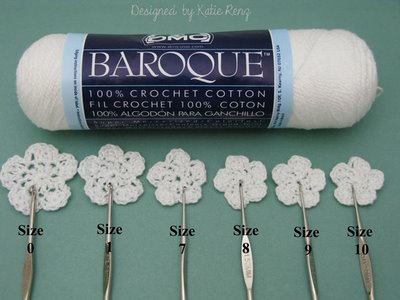 Different crochet thread sizes
The outcome of your crochet really depends on the size crochet thread you will use. If you use crochet thread size 10, you can create a bigger crochet pattern.
The higher the size number of the thread, the smaller the outcome.
Check out the chart below for crochet thread sizes: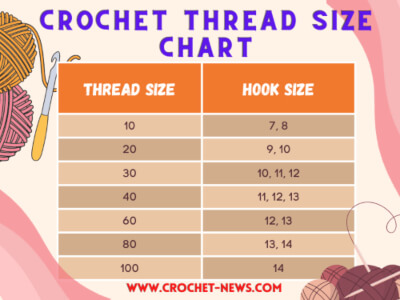 Enjoy your crochet experience
They say that doing a crochet thread project is a bit of a handful. It is challenging because you have to be keen in following the instructions of the pattern, but you can turn these challenges into inspiration in order to make your crocheting experience enjoyable.
Go for a crochet thread pattern that is beginner-friendly
Select the right crochet pattern that is appropriate for beginners to start with. This will enable you to have fun while crocheting and at the same time it will be less of a hassle.
Doing simple patterns can make you finish your project with ease and no hand strains.

ITEMS BEST SUITED FOR THREAD CROCHET
Thread crochet can make a lot of different projects. From a small doily up to a fabulous dress.
But there are still distinct items that are needed to be crafted in this kind of crochet method. Here is a list:
Crochet collars – It is a beautiful accessory to any plain shirt, blouse or sweater. It looks so elegant and classy that is why it suits well in any fashion and style.
Wedding gown and accessories – A wedding gown made with thread crochet is one of the highest-end types of a vintage gown. It is handcrafted to perfection and so unique.

A crochet bridal veil too can definitely make a dauntless statement at a wedding. It looks classic yet stylish.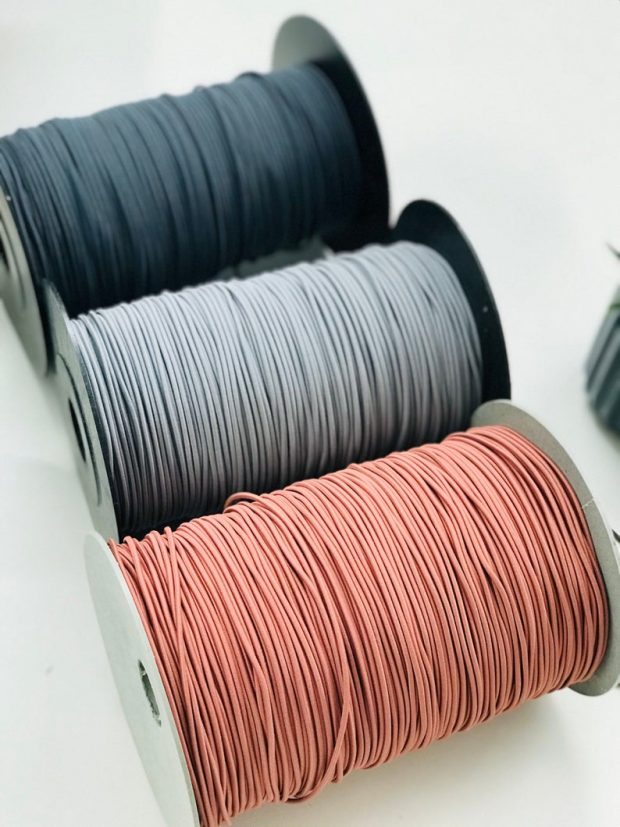 Crochet doily – Crocheted doilies can be a great table decoration. Crocheters can also frame the doilies as exquisite wall art.
Filet crochet made from thread – Filet is a French term for a net or a mesh. This crochet pattern is made in a net form and it uses three basic stitches, the chain stitch, single crochet, and double crochet.
Thread crochet jewelry – You can make jewelry either with beads, wire, or other special materials or just by using a thread as a tool can make marvelous jewelry. It looks sophisticated and wearable on any occasion.

SHOULD YOU START A CROCHET THREAD PROJECT?
Build your confidence
Learning new things can never be boring. It can enhance your self-confidence that you can start something new.
After you have your first experience with threads, for sure you will be aiming for more. Anyway, it is never too late to try new stuff.
Challenge yourself
At first, you will be a bit hesitant to do a crochet thread project because you might think that it is really that hard.
Why not challenge yourself and go out of your comfort zone and begin your very own masterpiece?
As you go along with crocheting, you will surely have fun and enjoy the challenges that come with it.
Give old patterns a new look
Making new things out of the old method can be more exciting. Thread crochet is a miniature of yarn crochet crafts.
With the same method and technique, you can be able to use a different material with the same result. For sure, you will be proud to see yourself excel in it.
Now you're familiar with crochet thread sizes, start making crochet thread projects!
Certainly, crochet thread can be hard and complicated at times. But if you are open-minded and ready to face new challenges, then you are prepared to start your crochet project.
This A Guide to Crochet Thread Sizes will definitely help you out in dissecting the pros and cons of your most recent endeavor.
If you are all set, grab your hook and thread, and let's get started!
Share with us your experience making crochet thread projects on our Facebook page.
We hope our guide to crochet thread sizes helpful and handy in making your crochet thread projects.