If you find yourself confused by the range of yarn weights, rest assured you are not alone. I recall standing in the yarn aisle, staring at the enormous selection of yarns. I was so overwhelmed.
However, once I learned more about yarn weights, it became simple to pick out my yarn. Below I have included an easy-to-read guide covering everything you need to know about lace weight yarn.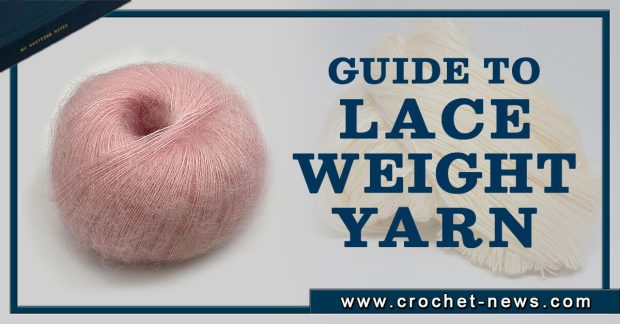 What is Lace Weight Yarn?
Lace weight yarn is also known as yarn weight #0. It is a fine yarn often associated with delicate crochet projects. Being lightweight it is a great choice for warm-weather items. It has a smaller gauge, resulting in more stitches per inch compared to thicker yarn weights.
Lace weight yarn can be crafted from different fibers, including wool, acrylic, cotton, and blends. Its fine thickness is perfect for creating delicate items like shawls, wraps, lightweight tops, and other airy accessories.
Being delicate and thin, lace weight yarn can be challenging to work with. The small stitches and intricate patterns can be time-consuming and require more patience.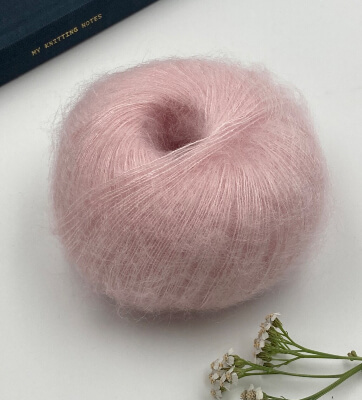 What Can You Make with Lace Weight Yarn?
Lace yarn is a finer yarn weight. It is a perfect choice for crocheting lightweight and airy projects suitable for spring, summer, and fall. Here are several examples of projects you can make with lace yarn:
Delicate Wraps
Lightweight Scarves
Lace Table Runners
Dainty Baby Clothes
Lightweight Cowls
Airy Summer Tops
Lace Cardigans
Elegant Socks
Graceful Sweaters
…and More
Benefits of Using Lace Yarn Weight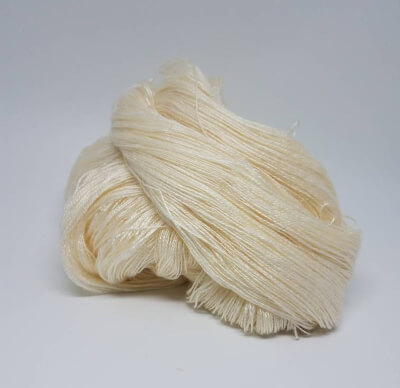 Using lace yarn offers numerous benefits, including:
Lace yarn is incredibly lightweight. Using lace yarn for your projects will create a thin fabric that is perfect for hot weather.
The weight of lace yarn will help give your finished project a graceful drape. It is excellent for making elegant shawls that are eye-catching with a flattering drape.
Thanks to its thin profile, lace yarn is well-suited for intricate detailing. It is often used when incorporating colourwork and creating lace projects.
What Crochet Hook is Recommended for Lace Weight Yarn?
It is often recommended that you use a crochet hook between 1.5 mm to 2.5 mm in size when working with lace yarn. Following these recommendations will create a well-defined fabric with a beautiful drape.
Keep in mind that these hook sizes are merely a suggestion. When working on patterns that require looser stitches, you will find that patterns call for a larger hook. On the other hand, patterns with tighter stitches may call for a smaller hook.
Lace Weight Ply
When choosing a lace yarn, you may notice they are available in different plys. But what does ply mean? The term "ply" refers to the number of threads twisted together to create the yarn. Yarn that has a higher ply count is usually stronger than yarn with low ply counts.
The ply number indicates the number of threads twisted together to create a strand of lace yarn. For instance, single ply yarn is made from one thread, 2 ply from two, 3 ply from three, and so on.
When picking out your lace yarn, always look at the ply. If your project will experience a lot of wear, you will want a yarn with a higher ply number. If it will not, you can use a yarn with a lower number of plys.
Lace Weight Gauge
Have you come across the term gauge? Gauge refers to the number of rows and stitches per inch in your crochet work. While some lace weight yarn patterns may specify a particular gauge, others might not. In certain patterns, gauge plays a crucial role as it determines the final size of your finished project.
For lace weight yarn, you will normally aim for 32-42 stitches per 4 inches. When working on a pattern that includes a gauge requirement, it is important to create a gauge swatch before starting the main project.
This way, you can be confident that the size of your finished project. If your swatch has too many rows and stitches per inch, switch to a bigger hook. If your swatch has fewer rows and stitches, use a smaller hook.
Frequently Asked Questions About Lace Weight Yarn
What types of projects are suitable for lace weight yarn?
Lace weight yarn can be used to make a wide array of lightweight and airy projects. It is perfect for crafting elegant shawls, wraps, scarves, doilies, and more.
What is the recommended crochet hook for lace weight yarn?
The recommended crochet hook size for lace weight yarn usually ranges from US 000 (1.5 mm) to US B-1 (2.25 mm). When choosing your hook, consider the specific project and desired gauge.
How much yardage is typically in a skein of lace weight yarn?
The amount of yardage in a skein of lace weight yarn can vary based on the manufacturer. Generally, a skein of lace weight yarn is sold by weight. A skein will typically contain around 500 to 1000 yards (457-914 meters). To determine the exact yardage per skein, it is essential to check the label on the yarn.
What Number is Lace Weight Yarn?
Lace weight yarn is categorized as number 0. It is one of the finest and lightest yarns available. It is perfect for creating intricate and delicate projects.
How Many Stitches Per Inch When Using Lace Weight Yarn?
The number of stitches per inch may vary depending on the specific yarn and hook size used. Generally, when using a US 000 (1.5 mm) to US B-1 (2.25 mm) hook size to create single crochet stitches, you will typically achieve 8-10 stitches per inch.
Now that you know more about Lace weight yarn, I hope you give it a try.
If you are finding it hard to distinguish between various yarn types, do not get discouraged. Getting familiar with the yarn weight numbering system will make it easier.
To help you more, check out these articles: Yarn weight Comparison, Crochet Stitches, Crochet abbreviations, Guide to Crochet Thread Sizes, Guide to Crochet Hooks and Crochet Patterns for Beginners. Or you can head on to our Facebook Page for more patterns.
I hope this article has provided you with a clearer understanding of lace weight yarn. As a fine yarn, it is perfect for creating delicate and lightweight projects.