If you were to make these Hello Kitty crochet patterns of your own, these could be the ideal gifts for a fan of all things kitsch and cute – no matter what their age is. These patterns come in all sorts of cool forms so there's something for every iconic kitty fan!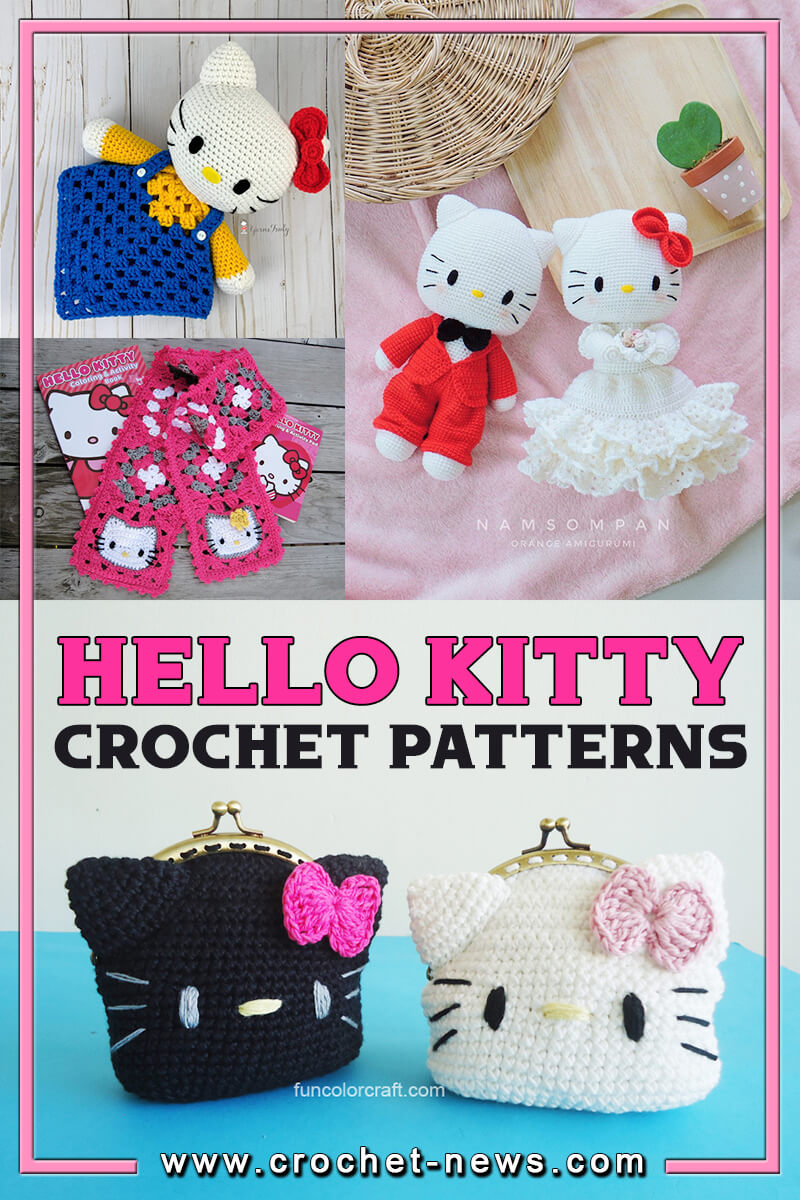 10 Crochet Hello Kitty Patterns
As a lover of all things Hello Kitty, we usually have no problem shelling out the cash for "must have" items. Sometimes, however, it is nice to let your creativity juices flow and save those Benjamins for another day.
We loved pulling together this list of Hello Kitty ideas to inspire the creativity in you!

1. Hello Kitty Crochet Coin Purse Pattern by Funcolor Craft
This Hello Kitty Coin Purse project is very simple and quick to make, and once you finished, it will be a great coin purse for your little one. Or maybe even you could use it!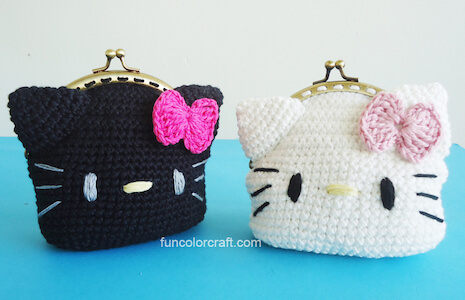 Get the Pattern here

2. Crochet Hello Kitty Tooth Fairy Pillow Pattern by Swellamy
The perfect baby gift or kids' gift. This adorable kitty has a secret pocket in the back. Perfect as a tooth fairy pillow, or for that secret diary key or special token.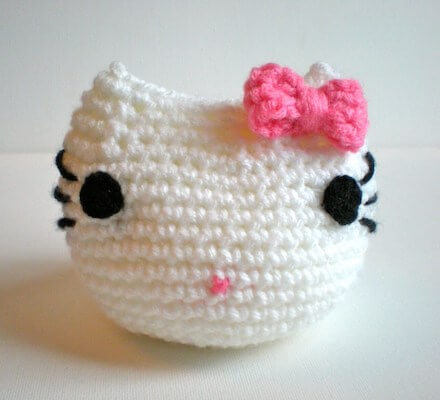 Get the Pattern by Swellamy here

3. Granny Square Scarf Hello Kitty Crochet Pattern by Made By K
This is a free hello kitty crochet pattern for a scarf made up of rectangles joined together and surrounded by a picot-edged border, a fun accessory for anyone who loves Hello Kitty.
Each rectangle features either a cute kitty face or a traditional granny square (modified slightly to make it oblong).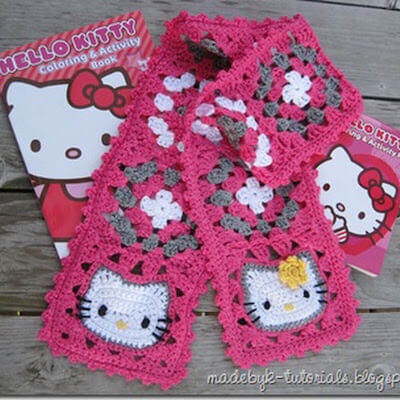 Get the Pattern here

4. Crochet Hello Kitty Lovey Pattern by Yarns Truly Co
Soft and soothing, this crochet Hello Kitty security blanket will help your little one doze off into blissful nap time. This lovey has a plush amigurumi head for easy gripping, and soft mini blanket just right to give security while being portable.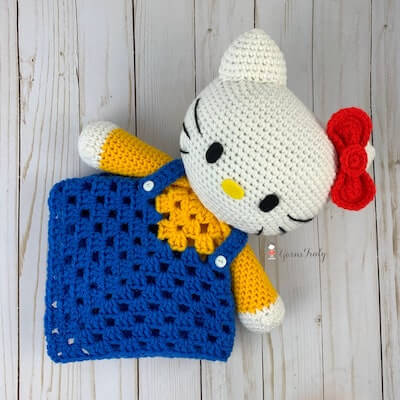 Get the Pattern by Yarns Truly Co here

5. Hello Kitty Cup Cozy Crochet Pattern by Heartspun By Wendy
Enjoy your love of Hello Kitty all year long with this adorable cup cozy. Whether you're making it for yourself or just want to make a gift for your family and friends, this crochet Hello Kitty Cup Cozy is perfect for you!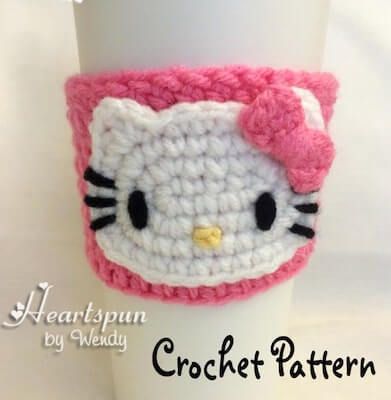 Get the Pattern by Heartspun By Wendy here

6. Hello Kitty Amigurumi Pattern by Crochetier Chilala
Crochet this Hello Kitty Amigurumi dressed in her iconic style, not forgetting her signature red bow! Give this as a little gift to a friend, or crochet your own special keepsake.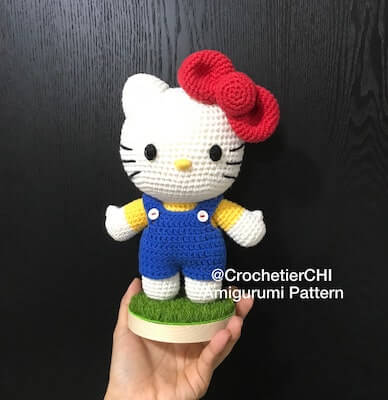 Get the Pattern by Crochetier Chilala

7. Big Hello Kitty Amigurumi Crochet Pattern by Ella D Design
If you have any fans of Hello Kitty in the house, it's time to make them this Big Hello Kitty Amigurumi. This lovely soft toy will be an amazing present, for sure! It's simple in construction, so if you know amigurumi basics, don't hesitate to try this out!
Get the Pattern here

8. Wedding Hello Kitty Amigurumi Pattern by Namsompan
Here we are with a cute Hello Kitty couple that can be a cute little decoration for a wedding. You can make these as gifts for the bride and groom. These would look so cute, just imagine!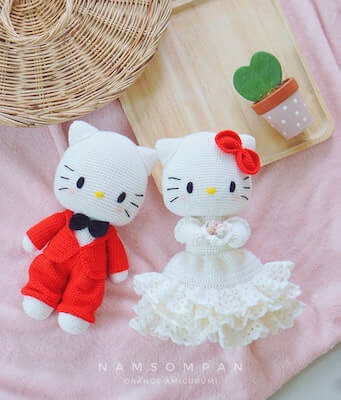 Get the Pattern by Namsompan here

9. Crochet Hello Kitty Hat Pattern by Love Lori Crochet
This adorable and popular Kitty Hat pattern is size 5T to adult. The ears stick up so it adds dimension and the braids are always fun. You can crochet this hat using the same colors used, or choose your own.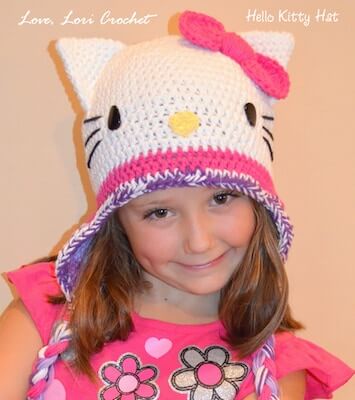 Get the Pattern by Love Lori Crochet here

10. Crochet Hello Kitty Bag Pattern by Sweet Sam Design
Captivating and charming, this messenger bag is ideal for your little angel. This crochet Hello Kitty bag is just too cute! She will enjoy showing off her love for Hello Kitty with this bag .
Topped by a cute bow, the adorable design features her favorite character's face and plenty of interior space for her favorite items.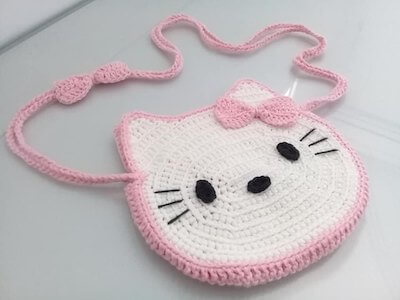 Get the Pattern by Sweet Sam Design here
YOU DON'T HAVE TO BE A KID TO ENJOY THESE HELLO KITTY CROCHET PATTERNS!
As always, we love seeing your works! Feel free to post your finished Hello Kitty projects on our Facebook Page.
Also, if you're looking for other toys or decors to add to your nursery, we have other crochet baby toy patterns and even a list of crochet Elmo Patterns, crochet Snoopy patterns,  Frozen crochet patterns and Winnie the Pooh crochet patterns you can make! 

Do you have other friends who love both crocheting and Hello Kitty just as much as we do? Then share this collection of Hello Kitty crochet patterns with them for a little bit of super fun, and super cute inspiration!