Crochet is a hobby enjoyed by women, men and children around the world. From cuddly stuffed animals to blankets and pillows, anything can be created with a little imagination and skill.
If you are looking for a birthday gift, Christmas gift, or a gift for no reason, we have done the research for you. You do not have to look any further than our top 29 gift ideas for crocheters.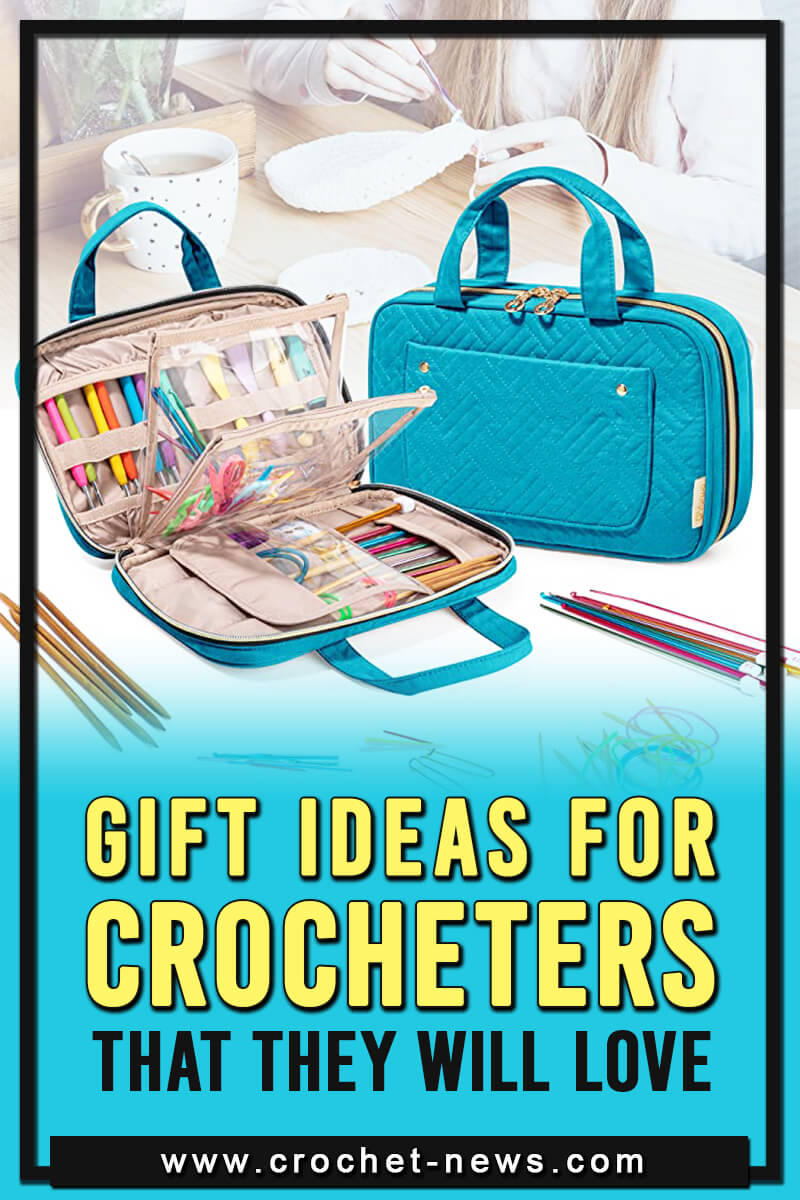 29 Unique Best Gifts for Crocheters
Explore our list of gift ideas for crocheters to give to your family and friends.
1. Handmade wooden crochet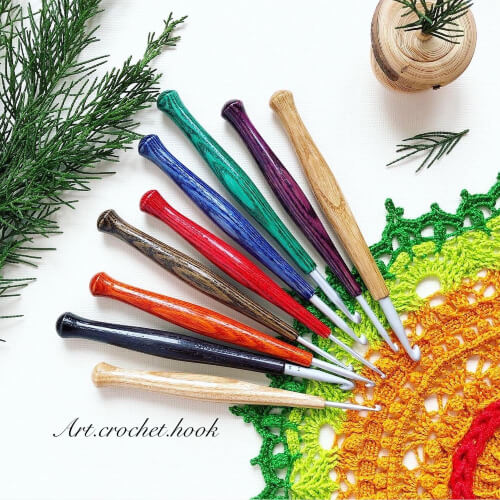 Handmade wooden crochet hooks are great gift ideas for crocheters. These beautiful hooks are lightweight and unique. When you purchase a handmade wooden crochet hook as a gift you know that you will be getting them a one-of-a-kind item.
Find these Handmade Wooden Crochet Hooks Here
2. Knitting Wooden Yarn Bowls with Holes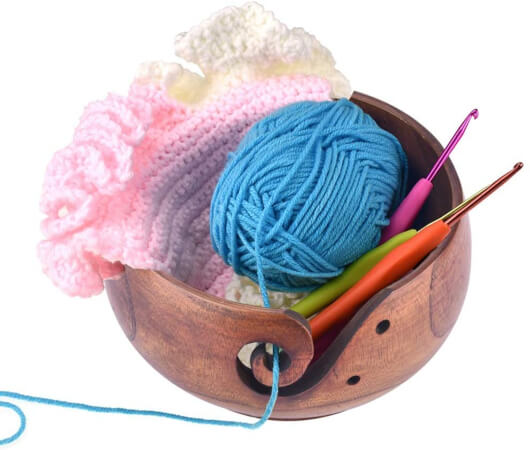 Yarn bowls a terrific way to keep yarn from rolling away. They are also a useful tool for keeping yarn clean and tangle-free. For a crocheter that has a pet, the struggle of keeping fur off the yarn is real. This beautiful wooden yarn bowl even looks good if it is left sitting out on a table.
Find this Wooden Yarn Bowl Here
3. Pompom Maker Tool Set DIY Fluff Ball Weaver with Cutter Scissors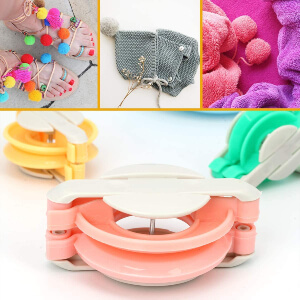 Pom Poms are used in all types of crafts including crochet. These fun fluff ball makers come in 4 different sizes. You will also get U-shaped scissors which make cutting yarn easier.
Check out 7 of the Best Pom pom makers here.
4. Crochet Star Wars Characters (Crochet Kits) Paperback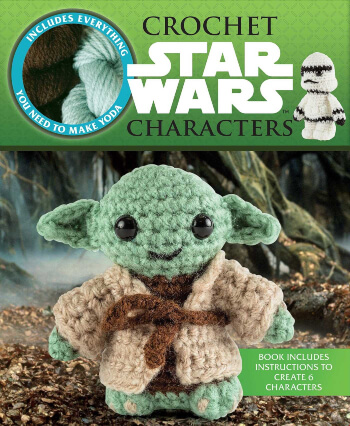 Make a geeky crocheter's dreams come true with this adorable Yoda crochet kit. This kit includes everything that you need including the instructions, crochet hook, needle, thread, safety eyes and stuffing.
Better yet, choose and make one of these Star Wars crochet patterns which any Star Wars fan would surely love.
Find this Yoda Crochet Kit Here
5. Handmade by Yarn Craft Tag Crochet Knitting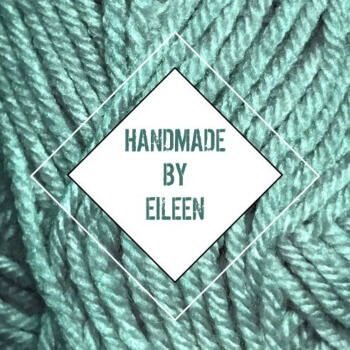 Hang tags are the perfect personalised gift ideas for crocheters. They can be used for price tags as well as gift tags. This cute yarn design tag can be easily customised for your recipient.
6. Crocheting Wine Glass, Gifts For Crochet Lovers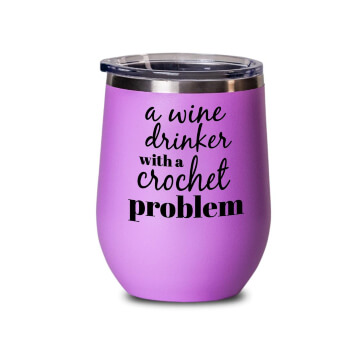 Wine and crafting go hand in hand. There are even crafting parties that combine the two. This humorous tumbler will even keep the wine cold. What more could a wine-loving crocheter want?
7. Shetland Wool Crochet Brooch – Hook & Yarn – Crocheters gift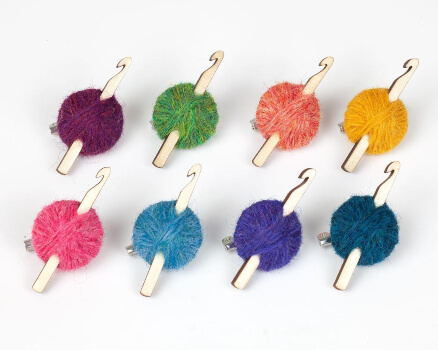 Wearing a brooch is a way for crocheters to show their love of the craft. This cute yarn and hook crochet brooch will make a fun fashion accessory.
Find this Hook & Yarn Brooch Here
8. HOMEST Yarn Storage Bag with Clean Top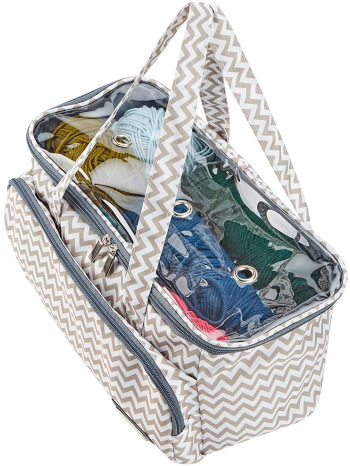 This multi functional portable storage bag is terrific for small and medium projects. It is large enough to store crochet hooks, yarn and other accessories needed while you are on-the-go. Available in Ripple (chevron), Grey and Floral.
Find this Portable Storage Tote Here
9. Personalized knitting or crochet tote bag with zipper, needlepoint supply bag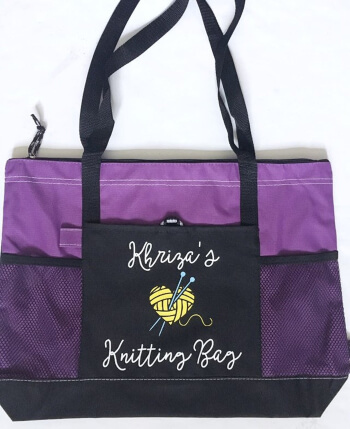 A personalised gift can never be the wrong choice. And every crocheter knows they can never have enough bags. This tote bag is large and has several pockets for holding all their hooks and supplies. They can proudly take it anywhere without losing or misplacing the tools or project.
10. 20 Sizes Crochet Hooks Complete Set with Case for Arthritic Hands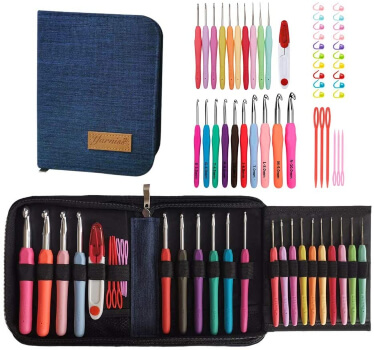 A set of comfortable ergonomic crochet hooks would be appreciated by any crocheter. This set includes 20 hooks, 20 stitch markers, 6 yarn needles, a handy case and scissors. It would be greatly appreciated by beginners and professional crocheters alike.
Find this Crochet Hook Set HERE
11. Crochet wine glass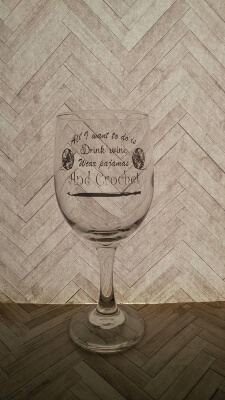 What better gift for a crocheter who is also a wine lover. This hand-decorated wine glass is available in your choice of vinyl colour.
Find this Crochet Wine Glass Here
12. YHMY Mini Stitch Marker and Row Finger Counter LED Lights Digital Tally Counter for Sewing Knitting Weave Tool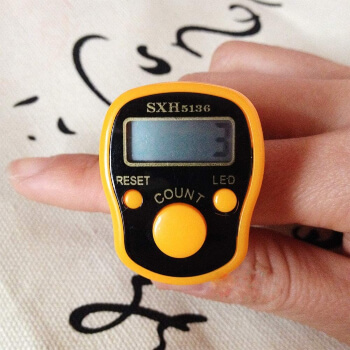 A tally counter is one of the most important tools you can have as a crocheter. These ergonomically designed counters are portable and light weight.
Here's the Best Crochet Stitch Markers available in the market today.
Find these LED Digital Tally Counters Here
13. Crochet Heartbeat Tshirt, Crochet Gift Ideas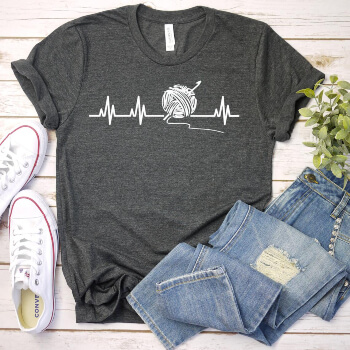 This adorable shirt is perfect for sitting at home crocheting or showing off a love of crocheting when on the go. It is soft and comfy.
14. Marvel Universe Crochet Kits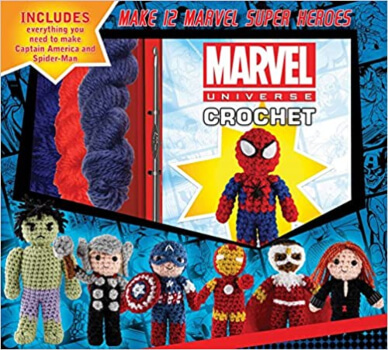 People of all ages love superheroes. This kit includes the instruction and materials to crochet Captain America and Spider-Man. The 76-page book also has instructions for Hulk, Iron Man, Thor, Groot, Star Lord, Hawkeye, Black Widow, Falcon, Ant-Man and She-Hulk.
Find this Marvel Universe Crochet Kit HERE
15. Crochet Design iPhone Case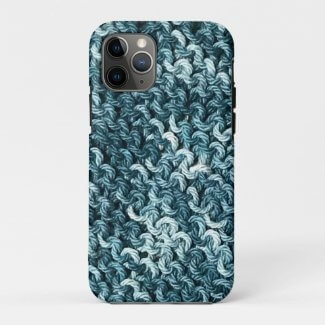 A phone case can show someone's personality. If you have been searching for gift ideas for crocheters that are unique, this is an excellent choice. Your recipient will love this fun and functional phone case.
16. 240 Pieces 10 Colors Markers Knitting Stitch Locking Stitch Needle Clip Crochet Locking Stitch with Storage Box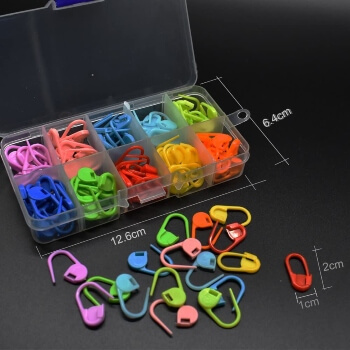 An all too common problem when crocheting is losing track of your stitches. A stitch marker will help eliminate this problem. Stitch markers also come for counting rounds, positioning pieces, holding pieces together, and stopping pieces from unravelling.
This 240 piece set comes in a handy 8 compartment storage box. Any crocheter would appreciate this gift. They can never have too many stitch markers.
Find this Stitch Marker Set HERE
17. Mega Set of 14 – All 12 Time Travel doctors plus extra doctor with Police box Crochet Amigurumi Patterns
If you need a quick crochet project gift, but don't have time to go to the store or wait on shipping, downloadable patterns are a convenient choice. These crochet patterns are a fabulous choice for the nerdy science fiction loving crocheter.
18. PRETTY GEMS stitch markers – Stitch markers, keyrings for crochet & knitting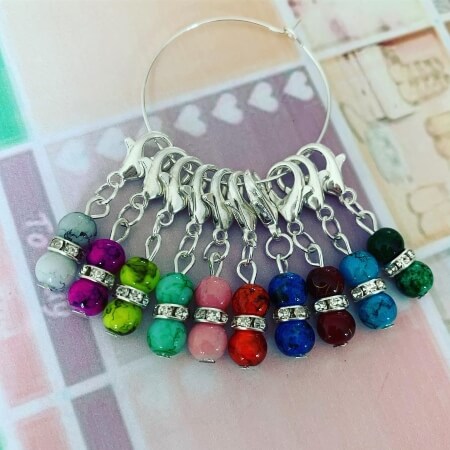 These gem stitch markers are a step up from the everyday plastic markers. There is no doubt your recipient will fall in love with these handmade bead and rhinestone stitch markers. And you can bet these will get used all the time.
Find these Pretty Gem Stitch Markers HERE
19. YARWO Knitting Needles Case (up to 10.6″), Crochet Hooks Organizer with Double Handle for Circular Knitting Needles and Knitting Accessories, Teal (Bag Only)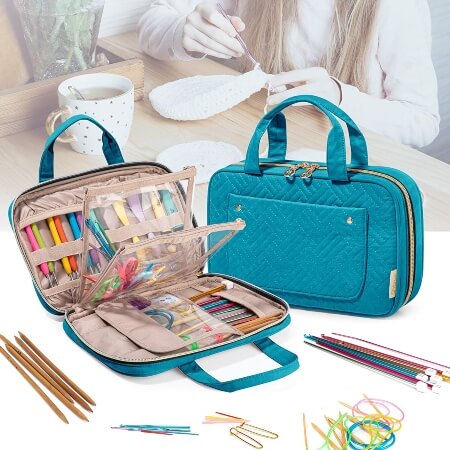 The YARWO Case is a fashion accessory. It is striking and stands out from the rest. This bag is ideal for any crocheter. It is large capacity and has 1 large pocket and 6 various pockets. There are also 2 zipper pouches in the middle. On the outside, there is another pocket.
Find this YARWO Carrying Case HERE
20. Teamoy Crochet Hook Case(up to 8"), Circular Knitting Needle Storage Bag, Travel Organizer Bag for Crochet Hook and Knitting Accessories, Misty Rose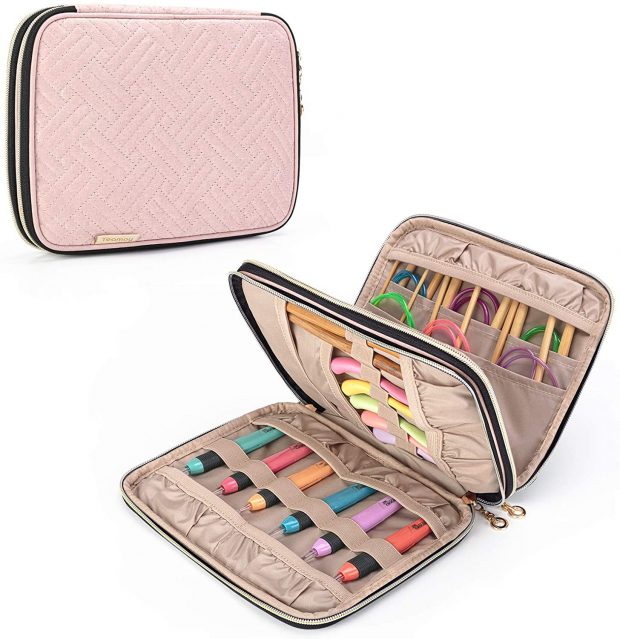 A crocheter can never have enough storage space. Storage bags and cases are always foolproof gifts for crocheters. This crochet hook case is a great gift choice. It is compact, portable and holds crochet hooks as well as notions.
21. Hand Painted Yarn Ball Earrings with Crochet Hook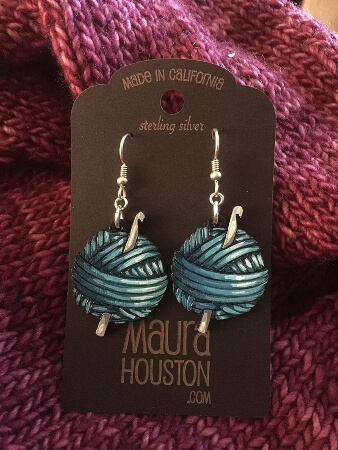 These yarn ball earrings with crochet hook are adorable. They are light and comfortable. Give these earrings as a gift so your recipient can show off their love of crochet.
22. Yarn Knitting Mug, Funny Crocheting Knitting Coffee Mugs, Mothers Day Crocheter Gift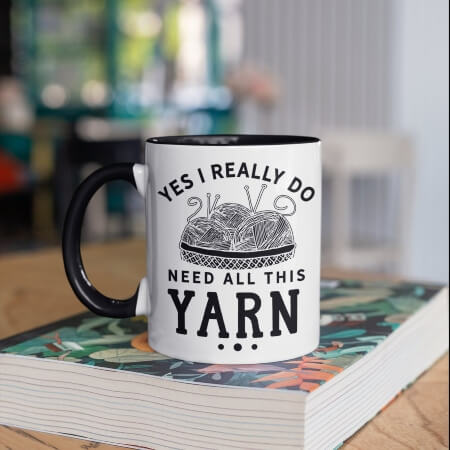 You can never have enough yarn. Just ask your crocheting friend. This whimsical mug is the ideal gift for any holiday or special occasion.
23. HOMEST XL Yarn Storage Tote, Tangle Free with 6 Oversized Grommets, Knitting and Crochet Organizer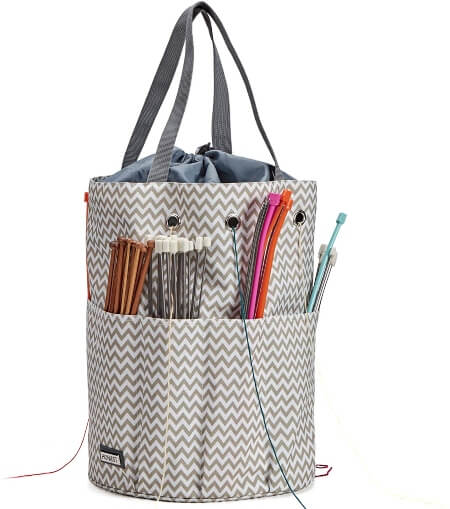 The HOMEST XL Yarn Storage Tote gives you the ability to crochet anywhere. Take it on the road or leave it next to a chair. The handles and shoulder strap make it easy to carry. The large size has room for tools and yarn. And the large bag comes with a bonus mini yarn drum.
24. 18oz Insulated Tumbler – Cold Cup Tumbler with straw – Crochet Gift – Crochet Lover – Coffee Tumbler – Travel Mug – Gift for Knitter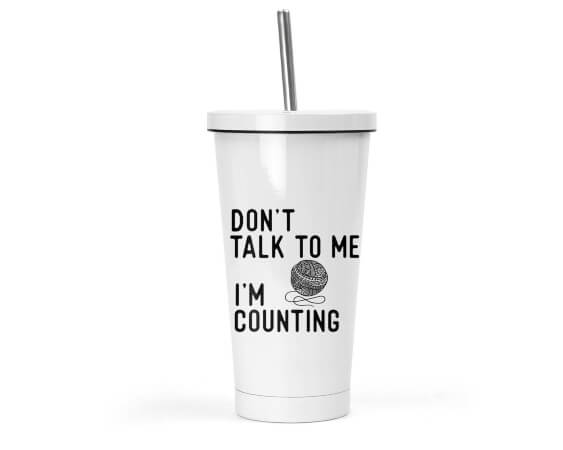 This humorous insulated tumbler is the perfect gift idea for crocheters. They can use it while travelling or while crocheting. Maybe the subtle hint will be taken by those around them. But for us crafters, we know the struggle is real.
25. Personalize Necklace Gift for Crocheter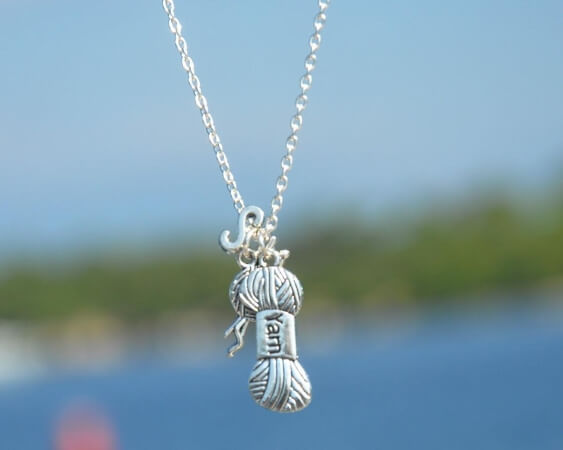 This unique necklace can be personalised with a floating initial. It is made from brass and silver. It has a lobster claw closure that makes fastening it easy. Do not worry about wrapping this gift. It comes packaged in a drawstring bag and ready to be given as a gift.
26. Personalised 20mm x 50mm Rectangle Centre Fold Foldable Faux Custom Leather labels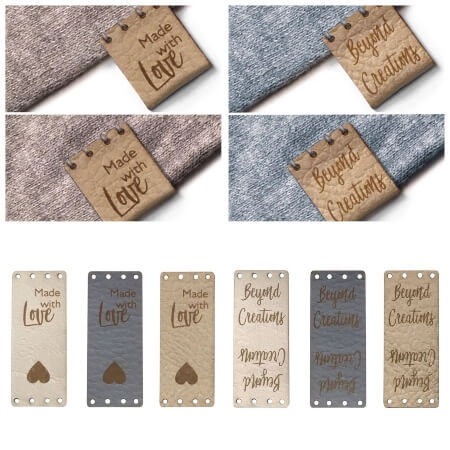 Labels are often left off finished craft projects. However, they are a fantastic way to add that special finishing touch. These faux leather tags make wonderful presents for crocheters who want to add a little something extra to their creations.
Find these Faux Leather Labels HERE
27. Canvas Yarn Tote, Funny Yarn Tote, Yarn Bag, Canvas Tote Bag, Yarn Storage, Reusable Tote Bag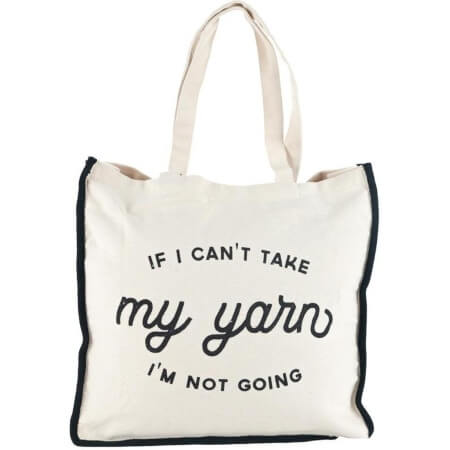 Crocheters often take their craft on the road with them. When travelling, it can be hard to keep everything together and tidy. Make it easier for them with this reusable whimsical yarn tote bag.
Here are more Crochet Tote Bag Patterns you might like.
28. Key Chain Aluminum Crochet Hooks Knitting Needles Craft with Yarn Ball Charms for Bracelets and Necklaces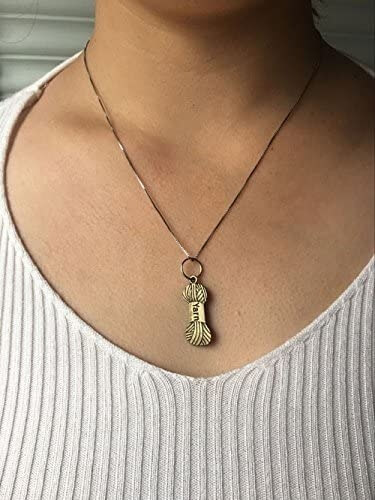 These novelty keychains will get endless compliments. They are whimsical and fun. If you are looking for gifts for crocheters in your club or something special for your best friend, these are a foolproof choice.
29. Spring Flowers Stitch Marker Bracelet, Gifts for Knitters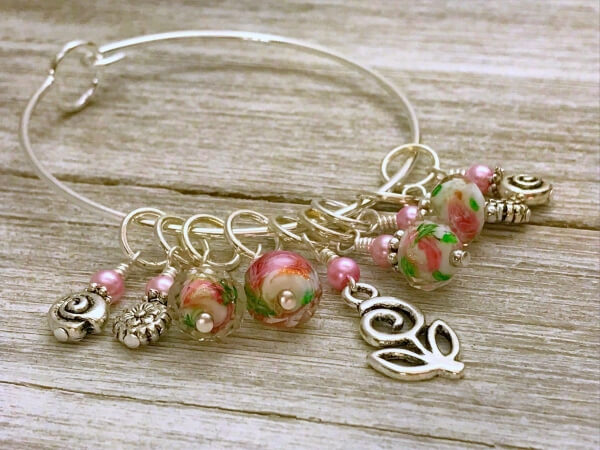 Another piece of jewellery on our gifts for crocheters list is this gorgeous spring flowers stitch marker bracelet. It is not only gorgeous, but also functional. It keeps stitch markers conveniently in one place. And when they are not in use, they make for a beautiful charm bracelet.
Gift Ideas for Crocheters Frequently Asked Questions
What are some good gift ideas for crocheters?
There are many great gift ideas for crocheters. Some gift ideas include high-quality yarn, crochet hooks in different sizes and materials, stitch markers, a blocking board, a subscription to a crochet magazine, a book of patterns, a gift card, and crochet kits.
Another thoughtful gift option is a personalized crochet project bag.
What are some gift ideas for crocheters who like to travel?
Gifts for crocheters who like to travel include lightweight crochet hooks, compact and portable yarn holders or organizers, and project bags with easy-to-carry handles.
Crochet stitch markers and scissors are also great gift ideas. These items are not only practical, but also make crocheting on the road more enjoyable.
Do crochet subscription boxes make good gifts?
Yes, crochet subscription boxes can make great gifts for crochet enthusiasts. Subscription boxes provide either a monthly, bi-monthly, or quarterly delivery.
Your giftee will look forward to receiving new and exciting crochet materials and patterns. Crochet subscription boxes can be a fun way to discover new yarns and projects.
The surprise element of receiving a box regularly also adds to the excitement.
Are there any unique gift ideas for crocheters?
Yes, there are many unique gift ideas for crocheters. Some unique gift items include custom-made stitch markers, handmade crochet hooks, personalized project bags, and subscription boxes.
Other unique gifts for crocheters include crochet-themed jewelry, mugs, wine tumblers, and T shirts. There are many options to choose from, depending on your recipient's interests.
Are there any ergonomic gift ideas for crocheters?
Crocheting is a fun hobby for many people, but it can cause discomfort and pain in the hands and wrists. Fortunately, there are several ergonomic crochet tools available.
These tools are designed to reduce pain and discomfort. Some popular options are ergonomic crochet hooks, padded handles for regular hooks, and fingerless gloves.
Can I gift a crocheter a complete kit?
Yes, kits are wonderful gift ideas for crocheters. There are countless kits to choose from. Many of the kits include everything your giftee needs to complete a project.
These can include a pattern, yarn, hooks, stitch markers, and instructions. Kits are excellent for crocheters who like to try new projects.
Can I gift a crocheter a pattern from a website?
Yes, many crochet pattern websites allow you to gift patterns to other users. It can be as easy as purchasing the pattern and selecting the "gift" option at checkout.
The company then sends a gift notification to your recipient. Digital crochet patterns are often a great option for long-distance or last-minute gifting.
Some pattern websites even offer gift cards that can be redeemed for patterns of the recipient's choice.
We hope that you can find something that they will love on our list of gifts for crocheters.
There are so many thoughtful crochet gifts for crochet lovers that you could make, please share your thoughts on our Facebook Page.
Crocheting is a fun hobby that can easily become an obsession. Crocheters are some of the biggest gift givers there are. They are spending their time creating presents for everyone else, not worrying about themselves.
Show them how much you appreciate them by giving them something special from our list of 30 Gift Ideas For Crocheters That They Will Love.