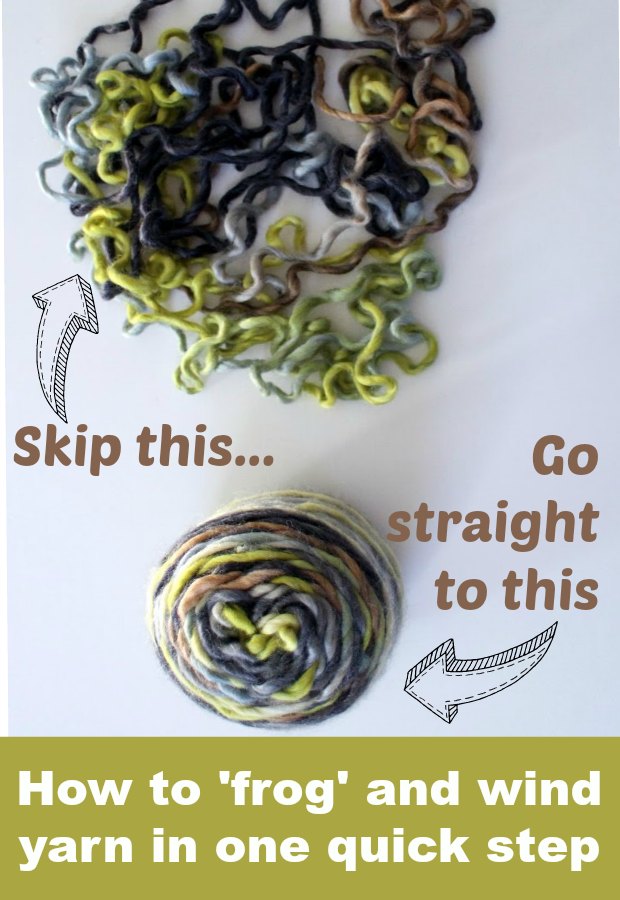 Frogging Crochet Yarn Quickly Video Tutorial
Frogging yarn is a term that not everyone has heard, but they sure know what it is. Have you heard the term 'frogging' in crochet and knitting before? It means to unravel your project to go back to a mistake perhaps, or more commonly to completely undo something to reuse the yarn. Where does the term come from? From 'rip it', 'rip it' which sounds a little bit like the croak of a frog – hence frogging yarn is to quickly unravel it.
Some yarns do much better than others. If you have something with more 'fluff and fuzz' or with little bumps and knots, those projects won't frog or unravel as easily as a smoother, silkier yarn. But even so, it can be a bit tedious to unravel all the yarn into potentially a big crinkly mess which could get all caught and knotted up – and then rewind it all by hand into new balls to use.
So check out this video and you'll get some ideas on how to 'frog fast'. In this example, the roving yarn used is fluffier and requires carefully pulling out by hand to pull it apart where the fibers have stuck together.
Frogging Crochet Yarn – Electric Winder
Want to know more about the Simplicity Boye Electric Yarn Ball Winder? In all honesty, we don't feel we can recommend it. Reviews on this product are really mixed. Some reviewers give it 5 stars and loving it, but almost as many give it 1 or 2 stars and saying it broke soon after buying it, or that it was so weak it wouldn't even pull the yarn from the skein.
So we love this tip, and if you have an electric ball winder – go for it! If not, then you can still use your regular manual ball winder for frogging your yarn. Hold your piece in one hand, connect up the end of the yarn and spin the ball winder with the other hand. Frog and wind all in one quick movement – hopefully, if you have a nice smooth yarn 🙂
We'd love to see you try this out. Have a phone with a video camera? Then set up your ball winder, grab and old project and send us a video! We'd love to have more reader-generated content on the site. So please send us your photos and videos, your product and pattern reviews – anything! Drop us a line via our contact us page below.