This free Varsity Crochet Raglan Sweater Pattern can be one of the coolest sweater in your closet. You can wear this as you snuggle in the couch while watching your favorite football game. Great for outdoorsy look too!
Do you want to doll yourself up but at the same time still feel comfortable? This sweater appears fabulous outdoors when you want to look trendy and comfy on your girl's day or night out!

In this fast paced world that we have now, there are still some things that never goes out of style. Like a varsity raglan! This Raglan Sweater is a restructured style of a baseball tee. It embodies simplicity in style and emphasizes the raglan–style sleeves. Let's take a closer look at this cool sweater!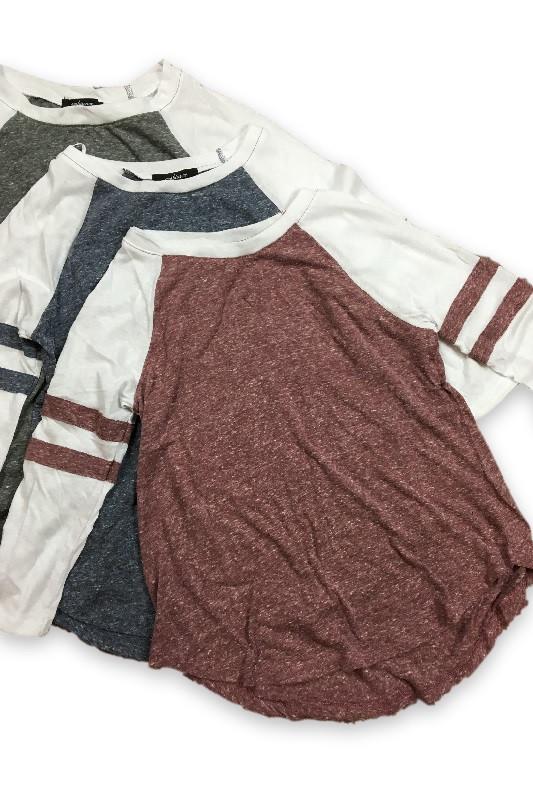 ABOUT THE CROCHET RAGLAN SWEATER FREE PATTERN
Megan Shaimes, the designer of this very fab sweater got an inspiration from a baseball tee that she saw on Pinterest. And because of her love for crochet, she had made a very rousing and trendy crochet raglan Sweater that she enjoys using.

And now, she wants to share to everyone how this wonderful crochet sweater can be done. The sweater is fairly easy to make. You will surely love doing it as you get along!

MATERIALS YOU HAVE TO WORK WITH THE SWEATER
Please take note of the accurate materials to be used. These are very important for the excellent outcome of your Crochet Raglan Sweater.
Yarn – a category 3 weight yarn in two colors. Approximate yardage per color:

XS – 550 yards for color A and 250 yards color for B
S – 600 yards for color A and 275 yards color for B
M – 650 yards for color A and 300 yards color for B
L – 725 yards for color A and 350 yards color for B
XL – 850 yards for color A and 400 yards color for B


Hook – a size I in 5.5 millimeter and a size G in 4 millimeter
Yarn needle
Sewing pins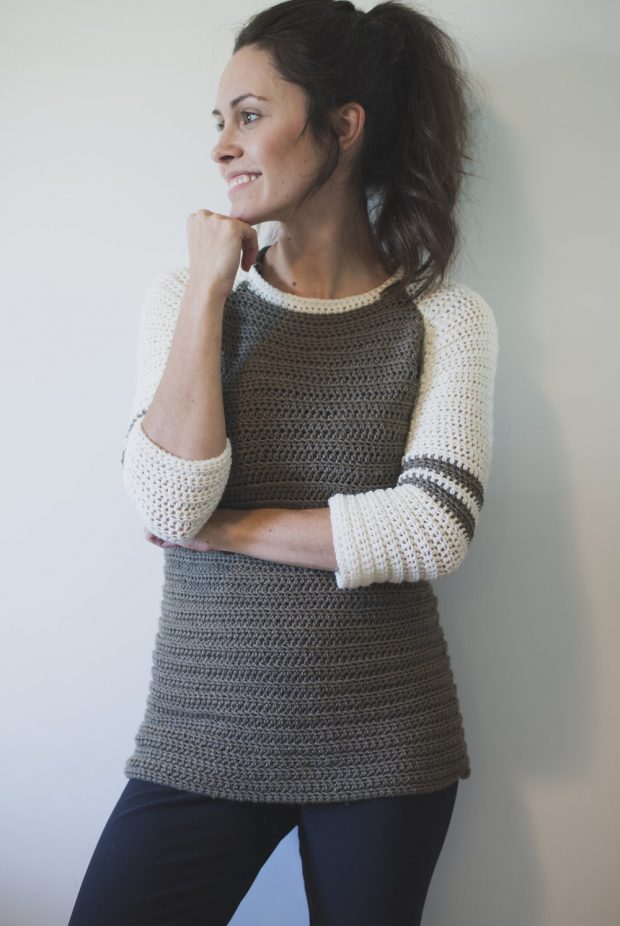 STITCHES USED FOR THE CROCHET PATTERN

VARSITY RAGLAN SIZES
The size of the crochet sweater will depend upon the taste of the owner. The size is normally body hugging or it can also range up to a relaxed type of a typical homey Sweater.
XS – 33" bust and 25" length
S – 34" bust and 26" length
M – 36.5" bust and 26" length
L – 38.5" bust and 26" length
XL – 41.5" bust and 27" length

HOW TO ASSEMBLE THE TRENDY RAGLAN SWEATER CROCHET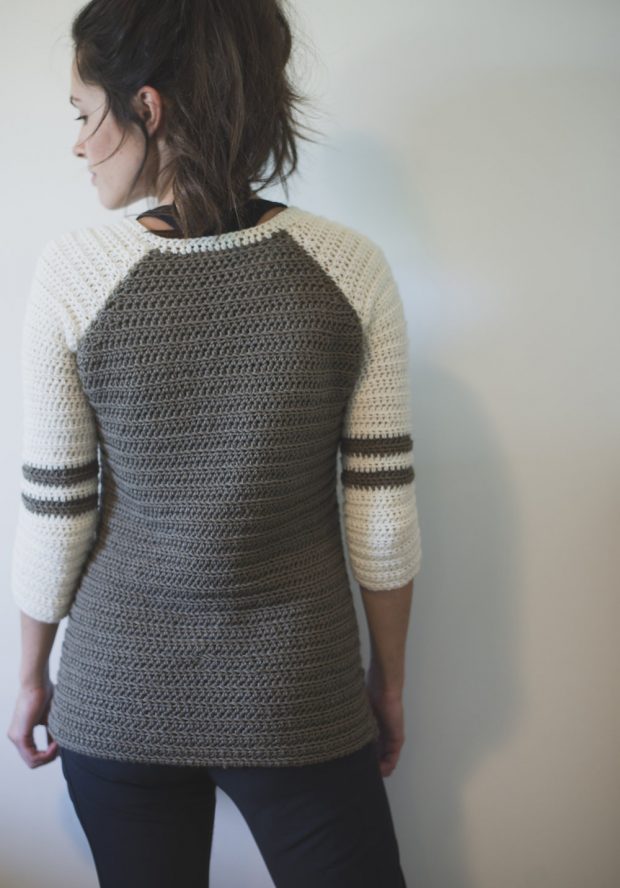 Nowadays, people are usually moved by our fast paced environment and making a do-it-yourself raglan sweater, is a second priority. It is a great must-have! Whole year round and all types of seasons, you can use this. You could also use it both for indoors and outdoors because it is both trendy and comfy. Not only that, you will also gain a desirable and self-fulfilling endeavor. Crocheting will give you experience in turning challenges into something fun and fantastic!

WHO SHOULD MAKE THIS SWEATER PATTERN?
The varsity raglan does not only cater to young lasses who wants to enjoy watching football games but also for women of all ages! You can make it for your own or give it away as a gift to a loved one or a friend.

I also wanted to tap our beloved Grannies out there who love to stitch and even to the ones who are just starting to learn crochet. This is the best project for you! Making it with the color preference of your recipient is an added personal touch. Who else can resist a personalized gift that has a labor of love that came from a special person?! Or who else wouldn't be proud if they would wear something that was accomplished by their own hands?

Your very own raglan sweater will be extra special when you make it with love and affection mixed with a keen sense of assembling the crocheted pieces. I swear the outcome will be fabulous!

So what are you waiting for? Try the FREE Varsity Crochet Raglan Sweater Pattern to see and feel the difference that it will bring you and to that special someone.
Crochet your heart out! Happy Crocheting!