You can certainly find personalized and unique gift options when shopping locally at specialty retailers or hunting down artisan works from online marketplaces, but a handmade crocheted gift lets your family and friends know that it's truly a labor of love; you've spent extra time thinking about what they'd like to receive and carved out time in your schedule to craft it.
These ideas are surprisingly simple, while being delightfully fun for your intended to receive. Designed to please anyone on your list—from parents and siblings to friends and kids—these crocheted gifts are made to last.
10 Crocheted Gift Ideas

1. Crocheted Gift For The Home: Potted Plants
Believe it or not, I find that crocheted plants make the perfect gift for just about any occasion. No longer is it considered taboo to give the gift of a beautiful artificial plants that require little maintenance and will keep on being beautiful even after the snow has melted.

When you are looking for the perfect gift for somebody or even something to decorate your own home, these crochet potted plants could be just what you need.

More patterns for crochet plants here!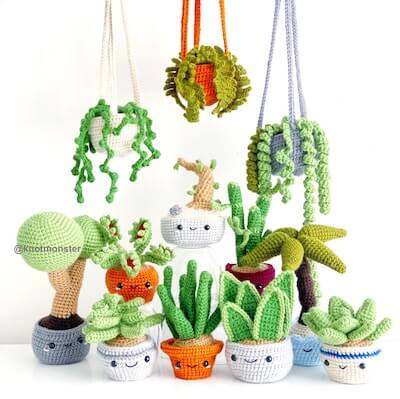 Get the Pattern by Knot Monster here

2. Crocheted Tech Gift idea: Ipad/Laptop Sleeve
Laptops and iPads are expensive, and if you're worried about drops, scuffs, and spills, a crocheted sleeve will give you an extra layer of protection between your thousand-dollar machine and the cold, hard ground.

This Crochet iPad Sleeve Pattern is one of my favorite crochet gift ideas, and is also available as a free Crochet Laptop Sleeve Pattern, too!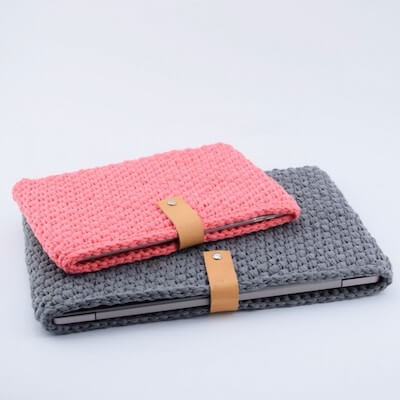 Get the Pattern by Hobbii here

3. Crocheted Gift For Winter: Chunky Mittens
Here's a crochet gift I know a lot of us would love to receive — and actually use! I'm all for quick gratification crochet projects, especially when there's a holiday deadline looming. The simple pattern works up in a few hours, making these mittens a go-to handmade gift when cold weather approaches.

With sizes from baby to adult, whip up a pair for yourself as well as gifts to someone else in your life.
More patterns for crochet mittens here!
Get the Pattern by The Easy Design here

4. Crocheted Gift For Babies: Baby Booties
One of our favorite people to make crochet gifts for has got to be babies! And crochet baby booties are among the most popular items to gift to them. There is just something about those tiny little shoes that makes everyone's heart melt as soon as they see them.

Make these for a baby shower, or bring them along when you go to meet a new baby!
More patterns for crochet baby booties here!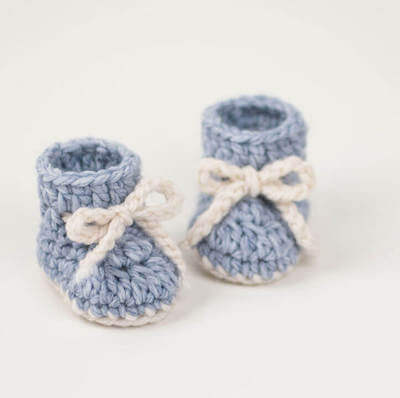 Get the Pattern by Croby Patterns here

5. Crocheted Gift For Mother's Day: Bouquet Of Flowers
You can't beat flowers on Mother's Day. It's the perfect way to show the special ladies in your life how loved they are. A pretty bouquet of crochet flowers like this will stay fresh forever and never wilt. It's a thoughtful gift that will keep her smiling for years!
More patterns for flower bouquets here!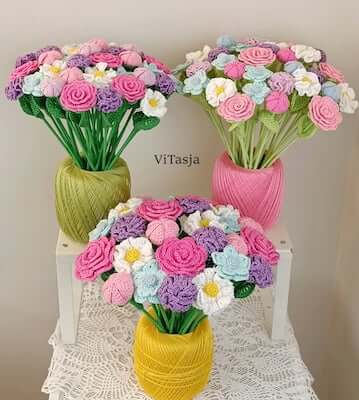 Get the Pattern by Vi Tasja here

6. Crocheted Gift For Father's Day: A Cozy Sweater
Dad deserves the best, too, and for a truly indulgent piece of attire, look to a piece like this timeless crocheted sweater that he'll turn to time and time again.

Enjoy working on this handsome sweater that makes a great gift for Father's Day or any occasion. Show your love by choosing a shade that makes it meaningful to your recipient, and enjoy much-deserved accolades in return!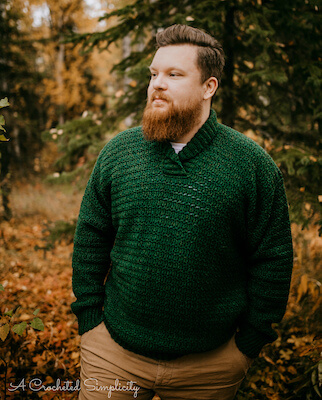 Get the Pattern by A Crocheted Simplicity here

7. Crocheted Housewarming Gift: Potholders
So your best friend or sister or neighborhood just moved into a new home. And like any good new homeowner, they are throwing themselves a housewarming party to celebrate. Now's your chance to show off your gift-giving skills and crochet them a stellar housewarming gift.

You know what people often forget to buy when they move? Potholders. They also get super dirty, so you throw them out before moving to a new house, which makes them a perfect gift.
More patterns for crochet potholders here!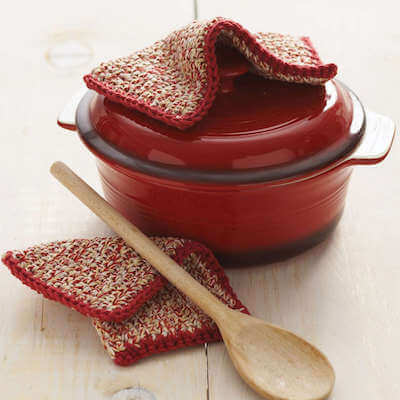 Get the Pattern by Yarnspirations here

8. Crocheted Stuffed Toy Gift: Classic Teddy Bears
Stuffed animals are one of the best gifts you can give your special someone regardless of the occasion. It can be a loving companion and a cuddly buddy, especially when you're not around.

Teddy bears are famous all over the world, especially for children, which means you can never go wrong with a good 'ol teddy.

More patterns for crochet teddy bears here!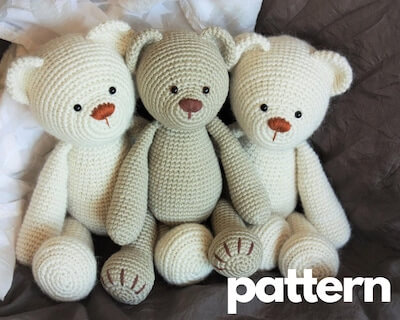 Get the Pattern by Tiny Amigurumi here

9. Crocheted Useful Gift: Nesting Baskets
Crochet baskets are one of the cutest ways to organize a home. Whether a place to throw wallet and keys, more toy storage for the kids, or to store yarns in, these crocheted baskets are designed for that!

These nesting baskets also make excellent gifts. Everyone can use a basket somewhere. They're perfect for housewarming gifts, birthdays, or holidays. They're easy favorites for so many uses.
More patterns for crochet baskets here!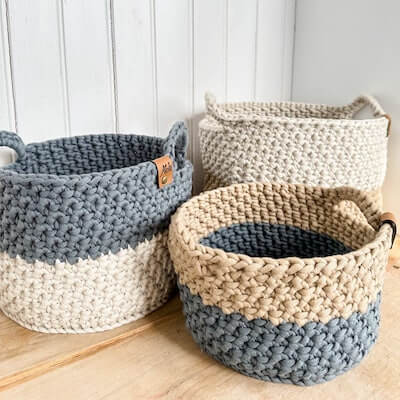 Get the Pattern by MJs Off The Hook Designs here

10. Crocheted Unique Gift idea: The Perfect Pair Of Slippers
Whoever you're crocheting for, be they young or old, you can't go wrong with a nice warm pair of slippers! This Free Crochet Slippers Pattern is a really quick and easy pattern that you can hook up in no time, and is a fun project for crocheters as well as making a brilliant crochet gift.
More patterns for crochet slippers here!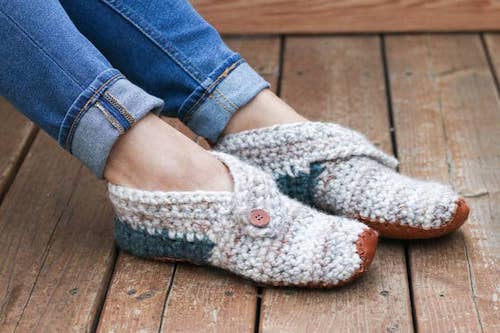 Get the Pattern by Make & Do Crew
SHOW YOUR FAMILY AND FRIENDS YOU LOVE THEM WITH THESE CROCHETED GIFT IDEAS.
If you want your gift to be more personal, making it yourself is the way to go. Plus it saves you from making trips to crowded malls and dealing with busy parking lots!
Get in on the DIY fun with us by sharing your project photos on our Facebook Page. We'd love to see what gifts you end up making!
Check out more of our round ups for crochet gift ideas and simple holiday projects you can do this year!
Get inspired by these crocheted gift ideas! Because what's better than a thoughtful, handmade gift to show your love? Happy gift-giving!