If you have a little one who loves anything and everything to do with trucks, then this list of crochet truck patterns is about to be the best thing you'll see today. That's because, there is an incredible selection of toy trucks and other goodies on here – all of which are truck themed!
To some little kids, trucks are absolutely fascinating. Maybe it's the size, maybe it's the speed. If your little one gets excited every time a massive vehicle zooms by, then I have quite the roundup of truck-themed crochet projects you can make for them. Whether you kid is a fan of fire trucks, garbage trucks, monster trucks, or all of the above, I've got you covered!
12 Crochet Truck Patterns

1. Tonk & Tink Truck Crochet Pattern by Holly's Hobbies Ptbo
Stimulate playtime with the help of these wonderful crochet toys that are sure to become treasured keepsakes! Soft and cuddly, this duo is a great addition to any toy collection. Tonk and Tink can be worked up to 12 inches long and 10-12 inches tall (depending on tension and yarn chosen).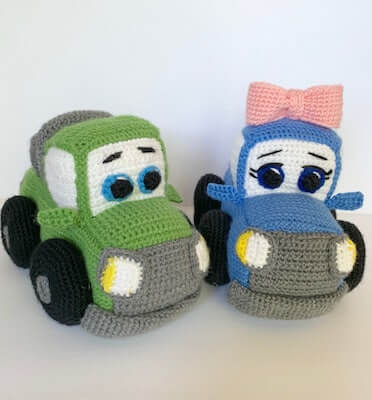 Get the Pattern by Holly's Hobbies Ptbo here

2. Crochet Monster Truck Slippers Pattern by Melody's Makings
The little guys in your life will love zooming these slippers around the house. With little wheels and truck cabs, the foot fits perfectly into the bed of the truck, so it looks like the feet are driving the trucks.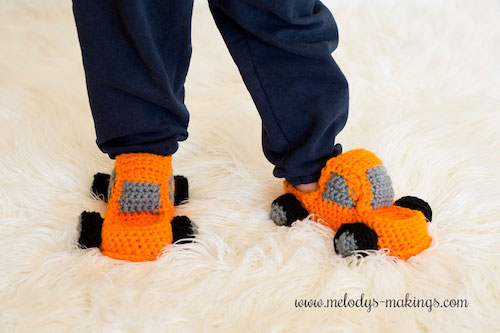 Get the Pattern here

3. Cuddly Dump Truck Crochet Pattern by Larzipan Creations
This Cuddly Dump Truck is full of great details like a tipping dumper and working tailgate. Fill up its back with toys and small objects or or you might find your yarn skeins being hauled about instead!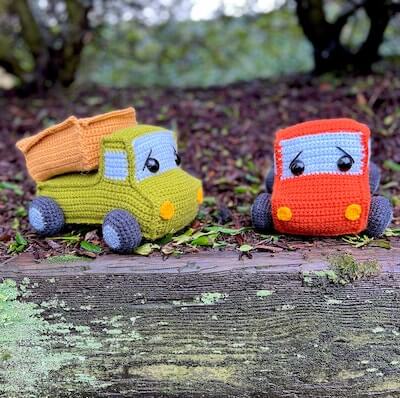 Get the Pattern by Larzipan Creations here

4. Crochet Pickup Truck Pattern by Joyce Overheul
This Crochet Pickup Truck Pattern is very easy to follow and has a lot of pictures guiding you through it, so within no time, you can make this lovely pick-up truck yourself.

It's a perfect gift for kids or you can even use it as a decoration in your house if you want.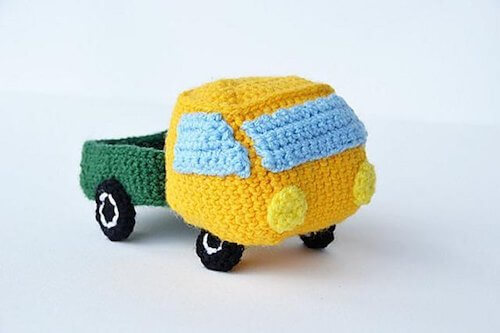 Get the Pattern by Joyce Overheul here

5. Crochet Red Truck Applique Ornament Pattern by Repeat Crafter Me
Don't miss this vintage red crochet truck pattern that can double as a Christmas ornament or as a truck appliqué. Of course, this truck would not have been complete if it wasn't hauling a Christmas tree in the back!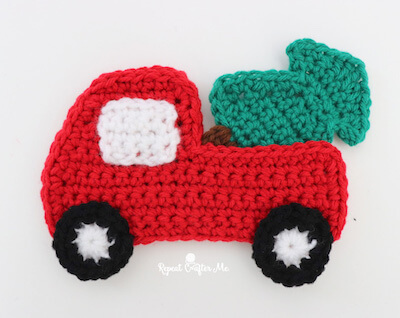 Get the Pattern here

6. Vintage Truck with Flowers C2C Crochet Blanket Pattern by Left In Knots
Use this pattern to crochet a C2C Flower Truck Blanket that screams vintage farmhouse style. This farmhouse-inspired blanket will bring some cheer and color to your spring and summer decor.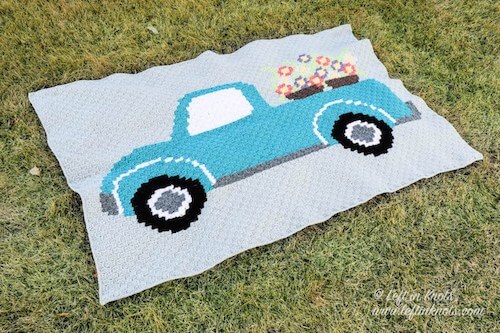 Get the Pattern by Left In Knots here

7. Amigurumi Crochet Fire Truck Pattern by Three Friends Patterns
Most of us probably had a toy fire truck at some point in our lives. They're one of those timeless toys that pass through generations of boys and girls. How about give this Amigurumi Crochet Fire Truck a try? It's easy to play with, even for the smallest fingers.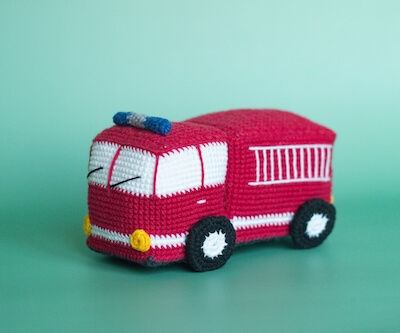 Get the Pattern by Three Friends Patterns here

8. Shawn, The Pickup Truck Crochet Pattern by Lisa Tomko
This is a pattern for a pickup truck that is 15 inches long, 7 inches wide, and 6 inches tall. The back of the truck is open, so will carry some small items around!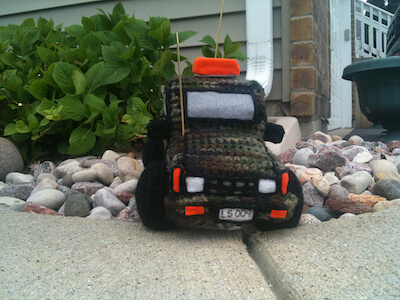 Get the Pattern here

9. Crochet Tow Truck Pattern by Amigurumisnl
How often do you see a vehicle accident that blocks off the whole road? When a breakdown on thr play mat causes a tailback, make sure your child's ready to clear the road with a Crocheted Tow Truck!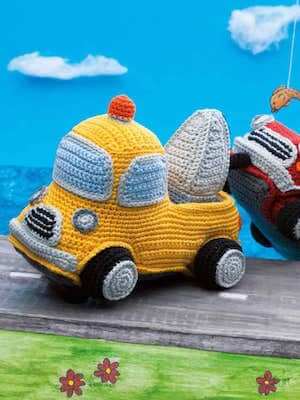 Get the Pattern by Amigurumisnl here

10. Crochet Monster Truck Pattern by Delicious Crochet
This Monster Truck makes great toy for boys or girls. It is more fun than your typical toy car, and much larger, making it perfect for small hands.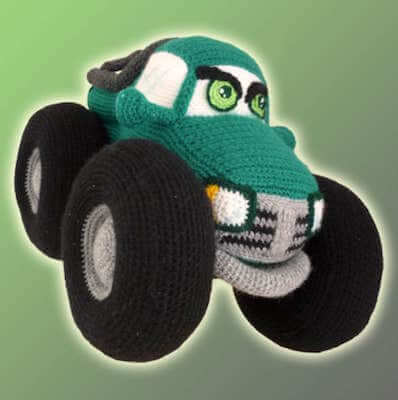 Get the Pattern by Delicious Crochet here

11. Crochet Fire Truck Backpack Pattern by Love Life Yarn
Gear your little budding firefighter for school, field trips, and everyday adventures with this Crochet Fire Truck Backpack. It features adorable details like embroidered ladder and button wheels!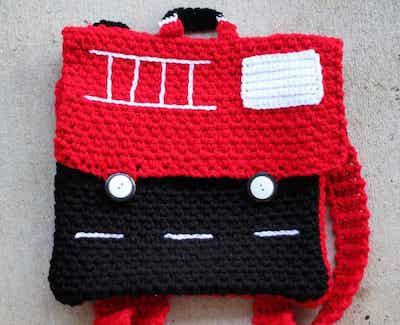 Get the Pattern here

12. Crochet Little Toy Truck Pattern by Artego Toys Design
This Crochet Little Toy Truck has a trailer on the back to store toys, or perhaps some candy and treats for cargo. It's made with plush yarn so it's soft and perfect as your child's cuddly companion!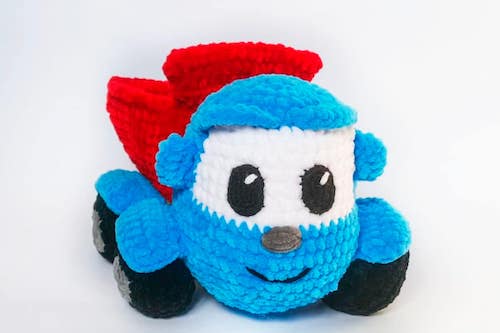 Get the Pattern by Artego Toys Design here
TIME TO GET YOUR CROCHET HOOKS MOVING – CREATING THESE GORGEOUS CROCHET TRUCK PATTERNS!
We would love to see what you do with these ideas, so be sure to share it with us by posting photos to our Facebook page!
Crochet toys are so much fun to make! From amigurumi to baby rattles, we have more adorable round-up of patterns to choose from:
I hope you'll have a great time making these crochet truck patterns and that the little recipients will love them to bits. Happy hooking!